A few days in Strasbourg is the perfect introduction to the glories of Alsatian food and culture. But to properly immerse yourself in the wonders of this Franco-Germanic region, you need to head to the wine country, where, within an hour's drive of the big city, a steady succession of postcard-perfect villages await you with open arms, hearty cuisine, and more delicious white wines than you can shake a stick at.
There are over a hundred wine villages stretched out along the 170 kilometer "route des vins" that meanders along the foothills of the Vosges mountains, and choosing where to stop and sip is a conundrum every wine lover should have.  We like to begin in Ribeauville, both for its medieval charm and a location right in the thick of things. A statement that pretty much describes Le Clos Saint Vincent — a four-star hotel located smack dab in the middle of the Trimbach vineyards. A short, steep drive up the slopes from Ribeauville's main street puts you in a gorgeous room that overlooks rows of vines and the valley below. Stretch out on your patio and you will quite literally feel that all of Alsace is at you feet, which, in a sense, it is.
The hotel may be a bit removed from the hubbub of Ribeauville's retail area — full of history, tasting rooms, pastry shops and restaurants — but walking up and down those slopes is the perfect way to work up an appetite for dinner at L'Auberge de l'Ill: the grande dame of Alsatian restaurants.
There is something magical about crossing the small bridge over the river Ill that leads to this front door. Giant willows punctuate your view and sway along that river, and the dining room is strategically framed with bay windows that maximize the splendor of the grounds and the lazy current passing by. A renovation nine years ago modernized the room (not to our taste, we liked the old look and feel), and brightened it — some might say too much so as the main dining room is dominated by a giant half-orb light fixture with roughly the wattage of the sun. Thankfully, though, none of these cosmetic changes affected Marc Haeberlin's cuisine, which remains as solidly classical as ever, with a few lighter tweaks to it to keep the modernists happy. A remarkably young and friendly staff moved our meal effortlessly from tiny frog legs served "dim sum" style, through lobster served in a coral foam, to obligatory slabs of silky, rose-pink goose liver the size of English muffins.
You can get foie d'oie all over Alsace, but this terrine was a revelation in the sweetness and subtlety that makes these livers so compelling. Paired with an 'o5 Trimbach Gewurtztraminer Vendange Tardive, it was as ethereal a food-wine match as can be achieved on earth.  It would've been easy enough to make a meal out of those amuse bouche and the entrees, but that would've caused us to miss out on the best chicken in the business: the famed poulet de Bresse. Here, it is shown to you first and then served three different ways: first as the breast carved tableside (with a hideously intense reduction sauce), accompanied by a baeckeoffe of truffled parsnips en croute — the layer of which is peeled away to reveal a vegetable stew whose fungal perfume fills the room. So vivid was it with the flavors of black truffle, chicken stock and root vegetable, that dying and going to heaven right then and there seemed like a reasonable option. But of course, that would've caused us to miss out on the piece de resistance: the further-roasted leg and thigh, the leg presented on a sterling silver handle to make your munching on, or carving of, that leg much more effortless.
From there, everything continues down the seamless, Michelin 3-star path that grand-pere Paul secured in 1967 and that has remained a constant since then. Only Paul Bocuse has had his 3-star status longer (by only a year) and there's a sense here that luxurious service and haute cuisine are part of the walls and the DNA of every employee. The French consider fine dining an essential mark of their civilisation, and Marc Haeberlin and staff are doing what they've always done: their utmost to preserve these traditions and convert you to the joys of the Alsatian table.
After such a big deal meal, there's really only one thing to do the next day: go wine tasting. The good news is you don't have to go very far to find a tasting room, no matter what humble burg you find yourself in. And the best place to taste the most wines is in the village of Riquewihr. Of the 67 communes criss-crossing the wine route, it provides the most bang for your walking and wine-sipping buck.
Along its sloped and cobbled streets you will find tasting rooms of the larger producers (Pierre Sparr, Hugel, et al) along with dozens of rooms featuring labels that never make it out of the region. Unlike Burgundy — where all those reds and whites are just different iterations of the same two grapes: pinot noir and chardonnay — here, you get a bonanza of white grapes: racy, herbal Sylvaner, grapey Muscat, floral Gewurtztraminer and rich, elegant Rieslings and unctuous Pinot Gris that will open your palate up to a whole new world of vin blanc. Oak is rarely used, so the clean, direct flavor of the grape and terroir always comes through. And if those aren't enough, there's always a citrus-y Pinot Blanc or sparkling Crémant d'Alsace being offered to whet your whistle. Put it all together and Riquewihr  the closest thing to white wine Disneyland we can think of.
Many of the smaller wineries offer tastings by appointment only, and it's worth it to seek out one or two when you're in the area. An oenophile friend put us on to Domaine Jean Becker — tucked away in the tiny village of Zellenberg — and we were treated with a tour and a tasting and a chance to chew the fat (slurp the Gewurtz?) with Martine Becker.
Martine is not only one of the great ladies of Alsatian wine, but the perfect guide for sipping your way through her single-vineyard, Grand Cru wines. Her tasting room doubles as a reception center and gift shop, and there's even a children's area where the kiddies can amuse themselves while mom and dad parse the finer points of her Sélection de Grain Nobles and  eau de vie.
Martine is a wealth of information, both on viticulture and Alsace history, but she will really amuse you (in multiple languages)  with the local gossip, as well as a mini-symposium on the differences between the way the French and Germans treat the Riesling grape. When asked, she at first purported to know nothing about German wine, but then proceeded to eviscerate their obsession with sugar levels and science with the deft hand of grape-fermenting surgeon. Like most Alsatian winemakers, she sees German wines as precise but passion-less — lacking  the "heart and soul" that gives this land its distinctiveness. Hard to argue with her on that score, just as it's hard to argue with the fact that she sells an awful lot of wines to Germans. Whether you know nothing or everything about Alsatian wines, a private tour with Martine Becker is a must in any wine lover's education.
We could've spent all day with Frau Becker, but at her encouragement, we traveled up the road to (and we mean up the road) to the village of Niedermorschwihr, which is the teeny tiny town you pass through on your way to an even teenier and tinier town called Trois Epis — at the end of which is probably the best confiture (jelly and jam) you have ever tasted. Known as the "Queen of Confitures" and the "Jam Fairy" by those in the know, Christine Ferber runs Maison Ferber: a small, nondescript patisserie (inside a grocery store that says "Au Relais des Trois Epis" –  which does nothing to make it easier to find) that looks like a thousand others in France, until you notice an entire wall on your left stocked floor-to-ceiling with small pots of hand-made fruit preserves. Calling them luscious, intense and sublime doesn't do these little jars justice.
It is as if she infuses her bases with superfruit steroids, or has learned to coax every last bit of flavor from every berry. Ferber is an artisan in the truest sense of the word, which is why her products are so proudly featured by Pierre Hermés, the Connaught in London and the Crillon in Paris. Don't even think about trying to decide between her griottes d'Alsace (sour cherries), pear and vanilla, or fraises d'Alsace (strawberry), just point and pick a dozen varieties and try to resist the urge to devour them directly out of the jar as you wind your way back to the route des vins.
If you can bare the thought, put your spoons down for a walking tour of Eguisheim, one of the most picturesque villages in all of France, which is really saying something.
You'll only need a couple of hours to drink in the history of the place (and tasting rooms are fewer and farther between than you find in Riquewihr), but it's the perfect strolling venue to work up an appetite for dinner at Le Moréote, where owners Catherine Klein (pictured below) and Pascal Settia run the cutest little restaurant in Kayserberg. We wouldn't have known about it, but for the entreaties of Eric Klein — Executive Chef at Spago Las Vegas — to visit his sister while we were in the region. Described by one reviewer as "a tiny gem in a town full of tourist traps," Le Moreote feels like you're dining in someone's house, which, in a sense you are, since Catherine and Pascal live upstairs. The best way to enjoy it is to pull up a chair and let Pascal cook for you. In between treating us like long lost relatives (replete with tales of little brother Eric and the family farm) Pascal turned out one drop-your-fork-delicious plate after another ranging from a fricassee d'escargot with fresh cepes (harvested that day), to a delicate filet of barbue (brill) with an olive oil sauce a saffron risotto that brought a bit of Provence to a chilly evening in late autumn.
La Moreote is just the sort of homey restaurant you need after a day of wine tasting and sightseeing, and it features just the sort of simple, well-executed food that the Alsacienne take for granted. Spend a couple of hours there and you too will feel like one of the family.
Finally, no trip to Alsace is complete with a visit to Colmar, its second largest city. And no trip to Colmar is complete without a stroll through the Petit Venise: a vest pocket of neighborhood with a canal flowing by all sorts of good places to eat and drink. on previous visits, we've always enjoyed a meal JY's — Jean-Yves Schillinger's Michelin-starred temple of contemporary dining, housed in a 1750 building boasting quite the trompe l'oeil facade.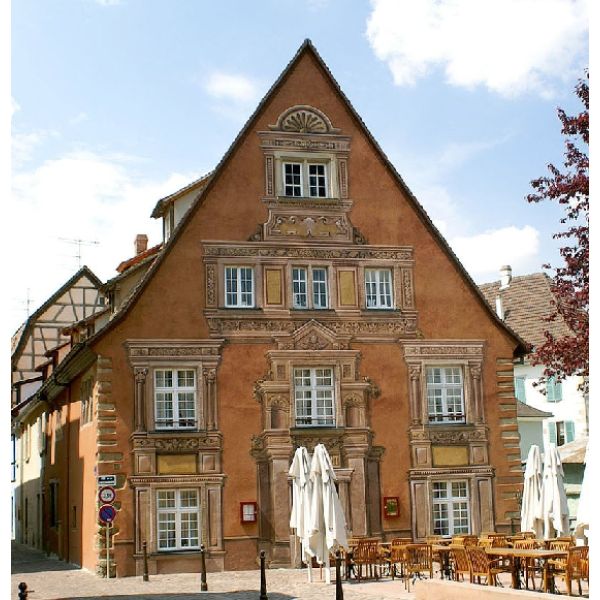 Schillinger's menu is a marvel of Alsatian ingredients, French technique and an almost Japanese sensibility when it comes to presentation, but on this trip, for our final meal, we opted for a more traditional restaurant: Winstub de la Petite Venise, where a plate of liver dumplings, and a giant pork knuckle seemed like just the souvenir to conclude our sipping, sightseeing and supping in one of the tastiest places on the planet.
AUBERGE DE L'ILL
2 Rue de Collonges au Mont d'Or
68970 Illhaeusern
+33 3 89 71 89 00
http://www.auberge-de-l-ill.com/en/
DOMAINE JEAN BECKER
Vins d'Alsace
2-4 route d'Ostheim
68430 Zellenberg
MAISON FERBER
18 Rue Des Trois-Epis
68230 Niedermorschwihr
http://www.christineferber.com/Christine-Ferber.html
LE MOREOTE
12 rue Général Philippe Rieder
68240 Kayserberg
+33 3 89 47 39 08
JY'S
17 Rue de la Poissonnerie
68000 Colmar
03 89 215 360
http://www.jean-yves-schillinger.com/
WINSTUB DE LA PETITE VENISE
4 Rue de la Poissonneire
68000 Colmar
03 89 41 72 59