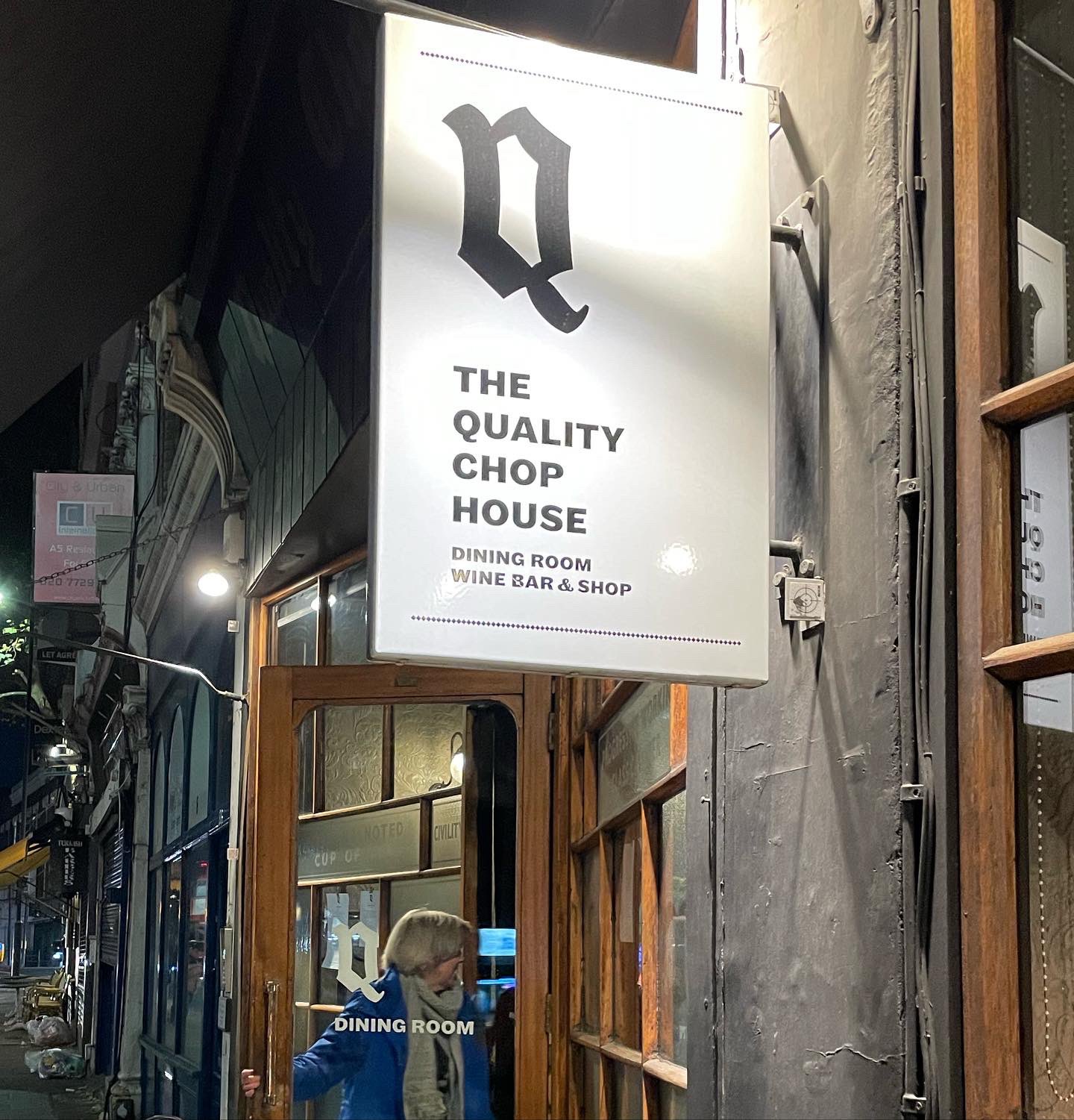 For a Francophile like moi to admit he was enchanted by London is quite a leap.
"London? Really?" numerous friends smirked, questioning my sanity.
"Somehow I can't see you hanging out in a Hugh Grant movie, quaffing down warm ale by the pint," one of them scoffed.
"What are you gonna eat? And drink?" others intoned with eyes narrowed (and a concern usually reserved for discussing chemotherapy).
So strong are the biases against British food, I can't say I blamed them. But anyone who knows me knows I could find a good restaurant on the moon. And London, my foodie friends, is full of them, if you know where to look, and if you have a secret weapon. And I had both.
Knowing where to look is easy. Stick with the classics, is my mantra. If it ain't broke, don't fix it. In London, that means booking tables that have been around since the 19th Century (at least). Spice things up with a modern meal or two, and luxuriate in some old-school imbibing, and you'll almost forget there is more refined cooking, and much better wine, 300 miles to the south.
Not to dwell on the differences between London and its gastronomic neighbor, but as a casual observer, I would say the Bulldogs are less food-obsessed than the Frogs, but that doesn't make their grub inferior, just less in-your-face. Paris assaults the senses with its eating and drinking options. London, like the British people, takes a while to get to know.
Perhaps it is because the catechism of classic British diet (from meat pies to mushy peas) is so boring that the really good stuff (seafood, astonishing veg, cheese, and superb beef) get short shrift indeed. This is not the place to explore three hundred years of English eating habits, but I can say with confidence that (most of) the cliches are all wrong, and classic Brit cuisine will knock you over with its simplicity and succulence. Leave the frou-frou to the French — London will bring out the trencherman in you.
Knowing my proclivities for the ancient and iconic (restaurant-wise), my secret weapon (Marina O'Loughlin — for five years the restaurant columnist for the London Sunday Times) — weighed in with a baker's dozen suggestions, of which we hardly scratched the surface. One week, as intrepid gastronauts know, is barely enough time to sample the hors-d'oeuvres of a country's cuisine. But we did our best for eight days and here's what we found: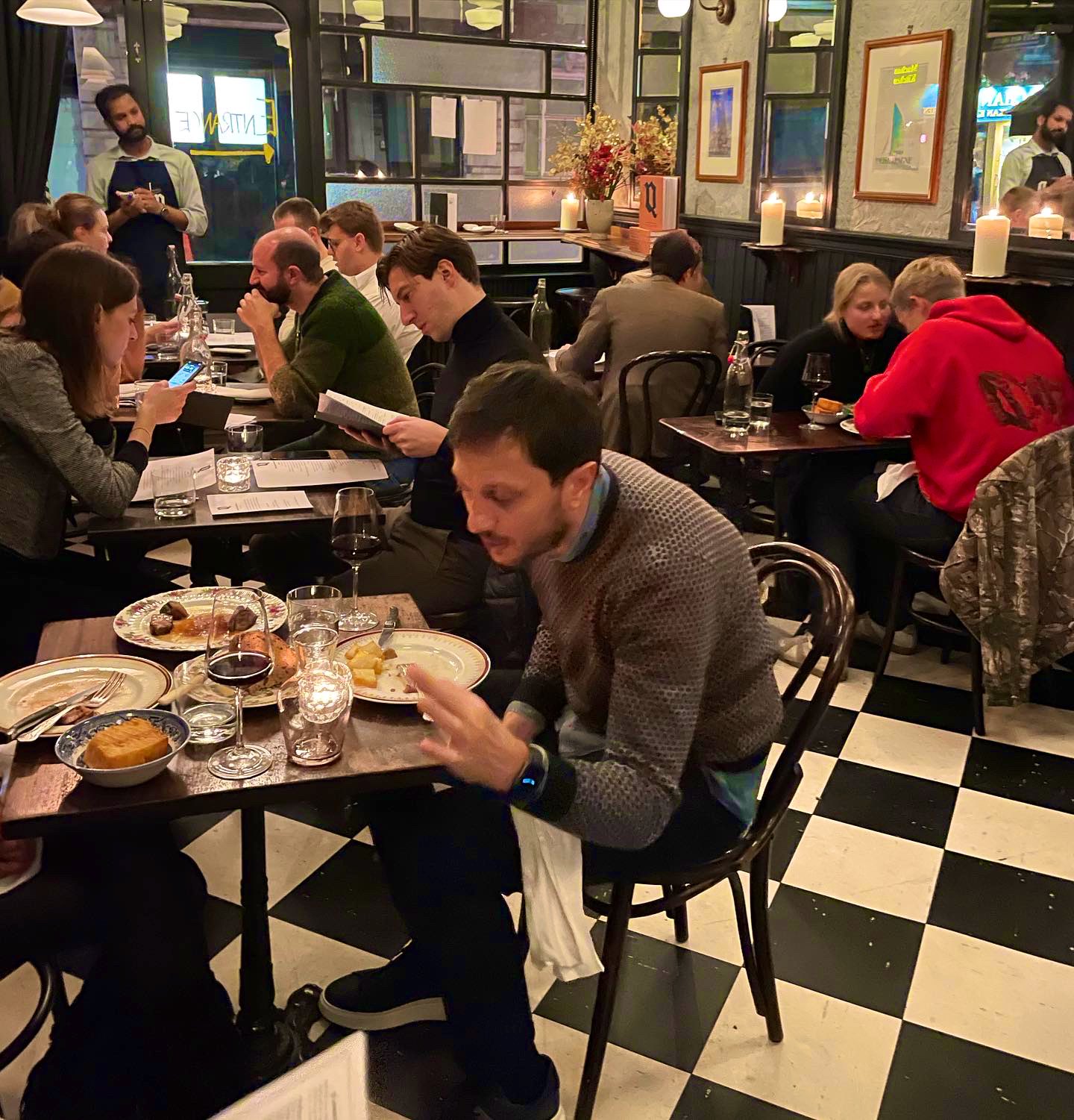 (Tiny tables, quality cooking)
"Unmissable" is how Marina described The Quality Chop House, so to it we repaired for our first evening's repast. The Food Gal® and I have become ardent urban hikers over the past decade, so the 2.5 mile stroll from our hostelry on Trafalgar Square to the Clerkenwell neighborhood was a breeze, even if we were a bit wooly-headed from ten hours on Virgin Atlantic.
Described as a "19th Century ex-working man's eating house revamped into a modern British dining room," TQCH will put you more in mind of a pub than restaurant at first glance, until you see the menu and discover you might be in the coolest little meat emporium in all of London. That revamping is purely menu-focused, as the stiff, narrow benches in the front room look like they are only fit for the emaciated physique of a chimney sweep. The second room boasts actual bentwood chairs (above), but also tiny, over-matched tables barely up to the task of containing  the wave of tasty vittles soon to be crowded upon them: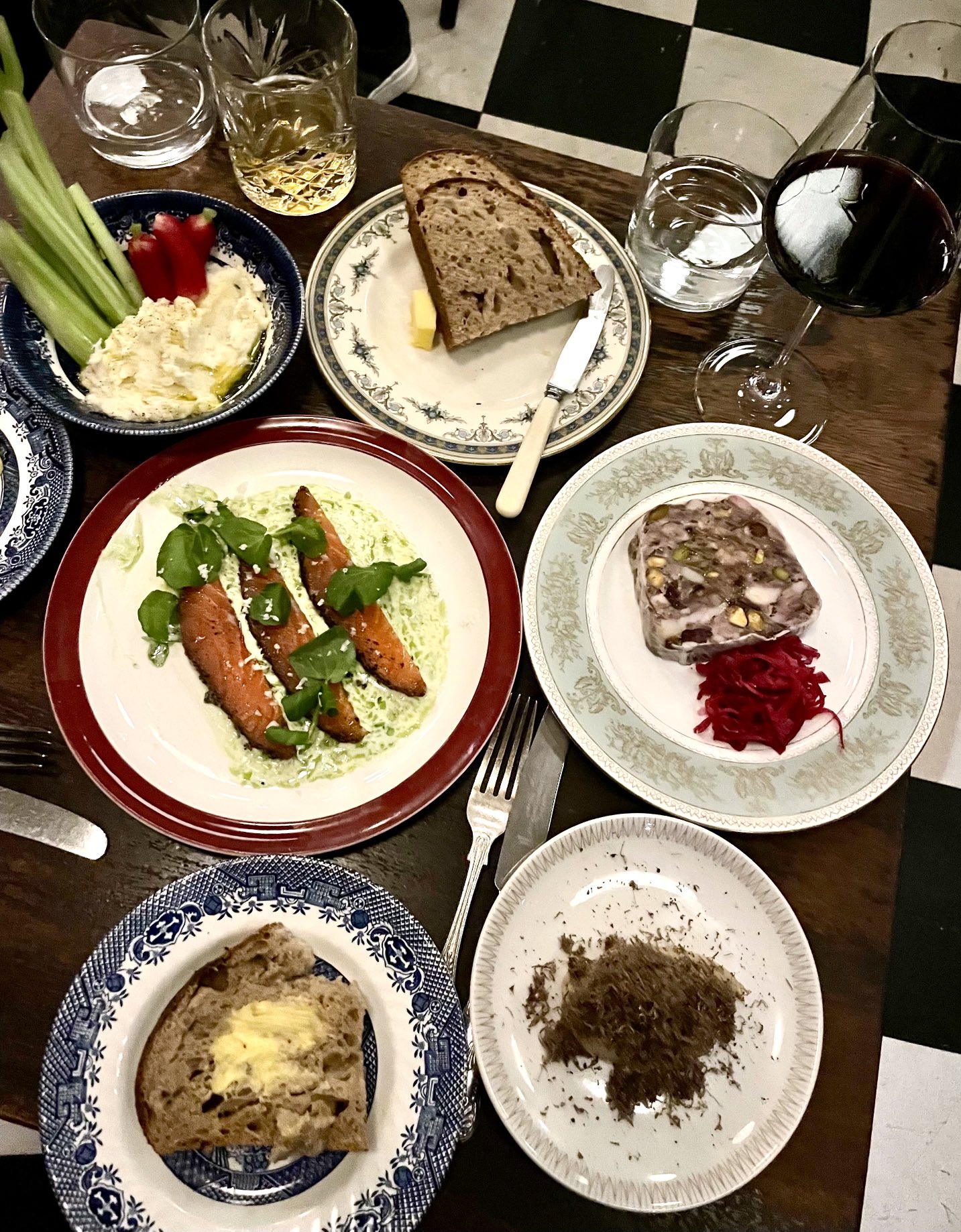 (Small table, big flavors)
As we came late, and were exhausted from both the flight and the walk, we were interested in comfort food served quickly, and the restaurant came through. Service was extraordinarily friendly to a couple of strangers wedged into the last table of the night. The wine list was the very definition of "eclectic" and we loved perusing every odd-ball bottle.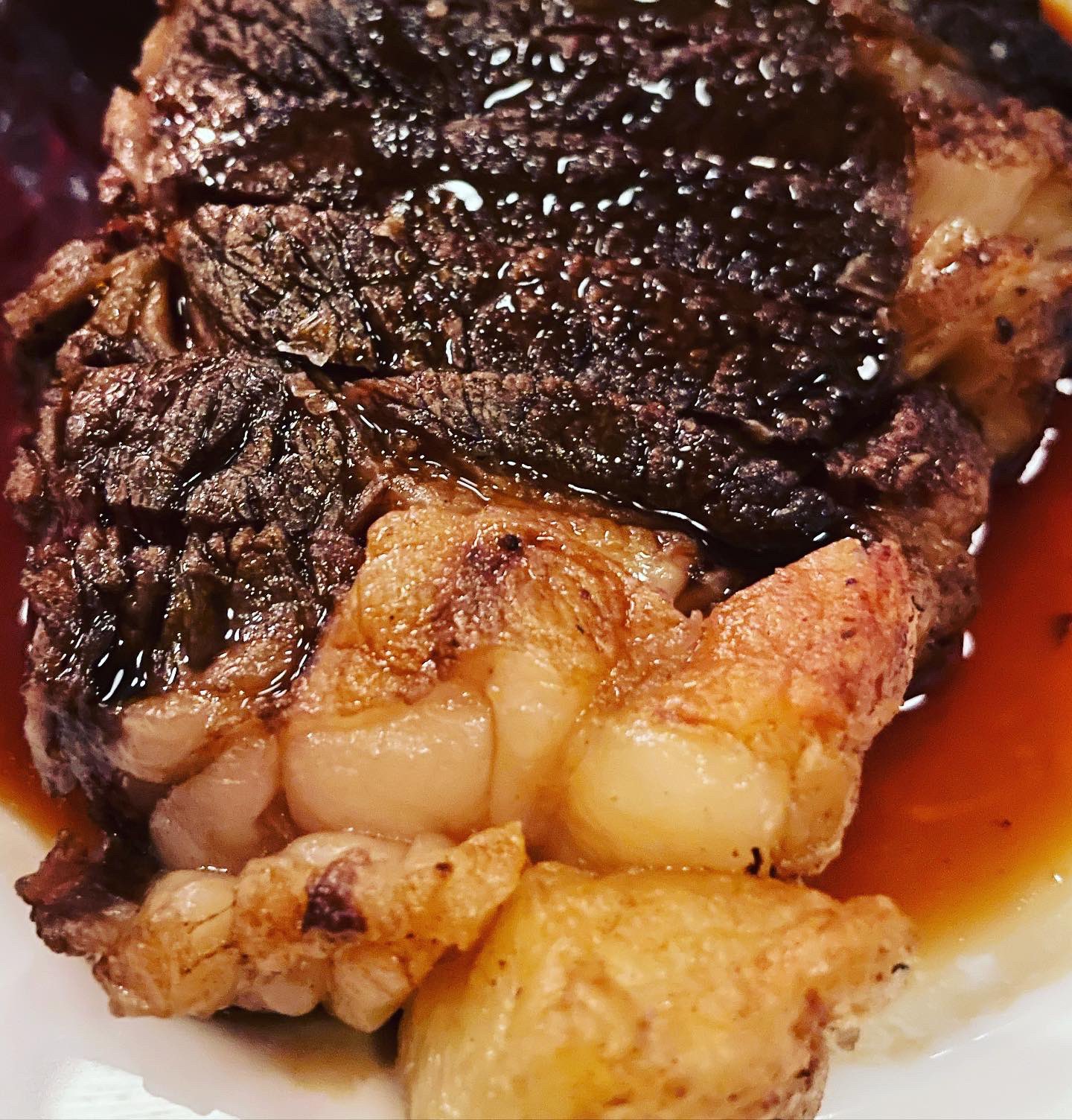 (British beef)
The setting may be old school neighborhood eating hall, but the menu has new-school gastropub written all over it. Marina had raved about the steaks so we dutifully tucked into a Hereford sirloin and found it mineral-rich, fatty, tender, and flawless — even after our weary bones had already polished off half a loaf of tangy sourdough with good butter, pâté de campagne, salt cod brandade, pastrami-cured salmon, and chicken liver/foie gras parfait hidden blanketed with shredded black truffles.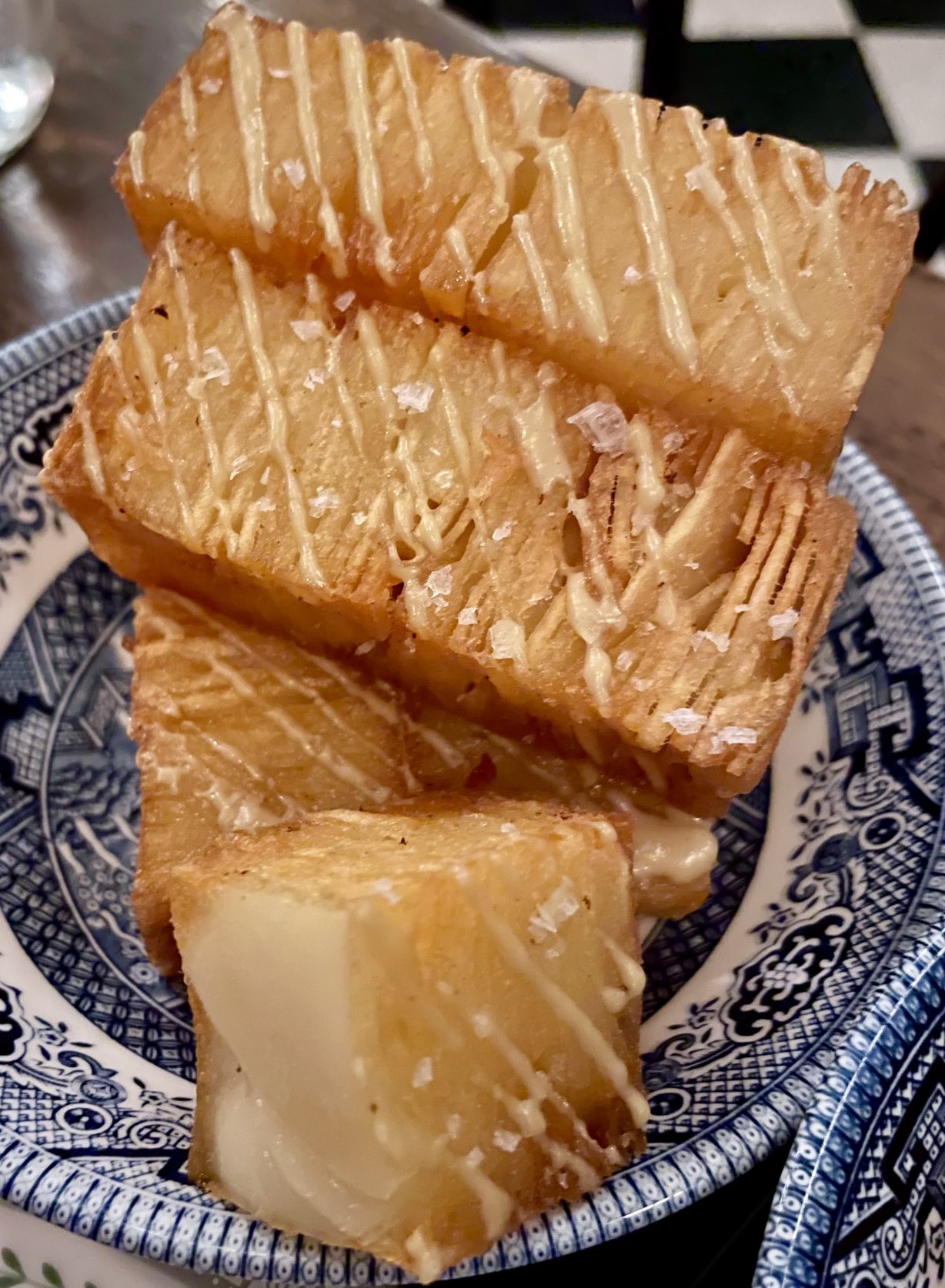 (British spuds, French technique)
Our waiter chided us for forgetting to order the layered, buttery potato confit (resembling a mille-feuille of shaved spuds), and set them down on the table (with a wink and without charge) as soon as the steak appeared. He also insisted we end our feast with the olive oil ice cream and it was a show-stopper as well. I was too exhausted to drink much, but dimly remember a couple of glasses of a recommended French red I had never heard of going splendidly with the steak, and a bill that clocked in at around $200 American for small meat-fest fit for the gods.
If the test of a great restaurant is whether you can't wait to return and try everything on the menu, then The Quality Chop House qualifies in spades.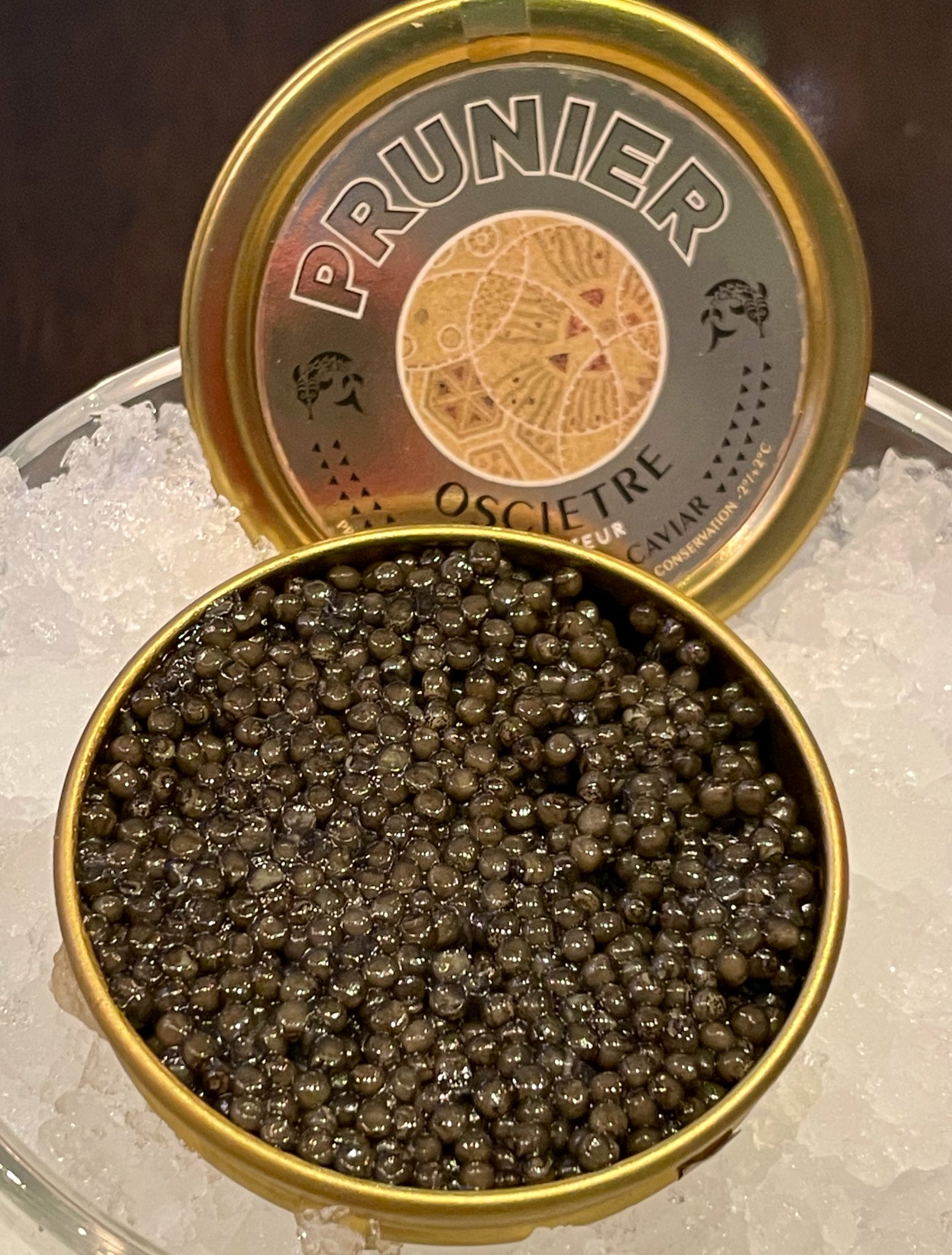 (Tastes like hazelnuts, not salty, stale fish)
If the Chop House felt like the grooviest steak pub in London, Caviar House and Prunier represents the other end of the spectrum: a posh champagne and fish egg boutique where its nutty, subtly saline sturgeon eggs are a far cry from the fishy and salty stuff they throw on everything in America from desserts to Doritos. We couldn't resist dropping a bundle on these and some smoked Balik Norwegian salmon — accompanied by warm blinis and tangy creme fraiche of the sort we can only dream of on this side of the pond.
Gird your loins if you wish to wallow in sturgeon eggs, because quality this high doesn't come cheap. A few small bricks of salmon, two glasses of house bubbly, and the tin you see above set us back a cool $275. And no, our hunger wasn't cured but our lust for quality oscietre was.
From the toniest seafood digs in St. James it was back to workingman's London — specifically the Smithfield Market — where Fergus Henderson's St. John has held sway for three decades. No self-regarding epicure travels to London without putting this notch on their belt, so here we marched, thirty years late to the party, to the holy grail of nose-to-tail.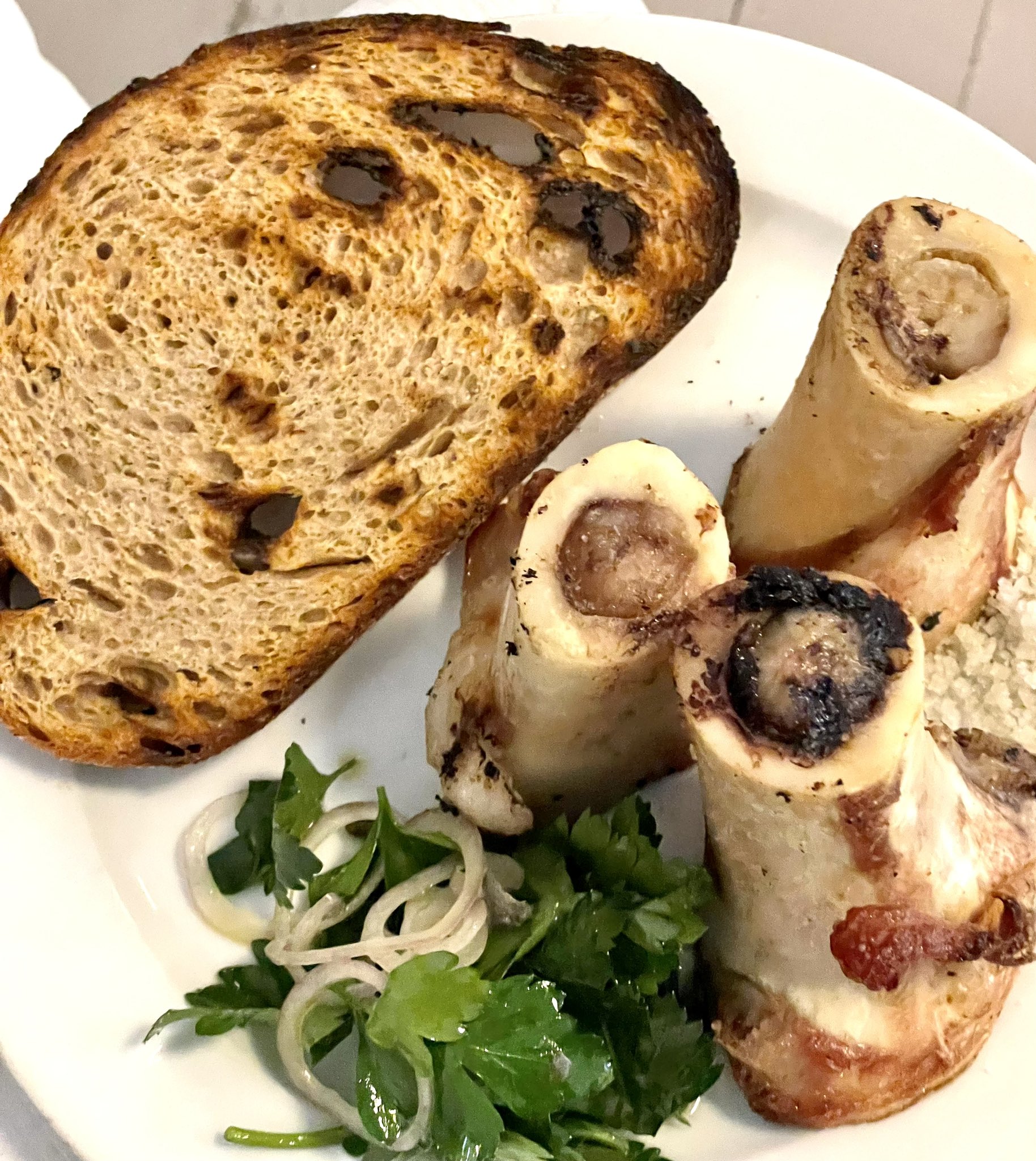 For the uninitiated, Henderson was not the first chef to serve tripe, headcheese and kidneys, but when he took over this bare bones, inauspicious space (in 1993) next to London's famed meat market, and converted a former smokehouse into a whole animal-focused restaurant, his influence was felt world-wide. In effect, he discovered a market no one knew existed: boomers in their prime, eager to break out of the steak, fish and chicken template that had defined western menus since the 1950s. The success this restaurant saw in the mid-nineties (and the publicity it garnered therefrom) is partially responsible (or to blame) for why you see pork belly on every upscale restaurant in the world.
You can also lay the ubiquity of short ribs and bone marrow at his doorstep. So far though, despite the best efforts of Henderson's acolytes, no one has been able to do the same with sweetbreads, pigs ears, and kidneys. Hope springs eternal.
Fergus deserves further credit, or opprobrium, for foisting the inexplicably popular industrial restaurant look on the world — defined by hard seating, minimalist decor, and lighting less flattering than a hospital waiting room. The look may be overdone elsewhere, but in its original incarnation it works, since the food is as spare and uncompromising as the surroundings. There is nothing fancy about the joint, from your first bite of crispy pig's foot, to the bare bones oleaginous marrow to be spread on the exceptional house-baked bread, to a mountain of deviled lambs kidneys that would defeat all but the largest lover of "variety meats" as these organ innards are often called.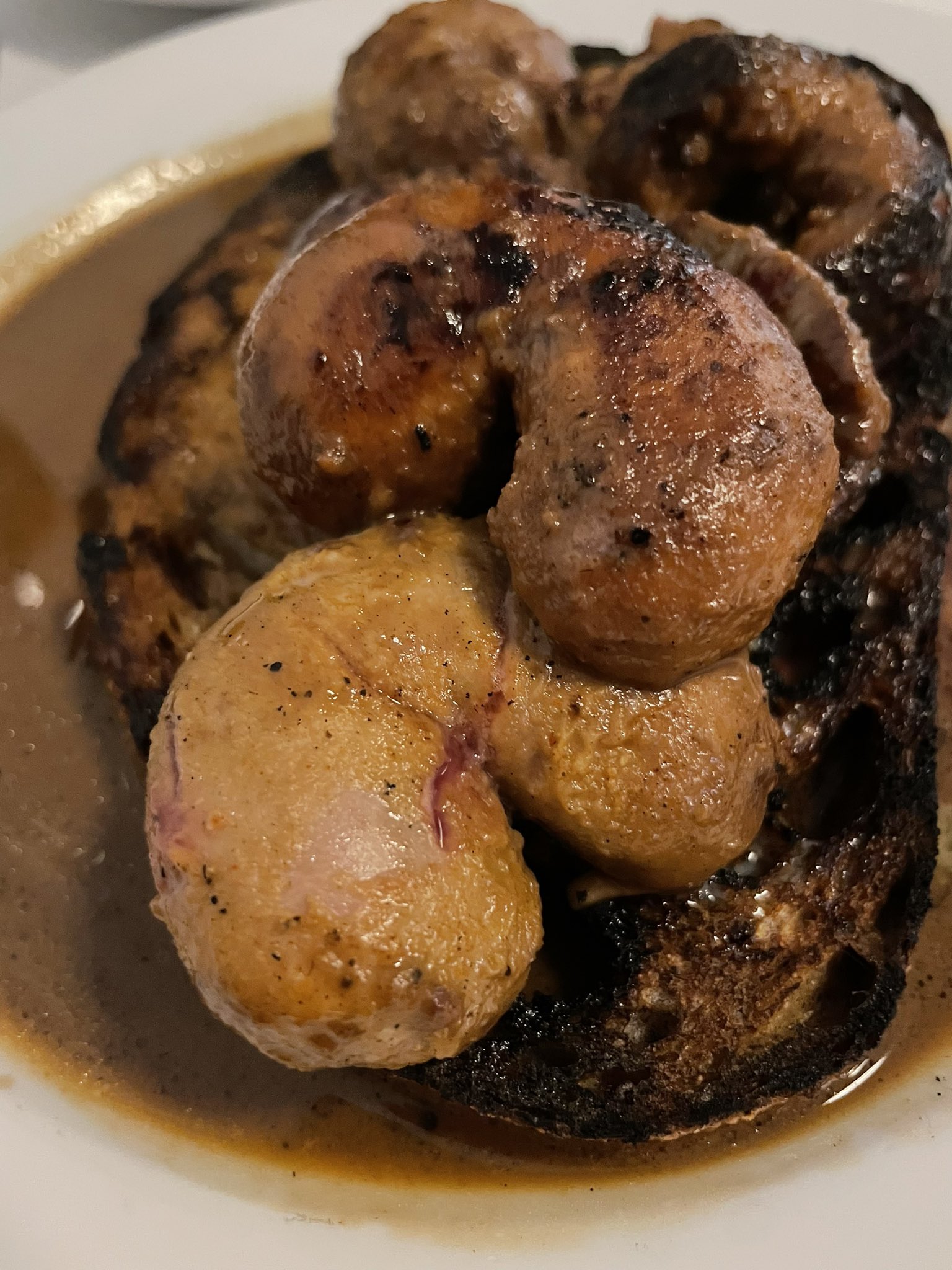 (Quite the pisser, these bad boys were)
"It's quite a lot of one thing, isn't it?" our sympathetic waitress observed as she laid the outcropping of offal before us. James Beard once wrote that kidneys derive their appeal from the "faintest tang of urine" left behind as one masticates through the rubbery morsels. Anyone describing the flavor notes on these bad boys as containing "undertones of urethra" though, would be guilty of serious understatement. The uric acid tang was there all right, side-by-side with enough rough-hewn wild gaminess to stop any carnivore in their tracks. And we loved it. Not enough to eat the entire batch, mind you, but sufficient to give us bragging rights in any organ-measuring contest in the future.
Like everywhere we ate in London, service was friendly, informed and fast. I'm at the age where almost all waiters look like teenagers to me, but in every place we tried, from the fancy confines of the Connaught Hotel to an industrial borough like Smithfield, we had nary a complaint to make. Our bill– lunch for two with a couple of glasses of cru Beaujolais — was also the cheapest of the trip: around $150 at the current exchange rate.
Straightforward food, served without adornment, is the mission statement of St. John. It no longer needs to proselytize about whole animal butchery and cookery because the whole world has picked up the chant. Or at least part of it. When lamb kidneys start showing up on American steakhouses, Henderson's revolution in how we eat animals will be complete…but I wouldn't hold my breath just yet.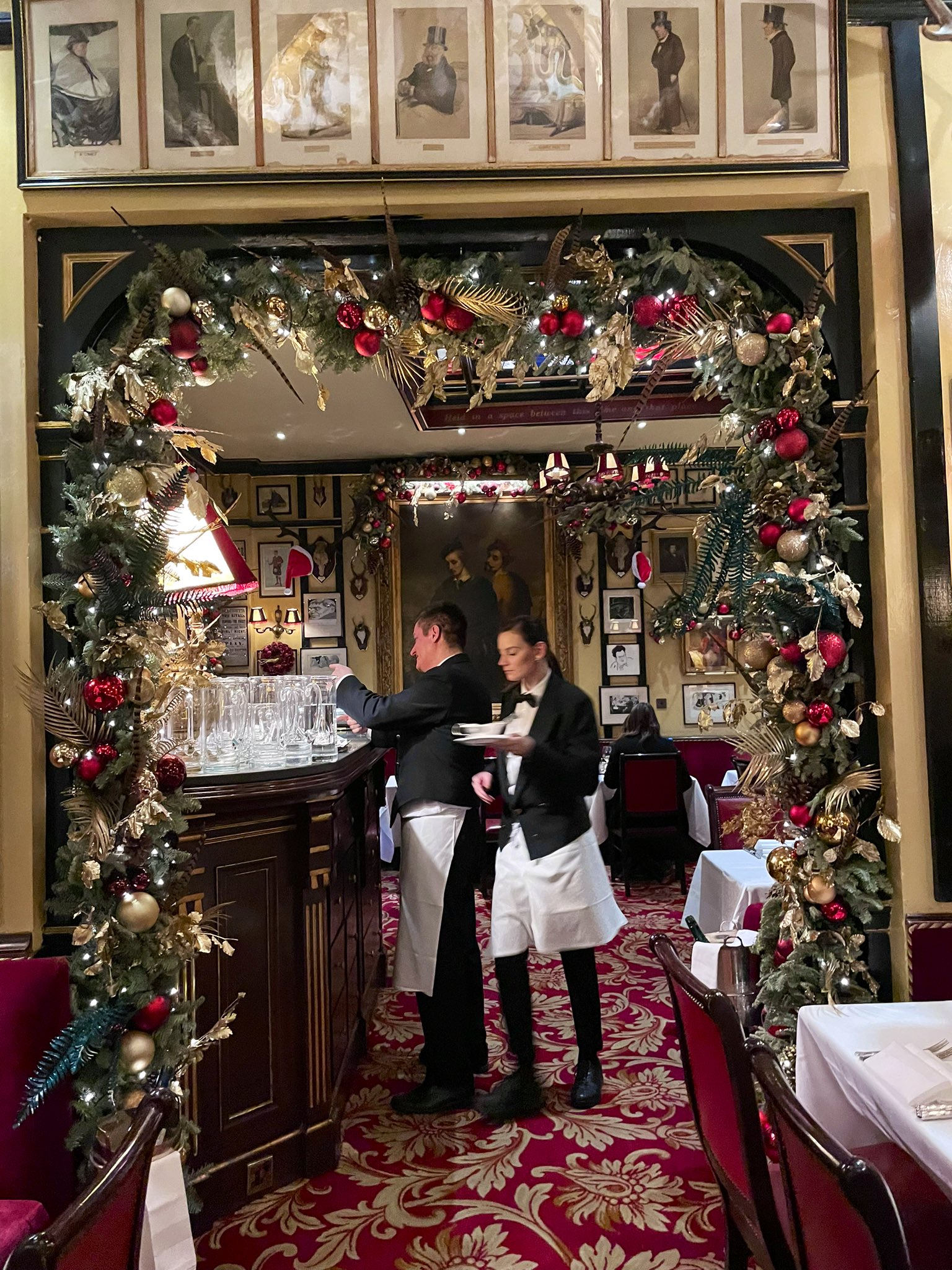 (No humbuggery here)
Compared to St. John, Rules is positively antediluvian. Some may call it ossified eating, better suited to Victorian tastes in haunches of venison and fresh-killed birds (which come with a warning to watch for buckshot), but at Christmastime the place is magical. We met Marina and hubby David there, and truth be told, the conversation was so lively we paid scarce attention to the food.
What no one can ignore is the gorgeousness of the place. The walls could double as a mini museum, with portraits, cartoons and articles spanning 200 years of catering to the carriage trade. The wine list isn't much ("If I'm going to drop 200 quid on wine, it won't be here"), but the leafy, Victorian second floor bar (you have to be escorted upstairs) is so captivating you'll be tempted to while away your mealtime sipping on good British gin or a Pimm's Cup. Resist mightily these imbibing urges, pilgrim! Because a meal at Rules is timeless and one for the ages, and unlike any other in London.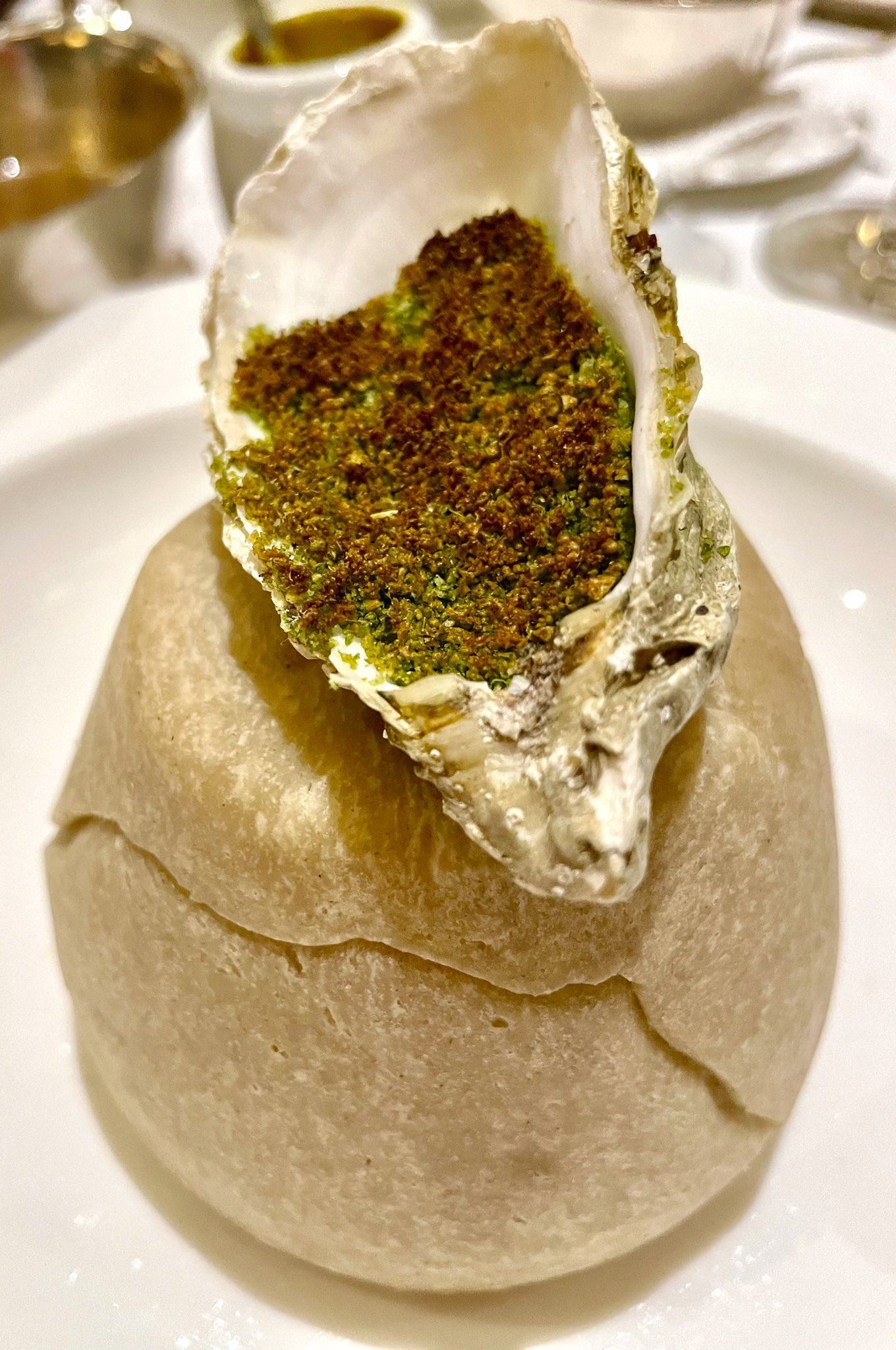 (If you don't eat your meat, you can't have any pudding!")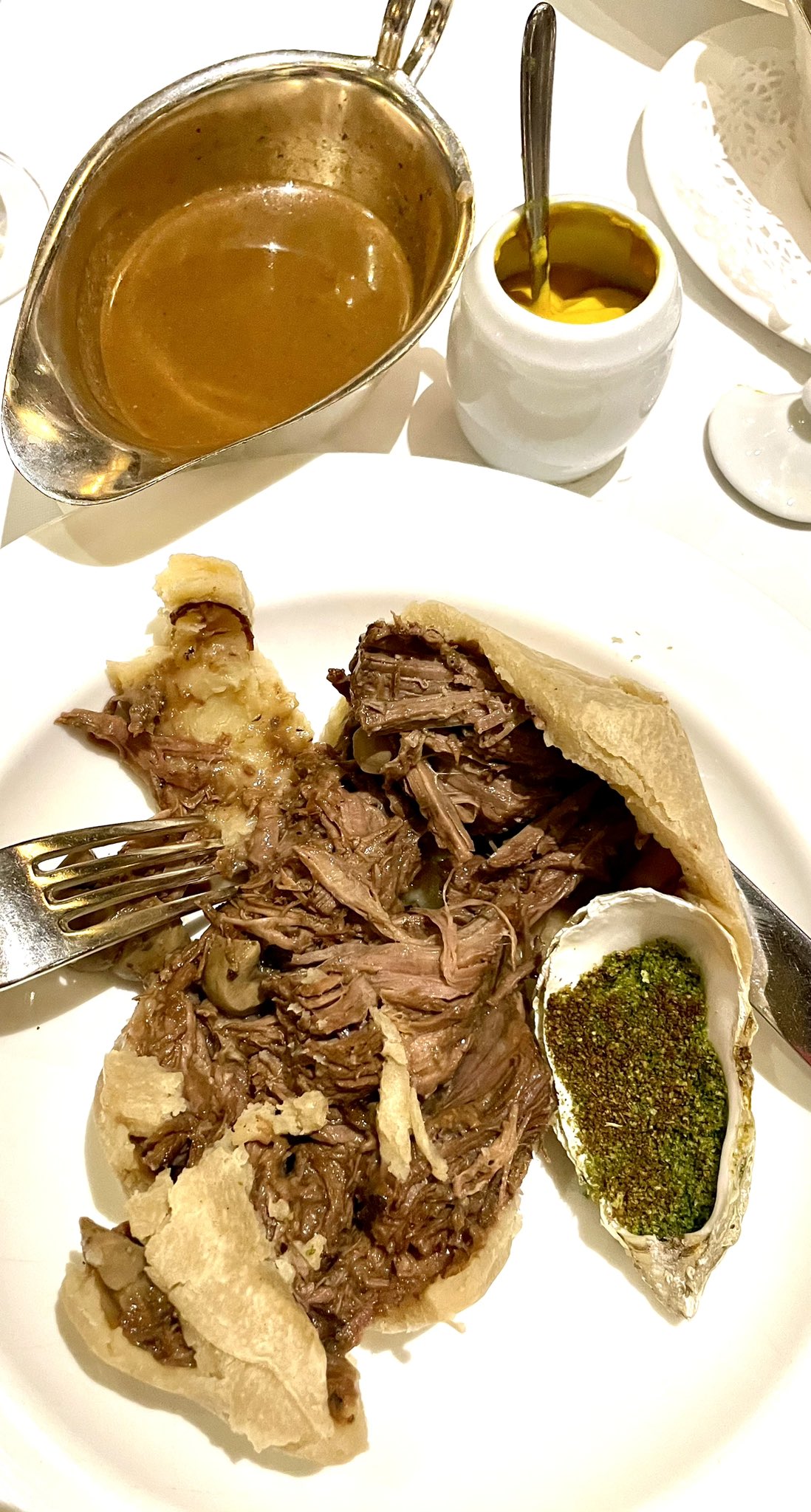 Consider for a moment that you are eating in the same restaurant where everyone from Winston Churchill to Benjamin Disraeli once sat. Then concentrate on your food more than we did.
What you'll find is a menu of rib-sticking standards that have withstood the test of time. What we did notice was Marina's gorgeous Devon smoked eel, and David's pheasant disappearing quickly, and once we broke through the suet crust on our steak and kidney pudding (above), we discovered the most meltingly toothsome of beef stews, enriched with the flavor of (you guessed it) more kidneys (urine tang not included). This bastion of ancient Englishness has been around since 1798, and how you take to it will depend on your taste for no-nonsense dishes like potted shrimps, Dorset crab salad and whatever game is in season. But no matter what you order, you'll find a kitchen not resting on its laurels, but deeply-steeped in the classics and doing them proud.
Quote of the evening: "Sancerre is the U2 of white wines." Yes, we are soooo stealing it, and henceforth, intend to claim proprietary rights to this juicy putdown — humiliating white wine sheeple on both continents with David's all-too-true bon mot.
Also too true was this sticky toffee pudding — the last word in English desserts: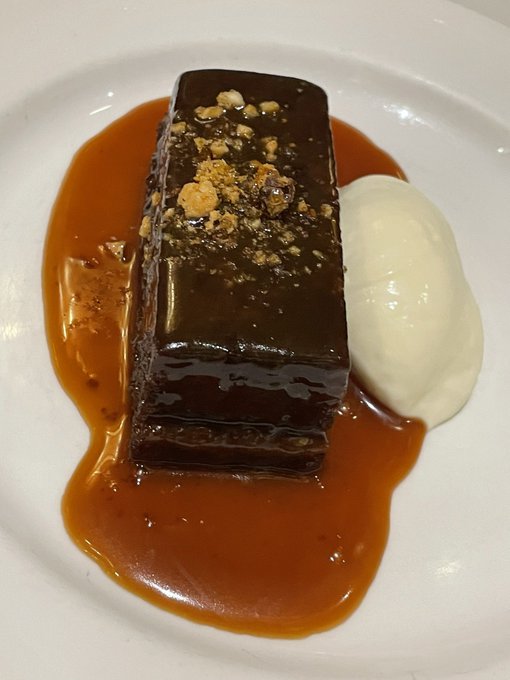 Rules is a splurge, but not as dear as you might think. Even with two bottles of wine (one champagne and one Burgundy, natch) coming in at around 300 pounds sterling, the food bill was about the same, meaning we ate like King Henry VIII for under $100/pp American.
Like St. John, Rules is a place I had always wondered about, and longed to try for decades. Would it be as good as its history and hype? Is English food going to be one big blandburger? And what's the deal with all the meat? And so few sauces? Do they even know what seasoning is, or what a green vegetable looks like?
Seek and you shall find, the saying goes, and what we found was straightforward cooking with little of the cartwheels in the kitchen invoked in American gastronomic restaurants, where the chefs seem duty-bound to strut every trick they've ever learned in culinary school (or have seen on Instagram). There was an unapologetic honesty (and a purity of flavors) to the food we encountered that only comes from confidence. Confidence in oneself as a cook, confidence in your ingredients, your culture, and in what the restaurant stands for — be it a small, modern steakhouse in an antiquated setting, or an icon of British gastronomy.  Most of all, these places evinced a trust in their customers to appreciate the labor and the traditions behind the food being served. Aside from Marina and I doing our duty as serial restaurant chroniclers, I didn't see a single person snapping pictures of their meal in any of them.
Hail, Britannia, indeed.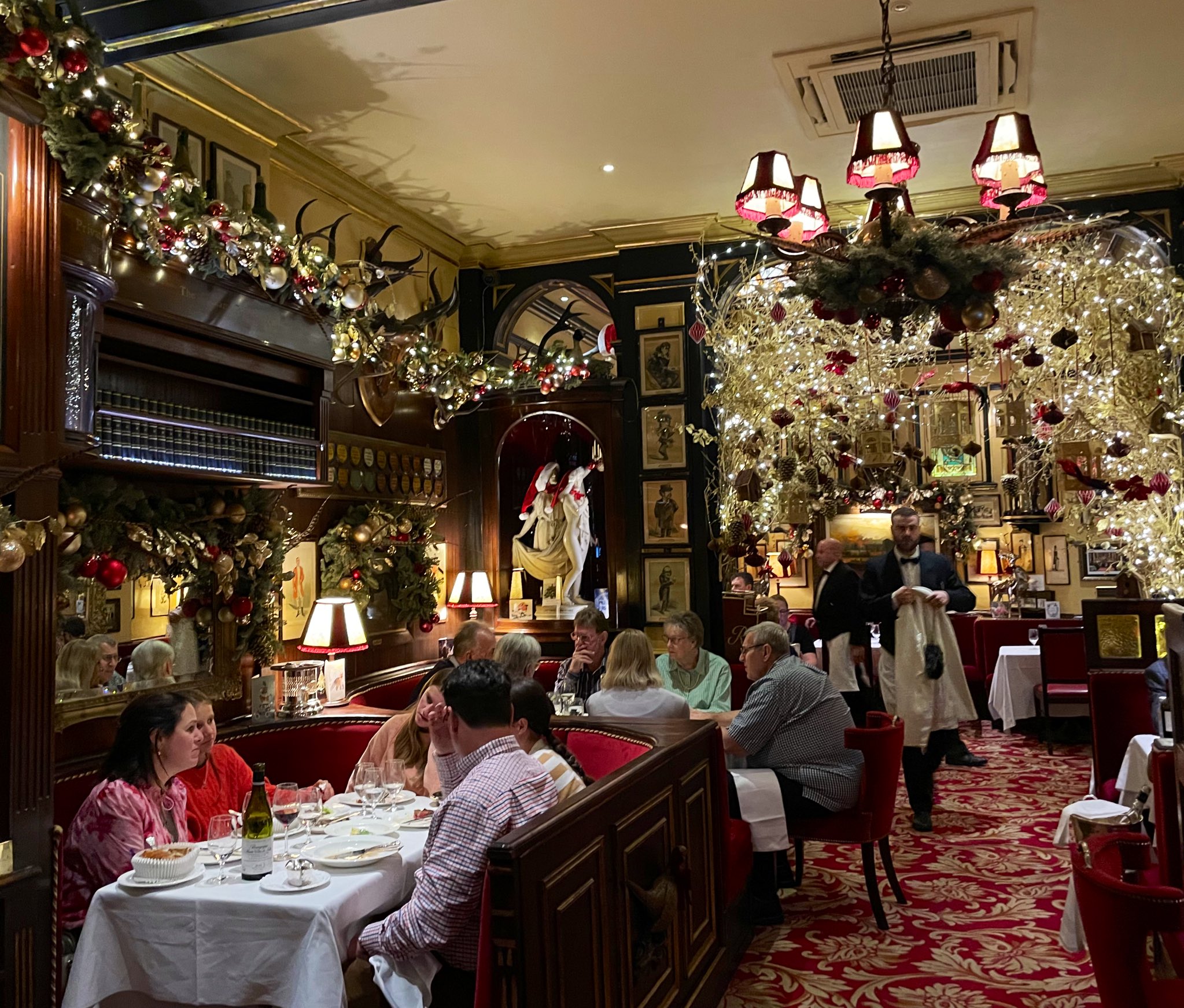 This is the first part of a two part article on my recent eating adventures across the pond. Part Two will drop in a week or so.