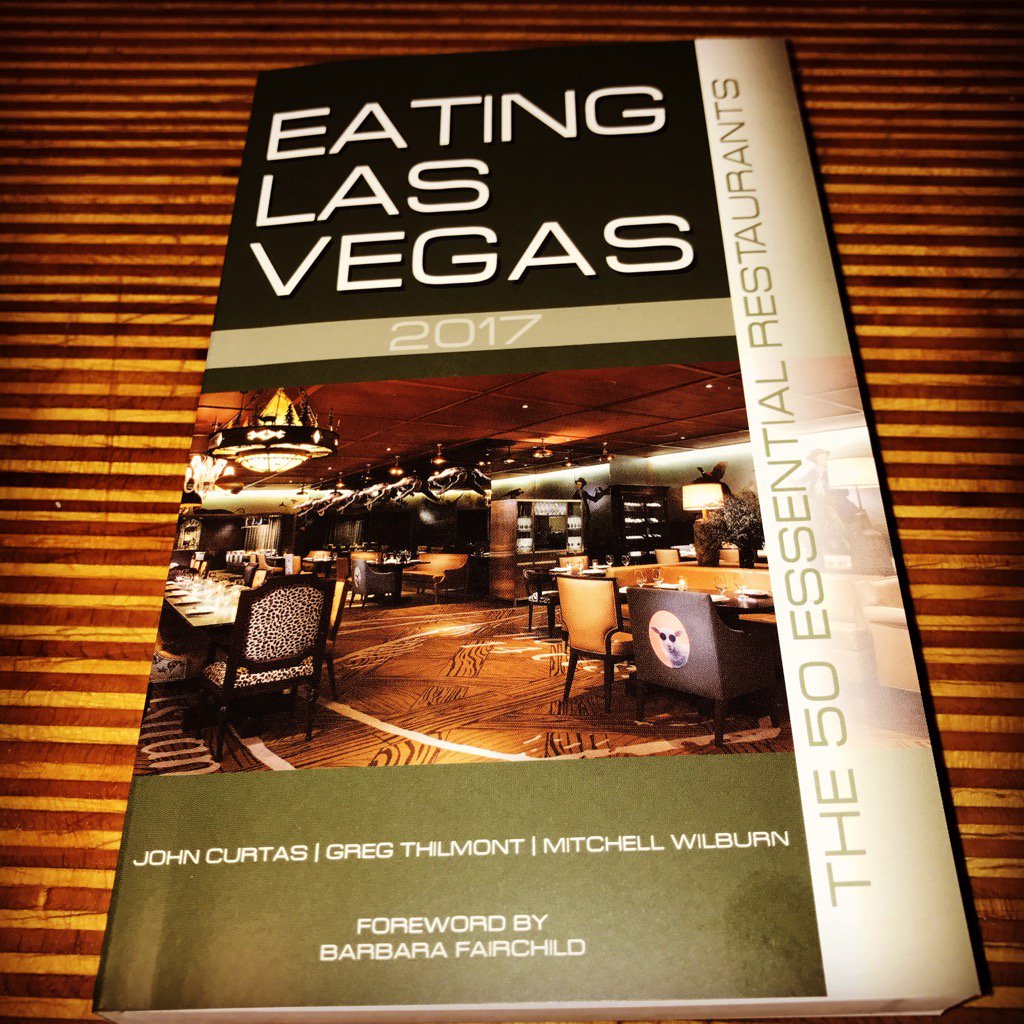 It's here and you know you want it. You know you need it. You know you gotta gotta have it.
And it just-hit-the-shelves. like yesterday: The 5th edition of EATING LAS VEGAS – The 50 Essential Restaurants – a concise, literate, irreverent, honest, meticulously researched tome that tells you where you should be eating and drinking in Las Vegas right now….and for the next year.
Everything you've come to know and love about Las Vegas's only definitive dining guide is here:
The Top 10 (with several surprises in store)
The Rest of the Best (with 13 new entries added just since last Spring)
Chinatown (Updated and expanded with almost 20 pages of recommendations of where to get your Asian on.)
Steakhouses (Why we're becoming the center of the steakhouse universe + our top 10 + shout outs to all the usual suspects.)
A new "French" section (Did you know there were 16 great French places in town? Neither did I until I wrote the darn thing.)
17 Mexican joints rate a wave; 28 Italian ones do.
Expanded "Desserts" section
"Sushi" now merits its own chapter.
8 full pages of "Cheap Eats" (Done under duress by yours truly; thank god for Mitchell Wilburn and Greg Thilmont.)
"Drinking Las Vegas" now gets a serious section, with Thilmont and young Wilburn weighing in on everything from coffee culture, to brewpubs to dive bars. (Cooler, more sober heads prevailed and they left the wine recommendations to me.)
And my favorite section of all, soon to become a fan favorite: "JOHN CURTAS' BOTTOM 10"! Rather than give away too much, we'll just quote our introduction to the chapter and let you find out for yourself who won this race to the bottom.
Do you enjoy overpriced tourist traps? Tired food? Dated decor? Giving hard earned dollars to celebrity chefs who are phoning it in? Then Las Vegas has you covered too! Not only does Sin City boast dozens of the world's greatest restaurants, it also hosts more htan a few half-baked concepts, licensing deals with "name" chefs, and sad old warhorses, all of which exist to separate the gullible from their cash. Proceed to any of these at your own risk, and don't say I didn't warn you.
We at ELV are warning you:
….to avoid that most dreaded of all eating-out fates: dining in Tourist Trap or  Celebrity Chef Hell.
Don't say we didn't warn you!
>>>>>>>>>>>><<<<<<<<<<<<<<
P.S. They make great stocking stuffers for the restaurant goer in your life….which is like everybody these days, isn't it?
This is shaping up like a big week. Or maybe just a Big Night.
But you need to be paying attention, especially if you're a chef or restaurant owner.
Because through timing, sheer luck and/or mere coincidence, both the newest edition of EATING LAS VEGAS – The 50 Essential Restaurants and the 2016 Desert Companion Restaurant Awards are set to hit the newsstands sometime in the next few days.
Needless to say, there are a few surprises in store. From who's in to who's out, to who made the Top 10 to who rates the top toque as Chef of the Year, these are our highly vetted, contumaciously chosen, carefully conceived categorical champions.
We at ELV are sworn to secrecy until they officially get published, so until that happens, we intend to maintain radio silence.
That is all.
(Not my mom)
Some people think Christmas Eve is the most exciting day of the year. Others prefer the Fourth of July, their birthday, or a day with religious significance. But for me, the most exciting day of the year has always been Thanksgiving Eve – the one day of the year when everyone in America is pretty much looking forward to the same thing: a day-long feast of food, friends and family.
And cooking. If you love to cook, or love people who love to cook, Thanksgiving is pretty much Christmas, Easter and your birthday all rolled into one.Even as a child I remember getting excited on the day before Thanksgiving. My mother (more of a 50s-60s convenient home cook than anything else) did her motherly duty every Thanksgiving week without complaint, and even though I'm not sure she ever enjoyed the fruits of her labors, she did a damn fine job of roasting a big-ass turkey (with Pepperidge Farm stuffing!), mushing potatoes into a silky, milky mash, and slicing that canned, jellied cranberry sauce with the best of them. And by the time she started baking those Mrs. Smith's frozen pumpkin pies, everyone in the house was giddy with anticipation.
I think it was always seeing those extra groceries piled up in the kitchen (and that big-ass turkey) that first got my gastric juices flowing, and by the time it filled our house with roasting smells, and was finally taken out of the oven, everyone was fighting for a piece of crispy skin or the drumstick. But it was the day before the feast that always fascinated me: the shopping, the provisions strewn about the kitchen, my mom arranging everything to be made in the world's most modest mise en place. Raw potatoes piled high, big bowls everywhere, a pressure cooker on the stove, that scary Sunbeam mixer, poised to whip those potatoes with its whirring, slightly scary, interlocking steel blades — all of it told me something special was about to happen in our house and it all had to do with FOOD!
It also had to do with anticipation. And in my world, anticipation in more than half the battle. Then and now, I consider looking forward to something to be almost as enjoyable as doing it. (You should see me when I'm planning a vacation.) It's the secret to life, really – always having something to look forward to. It's what gets us out of bed in the morning and what motivates a thinking person's every step. And on those cool, Thanksgiving eves of so many decades ago, what I could look forward to was being with the six of us, sitting around the table, thinking about nothing more than how good everything tasted.