Zydeco Po-Boys — that bastion of casual N'Awlins cooking in Downtown Las Vegas — will shut its debris doors for good on March 3rd.
Here are some of the comments (taken off Facebook pages) from some of its fans and other folks about its demise:
This was predicted by City planning when they recommended to deny Container Park's box enclosure plan realizing it would artificially cut off the streets behind it from normal urban flow. Making it many times harder for a business to succeed. But Council let amateurs make planning decisions for better (sometimes) and worse (most times).
"Unfortunately, people don't want to be eating inside a restaurant while watching someone dig in the trash directly outside the window." – Chef Bradley Manchester – Glutton (Who knows a thing or two about operating downtown.)

This is the most pathetic excuse I have ever heard. Obviously chef Bradley Manchester has never been to San Francisco or any other major metropolitan area in the United States. To even make a comment like this is beyond the pale. I can't even believe I spent a dime at Glutton.
Parking rates are too high and parking control hovers around more than a panhandler needing a fix.
Parking, planning, panhandlers…what caused the failure? Well, to answer the question, we put it to the chef/owner Brandon Trahan, a thoughtful fellow who poured his heart and soul into the business for the past two years. Here's what he had to say:
Was it the landlord?
No, not at all. The Downtown Project did everything they could; they built the space and gave me every chance to succeed.
Was it your location?
In a way, yes. It's hard to get tourists to make the trek just a couple of blocks over from East Fremont Street to here.
Was it the closing of Glutton?
That didn't help. Glutton created foot traffic on the block that we definitely benefited from. Once they closed, there were a lot less people walking by. Also, after Glutton closed the street got much darker at night. It's really dark down here and not having that business open on the corner did not help things.
Are there too many places downtown?
Maybe. Maybe there aren't enough people (living) here to support all of us. VegeNation does great though, so does EAT, Carson Kitchen and the Donut Shop. They've been great neighbors. We're like a community down here.
Was it the bums?
Not really. I didn't see some of the bad activity that others have described. Besides, anywhere you go in any big city you'll see lots of bums. You've been to San Francisco, right? There, you can be having a fancy meal and see all sorts of homeless right outside the window of a nice restaurant.
Was it your food?
People here don't really understand Cajun food. They think it's real spicy. It can be, but it mostly is just well-spiced. We also fry a lot of things so it isn't a light cuisine, but, of course, that's where the flavor is.
What about parking? Everyone always wants to blame the parking.
Everyone wants to blame the parking situation, and it could be better, but I don't think that causes a business to fail.
What would it have taken to stay open?
40%. 40% more customers, 40% more gross revenue. Without that it just didn't make any economic sense to continue.
Any parting words?
We tried our best. The landlord was great, it was all on me to make a success of the place. They let me do my thing my way, and for that I am very grateful. In the end, there just wasn't enough daily business down here to keep the place open. Some days we were busy; some weekends I'd see a line out the door at EAT and we'd have only a handful of customers the entire day. I'm sad but I gave it my best.
We'll miss Brandon — a second career chef who went to culinary school and left Louisiana after the Hurricane Katrina disaster wiped him out. We'll miss his warmth and good humor, as well as his gumbo and shrimp po-boys. He also fried the best skinny onion rings on earth: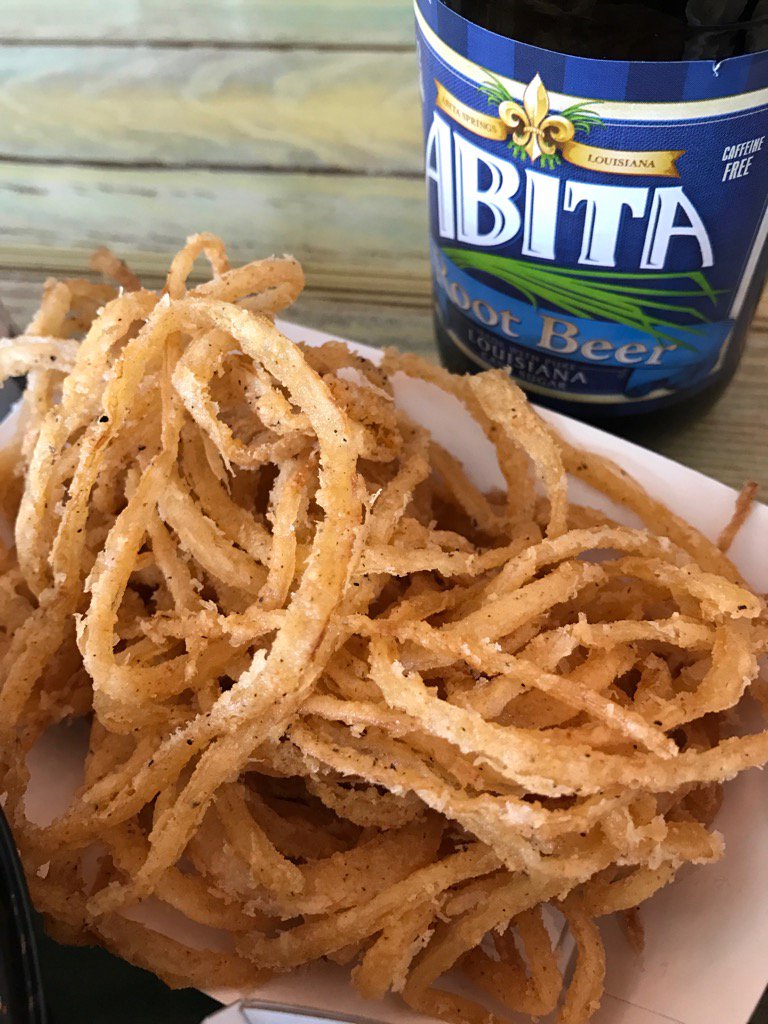 If my waistline would've allowed it, I would've eaten his food at least once a week.
Zydeco Po-Boys closes a week from tomorrow – March 3, 2017.
ZYDECO PO-BOYS
616 East Carson Street
702.982.1889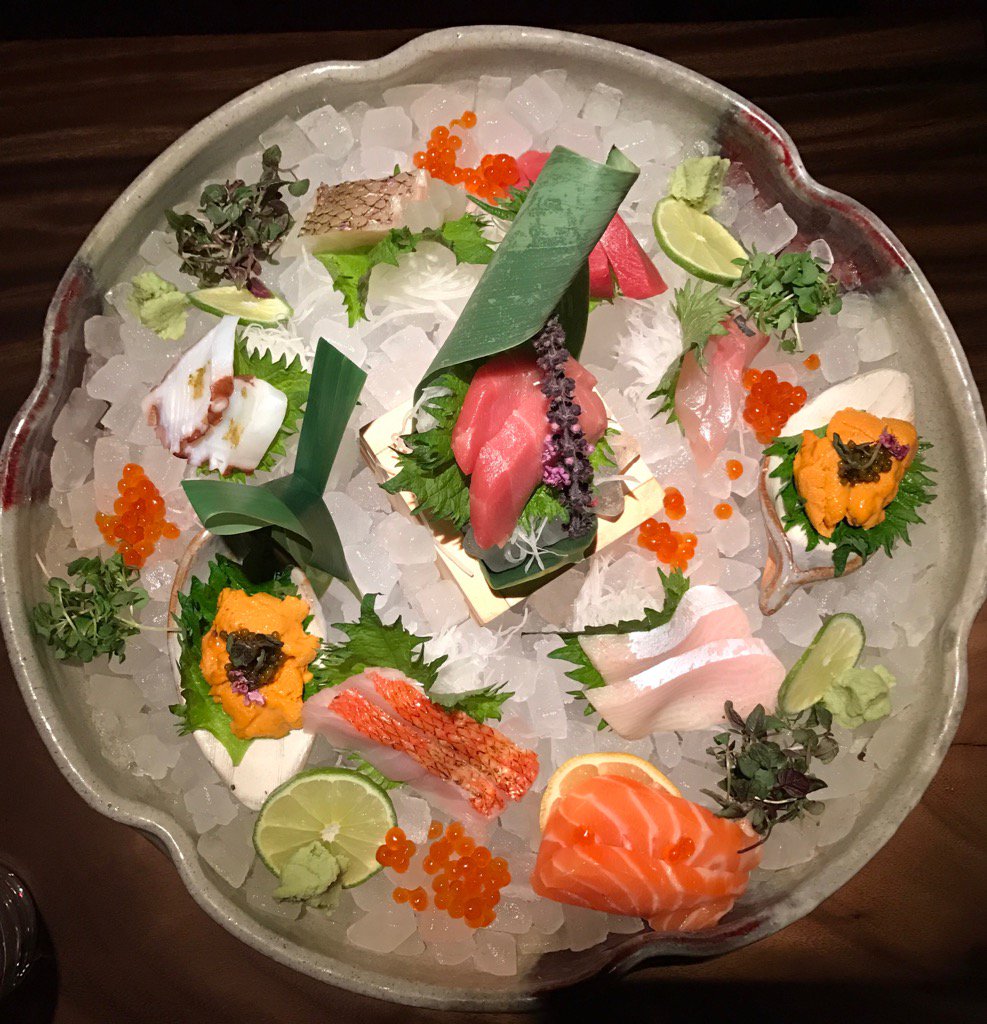 It's hard to get excited about big box Strip Japanese restaurants anymore.
It's hard because they're all clones of each other.
What Nobu started back in the late 90s has spawned copycat after copycat, until these days it's tough to tell your Hakkasan from your Yellowtail.
Morimoto, Nobu, and Mizumi are essentially the same restaurant. Remember Social House? That's okay, no one else does, either. Kan't rekall Koi? You're not alone. Everyone of them follows the same blueprint. You've got your bar, you sushi bar, and your fancy steaks and your edamame. Then there's the Japanese veggies, extravagant sushi and your robatayaki this and your yakitori  that. The only thing that's different is whatever flourishes the chef want to add to their garnishes and presentation platters.
We ascribe this phenomenon to the improbable/ecologically indefensible rise of sushi as the protein of choice for a world looking to "eat healthier." Ever since sushi became a "thing" around fifteen years ago, our insatiable hunger for what is, in essence, a pretty bland fish (tuna), has become the go-to ingredient for those looking to satisfy the hunger of the elite and the hoi polloi. Other fish (some of them actually tastier) are thrown into the mix, and by the time you've downed them, a few skewers and a "creative cocktail" or two, you'll leave fat and happy and about $200 lighter. Which is just what the hotels want.
But here's a dirty little secret: there isn't a whole lot of creative cooking going on in any of them. This is formulaic food pure and simple. Putting ponzu and jalapenos on some sashimi is nothing new. In fact, it's soooo 1996. Virtually everything else being dished up in these "modern Japanese" places is some repackaged idea the chefs learned from a Nobu Matsuhisa or Roy Yamaguchi cookbook, or from someone's recent trip to Japan, where the chefs have been serving their minimalist food with a flourish for centuries.
(Cooking-cutter, faux creativity also being what the hotels want, the better to impress the rubes — just like they do with all those Cirque du Soleil shows. Each one assaults you with the same, idiotic acrobatics, only in different costumes; each served with different, annoying music.)
In this way have big box Japanese restaurants become the steakhouses of the 21st Century. Everyone's doing the same thing. Everyone gets their fish from the same place; everyone's using the same Sriracha. Only the window dressing is different.
Which brings us to Zuma. The brainchild(?) of one Rainer Becker…someone who sounds as Japanese as Fabio Trabbochi.
But we ate in his restaurant — the tenth location, just opened in The Cosmopolitan — and had a very good meal there.
Which is another thing about "modern Japanese" restaurants: like steakhouses, it's pretty hard to have a bad experience in any of them. The formula is now so pat, and the techniques so well-taught, that whatever comes to your table is usually pretty tasty.
The first thing you notice about Zuma is the wood. There is lots of wood. Wooden hostess desk, wooden tables, wooden bars, wooden everything. We're talking whole trees here, not some namby-pamby sliced logs: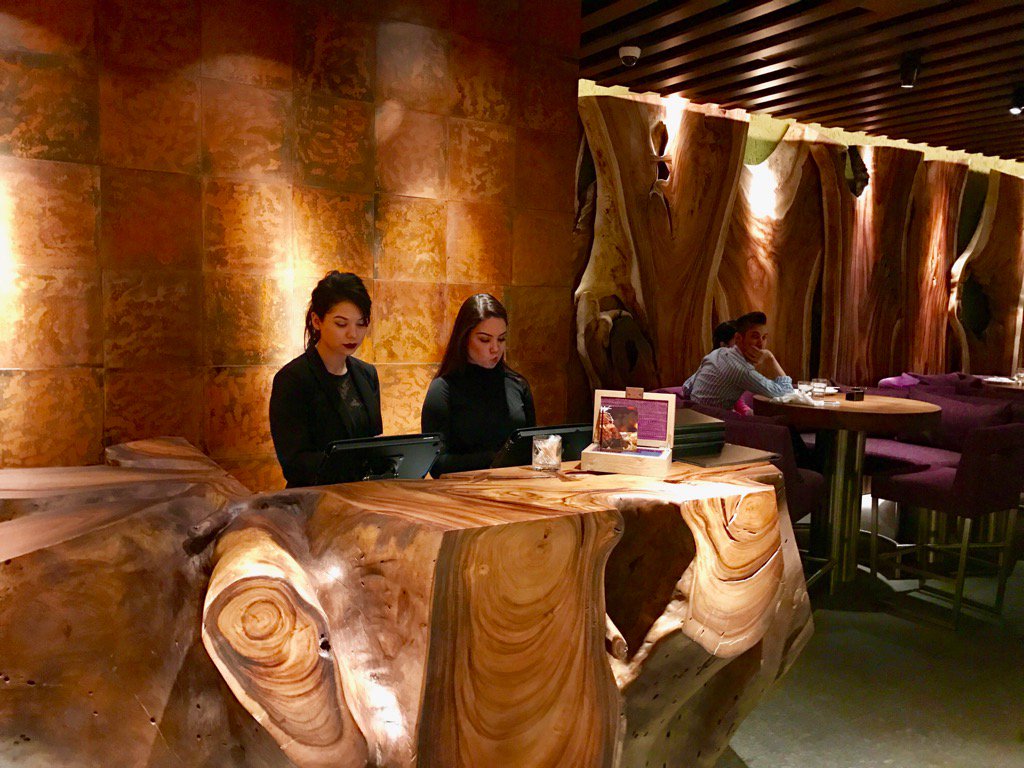 There's a sleek, modern bar (natch), and nice high top, thick wooden tables (natch), and sushi bars (natch) and three kitchens (natch) and a lot of seats filled with lots of good-looking young people who look like they're enjoying their skewers and their sashimi and their creative cocktails (triple natch).
What knocked us out was a beautiful lobster tempura: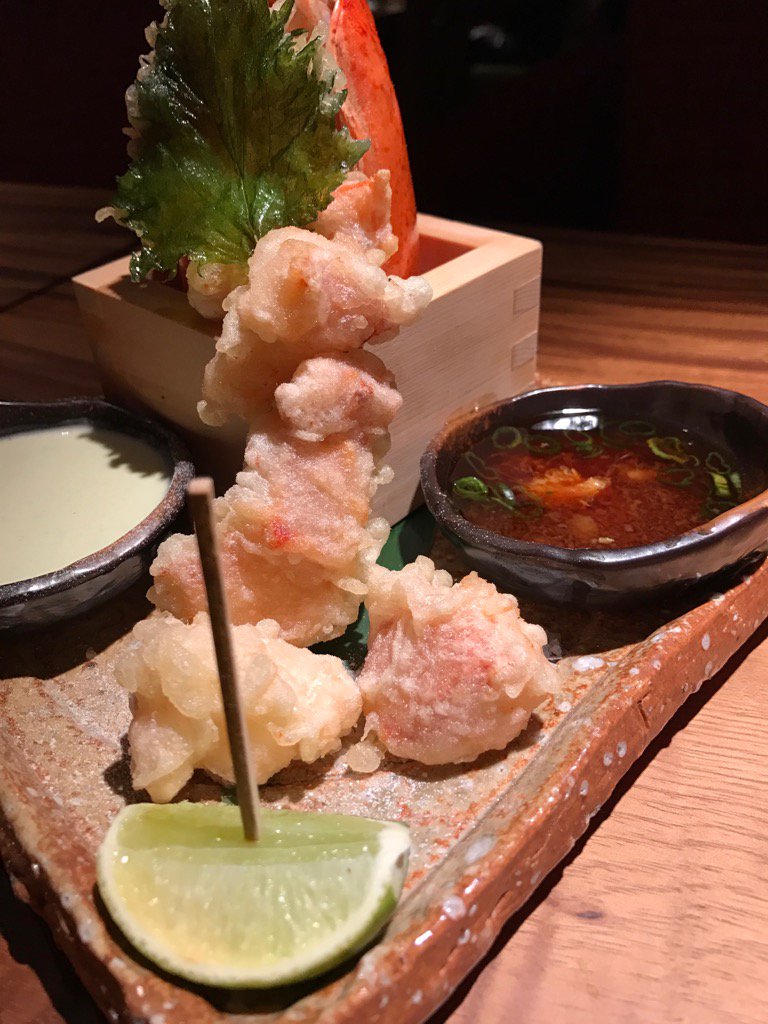 ….and a Japanese mushroom/rice hotpot of sublime earthiness: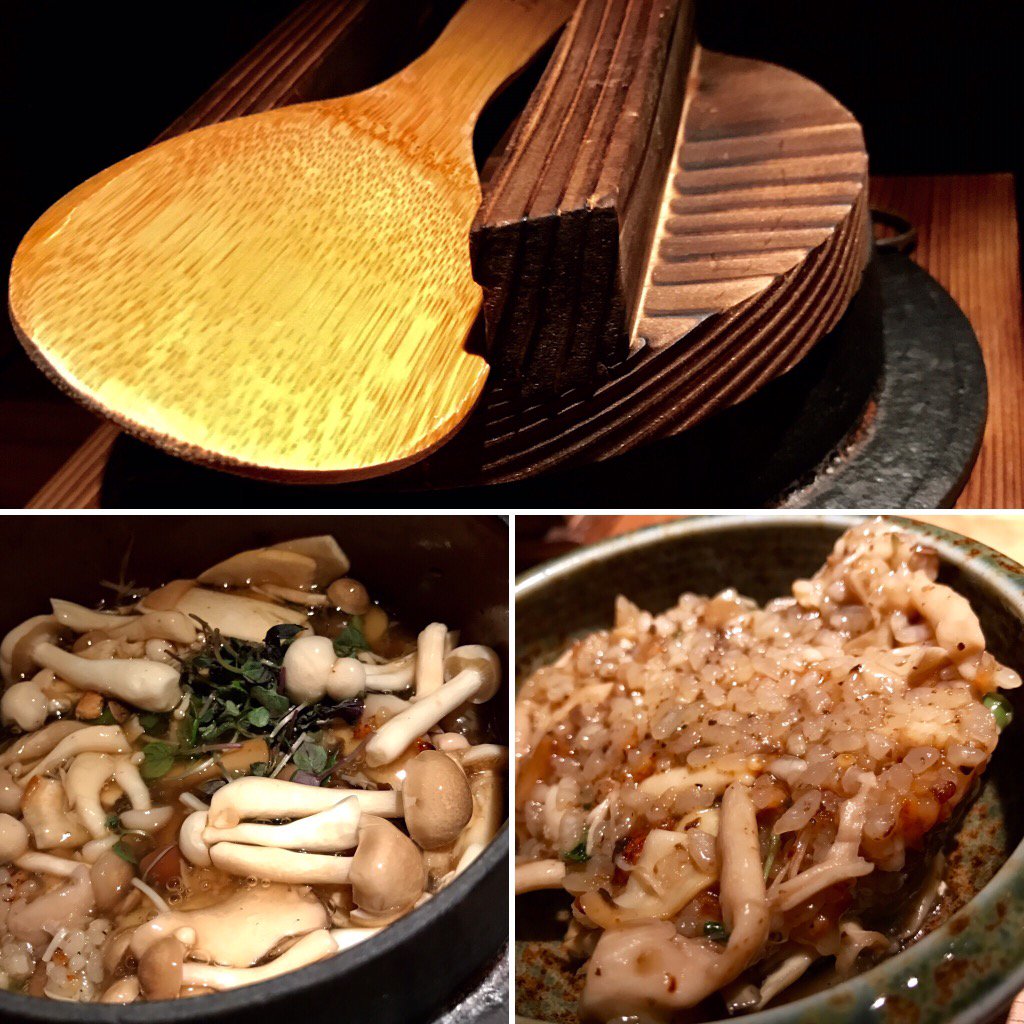 ….and a peppery watercress salad that hit all the right flavor notes: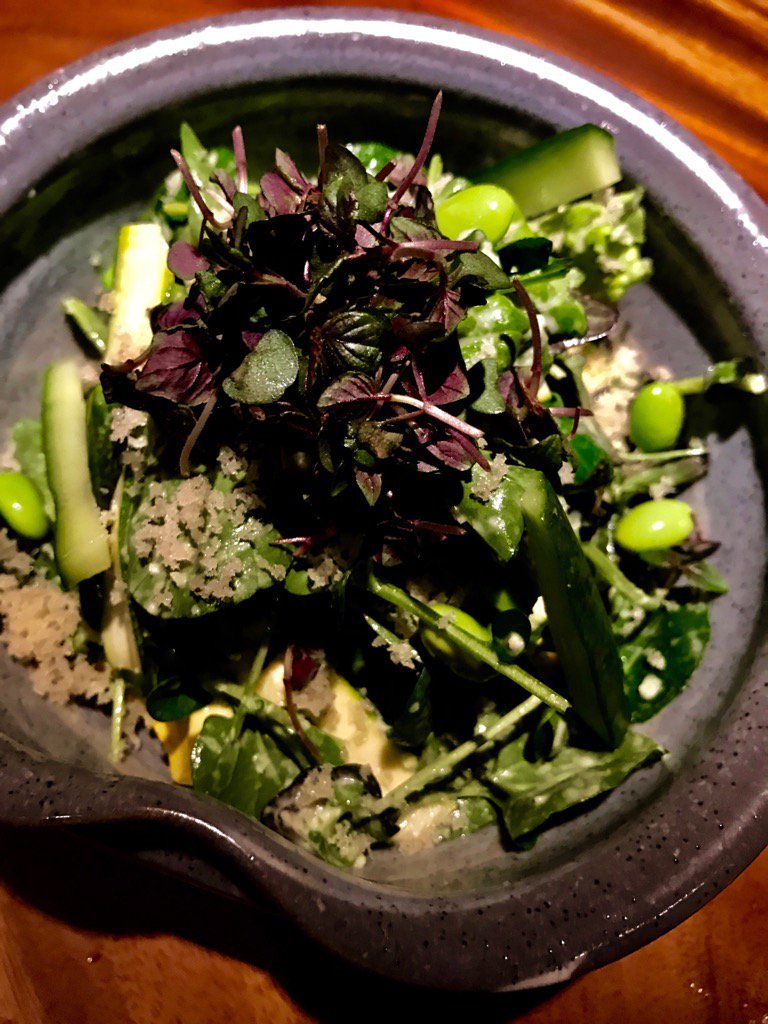 …it being dressed to a wasabi "T" with a subtle-yet-plenty-piquant dressing.
The fish was also top notch (see top of the page) with only a slice or two being a bit past its prime. The uni was out-of-this world wonderful, and the best we've had this side of Tsukiji.
The wine list is absurdly priced (natch) with the usual Strip gouges on things like $85 for a sauvignon blanc and $64 for a shot of gin. But hey! if some fool is going to pay that, who are we to argue?
What you can't argue with is the formula. It's getting as familiar as an old shoe, but at least Zuma is off a fresh and fast start. It doesn't feel like a high-roller/club kids haven (Hello Hakkasan!), or a tired re-tread (Nobu), or celeb chef money machine (Morimoto), or a copy of a copy like Kumi. What it feels like is a chef and his company trying to tweak a template with enough fun stuff to keep the crowds and the fussy critics happy. Which will always bring a smile to our face.
Natch.
ELV's dinner for two was comped and he left an $80 tip.
ZUMA
The Cosmopolitan Hotel and Casino
3708 Las Vegas Blvd. South
Las Vegas, NV 89109
702.698.2199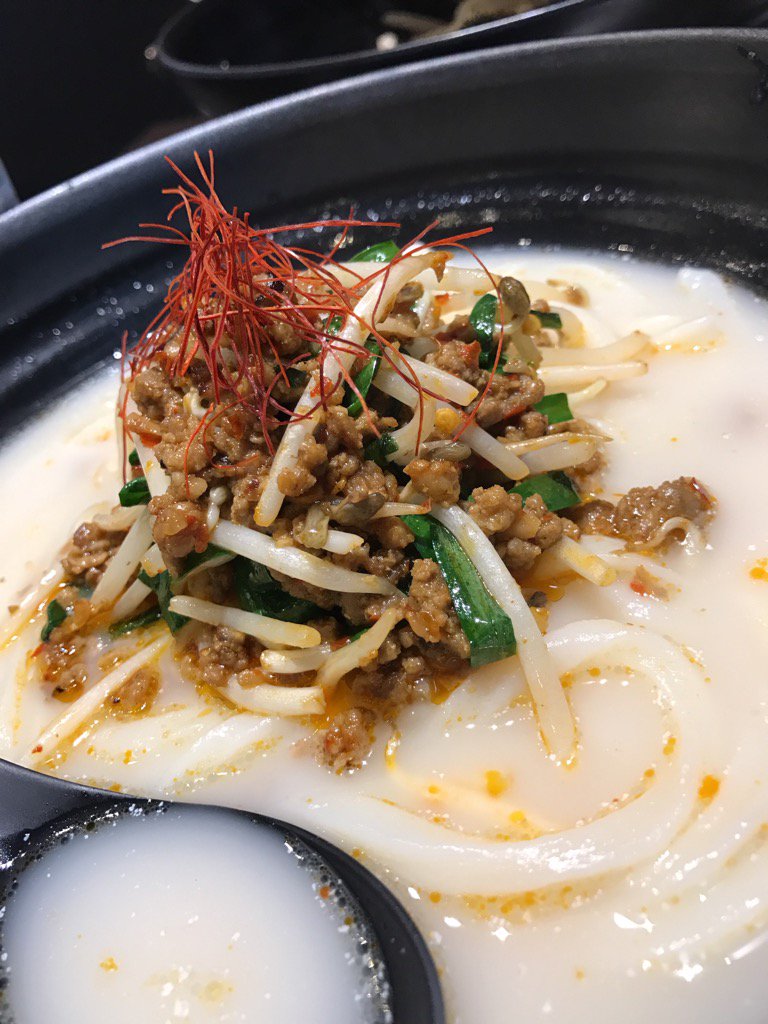 It is the best of noodle times, it is a long way from the worst of noodle times. It is the season of shoyu; it is the winter of our udon contentment. In other words, if you love Asian noodles in all their forms, you should be in hog heaven these days.
As recently as seven years ago, no one in Las Vegas knew a soba from a shiso. These days, you'll find Asians, Asian-Americans, and haolies of all stripes hunched over steaming bowls of long hand-pulled noodles, and debating the merits of mentaiko versus mian.
With the opening of Monta seven years ago, informal, Japanese eating took a giant leap forward and has never looked back. But one thing has always been missing: an udon parlor to call our own.  Thankfully, yet another Southern California import — Muragame Monzo Udon — has now planted its flag here, allowing our Chinatown to take yet another small step towards ubiquitous deliciousness.
For the uninitiated, udon are thick, white, long strands of wheat starch. These are not noodles to be contemplated; these are carriers for a variety of sauces and toppings, adornments that Monzo delivers in spades. To taste them in their purest form, try them cold (bukkake* style) doused with a clear, intense broth. Of the "signature udon" that we tried, the Food Gal® is partial to the Mentai Squid Butter (flecked with crunchy fish roe and bits of squid), while I found no fault with the Hot Dragon Udon (pictured above) — it being dressed with lots of spicy ground pork and Chinese chives. Some people are fond of the Miso Carbonara and Sea Urchin Cream versions featured here, but to my mind, these overwhelm the chewy, wheat-i-ness of the noodle, and thereby miss the point.
Not to be outdone, Shang Artisan Noodle (pictured above) brings a Chinese spin (and that wonderful, hand-tossed lamian) to west Flamingo Road. I've always considered the way they can pull and toss and stretch a huge wad of dough into individual strands of noodles to be an ancient form of Chinese magic. There's also something magical about the dense, beefy broth that accompanies the Shang Beef Noodle, or the dry, spicy kick of their dan dan mian: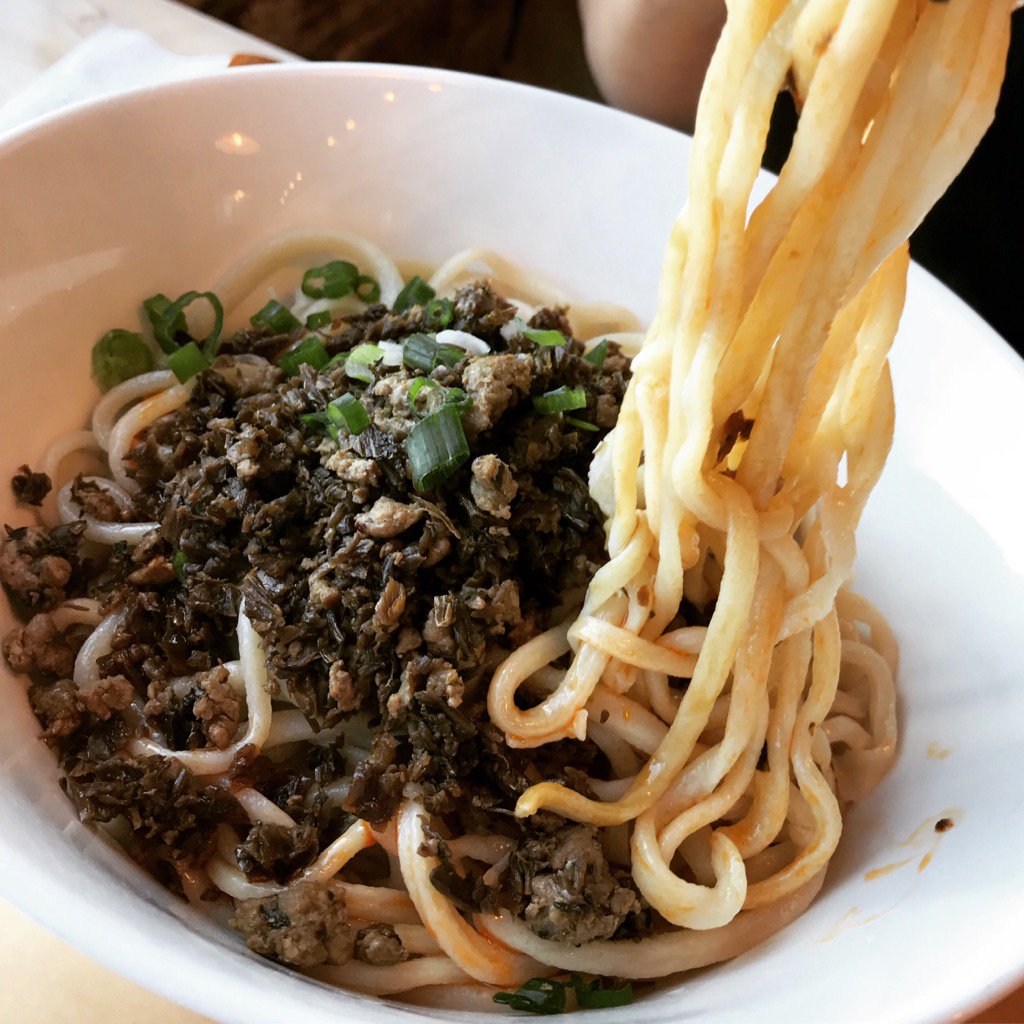 ….  or the over-the-top chewiness of the Beef Pancake — it being more like a large, juicy, xiao long bao stuffed with a steamed, onion-flecked hamburger:
I don't wish to start an international incident, but it's now a dead heat as to who makes the best thick Asian noodles on earth.
MURAGAME MONZO UDON
3889 Spring Mountain Road
Las Vegas, NV 89102
702.202.1177
https://www.facebook.com/marugamemonzolv/
SHANG ARTISAN NOODLE
4983 W. Flamingo Road Ste B
Las Vegas, NV 89103
702.888.3292