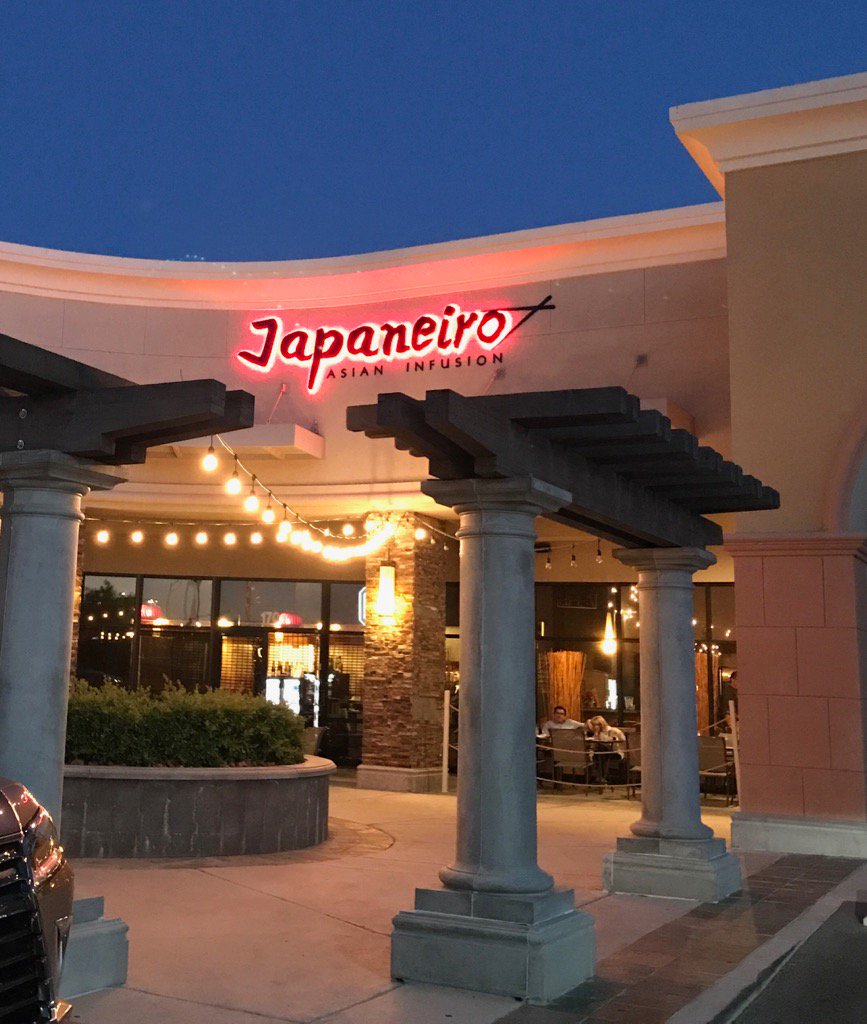 Kevin Chong's Japañeiro is going on 3 years old now.
To be perfectly blunt, its survival has always been in doubt to us. Not because it isn't exceptional, but because it is in an exceptionally difficult location — probably the worst in town for a place serving such fine food.
If you haven't been, allow us to paint a picture for you. On a desolate corner in the southwest part of town there is a strip mall — one of those L-shaped jobs with spaces for maybe 10 tenants. Japañeiro occupies the corner space, while a few other renters hold on, as they weather the various stages of going into or out of business. There is a sad looking video poker bar on the corner pad, and a lot of depressing dust and emptiness on the other 3 corners of Warm Springs and Tenaya. If you were picking the worst place in town to create extraordinary meat and Asian seafood combinations — dishes that would make even the fussiest gourmand sit up and take notice — you couldn't pick a more dire location.
But survive Chong has — against all odds. And how's he's done it is by bringing in everything from true Belon oysters, to live Japanese abalone to Kegani Hokkaido hairy crabs in season. He's done it with technically precise combinations and point perfect cooking.
He's done it by doing Asian fusion food as well or better than anyone on or off the Strip.
Chong previously worked at Nobu, and his facility with blending Japanese ideas with in-your-face seasonings shows his pedigree, and the influence of his sensei, Nobu Matsuhisa. You won't find better kumamoto oysters with uni and foie gras anywhere — and that includes at Nobu. He toggles back and forth between Asia, France and the U.S.A. with equal aplomb — plating gorgeous escargot with the same flair he shows to giant Nigerian prawns doused with truffle butter, or the best beef gyoza in town: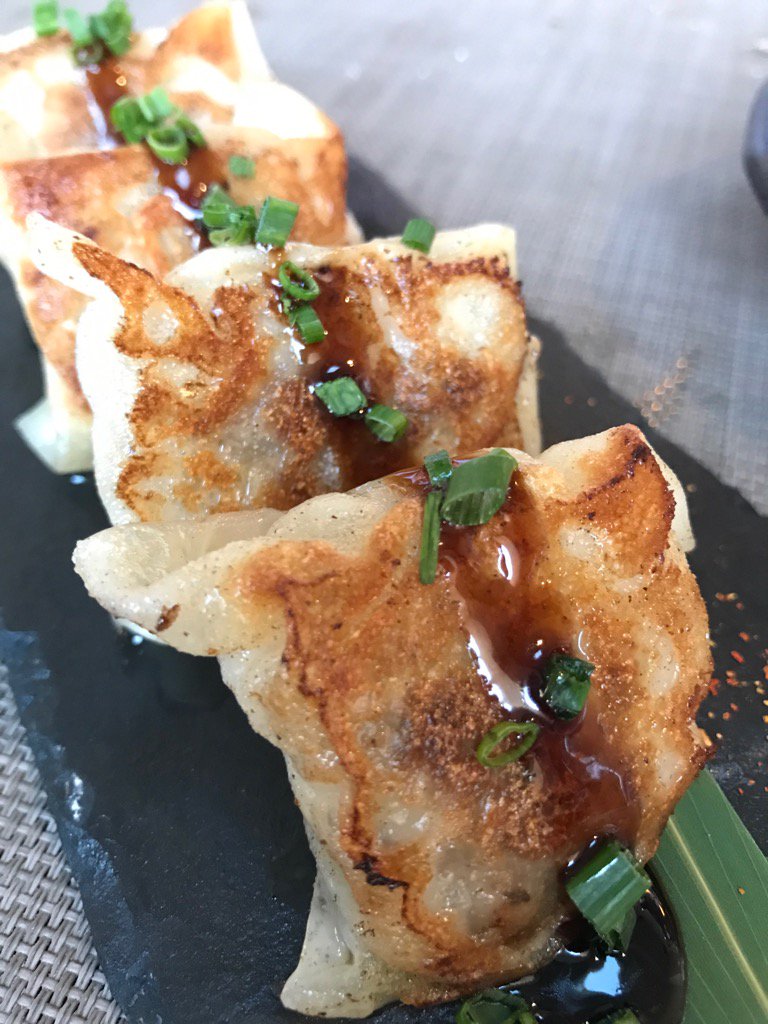 Speaking of meat, there isn't a better cut of beef in the 'burbs than Chong's 24 oz. dry-aged rib eye, sliced and cubed off the bone and served with an array of salts and dried garlic: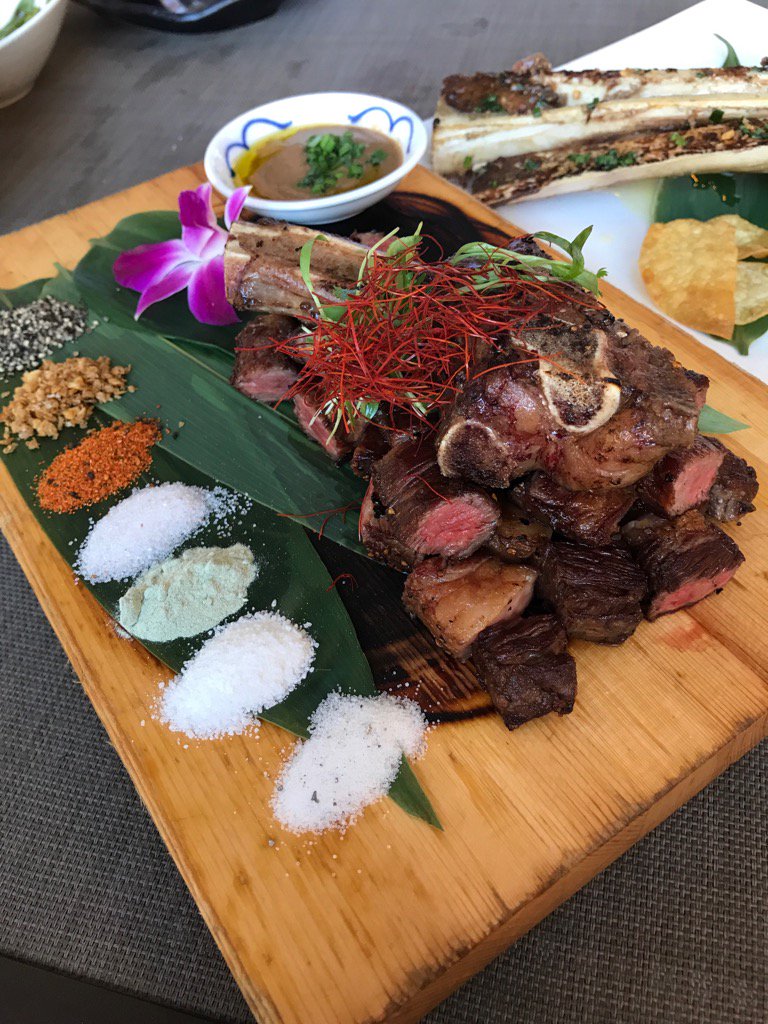 He also does top shelf sashimi: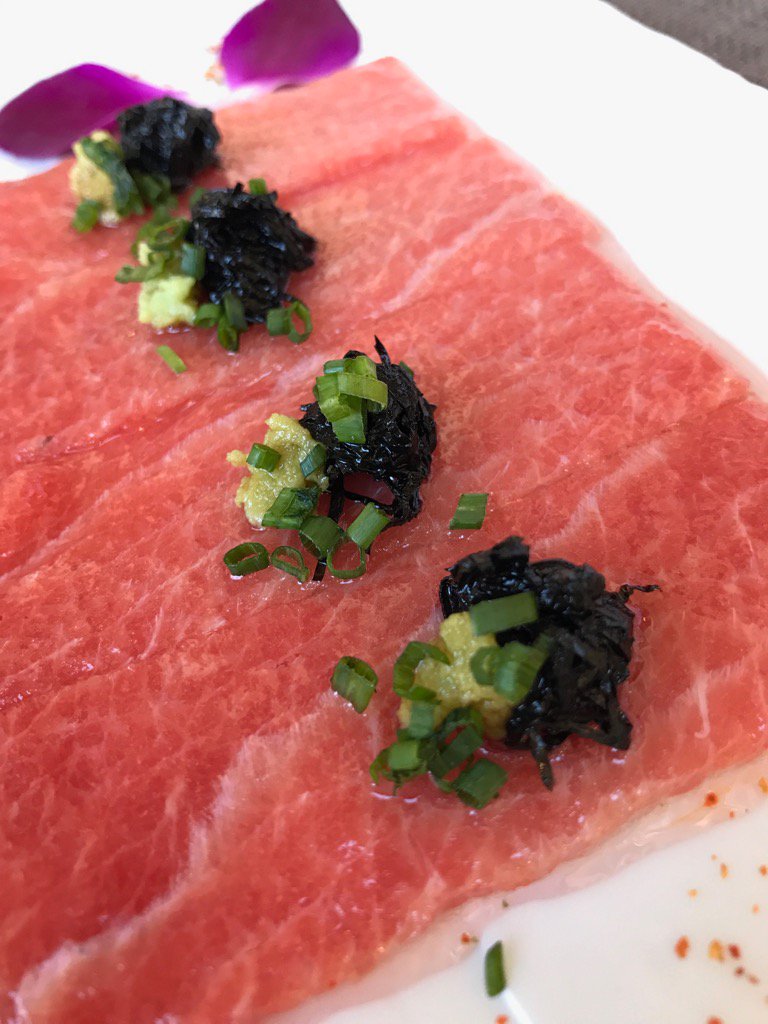 ….and a green tea tiramisu and fried bananas to beat the band: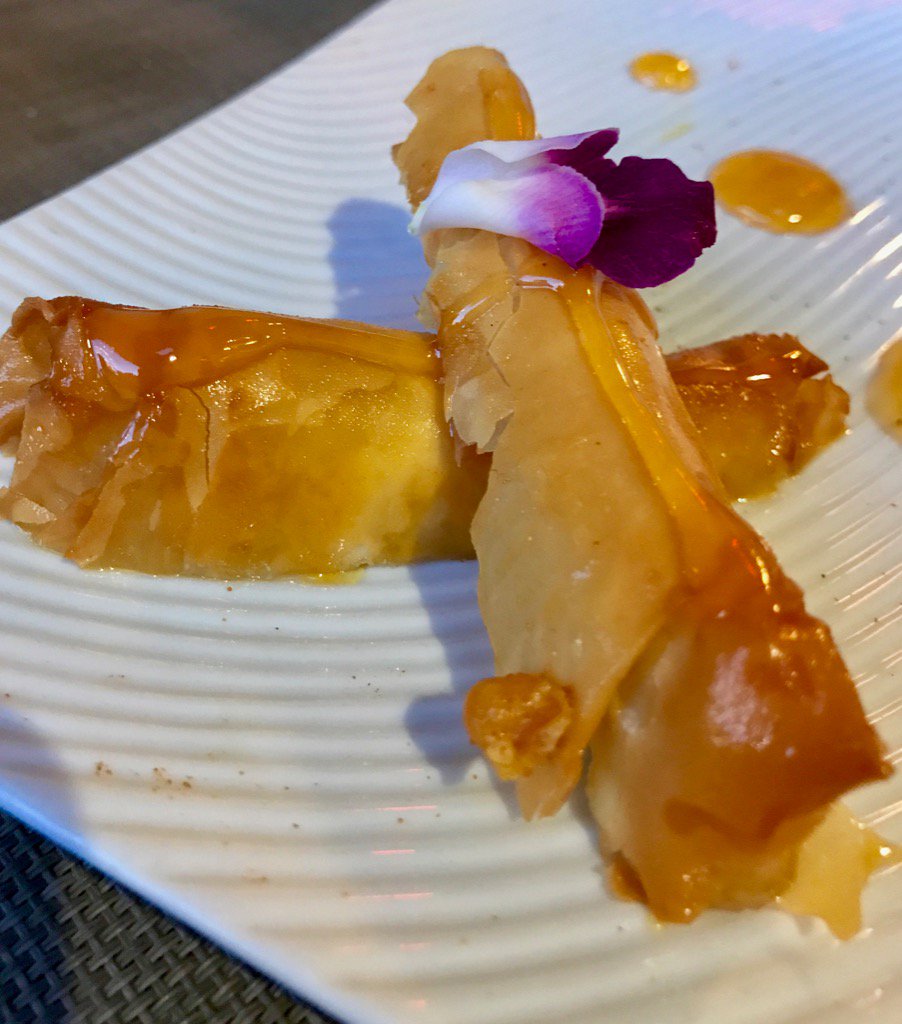 Put it all together and you have one of our most unique, tastiest, chef-driven restaurants — the type of place foodies are always pining for, and that Las Vegas has precious few of.
With all this in mind, you might be asking yourself, "Why isn't there a line out the door for this food?"
The answer, of course, has something to do with the location, and a little more to do with the price point. This is not the place to come for bargain basement fusion food. It is the place to come for some of the most unique creations in Las Vegas, made by a chef who's passionate about what he does. Chong, like Dan Krohmer at Other Mama, is sourcing Strip quality ingredients and giving them an East-meets-West spin that always maintains a delicate balance between creativity and understatement. Cooking this fine is worth the tariff, even if a tab for two can get to $150 very quickly — $75 being price of his multi-course omakase dinner. Ordering a la carte will  keep things right around a hundy for a couple.
Those who blanch at that tariff will be happy to know there's a happy hour (where everything's under five bucks), and that the (huge) rib eye (at $65) is a flat out steal.
Location or not, anyone interested in interesting food ought to be eating here.
ELV's dinner for two with a bottle of $50 wine came to $200 and we left a $40 tip.
JAPAÑEIRO
7315 West Warm Springs Road
Las Vegas, NV 89113
702.260.8668
"He's making his own rules," is how a full-of-himself Yelper described Grant Achatz to me the other day. " "[Alain Passard] is a culinary god, you know, most chefs are in awe of him," is how another referred to the well-known French chef. " L'Arpège is a temple; Noma is a "religious experience" that "changed everything," according to Joshua David Stein (whoever he is). Osteria Francescana will "change your life with one bite." Food is profound, and "beyond delicious." Chefs are visionaries and the rest of us merely unworthy pilgrims begging to bask in the aura of their brilliance.
No, no, no, no, no, fuck no, and please just shut the fuck up.
We are talking about cooks here, ladies and gentlemen. People who take raw materials and apply heat (or not) to them to make them more palatable to eat. No one is curing cancer, creating masterpieces, or doing something heroic. Those being lionized have figured out a way to seduce an always-looking-for-the-next-big-thing food press so that they (the food press) can induce the more-money-than-brains crowd to slavishly worship at the alter of some friggin' kitchen — a kitchen that excels in eliciting oohs and ahhs from gullible customers and separating rich show-offs from their cash.
It all started when Paul Bocuse became a celebrity in his own right. (This was back in the early 1970s.) "He got the chef out of the kitchen," is how Pierre Troisgros put it to me when I interviewed him 18 years ago. (When he uttered the words, Troigros did so with a tone of both admiration and regret. He seemed in awe of Bocuse, but also wistful for a profession he knew was changing, and that he no longer understood.)
Chefs started to be a big deal in America in the 80s, but it wasn't until Tom "Call Me Thomas" Keller hit big with the French Laundry in '96-'97 that the cult of chef fetishization really took off over here. Concurrent with all the hyperventilating press Keller was getting, the rise of the Food Network in the late 90s gave restaurant cooking a cache previously reserved for musicians and bad boy actors.
By 2006, every working class kid in America suddenly had path to being idolized as a "bad ass," or, even worse, a "misunderstood, passionate genius." All the while, the media and the audience and the chefs themselves were losing sight of the big picture: restaurant cooking is a brutally hard, physically-taxing profession, that, at its core, is about as glamorous as window-washing.
The rise of the interwebs and social media over the past 10 years has turned what was once annoying into the sublimely ridiculous. Every chef now has to have a following, and every chef worshiper is hanging on whatever lavish food porn (e.g. the panting, hagiographic, hyper-absurd Chef's Table) or Instagrammable dish or MAJOR AWARD has been handed out that week. (Cooking has thus become more about publicity and bragging rights than taste, and if there's one thing we can all agree on, it's that you can't taste publicity – or bragging rights.)
Who gives a flying fuck if Rene Redzepi is traveling the world with a pop-up restaurant reserved for the .00001% of the people able to actually eat there? Star-fucking doesn't make anything taste any better, And as soon as a chef becomes a star, he pretty much quits cooking altogether….so what, exactly are we worshiping? I'm pleased for any chef who can parlay their skills into a brand or fame or some degree of celebrity, but when it comes to what I put in my mouth, the people I worship are the ones in the kitchen, sorting the vegetables, grilling the fish, and stirring the sauce. Mexicans, mostly.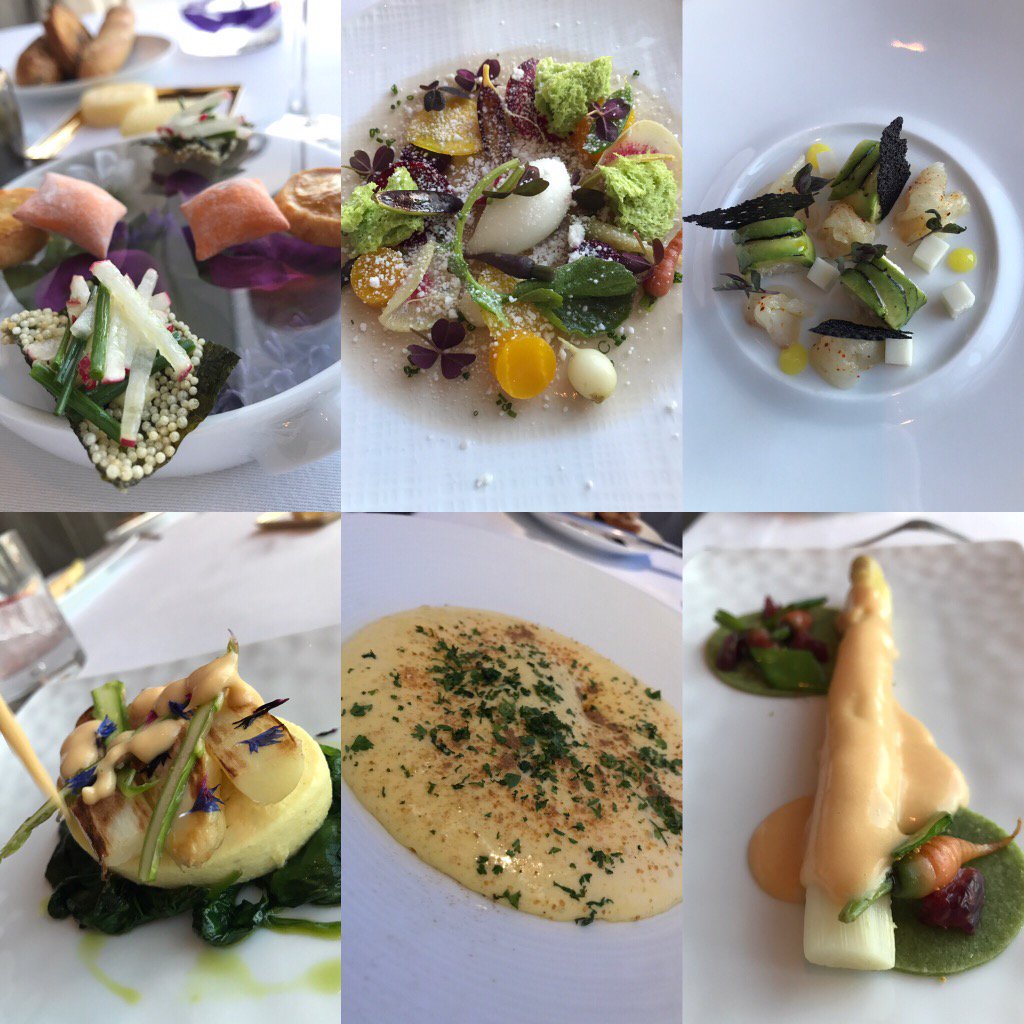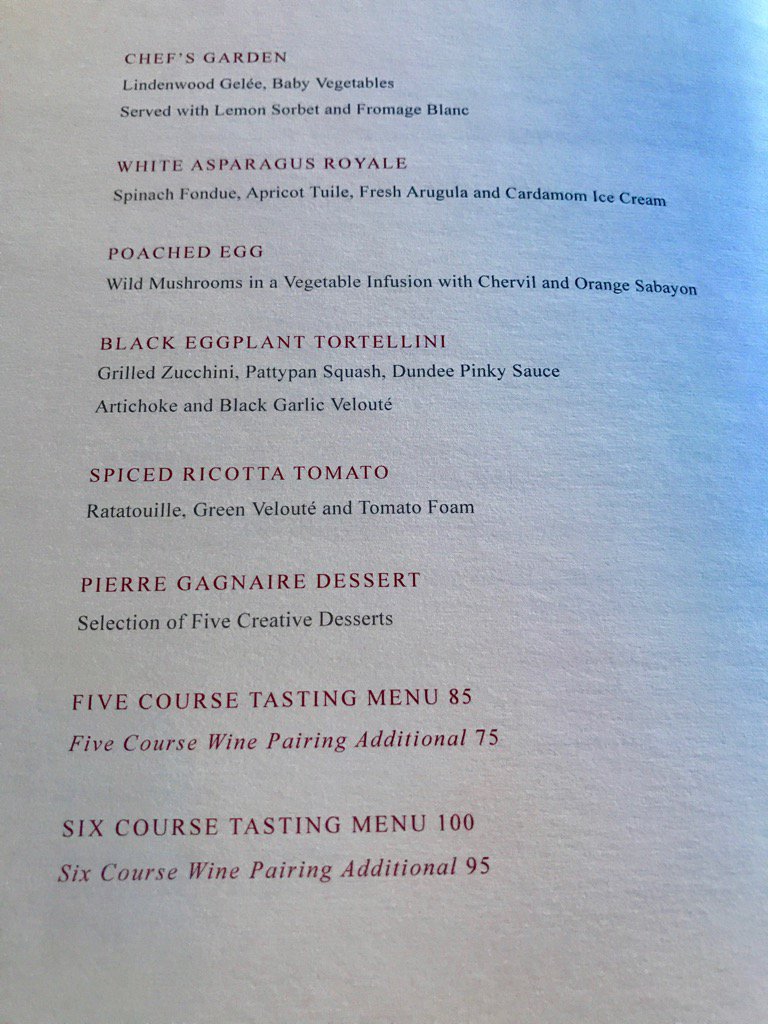 I have known many meat eaters to be far more non-violent than vegetarians. – Mohandas Gandhi
Vegetarianism is harmless enough, although it is apt to fill a man with wind and self-righteousness. – Sir Robert Hutchinson
Vegetarians have wicked, shifty eyes and laugh in a cold, calculating manner. They pinch little children, steal stamps, drink water, favor beards. – J.B. Morton
Face it: we all eat too much meat. No one loves a good steak more than yours truly, but the raising of large mammals for human consumption is bad for both the body and the body politic.
We're not doing the fish any favors, either.
But where's a body to go when the spirit to eat healthy is willing, but the choices are weak? And more to the point, why is vegetarian food so bad? (Let's face it #2: Most vegetarian food sucks harder than a Fremont Street hooker on a three-day meth bender. It sucks because most vegetarian food is cooked by vegetarians, and vegetarians are usually terrible at cooking food, because all of them suffer from fear of food.)
It's a true fact established by scientific data yet to be compiled that 96.97843% of all vegetarians live in mortal fear of the things they eat. (Vegans are even worse, but we won't go there right now.)
It's also true that you can't cook anything well if you're afraid of it. The key to good cooking (like good relationships) is loving and respecting the object of your affection. Not for nothing do barbecue cooks lovingly massage their briskets with dry rub, or dessert chefs view a pool of melted chocolate like an impressionist painter sees her oils.
Vegetarians never develop this kindred spirit with the things they eat. They're too busy worrying about what their victuals are doing to their insides. Vegetarians have a preoccupation with their innards that borders on the religious.
Vegetarians also start wars, are cruel to young children (see above), and like to kick small animals. You could look it up.
They also don't have a clue how to season things. Or how to tell when something is at its peak period of palate pleasing perfection.
So, bottom line: avoid vegetarians and (especially) vegetarian restaurants at all costs.
But, for the sake of argument, when you DO want to eat healthy, vegetarian food prepared by real experts, where should you go?
The answer is simple: Twist by Pierre Gagnaire — a restaurant so good at cooking vegetables you won't miss meat even for a minute.
The reasons Twist is so good at vegetarian food is also simple. It's because it is a real restaurant, manned by real chefs who understand and love food. They know how to choose good ingredients, how to handle them, how to prepare them and how to cook them. They know how to season things, and know exactly when that asparagus spear, or leaf of lettuce or slice of avocado is at its consumable best.
They're also really really good at extracting and intensifying the flavors of things, be it a dot of lemon sauce, or horseradish-infused milk cubes: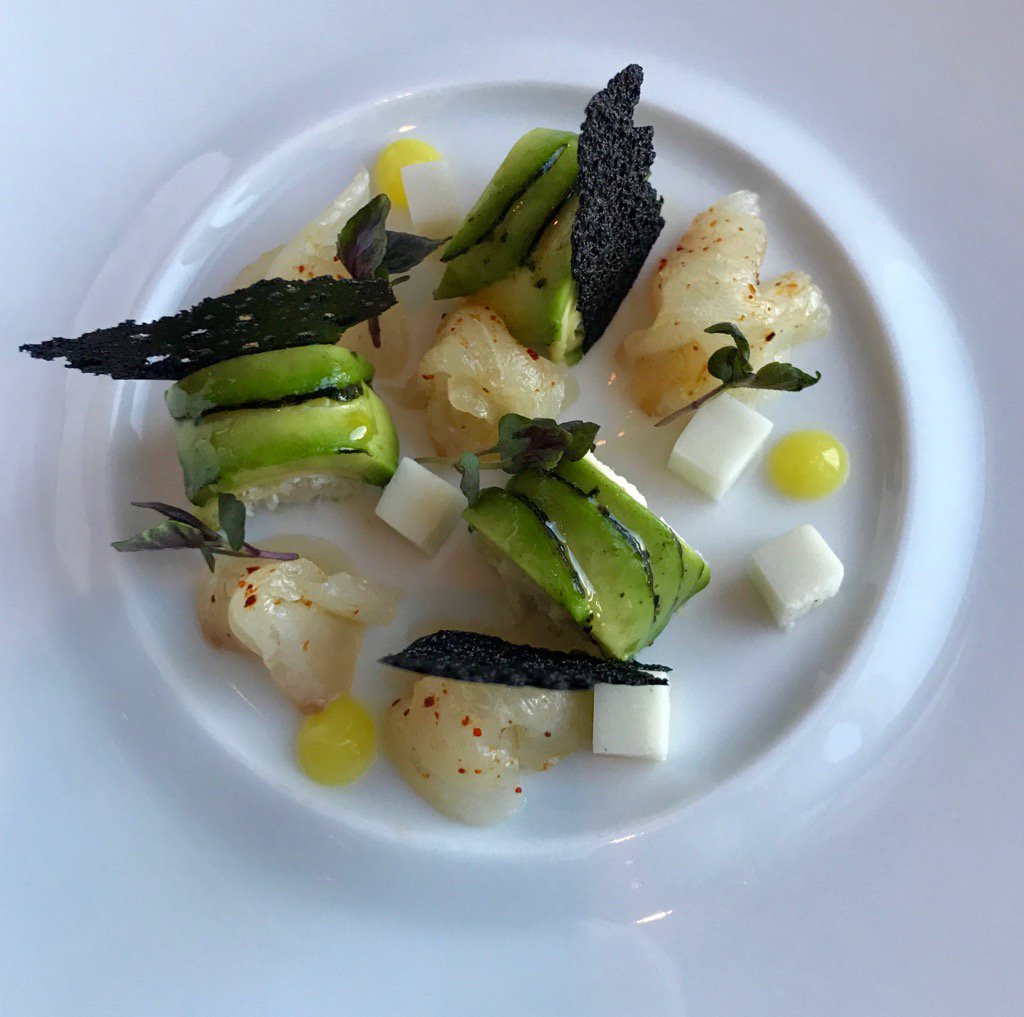 They're also experts (some of the best in the world, in fact) in presenting food as an eye-pleasing palette for your palate.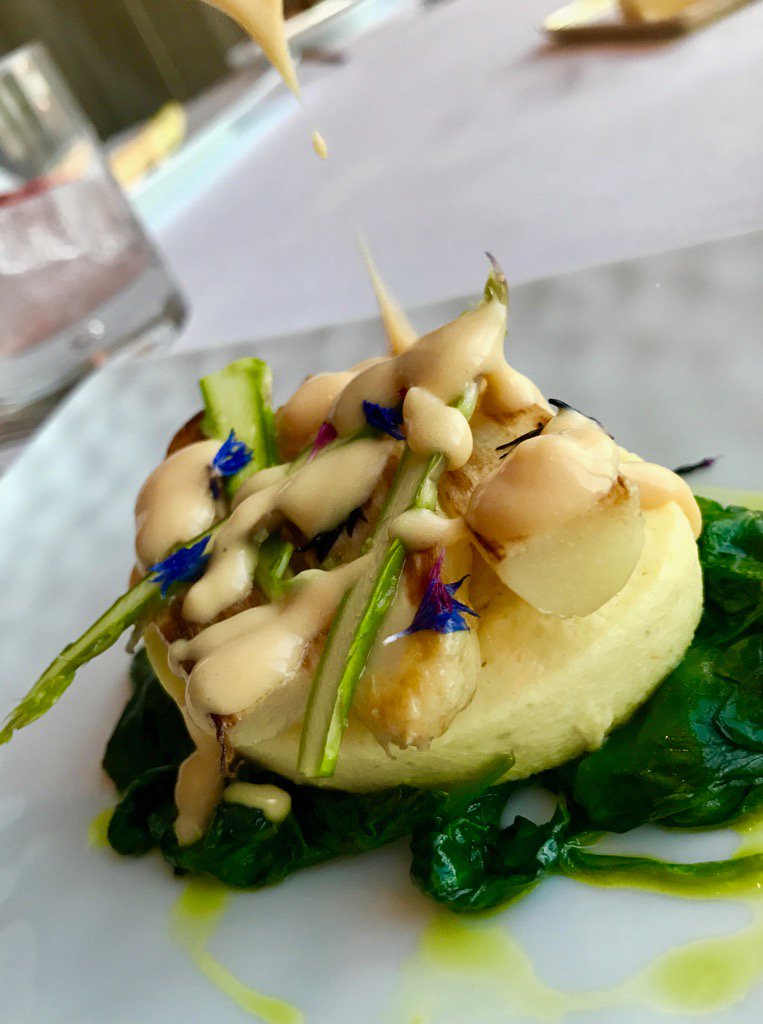 …as well as making the most out of modest provisions, like the celery/spinach/corn pudding/soup pictured above. If ever there were a vegetarian dish that highlights the glories of French cooking this is it. Parsed from the humblest ingredients, it is by turns both beautiful and greater than the sum of its parts. If all chefs could cook vegetables this well, the beasts and birds that roam the earth would have nothing to worry about.
The chef now in charge of the Twist kitchen is Frédéric Don. He is the third chef in eight years to take the helm here, and like his predecessors, his task is mostly to execute recipes that have been firmly vetted in corporate kitchens by a cadre of corporate chefs. This doesn't make his duties any less important, but it does mean that he is expected to be more of a technician than an artiste. Whether he's wildly creative, or a simple servant of his celebrity chef master, doesn't matter to us. What does matter is the hyper-deliciousness of the food here, and we can confidently proclaim that well into its ninth year, the food at Twist is better than ever. And not to take anything away from those who preceded him, but I found Don's dishes (both vegetarian and not) to be prettier on the plate, and more focused on the palate, than in the past. (We are talking very fine distinctions here: the difference between an A+ and (at worst) an A-, but when you've eaten here a dozen times, as we have, you notice these things.)
No matter how you slice the sunchokes, Don is doing Pierre Gagnaire proud, and keeping Twist at the forefront of our fine French restaurants. The wine list is vastly improved — not exactly a bargain hunter's dream, but with some nice, easy-to-drink bottles for under a hundy — and the tiny bar now turns out an array of craft cocktails for those so inclined.
And for those of you so inclined to come over to the dark side, they also do some killer frogs' legs.
Somewhere, an amphibian is on crutches.
Ouch.
TWIST BY PIERRE GAGNAIRE
Mandarin Oriental Hotel
702.590.8888
http://www.mandarinoriental.com/lasvegas/fine-dining/twist-by-pierre-gagnaire/
<<<<<<<<<<<<<<>>>>>>>>>>>>>>
ELV postscript: Before any of you get your mung beans in a bunch, know that my dearly beloved mother (Marcella Ruth Schroader Curtas, D.O.B. 8-10-24) has been a vegetarian for 50 of her 92 years. As far as I know, she's never started any wars or kicked a small animal. My wife (the long-suffering Food Gal®) skews vegetarian as well. (Although she occasionally craves a cheeseburger.) ELV — the man, the myth the inveterate carnivore — realizes that some day all humans will be vegetarians and be healthier for it. However, until that day comes, he will continue to enjoy his pulled pork, as well as his duck a l'orange.)