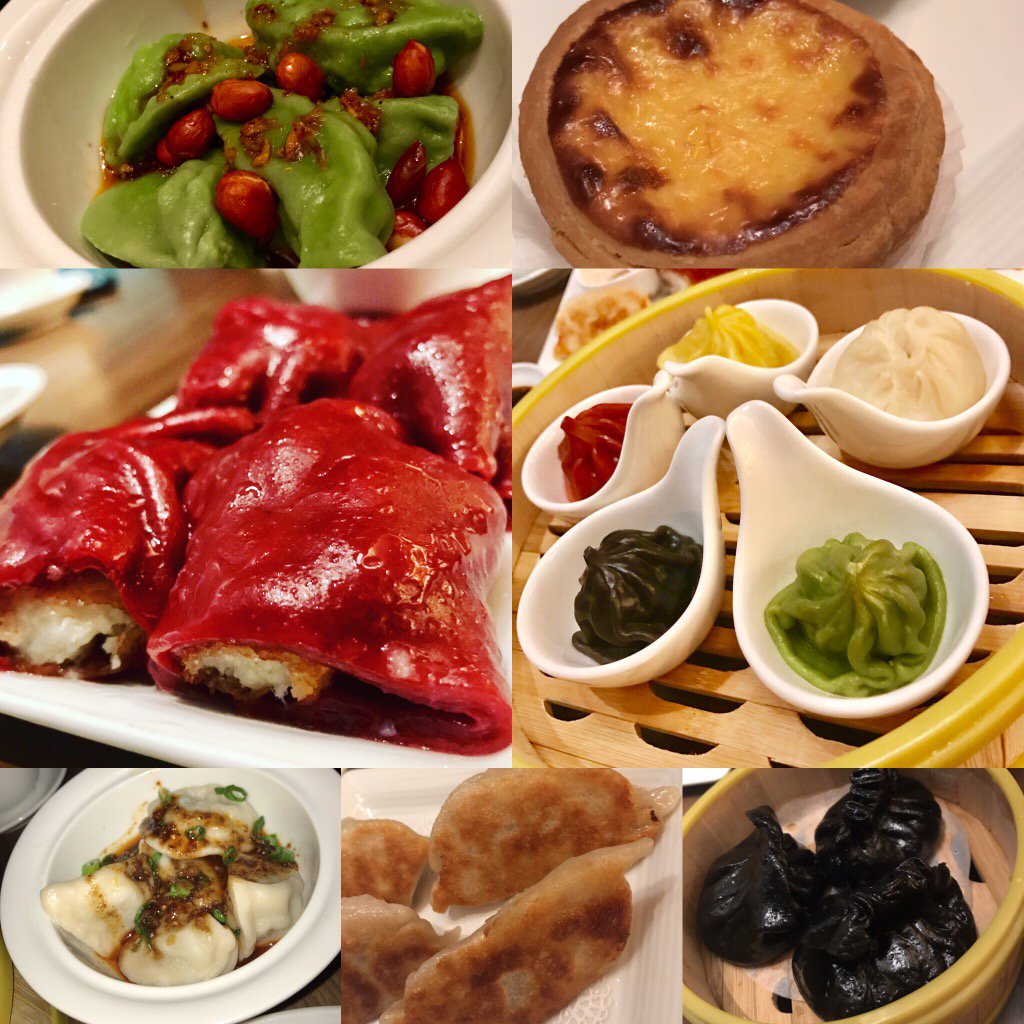 For a town swimming in great Asian food, Las Vegas has always been a dessert when it comes to  dim sum.  Sushi is everywhere, pho parlors seem to breed like rabbits, and Korean bbq is fast becoming the chop suey of this generation. But finding decent dim sum can be tougher than spotting a slot junkie with a savings account. Considering that just three hours down the road — in the San Gabriel Valley of California — you have some of the best dim sum joints this side of Hong Kong, it's a little sad that we have a bare handful of (barely adequate) places to indulge in our passion for these little bites of steamed succulence.
And when we say "barely adequate," we mean it. The few off-Strip places that offer these treats put forth limited offerings of standard issue dumplings served with all the passion of a stewardess flinging airplane peanuts. It's gotten so bad over the past few years that the only places we can get excited about are Noodles in the Bellagio (only on weekends) and Wing Lei at the Wynn (serving for only a couple of weeks a year – around New Years and Chinese New Year).
Then, along came the Lucky Dragon Hotel and Casino last month, and with it Pearl Ocean — the first dim sum I've had in Las Vegas that reminds me of what you find all over Alhambra. To begin with, there is the selection. Here you order off a menu (like you do in the tonier spots of SoCal, and Hong Kong) and what the helpful picture menu shows are dozens of off-beat offerings like "whole abalone minced chicken tart" to "spicy Szechuan dumplings" to "Five Guys Xiao Long Bao" —  five different buns (spinach, squid ink, flour, beets, and turmeric) stuffed with everything from kale to crab roe:
Each highlight the delicate way the Chinese play starches, veggies and proteins off each other. Each will disappear fast, as will the superior cha siu bao (baked pork buns) and the pea shoots and shrimp dumplings.
Besides the selection, the easy-to-navigate menu, and the friendliness of the staff, the thing that distinguishes Pearl Ocean from the tired joints serving this type of food along Spring Mountain Road is the quality of the groceries. No gristle-y pork here, at least not on my three visits, and the shrimp in the har gow actually sparkles, instead of tasting flat and freezer-burned. Some of this food is more about texture than flavor — such as the bright red "fish chip red rice roll" in the montage above — but all of it is about one of the tastiest lunches in town.
 PEARL OCEAN
Lucky Dragon Hotel and Casino
300 West Sahara Ave.
Las Vegas, NV 89102
702.579.1287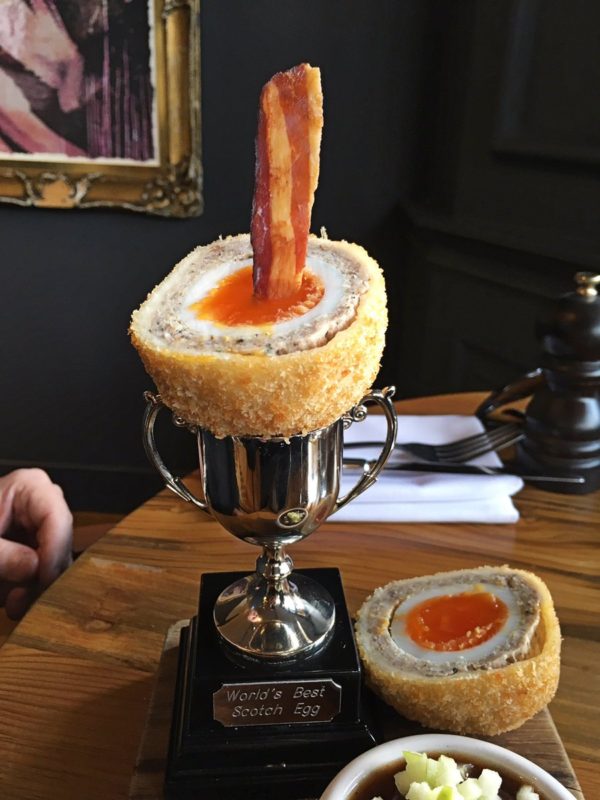 Chef Interviews – We get it; you have a back story. The problem is, it's always the same story. If you're from Europe, you were a bad student and a delinquent who got thrown into vocational (chef) school at age 14. If you're from this side of the pond, you were a troublesome kid who was "redeemed" by the kitchen. If you're from Asia,  you were working too hard to think that anything you have to say is profound. Which is another reason why we love Asian chefs.
Caviar Promiscuity – Here's the thing: caviar used to be a luxury item. For centuries it was a wild product, difficult to obtain and expensive to buy. There were good reasons for this. The best quality came from giant sturgeon, many decades old, that were mainly found in the Caspian and Black Seas. Beluga eggs were prized by connoisseurs for their delicate salinity and an almost otherworldly nuttiness. Eating these eggs was a sensory experience few will ever forget. You, my friend, will never have this experience. You will not have it because America (with good reason) has put severe limitations on the importing of wild sturgeon caviar, making the real stuff harder to find than a six-pack at an AA meeting. What you get today is cheap-ass, farmed stuff. Tons of it. Which is why every chef in the world puts it on everything — not because it necessarily compliments the dish being adorned, but because it gives the illusion of luxury. Don't believe the bullshit that restaurants (or caviar purveyors)  throw at you about their Chinese or Spanish or Brazilian caviar. Most of it has as much in common with real, Caspian Sea beluga as a wild turbot does with a Mrs. Paul's Fish Stick.
Steak Tartare – Or anything tartare for that matter. Face it: chopping up proteins and mixing them with herbs ain't exactly pastry science. I love it, but like Adam Platt, I'm tired of seeing raw meat on every menu.
Asking If Everything Is Alright (or if everything "tastes delicious") – Quit asking a perfunctory question you don't really want to know the answer to. And really quit asking 20 seconds after the food hits the table. If anything's wrong, we'll let you know. And if anything's really good, we'll let you know that, too.
Food Allergies – SCREW food allergies! And SCREW the lame-ass, medically-suspect, narcissistic types who (probably don't) have them. If YOU'RE allergic to something, it's up to YOU to let THEM know. Or better yet: save everyone the trouble and stay home.
Sommeliers Everywhere – Everyone does not need expert advice for every liquid (water, tea, hot sauce) they put in their mouth.
Odd Cuts of Beef – Spinalis? Teres major? Denver steaks??!!! Geez Louise, it used to be enough to know what a hangar steak was. These days, steak chefs try to dazzle (and confuse) you while they try to squeeze all sorts of profits out of lesser (read: tougher) cuts of steer. Give me a porterhouse, strip or rib eye and be done with it. If I want a cheap cut of meat, I'll take it home and cook the shit out of it myself.
Beer Chic – I don't know what's worse: the guy who can't stop talking about his love of Flemish sour ales, or the dude who drinks PBR "ironically."
Pictures of Food – Unless you're a pro, or a semi-pro, (and have an iPhone 7 and take high-quality tasty snaps), just stop it. The world is not waiting with bated breath to see what you had for dinner.
Food on Anything That Wasn't Meant to Hold Food – WE WANT PLATES! (see picture above)
Spirits Gone Wild! – Back in the day, there were four or five vodkas, a half-dozen gins, and a handful of bourbons at any bar.  Which was more than enough to get us all drunk and contribute to whatever wacky cocktail some mixologist was dreaming up. The question has to be asked: Does the world really need a thousand brands of tequila?
Fried Eggs On Everything – Especially on sandwiches. Especially on sandwiches that aren't egg sandwiches.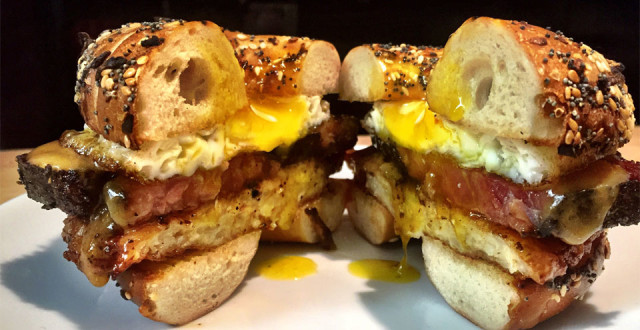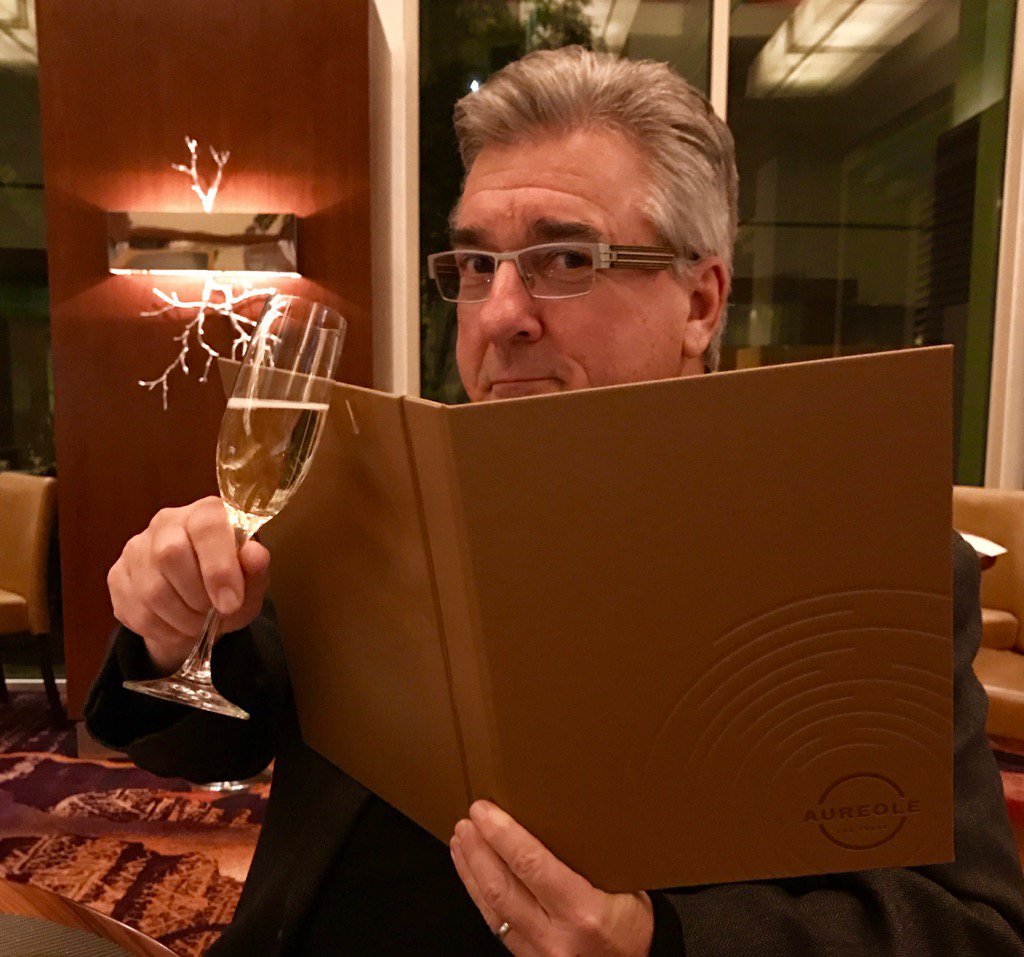 2016 will go down as one of the most eventful years of my life. Getting married took the cake, of course, but publishing two editions of EATING LAS VEGAS – The 50 Essential Restaurants (Huntington Press) was quite the undertaking as well. Factor in trips to Atlanta, Albuquerque/Santa Fe, Los Angeles, Napa Valley, San Francisco, Portland, Oregon, Washington D.C., Tokyo, Austin, Texas, and Rome (Italy, not Georgia) and you have one whale of a rotation around the sun. Through it all, I managed to eat over two hundred meals in local restaurants. Here are the best of the best that I tasted in the past twelve months:
Wine List of the Year – Aureole (see above). Not only is it the broadest and deepest list in town, it's also back to being on the printed page, making it a joy to peruse. Would that all those damned, dastardly digital lists be consigned to the techie hell from whence they came. Digital wine lists tried to solve a problem that wasn't there. And people ended up ordering less wine, because they're so cumbersome to use. A pox, a pox I say, on all digital wine lists. End of rant.

Cocktail Bar of the Year – Libertine Social
Pasta of the Year – (tie) Carbone; Carnevino; Ferraro's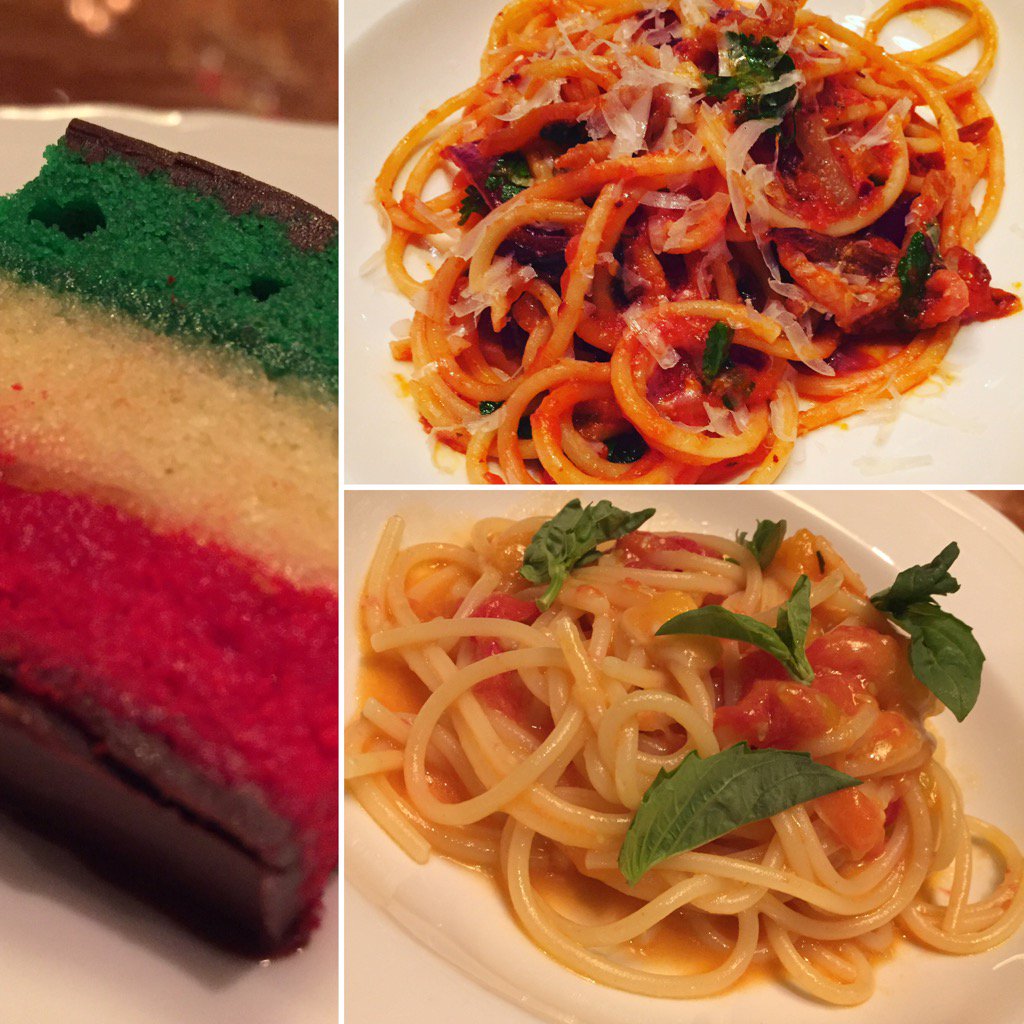 Burger of the Year – Libertine Social; runner up – Gordon Ramsay Steak

Steak of the Year – (tie) porterhouse at CUT; aged rib eye at Bazaar Meat
Fish Dish of the Year – Scorpina (scorpion fish) at Estiatorio Milos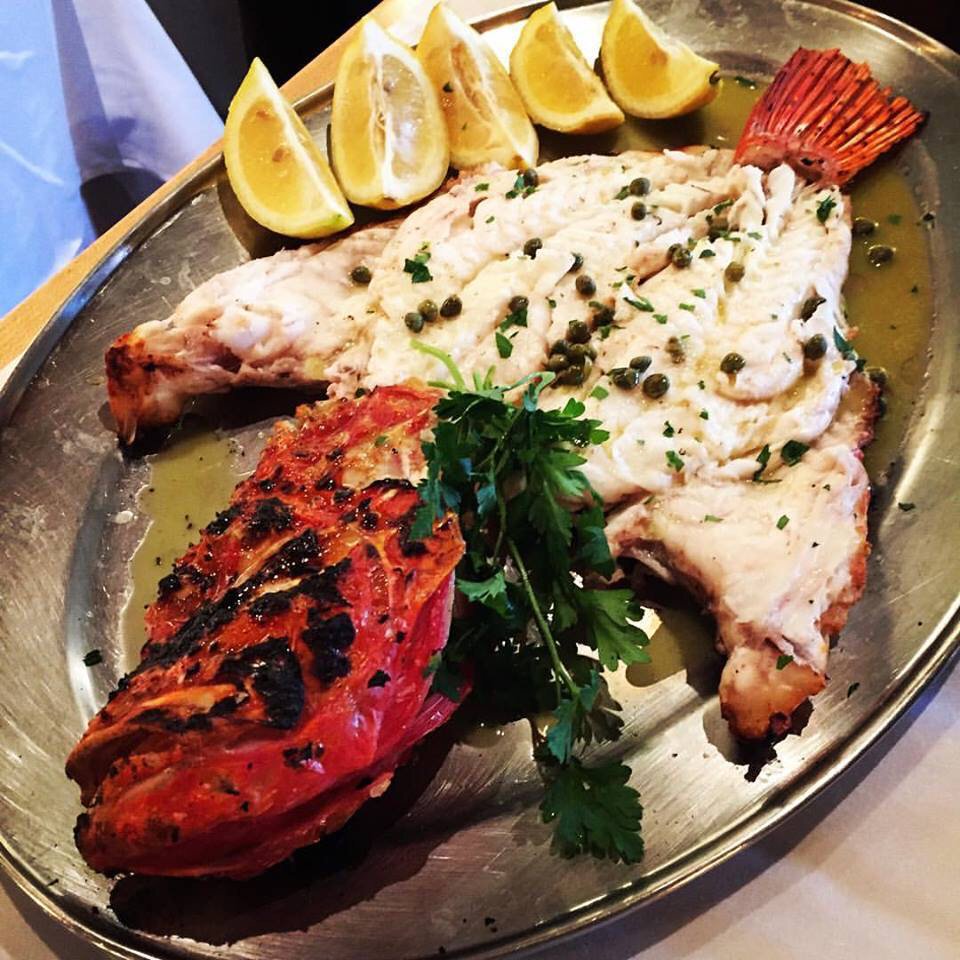 Sommelier of the Year – Chloe Helfand at Bazaar Meat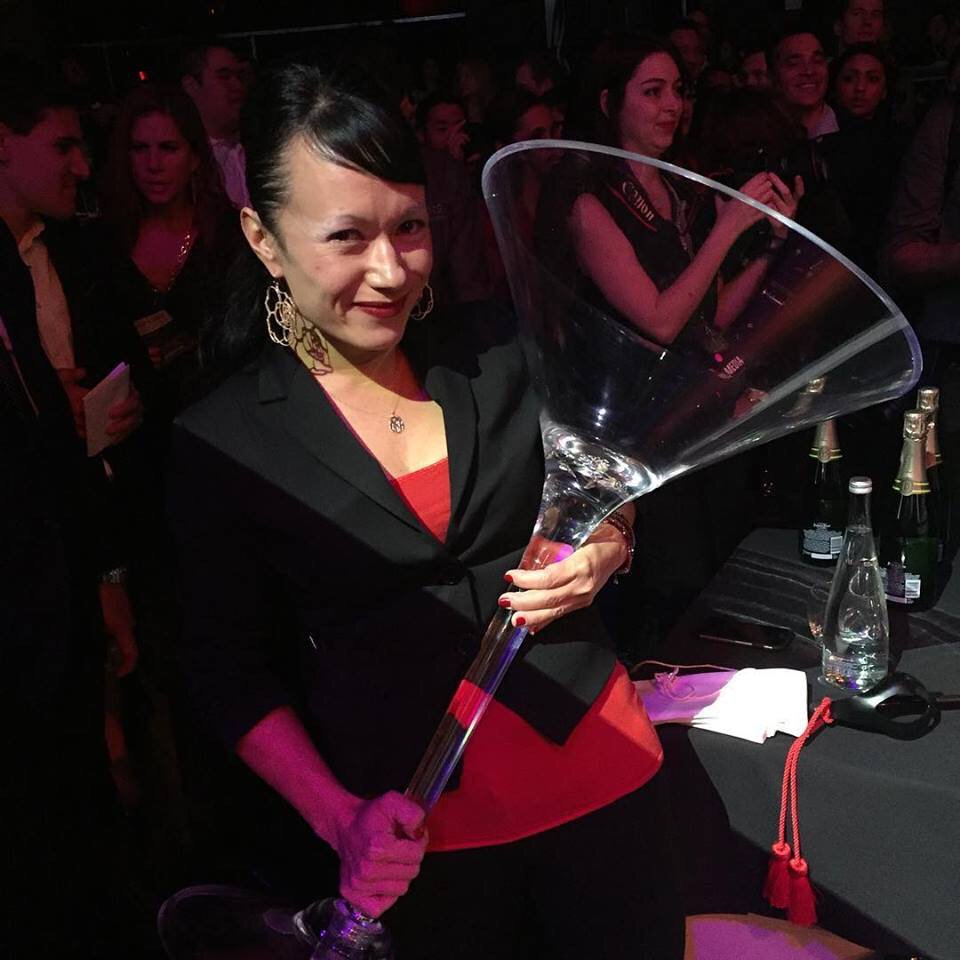 Pizza of the Year – Due Forni; runner-up – Evel Pie
Downtown Restaurant of the Year – Le Pho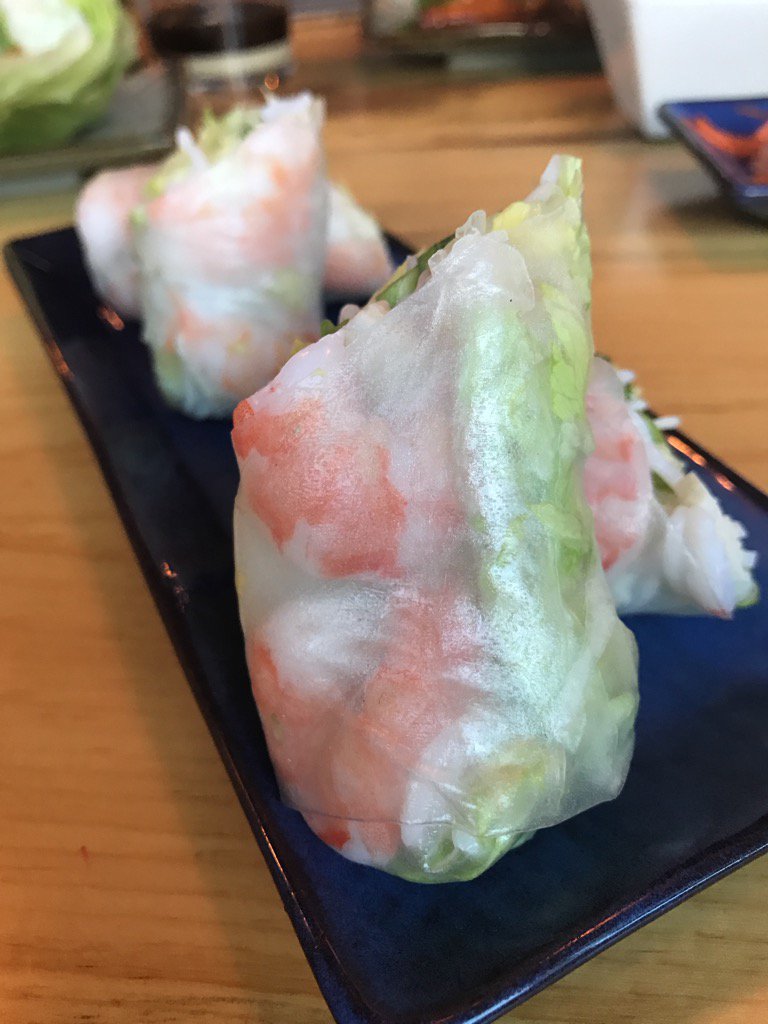 Chinese Restaurant of the Year – Chengdu Taste
Thai Restaurant of the Year – Ocha Thai
Vietnamese Restaurant of the Year – Pho Annie
Korean Restaurant of the Year – Magal Korean BBQ
Japanese Restaurant of the Year – (tie) Yui Edomae Sushi, Hiroyoshi, Yuzu Japanese Kitchen
Fabulous Frenchies of the Year – Nothing can top the lip-smacking delights that Rosallie Le French Cafe, Delices Gourmands French Bakery and Eatt Healthy Food brought to the 'burbs.
Dim Sum of the Year – No contest: Pearl Ocean at the brand new Lucky Dragon Hotel and Casino.
Coffee Bar of the Year – The just-opened Vesta Coffee Roasters is giving the term "fresh roasted" a whole new meaning.
Appetizer of the Year – "Ham 'n Eggs" at 'e' by José Andrés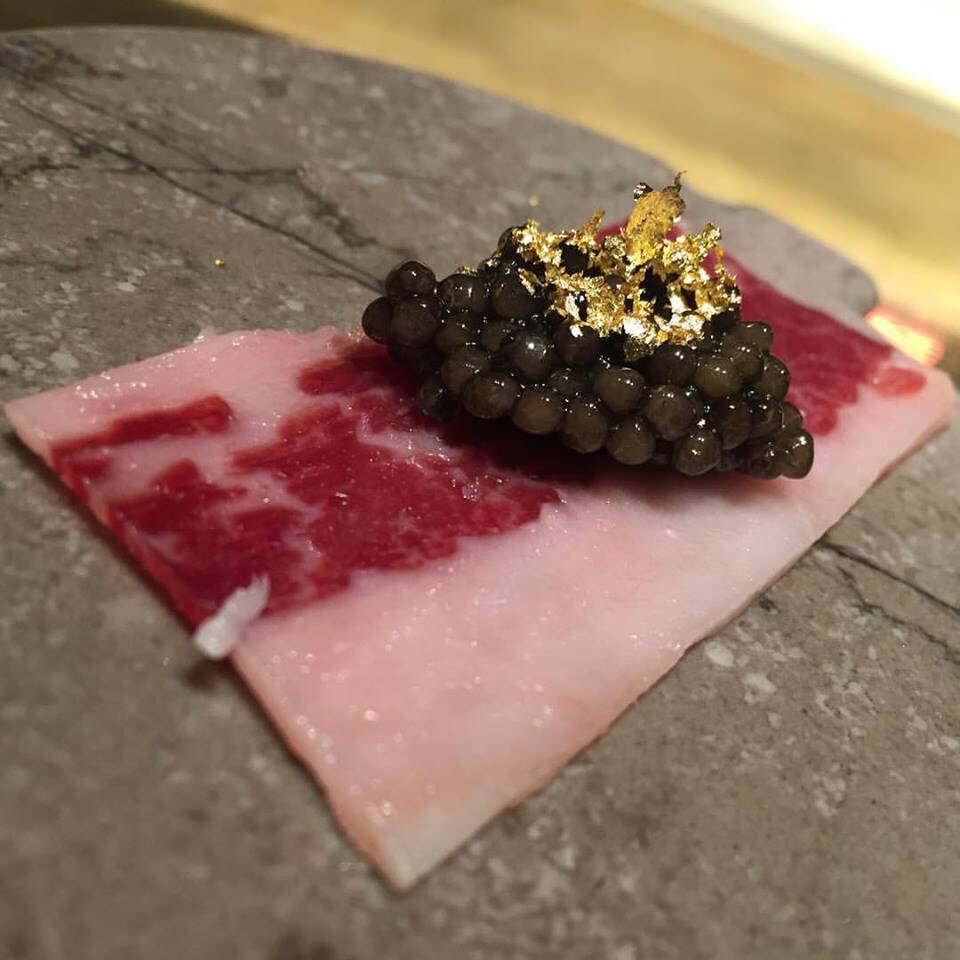 Entrée of the Year – Crispy Lamb Belly with Pomegranates and Peas at Sage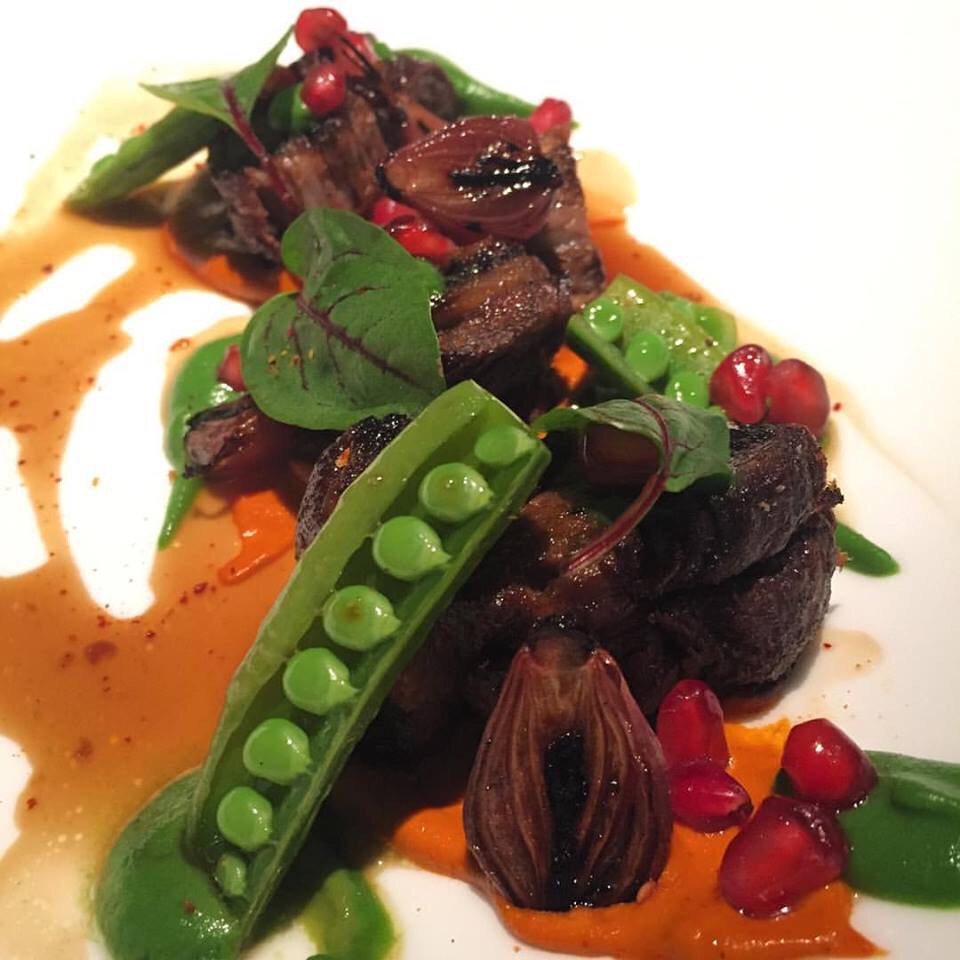 Desserts of the Year – Whatever Mio Ogasawara is whipping up that night at Sweets Raku
Meals of the Year – Yuzu Japanese Kitchen; Yui Edomae Sushi; Twist by Pierre Gagnaire; Delmonico; L'Atelier de Joël Robuchon; Bazaar Meat; CUT; Sage; 'e' by José Andrés; B&B Ristorante; Yonaka; Strip Steak; Ferraro's; Carbone; Chengdu Taste; Raku.
Chef of the Year – Steve Benjamin at L'Atelier de Joël Robuchon. No one does it better, or has for as long, as Stevie B.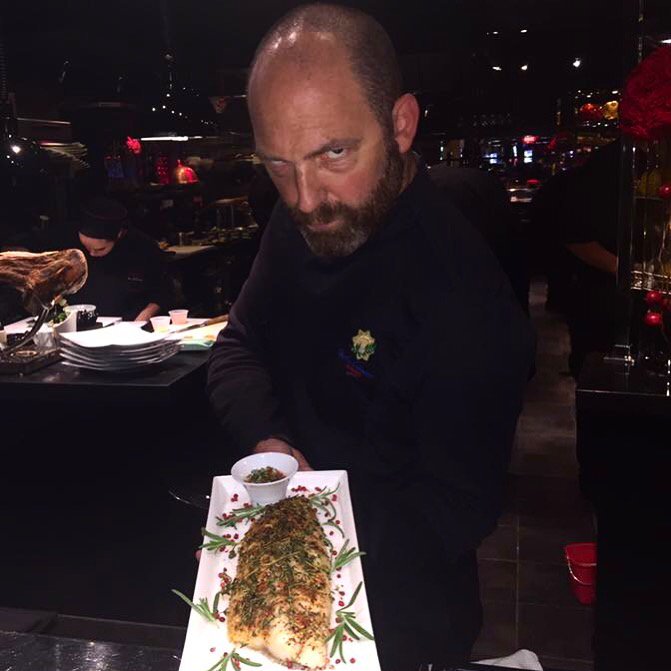 Restaurant of the Year – Bazaar Meat. Fork–droppingly delicious is how I often describe a dish (or a meal) that knocks me out with its intensity and perfection. I dropped my fork a lot this year at Bazaar Meat.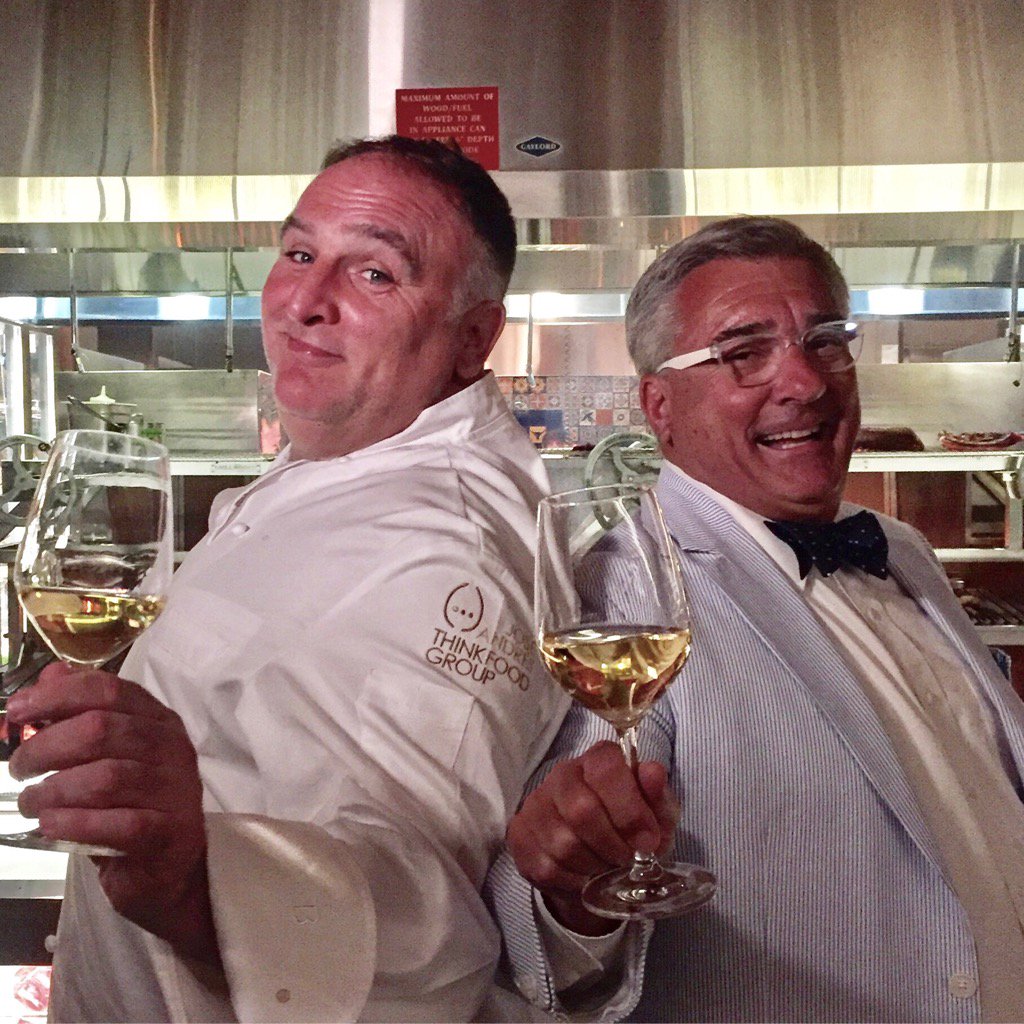 (Here's to you José, and to the best damn steakhouse in America)