People love to be grossed out. People also love to think that dark-skinned and strange-talking mom-and-pop restaurateurs are the only ones doing the grossing-out.
For those who live in fear of being served the unspeakable by the unsanitary, KNTV's Darcy Spears and her weekly "Dirty Dining" feature are there to exploit those fears in the form of lazy racism disguised as consumer reporting.
It doesn't take a sociologist to decipher what Spears and her shameless producers are up to. "Worms at Tacos El Gordo" the headline announces. "Roaches at Thai Street Cafe!" "Rat Droppings at Honey Pig!" "Raw Meat Issues at Korean Garden!" A quick look at the KNTV Home Page demonstrates that this "investigative reporter" makes a living from reading Southern Nevada Health District reports and then trolling Asian and Mexican restaurants in hopes of ambushing and embarrassing them.
More often than not that person is an Asian- or Mexican-American who looks like a deer caught in the headlights when Spears shows up at their front door.
"You know you have to be clean even when you're really busy?" she asks with all the hard hitting chops of a weather girl wannabe.
Because of course, she proclaims with grave inflection, "…the onions themselves were not being washed."
"That's the head of a chicken…" she exclaims as if she didn't know they ever had one. Then comes, "Tyler says they use them to cook broth," her voice fading in quiet disbelief. Finally, dripping with false sincerity and classic intonations of self-seriousness, there's: "…cut lettuce that was kept at room temperature."  Quelle horreur!
She then proceeds to walk through the place, with the haughtiness of a third grade teacher, pointing out various things that she thinks need to be cleaned up.
It's all pretty craven and embarrassing (for the restaurant, for the viewer and for her – even if she's clueless), but where she and her station really show their innate bigotry is a few minutes later in the same report.
The last minute of the February 15th segment is devoted to a raw sewage spill in Applebee's. Seems like a toilet backed up and Applebee's employees were walking through human waste in the restaurant. What is notable about this "reporting" is what it does not contain. There's no ambush, no interview, no attempt to contact Mr. Applebee to inquire about the company policy for having cooks and waitresses walking through human shit. No attempt to ask customers what they think. No manager in the headlights. Just a few shots of a soap-sudded floor and the statement that it was eventually cleaned up.
And we're talking human feces here folks, not a small splatter of chicken blood on the side of a refrigerator.*
So Applebee's gets a pass and a family pho parlor gets the third degree. So it goes every week with this whole enterprise — a segment that's selling sensationalism and stereotypes, not news you can use. (I don't recall her ambushing anyone at Firefly after it poisoned hundreds of patrons four years ago, or more recently when it hosted a cockroach convention.)
To prove my thesis, I looked through 746 pages of Southern Nevada Health District restaurant reports, involving 14,778 inspections to see just how many larger operations Darcy "Chief Investigator" Spears actually "investigated."
Aside from the casual mention that Appelbee's got, the answer is bupkus. I could find no mention on the KNTV website of places like the California Hotel, Klondike Casino, or Emerald Island (all of whom, this year, received over 30 demerits from SNHD in its inspections). Even if Spears did call attention to these places, it's dollars to doughnuts she didn't show up on the hotel floor with her camera and a list of questions for the CEO.
No, she reserves that treatment for people who don't push back. Look no further than the October, 13, 2016 report on Korean Garden BBQ. A raw onion sitting on a shelf appalls her. A food stain on stainless steel is cause for alarm.
"Not a sanitary condition to be defrosting meat," she says like she knows anything about the subject. A few flies in the place (because the front door was open), also gives her much cause for faking some concern.
None of these are isolated incidents, all of them are business as usual when you're in the business of harassing non-white people.
What Spears doesn't tell you is that she is reading off preliminary health reports — most of which are followed up on within a matter of days to see if the operator has corrected the condition. Many, many restaurants get poor grades after random inspections. The Health District then follows up shortly thereafter to see if the corrections have been made. It is after THAT inspection that the restaurant gets a "final" grade.** Spears like to gloss over this fact by stating that she only goes after the places with the highest number of demerits — even when she knows they will soon be reevaluated with a second inspection. But, of course, that wouldn't make good TV. Better by far to catch them with their pants down after that first score, play up all the disgusting things you can, and then casually mention at the end of the segment that the restaurant now has an "A."
None of this would matter if there was any perspective being brought to bear. But in the Darcy Spears world, a dishtowel next to food is cause for the same alarm as expired spinach and cockroaches.
"Hopefully that knife tip didn't come off in anyone's food," is said with a nervous giggle as she looks upon a stunted blade — just to give you something else to worry about.
Television "news" doesn't get anymore craven than that. Not content with the information (and "gotcha" interview) she has at her disposal, she has to gin up another cause for alarm (all while pretending to be on the side of her subject), so you'll keep paying attention.***
That's where Dirty Dining really goes off the rails. Each segment elevates a bucket on the floor, or produce kept at an improper temperature, to the same sky-is-falling tragedy as rats in the rice bowl. Shaming the little guy is her mission statement, not educating the public.
There's a public service to be offered here, but it's too easy to pick the low hanging fruit and choose to intimidate our hard-working immigrant population and call it a day. The entire segment ought to be renamed "Fear and Loathing of Foreign Food."
<<<<<<<<<<<<<<>>>>>>>>>>
* Spears is all over the guy at Thai Pepper about his overflowing toilet.
** No grades are ever "final," the SNHD tells me; they always quickly reevaluate a place if they have a significant number of demerits. The grade you see see on the SNHD website is the one given after a follow-up inspection.
*** Which is why some people (and fans of certain restaurants) are starting to (literally) push back.
"The food in Las Vegas is a lot better than it has to be." So said John Mariani to me over a decade ago as we were touring the Strip.
These days, a case can be made that the same could be said about our suburbs.
Do the steaks at Andiron have to be so top shelf? Does the seafood at Other Mama or Japaneiro have to be so impeccable? Couldn't Marche Bacchus get by with lousier pork?  The answers are: no, no and yes. Each of them could shave a buck or two on ingredients and it probably wouldn't hurt them at all. No one would notice, except maybe a chef (or finicky critic), and their bottom line would be boosted in the process.
The point is they do care about quality, even if their customers can't tell the difference. This makes them proud of the product they serve, and builds a level of trust between them and their clientele.
Restaurants like the ones mentioned are few and far between in the 'burbs, but they are slowly increasing in quantity (even in Henderson – thank you Standard & Pour), and we at ELV are glad that their number just increased by one.
André's Bistro & Bar took over the old DW Bistro space a few months back and has been packing them in from day one. They've kept the same floor plan but lightened up the space, given it a serious bar (and interesting, well-priced wine list), and took to cooking real French bistro food with no compromises.
In other words, they finally took my advice and picked up the restaurant gauntlet I've been throwing down for this entire century.
To say I'm pleased by all of this is an understatement. French bistro food is the most comforting, eat-every-day restaurant fare in the world. Only true trattoria cooking comes close, but no one in Vegas has the guts to go the full Roman, so Italian authenticity always gets drowned in a sea of cheap cheese and pizza sauce. I'll leave the I-told-you-sos for another time(?), but let's just say they've taken a classic formula here and run with it. And the public is responding.
One of the reasons, of course, is that the Stacked Hospitality Group had the good sense to move to this area of town — southwest Las Vegas being so restaurant-starved it makes Downtown Las Vegas look like mid-town Manhattan. The other smart thing they've done is to put Joe Marsco and Mark Purdy in charge of things. Marsco is the business/front-of-the-house guy and Purdy the Executive Chef, and years of working at Andre's in the Monte Carlo taught them both a thing or two about executing a menu of French classics.
French classics is what this menu is all about, no matter how many times they tell you that it's "American Tavern Cuisine." (For the record, we know that they have to use monikers like "American Tavern Cuisine" in order to appeal to the yokels who might be scared snail-less by an escargot, but make no mistake, this menu is as French as a sidewalk cafe.)
You don't get much more French than foie gras, and you won't get any better seared foie than this beauty sitting atop stewed apples and a caramel custard sauce: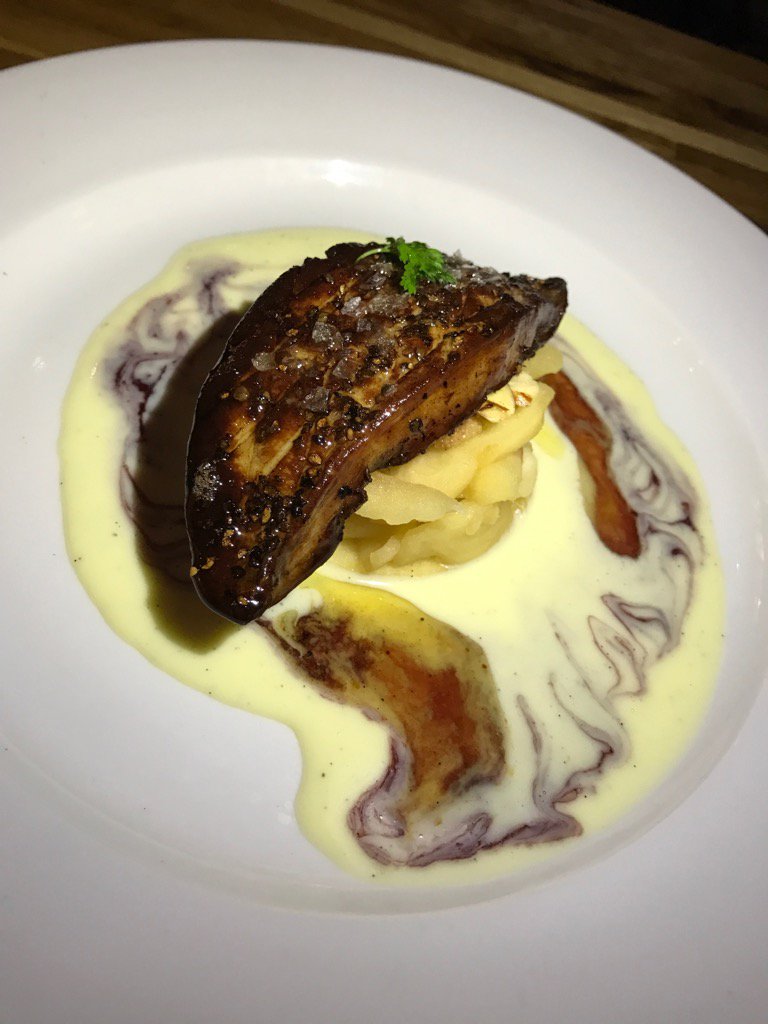 Does it taste like an apple pie under that unctuous liver? Absolutely. Does that make it the most decadent starting course this side of Guy Savoy? "Mais oui!" as the French would say.
Speaking of frogs, you can get their legs here (although we haven't tried them yet), along with a roasted vegetable terrine of concentrated tomato richness:
Just as good are the escargot (swimming in butter, garlic and parsley just the way they're supposed to be), and moules frites that cede no ground to anything you'll find at Bouchon, Mon Ami Gabi or Bardot Brasserie.
Of the salads tried, the Lyonnaise was proper in every way….if a bit uninspiring…and the beets with goat cheese were as beet-y as you could want them. (Chefs know I hate beets and are always torturing me with them, but if you like the taste of dirt, these are as tastily done and prettified as any gussied-up dirty root vegetable can be.)
Seafood continues to improve in the neighborhoods, helped along by a more knowledgeable public that now demands it. That explains the existence on the menu of this seafood risotto:
…as well as a textbook-perfect Dover sole "Veronique" that is old school French at its finest:
Neither of these items dishes would ever have come close to a local's restaurant menu a decade ago, now everyone sees them and dives in. (I'm told the Dover sole sells out quickly on the nights it is offered, and one bite of the thick, sweet fish and you'll know why.) Someone on my Facebook page said snarkily (when looking at the sole pictured above), "1985 called, they want their plating back." Yes it's as old fashioned as it gets, but it's also as tasty a fish as you'll find this far from the ocean.
None of this is ground-breaking cooking; all of it is grounded in good ingredients, treated with respect and proper (which is to say French) technique.
We also enjoyed the house-made sausages immensely — sitting as they are on top of some nice, sweet-sour Lyonnaise potato salad — as well as the nutty golden trout amandine:
…lightly sautéed (not heavily coated and fried) and properly adorned with a nice, brown butter sauce.
Both the trout and the flat iron steak are about the best $22 entrees you can find off the Strip, and the $12 burger is quite a mouthful (for $12) as well.
On our two visits, things seemed to be running preternaturally smoothly for a brand new operation, which is, again, a testament to having grownup professionals in charge of things.
No doubt there are kinks to be worked out (the wine list is tough to read, both the sauce and maître d'hôtel butter for the steak were too cold, and the mason jar hot fudge sundae tastes better than it looks), but quibbles aside, this place hit the ground running and doesn't look likely to stop.
One place you will want to stop and linger is the dessert menu. Tammy Alana's creations are the best thing to hit the 'burbs since free parking.
All of them are classics —  tarte tatin, chocolate walnut gateau, milkshakes (with malt!), Grand Marnier soufflé, lemon tart (pictured above) — all of them are made in-house, and all of them taste like you're in the hands of a master.
Which you are.
Just like I told you you would be.
ANDRE'S BISTRO & BAR
6115 S. Fort Apache Rd.
Las Vegas, NV 89148
702.798.7151
https://www.andresbistroandbar.com/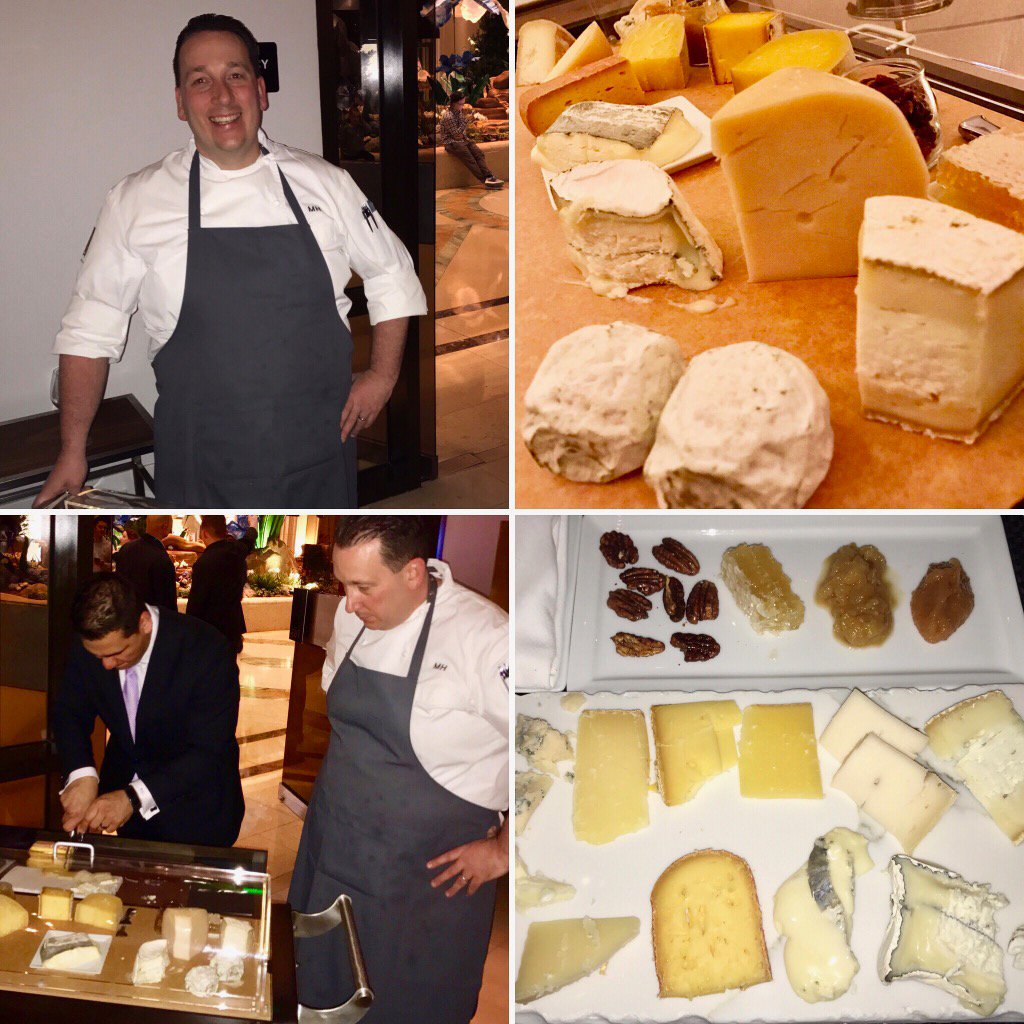 Why is Matthew Hurley smiling?
Because CUT Las Vegas celebrated its 9th birthday yesterday.
Why are we smiling these days?
Because we, like Matthew, are fromage-a-philes. Lovers of the fermented curd. Crazy for quark. Choosy about cheddar. Passionate for Parm. You get the idea.
Cheese carts are in short supply in Vegas these days. Cheese in general is not given its proper place at the table in all but a few places. Spanish cheeses are well-represented (but not displayed) at Jaleo, Bazaar Meat, and Julian Serrano, Morel's does a nice job with its eclectic selection, and our big hitter French joints (Robuchon and Guy Savoy) are ripe with the stuff. But when's the last time you were offered cheese in an Italian restaurant? Or saw any displayed?
Is it because Italy doesn't make much cheese? Or isn't proud of what its formaggio? Or perhaps Italians don't care enough about their curds and whey?
However you slice it, Italian cheeses are the Rodney Dangerfield of ingredients in Las Vegas's Italian risorante.
But what about American cheeses? Our artisanal cheese industry has grown by leaps and bounds over the past 30 years, and American cheeses are now some of the best in the world. Why don't they get any love in Las Vegas?
Is it because Americans don't eat much cheese?
That's probably, partially true. We are only 19th in world cheese consumption, well behind such cheese consumers as Norway, Luxembourg and Iceland.
Or perhaps it's because we're ignorant about how to eat cheese — as most Amuricans still think of it as a gooey topping for pizza and burgers, or shredded into taco oblivion.
In case you haven't heard, handmade real cheese, made with the purest, freshest milk is now being made by American fromageries from Vermont to California, Oregon to Georgia.
Many of these cheeses echo iconic European curds — Meadow Creek Grayson is trying very hard to be an Alsatian Munster; Cabot Clothbound Cheddar wishes it were a Neal's Yard Montgomery — while others like Rogue Creamery Smokey Blue could only be made in the U.S. of A.
The fun part is tasting all of them and deciding for yourself. Europeans have the right ideas when it comes to cheese: either make a meal of it by itself (with some bread, fruit and/or a bottle of vino), or use it as the ultimate digestivo — the amino acids and enzymes in cheese making it quite useful to help you digest whatever came before it.
Great cheese is a fitting climax to any great meal in a restaurant that's not a sushi bar. Sadly, the head-'em-up-and-move-'em-out mentality of most of our Strip restaurants does not allow for choosing and eating cheese in the leisurely way it should be enjoyed. Kudos to CUT (and Hurley) for bringing something new and fresh (in the form of something old and fermented) to one of the best steakhouses in the country.
What a fitting birthday present for CUT to give itself, and its customers.
CUT
The Palazzo Hotel and Casino
702.607.6300
Below is the cheese menu at CUT with appropriate wine pairings. You'll notice there's nary a red wine in the bunch — the tannins in red wine always fight cheese, and increase the wine's sourness. If you want to enjoy wine with cheese, drink a white, or something with a touch of sweetness in it. Port works beautifully. Cabernet sauvignon works not at all, no matter what the Bordelais say. If you're buying, I'd pick the Beerenauslese; if I'm buying, that Taylor-Fladgate will do just  fine.

The Pasture…
Cow…
Pleasant Ridge Reserve, Uplands Cheese Company – Dodgeville, Wisconsin
Rocket's Robiola, Boxcarr Handmade Cheese – Cedar Grove, North Carolina
Appalachian, Meadow Creek Dairy – Galax, Virginia
Grayson, Meadow Creek Dairy – Galax, Virginia
Goat…
Goat Gouda, Central Coast Creamery – Paso Robles, California
Wabash Cannonball, Capriole Farms – Greenville, Indiana
Humboldt Fog, Cypress Grove Chevre – Arcata, California
Freya's, Briar Rose Farms – Dundee, Oregon
Sheep…
Bohemian Blue, Hidden Springs – Westby, Wisconsin
Lamb Chopper, Cypress Grove Chevre – Arcata, California
San Andrea's, Bellwether Farms – Sonoma County, California
Peekville Tomme, May Fold Farms – Chatahooche Hills, Georgia
Artisanal Cheeses, Honey Comb, Toasted Nut Bread
Three 17   /   Five 22
 The Vineyard…
GLASS
Elio Perrone "Sourgal" Moscato d'Asti, Piedmont, Italy  2014                                            14
Torbreck Muscat "The Bothie", Barossa Valley 2009                                                          14
Château Rieussec, Sauternes 2005                                                                                       32
Taylor-Fladgate, 10 Year Tawny, Port                                                                                    14
Grahams "Six Grapes", Port NV                                                                                               14
BOTTLE
Foreau "Clos Naudin" Moelleux Reserve, Vouvray, France 2005 [750ml]                      165
Weil, Riesling "Kiedrich Gräfenberg" Beerenauslese, Rheingau 2002 [375ml]             228
Jermann "Vino Dolce Della Casa", Picolit, Collio, Friuli 2007 [375ml]                             95
Valdespino "Cardenal" Palo Cortado, Jerez, Spain [375ml]                                               456
Domaine La Tour Vieille, Vin Doux Naturel, Banyuls, France 2007 [500ml]                  68
D'Oliveiras Terrantez Reserva 1977, Madeira [750ml]                                                       450
Dow's, Port 1985 [750ml]                                                                                                           218
Taylor-Fladgate, 10 Year Tawny, Port [750ml]                                                                     72