(Jews met, and protested ELV)
Hell hath no fury like a deli lover scorned.
And scorned they were. And furious did they become.
And so it came to pass that they attempted to strike down upon me with great vengeance and furious anger.
And therein lies the tale.
Before we begin, let's get two things straight: I love Jews, and their food. Especially their Ashkenazi-American-Jewish-deli food.
Even before I knew a rugelach from a gefilte, I was a lover of the Jewish culture. (I call myself a closet Jew.) I consider the Jewish faith to be the best, most sensible and loving of all religions.
If I were a religious man, I would be Jewish.
But some Jews have a problem: they wouldn't know a great piece of pastrami if it bit them on their bialy.
And even if they don't know their kashrut from their kreplach, boy do they have opinions.
And when you start splitting Talmudic hairs with them, you better gird your loins for a fight.
First some background. I'm an old deli aficionado, as my father (a Greek) was before me. I was practically raised in Ronnie's in Orlando, Florida — which was a direct copy of Rascal's and Wolfie's in Miami Beach. And if you don't think they knew from delis in Miami Beach back then, you're a putz. Or at least a schlemiel.
From the 1970s through the 1990s whenever I was in New York, a stop at the Stage, 2nd Avenue, Carnegie or Katz's was mandatory. When I was out west, you'd find me at Canter's or Langer's. In Chicago, it was Kaufman's and in Montreal, Schwartz's. I even remember at stellar experience at the Gotham Deli on 47th Street, in the heart of the Diamond District, back in the Eighties that might've been the best bagel I ever tasted….next to Barney Greengrass's….which was second only to Schwartz's…none of which held a candle to the sweet-sour little pumpernickel rolls (wrapped around tiny bits of melted onions) at the Ronnie's of my youth.
Most of those mentioned are now closed. In New York, Katz's continues to hang on, but the the rest of them are history. On the west coast, the famous ones persevere against all odds. (There's even been an infusion of new Jewish deli blood in L.A. with the opening of Wexler's.) But in Miami Beach, where my deli education began, good Jewish food is harder to find these days than a heterosexual.
All of which is by way of establishing my bona fides for this type of food. I love it the way only a person raised with something can. The deep, rich, mahogany red of great pastrami pulses through my blood every bit as much as my matching hemoglobin. At various times of my life, if you had opened a vein, I'm sure it would've smelled like corned beef on rye.
Which is why I was excited when Canter's decided to come back to Vegas and open a store in Tivoli Village. (Some may remember they had an outlet in the Treasure Island hotel that skedaddled some years ago.)  The original Canter's on Fairfax Avenue in L.A. is an institution. Although I've always found its sandwiches a notch below Langer's, I vastly preferred them to the so-so stuff at the celebrity-studded Nate 'n Al. (Further proof, if any is needed, of the inverse relationship between great food and famous people.)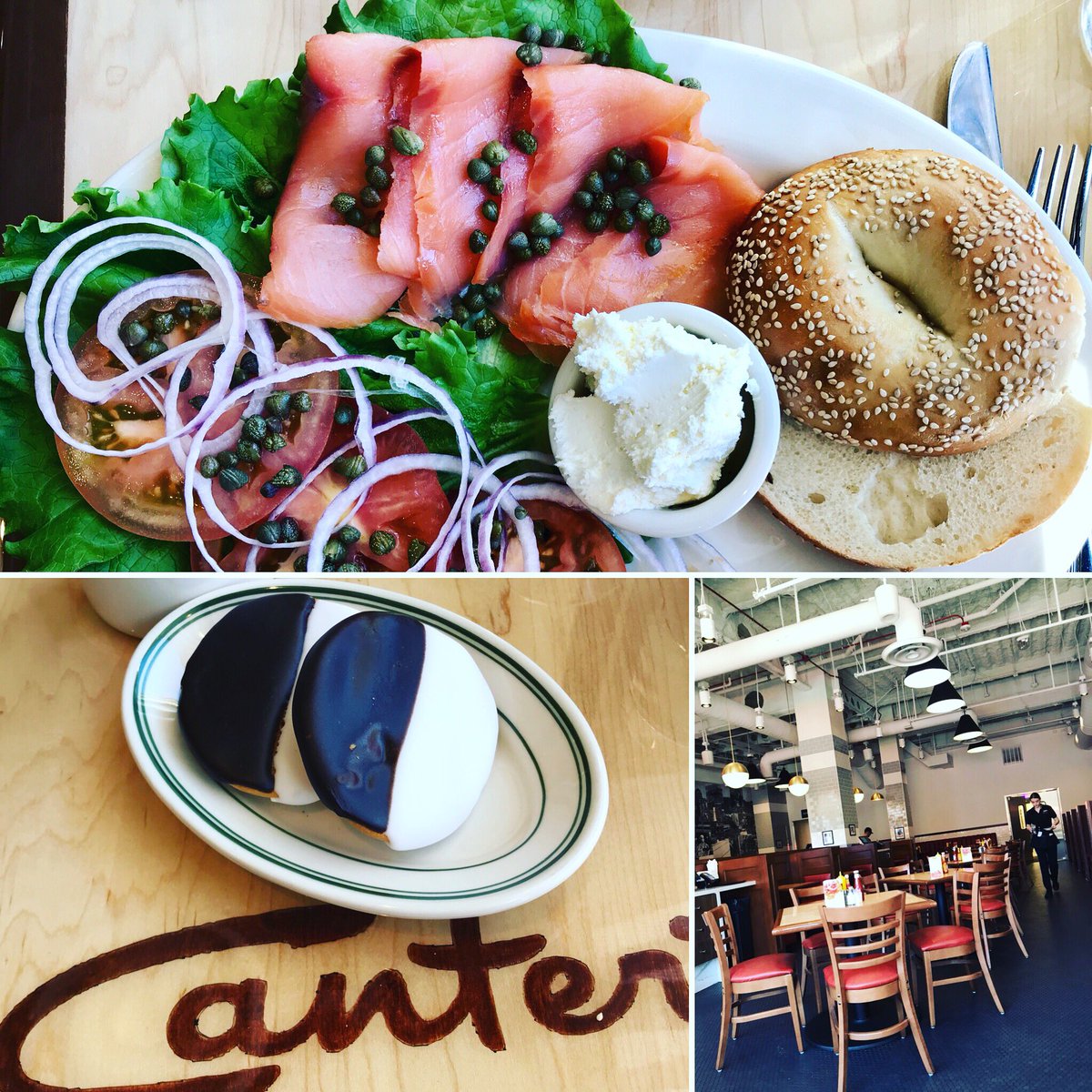 It all started with this opening salvo on my Facebook page: "There ought to be a line out the door at Canter's Las Vegas. But I bet there's a 20 minute wait for a table at Mimi's and the Bagel Cafe – where everything comes out of a bag or a box." (It was a poor choice of words, since deleted, as I'm sure everything at the Bagel Cafe does not come out of a box — it just tastes like it.)
It started out as a mild controversy, as one of my Facebook friends weighed in a statement,"The owner claims they make all of their food from scratch."
To which I replied:
Really? They do their own baking? (It never smells or tastes like it.) Cure their own meat? Make their own bagels? (possible….then why do they look and taste like the bagels at dozens of places around town?) Do they slave over salmon? Nourish the nova from the time they fillet the fish? Roll out their own rye? Do they have a cadre of cooks in the back making everything from the tuna salad to the shredding potatoes for the latkes? Color me skeptical….Or perhaps we just have different definitions of what "making things from scratch" means…
What started as a tickle of tendentiousness swelled into a raging river of retorts, ripostes and rejoinders.
The comments ranged from the thoughtful:
[Canter's] is like a pop-up deli missing many of our major top food items.
Desserts and pastries better at Bagel Cafe; pastrami and corned beef better at Canter's.
To the underwhelmed:
Service was excellent, pancakes were heavy and chewy….pastrami a bit dry to my liking.
To the absurdly hyperbolic:
The matzoh ball soup at Bagel Cafe is ten times better than that at Canter's.
To complete disagreement:
I enjoy Bagel Cafe very much and didn't agree with John Curtas.
To the totally disagreeable:
Canter's is disgusting. (ELV note: Canter's is not disgusting, and the person making the comment thinks the best Jewish deli in America is in Texas — because we all know how high the deli bar is set in Texas.)
Then I got a little arrogant and pushy (I know, quite a surprise) when responding to those trashing Canter's:
Canter's has the best bagels I've tasted in town. It doesn't duplicate the magic of the original, but in Vegas — where we haven't had a decent deli in 30 years — it's as good as you're going to get. And BTW: your friends (who say otherwise) probably don't know anything about Jewish food.
Finally, after dozens of comments, I weighed in with what I thought would be the end of it:
Here's the bottom line: Canter's actually cooks and prepares all its own food. Bagel Cafe (where I had eaten many times over the years, and seen the Sysco trucks and viewed the purchased meats in the counter) tastes pre-made. To those of you who say, "[Canter's] is not as good as…." – I leave you to your pre-packaged mediocrity.
Then it was really on. There were comments upon comments and threads within threads and it all became exhausting after a while. (In all, I think there were well over 200 comments — which is amazing considering that this web site (and my FB page) is lucky these days to a dozen people commenting about one of my reviews.
Many agreed with me that the Bagel Cafe is a mediocre deli experience at best. The real fressers in the threads pointed to how well steamed and hand-sliced Canter's meat is. (Those busy defending their BC turf hardly ever articulated why anything there was superior in any way.)
For the record, I did give props to the chicken noodle soup at the Bagel Cafe. It's about the only thing I've ever had there that impressed me.
My favorite comment was:
I'm ashamed to see some of my fellow Yidden don't know from great pastrami and corned beef. We finally get a world-class place and people just kvetch. This is why we can't have nice things. (This comment even included a link to David Sax's "Save The Deli" – a book I doubt anyone associated with the Bagel Cafe has ever read.)
But then, a day later, things got really interesting when the Bagel Cafe itself started weighing in:
I am the owner of The Bagel Cafe. You must immediately take down your slanderous comments….we do, in fact make our food, in house, fresh daily. Shame on you.
To which I replied:
Please explain "make our own food fresh daily" – I've asked questions and I'm skeptical. If you actually: 1) do ALL your own baking; 2) cure your own meat and fish; 3) smoke your own pastrami; and 4) make all of your salads and soups from scratch; etc…I will not only apologize, I'll come eat there.
His response:
Sir, you are not welcome at the Bagel Cafe…I will not continue to engage with you.
I also heard from the general manager of the BC who gave me the usual "We've been in business forever, everyone loves us, how dare you say anything bad about us blah blah blah…" — to which I responded with the same questions I posed to the owner. I even requested he send me pictures of all of the curing, smoking, and baking going on there, with my assurance that I would retract any comments that turned out to be untrue.
His response was to block me from any further conversation.
And so it continued…for days.
At one point, BC acolytes were purposefully posting bad reviews of Canter's on Yelp to (I guess) try to enhance their reputation by besmirching another's. Classy.
People went nuts accusing me of all sorts of things, but I never did get my questions answered to my satisfaction, and my satisfaction demands more than the owner and his relatives telling me, "We cook all our own food."
Bottom line: My three meals at Canter's have been really really good. It has demonstrably better sandwiches, meat, cheesecake, bagels and fish than Bagel Cafe. (The coffee is also great, too.) If people don't want to believe it, that's their business.
Bottom line #2: Just because you like a place doesn't mean it's any good, and just because you're born into a culture doesn't mean you have a clue about quality. There are Italians all over America who swear by shitty Italian food, and Americans who wouldn't know a good cheeseburger if it bit them on the bun.
The next time I want a corned beef sandwich, I'm heading to Canter's. The rest of you, I leave to your mediocrity and this message: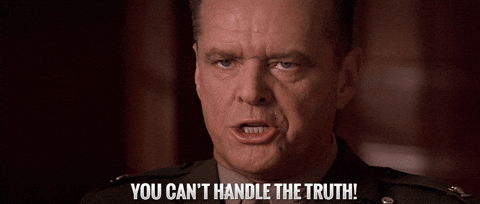 CANTER'S LAS VEGAS
330 S. Rampart Blvd. Suite 160
Las Vegas, NV 89145
702.444.0407
http://www.canterslv.com/canters-tivoli-village/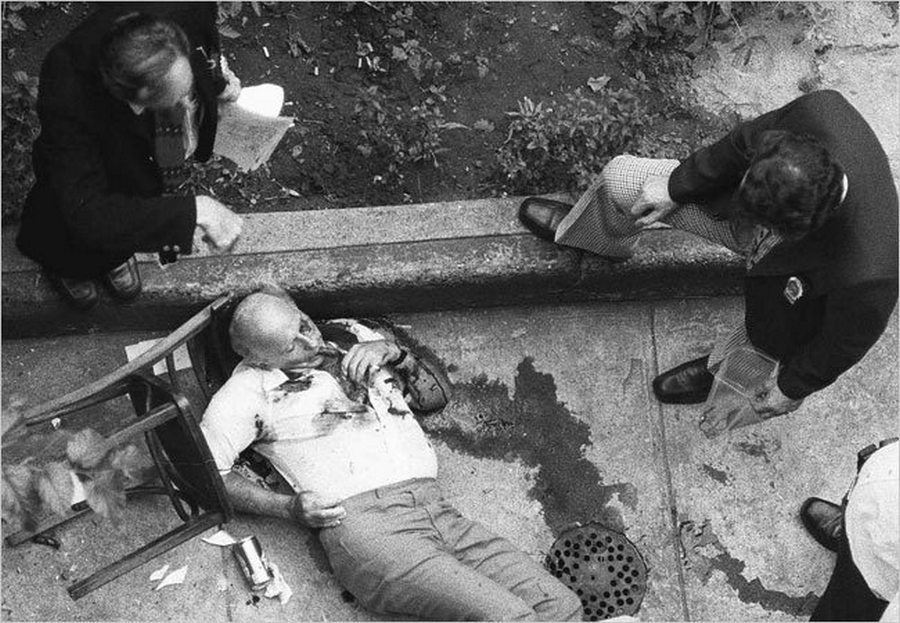 ELV note: We temporarily interrupt this web site's obsession with food in order to share with you a serious, personal anecdote. Because sometimes there are things much more important to talk about than where to eat, and because we believe everyone has a moral obligation to (try to) prevent murder.
Several decades ago, when I was still practicing criminal law, I happened upon a homicide scene where I knew the detectives. One of them with a particularly morbid sense of humor (homicide dicks are famous for their gloomy humor) asked me if I wanted to see the body. (He joked that since I might end up defending the perp, I might want to see the other half of the equation.) "Sure," I said, so he led me over to a parked car.
Inside was the driver with his head resting on the steering wheel and twisted to the left as if he were leaning forward and trying to see something out the driver's side window. His eyes were wide open, and you wouldn't even had thought he was dead if you just casually glanced at him. From a distance of about five feet, the only odd thing about the body was its stillness and a small black indentation — about the size of a nickel — just below the left cheekbone. There was no blood on his face, and it being nighttime, at first I saw no blood anywhere else, either.
"What happened," I asked the detective, "how did he die?"
"Since you asked, counselor, come with me."
With that we walked around to the passenger side, took out his flashlight and shined it through a curtain of blood and what looked like wads of chewing gum stuck all over the side window. Inside I could see a ragged, gaping hole the size of a large man's fist had been blown out of the back of the victim's skull. A mosaic of flesh, brains, blood and bone dripped from every interior surface as if someone had sprayed it there with a fire hose. I can still see the shards of skull stuck in globs of pink-grey brain.
"Must've ruined his whole fucking day," the cop quipped. It certainly did mine.
Impressions like that are powerful and never forgotten. They are far different from what you see in violent movies, or watching people shoot pumpkins with firearms. They also make you much more sensitive to what really happens when people are shot. You can't compartmentalize it with distant sympathy. You can't create a gauzy, intellectually-removed effect of poor bodies antiseptically slumped motionless in a sleep-death of sadness. No, what you live with is the knowledge of just how violent, bloody and revoltingly grotesque their death was.
Gun nuts and the gun lobby don't want you to understand just how destructive their implements of death are. Guns are, first and foremost, killing machines. And they do their work most effectively. Hunting is about killing things and self-protection is about killing people. Hunters at least are well aware of the power of firearms. I don't think they're the ones behind all the political nonsense spewed forth by the NRA. The self-protection nuts are the bigger problem. They are the ones who have been convinced they "need" guns for some unknown boogeymen who are out there (usually, other gun nuts), or that guns are cool.
If more people saw what a gun really does to a human body, that "cool factor" would be greatly diminished. If gun-control advocates (which greatly outnumber those who still believe in the myth of the 2nd Amendment) saw the blood, the wounds, and the faces of shooting victims, lying there in sticky, putrid, purple-black pools of their own fluids, the gun control movement might galvanize in the same way the Civil Rights movement did when the public saw pictures of lynchings and dogs biting through the legs of protesters.
It's time to show the bloodshed. There are photographs of those 20 Newtown children slumped bloody across their tiny desks with gaping bullet holes in their terrified, disfigured faces and little chests. There is, I'm sure, a photograph of the fatal neck wound my friend Cameron Robinson suffered on October 1st — a gun shot that snuffed out a young life just as it was beginning. People need to see this shit — literally see the shit, and the blood, and the guts, and the brains, and the bone shards — in order to break the murderous stranglehold the gun lobby has on our politics.
People need to have their whole fucking day ruined, too.
(Tofu with tagliatelle?)
The problem is there aren't any rules anymore.
Not in politics, and not in restaurants.
Rules are what give us comfort. They provide context and boundaries to how we're supposed to act and how we're supposed to eat.
By nature, I'm not a rule follower. Laws are just suggestions, I'm fond of saying, but I don't really mean it, especially when social intercourse is involved, and especially when dining pleasure is at stake.
Civility, decorum, manners, tradition — they've all taken a beating over the last decade, a beating that shows no signs of abating.
In that same vein, upscale eating has become a no-holds-barred, free-for-all.
Fish sauce in meatloaf. Clam toast. Uni shooters. Baby back ribs mingle with roasted cauliflower — in a supposed Italian restaurant. (Boy, do American chefs LOVE roasted veggies.) Soffrito this and lamb burger that.
Mocha oatmeal stout mole with beef cheek, brown butter, and a masa dumpling?
Misho kosho polenta? With duck katsuboshi? Bloody Marys that take 20 minutes to make. ENOUGH ALREADY!
Stoner food. Comfort food. Everything has to be cravable. Nothing is tethered to anything but the chef's imagination — imaginations that are running wild from coast to coast because everyone is copying everyone else's Instagrammable dishes.
On and on it goes from Grant Achatz to chefs from Portland, Maine to Portland, Oregon.
I don't want to eat Iberian-inspired cuisine, I want to eat the real thing…or at least an American restaurant's close approximation of the real thing. Simply tossing some pata negra ham on something does as much for me as putting pesto on peanut butter.
"Their food aesthetic is hard to define."is what wins you national publicity these days, but who in the hell wants to eat something they don't understand?  Grownups want definition;  teenagers need it, and young adults are searching for it. The only people who don't want definition are children too stupid to know how essential structure is for things to make sense.
American restaurants, I'm here to tell you, and especially new American restaurants, have stopped making sense.
I get it: chefs are in the business of making food that people want to eat. If the crowd wants eclecticism, then pile French foie gras alongside Peruvian tiradito topped with a lamb necks and Millennials will beat a path to your door.
But there's a big problem with this kind of eating: it's exhausting.
Thematic restaurants are comforting. Whether it's a Umberto's Clam House, Joël Robuchon or In-N-Out Burger, you know what you're getting when you walk in. You know (or hope) you're going there to be fed something recognizable, and relax while you're eating it.
When you have to figure out what's good, something has been lost. When you have to constantly strain to parse what the chef is up to, then you've lost a big battle with my stomach before the war has barely begun.
I've been to Europe a lot in the past two years. Even as I type these words I am pining for the beef bourguignon in Beaune, or that pork shank in Munich. I find myself dreaming about Japanese fish restaurants and orgies of Roman pasta. What I don't dream about is some Japanese-Mexican chef trying to make "Iberian-inspired" cuisine with a Nipponese twist. The worst foreign restaurants I've ever eaten in were "eclectic" in their cooking. The worst American restaurants I've eaten in were jacks of all trades and masters of none. Just because we live in a melting pot doesn't mean our restaurant food has to reflect that.
There's nothing new in food, despite what some chefs will try to tell you. There's a reason you put ground up pork and not turkey meat in dumplings — because turkey meat brings nothing to the party. All those ingredients you see in Korean stews? Each one is there for a reason. Red wine with meat; white wine butter sauce with fish? The French figured this out a thousand years ago.
Why does no one put pasta in clam chowder? Because potatoes lend better starch and texture to the broth.
The other thing all the world's cuisines figured out is how to eat. And by "how to eat" I mean the progress of a meal.
Light to heavy, climbing the food chain, all of it makes sense in the context of every country's cuisine. Even the Ethiopians will tell you in what order to attack your injera. Simply throwing a bunch of small plates on the table confuses both the mind and the palate, to say nothing of lessening our sense of civility.
Thus have America chefs taken the whole cross-cultural thing too far.
Who wants to spend time deciphering whether to get the Bento box and Scotch egg or the fried calamari with some riff on ramen? Or how about salmon with forbidden rice and tomatillo sauce? In a Vietnamese-American restaurant?
The best restaurants in Las Vegas know what they are and what they're trying to emulate. Carnevino is an Italian steakhouse in the best sense of the word. Twist is French to its core, and Yui Edomae Sushi is a direct copycat of a hidden Ginza sushi joint. They are "foreign" restaurants (and they are essentially theme restaurants), but like all great orchestras they stick to the music and leave improvisation to the fools.
American restaurants have no idea what they are, and spend too much time concocting wild variations of dishes done better somewhere else by cooks who specialize in that kind of cooking. (I get it; chefs get bored. But thinking up oddball combinations to combat boredom is an insult to gastronomy.)
Here's where I give kudos to James Trees for knowing what he wants to be and what he's good at. Esther's Kitchen may not sound like a modern Italian restaurant but that's what it is.
James Trees knows the rules. He's not afraid to tweak things here and there, but he sticks to the catechism of Italian cooking pretty closely.
I wish his competition was so inclined.
There are many things to like about Carson Kitchen, 7th & Carson, The Black Sheep, Sparrow + Wolf, Boteco, and The Kitchen at Atomic, but thematic consistency isn't one of them.
To their core, they are new American restaurants that are all over the map with their (relatively short) menus. And to be blunt about it: this kind of cooking is rarely transporting. It may be picture-worthy and just fine for sitting in deafening rooms with screaming 35 year olds raving about how "amazing" everything is, but at the end of the day, it fills your belly but rarely your soul.
No matter how talented a hotshot young chef is, they're never going to make a mole as well as a Mexican mamacita who's been doing it all her life. Ditto raw fish. There's a lot more to it than just putting some raw slices on a plate and throwing some lime dressing on top. Deep frying is an art, too, as is roasting. But restaurants that are trying to all of these things will excel at none of them.
Fusion food has had an interesting ride over the forty years I've been paying attention to restaurants. What started in the early 1980s with Wolfgang Puck's Cal-Ital-French menus took a sharp turn east when Jean-Georges Vongerichten took New York by storm a few years later with his Thai-inflecked French. By the 1990s, Nobu Matsuhisha and Roy Yamaguchi had everyone talking about pan-Pacific flavors. But by the early 2000s, every food writer in America was over all of it. "Fusion-confusion" was how we mocked it back then.
Then, instead of going away, it took over. The recession had something to do with it. Fancy dining was dead (at least we thought so at the time), and restaurateurs, searching for an audience, had to find something casual and hip and, god help us, picture-worthy, to drive business in the door.
Enter restaurants with more moving parts than a Game of Thrones episode. All of it helped along by the molecular craze — which may have jumped the shark a decade ago, but which gave casual eateries license to try all kinds of wacky combinations.
The foam-thing may have died, but the "anything goes"legacy remains. And what we're left with is wood-fired grills throwing Bento boxes at us…and udon carbonara.
I'm not necessarily against combining the world's flavors into interesting combinations, but I am against it when it makes no sense….and when that's all you've got. What I'm looking for is focus — on the menu and in the recipes — focus that seems to be lacking when all of these cultural lines get blurred.
Which leads me to ask: Do they teach this kind of cooking in culinary schools these days? I think not. I think it's all a direct result of social media creating a "can you top this?" attitude among young chefs. Which deceives them into thinking they're doing something fresh, when in reality, they're all posing for the same selfies.
The mission statement of any chef in any restaurant is to satisfy his or her customers. And when all you're doing is trying to dazzle someone, you don't allow them to get comfortable enough to be satisfied.
Creativity is a great. The world can't run without it. But creativity is a slippery slope when it comes to food — a slope that too many chefs are sliding down these days.
I think we're slowly evolving past the small plates thing, and the something-for-everyone-thing, and the let's-throw-Asian-accents-on-everything-thing.
This is a good thing, I think. Or maybe I'm just hoping.
It's time to get back to basics — food that makes people feel good, not impress them for all of the wrong reasons.