ELV ANNOUNCEMENT:  Huntington Press announced last week that the 6th Edition of EATING LAS VEGAS – The 52 Essential Restaurants is in production and looking forward to a release in mid-November. For the first time, those 52 eateries will be chosen and written about by me and me alone. As much as I've appreciated the yeoman's work that Greg Thilmont and Mitchell Wilburn did on the last two editions (2016 and 2017), Anthony Curtis (publisher of HP) thought it was time for me to do one book with my complete, unfettered and unvarnished look at the Las Vegas restaurant scene. Curtis (no relation, although he does have the same sounding name as our staff), is taking responsibility for the second half of the book — evaluating and listing everything from best burgers to boffo buffets (with an assist here and there from yours truly). As long time publisher of the Las Vegas Advisor, Curtis knows the ins and outs of Las Vegas in a different way than I do, but one that readers will find highly useful when more down-to-earth dining is on the agenda. The heavy lifting (i.e., research and writing) of this edition has been going on for several months now (if you follow me on Facebook, Twitter or Instagram you can get an idea of all the territory I've been covering), and the next six weeks is crunch time. In the meantime, below is a taste of one of the additional chapters I'll be writing that will pepper the book with some of my insights gleaned over 23 years of restaurant writing and covering the Las Vegas food scene. Bon appetit!

WHAT DOES A (REAL) RESTAURANT CRITIC DO?
He writes. She eats. He Cooks. She travels. He eats more. She studies. She reads everything she can about food and travel; he thinks incessantly about food, all the time. And after all that, he/she spends an inordinate amount of time hunched over a keyboard, trying to describe food and the experience of eating out in the pithiest, most informative and entertaining way possible.
Not just the food that he or she happens to be shoveling into their piehole at any one moment, but about how everyone eats. And cooks. And feeds each other. More specifically, a restaurant critic is charged with the responsibility of evaluating how restaurants —  who are in the business of selling food to the public to satisfy human hunger — are doing their job.
To be a good restaurant critic you need to eat a lot, write a lot, read a lot and travel a lot. If you lack the stamina for any one of these things, you should hang it up right now.
Being a restaurant critic is like being  a porn star: It sounds like great idea until you have to do it all the time, on schedule.
A restaurant critic (a real one, not a casual food blogger) is a writer first and foremost. But their beat isn't sports or news or politics, it's rating and reviewing each and every bite of food they ever put in their mouth, and put those thoughts on paper, usually weekly, while facing deadlines to do so.
Most importantly, a restaurant critic is a consumer advocate. If your motivation for the job isn't to help the general public spend their dining dollars wisely, then you should find another occupation. People who just like to eat out all the time and tell everyone what they thought of their meal are known as blowhards….or food bloggers. Food bloggers, as knowledgeable and passionate as some of them are, are not restaurant critics. A real critic analyzes its subject; opinionated Yelpers/bloggers tell you things are "legit." Big difference.
The job of a restaurant critic is to eat out, all the time, and write cogent, informative and entertaining essays about what they ate, how good or bad it was, and how they felt about the whole experience. A real restaurant critic gets paid for what they do.
There are four types of professional critics: 1) full-time columnists who write for major metropolitan newspapers or national periodicals (these jobs are becoming increasingly rare, and there are probably less than 100 writers in America who make a living from them); 2) free-lance journalists who work as subcontractors to dead-tree magazines, free newsweeklies,  and papers (sometimes as a steady gig, sometimes intermittently); 3) on-line critics who work for established Web sites (like Grub Street, Eater National, Huffington Post); or 4) established critics who maintain Web sites of their own (some of which make money, some of which don't). Yours truly fit into the second category for the first fifteen years of his restaurant writing career, and now plies his trade as a member of the fourth group (since 2008), with occasional forays into numbers 2) and 3). The rarest of the rare critics actually publish yearly restaurant guides, written on real paper!
Restaurant critics don't make a lot of money. If you're lucky enough to land a job with a newspaper, you'll make about as much as a high school teacher; if you free-lance, you'll be lucky to top what a barista makes at Starbucks. Being a restaurant critic is like being a poet: you better do it for the love and passion for your subject or you better not do it at all.
Food writers are not restaurant critics. A food writer is someone who writes articles or books about food. A food writer might write an entire book about a specific food topic: Salt by Mark Kurlansky, or diet and food politics: The Ominvore's Dilemma by Michael Pollan, or food fads: pick up any monthly food magazine like Bon Appetit or Saveur. Food writers write about themselves (M.F.K.Fisher), or recipes (Julia Child), or their travels (Anthony Bourdain, Joseph Wechsberg, etc.); restaurant critics write about what they taste, and then evaluate the final product of professional chefs who charge the public money for the fruits of their labors at businesses licensed to sell cooked food.
All restaurant critics are food writers, but rare is the food writer who is also a restaurant critic.
Most restaurant critics work on a weekly basis. (There may be a critic out there who manages to eat, digest, think and review multiple restaurants in a week, but if they exist it's a fair bet they are either independently wealthy, really, really fat or crazy.) Many periodicals assign their critics to double-duty and ask them to file reports and articles on various foods and food trends for publication in between their reviews of restaurants. In this respect, most critics, if they are good writers (more on this below), are able to toggle back and forth as part-time food writers. Most cookbook authors and food writers wouldn't be caught dead writing hard-boiled, opinionated prose about some phoning-it-in celebrity chef. But that's just fine with real critics, because you wouldn't want a food writer to write a proper restaurant review any more than you'd want a cheerleader to be a football coach.
In a typical week, a critic will visit at least half a dozen restaurants — most for the first time, some to get a second look — as they keep their writer's pipeline stuffed with potential articles, reviews in progress, and possible subjects for future reviews. Back in the Stone Age — and by "Stone Age" I mean the late 20th Century — it was de rigueur for a critic to visit a restaurant multiple times before filing a review. These days, due to the news-a-minute, immediate gratification impact of the Internet, almost no publication, save for maybe a few major newspapers, requires a critic to eat more than one meal in a restaurant before giving their opinion of it. (This is extremely unfortunate, because restaurants are not movies. Every movie critic sees the same movie; a restaurant is an organic being, dependent upon the coordination of many people to do its job well. All it takes is for a dishwasher to call in sick, or a waitress to have a fight with her boyfriend, or a cook to check into rehab for you to have a lousy time. Only by eating in a place multiple times can a real critic take the measure of a place. (Every place in EATING LAS VEGAS – The 50 Essential Restaurants (past editions) has been visited multiple times by me. Every place in the upcoming issue will have been visited by me more times than I can count. No other critic in Las Vegas can make this claim. No other food writer or critic in the history of Las Vegas can come close to it. No brag, just fact.)
Also, due to to Internet: anonymity has gone the way of the tasseled menu and the hat check girl. Every single real critic (those writing for respected publications, or known to wield any real clout in their city) is known to every major restaurant in town. Pictures of them are posted in restaurant kitchens, and the anyone with a mobile phone can look up anyone's picture in 30 seconds.
With all of the above as a given, your average (professional, respected, loved or hated) restaurant writer has two parts to their job: eating and writing. The eating part isn't as easy as it seems. You have to have (or develop) an iron stomach, adventuresome attitude and a fine-tuned palate. You must learn to eat things you loathe and learn enough about them to objectively judge their net worth. (Yours truly will never like beets or Vietnamese food, but has eaten enough of both that he could start a farm or a pho parlor.)
Eating a single meal in a restaurant is no more enough to correctly opine on its merits than looking at a single painting is for you to judge an artist — even if you're a knowledgeable critic. If you're going to judge a steakhouse, you better have eaten in dozens of them all over the country. An amateur is one who says, "I went to Mama Leone's and really liked the lasagna." A restaurant critic has made lasagna in her home kitchen, watched professionals make it on TV, eaten lasagna in the great Italian restaurants of the world, and traveled to Bologna to see and taste the real thing.  Any idiot can tell you whether something is good. I don't know beans about art, but I can tell you that that Rembrandt fellow sure looks like he knows what he was doing. A good critic knows (and tells you) why something is good or bad.
After all of that is lined up — the porn star stamina, the iron stomach, the insatiable appetite, serious cooking skills, traveling the world, eating the world, reading the great food writers —  then it's time to get down to what real restaurant critics really do: write the review.
And that's the hardest part of all.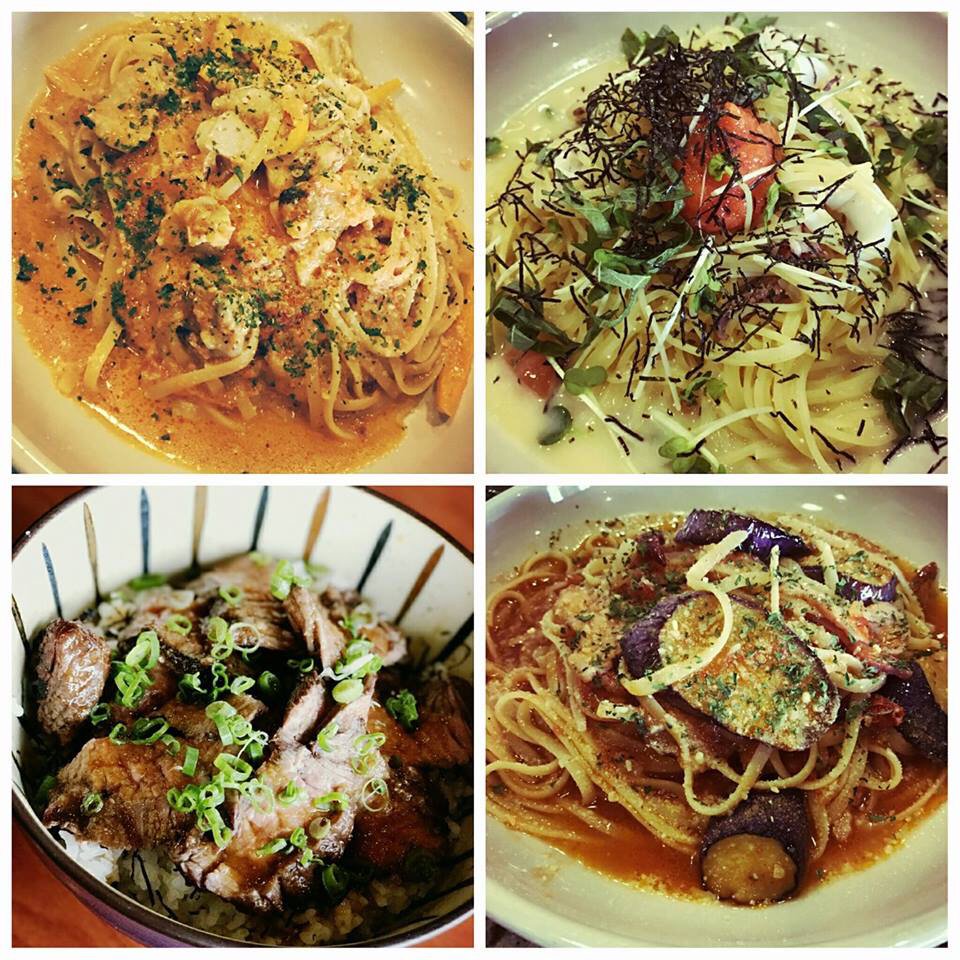 Unique, tasty, and underrated are the three of the words I use to describe Kengo Nakamura's wafuu (Japanese-style) pastas at his namesake restaurant. What he whips up nightly is more interesting than 90% of the macaroni you find on the Strip, and the biggest problem you'll have is trying to avoid ordering half the menu.
For the un-initiated, wafuu pasta is a style of Japanese restaurant that substitutes Italian pasta for rice in many traditional dishes. Here you get choices like spaghetti with squid ink sauce, pasta with crab and mentaiko (dried fish roe), miso carbonara, or fettucine tossed with tomato cream and kurobuta sausage. Kengo-san also heaps very good seafood on capellini in one of his simpler dishes, or tosses sea urchin with cream for one of his richer ones. He can wow you with his mochimugi (barley) risotto. or a delicate shabu-shabu salad.
One of the problems with this place is there are three different platforms to order off of. You are confronted by a large blackboard to your left as you enter the small room which contains the best hits of the menu. Then, there is the multi-page printed menu, and finally a specials blackboard that is presented to your table. Our advice: get everything on the specials board and pick and choose a few items from the other two.
Four things you won't want to miss are the fried "Jidori" chicken – crispy dark meat with the thinnest of coatings – or the squid ink pasta with squid (pictured above), or the piquant octopus (or kanpachi) carpaccio, or the mizuno salad tossed with a delicate dressing and well-chosen greens. That chicken shows up again in an irresistible "Takana" spaghetti (swimming in a light chicken broth), tasting like the perfect marriage of ramen and Rome. Italy is paid further homage to in a red-white-green Italian "hamburg" covered in melted mozz, on top of a fresh tomato sauce, beside a bunch of broccoli. There's a lightness to the pasta dishes you rarely find in American-Italians (although by Japanese standards this food is a gut-bomb), but every dish is adroitly sized for sharing between 2-4 diners.  There's also a more than passable tiramisu, which tastes like it was made minutes earlier, rather than biding its time in the fridge for days.
Overseeing it all is Kengo-san (below right), who presides over the dining room from behind his open kitchen counter.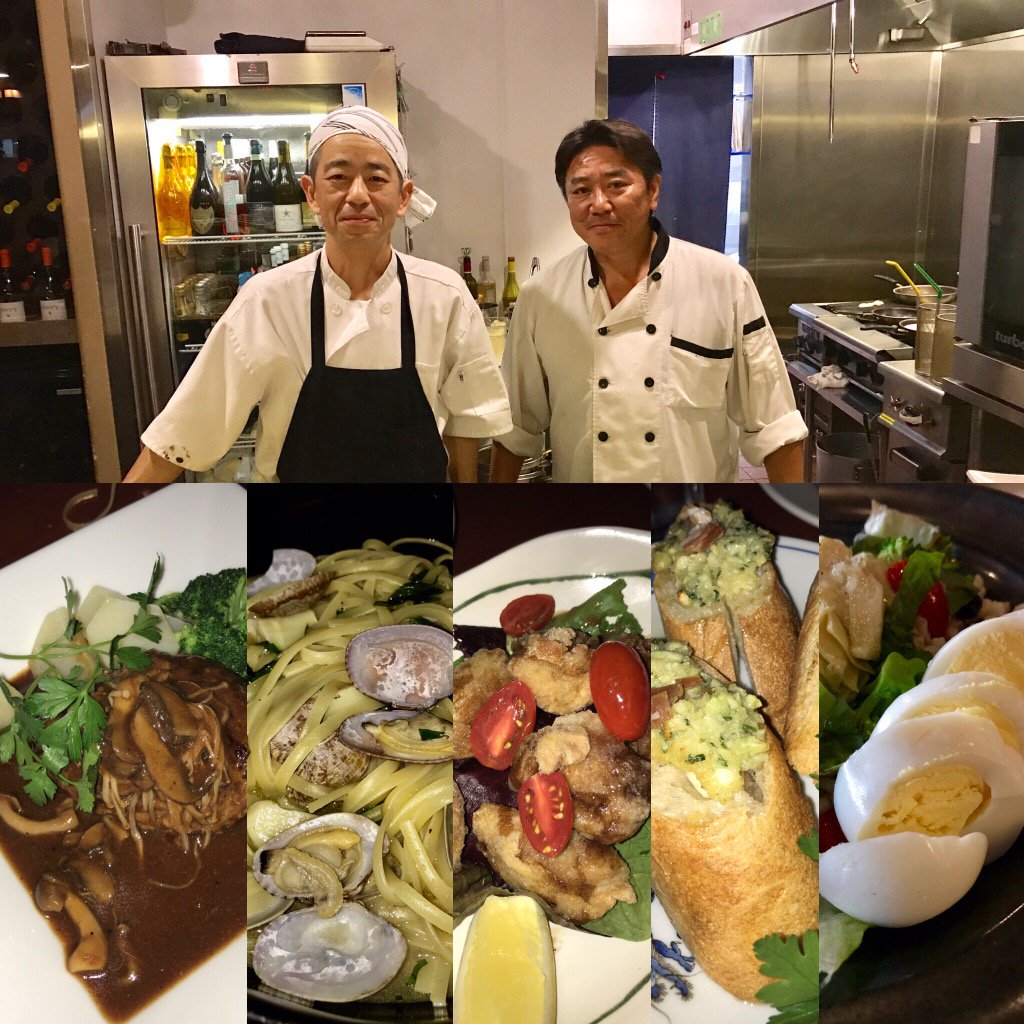 The bilingual waitresses are very helpful, and the beer and sake selection perfectly matched to the food. So many Japanese spots captivate us these days because of the carefulness of the cooking. But it's also because the passion behind the projects is palpable. All restaurants aim to make money, but Americans too often cook for the cash. The Japanese look upon it as a calling.
NAKAMURA-YA
5040 West Spring Mountain Road
702.251.0022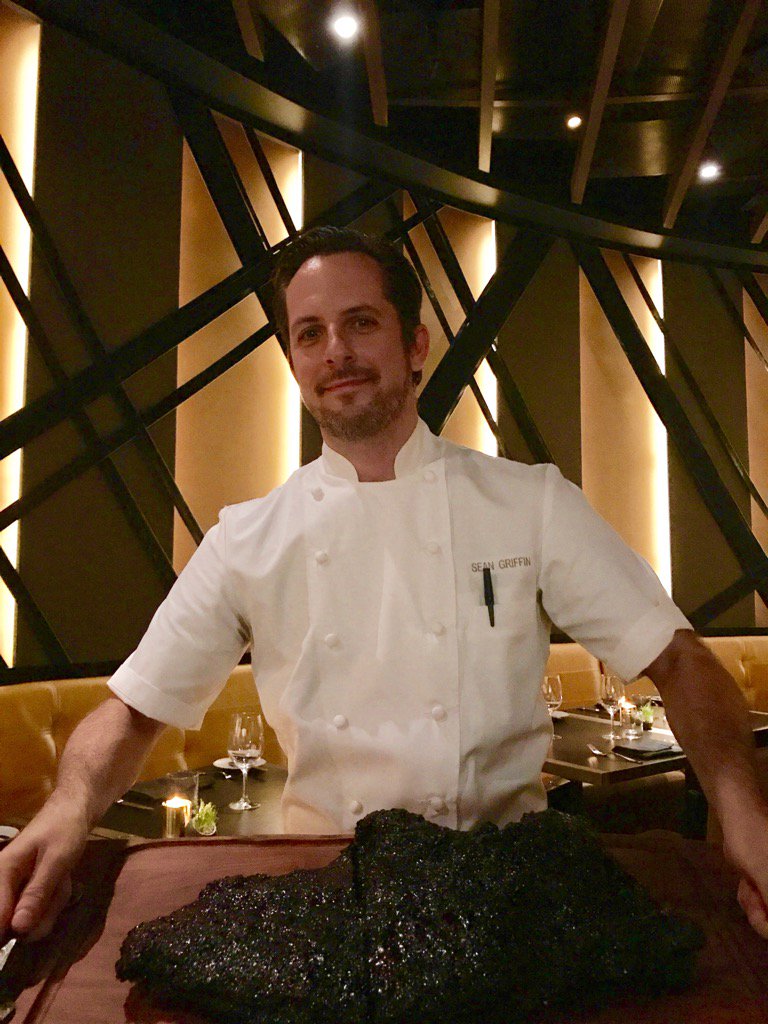 (A man and his meat: Sean Griffin is smokin'!)
They had me at "wagyu brisket." More on that in a minute. Actually, Jean-Georges Vongerichten has had me in his thrall since August 30, 1988, when I first tasted his then-groundbreaking Alsace-meets-Asia  take on French cuisine in New York City (at a birthday dinner for my then-spouse).
Back then, he was a wunderkind of French chefs, mixing and matching French technique with the mysterious scents and accents of Thailand. Today he has dozens of restaurants all over the world, and two of Vegas's best steakhouses. The oldest one — Prime in the Bellagio — will always hold a special place in our heart. For nineteen years it has been Las Vegas's prettiest steakhouse, and the food still sparkles as much as the room.
It's seven year old sibling — the Jean Georges Steakhouse  —  has always had a more casual vibe.  The classic feel of Prime extends to its menu (which changes about as often as I go to a monster truck rally), while JGS is where Vongerichten lets his chefs play with their food. The lucky chef in this case is Sean Griffin, a baby-faced veteran who knows his way around steaks like his boss knows a khao niao from a kai yang.
Truth be told, we've eaten here several times in the past and always felt like menu was derivative, dumbed-down, and a pale imitation of what big brother was doing. With the new re-boot, JGV has finally found its sea legs (?), and Griffin's cooking feels more confident and focused.
The operation hits all of the stations on the steakhouse cross (dry-aged, Japanese-raised, grass-grazed), along with the requisite Flintstonean tomahawk chop (42 oz.) and the  ungodly-priced A5 Kobe — for those who like to feel their arteries hardening while they eat. But what really distinguishes this place are the little touches Griffin brings to things like a Summer Fruits salad:
….phenomenal eggs-on-egg oscetra caviar toast — a construction so simple and perfect (rich, just-cooked yolk sandwiched between two thin pieces of toast, topped with fish eggs) that I couldn't believe I've never encountered it before:
If those don't inspire a tip of the fedora to the kitchen, then try this pepper-crusted foie gras (with strawberry-rhubarb compote) on for size: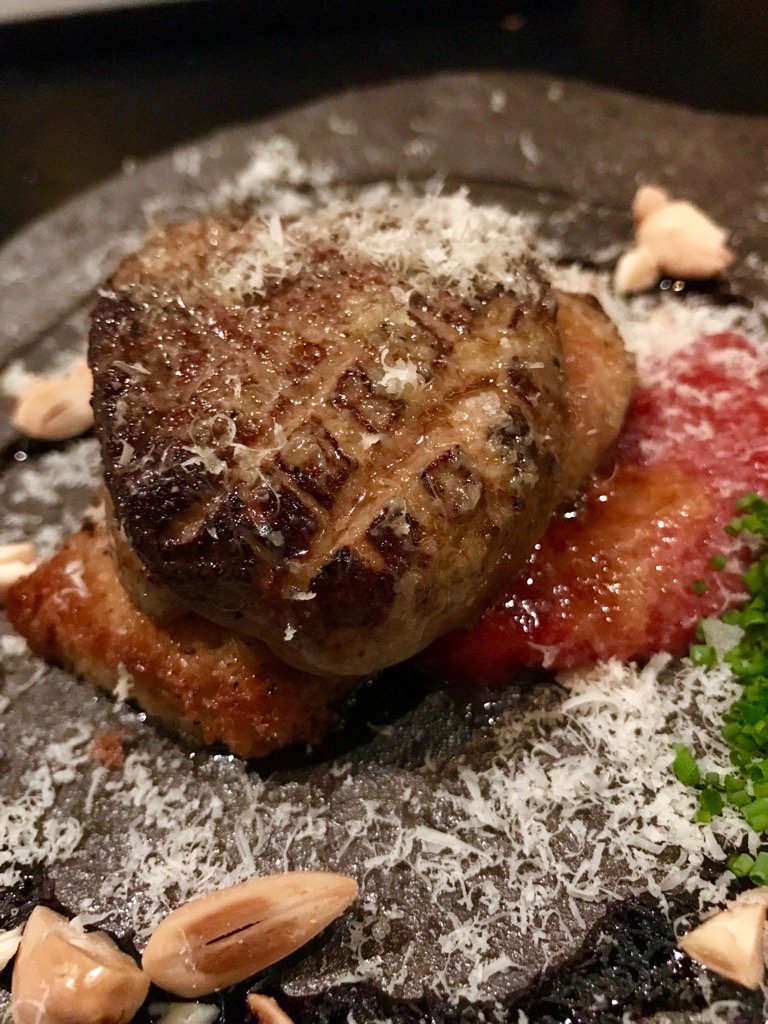 …and a crunchy breast of chicken in a shallow pool of uncommonly good hot sauce. By-the-numbers cooking this is not —  whether you're diving into a big lumpy crab cake, or a citrusy-glazed sea bass. The steaks are grilled over apricot wood (and finished with rendered beef fat) and take a back seat to no one's, but it's those apps and sides that will get your attention. Summer corn is brought to life by Manchego cheese, chili and lime, and if there's a better potato dish in town than Griffin's smashed Yukons with jalapenos, I haven't found it.
It's the aggressive-yet-balanced use of strong, tangy accents (peppers, citrus, soy, etc.) that distinguish this menu from so many others, including its big brother. These flavors announce JGS as a steakhouse with real kick, and one that will keep your palate awake throughout the meal.
Back to that brisket, it was black as coal and smoky as a Texas wildfire. It tiptoed between fork tender and slightly chewy and was all the beef-eaten a rootin' tootin' carnivore could ask for. It needed a little sauce, but the four they make in house — chili glaze, JG steak sauce, soy miso and Bearnaise — are all equal to the task. The desserts are superb, and par for the course for a chef who's had my gastronomic attention for half of my life.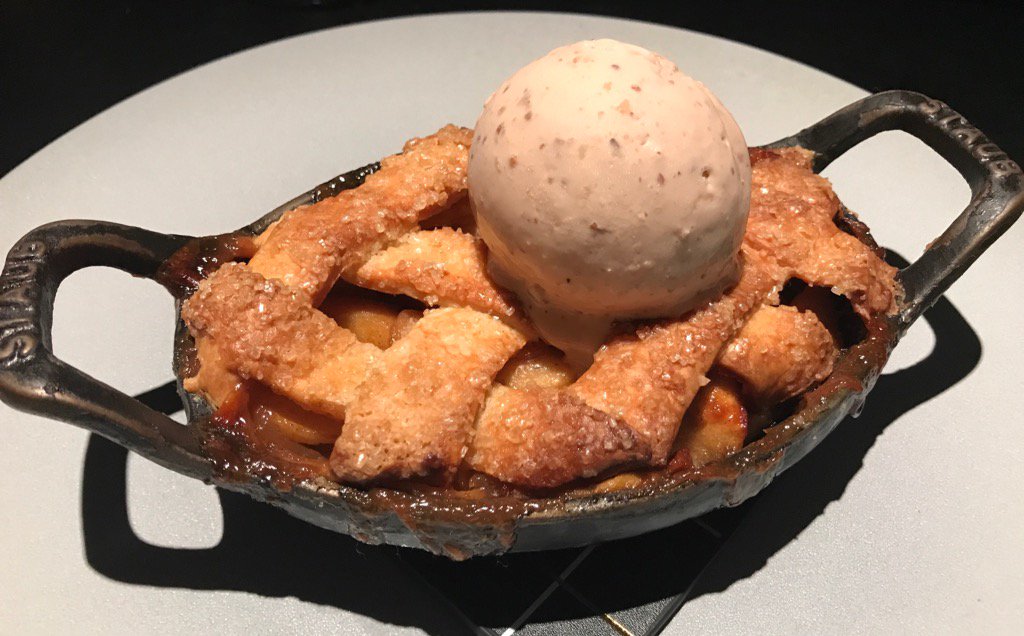 JEAN GEORGES STEAKHOUSE
Aria Resort and Casino
3730 Las Vegas Blvd. South
Las Vegas, NV 89109
702.590.8660
https://www.jean-georges.com/restaurants/united-states/las-vegas/jean-georges-steakhouse/
P.S. My sister and her grandnephews are probably still talking about the Brontosaurus (marrow) bone we were served:
Like everything else coming out of this kitchen right now, it was overwhelming (in a good way) and just about flawless.