I have evolved.
I am no longer the avid food lover that I was in 1977 when I started consuming Julia Child and James Beard cookbooks wholesale.
I am not the insatiable gourmand I was from 1981-1990 when I ate my way through Southern California, Chicago, and New York City at every opportunity.
And no longer am I the intrepid gastronome of 1994-2012, when I considered it my sacred duty to dutifully report on everything and anything happening in the Las Vegas food and restaurant scene.
Things have changed and I have changed.
The Las Vegas Strip is no longer the revolutionary force is was from 1995-2010 — when it single-handedly invented the idea of the modern day, globe-trotting "celebrity chef" by giving burgeoning brands like Wolfgang Puck, Emeril Lagasse, Jean-George Vongerichten, Joël Robuchon and Michael Mina a platform to rake in mountains of cash while expanding their businesses.
I am no longer fascinated by every new opening, nor am I enthralled (as I used to be) by whatever menu delights were being trotted out by Hubert Keller, Scott Conant or Mario Batali.
And as much as I love my frogs and my frog ponds, the seasonal changes at Twist by Pierre Gagnaire, Restaurant Guy Savoy, Joël Robuchon and L'Atelier de Joël Robuchon are met with more of a yawn these days than a hip-hip-hooray. (These days, I pop in about once a year just to re-affirm what I already know: that our top flight French remain some of the finest restaurants in the world.)
Restaurants, I've come to conclude, are a lot like lovers. Remember the tingle of excitement that always precedes your first time with someone? The sense of exploration? The desire to consume them wholesale? It's that anticipation and the unknown that makes them so fascinating. You're anxious; they're anxious; everyone's anxious and no one knows what to expect. That's why it's so much fucking fun!
Or can be. New sex with someone can also be a disaster…especially when one side doesn't hold up their end of the bargain. (For those in need of a primer on the subject, there are only two things you need to have great sex with someone: gratitude and enthusiasm.)
Or maybe you just lose interest much too quickly, or the whole thing was a gigantic let down. That happens a lot too.
The point is, going to a new restaurant, like getting newly naked with someone, is exciting because of the unknown. Once you become familiar with each other, you can still enjoy yourselves, but you do so in a deeper, more relaxed sort of way. And no matter how good you are at the process (and how much you love each other), sometimes, one of you can get bored.
Ladies and gentlemen, I think I'm tired of fucking the restaurants of Las Vegas.
That doesn't mean I don't love them. But it does mean I don't get a woody at the thought of diving deep (or sticking my tongue) into the damp, juicy folds of their flesh anymore.
Even worse, it seems I've become immune to foreplay.
Flash your cleavage at me (in the form of fancy decor as décolletage) and nothing happens. Tongue my ear and you'll get a ho-hum.
Give me a hummer of a hamburger and I'm hard-pressed to press the flesh.
Cheap and easy (comps/free food) doesn't work on me anymore either (as if they ever did), and neither does mysterious and exclusive. (There may be some nimrods out there who are impressed by what fellow nimrods Bourdain and Chang have to say, but yours truly got over listening to the boring drivel of inarticulate chefs many years ago. And when I see a press release trumpeting some "exclusive" event with Chef Morimoto, I just scoff.)
Drugs don't work either. Ply me with grower champagne or grand cru Burgundy and Mr. Happy remains as limp as a wet biscuit. Titillate my tasted buds with truffles and my mood remains tepid.
I used to think of foie gras as the fellatio of fine food — something it would be impossible to forgo. Now I wave it off like a weary sultan dismissing the nubile delights of his harem.
Could anything be more concupiscent than caviar? One would think. But after consuming copious amounts of it, I have become immune to its charms.
Szechuan I used to consider salaciously salubrious; now I think of it as so-so.
Korean used to captivate; dim sum used to delight; now I deign them both barely desirable.
20,000 restaurant meals over 40 years in 16 different countries will do that to you.
Is there a cure?
Yes and no.
Some things there is no going back to.
The whole "celebrity chef" thing is so played-out that I'm callous to whatever they're selling. It would be hard for me to imagine ever getting excited again about someone's 38th restaurant, or whatever concept Caesars Palace wants to slap Gordon Ramsay's name on. The Giadas and Fieris of the world are exploiting their brand, and that's it. They barely give a shit about the food, and their credulous public barely does either. Like a stripper shilling for a lap dance, it doesn't have to be great, it simply has to be is good enough to separate you from your cash.
It's sad for me in a way, because I remember the excitement of 1998-2009, when so many "name" chefs opened their stores here and turned our humble burg from The Town That Taste Forgot into a world-class dining destination. But those days are long gone, and now our legacy has devolved into being the launching pad (or just another venue) for corporate brands (hello Slanted Door!), not the incubator of big deal dining.
Soooo, as with middle-aged sex, I'm going to pick my spots. With no longer the interest nor the energy for marathon orgies of eating. At this point, I won't be looking for comfort every night of the week. Instead, I'll be looking for meaningful experiences with worthwhile consorts, not the promiscuous joys of conquest through conspicuous consumption.
Proving what a stud you are is a young man's game. The rampant devouring of the pleasures of the flesh is a lot of fun when you have the time, the curiosity and the energy.
Like all young men, quantity used to trump quality, which is okay when you're 20, or 30, or 40. Then, it's all about ego and belt-notching.  What's important in your youth is whether you scored, whether you can say you've been there. (When I see Instagrammers clamoring to be the first to post about whatever shiny new object is placed on the plate before them, I see myself twenty years ago.) But those delights are ephemeral, fleeting, and ultimately self-defeating. Now, as an experienced epicure I know just what I'm looking for, and it takes a lot more than a pretty face and a pair of tits to keep me interested.
What you seek as an older man is substance…and style. Combine them both and you have my attention.
Show me some real passion, and some actual interest, and I'm yours for life.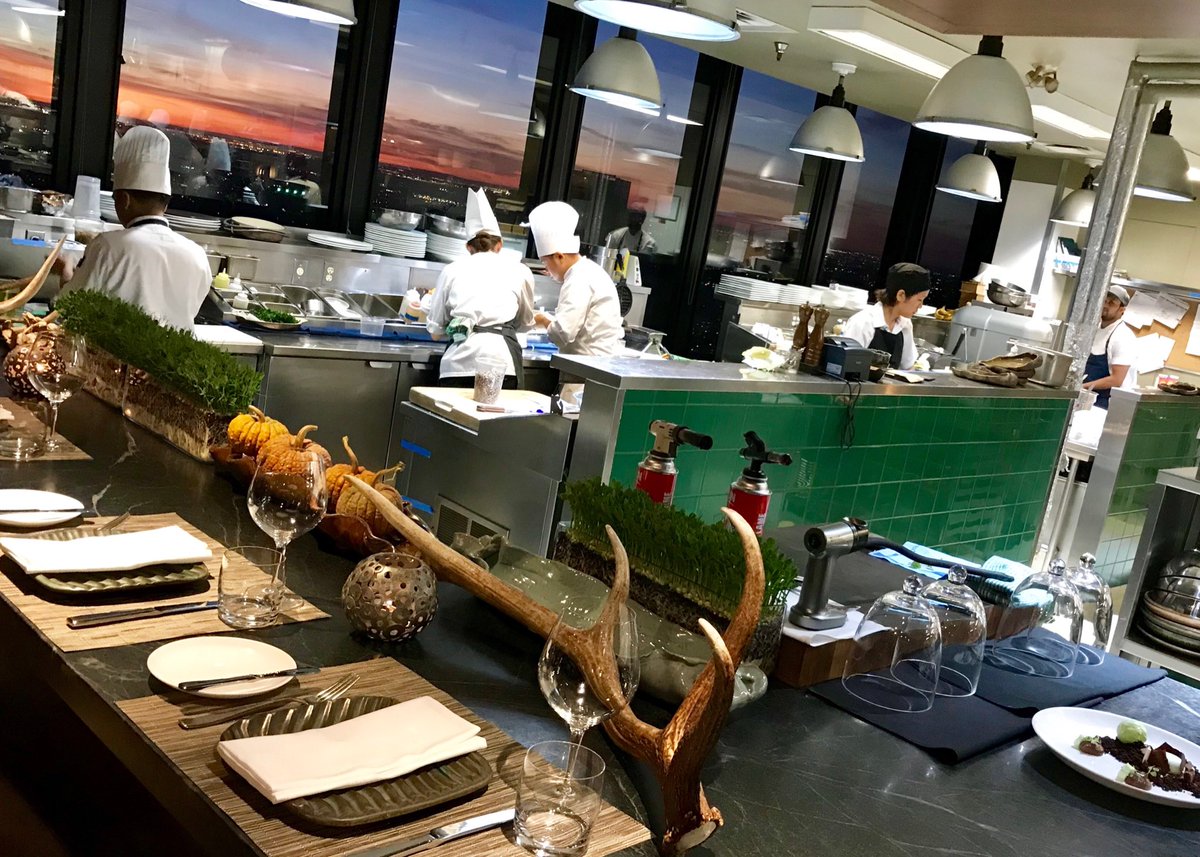 The end of 2017 is nigh, and all kidding aside, it's been one of the best years of my life — personally, professionally, and gastronomically.
All those troubles of the past 20 years: the relationship troubles, the career problems, the financial difficulties and the overindulgence in various vices seemed to fade away this year — and many, many positive things came into focus for me.
Marriage and maturity will do that to you. (For the record: yours truly is proof positive that you're never too old to grow up.)
With so many "issues"  disappearing in my rear-view mirror in 2017, it's time to look ahead. More to the point, now that we've grown up, what do we want to do with the rest of our life.
Before we get to that, let's review some of the highlights of the past 365 days:
We went to Rome for a Roman wine tour. (All that one week in Rome did was whet our appetite for more Italian travel.)
We went to France, twice, which only whetted our appetite for more France.
Amongst all this travel, there were side trips to Canada, Chicago, Atlanta, Arizona, Germany and Switzerland.
In between all that, we even had time to carve out a North Carolina 'cue quest.
For the 23rd year in a row, we ate in more Las Vegas restaurants than we could count, and distilled them down into the 6th edition of EATING LAS VEGAS – The 52 Essential Restaurants.
(This edition, unlike previous ones, contains a number of essays about my life as a galloping gastronome, as well as some overall observations about the Las Vegas restaurant scene, past, present, and future. If you still haven't ordered your copy – and you know you want to – you can do so by clicking here.)
For the umpteenth time we wrote the Chef of the Year and Restaurant of the Year articles (among others) for Desert Companion magazine.
For about the 100th time, we went out of our way to remind the world what a piece of shit the Eater Las Vegas web site is.
But enough ax-grinding, let's get to our year in food. Sadly, most of the highlights took place out of this country, or out of the state of Nevada.
Memorable Meals of the Year (in no particular order):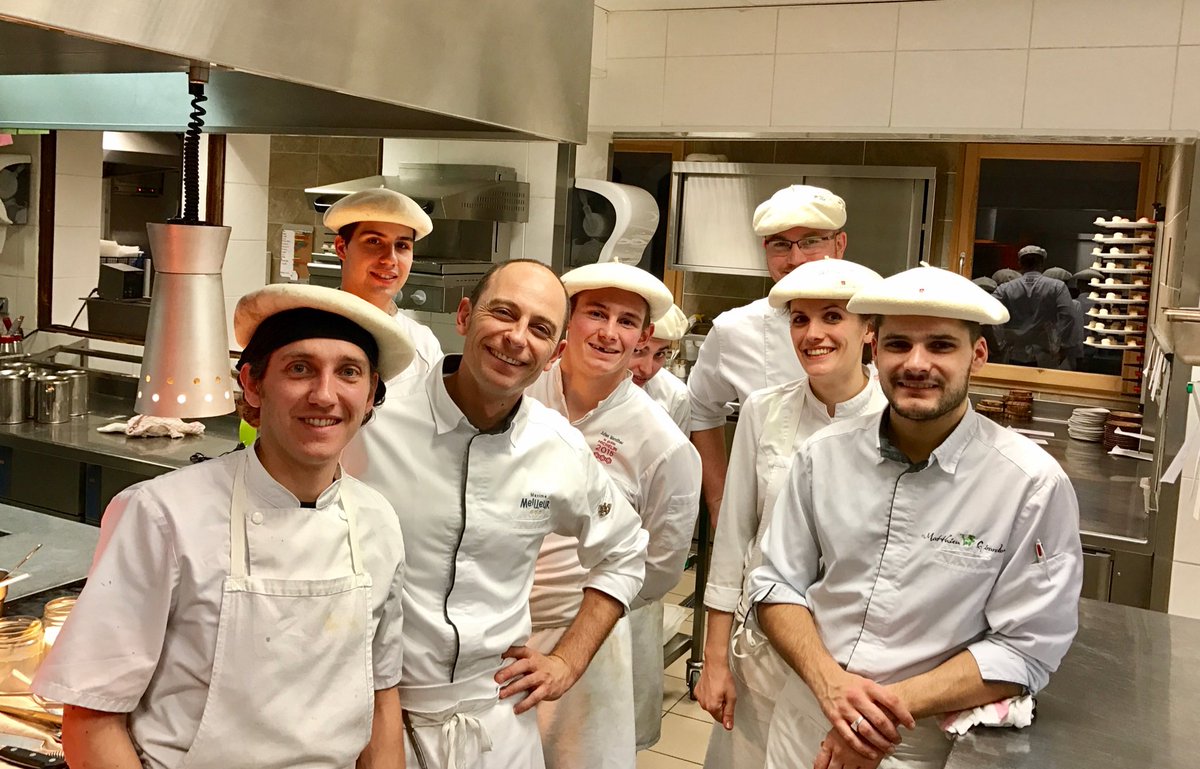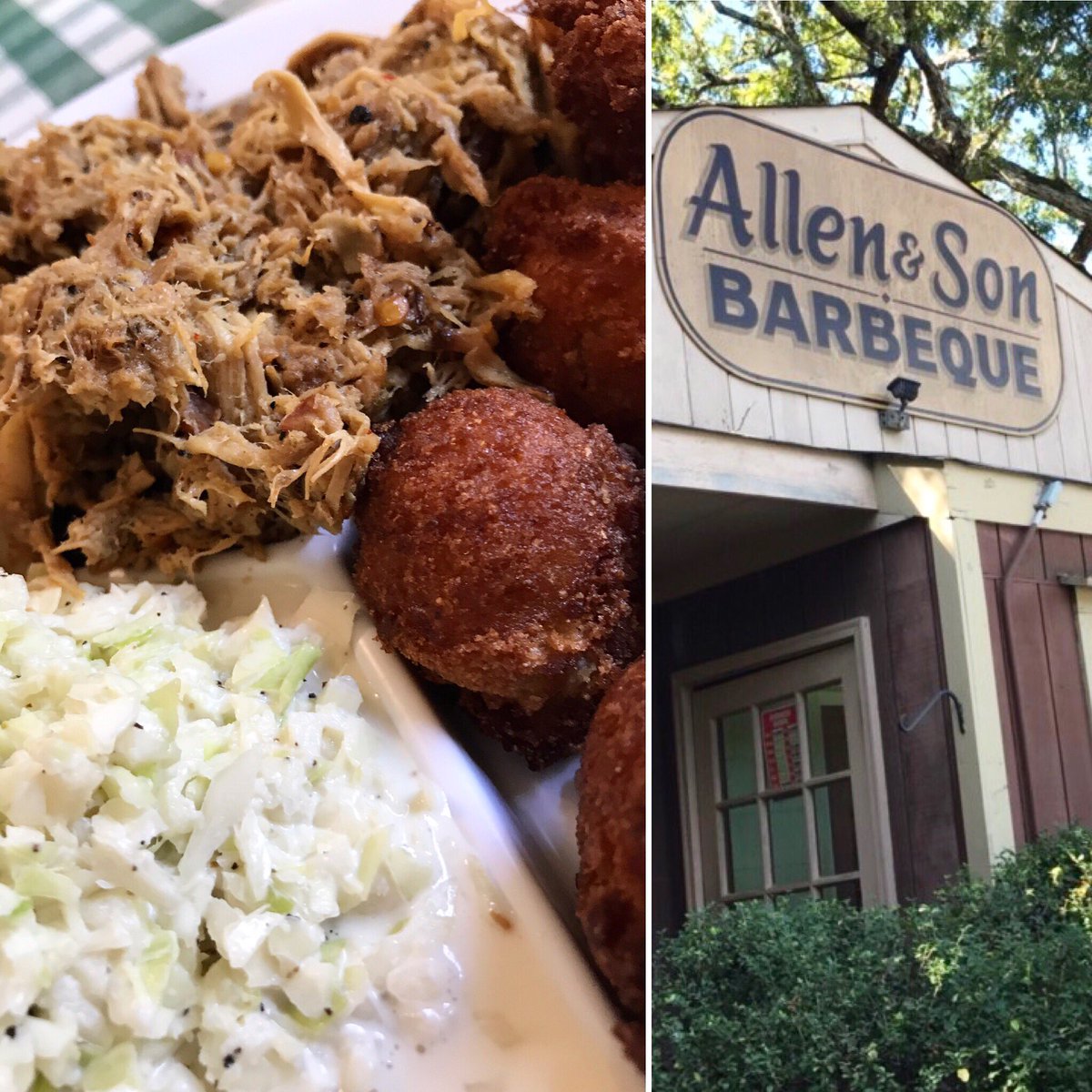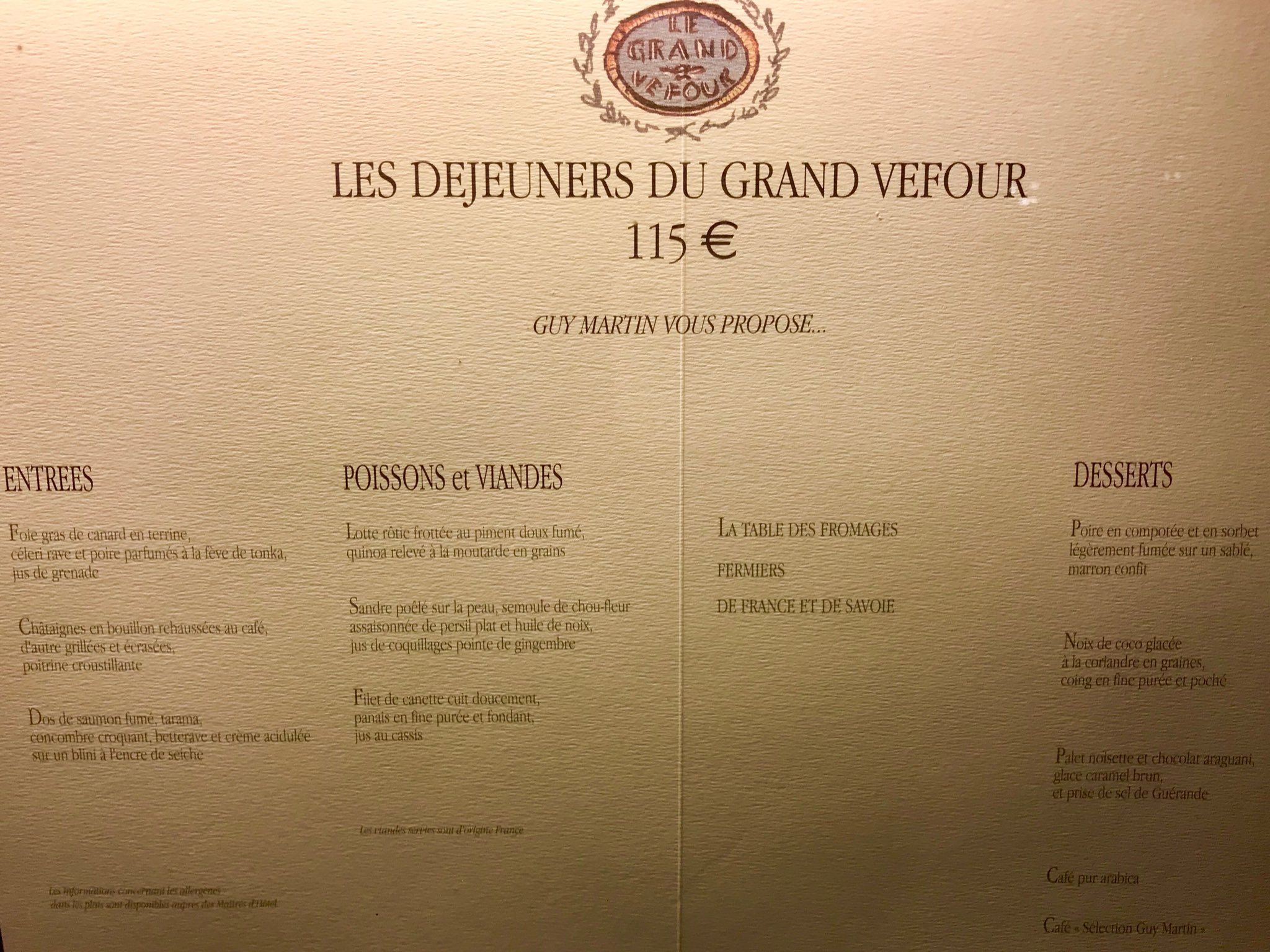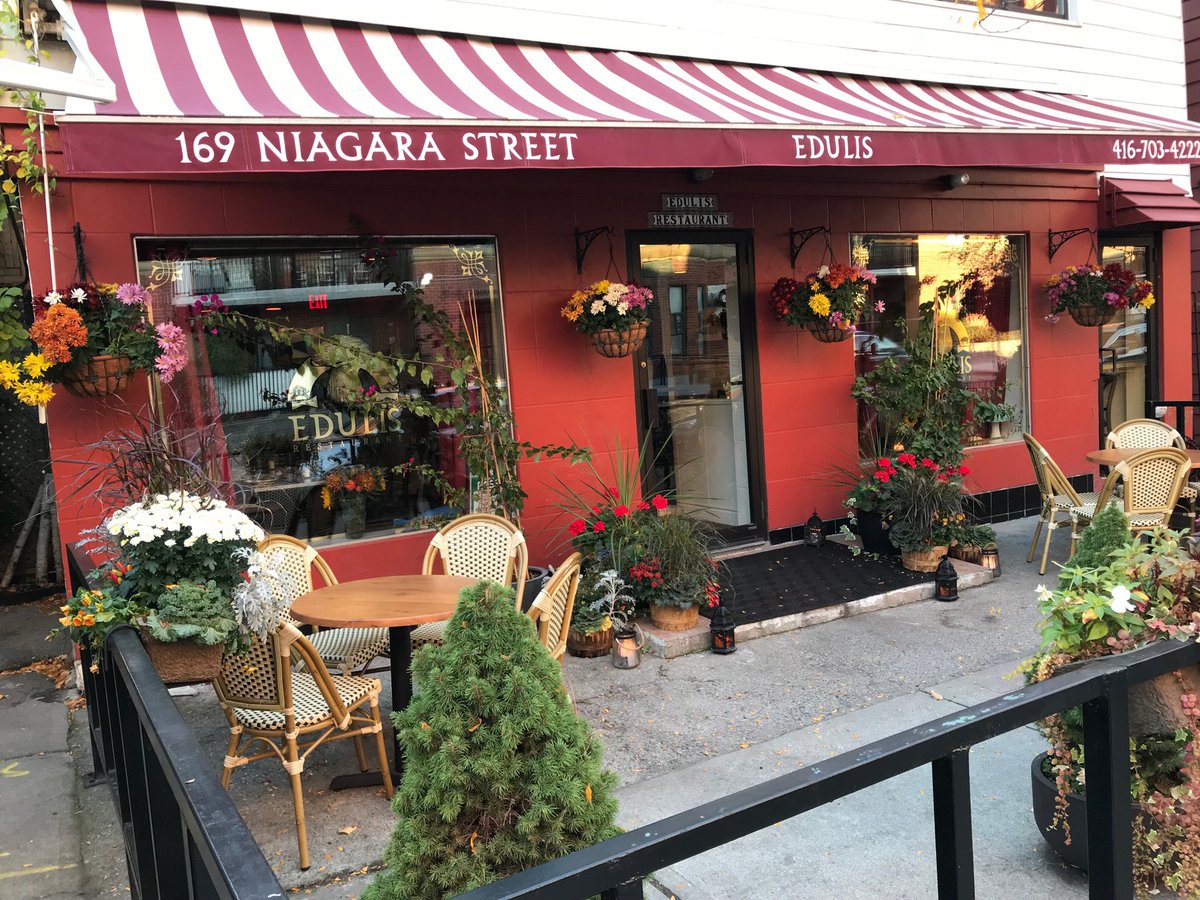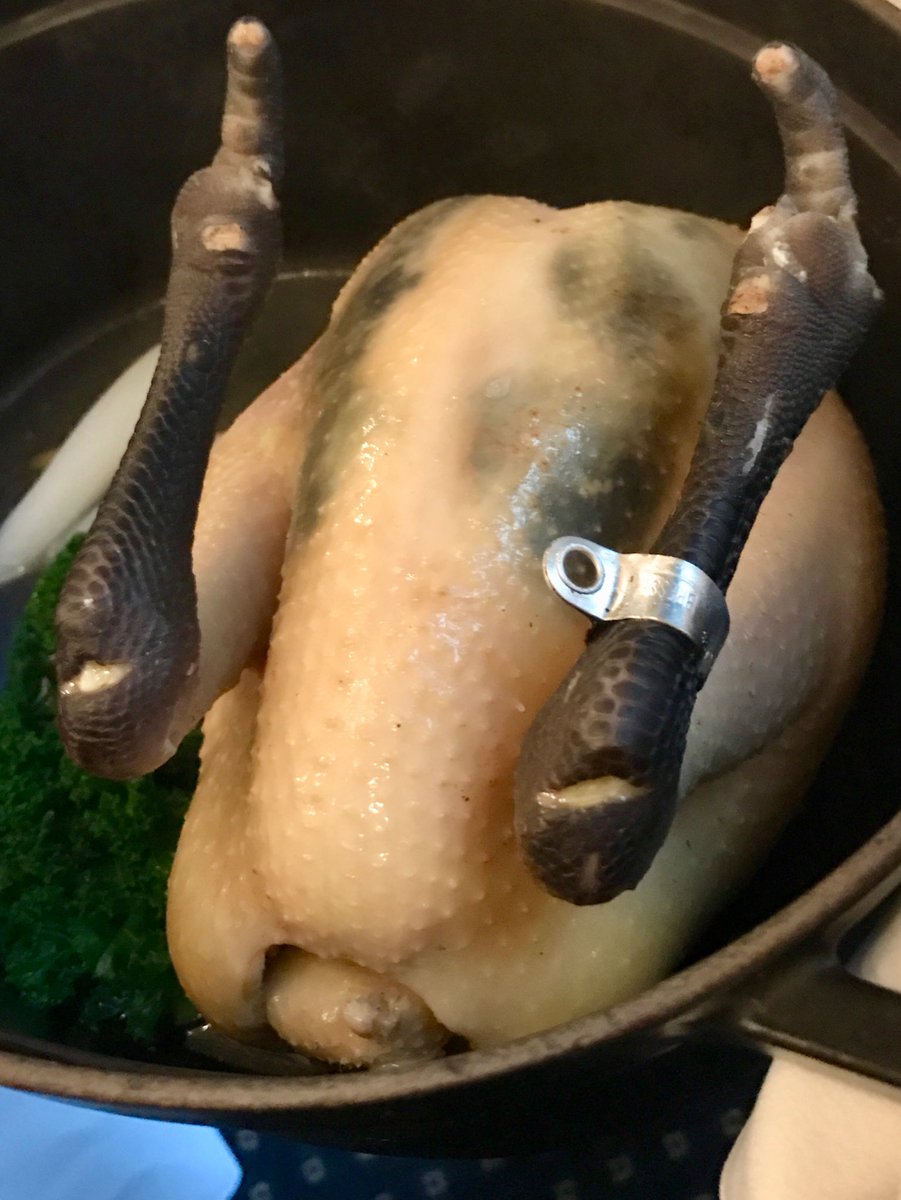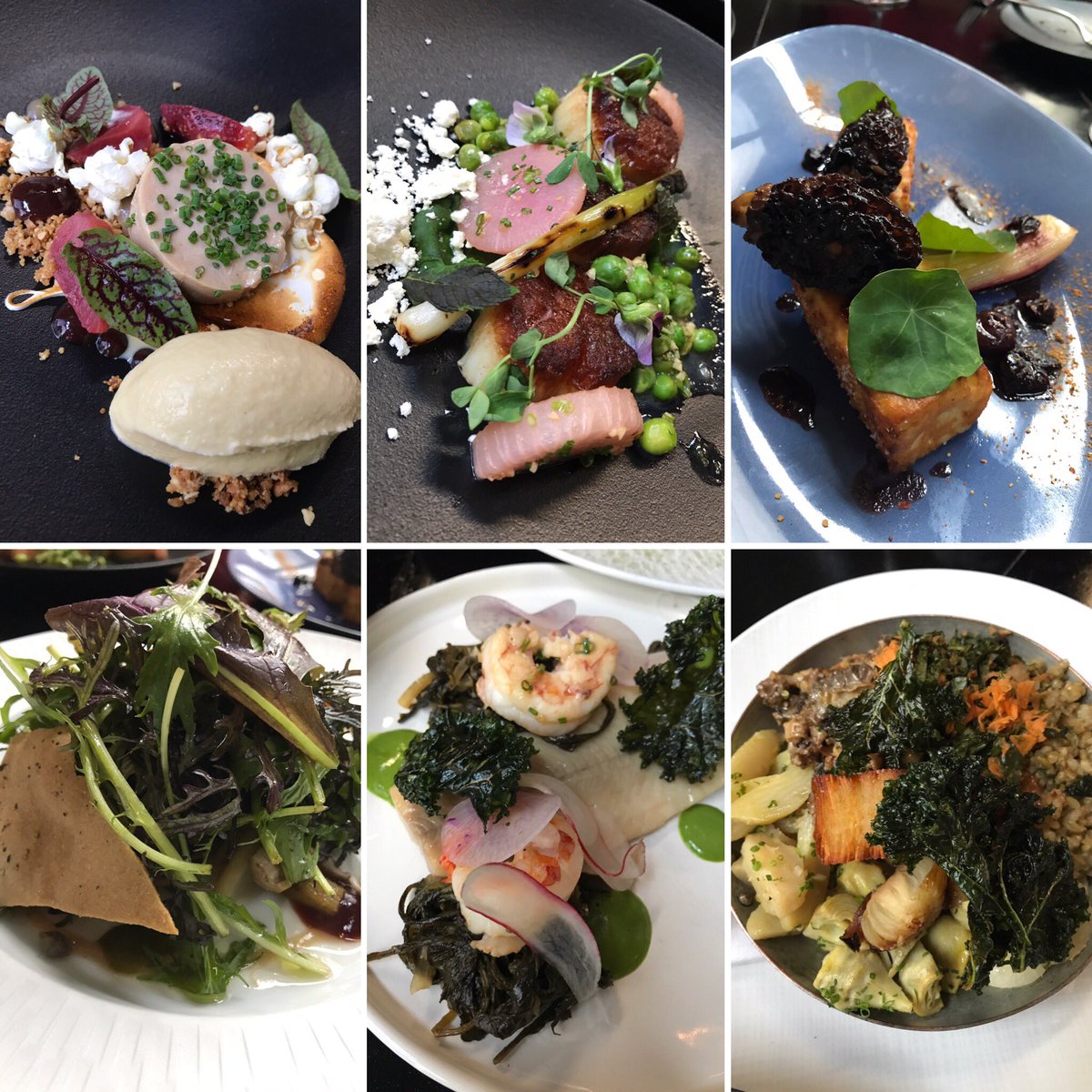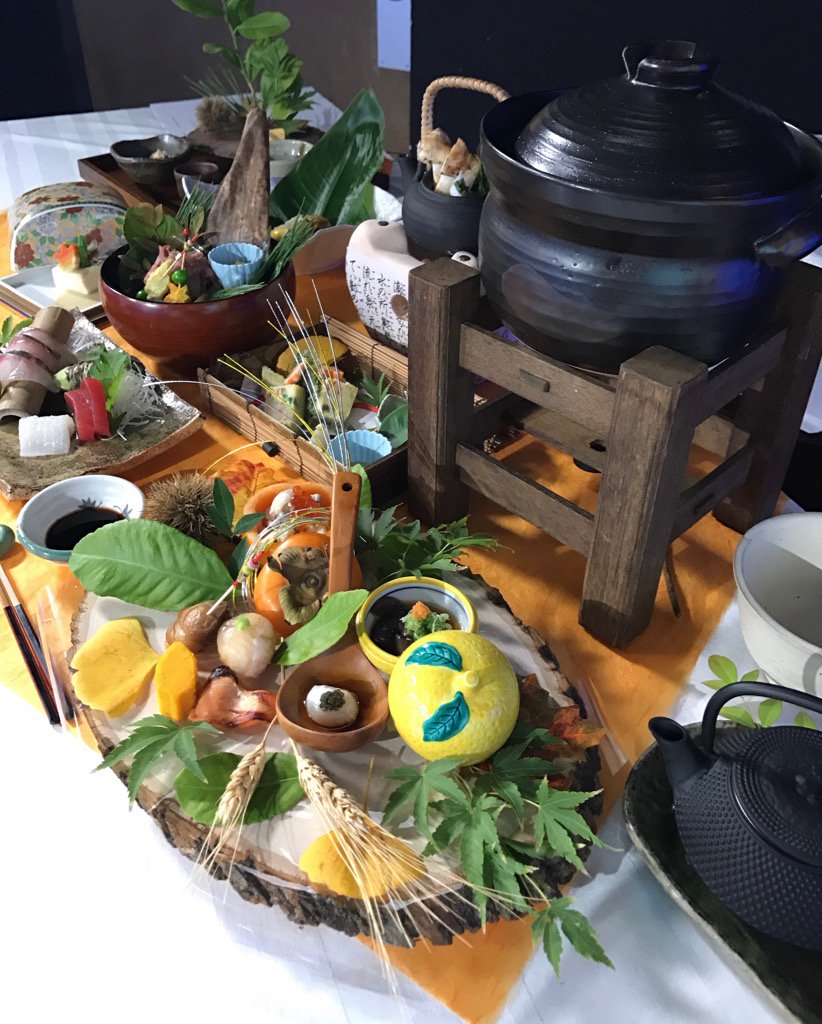 Specific standout dishes/meals of 2017:
Oysters of the Year – Le Dôme:
Photogenic Dish of the Year – Summer fruits salad at Jean-Georges Steakhouse:
Steak of the Year – the aged-on-the-hoof beauty from TXOGITXU – Basque beef: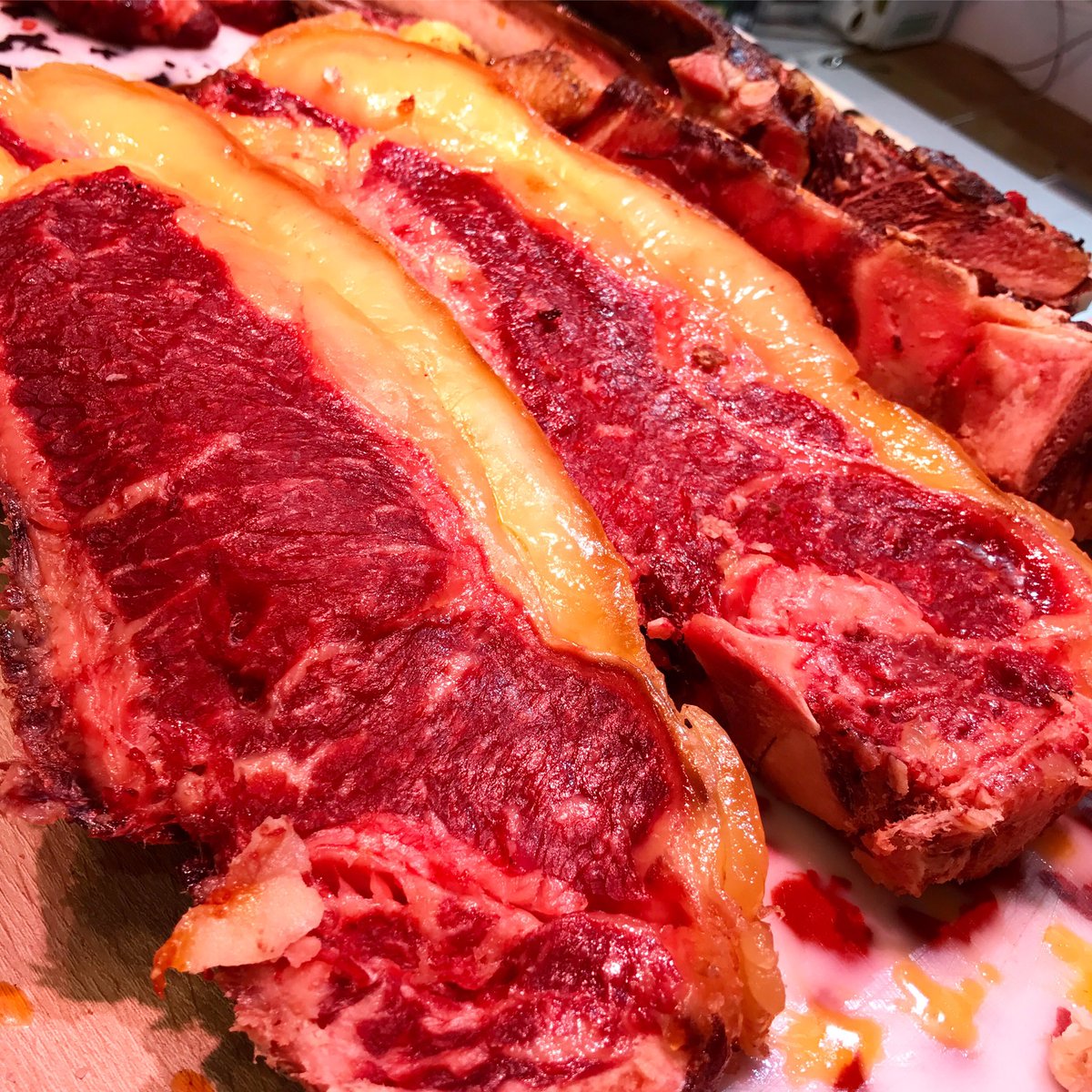 Runner up: the Charolais côte de boeuf at Le Sauvage in Dijon, France:
Japanese Meal of the Year – Kaiseki Yuzu (see above)
Sushi of the Year – Yui Edomae Sushi: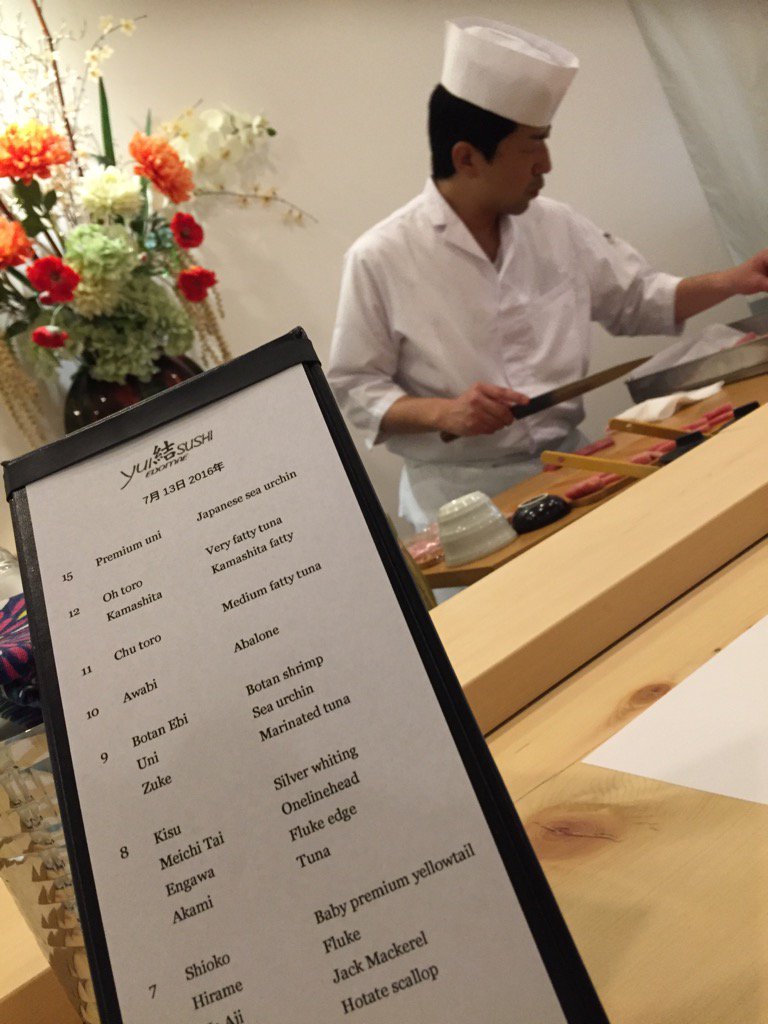 Pizza of the Year – Contento Pizzeria and Bar:
Vegetarian Meal of the Year – Twist by Pierre Gagnaire (see above)
Deer of the Year – Waldhotel Sonnora, Dreis, Germany: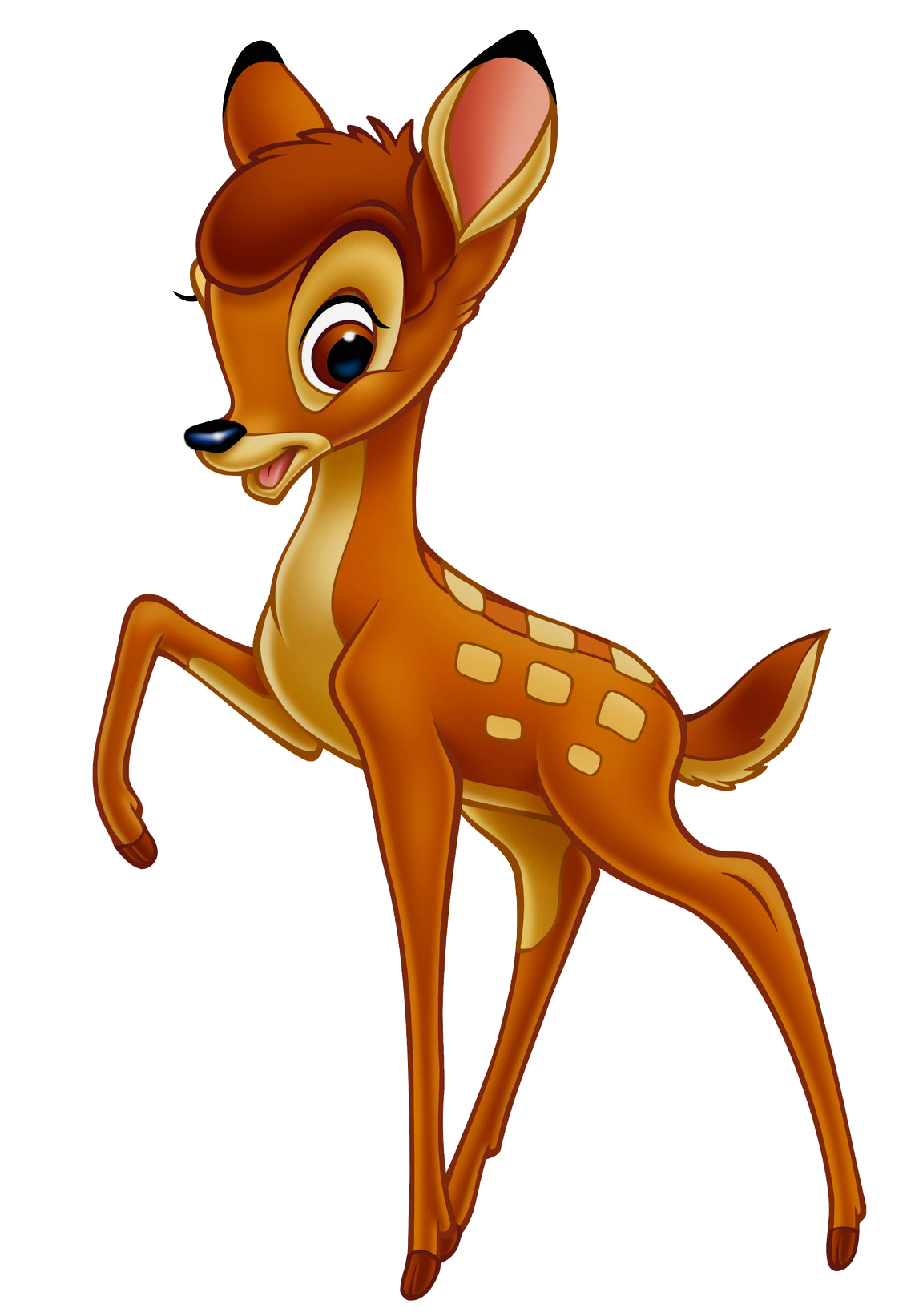 (Sorry, Bambi)
Beef Bourguignon of the Year – Restaurant Caveau des Arches, Beaune, France:
View of the Year – Canoe, Toronto, Ontario, Canada (see pic at top of page)
Decor of the Year – Le Clarence:
(
Minimalist and understated, just like ELV!
)
Gamiest, Rankest, Earthiest, Dirtiest Dish of the Year – AAAA Andouillette a la Chablisienne: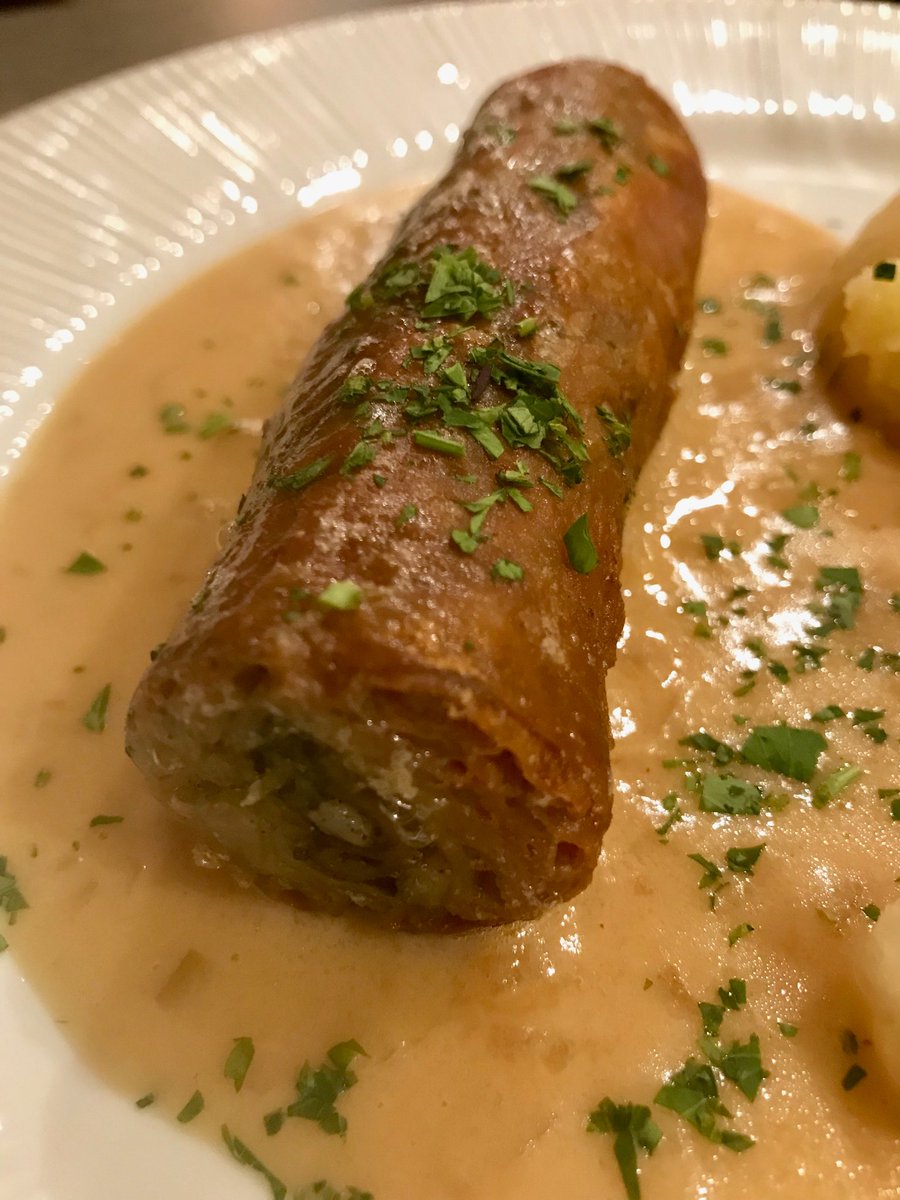 (
It tastes exactly like what it is: the insides of a barely-cleaned intestine.
)
Italian Meal of the Year – Ferraro's: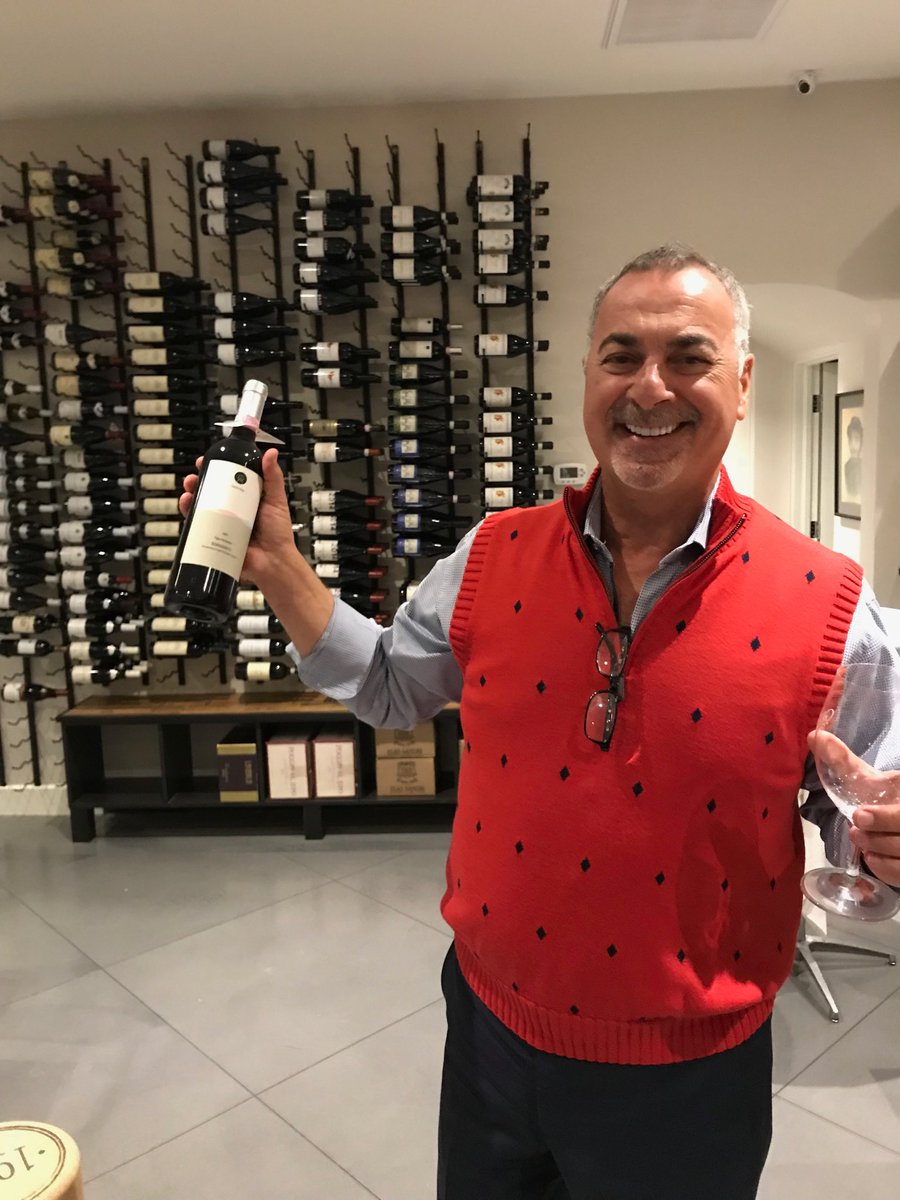 (
Gino Ferraro: the consummate restaurateur
)
Cheese of the Year – a mimolette so old Louis XIV probably sampled a slice: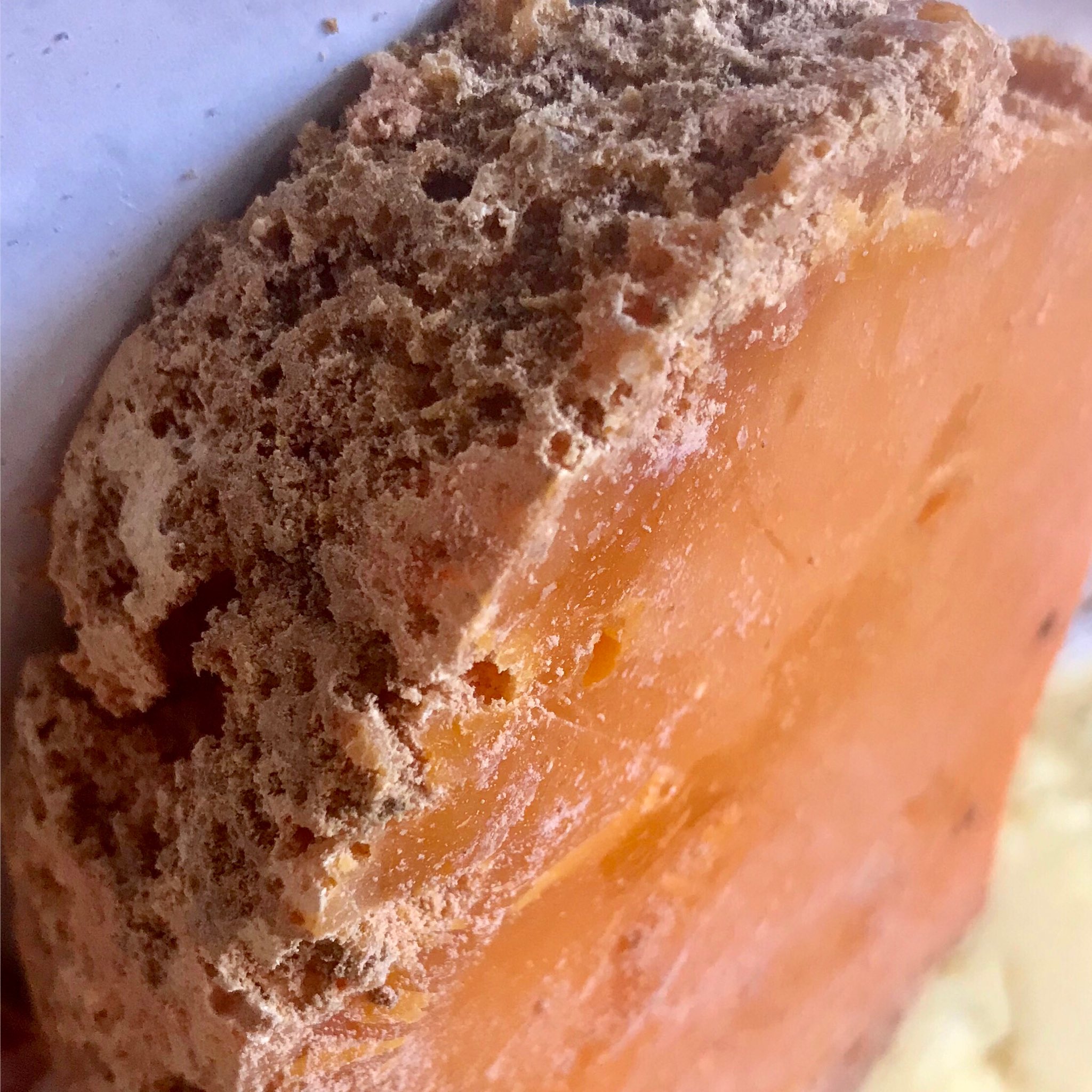 Barbecue of the Year – Toss up: Picnic/Allen & Son (see above)
Beer of the Year – The Exchange Brewery in Niagara-on-the-Lake, Ontario: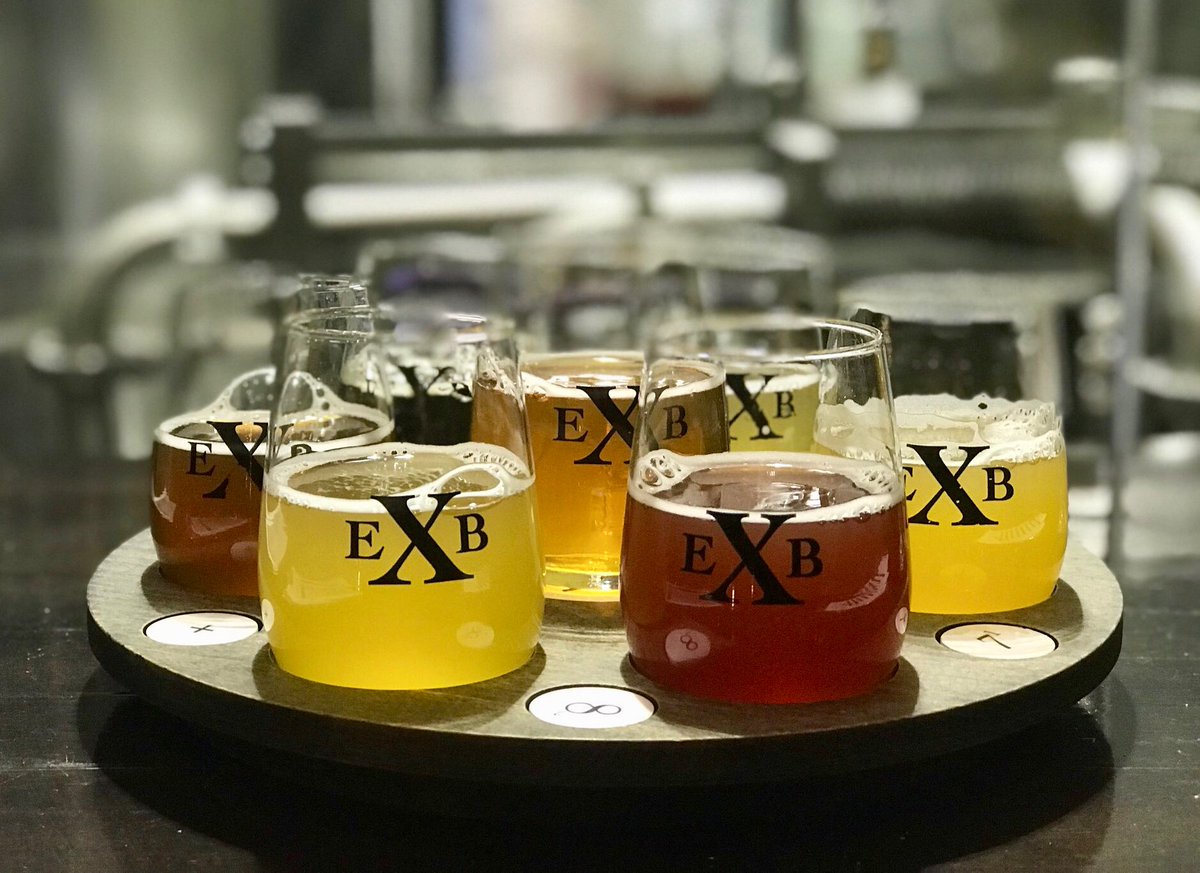 Eclair of the Year – Breizh Café: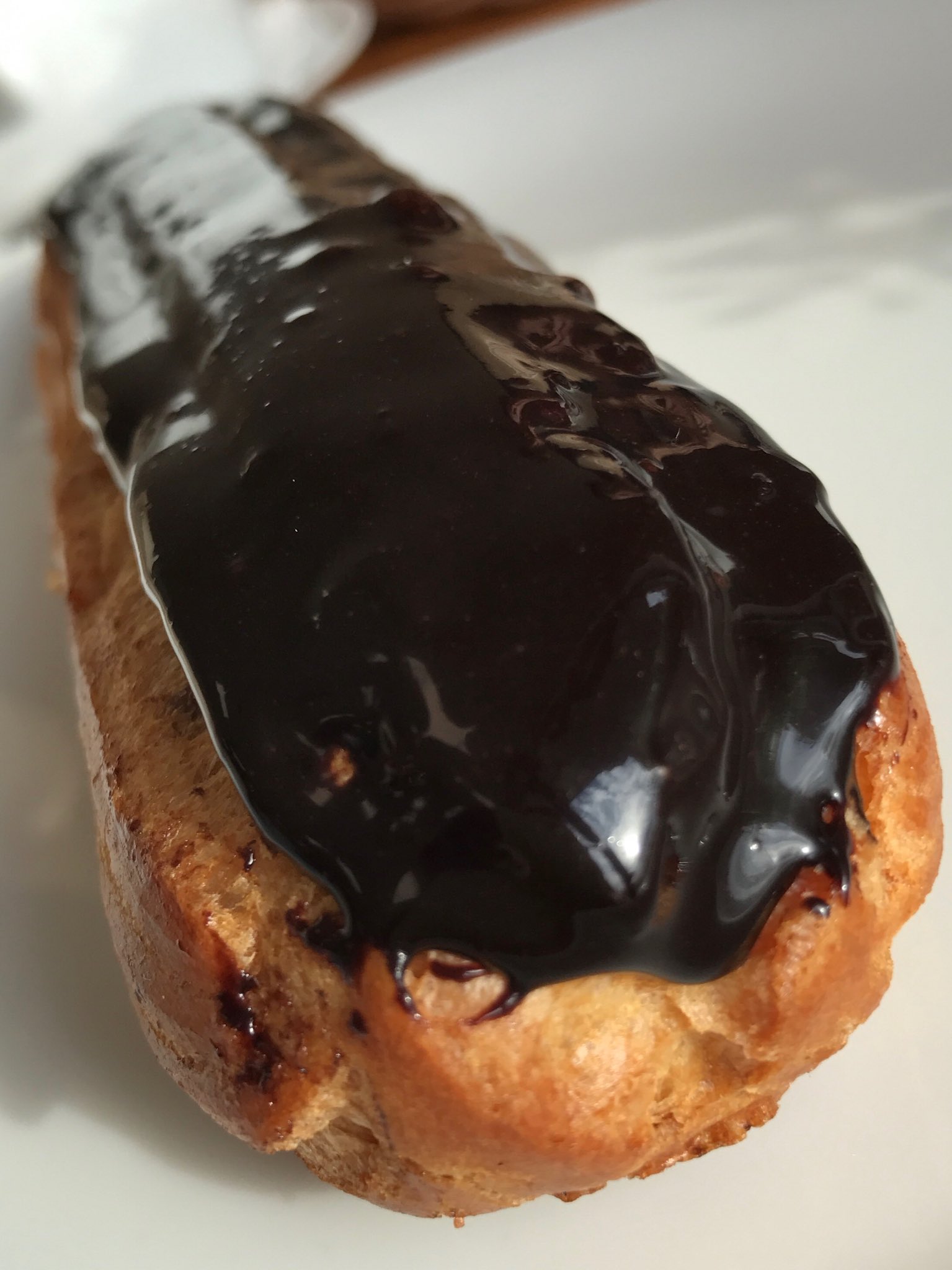 Cheese Cart of the Year – a turophiles dream at Hostellerie Des Clos in Chablis, France.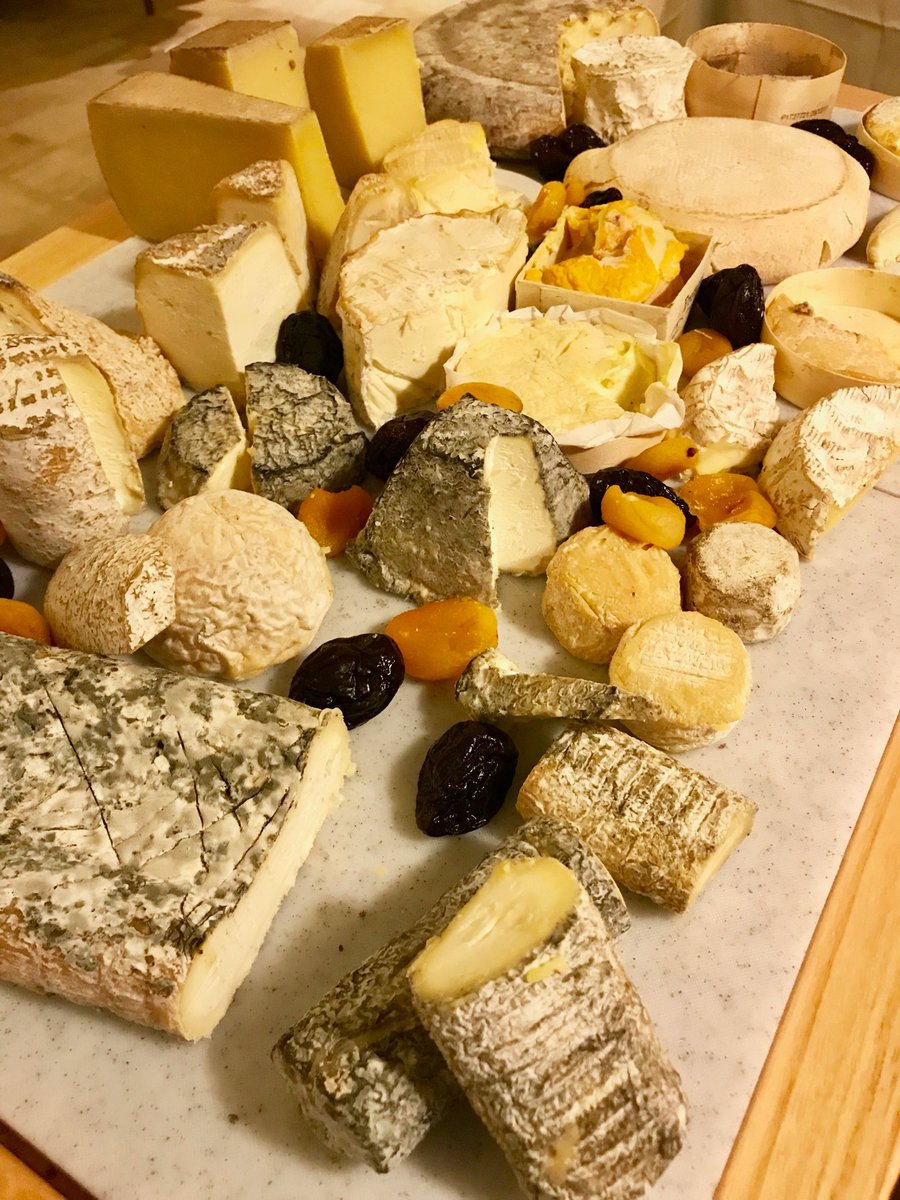 Wine List(s) of the Year – Le Pot d'Etain: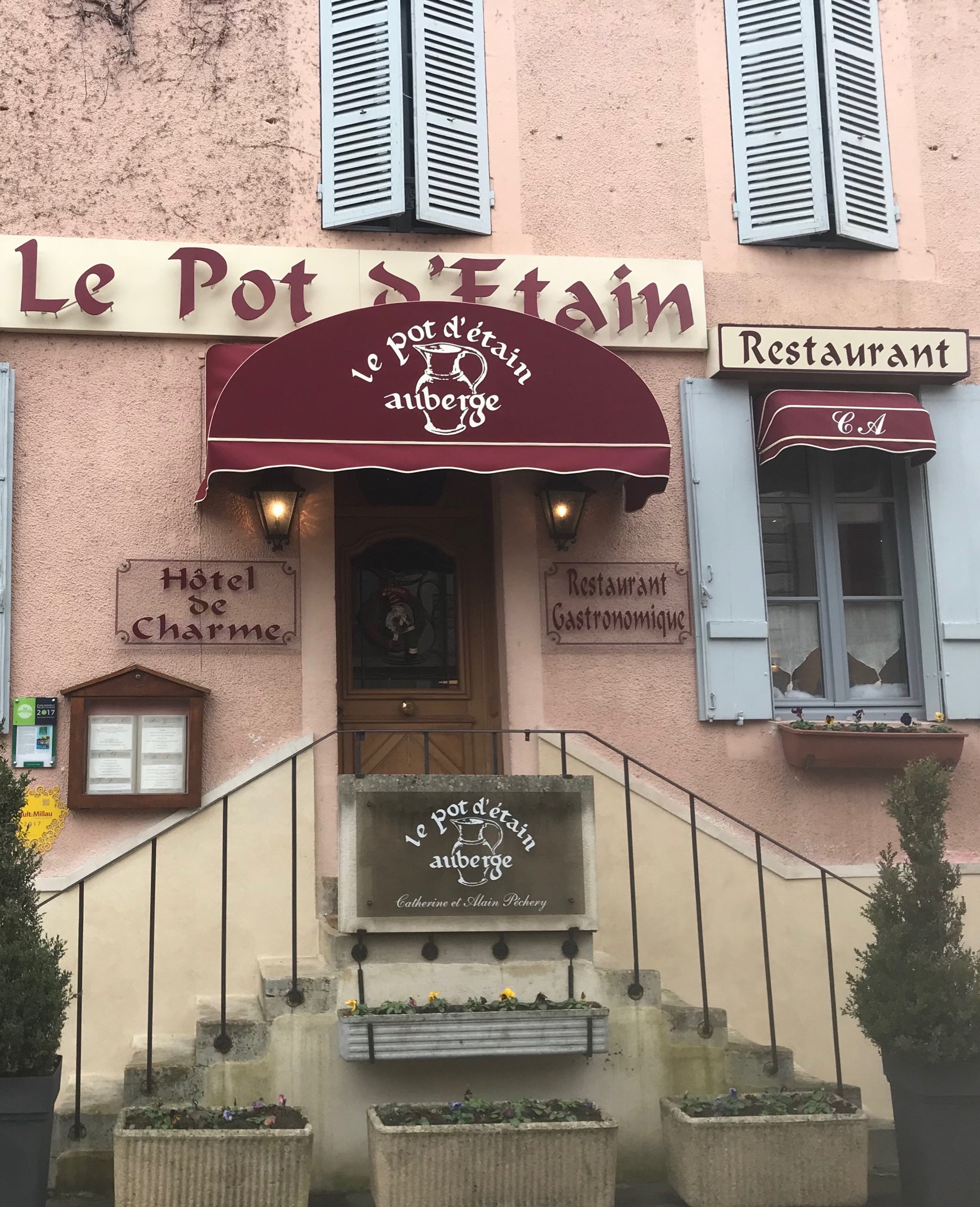 Runners up: Les Climats: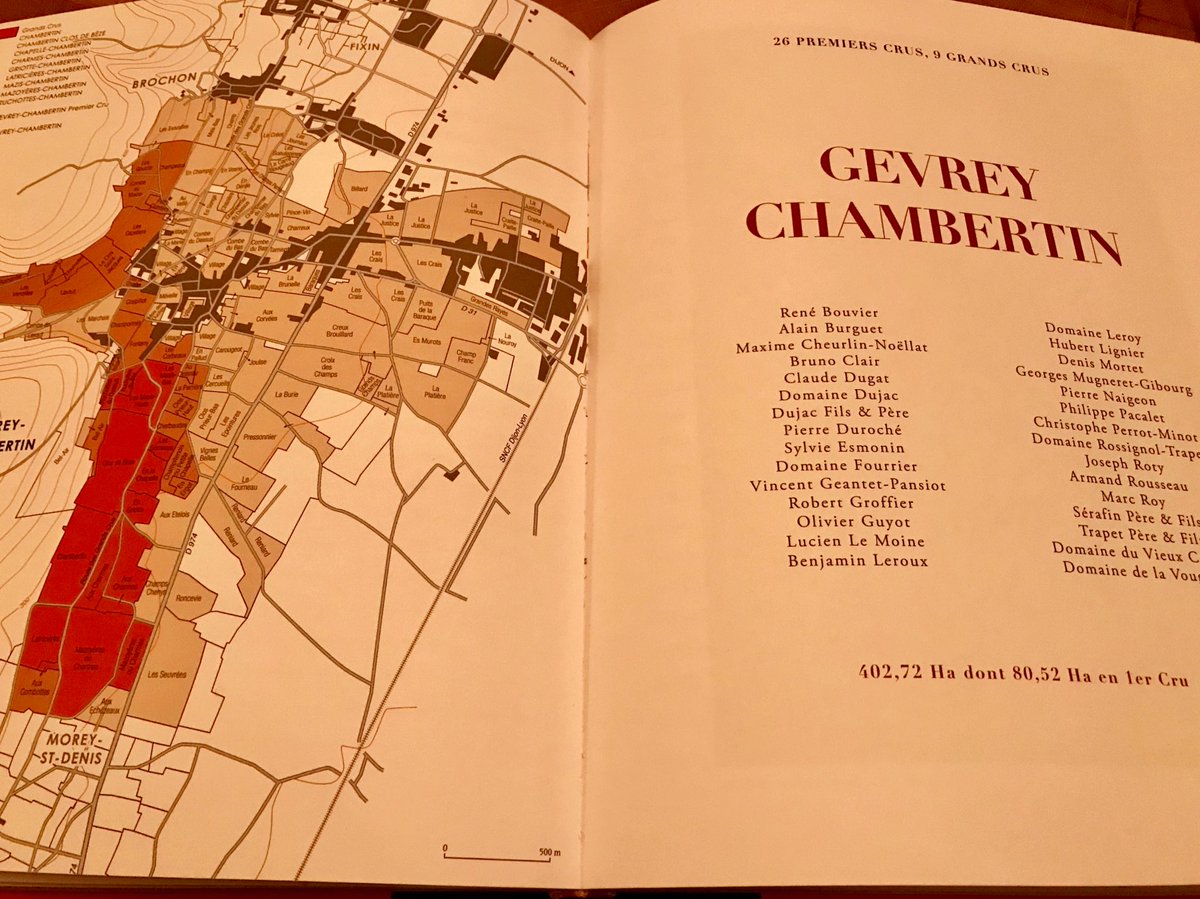 …and La Bouitte:
(
Wine lists are a two-fisted handful at La Bouitte
)
Vegetable Dish of the Year – Winter vegetable melange at La Bouitte:
Fish of the Year – no fish dish haunted my dreams more than this omble chevalier at a little roadside restaurant outside of Annecy, France called Auberge du Roselet:
Cold Cuts of the Year – Cesare Casella's artisanal prosciutto at Carnevino:
Most Intense Dessert of the Year – Sebastien Polycarpe's clay-baked pineapple at Restaurant Guy Savoy:
Bistro of the Year – Le Comptoir du Relais, Paris, France: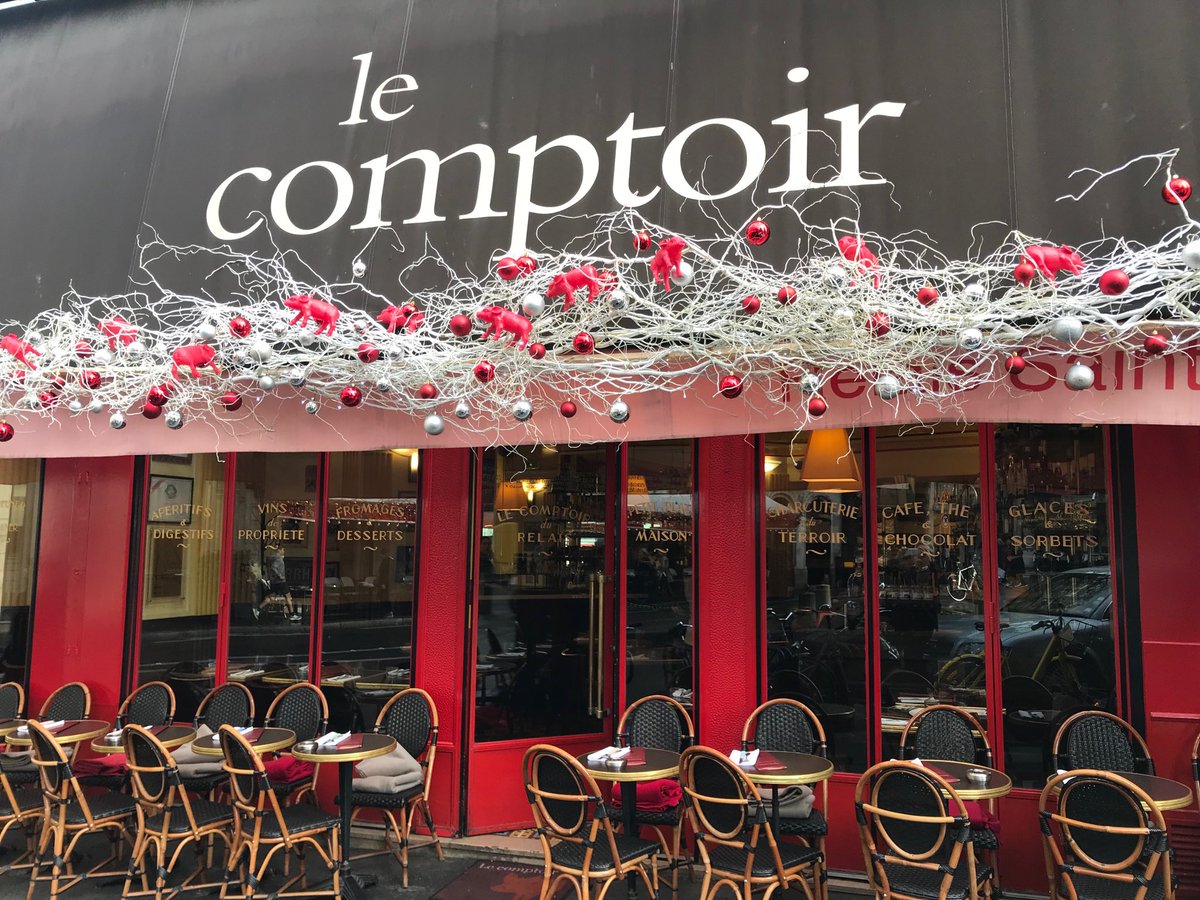 Coffee and Doughnuts of the Year – Tim Hortons:
Yes, it was a helluva year for sheer travelocity and intrepid epicureanism. But amidst all the gourmet jewels, there were some zircons that stood out. and managed to pee in our cornflakes
Lowlights of the Year:
Alinea – To put it as succinctly as possible: Anyone who appreciates the gastronomic temples of Europe can see what a joke this restaurant is. Strictly for Midwestern rubes and impressionable Instagrammers,  and the writers who speak to them.
Momofuku – I love what David Chang has done for Asian food in America. But his restaurants are not nearly as good as they think they are.
Terrible Italian – Bad Italian food continues to pull 'em in in Las Vegas. If I had a dollar for every yokel who tells me how much they "love" Piero's, Cafe Chloe, Battista's, Chicago Joe's, et al, I'd have a wine cellar full of grand cru Burgundies. It pains me to say it but Maggiano's and Buca di Beppo are better than most of our locally-owned Italians.
Food writing in Las Vegas – Can the Review-Journal get any worse? Oh, yes it can. It can cover chain restaurants and "cocktails of the week" while continuing to aim its appeal at the Sun City crowd. Someone needs to put this dead horse out of its misery.
Our Moribund Corporate Hotel Culture – This is the thing that depresses me the most. The heyday of the Vegas restaurant revolution ended for good around 2010. What the great celebrity chefs wrought (Spago, Emeril's, Le Cirque, Picasso, et al) the big hotels are now either running into the ground or milking for all they're worth. There hasn't been an original thought in a Vegas F&B office in ten years. There hasn't been a new, food-forward/chef-driven place since Bazaar Meat opened in 2014. Instead of cuisine, we get whatever re-packaged crap they can slap Gordon Ramsay's or Giada's name on. There are still restaurants on the Strip that I adore (and buy my book and you can read about them ;-) ) but I've been falling out of love with the Strip for years now, and nothing I see is going to re-kindle the flame of passion I once had anytime soon.
Summer Truffles – If one more chef puts one more tasteless summer truffle on my plate (always with a BIG smile like they're doing me a favor) I'm going to get a concealed carry permit, strap a .38 to my thigh, and put a bullet through the plate. There is no excuse for these dreaded, bill-padding fungi, and you insult my intelligence (and taste buds) by expecting me to be impressed.
Truffle Oil – See above.
Octopus – If I never see a piece of cephalopod again it will be too soon.
Scallops – Ditto.
Drinking Wine/Drinking in General – I took Carnevino to task this year for its obscenely-priced wine list. It is the most egregious offender, but is by no means alone in playing the rape-the-tourist/price-gouging game — e.g. the Wynncore – an entire hotel whose F&B price structure would make P.T. Barnum blush, and the $30 gin and tonics at Jaleo. In the past 20 years (ever since they learned they could "sell" Vegas and a world-class eating and drinking experience, our hotels have turned the town into one, gigantic edible tourist trap. We should be ashamed of ourselves. I can barely bring myself to order anything but a glass of wine these days….or some cheap vermouth…in any of our Strip hotels. Spend a couple of days in any wine region, anywhere in the world, and you'll see how fucked up drinking is in Las Vegas.
Which brings me to my conclusion…at the conclusion of this most significant year.
As you know, we've been struggling with what to do with this web site for the past year or so. It's becoming harder and harder for us to get enthused about restaurants I have visited dozens of times, and, as I just mentioned, there isn't a lot of excitement on the horizon. I try to gear what I write to people like me, or those who may have been like me 30 years ago when I was hungry to learn all I could about food, dining out, travel, and the world of restaurants. I like to think of my readers as a black belt foodie audience, but within the realm of Las Vegas restaurants, there is less and less that I can teach them.
Right now I'm pondering whether to write more about my travels (next up: Spain, Italy, Normandy and Scandinavia), or maybe even expand into home cooking. Unbeknownst to many, I used to be an avid home cook, and people love recipe websites more than they do restaurant reviews. There will definitely be a change in graphics sometime in the new year. (I'm quite aware that the look of this site is cluttered and dated and it's all my fault.) The new look will be simpler — more Drudge Report than Bon Appetit — as soon as I can find a graphic designer.
Until then….
Happy New Year from the Curtas BBQ Boyz!
(
Real men toast with white wine.
)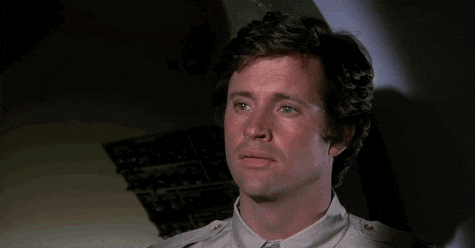 Your plane lands. It's been a 5 hour flight. It's late. All everyone on the plane wants is to get off the friggin' plane. SO WHY DOES IT TAKE EVERYONE SO LONG TO GRAB THEIR BAGS AND GO?
Since you asked, I'll tell you why: It takes soooo long to de-plane (love that word) because people are either too stupid, too lazy, or too polite to do it right.
Here's the scene: You're in the middle of the plane. Everyone is filing out. Everyone is waiting too long to reach up and grab their goddamn bag THAT'S IN THE BIN RIGHT ABOVE THEIR HEAD. They (especially the people on the aisle seats) could do this WHILE every one ahead of them is filing out, but NOOoooooo….EVERY. SINGLE. PERSON. waits until everything has cleared out ahead of them before completing the simple task of reaching up and grabbing their precious carry-on.
Sooooo, you're on an aisle seat, the woman beside you is standing up; you're standing up; both of you have been standing up for at least five minutes. A couple of more minutes drift by at the pace of a glacier when you notice the entire plane ahead of you is empty and she's not moving. You've actually been trying to give a little ground to her so she can scoot out ahead of you. But she lifts not a finger until there's not a goddamn soul on the plane ahead of her. At that point she says, "I just need to get my bag," — the bag which has been right over her head — waiting to be grabbed — for the past 10 minutes.
Seeing a blank expanse of jet aisle before you, and completely out of patience with this dolt (and the numbskulls you've watched do the same thing for the previous ten minutes), you do not meekly recede back into your seat row while she proceeds to hold up another 75 people. Instead, you break into the the open field (bumping her slightly with your man bag). At that point, she let's out a loud "Excuse me, sir!" — letting everyone on the plane (including your spouse) know that you had pushed past her rather than do the ultra-polite thing of waiting for her to finish something she could have done a long time ago.
Once we get out into the terminal, the same lady is all sarcastic, "Merry Christmas, sir" to me, as she walks past me, and the wife catches up to me and SHE be like all "Why were you so pushy and rude to that woman," and I be like "BECAUSE PEOPLE HAVE TO QUIT BEING SO FUCKING POLITE AND JUST GET THEIR GODDAMN BAGS AND GET OFF THE GODDAMN PLANE," and the wife be like all annoyed and such at me for the whole LYFT ride home….
….and I still, for the goddamn life of me, can't figure out why it takes people so goddamn long to grab a stupid carry-on and get off a goddamn airplane.
Thanks, I feel better now.