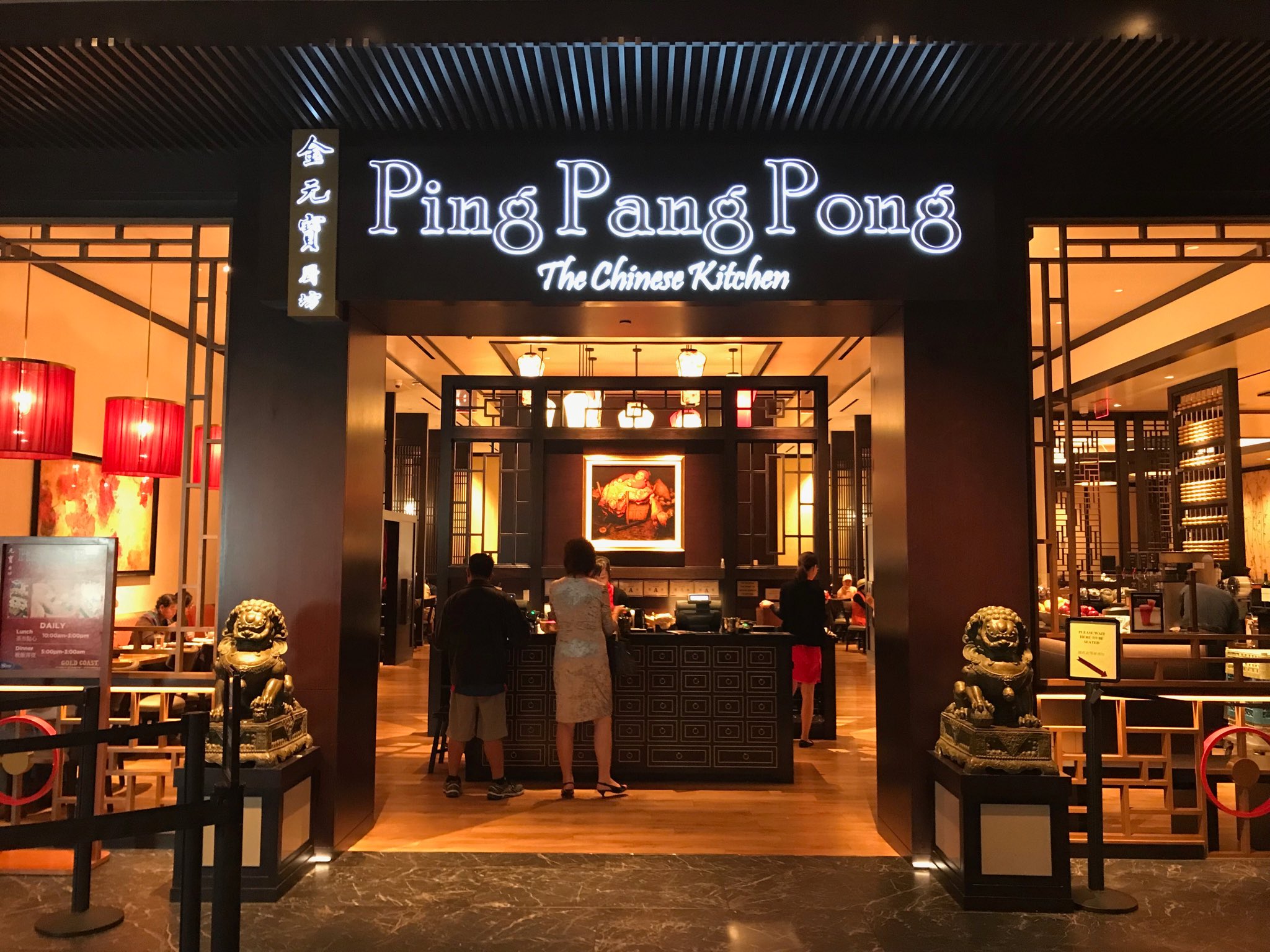 ELV note: It's that time of the year, food fans. The time when every half-baked web site offers up "best of" lists of places they've never visited, and hardly know anything about. Some will no doubt regurgitate whatever they're being paid to advertise….er…uh….I mean post, but for the serious connoisseur, this is the place to find the good stuff — the worthwhile places that rang our chimes in the past year. A few of these opened in late 2016, but we didn't get to them until the past 12 months, and since we're the only critic that counts (ARROGANT? YOU BET!), that's good enough for us.  Of all the eateries that showed up in 2017, these are the ones that matter.

Final note: Only time will tell if '17 was the watershed year in local restaurants we hope it was. But there's no denying a lot of serious cooking made it to the neighborhoods, and if this portends a trend, it bodes well for the future of good eating in Las Vegas.
Without further ado, and in no particular order (except the last one) here are the Best New Restaurants of 2017 (click on the name to link with the restaurant's web site or Facebook page):

I know PPP is not new, but it might as well be.  It's fresh digs in the Gold Coast Hotel (at top of page) make it seem like a whole new restaurant. Actually, it is a whole new joint when you consider the upgraded surroundings, the expanded (and easier-to-navigate) menu, and the alacrity with which classic Mandarin and Cantonese dishes are brought to your table, only seconds after being wok-tossed, steamed or deep-fried. Our best, classic Chinese restaurant (and dim sum) got a whole lot better in 2017, and for that it rates a wave.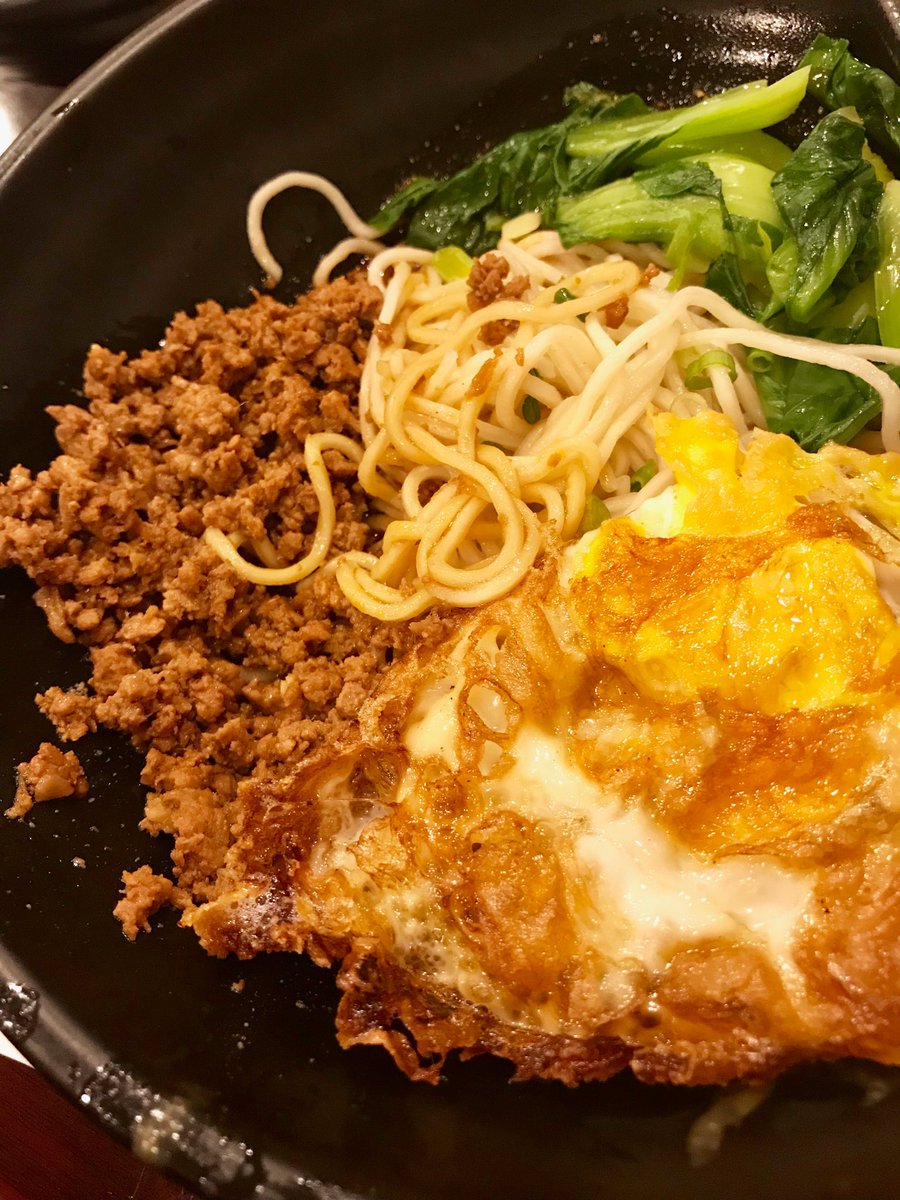 Mian Taste
Another Tony Xu (the chef behind Chengdu Taste), quietly opened this Chongqing-style noodle house on Spring Mountain Road a few months ago, and seemingly like magic, every Szechuan-loving fellow traveler for 250 miles knew it was there. Tongue-numbing soups and chewy noodles (above) that take no prisoners, but you won't find any better soups this side of the San Gabriel Valley. Since it's the only restaurant on this list without a web page, a Facebook page, or a listing (beyond an Instagram page, for its namesake restaurant in California), we will tell you it's located at 4355 Spring Mountain Road, #107.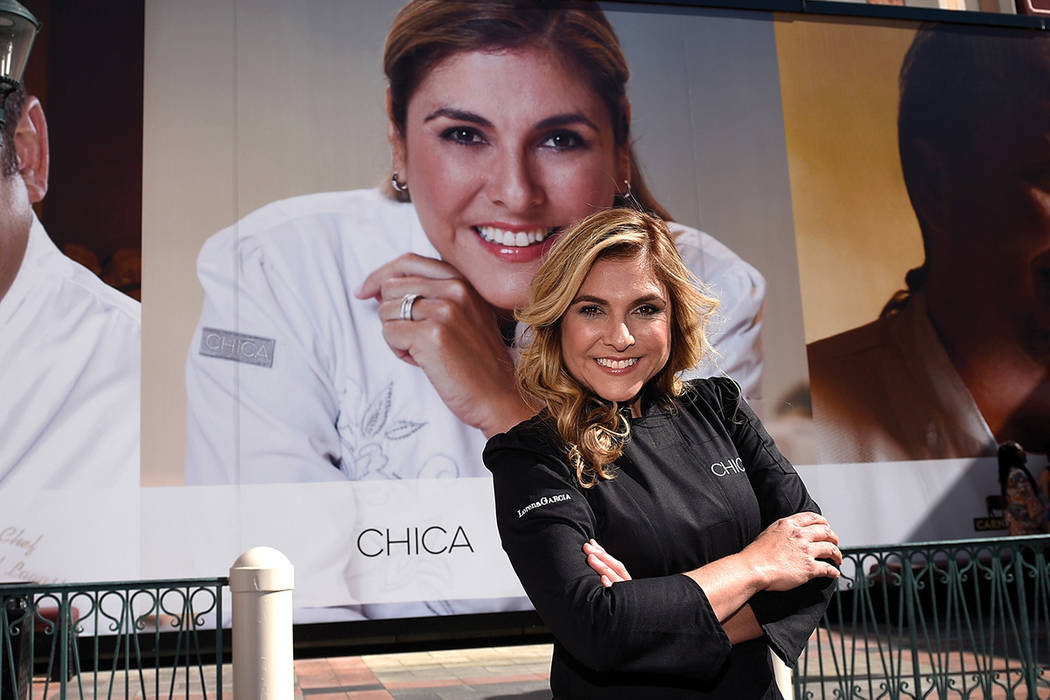 (Why is this woman smiling? Because she's never in the kitchen.)
Within months of opening in the Spring, Chica lost its executive chef (Mike Minor), who returned to his former gig at Border Grill. Vagabond chefs drive our staff crazy, but all we can hope for is that Lorena Garcia's operation is tight enough to keep up the quality cooking. (She, of course, will show up once or twice a year to get her picture taken and pick up the cash.) Regardless of those concerns, the food here is a refreshing blend of the familiar (guacamole, classic ceviche) with the fascinating (asado negro arepas, porchetta with crispy yuca hash). Sara Steele's desserts are not to missed, so get all of them.
As with Boteco and The Black Sheep, we're sometimes tempted to call out Brian Howard on how over-complicated his food can be. But there's no denying how tasty his udon Bolognese or Campfire Duck is, so we bite our tongue. When, like his colleagues, he hits his marks, the results are thrilling. If you're over 40, you'll be the oldest person in the joint. No matter what your age, if you love belt-and-suspenders cooking, you'll be in hog heaven.
Several new Korean steakhouse chains landed(?) on our shores in 2016. This one arrived three months ago and is locally-owned, not a franchise, and the best of the bunch. Superb sides (called banchan), and beef that's a cut above. Nice bar, too.
Ramen excites me about as much as Vietnamese pho, which is to say not at all. But the Food Gal® swears Ramen Hashi could finally unseat Monta for tonkotsu hegemony, and we'll take her word for it.
The only thing I hate about Boteco is how far it is from my house. Located on the loathsome south Eastern corridor, it is small, personal, wine-focused, and everything a locally-owned joint should be. At dinner, there are only twelve things on the menu, but the sliders, avocado crunch salad and Singapore Chilli Crab dip are a delight, and the kind of food that's usually unknown this far from the Strip.  There's even a poutine on the menu for the calorie-challenged. Fabulous Spanish ham, good oysters, and escargot croquetas, and braised beef with Piedmontese rice are also there for ectomorphs in need of a good rib-sticking. This is a mix and match menu that's made for fun. Boteco means "meeting place" for friends and family, and if you and yours are looking for a place to congregate, you won't find any better in this neck of the culinary desert.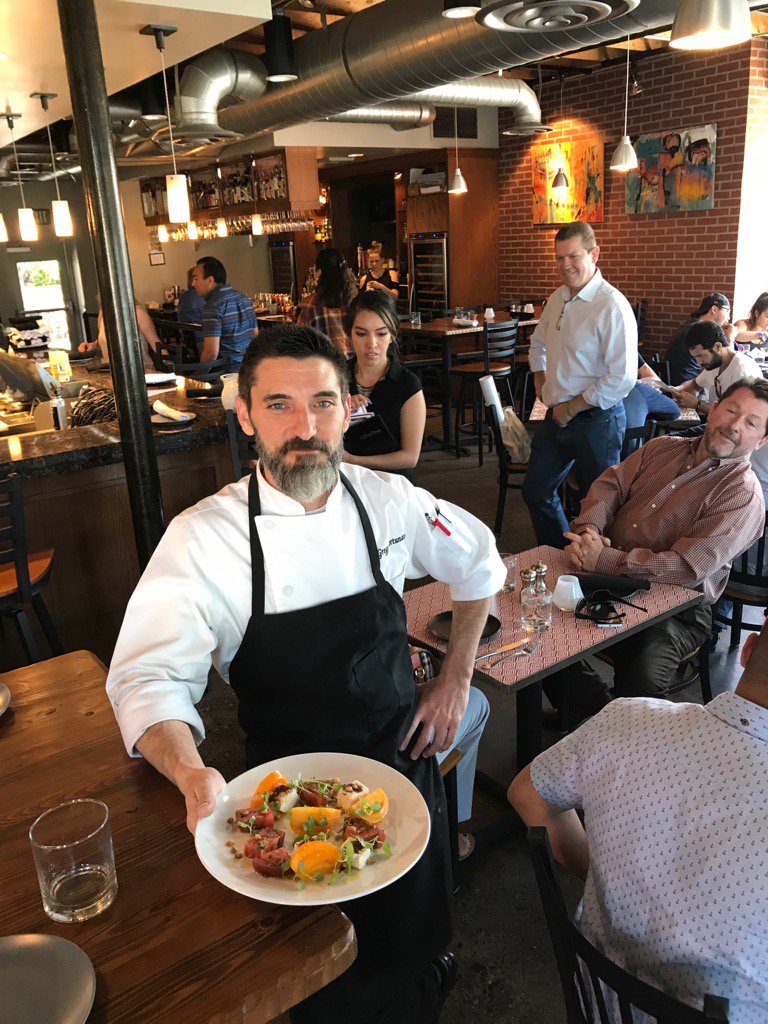 Gregg Fortunato is one of the few chefs in town confident enough to serve us a plate of simple, perfect tomatoes seasoned only with a little salt. His menu is full of the same confidence, and doesn't have a clinker on it. His chicken wings deserve to be in the poultry hall of fame.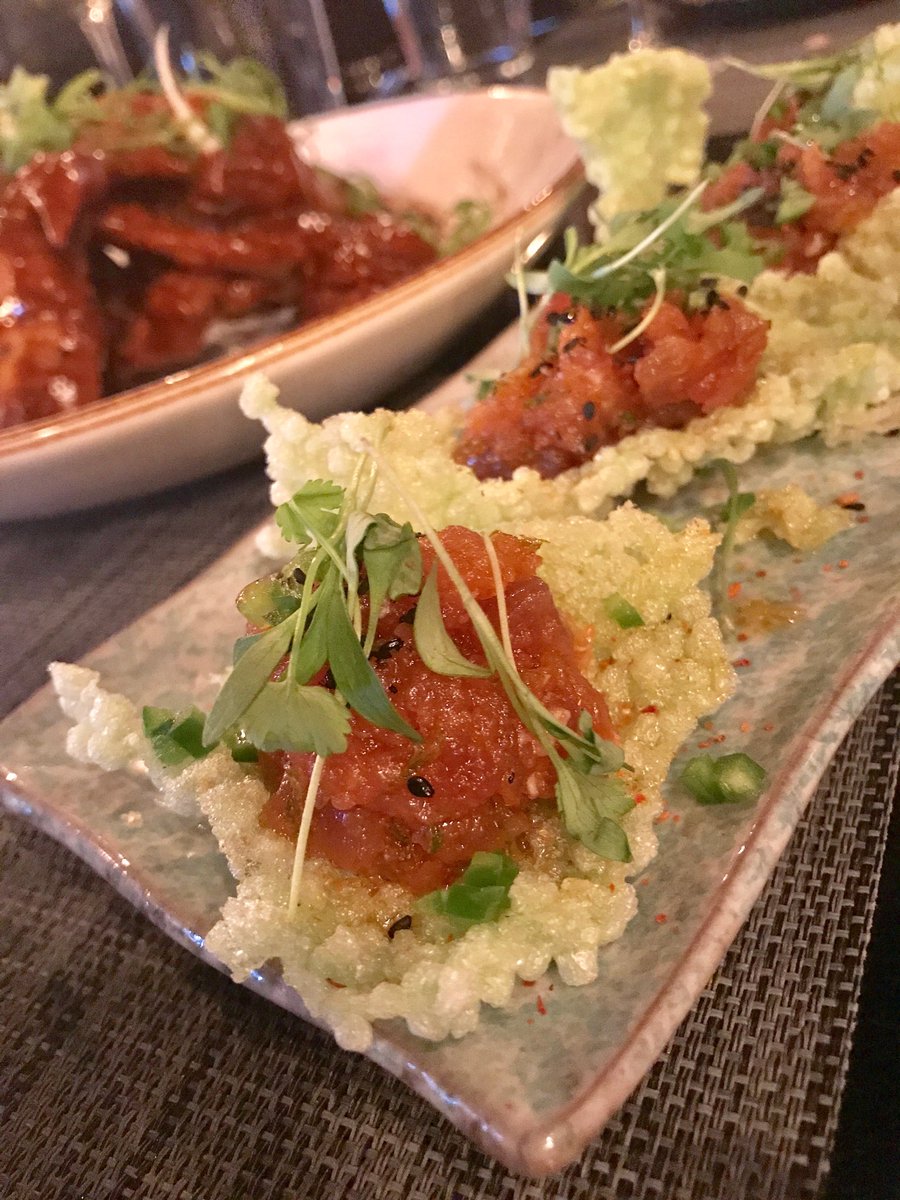 People keep calling Jamie Tran's new joint "Vietnamese-American" because that's how it describes itself, but there's nothing remotely Vietnamese about braised short ribs, tuna tartare (above), and smoky beet salad. Hers is a unique, personal cuisine with influences befitting a classically trained chef who wants to infuse European techniques with Asian sensibilities. (Or is it the other way around?) Unlike any other place in town, and a foodie favorite because of it.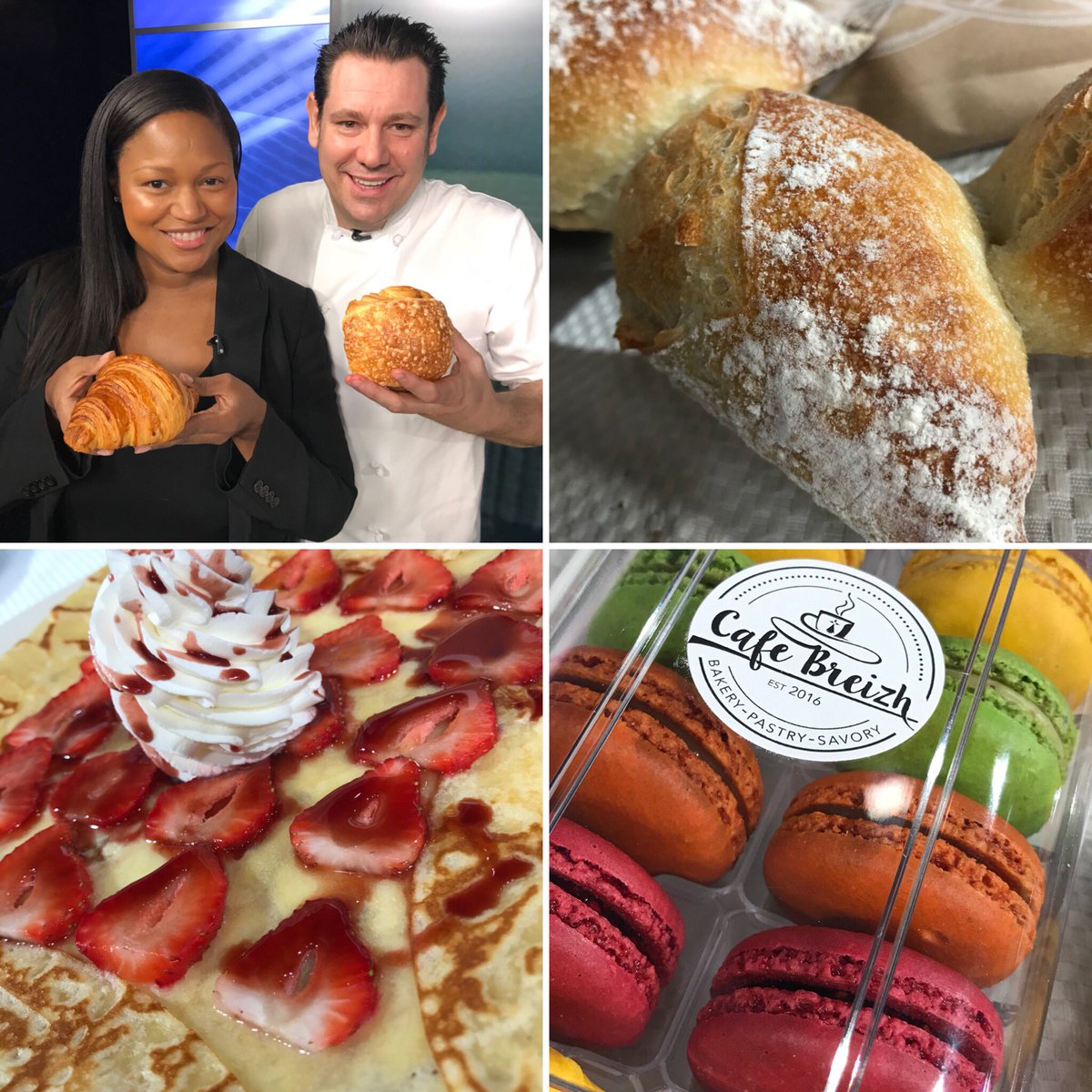 Our best French pastries, period. With coffee, crepes, and a few, house-baked breads to match. Lots of people extol the virtues of other pastry shops, but this is the real, artisanal deal. We'd walk five miles for a bite of that crepe (pictured above), and have! Merci beaucoup, Pierre Gatel!
(About as intimate as Wal-Mart)
Big box Japanese restaurants are sooo 2oo7, but if you insist, this is the one to go to.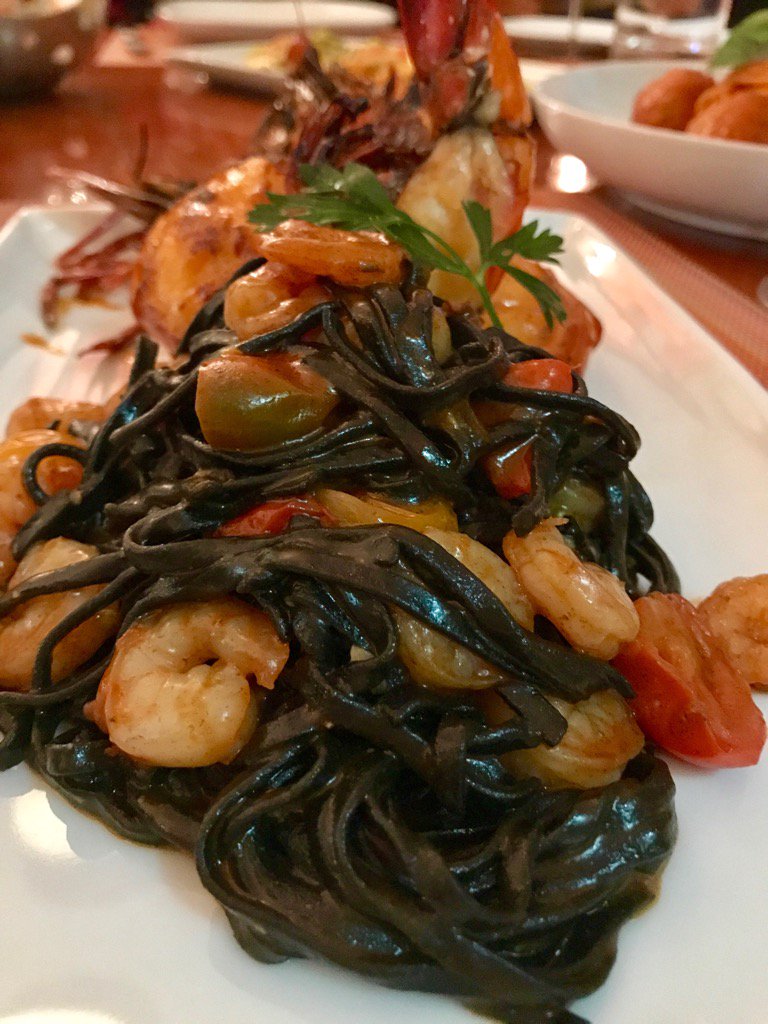 Prosecco Fresh Italian Kitchen
Good restaurants in the southwest part of town are harder to find than a sous chef without tattoos. Daniele Dotto's menu is full of pleasant surprises, not the least of which are his seafood offerings – like the shrimp and squid ink pasta seen above — as tasty as you'll find five miles west of Las Vegas Boulevard, at much gentler prices.
(
Slurpable on Spring Mountain Road
)
Another noodle joint? Yep, and just the ticket for lovers of those thick chewy Japanese udon noodles (and killer chicken karrage) that taste just like they do in Shibuya.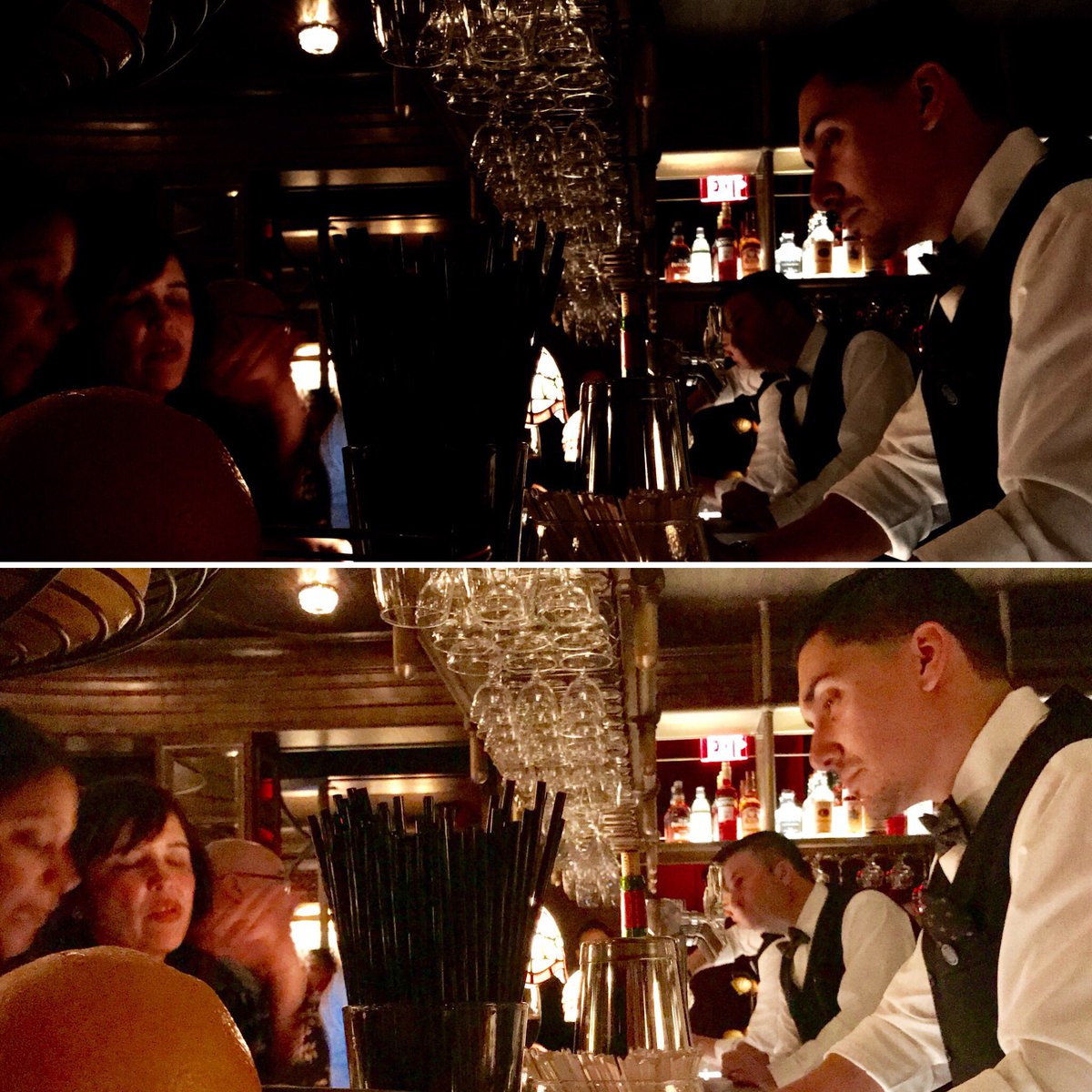 (
At Bavette's, photoshop is the only way to see anything
)
Darker than Kevin Spacey's sex life, and not for the faint of wallet or dim of eyesight. But if you can find your food (on the menu or on the plate) you'll enjoy some magnificent meat at some magnificent prices. The $73 dry-aged strip announces itself as a major player in our rootin' tootin' high steaks rodeo.
(Here, at least, you can see your food)
More modern, more inventive, and better lit than Bavette's…and in the Hard Rock Hotel. Well, three out of four ain't bad. The steaks are top shelf, but it's the burger, the appetizers, and the veal chop that will get your attention.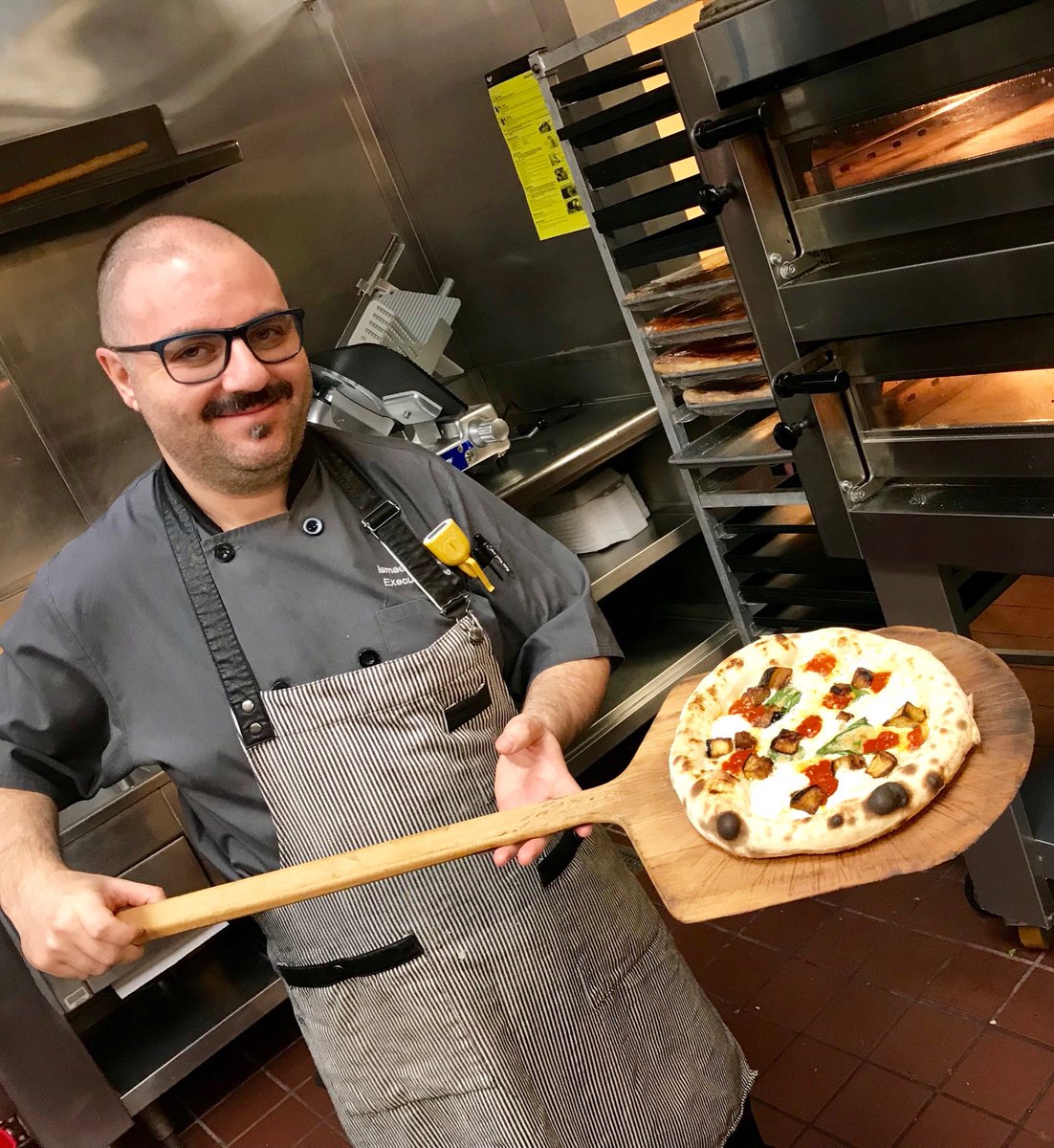 Pulchritudinous pies, excellent pastas, and a reasonable wine list (that can be purchased retail) have suddenly made Jerry's Nugget (in North Las Vegas!), a must go for intrepid seekers of great pizzas and Strip-worthy Italian food.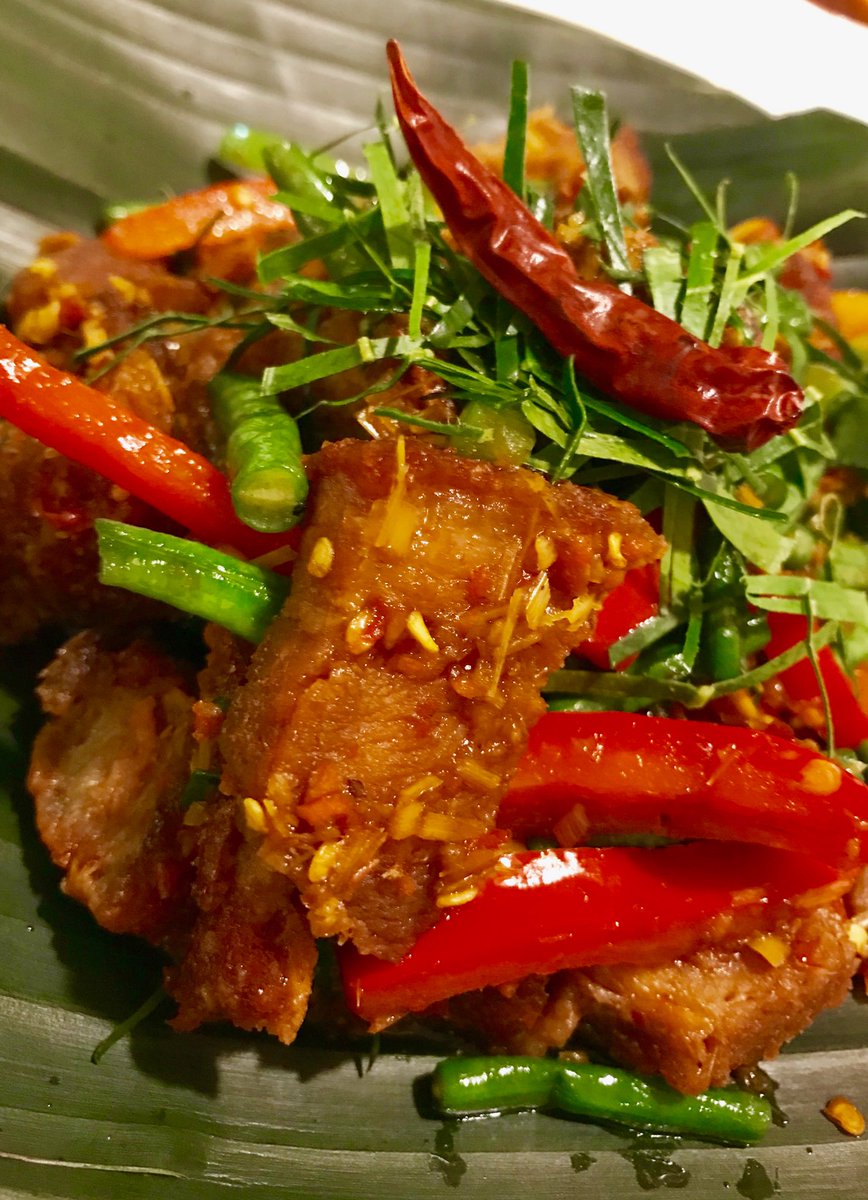 (
Fiery food that 's fit to be Thai'd
)
Chuchote Thai Bistro & Desserts
Korean isn't the only Asian country to see a marked improvement in its Vegas restaurants. No longer is Thai food consigned to the sloppy, sweet-sour appeasement of American palates. Southern Thai specialties are what to get here, and the brothers and sister who run the place will joyfully guide you through their artistic interpretations of classic Siamese dishes.
(
Rib-stickin' ribs at Blue Ribbon
)
Another vastly improved re-boot — substantially different and so much better than its forerunner. The Bromberg Brothers got back to basics, and in doing so, brought the best of their Big Apple icon to our humble burg. There is no better American food anywhere in Las Vegas. This new BR reminds us of the old BR in lower Manhattan — the one that put the BB boys on the map.
One word: galaktoboureko (pictured below). The world's greatest dessert. (TRUE!) Every lunch and dinner. Made on premises, just like everything here — unlike many a Greek joint that couldn't exist without cheap, nasty Sysco gyro meat.  This is Greek food like it tastes in Greece. Very little pita bread, a mountain of mezze (dips and such) and seafood done right. (The owners are Estiatorio Milos veterans.) One of the many reasons we consider 2017 to be a watershed year for fabulous new food in the 'burbs.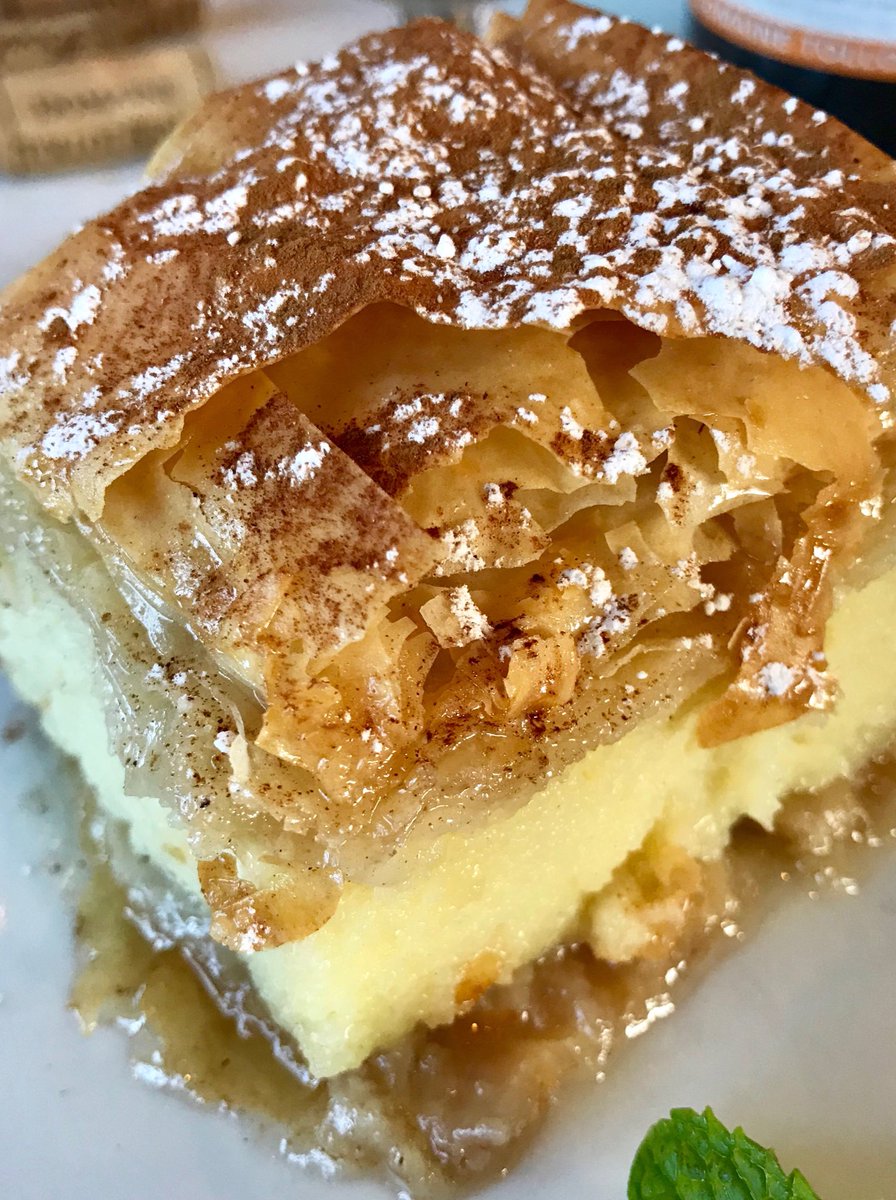 Dishonorable Mention: Momofuku. David Chang's one-note cooking swept Millennials off their feet a decade ago. Now he's drowning them in a tsunami of umami. Like all "celebrity chefs," (save the French), expect him in Vegas about as often as you see me at Applebee's. If/when he shows up, he will no doubt opine on everything from Anthony Bourdain's love life to the state of soba noodles on Spring Mountain Road — all to the rapt attention of his adoring followers — the same people who love overpaying for the privilege of eating food done much better two miles away.
There are too many restaurants.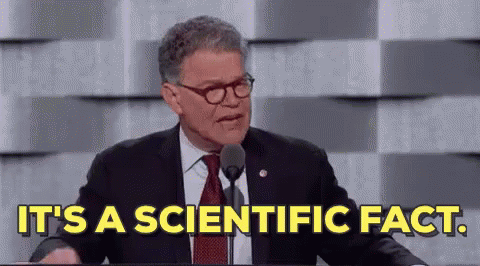 Thanks to your endless greed, unbridled avarice, and insatiable appetite for growth, you've allowed fast food and fast-casual food and shitty sandwiches, and pathetic pizza and faux kountry kitchens to dominate our our lives until you can barely see anything else when you drive around any town in the U.S. of A.
It wasn't always so. Indeed, when McDonald's first blossomed as a fast food phenomenon, it was something of a novelty. I remember my first McDonald's burger (somewhere around Tampa, FL, sometime in the early 60s) and it was quite a revelation, as well as being a damn good (if small) hamburger. Something about that slightly sweet bun and the pickles and the properly seasoned ground meat was very exciting to a 10 year old. The idea of drive-in burger joints was just taking hold in America, and the whole family, from mom and dad on down was excited.
Fast forward five years and drive-ins were becoming more common (Frisch's Big Boy, A&W, and Steak 'n Shake were particular favorites) and Mom used them every so often to relieve the stress of home-cooked meals. Like Roger Ebert, I remember the counter-men at Steak 'n Shake smashing the burgers down on the griddle and getting that crusty char on the exterior that no other fast-food burger could match. My mother was particularly fond of the open kitchen and how clean they were. I can still hear her saying, "I love that you can watch them prepare the food so you know everything is spic and span." She loved the cleanliness, I loved the burgers, and my dad loved the chili. "A chili 4 ways (with beans, meat, onions and cheese), and a cup of chili," he would always say, as my mother scowled her disapproval at his overeating. Me, I was content with a burger with two thin, dill pickles on it. Somehow, to a 12 year old, nothing tasted better than those dill pickle slices on that squishy, flattened, crispy burger.
When a McDonald's opened in Hillsboro Village near the Vanderbilt campus (in Nashville, TN) in the early 70s, it was still a big deal. I still remember a bunch of frat brothers piling into my Fiat 128 to load up on burgers and fries that were still considered very cool when they came to your town. Then and now, I still think McDonald's fries are world-class.
But even as far back as 40 years ago, the underpinnings of what made these places great was being undermined. And the culprit was simple greed — the quest for money — being sought after by, at first, the franchisees, and eventually by stock market investors demanding bigger and bigger returns on their capital. With the quest for expansion came the need for standardization, and when you seek to standardize anything as organic and intimate as food, quality suffers. Indeed, quality becomes the diametric opponent of quantity as the quest to create more and more becomes the enemy of making something well.
If you haven't seen the Michael Keaton movie "The Founder" — about the "founding" of McDonald's — you should. Anyone who's ever eaten at a franchised restaurant should see the phenomenon that started it all. Of course, there were regional, franchised fast-food operations before Mickey D's, but its footprint was too big to ignore, and the big money boys (i.e., the stock market) took notice. By the time McDonald's went public in 1965, everyone wanted in on the action.
The McDonald brothers may have been appalled, but Ray Kroc knew what he was doing. Reduce everything to the quickest, fastest, lowest common denominator that people will pay for, implement economies of scale, employ sorcerer/scientists to trick our brains into liking the taste of chemicals, and the world will beat a path to your door.
My favorite scene in the movie is when Kroc presents his powdered milk shake mix to the brothers McD. "But it's called a MILK shake for a reason!" one of them shrieks (unable to hide his disgust). Kroc is undaunted by his partners' reticence. All he's thinking about is how much money they'll save by not having to stock so much perishable food — like milk, cream, ice cream — you know, the things that make milk shakes taste good.
And therein lies all you need to know about fast food.
This hyperbolic, exponential growth has been assisted by the fact that there are 120 million more people in America today than when I was growing up. All those mouths need feeding, and once you convince the hoi polloi that they can eat cheaper with your product (whether or not it is true), you've got them by the throat so to speak, and letting go would be tantamount to telling a venture capitalist he ought to enjoy taking the bus. And once you get the soy and sugar conglomerates on board with what you're doing, there's no end to the money that can be made.
Franchised food is a voracious beast that eats everything in its path. And it's not only with assembly line methods, standardization, and simple flavor manipulation that this industry destroys the quality of our lives. A simple knowledge of how real estate works demonstrates how this industry has ruined our neighborhoods by financing unholy alliances between the corporate conglomerates and real estate developers. Throw in developer-financed politicians (always ready to endorse another big-box project in the name of "growth') and you have a recipe for suburban blight (see picture at top of page).
This suburban wasteland of fast food is everywhere now. I go back to the Atlanta area frequently to visit family, and if anything, it's worse there than it is in Las Vegas. Every interstate interchange has dozens of franchises on it. Suburban roads go on for miles with an endless chain of TGIFridays, Buca di Beppos, Taco Bells and Olive Gardens on them. These top 500 chains just scratch the surface. So ubiquitous has chain restaurant eating become that in some towns, a real restaurant is harder to find than a Mormon bishop at a Balvenie tasting.
It's gotten so bad that one local restaurateur was telling me about a business model that is built around finding second and third-tier failed franchise spaces with either fourth-tier franchises (usually a Sizzler), or the dreaded Asian buffets – AYCE Asian food being the last stop on the shitty restaurant train. "The Asian buffets have staying power," he told me, and landlords prefer them to anything local; "They pay in cash and they pay on time; (small, local restaurants are) just too risky."
For local proof, look no further than the blight of Eastern Ave. in southeast Las Vegas/Henderson. For five miles, you have giant commercial subdivisions/strip malls on both sides of the street, each crammed with more retail space (and restaurants) than is healthy or necessary for any quality of life. Each center boasts big box stores (Home Depot, Payless, Walmart, etc.)  which sit like a great white whale around which various pilot fish (CVS, Starbucks, Five Guys, etc.) swim.
There is no individuality to these stores; there is no sense of community. They exist solely to take your money as fast as possible at the lowest overhead they can get away with. If Fuddrucker's are remoras, then locally-owned eateries are truly the bottom feeders, scurrying about, opening and closing while trying to scrounge a living off other's leftovers.
Don't believe us? Spend five minutes driving around the Sansone Park Place Plaza at 9500 South Eastern Ave. It stretches for at least a quarter mile, in which are over twenty place to eat. There are chain restaurants aplenty, and more nail salons, postal services, and dentist's offices than you need for five miles. No need to go very far for anything, though, because right across the street is a similar center — with its own set of burger joints and dry cleaners — for those who only want to make right turns when they drive.
What you see above is but a corner of the place. Leaving aside the abject ugliness of these malls for a moment, one must also consider the toxic environment they create for good eating. How is a place like Boteco to compete with everything from a Zupas to Einstein Bagels to Red Mangos? What chance does a local pizzeria have against the onslaught of Grimaldi's and Dominoes? When faced with competition from BJ's and Twin Peaks (for those who like  their bjs with a side of twin peaks), what chance does a local brewpub have?  (In case you didn't know, there is both a Twin Peaks and a BJ's in this mall, and they're right next door to each other! And they're both busy. All. The. Time.)
The answer is obvious. You would have to be a fool to try to bring good food to a population weaned on cheap, easy proteins and chemically-engineered calories. Only an idiot would try to raise the bar while fighting with landlords who don't want them and a public that prefers the advertised to the authentic.
As much as I love them, local restaurateurs are but an unsightly wart on the smooth economic skin of Las Vegas.  Substance is in short supply in our humble burg, and our eating out landscape is but a facade that favors the familiar and the false over the fresh and the flavorful.  For every one of them, there are dozens of Buffalo Wild Wings and Farmer Boys ready to take their place. And 80% of the eating out population wouldn't have it any other way.
Back in the day I was right there with them. For my first real date with a real live girl (Syndie Ridge….schwing!…if you're still out there…), we went to Arby's. They carved the meat right off a haunch of medium rare roast beef and put in on a fresh bun and the sauce tasted like real horseradish and I thought I was in hog heaven. The meat on an Arby's sandwich these days looks and tastes like a piece of wet cardboard. They haven't used real roast beef in over 30 years, and yet they're still in business.
We have made a deal with the devil when it comes to what we eat in America.
There are too many restaurants all right, and they're all the wrong kind.
ELV note: What does the following have to do with food writing? Absolutely nothing. Well, maybe a little something. But it's my damn blog and I'll write anything I damn well please. ;-) I hope you are mildly amused by it, and perhaps learn something about me in the process.

COMMON HUMAN CONDITIONS THAT DON'T APPLY TO ELV

Indigestion – Even in late middle age, the only things that give me indigestion are (too much) champagne and barbecue. Which is a pity because champagne goes great with barbecue.
Intolerance – There are three things on this earth I can't stand: 1) intolerance of other cultures, 2) the Dutch, and 3) people talking in movie theaters. Seriously, as my kids say, "Dad, you are both a very tolerant and intolerant guy." True dat. Slobs, guns, and pets in public drive me nuts, otherwise I don't care if you're a neo-fascist, satan-worshipping, wife-swapping, dope-taking, sitcom-loving sado-masochist. But I draw the line if you're one of these guys.
Alarm clocks – I haven't used an alarm clock in 30 years. You tell me when I have to get up, I wake up an hour before that.
Answering you back – If you call, I return the call. Text me, you get a text right back. Same with e-mails. The only times I don't get right back to people is either when I'm traveling, extremely busy at work, or sick.
Attention to detail – Details only count if you're a scientist, an engineer, or a baker.
Taking yourself too seriously – Has never been a problem. I am as amused at myself as I am at what a fool you are being.
Kitchen timers – I swear to god I have a kitchen timer for a heart. The only thing I use a kitchen timer for is baking cookies.
Forgetting things – I don't forget anything. I can tell you the song that was playing the first time I kissed a girl (Mason William's "Classical Gas"); I can tell you where I was standing when I first found out I passed a bar examination (1414 Eastern Parkway, Louisville, Kentucky); I can tell you the names of all of my fraternity brothers at Vanderbilt (most of whom I loathed). A good memory is a double-edged sword, though. There are a thousand things I wish I could forget.
Pickiness about what I eat – The only thing I would never eat is a live bug. If it's served as food by some culture on this planet, I'll try it.
Getting drunk – I don't brag about it, but I can hold my liquor like nobody's business. Drinking to drunkenness doesn't interest me anymore, but even when it did, there are probably only a handful of people who have ever seen me really drunk.
Celebrity worship – Famous people (especially actors, athletes, politicians and musicians) are some of the most boring people on earth. Whenever I'm in the company of someone famous, I always wonder why they're not much more interested in talking to me. The life I've led — criminal lawyer, trial lawyer (in four different states), bon vivant, American explorer, world-traveling womanizer, galloping gourmand, avid cook, fashionista, oenophile, pretty good golfer (back in the day), inveterate snob, public servant — is ten times more interesting than anything Donald Trump or Beyonce has to say. People become famous because all they're interested in is themselves. It's much more fascinating to talk to someone interested in something other than themself, be it chess, restoring old cars, or the Hawley-Smoot Tariff Act of 1933. I give comedians a pass, since to be a good comedian, you have to be tuned in to all sorts of things. I don't worship comedians but I admire them.
Back problems – Never had 'em – unlike every other adult male friend of mine. My dad didn't have them either, so I'm hoping my DNA stays strong on this one.
Foot problems – Ditto.
Attraction to crowds – The attraction of hanging out with large groups of strangers, for the sake of saying you were "there" has never appealed to me for one second.
Concerts – A boring, uncomfortable way to listen to songs that sound better on your car radio. Surrounded by dullards (see above). If that's not bad enough: Port-o-Lets.
Attention to service in restaurants – I don't care if a waiter pours soup on my head, as long as it's good soup.
Friends – I haven't hung with a posse since I was a public defender. I haven't had an entourage since my golfing/lawyer buddies in Danbury, Connecticut in the 80s. I have a few friends that I hook up with in short spurts, but I'm more of a loner than you might imagine.
Money – I don't give a shit about money. Never have, never will. This is something each of my wives has taken great pains to point out to me over the years.
Kissing ass – I've failed at many things in my life, but one thing I've never done is kiss anyone's ass to get anything. When I was a very young lawyer, I once kissed my boss's ass to keep my job. I didn't like the taste of it. It's often occurred to me that I might have gone farther in my legal career if I had sucked up to more people…or even one person. I'm not proud of many things in my life, but this is one of them.
What people think of me – One of my ex-wives lived in mortal fear that people were talking about her, or knew too much about her.  There are less than a dozen people on earth whose opinion of me means anything to me.
Rudeness – The only people I'm rude to are people who accost me on the phone or on the street.
THINGS I COULD HAVE BEEN MUCH BETTER AT
Golf
Fidelity
Parenthood
Getting the fuck out of my own way
French
Friendship
Affection/Intimacy
Diplomacy
Silence
Keeping my opinions to myself
Shutting the fuck up
Saving money
Doing anything responsible with money
Exercise – I've tried; I'm still trying, but this is a body built for comfort, not speed.
Eating less sugar
Eating less bread – Sugar I can do without, but bread? Never.
Writing – I'm a good writer; I can be interesting and clever on occasion. I can even make people laugh. But I'm not a great writer. To be a great writer (to be great at anything, really) you have to do it all the time. If I did it all the time, it would be a job. I love writing too much to make a job out of it. I like to think of myself (Warning: Obscure golf reference coming up!) as the Robert Tyre Jones of food writers. Bobby Jones was an amateur golfer in the 1920s-1930s. He was every bit as good as the pros (and much better than most of them) but he never turned professional. He loved his sport too much to turn it into a paycheck — because, among other things, there was no $$$ to be made in professional golf back then. (Sound familiar?) But he never had any doubt how good he was. I am the Bobby Jones of food writers and I know it. Of this I am quite proud.