There is nothing more precious to a food lover than to experience a cuisine, or a dish, or an ingredient in its native habitat. Whether it's clams in Ipswich, a Cuban sandwich in Habana, or tortellini in Bologna, the holy grail of gastronomes is to be in a place known for a certain type of food, and to consume that food where it originated.
People who count their Michelin stars, or jump from the latest hot spot to the next miss the whole point of eating well. Eating well is not just about dining in restaurants — although great restaurants are essential for bringing a cuisine into focus — it is about diving deep, and about learning about distinctions and differences while you're paddling above the surface, or submerged beneath it.
People are fond of saying that the best of any cuisine is found in people's homes. Ask any Italian, and they'll swear by their Nonna's pasta e fagioli over any version in any restaurant. Go to Germany and what you get in their restaurants is basically the same food they serve at home. (Only in their tonier restaurants do they venture into fancier, French-influenced dishes.) I haven't traveled south of Mexico, but I think it's safe to say that South American cuisine in all its multi-cultural forms takes almost all of its cues from what people grew up with — restaurants there (and almost everywhere) being a distillation of what people eat in their houses.
For what are restaurants, really, but a place to get sustenance when one is away from home?
Street food is something different entirely. Street food is by and large peasant food — quick and easy ways to sustain a busy worker through the day. Food writers the world over have gone to great lengths to elevate kebabs, noodle soups and all sorts of meat pies to "gourmet" status, but what they miss are the cultural underpinnings of these things as quick and easy ways to quell hunger and provide fuel for our furnaces. High-end sushi may be a "thing" in Tokyo and New York, but it started as a way for Edo (Tokyo) workers to grab a quick snack on the go. Only in the modern era (and by "modern era" we mean the last twenty five years) have braggadocios gastronomads elevated fish on rice to the fucking ridiculous.
Table and chair restaurants — from the Far East to the American Southwest — do one thing: cook the foods of their homeland for strangers. Many of these customers are natives (surely their harshest critics), but some are travelers looking to sustain themselves on whatever voyage of discovery they happen to be on. Being strangers in strange lands, though, one can never hope to understand a cuisine like a native. Unless you are fortunate enough to have friends who live where you travel, you have little hope of experiencing a beef bourguignon from a French housewife, a Cornish pasty from a Welsh coal miner, or cuy (pronounced "kwee") from a Peruvian farmer.
That's where France comes in. In France, restaurants are, in and of themselves, a cultural landmark. French food, more than any other, achieves it apotheosis in restaurants — restaurants as humble as a sidewalk cafe to a haute cuisine palace. Food may be a passion in Italy, but in France it is a religion. Indeed, French cuisine (more specifically the "French gastronomic menu") has been recognized by UNESCO as one of the world's great cultural artifacts.
The French are prouder of their food than any other country on earth. From the humblest cheese to the most fantastic dessert cart, the average Frenchman knows his country's food (and restaurants) have set a standard for the rest of the world to follow. To be sure, there is terrible, corporate food in France. There are lazy brasseries and slip-shod bakeries and acidic wines and all forms of half-assery that seeks to profit from France's reputation without putting in the work.
But there's also more great food in more little corners of this Texas-sized country than in most of the rest of the world put together. A lot has been written about French food being under siege. Fast food, global economic pressures, and the world-wide cult of immediate gratification has endangered many things about the French way of life. But the depth of knowledge in France about its cuisine is profound, and the currents run deep. Yes, there are Hawaiian fishermen who know the bounty of their sea backwards, and Iranian epicures who can tell you everything there is to know about caviar, but no country on earth has spent centuries celebrating its food — from the humblest peasant fare to feasts fit for a king — like France has.
What France did, starting over two hundred years ago, is institutionalize (and publicize) the (previously very private) act of eating meals. France turned the act of eating out into a form of theater, and to this day, its restaurants are a daily celebration of food in all its forms. A restaurant meal in France is a way to "restaur" yourself, but it is also so much more. What restaurants in France represent, is a form of socialization, indeed, civilization at its apex.
What do I love most about French food? Well first, it is that menu — a light to heavy escalation of everything from the color of the wine to the weight of the calories. (Fun fact: service à la française originally meant serving everything at once, buffet-style. It was only in the early 19th  century that service à la russe – serving things in individual courses – became popular in France.)
Everything about the French menu is a ladder with each rung representing another form of advancement up the food chain. There are white wines to start, and the freshest, briniest shellfish to get your gastronomic juices flowing. From there you graduate to soups, and legumes, and cooked fish before ascending to the plats principaux (the main courses). Through it all there is bread (the best on earth), and at the end are desserts — dessert being a French word that the French understand better than anyone.
So, let's take stock: the best bread, the best shellfish, the best butter, the best wine (sorry, Italy), the best sparkling wine, a way with small birds that is the envy of cooks the world over, and a myriad of soups, stews, and beef dishes to beat the band. And did I mention the cheese? What's not to love? Well, I can hear some naysayers kvetching about the lack of street food. True, the French don't do street food all that well, but for the occasional crepe, but when there's a sidewalk cafe on every corner, full of chocolat, cafe au lait and croque monsieur, why eat standing up? Eating standing up is what farm animals do.
Modernists love to point to the course-by-course progression of a French dinner as hopelessly outdated — preferring instead to extol the virtues of some new Nordic wunderkind or 30-course slog through some chef's "vision." But what they miss is the intellectual debt all fine dining owes to the French menu. Until the French figured out the natural progression of how we should eat, meals the world over were pretty much a free-for-all. The reason you start with oysters at Arzak has more to do with Le Grand Vefour than anything Ferran Adrià did.
So I return again and again. For the 10th time in a few days, to take another bite out of the country that first captured my imagination as a law student reading Gourmet magazine — back when I could only dream about visiting  all those wonderful bistros, brasseries, and temples of luxurious dining. But visit them I have, from Alsace to Lyon to the French Alps I have explored this country, and I haven't tired of it yet. Paris holds many charms for me, as it has for so many Americans, but what I enjoy most of all these days is tasting the countryside, the places where the wine and the cheese and the ouefs meurette are made. What is most compelling of all, now that I'm in my sixties, is seeing where this cuisine came from, and continuing to learn why it is the greatest food on earth.
ELV note: I will be traveling to France in a few days (Paris-Chablis-Beaune-Burgundy) and will not be posting anything on this site until mid-December. Please feel free to follow my epicurean adventures on Twitter (@eatinglasvegas) or Instagram (@johncurtas). Bon appetit!
A couple of apropos quotes:
"French food is like jazz: it begins with theory, technique and organizing principles, and comes alive through playfulness, spontaneity, and, ultimately, extemporization." – Richard Olney
 "Travel is fatal to prejudice, bigotry, and narrow-mindedness, and many of our people need it sorely on these accounts. Broad, wholesome, charitable views of men and things cannot be acquired by vegetating in one little corner of the earth all one's lifetime." – Mark Twain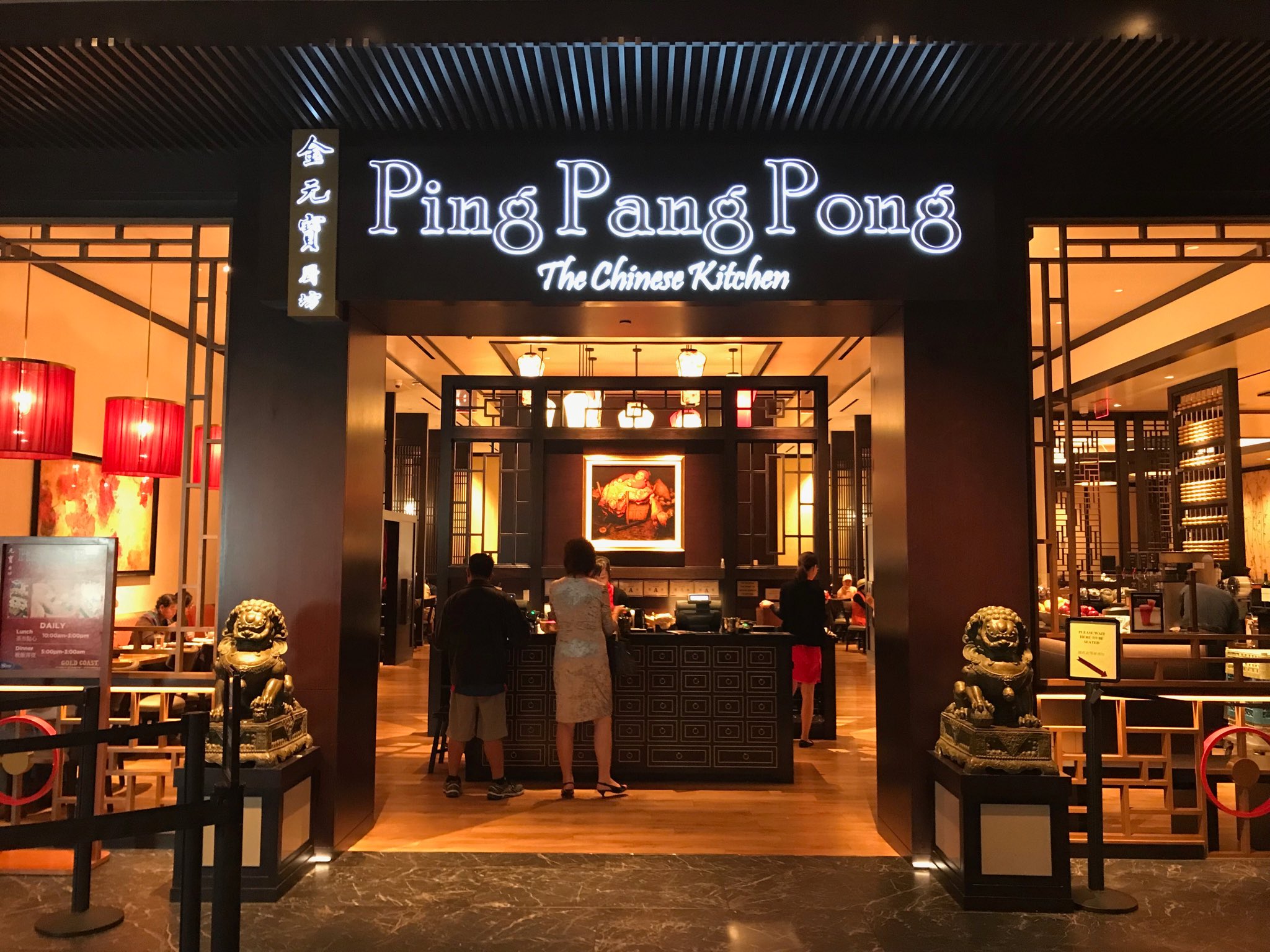 ELV note: It's that time of the year, food fans. The time when every half-baked web site offers up "best of" lists of places they've never visited, and hardly know anything about. Some will no doubt regurgitate whatever they're being paid to advertise….er…uh….I mean post, but for the serious connoisseur, this is the place to find the good stuff — the worthwhile places that rang our chimes in the past year. A few of these opened in late 2016, but we didn't get to them until the past 12 months, and since we're the only critic that counts (ARROGANT? YOU BET!), that's good enough for us.  Of all the eateries that showed up in 2017, these are the ones that matter.

Final note: Only time will tell if '17 was the watershed year in local restaurants we hope it was. But there's no denying a lot of serious cooking made it to the neighborhoods, and if this portends a trend, it bodes well for the future of good eating in Las Vegas.
Without further ado, and in no particular order (except the last one) here are the Best New Restaurants of 2017 (click on the name to link with the restaurant's web site or Facebook page):

I know PPP is not new, but it might as well be.  It's fresh digs in the Gold Coast Hotel (at top of page) make it seem like a whole new restaurant. Actually, it is a whole new joint when you consider the upgraded surroundings, the expanded (and easier-to-navigate) menu, and the alacrity with which classic Mandarin and Cantonese dishes are brought to your table, only seconds after being wok-tossed, steamed or deep-fried. Our best, classic Chinese restaurant (and dim sum) got a whole lot better in 2017, and for that it rates a wave.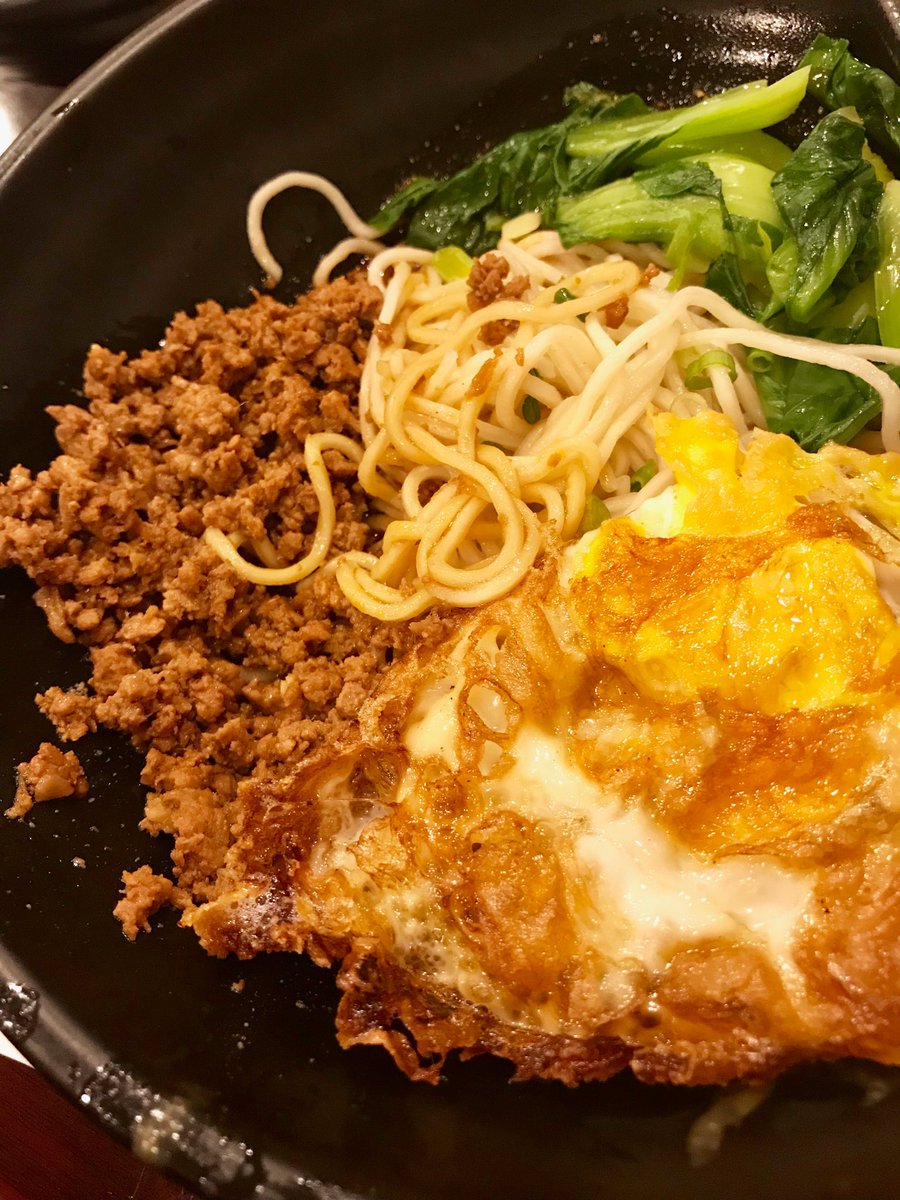 Mian Taste
Tony Xu (the chef behind the über-Sichuan Chengdu Taste), quietly opened this Chongqing-style noodle house on Spring Mountain Road a few months ago, and seemingly like magic, every Szechuan-loving fellow traveler for 250 miles knew it was there. Tongue-numbing soups and chewy noodles (above) that take no prisoners, but you won't find any better soups this side of the San Gabriel Valley. Since it's the only restaurant on this list without a web page, a Facebook page, or a listing (beyond an Instagram page, for its namesake restaurant in California), we will tell you it's located at 4355 Spring Mountain Road, #107.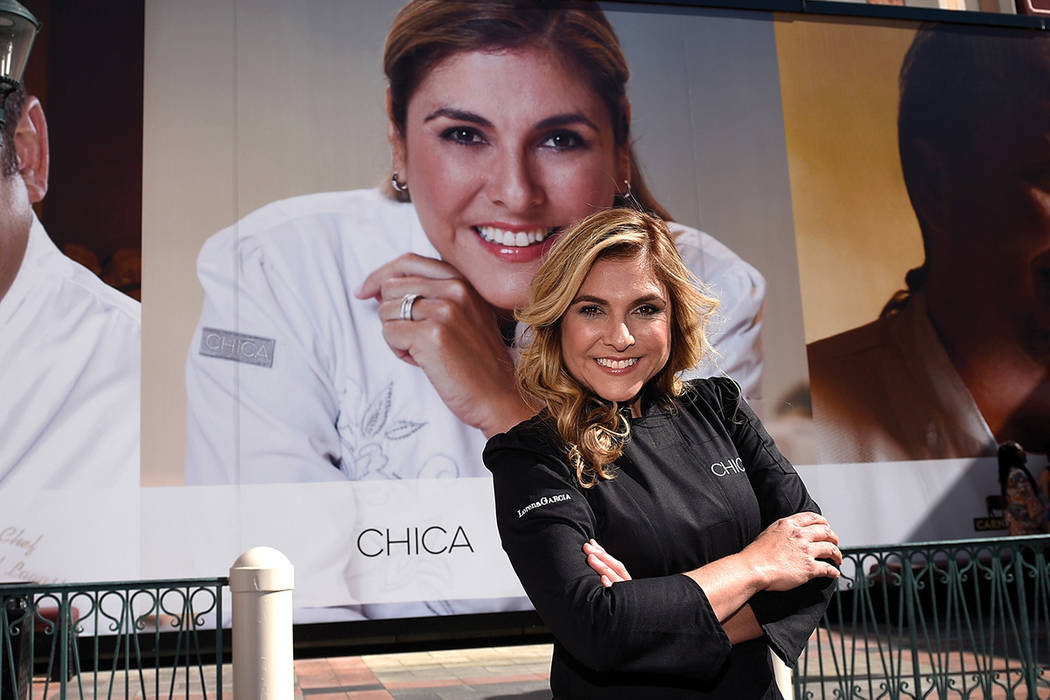 (Why is this woman smiling? Because she's never in the kitchen.)
Within months of opening in the Spring, Chica lost its executive chef (Mike Minor), who returned to his former gig at Border Grill. Vagabond chefs drive our staff crazy, but all we can hope for is that Lorena Garcia's operation is tight enough to keep up the quality cooking. (She, of course, will show up once or twice a year to get her picture taken and pick up the cash.) Regardless of those concerns, the food here is a refreshing blend of the familiar (guacamole, classic ceviche) with the fascinating (asado negro arepas, porchetta with crispy yuca hash). Sara Steele's desserts are not to missed, so get all of them.
As with Boteco and The Black Sheep, we're sometimes tempted to call out Brian Howard on how over-complicated his food can be. But there's no denying how tasty his udon Bolognese or Campfire Duck is, so we bite our tongue. When, like his colleagues, he hits his marks, the results are thrilling. If you're over 40, you'll be the oldest person in the joint. No matter what your age, if you love belt-and-suspenders cooking, you'll be in hog heaven.
Several new Korean steakhouse chains landed(?) on our shores in 2016. This one arrived three months ago and is locally-owned, not a franchise, and the best of the bunch. Superb sides (called banchan), and beef that's a cut above. Nice bar, too.
Ramen excites me about as much as Vietnamese pho, which is to say not at all. But the Food Gal® swears Ramen Hashi could finally unseat Monta for tonkotsu hegemony, and we'll take her word for it.
The only thing I hate about Boteco is how far it is from my house. Located on the loathsome south Eastern corridor, it is small, personal, wine-focused, and everything a locally-owned joint should be. At dinner, there are only twelve things on the menu, but the sliders, avocado crunch salad and Singapore Chilli Crab dip are a delight, and the kind of food that's usually unknown this far from the Strip.  There's even a poutine on the menu for the calorie-challenged. Fabulous Spanish ham, good oysters, and escargot croquetas, and braised beef with Piedmontese rice are also there for ectomorphs in need of a good rib-sticking. This is a mix and match menu that's made for fun. Boteco means "meeting place" for friends and family, and if you and yours are looking for a place to congregate, you won't find any better in this neck of the culinary desert.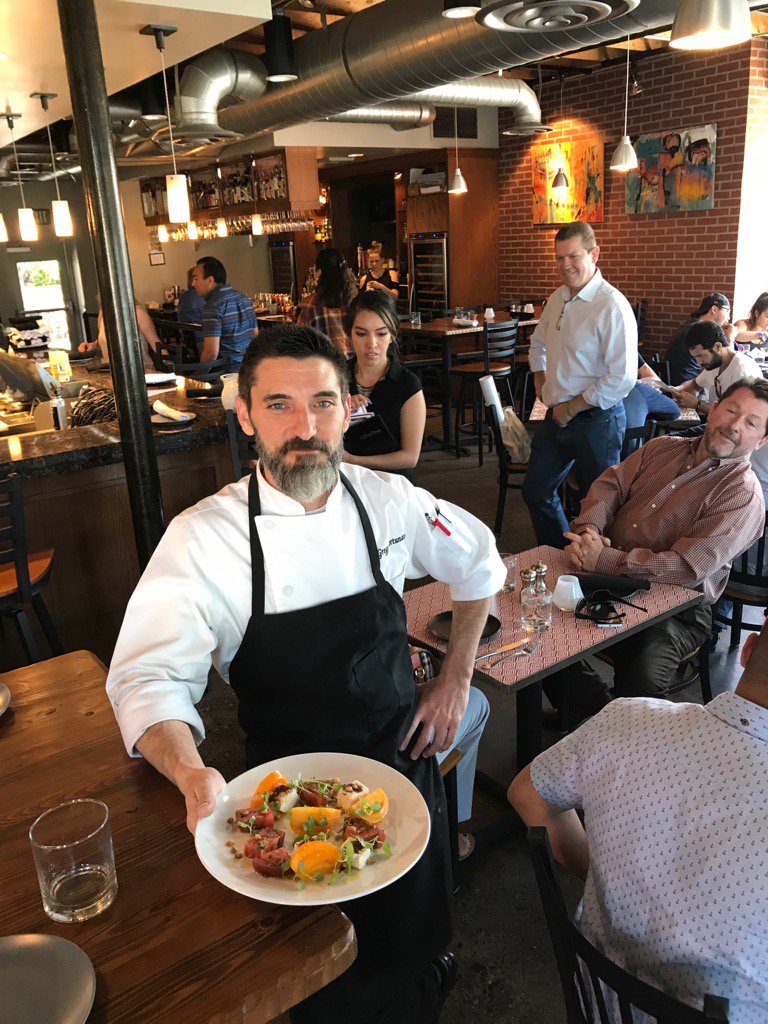 Gregg Fortunato is one of the few chefs in town confident enough to serve us a plate of simple, perfect tomatoes seasoned only with a little salt. His menu is full of the same confidence, and doesn't have a clinker on it. His chicken wings deserve to be in the poultry hall of fame.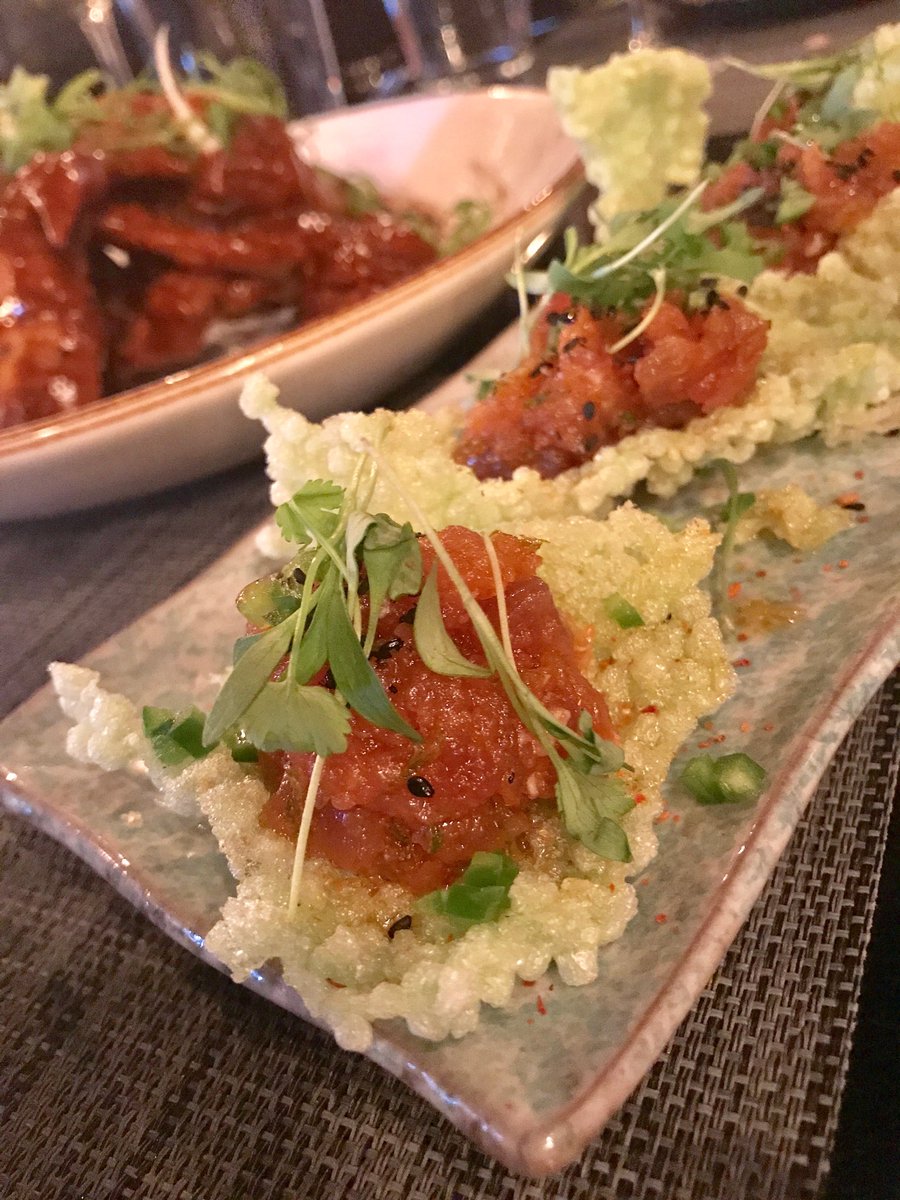 People keep calling Jamie Tran's new joint "Vietnamese-American" because that's how it describes itself, but there's nothing remotely Vietnamese about braised short ribs, tuna tartare (above), and smoky beet salad. Hers is a unique, personal cuisine with influences befitting a classically trained chef who wants to infuse European techniques with Asian sensibilities. (Or is it the other way around?) Unlike any other place in town, and a foodie favorite because of it.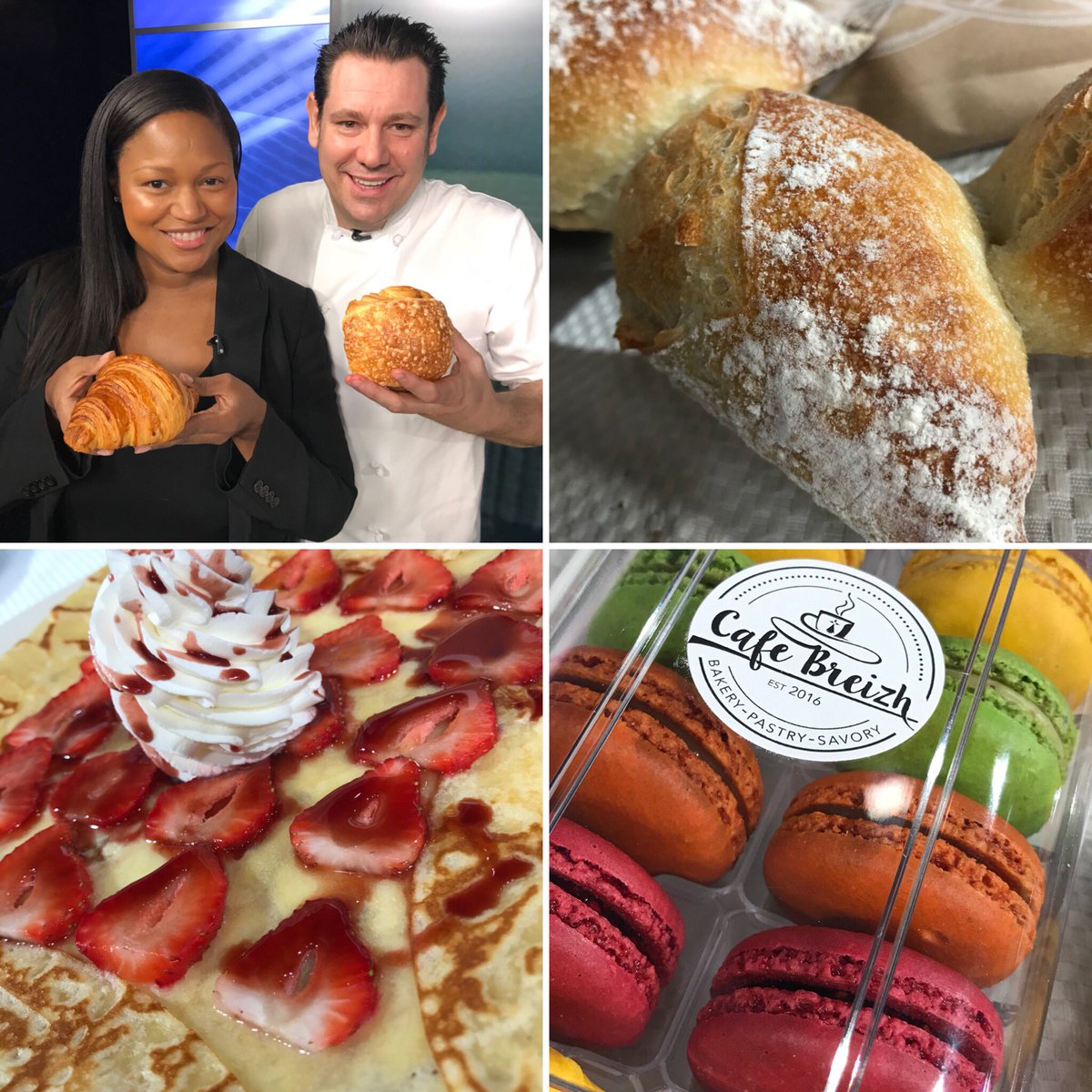 Our best French pastries, period. With coffee, crepes, and a few, house-baked breads to match. Lots of people extol the virtues of other pastry shops, but this is the real, artisanal deal. We'd walk five miles for a bite of that crepe (pictured above), and have! Merci beaucoup, Pierre Gatel!
(About as intimate as Wal-Mart)
Big box Japanese restaurants are sooo 2oo7, but if you insist, this is the one to go to.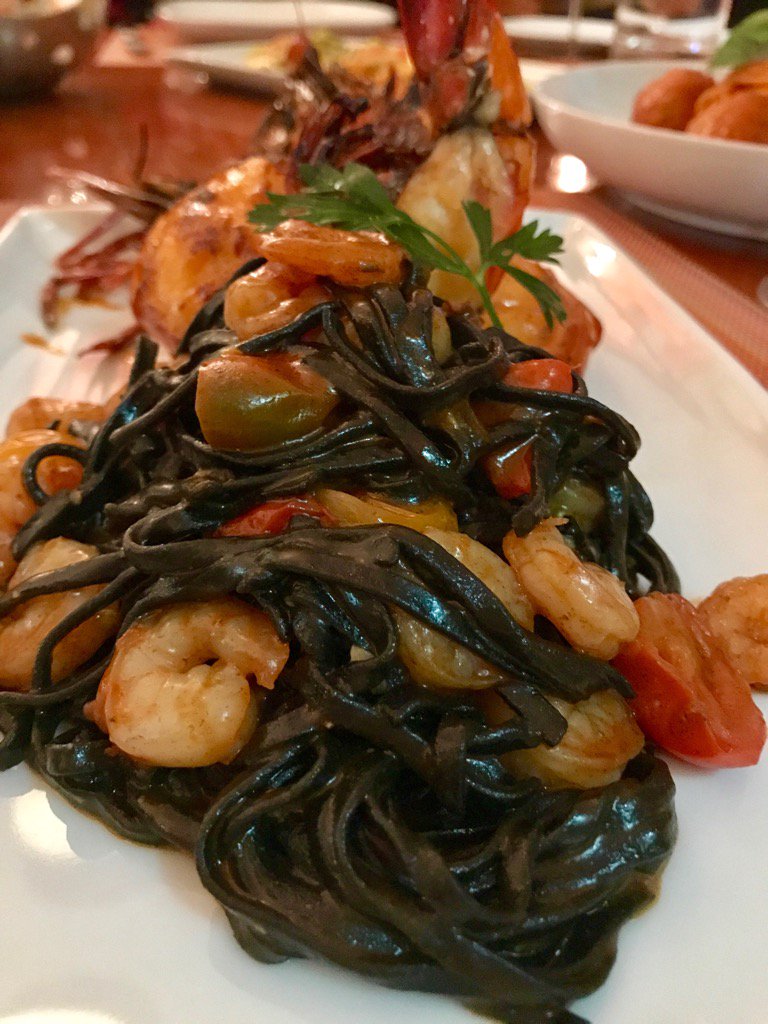 Prosecco Fresh Italian Kitchen
Good restaurants in the southwest part of town are harder to find than a sous chef without tattoos. Daniele Dotto's menu is full of pleasant surprises, not the least of which are his seafood offerings – like the shrimp and squid ink pasta seen above — as tasty as you'll find five miles west of Las Vegas Boulevard, at much gentler prices.
(
Slurpable on Spring Mountain Road
)
Another noodle joint? Yep, and just the ticket for lovers of those thick chewy Japanese udon noodles (and killer chicken karrage) that taste just like they do in Shibuya.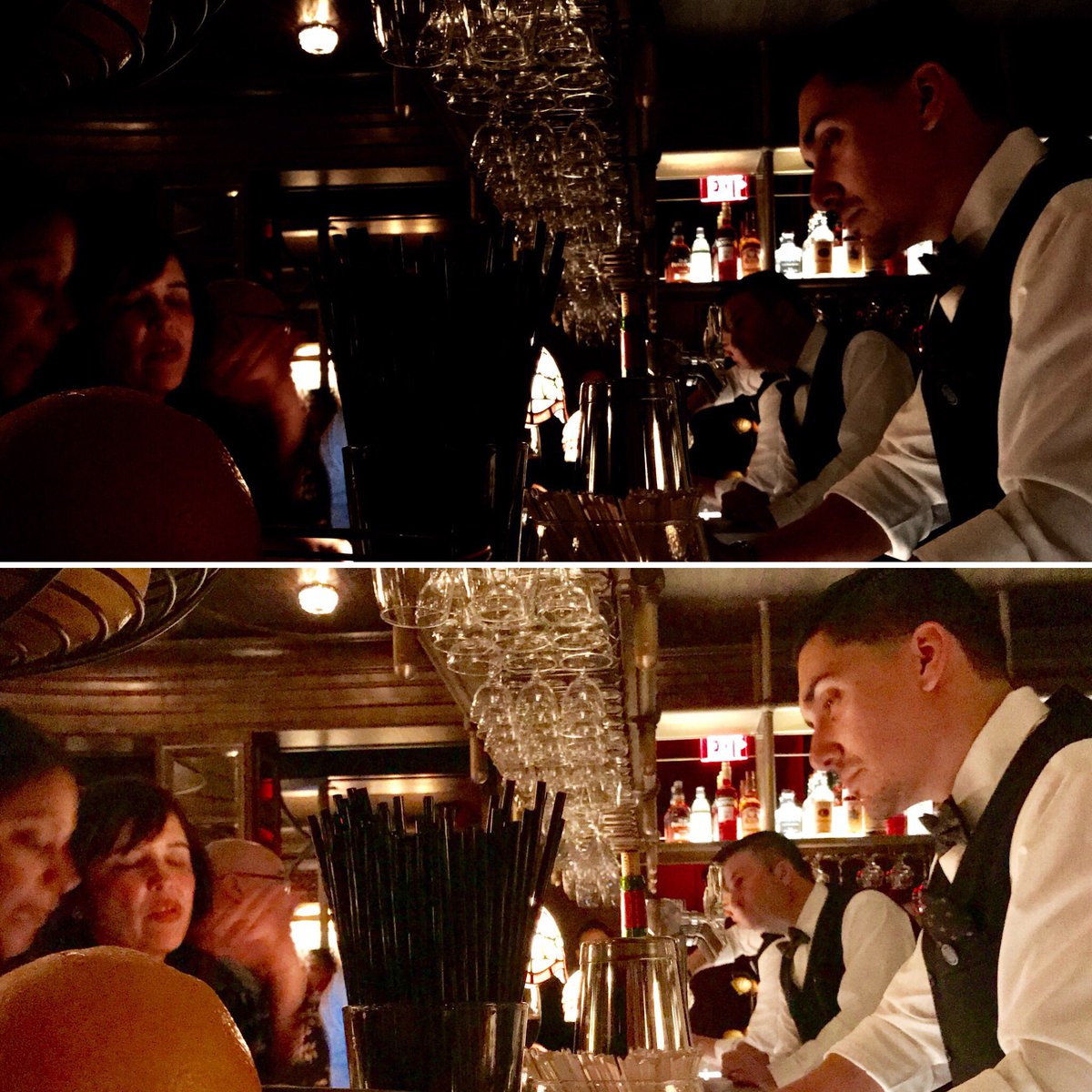 (
At Bavette's, photoshop is the only way to see anything
)
Darker than Kevin Spacey's sex life, and not for the faint of wallet or dim of eyesight. But if you can find your food (on the menu or on the plate) you'll enjoy some magnificent meat at some magnificent prices. The $73 dry-aged strip announces itself as a major player in our rootin' tootin' high steaks rodeo.
(Here, at least, you can see your food)
More modern, more inventive, and better lit than Bavette's…and in the Hard Rock Hotel. Well, three out of four ain't bad. The steaks are top shelf, but it's the burger, the appetizers, and the veal chop that will get your attention.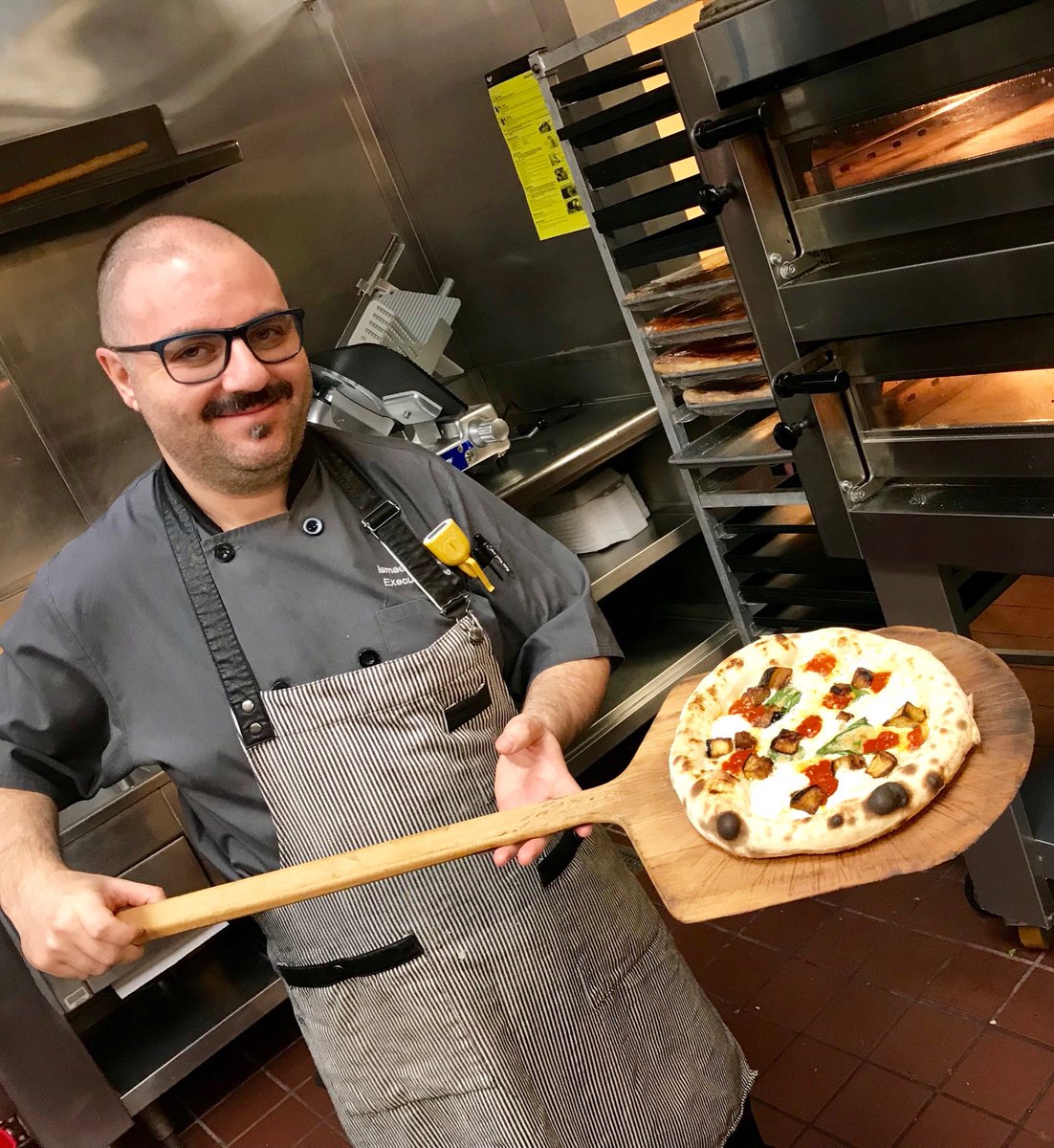 Pulchritudinous pies, excellent pastas, and a reasonable wine list (that can be purchased retail) have suddenly made Jerry's Nugget (in North Las Vegas!), a must go for intrepid seekers of great pizzas and Strip-worthy Italian food.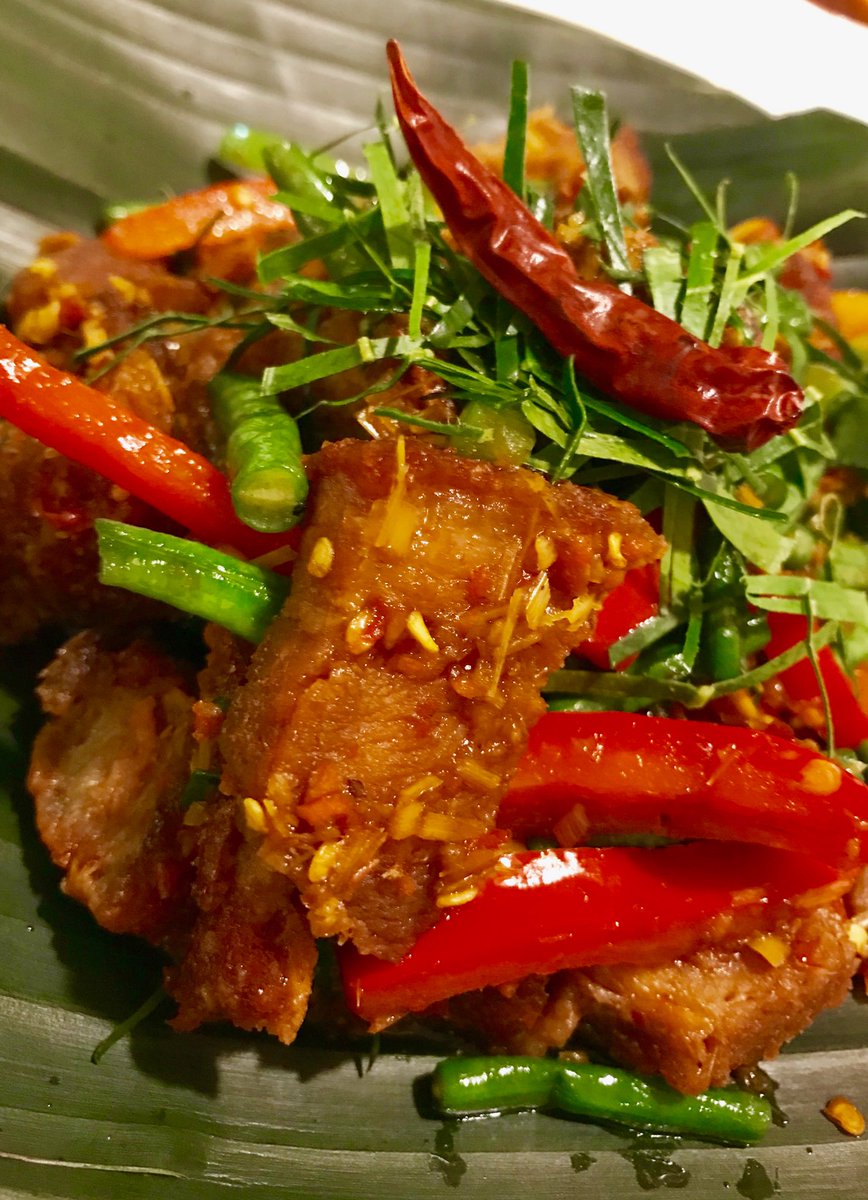 (
Fiery food that 's fit to be Thai'd
)
Chuchote Thai Bistro & Desserts
Korean isn't the only Asian country to see a marked improvement in its Vegas restaurants. No longer is Thai food consigned to the sloppy, sweet-sour appeasement of American palates. Southern Thai specialties are what to get here, and the brothers and sister who run the place will joyfully guide you through their artistic interpretations of classic Siamese dishes.
(
Rib-stickin' ribs at Blue Ribbon
)
Another vastly improved re-boot — substantially different and so much better than its forerunner. The Bromberg Brothers got back to basics, and in doing so, brought the best of their Big Apple icon to our humble burg. There is no better American food anywhere in Las Vegas. This new BR reminds us of the old BR in lower Manhattan — the one that put the BB boys on the map.
One word: galaktoboureko (pictured below). The world's greatest dessert. (TRUE!) Every lunch and dinner. Made on premises, just like everything here — unlike many a Greek joint that couldn't exist without cheap, nasty Sysco gyro meat.  This is Greek food like it tastes in Greece. Very little pita bread, a mountain of mezze (dips and such) and seafood done right. (The owners are Estiatorio Milos veterans.) One of the many reasons we consider 2017 to be a watershed year for fabulous new food in the 'burbs.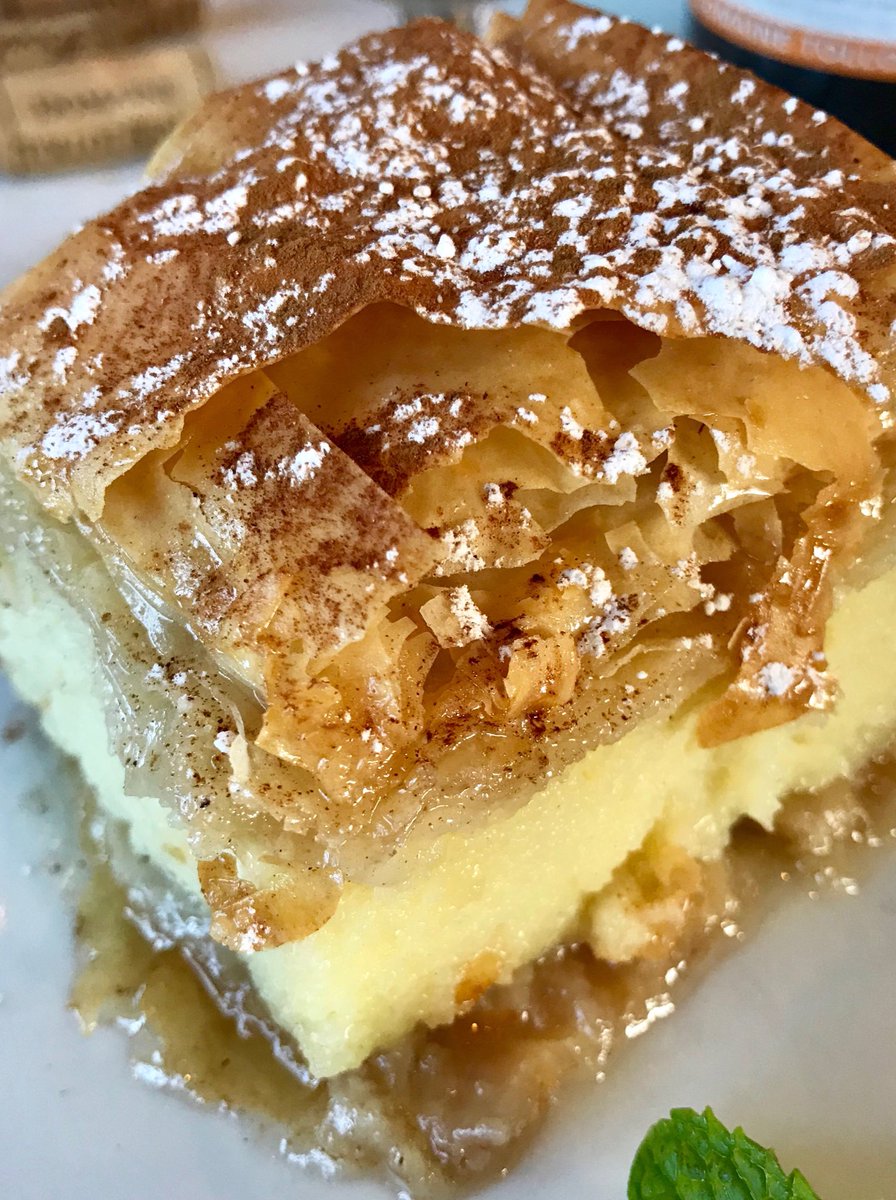 Dishonorable Mention: Momofuku. David Chang's one-note cooking swept Millennials off their feet a decade ago. Now he's drowning them in a tsunami of umami. Like all "celebrity chefs," (save the French), expect him in Vegas about as often as you see me at Applebee's. If/when he shows up, he will no doubt opine on everything from Anthony Bourdain's love life to the state of soba noodles on Spring Mountain Road — all to the rapt attention of his adoring followers — the same people who love overpaying for the privilege of eating food done much better two miles away.
There are too many restaurants.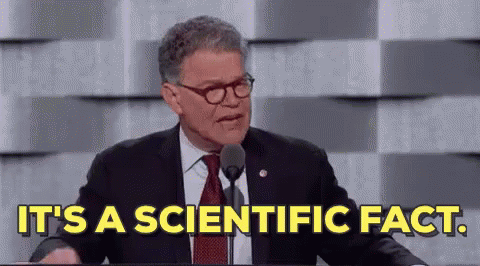 Thanks to your endless greed, unbridled avarice, and insatiable appetite for growth, you've allowed fast food and fast-casual food and shitty sandwiches, and pathetic pizza and faux kountry kitchens to dominate our our lives until you can barely see anything else when you drive around any town in the U.S. of A.
It wasn't always so. Indeed, when McDonald's first blossomed as a fast food phenomenon, it was something of a novelty. I remember my first McDonald's burger (somewhere around Tampa, FL, sometime in the early 60s) and it was quite a revelation, as well as being a damn good (if small) hamburger. Something about that slightly sweet bun and the pickles and the properly seasoned ground meat was very exciting to a 10 year old. The idea of drive-in burger joints was just taking hold in America, and the whole family, from mom and dad on down was excited.
Fast forward five years and drive-ins were becoming more common (Frisch's Big Boy, A&W, and Steak 'n Shake were particular favorites) and Mom used them every so often to relieve the stress of home-cooked meals. Like Roger Ebert, I remember the counter-men at Steak 'n Shake smashing the burgers down on the griddle and getting that crusty char on the exterior that no other fast-food burger could match. My mother was particularly fond of the open kitchen and how clean they were. I can still hear her saying, "I love that you can watch them prepare the food so you know everything is spic and span." She loved the cleanliness, I loved the burgers, and my dad loved the chili. "A chili 4 ways (with beans, meat, onions and cheese), and a cup of chili," he would always say, as my mother scowled her disapproval at his overeating. Me, I was content with a burger with two thin, dill pickles on it. Somehow, to a 12 year old, nothing tasted better than those dill pickle slices on that squishy, flattened, crispy burger.
When a McDonald's opened in Hillsboro Village near the Vanderbilt campus (in Nashville, TN) in the early 70s, it was still a big deal. I still remember a bunch of frat brothers piling into my Fiat 128 to load up on burgers and fries that were still considered very cool when they came to your town. Then and now, I still think McDonald's fries are world-class.
But even as far back as 40 years ago, the underpinnings of what made these places great was being undermined. And the culprit was simple greed — the quest for money — being sought after by, at first, the franchisees, and eventually by stock market investors demanding bigger and bigger returns on their capital. With the quest for expansion came the need for standardization, and when you seek to standardize anything as organic and intimate as food, quality suffers. Indeed, quality becomes the diametric opponent of quantity as the quest to create more and more becomes the enemy of making something well.
If you haven't seen the Michael Keaton movie "The Founder" — about the "founding" of McDonald's — you should. Anyone who's ever eaten at a franchised restaurant should see the phenomenon that started it all. Of course, there were regional, franchised fast-food operations before Mickey D's, but its footprint was too big to ignore, and the big money boys (i.e., the stock market) took notice. By the time McDonald's went public in 1965, everyone wanted in on the action.
The McDonald brothers may have been appalled, but Ray Kroc knew what he was doing. Reduce everything to the quickest, fastest, lowest common denominator that people will pay for, implement economies of scale, employ sorcerer/scientists to trick our brains into liking the taste of chemicals, and the world will beat a path to your door.
My favorite scene in the movie is when Kroc presents his powdered milk shake mix to the brothers McD. "But it's called a MILK shake for a reason!" one of them shrieks (unable to hide his disgust). Kroc is undaunted by his partners' reticence. All he's thinking about is how much money they'll save by not having to stock so much perishable food — like milk, cream, ice cream — you know, the things that make milk shakes taste good.
And therein lies all you need to know about fast food.
This hyperbolic, exponential growth has been assisted by the fact that there are 120 million more people in America today than when I was growing up. All those mouths need feeding, and once you convince the hoi polloi that they can eat cheaper with your product (whether or not it is true), you've got them by the throat so to speak, and letting go would be tantamount to telling a venture capitalist he ought to enjoy taking the bus. And once you get the soy and sugar conglomerates on board with what you're doing, there's no end to the money that can be made.
Franchised food is a voracious beast that eats everything in its path. And it's not only with assembly line methods, standardization, and simple flavor manipulation that this industry destroys the quality of our lives. A simple knowledge of how real estate works demonstrates how this industry has ruined our neighborhoods by financing unholy alliances between the corporate conglomerates and real estate developers. Throw in developer-financed politicians (always ready to endorse another big-box project in the name of "growth') and you have a recipe for suburban blight (see picture at top of page).
This suburban wasteland of fast food is everywhere now. I go back to the Atlanta area frequently to visit family, and if anything, it's worse there than it is in Las Vegas. Every interstate interchange has dozens of franchises on it. Suburban roads go on for miles with an endless chain of TGIFridays, Buca di Beppos, Taco Bells and Olive Gardens on them. These top 500 chains just scratch the surface. So ubiquitous has chain restaurant eating become that in some towns, a real restaurant is harder to find than a Mormon bishop at a Balvenie tasting.
It's gotten so bad that one local restaurateur was telling me about a business model that is built around finding second and third-tier failed franchise spaces with either fourth-tier franchises (usually a Sizzler), or the dreaded Asian buffets – AYCE Asian food being the last stop on the shitty restaurant train. "The Asian buffets have staying power," he told me, and landlords prefer them to anything local; "They pay in cash and they pay on time; (small, local restaurants are) just too risky."
For local proof, look no further than the blight of Eastern Ave. in southeast Las Vegas/Henderson. For five miles, you have giant commercial subdivisions/strip malls on both sides of the street, each crammed with more retail space (and restaurants) than is healthy or necessary for any quality of life. Each center boasts big box stores (Home Depot, Payless, Walmart, etc.)  which sit like a great white whale around which various pilot fish (CVS, Starbucks, Five Guys, etc.) swim.
There is no individuality to these stores; there is no sense of community. They exist solely to take your money as fast as possible at the lowest overhead they can get away with. If Fuddrucker's are remoras, then locally-owned eateries are truly the bottom feeders, scurrying about, opening and closing while trying to scrounge a living off other's leftovers.
Don't believe us? Spend five minutes driving around the Sansone Park Place Plaza at 9500 South Eastern Ave. It stretches for at least a quarter mile, in which are over twenty place to eat. There are chain restaurants aplenty, and more nail salons, postal services, and dentist's offices than you need for five miles. No need to go very far for anything, though, because right across the street is a similar center — with its own set of burger joints and dry cleaners — for those who only want to make right turns when they drive.
What you see above is but a corner of the place. Leaving aside the abject ugliness of these malls for a moment, one must also consider the toxic environment they create for good eating. How is a place like Boteco to compete with everything from a Zupas to Einstein Bagels to Red Mangos? What chance does a local pizzeria have against the onslaught of Grimaldi's and Dominoes? When faced with competition from BJ's and Twin Peaks (for those who like  their bjs with a side of twin peaks), what chance does a local brewpub have?  (In case you didn't know, there is both a Twin Peaks and a BJ's in this mall, and they're right next door to each other! And they're both busy. All. The. Time.)
The answer is obvious. You would have to be a fool to try to bring good food to a population weaned on cheap, easy proteins and chemically-engineered calories. Only an idiot would try to raise the bar while fighting with landlords who don't want them and a public that prefers the advertised to the authentic.
As much as I love them, local restaurateurs are but an unsightly wart on the smooth economic skin of Las Vegas.  Substance is in short supply in our humble burg, and our eating out landscape is but a facade that favors the familiar and the false over the fresh and the flavorful.  For every one of them, there are dozens of Buffalo Wild Wings and Farmer Boys ready to take their place. And 80% of the eating out population wouldn't have it any other way.
Back in the day I was right there with them. For my first real date with a real live girl (Syndie Ridge….schwing!…if you're still out there…), we went to Arby's. They carved the meat right off a haunch of medium rare roast beef and put in on a fresh bun and the sauce tasted like real horseradish and I thought I was in hog heaven. The meat on an Arby's sandwich these days looks and tastes like a piece of wet cardboard. They haven't used real roast beef in over 30 years, and yet they're still in business.
We have made a deal with the devil when it comes to what we eat in America.
There are too many restaurants all right, and they're all the wrong kind.