ELV note: My article on the current state of Las Vegas's on-the-Strip dining scene debuts today on über-food writer John Mariani's Web site. To read the article in its Mariani-approved form, click here, otherwise, continue below for the Director's Cut.
Yee ha! Vegas is back, baby, with a vengeance, and the doldrums of 2009-2014 are now as forgotten as last night's losing streak at the craps table. You can see it in the faces of waiters; you can feel it in the upbeat attitudes of the staffs in hotels all around town. Dining rooms are full, check averages are up, and bargains are getting tougher to find than a loose slot machine. Las Vegas Restaurant Revolution 3.0 (the first two versions rolled out in 1998 and 2005) may be a bit more modest in scope, but it's just as tasty, with big-hitter chefs expanding their repertoires without diluting their brands. Here are the big three, all opened within the past 9 months, that everyone's talking about.
BARDOT BRASSERIE
French bistros and brasseries may be as hip as a dickey, but in the hands of Michael Mina (and his Chef de Cuisine Joshua Smith, pictured above), the classic and time-worn suddenly seems as fresh and effervescent as the rosé champagne you will be offered here to begin your meal. Bardot Brasserie is resolutely a copy of Parisian brasserie, with lots of traditional-yet-modernized bistro recipes thrown in for good measure. No matter what you call it, Mina and Smith are cooking inspired French food that has had this place packed from day one.
All bistro cooking is based on classics like omelet aux fine herbs, steak frites and croque Monsieur (or Madame). Here, each of these (along with a superb soup a l'oignon grantinee and steak tartare) are done with top shelf ingredients and with an attention to detail you usually don't find with this type of cooking. That croque Madame starts with good, fresh brioche toast, upon which lightly cured, not-to-thinly-sliced French ham is placed, along with some Gruyere that melts into that soft, eggy bread. That bread retains its squishiness on the interior while becoming caramelized and crisp on the outside — the whole then being bathed in a proper Mornay sauce that emits the subtle creamy/silky tang of a cheesy béchamel. Screw up any one of these ingredients and you have a lousy ham and cheese sandwich. Pay close attention to each and you have a thing of beauty:
Smith's skills don't stop at sandwich making, His frisée aux lardons salade is nothing short of textbook perfect, and entrees – from skate wing to roast chicken – remind you, with every bite, why this food became so popular.
Some of the more modern dishes – foie gras parfait, duck wings Maltaise, escargot Bardot (encased in puff pastry with Chartreuse butter) – are as much a "must-try" as classics like Parisian gnocchi and moules marinieres. However, the real show-stopper on the menu is Mina's Maine lobster Thermidor, bathed in a brandy cream and topped with an ethereally rich Bearnaise sauce. It is a dish that is at once a throwback and emblematic of Vegas's regained, Bacchanalian swagger:
The dining room also hits all the right notes — it carrying through the glass, wood and polished metal theme as if it was lifted straight from the Left Bank, but Mina and his troops have dispensed with the brusqueness, added the obligatory hand-made cocktails (at $12, a bargain), and feature a special list of four rosé wines by the glass that go perfectly with this food. The "everlasting" glass of Chateau D'Esclans for $20 (weekend brunch only) is also a treat, and sort of makes up for the typical, gouge-the-turistas prices on the main list.
More than a few friends-in-food have asked me how BB compares with db Brasserie — the other relatively new French restaurant in Vegas with a similar concept. Summoning our most diplomatic demeanor (something at odds with our personality, generally), all we can say is Daniel Boulud's brasserie feels like a corporate calculation, made to feature the "best hits" of his other restaurants. As such, it's always lacked a theme and suffers for it. (He should've had the guts to go full-offal, à la Bar Boulud in NYC, and feature his panoply of sausages and cured meats, but the bean counters said otherwise.) Mina (and Smith) made the commitment to go balls-to-the-wall bistro here, and make these cuisine classique recipes sing with their own special tweaks and twists, and because of it, the passion behind these plates is palpable.
BARDOT BRASSERIE
In the Aria Hotel and Casino
3730 Las Vegas Blvd. South
Las Vegas, NV 89158
702.590.8611
http://aria.com/dining/restaurants/bardot-brasserie
BAZAAR MEAT BY JOSÉ ANDRÉS
Calling Bazaar Meat a good steakhouse is like calling Liz Taylor just another pretty face. What it is is a meat emporium pure and simple, featuring the purest of meats served in the simplest of ways — a carnivore's heaven, if you will — stocked with the best meat on the hoof money can buy. Las Vegas may not be the steakhouse capitol of the world, but it runs a close second to the Big Apple, and with José Andrés' entry into the fray (with his 3rd Las Vegas restaurant) things have gotten a lot beefier, with an equal amount of pulchritudinous pig thrown in to get your heart beating faster.
Everyone begins with the Spanish ham – the creamy, gamey and dense Jamon Iberico de Bellota – that is truly the ham all hams want to be. There is something about its nuttiness, silkiness, and density that no other cured pork leg on earth can duplicate. Even the finest prosciutto can't hold a candle to these acorn-infused wonders, and the everlasting mouthfeel will stay with you longer than alimony payments.
That ham is probably the easiest decision you're going to make once you tackle the two-sided plastic board that houses the daunting menu. One side comprises the appetizers, small bites, carpaccios and other beginnings, while the other is all about the big ticket items, but it's no understatement to say you could comprise an entire feast from the giant pork skin chicharron, croquetas de pollo (chicken-bechamel fritters that come stuffed in a little shoe), tiny Reuben sandwiches encased in micro-thin, crispy "air bread," and the a couple of tartares: the table-side tossed classic, and the "Beefsteak" tomato, that is a triumph of trompe l'oeil ingenuity. In fact, the tomato tartare might be the most jaw-dropping thing on the menu — it resembling raw chopped meat, but surprising the palate with a burst sweet and acidic tomato ripeness — the perfect expression of summer eating.
Pescatarians won't complain either, since the raw bar here puts out the sweetest clams this side of Nantucket – these bathed in leche de tigre (tiger milk) – as well as top shelf oysters, either raw, grilled or smoked.
Now for the show stoppers.
As good as the oak-grilled, bone-in, rib eye steaks are (and the priced-by-the-pound Washugyu Ranch wagyu/Angus and the Harris Ranch Angus are all you could want in a piece of beef), it is the suckling pig that elicits the most ohhs and ahhs as it is paraded through the dining room:
A whole one (around ten pounds) will set you back $520, but is more than enough for a table of 6-8. The good news is $125 will bring a quarter of one of these beauts to your two-top, and will have both of you swooning over the meat-candy quality of the crispy-sweet skin, and the melt-in-your-mouth quality of the flesh.
Andres' chateaubriand is old school meat eating at its best, as he reinvigorates this warhorse by pairing it with a classic Perigord sauce that would pass muster in any high-falutin' frog pond. No self-respecting steakhouse is without its Japanese wagyu/Kobe options these days, and the Hyogo Prefecture Eye of the Rib is requisitely fatty and rich…which you will have to be one to afford it ($100 for four ounces).
If that isn't enough to get your cardiologist worried, there's always braised lamb neck with fried oysters and oyster "catsup," and a Tortilla Sacromonte egg omelet with kidneys, sweetbreads, and marrow, that may be the last word in offal edibles.
After all that cholesterol, desserts may seem like overkill, but you really shouldn't miss the sinful things this kitchen does with foie gras – putting it between two house-made graham crackers in "Jose's s'mores," or serving a soupçon of sweet and savory foie gras soup with corn espuma (foam), or a yet another espuma of succulent duck organ, paired with peanut butter and honey in something called "Foieffle" – none of which is listed as a dessert, but all of which should be.
If you still have a hankering for something sweet after all that, then you're a better man than I am, Gunga Din.
Starter courses and small bites are priced from $8-$32. Steaks run from $38 to $80/lb. for the Wagyu/Angus cuts, with sides and vegetables all in the $10-$15 range.
BAZAAR MEAT BY JOSÉ ANDRÉS
In the SLS Hotel and Casino
2535 Las Vegas Blvd. South
Las Vegas, NV 89109
855-761-7757
http://sbe.com/restaurants/locations/bazaar-meat-las-vegas/
LAGO BY JULIAN SERRANO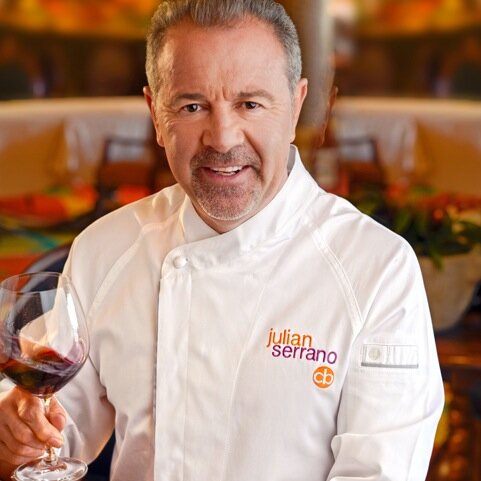 Julian Serrano may not be a Las Vegas native, but after seventeen years here, we pretty much claim him as our own, since he is, by far, our best and most successful local chef. His Picasso continues to dazzle as much as it did on opening night in 1998, and his namesake restaurant – Julian Serrano in the Aria Hotel – brings forth the flavors of his homeland, and shows his range as a chef and restaurateur. It certainly qualifies as one of the best Spanish restaurants in America, and can go toe to toe with Jaleo down the street for the best traditional or modern tapas in town. Serrano – unlike many lesser chefs and most famous ones – is a constant presence in both restaurants, and he toggles between them every night they're open, checking on the kitchen and guests without breaking a sweat.
With the opening of Lago by Julian Serrano, the crafty Spaniard has decided to leave Spanish and high-toned French-Mediterranean cooking behind to bring forth Italian tapas. Not the cicchetti of Venice or the antipasti of a typical Italian meal, but rather, a best hits menu of new and old Italian, done family-style, in a modernist, cutting-edge setting, that tries simultaneously to please the purists and appeal to the party-as-a-verb crowd.
Whether you like the room or not will pretty much depend on your age. The décor is as far away from Circo (in whose spot it sits at the Bellagio) as the Jersey Shore is from the Amalfi Coast. "Cutting edge" is the kindest way to describe the overbright, overwhite, aggressively casual-chic décor, although "cruise ship moderne" and "all-night drug store waiting room" may impolitely creep into your assessment if you're not feeling charitable.
If all that illuminated whiteness interferes with the enjoyment of your meal, take solace (?) in knowing that restaurants these days are not built with an eye towards maximizing enjoyment of food. The rather quaint notion — that upscale eateries are there to sooth your fevered brow and quell your appetite — is so 2005. In the dystopian restaurant universe of 2015, it's far better to catch the eye than provoke the thought. Gastronomic bliss takes a back seat to building a buzz these days, and Vegas's best restaurants, with a few exceptions, are as much about feeding (and feeding off of) the nightclubs as they are about what they are actually feeding you. Thus does Lago perfectly fit the zeitgeist of our current age — built to grab your attention, cause a stir, and capture those clubbers, coming and going as it were.
This is not to say that one cannot dine well here. Rather, only that the food, good as it is, plays second billing to the scene. Whether you're tying one on or not, the small pizzettes are a good way to start. Unlike the focaccine (small focaccia) their crusts are thin and crackly – designed to highlight the cheeses – smoked provolone, house-made mozz, bufala ricotta – not overwhelm them with bread. Just as satisfying are the toasted crostini, of which the 'nudja (a fine, almost pureed spread of spicy pork sausage and gorgonzola) and the chicken liver with capers and pepperoncino will get your salivary juices properly flowing. The kitchen also has a fine way with vegetables:
….whether your tastes run to garlic and rosemary roasted potatoes, or a sweet and sour caponata of eggplant and onions.
Everyone seems to get good fish in Vegas these days (thank you Fed Ex), and Serrano's pesce – be it in crudo (raw) form or a baked whole orata (sea bream) – is as good as you'll find this far from an ocean. There's no faulting them, or most of the pastas (although the veggie "ragu" with the pappardelle really doesn't bring much to the party), but the true standouts are the risottos: alla trippa e funghi (tripe and 'shrooms) or with red wine and burrata. Both are done al dente and somewhat firm (as opposed to soupy), and both are so vivid with their primary flavors you will forget, for a moment, that you're in an American restaurant, run by a Spanish chef, that looks like Caribbean cruise ship:
If you peer into the open kitchen, you'll see the reason why these risottos, and most of the pastas, sing as they do: Serrano had the good sense to employ Nico Chessa as his chef de cuisine. Chessa is a veteran of Piero Selvaggio's Valentino group, and he delivers solid renditions of osso buco, veal piccata and grilled lamb chops scottadito, as well as a potato gnocchi with lobster knuckles that will have you fighting for the last bite. About the only dish with which I could fault was the vitello tonnato (chilled, thin slices veal with tuna caper dressing), only because there was not enough sauce. Of course, there is never enough sauce for me. I can never get enough of a great sauce, unlike the décor here, of which you will quickly get too much.
Small plates of pizzas, soups, salads, fish, meat and pastas are priced between $10-$20; Main courses run from $28-$60.
LAGO BY JULIAN SERRANO
In the Bellagio Hotel and Casino
3600 Las Vegas Blvd. South
Las Vegas, NV 89109
866.259.7111