(Oscar Goodman – consigliere, capo dei tutti capi)
So me an da paesans wuz gettin' pretty messed up da udder nite. Ya know whad I'm talkin' about?
Let's just say we wuz so umbriag our capicolas felt more like muzzarell.
Der wuz tree of us, and boy were we were sesenta fame and needed sum beef and we needed it pronto.
One of my jamokes, Vinnie Boombahts sez: "Hey, Jabrone! Why donts we head to Oscar's Beef, Booze and Broads?"
I sez, "Fuggedabadit….that's not a good idear."
He sez, "Ahright ahready….then where do youse wants to go?"
I sez, "I ain't never had no buona fortuna there…and I'm sorta kinda persona non grata, gabish?"
Now, this goombah of mine, he's a gavone, a real chooch, always with the agita, so I told him to go "ah ffangul," and he "iamo," and I said, "haicapid?" and he called me a mamaluke, and I called him a scorchamend, and somehow we ended up at Oscar's.
And you know what? We had a whale of a time.
We started at the bar at happy hour, and were pleasantly surprised (blown away really) by how great everything was. It was just the three, chopped prime rib sliders that grabbed our attention, but also a remarkably fresh, and a no-filler-allowed crab cake: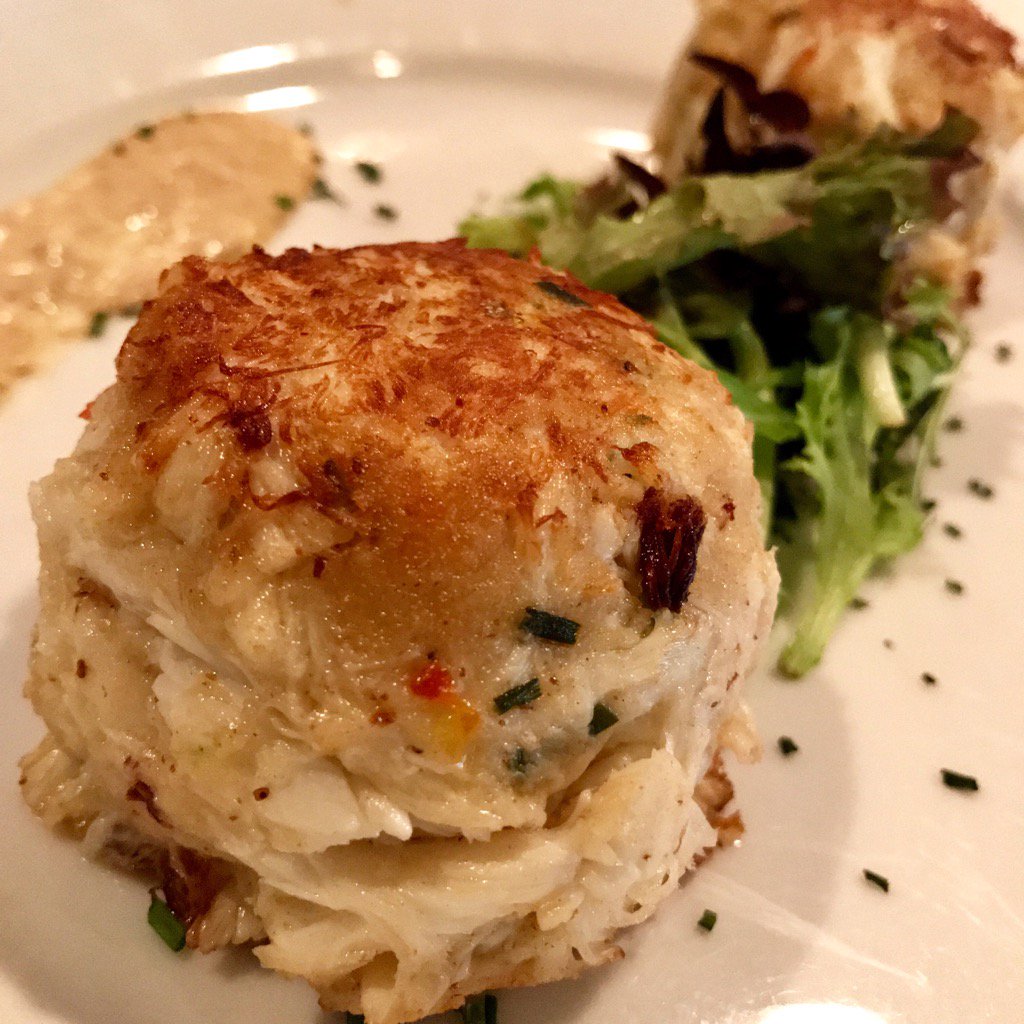 …that was the definition of this steakhouse mainstay.
Almost as good (if a tad tough) were the Mob (chicken) Meatballs: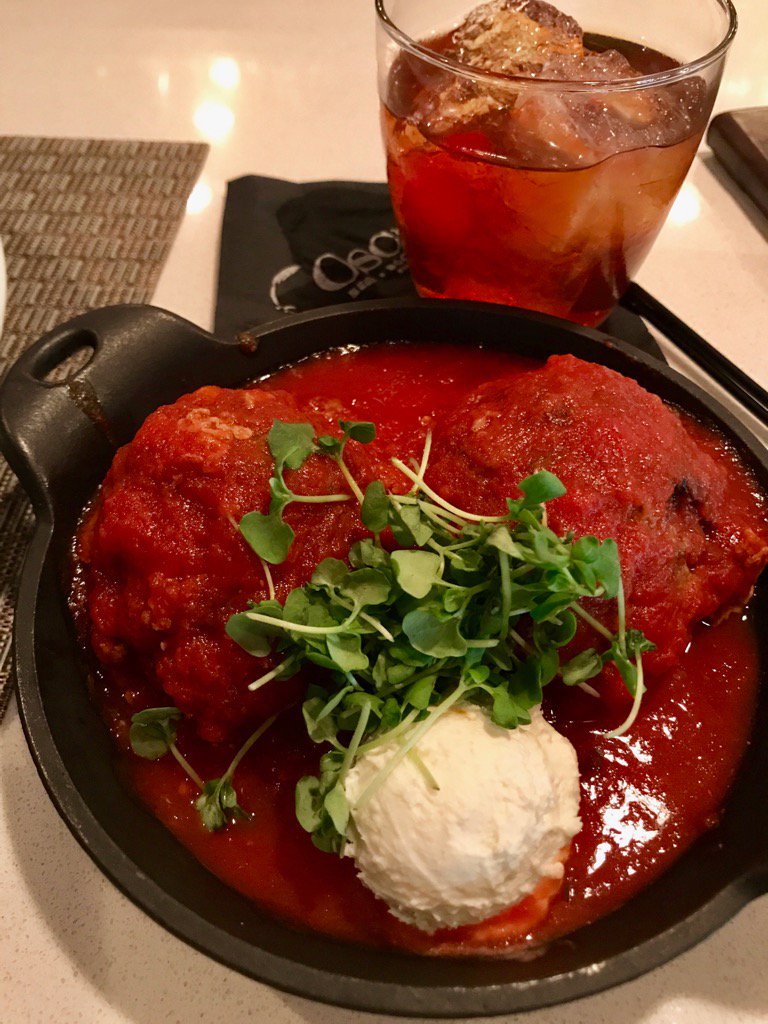 (Happy hour of champions: meatballs, marinara, and a Manhattan)
…and a series of side dishes — creamed, but not-too creamy spinach, fresh roasted corn brûlée, asparagus cooked right — all served with classic cocktails containing just the right amount of kick-your-ass.
The main courses in the dining room measured up far better than I remembered from four years ago, when I wrote a none-too-flattering review of the place. Back then, the dishes seemed as flaccid as Fredo Corleone. Now, the filet was as perfect as a filet mignon can get — and seasoned just right by the kitchen: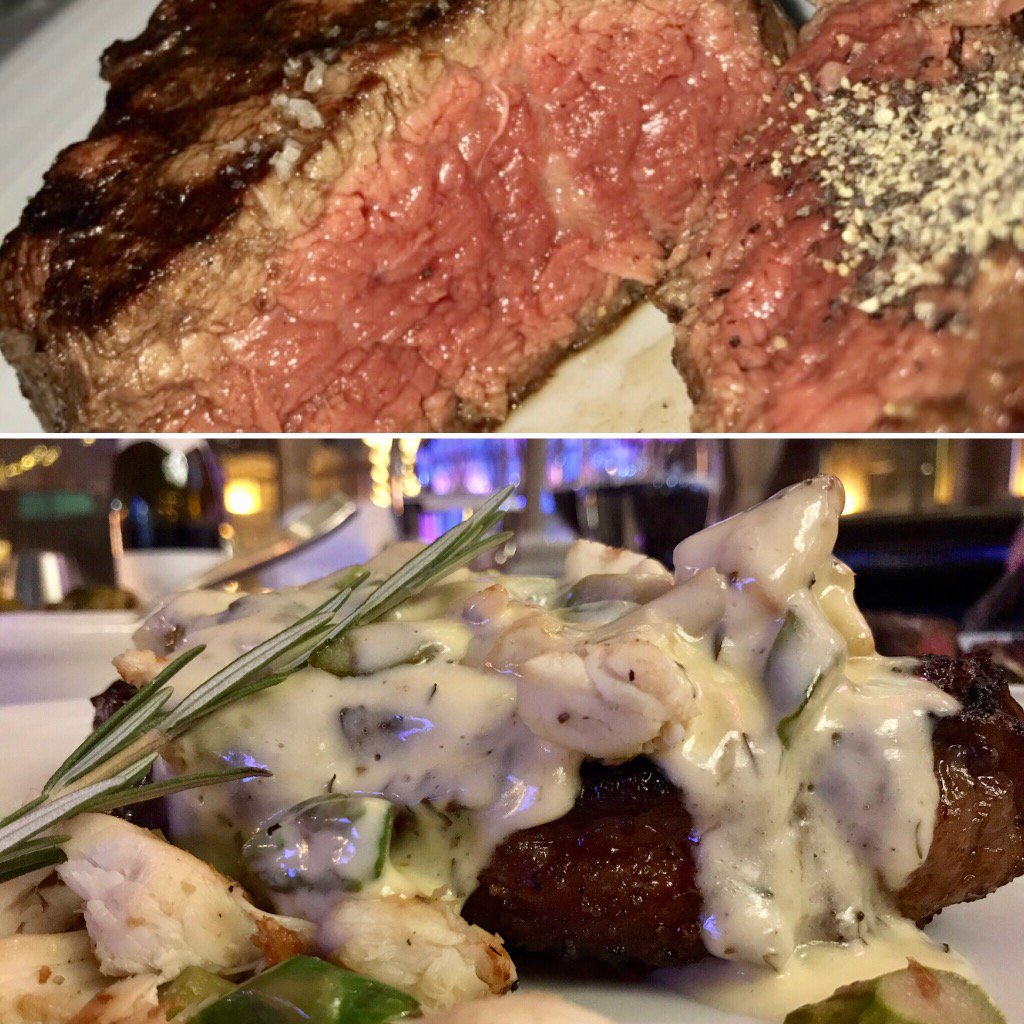 …..and the strip sirloin smothered in crab, asparagus and Bearnaise was the kind of throwback indulgence that made you long for the 70s. A couple of the sides (Brussels sprouts, mushrooms) were by-the-numbers, but the "extraordinary" mac & cheese was cheesier than a Wayne Newton love song.
I'm not sure when Oscar's got its act together, but obviously, sometime in the past few years it has. Executive chef Jeffery Martell oversees a big menu (too big, really), but he's pulling it off and people have obviously responded. (The joint was jumping even on a Tuesday night.)
So, whether you're with intelligent, discriminating friends, or the stunads and scustumads that yours truly drinks with, whether you're mortadafam or just want a quick bite, Oscar's has you covered. It may not be ready to muscle into Strip steakhouse territory, but the throwback food and booze is tutto bene! Gabish?

OSCAR'S BEEF, BOOZE & BROADS
Plaza Hotel and Casino
1 Main Street
Las Vegas, NV 89101
702. 386.7227