It takes a lot to impress me these days. And most of what is going on inside our big hotels isn't doing it. While individual stars stand out (Bazaar Meat at SLS, Carbone and Bardot Brasserie at Aria, Mr. Chow at Caesars), most hotels have settled down to tried and true lineups (e.g. Bellagio, Wynncore, Venetian/Palazzo), or given up entirely (the Mirage springs to mind).
But, as I've noted, Mandalay Bay is bucking this trend, upgrading some old warhorses (Charlie Palmer STEAK, Aureole, RM Seafood) and bringing something new to the table.
And the newest thing these days is Libertine Social — a place that somehow manages to capture the small plates/craft cocktail zeitgeist of the past half-decade without feeling soulless or derivative. It is a big casino concept  restaurant to be sure, but it's one that feels like a hangout — with personality to spare and intimacy beyond what you'd expect in a huge "concept" eatery.
The concept at hand was dreamed up by Shawn McClain (he of Sage and Chicago fame), and über-mixmeister Tony Abou-Ganim. McClain designed the food, TAG the booze, and between them they've hit a number of nails of the head.
Small plates being sooo 2010, this joint could've ended up featuring one cliché after the other, but here, McClain and Executive Chef Richard Camarota manage to make them sing…without lapsing into the same old same old, shared meal doldrums. There's plenty to pass around here, to be sure, but be assured, boredom is not on the menu.
Olives get wrapped in sausage:
….churros get a savory, parmesan spin, and gazpacho is served as strawberry shots with crab meat:
It's a typical, all-over-the-map, Millennial-friendly menu, but it never feels like it was borrowed from a Kerry Simon restaurant. Nor does it skimp on modernist complexity, such as in these "modern fried eggs" — an ovoid of eternally eggy pleasures, none of them fried, but all of them fascinating: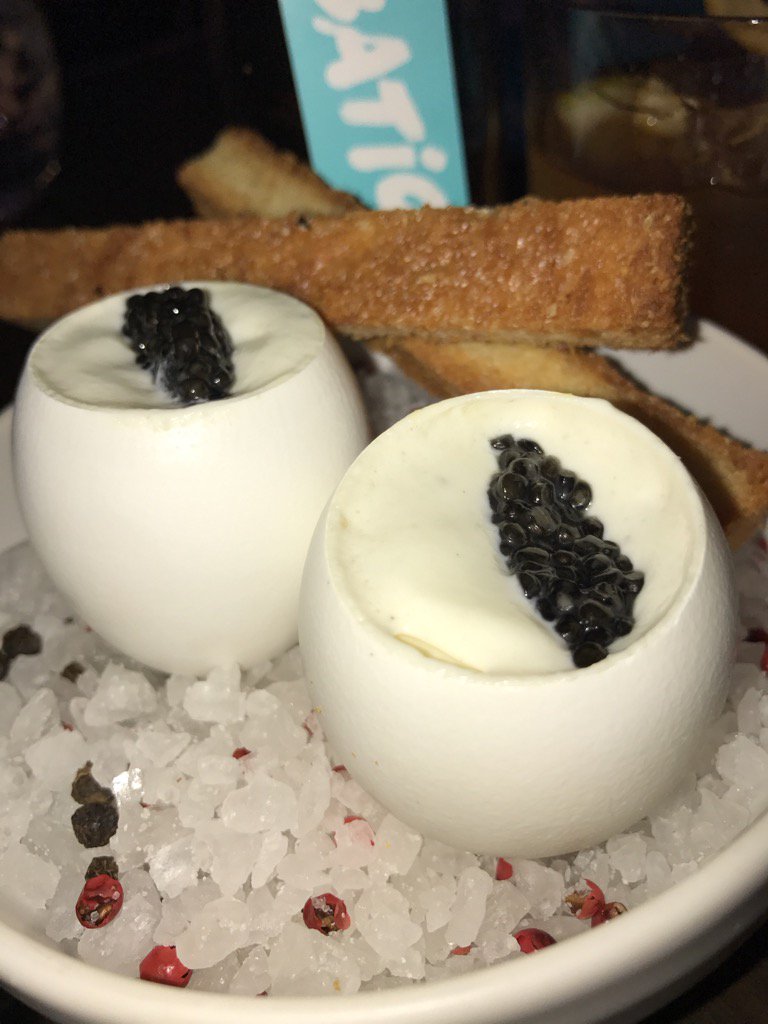 They might be my "Dish of the Year" if I ever got around to handing out any major awards for 2016 (which I probably won't), but either way, you won't find a more intriguing use of egg on egg on egg corn custard anywhere in America. Equally compelling are the flatbreads — one made with real guanciale and garlic oil, another displaying strips of real country ham set off by smoked blue cheese, pineapple and barbecue sauce. It may sound like an overwrought mess, but it all works:
That salty ham also helps whet the appetite for plenty of well-crafted cocktails (more on this in a minute).
Against all odds, I even found myself loving the sausage board (merguez, hot link and bratwurst) served with house-made hot pickles and a good, tangy sauerkraut, and the barbecued carrots — sitting atop a smooth kohlrabi puree. The double-cheeseburger is a dream (oozing with melted "Kraft-ed" cheese sauce, and the faked-named "American Kobe" flat-iron makes up for in beefy succulence what it lacks in honesty. (Memo to chefs, craven wholesalers and meretricious food execs: You're not fooling anyone with your "American Kobe" false advertising. On second thought, as with fake "truffle oil," maybe you are. Still, you should be ashamed of yourselves.)
Another thing the chefs should be ashamed of here in the agnolotti; it being as thick as the soles of my shoes and almost as tough. Face it: If you want pasta, go to an Italian restaurant.  If this agnolotti were the only yardstick, one would have to conclude that Shawn McClain (whose food, generally, j'adore) is to pasta what Mario Batali is to sushi.
All sins are atoned for, however, when the booze starts flowing. Abou-Ganim is one of maybe half a dozen Americans who can truly be called cocktail icons. Like his buddy Dale DeGroff, he was in on the ground floor of our mixology Renaissance, and putting him in charge of the bar(s) here was a wise move indeed.
Whether you want a lesson in properly mixed booze, or just to get sloshed, you will be in for a treat.
Drinks come in a dizzying array of variety and packaging. Old school (Hello Harvey Wallbanger!), flavored shots, barrel-aged, and even bottled. (Yes, they take their time to actually bottle TAG's creations like a Bardstown Sling (bourbon, crème de pêche, peach puree), Luce Del Sol (grapefruit vodka and aperol) and a few others.) There's fifteen well-chosen beers on tap (even a Trumer Pils from Austria*), and cocktails on draft as well. For our money, though, the things to get are the fizzes and the swizzlers. Like the name implies, the fizzes showcase four or five ingredients given just the right of spritz to make them slide down your gullet like a stripper on a pole.
Abou-Ganim loves giving some of them a slight bitter edge (he's a negroni fiend), but lovers of girlie drinks (of which yours truly is definitely a fan) will find plenty to love in the perfectly-balanced Bird of Paradise (gin, blackberry liqueur and lemon juice). The crowd pleasers are the Social Swizzlers — pitchers of easy to swill concotions mashed up at the table with a groovy wooden plunger (pictured above).
The wine list won't dazzle any snobs, but the bottles are interesting (Bonny Doon syrah, Raptor Ridge pinot gris), and priced to sell (most around $50), rather than to make you run for the K-Y jelly.
But like we always say: Never order wine in a cocktail bar, because when you're in one of the premier, large-scale mixology dominions in America, it would be a shame not to let Professor TAG further your libation education.
Yep, that's what we're always sayin'.
Of ELV's two meals here, one was comped and the other came to $142 for four with a $30 tip.
LIBERTINE SOCIAL
In the Mandalay Bay Hotel and Casino
3950 Las Vegas Blvd. South
Las Vegas, NV 89119
702.632.7800
https://www.mandalaybay.com/en/restaurants/libertine-social.html
* So sayeth the menu; one of our loyal readers says it's made in Berkeley.