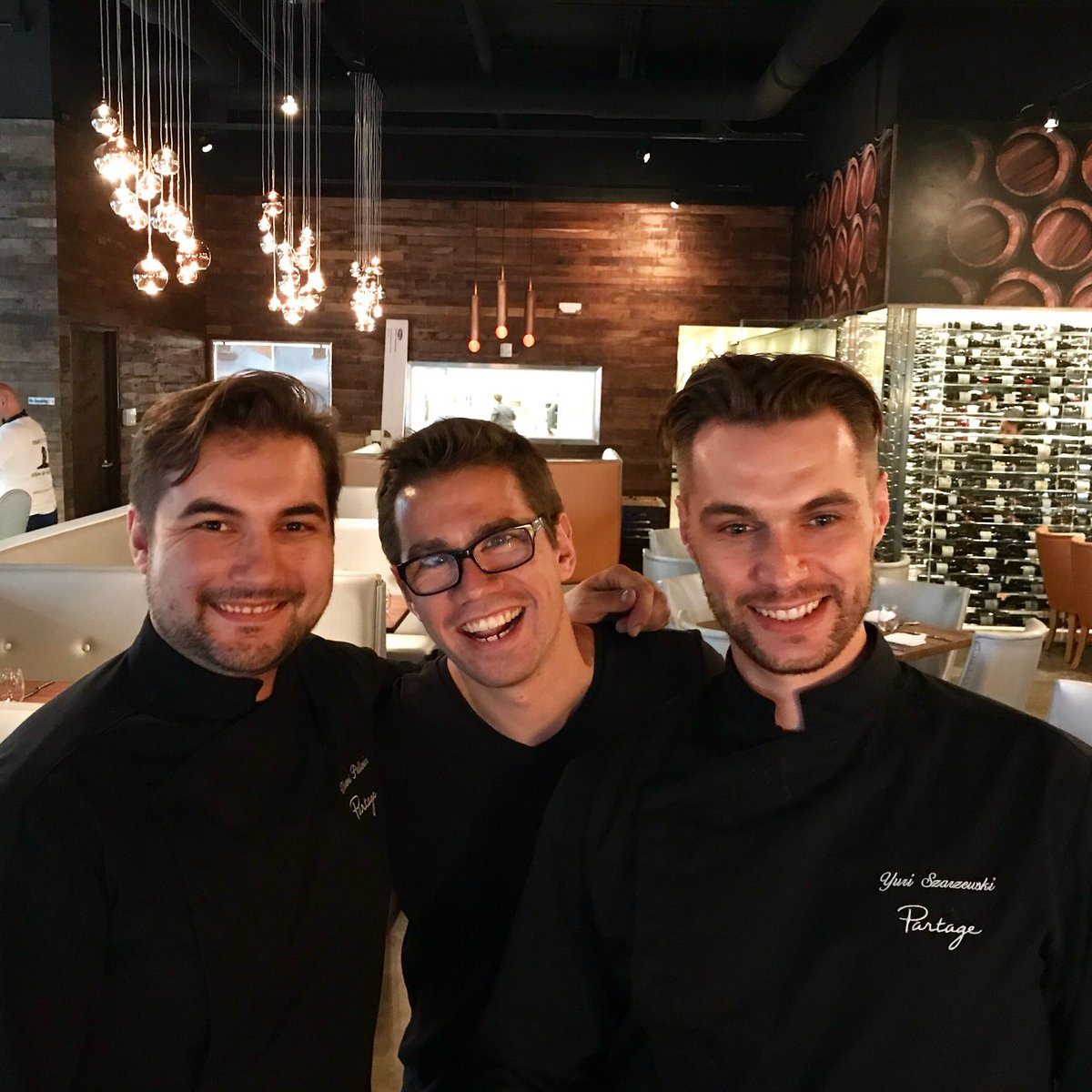 (The Three Musketeers)
A Francophile's dream come true. The chefs are French, the decor is French, the bartenders are French and the food is as French as Bastille Day. And the whole enchilada is in Chinatown. Go figure.
When Vincent Pellerin, Nicolas Kalpokdjian, and Yuri Szarzewski (above) came to the United States in 2015, they had a dream — they wanted to bring healthy French food to Las Vegas. Anyone with a brain would've told them the idea had as much chance for success as a Mormon nightclub, but arrive and succeed they did, first with their casual EATT Gourmet Bistro on West Sahara, and now with a more upscale (but still very laid back) place in a shopping center more at home with massage parlors and noodle shops than croque monsieurs and Pays Nantes.
Because it's in Chinatown (in the old Chada Street space) the curb appeal is practically nil….and so is the parking. (At busy times you may have to inch your way around the lot once or twice to find a space. If ever there was an off-Strip property begging you to take a LYFT to it, this is it.)
The signage is as simple as the storefront and gives not a clue as to the wonders behind the long glass facade. But as soon as you step through the doors, you can sense that magic is about to happen. Seating are plush but not too so. Cozy booths line one side of the room and a long L-shaped bar dominates the other. The lighting is dim (but not too dim) and flattering, and even at peak occupancy, you can still hear yourself think and talk.
Towards the back you'll see a large window behind which the chefs operate, and a glass wine room holding the all-French, all-nicely-priced selections. While the list isn't long, it's broken down by region (Alsace, Burgundy, Bordeaux, etc.) and the bottles are marked up 100% over retail, rather than 2-300% gouges you'll find a mile to the east. Another thing I love are the easy to read prices ($65 for a Gigondas; $120 for Dom Ruinart, etc.) with none of that $59 v. $63 nonsense you see at the big hotels. (I'd love for some wine director to edify me sometime on why one Cali cab is priced at $118, while another fetches $121. Is it because there's a 2.8% difference in quality between the two bottles? Ridiculous.)
Partage means "to share" and the menu encourages you to do just that. 20 small plate options are offered, each amounting to no more than 2-3 bites of headliners like halibut ceviche (disguised to look like dragon fruit):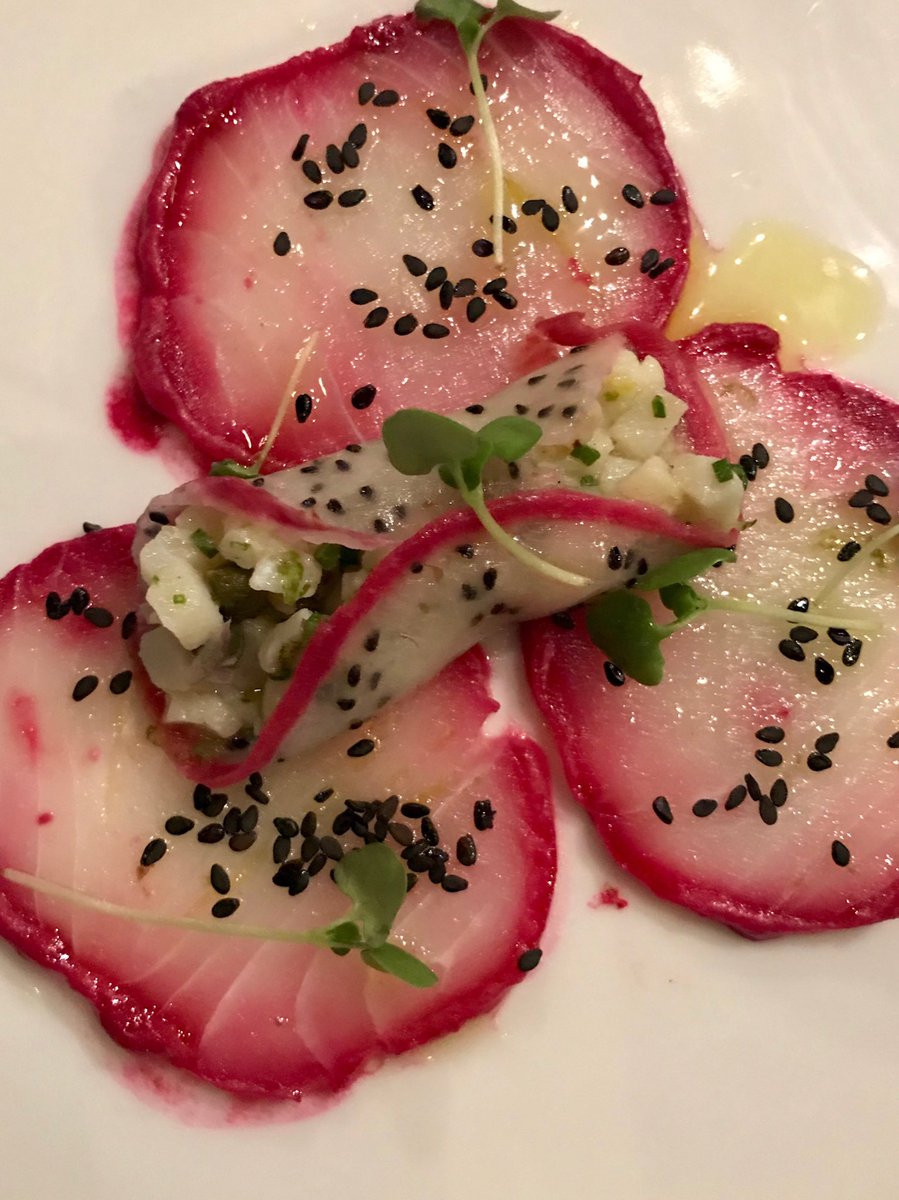 ….or a single lobster ravioli in a small cup of bisque, or perfect, meaty scallop swimming in a dashi broth with seaweed chutney and steamed leeks. Everyone seems to feature trilogies of oysters these days (whassup with that?), but the version here is top drawer, with the yuzu hollandaise being the one you'll remember. As good as they are, the real stars of the show are the salmon croquettes (almost Japanese in their deep-fired, ultra-light crispiness):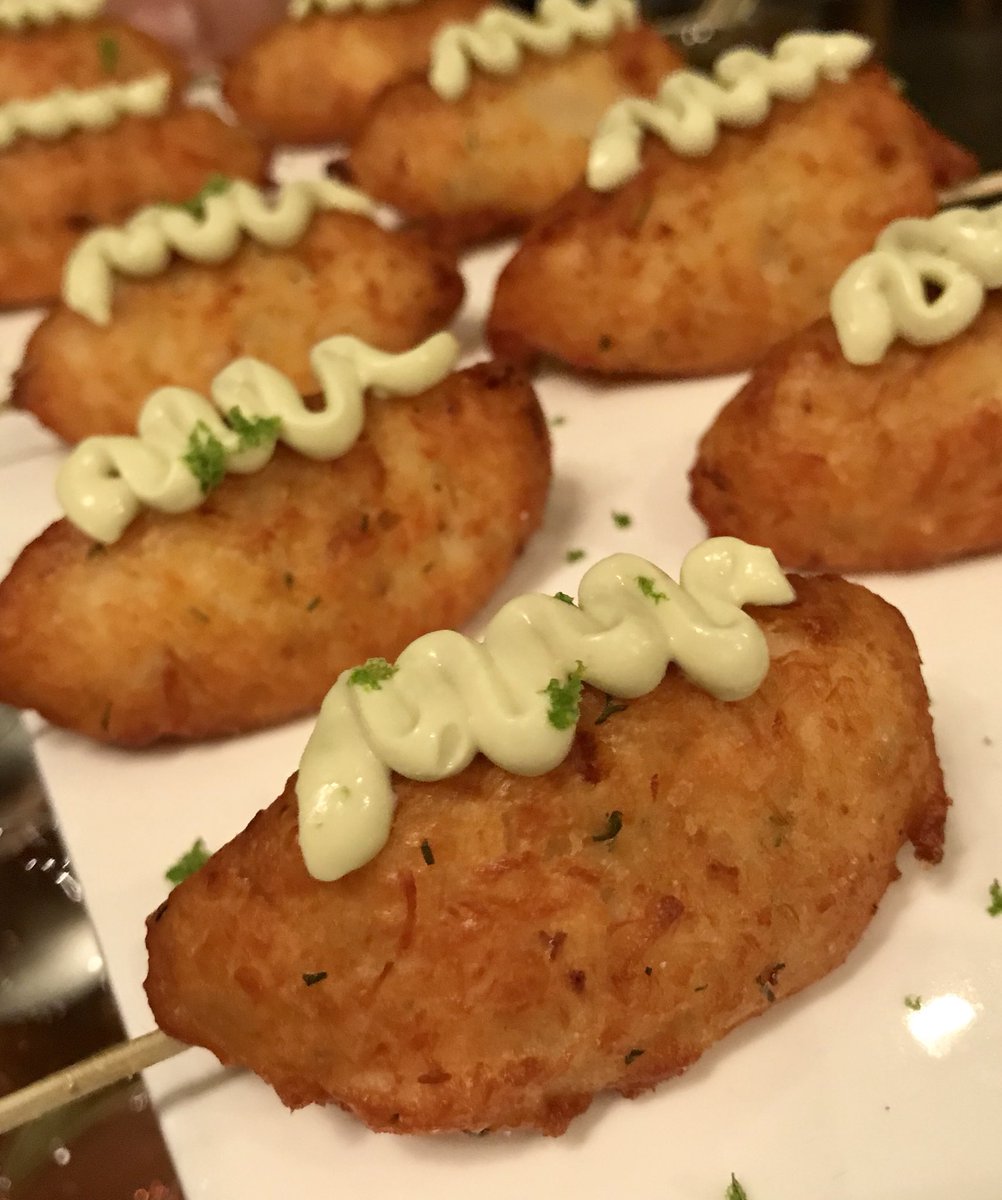 …and the squid "risotto" — the risotto in this case being finely diced pieces of squid bound together by a barely-there pesto, filled with flavor but not filling you up.
If you're looking for richness, Szarzewski has you covered. His sweetbreads are a godsend for lovers of all things thymus — accented by lotus root and a smooth tonka bean cream — the tight little sauteed gland giving not a hint of how dense and filling this offal can be. For pure decadence though, nothing beats his oxtail croque monsieur — long simmered meat, slicked with bone marrow,  served between three batons of the world's most luxurious toast: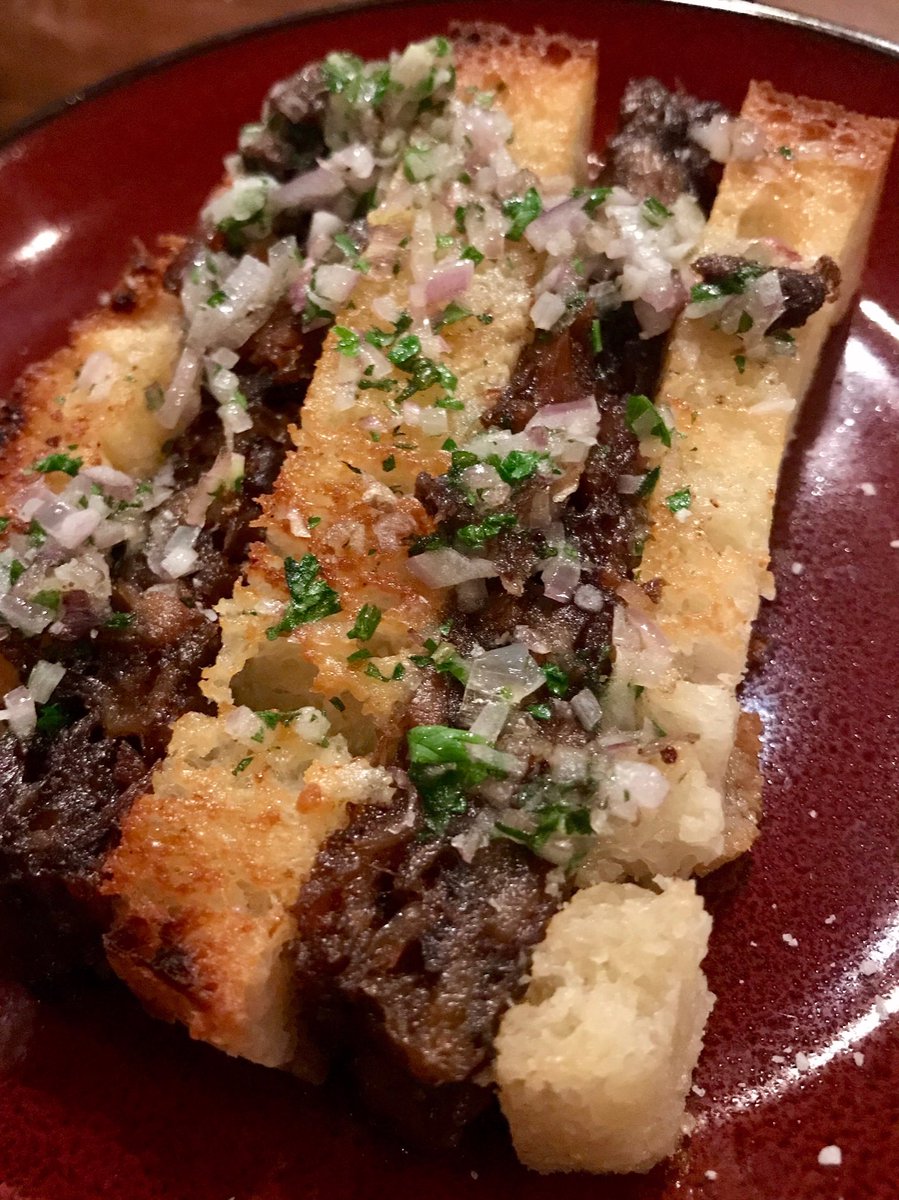 If hunger still lingers after these (doubtful), tuck into a quail leg garnished with umeboshi and foie gras, or a few nibbles of good Spanish pata negra served with a small puck of olive oil cake and fennel sorbet: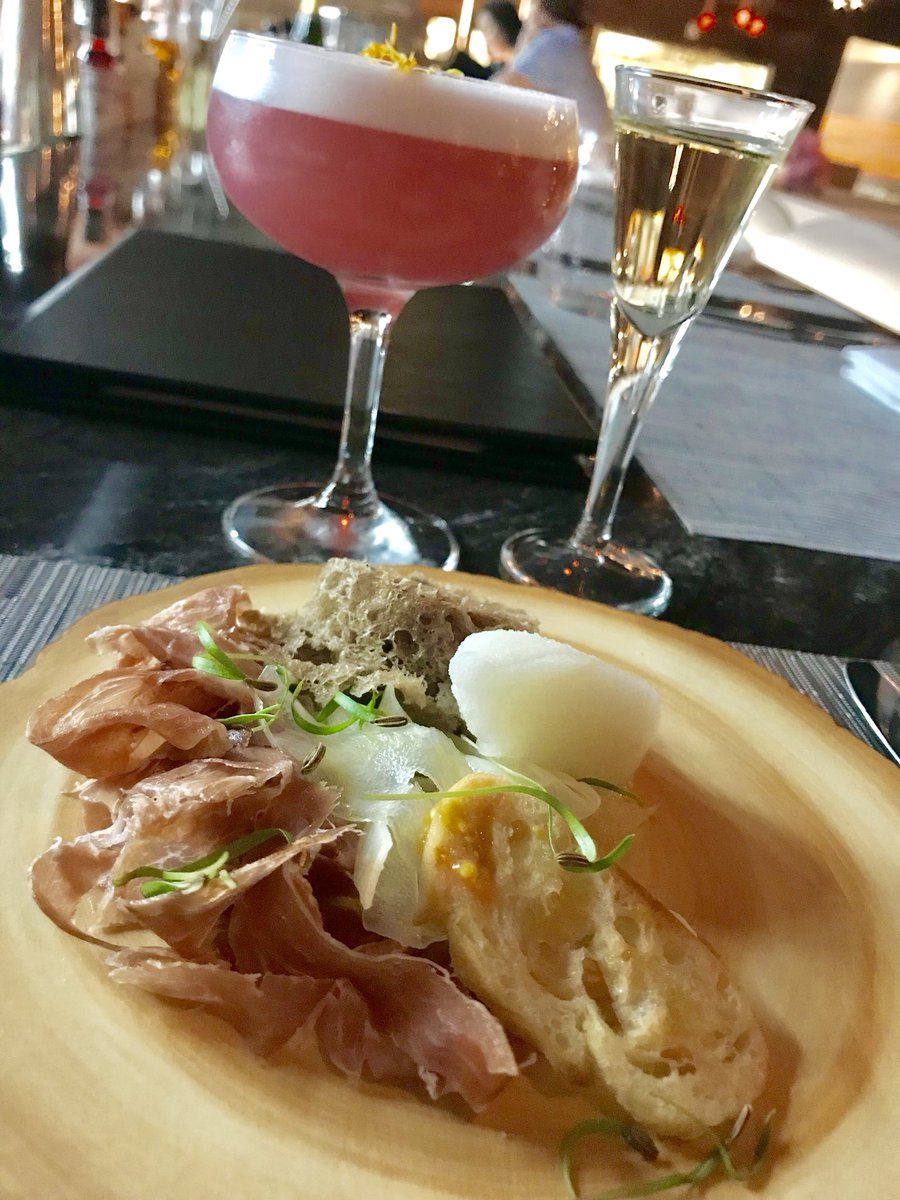 Jamon platters are everywhere, but this little one may be the cutest of the bunch.
The anti-ham crowd will enjoy digging into things like ratatouille-stuff squash blossoms, burrata Caprese salad, a melange of root veggies, and the best damn pea soup you've ever slurped — this one given a kick by lemon-basil sorbet and finger limes.
About the only dish I can't recommend is the king crab coated with black garlic. It tastes of pure, sweet crustacean slicked with the tamarind-like essence of aged allium, but it looks like something the cat left behind. If there's an award for the best tasting, least attractive dish in town, this would litter-ally win by a landslide: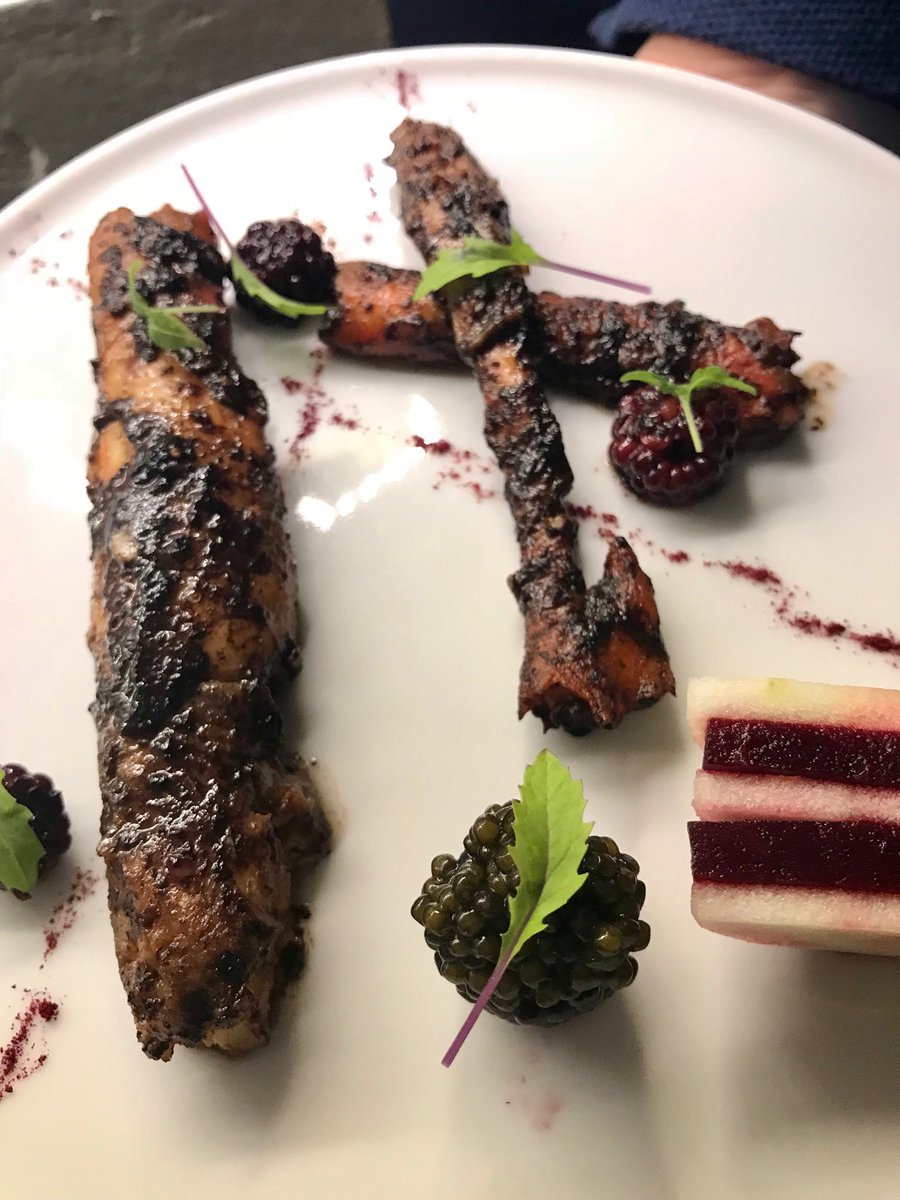 (Honey! The cat's been at it again!)
Large groups will want to go large format with big cuts of 18 ounce rib eye, or a 32 ounce tomahawk steak — smoked with either hickory, applewood or hay (your choice!). Two pound lobsters and whole duckling breasts served on the bone, and sea bass baked in salt crust is also offered for the whole table to swoon over. In keeping with the "healthy French" thing, sauces are kept to a minimum. Not to my taste, exactly — the duck, pork and bass suffer from the lack of liquids — but the presentations are in keeping with how modern French food is done these days.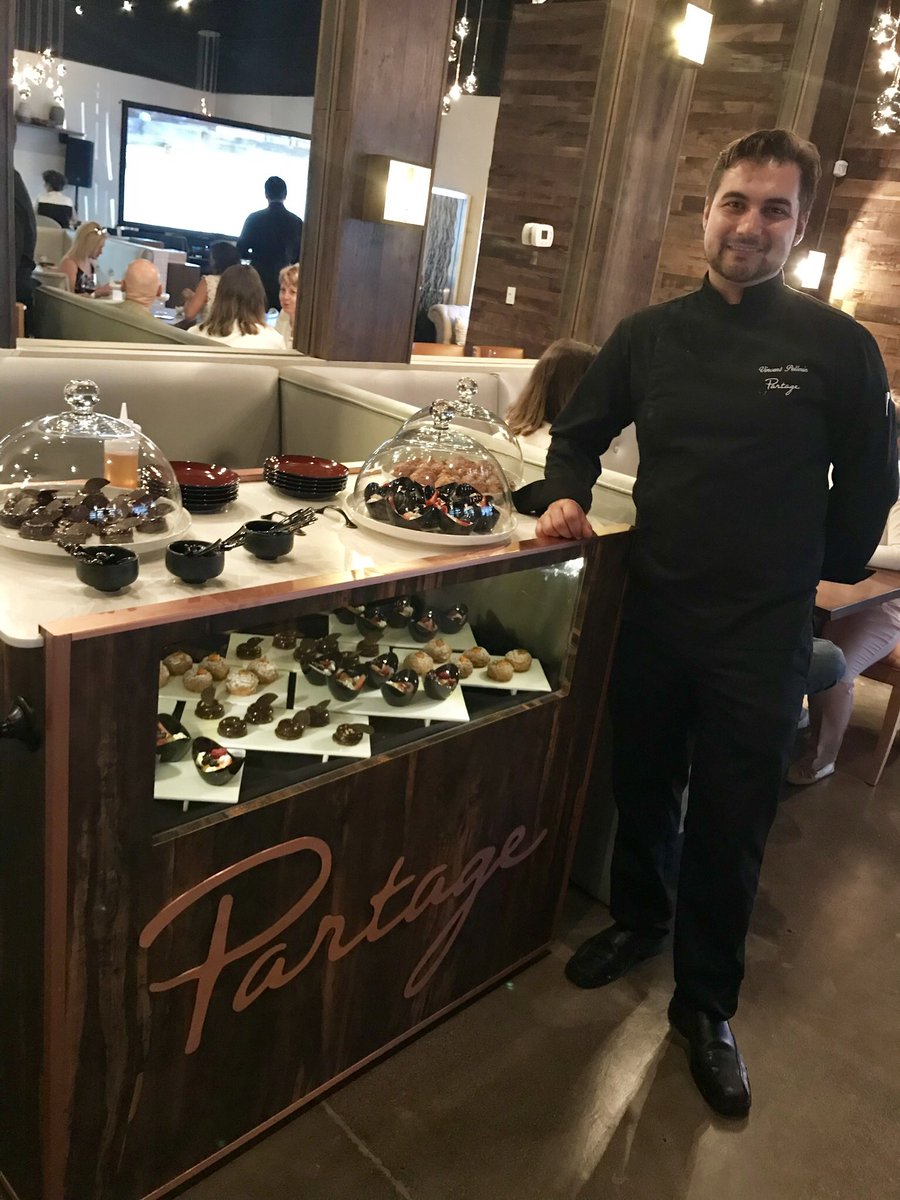 Desserts are a dream, and Pellerin's rolling cart (above) is not to be missed. Whether he's doing a baba au rhum (injected at table with some high proof spirit), a caramel candy bar, or a flaming baked Alaska (below), you can be assured no one, in any neighborhood in Vegas, is eating a dessert as good as the one you're getting. Pastry chefs are an endangered species these days, and having one as accomplished as Pellerin working in the 'burbs is quite a statement for a local joint.  His
macarons
(when available) should be ordered by the dozen.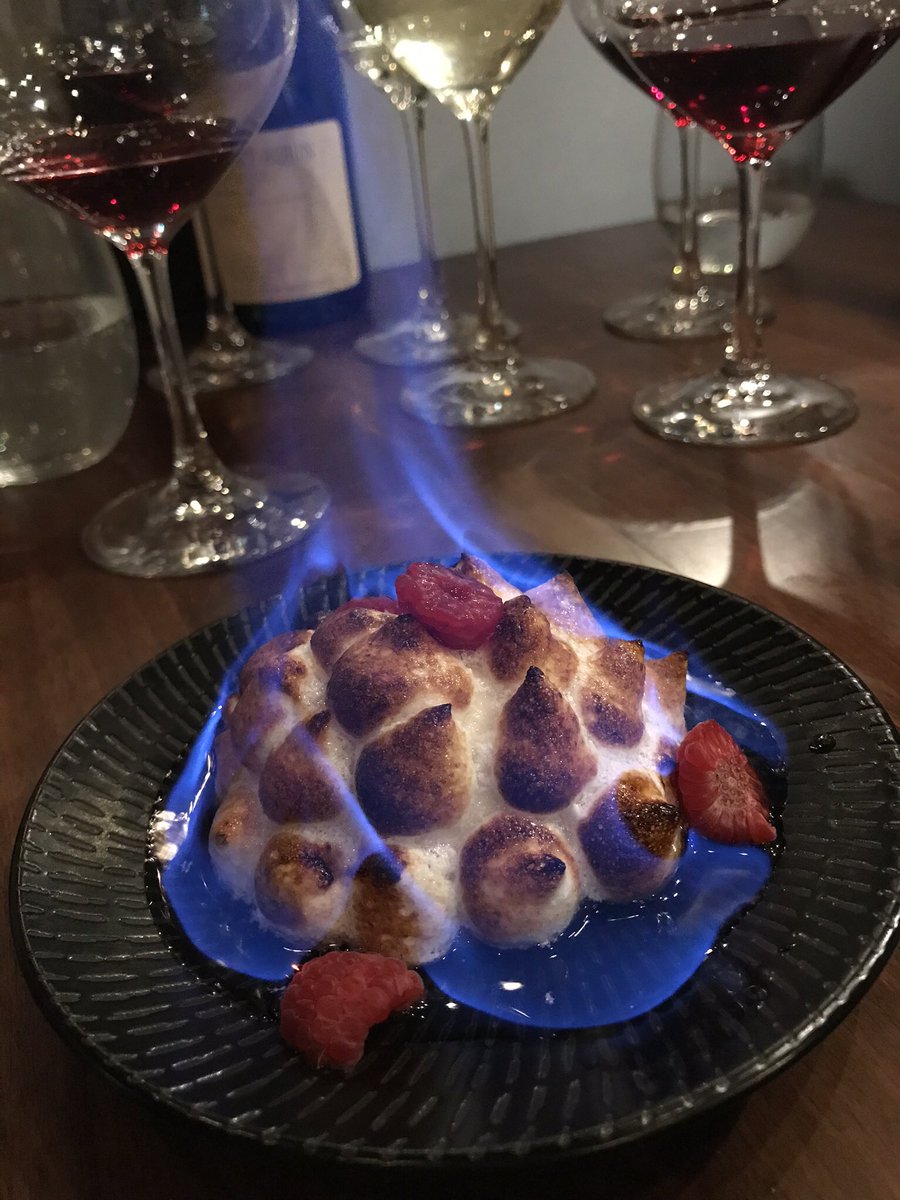 (
Like this baked Alaska, Chinatown is en fuego!)
Las Vegas came of age as a restaurant town in 2018, and exhibits 1-4 are Sparrow & Wolf, Mordeo Wine Bar, EDO Tapas, and Partage. By recognizing the true foodie potential of Chinatown, these venues have broadened its horizons and done the same for serious gourmands — local and tourist alike. Partage may not be for everyone (the food might be a little too precious for the meat and potatoes crowd) but it's given a boost to our dining scene in all the right ways. Vive la France!
PARTAGE
3839 Spring Mountain Road
Las Vegas, NV 89102
702.582.5852