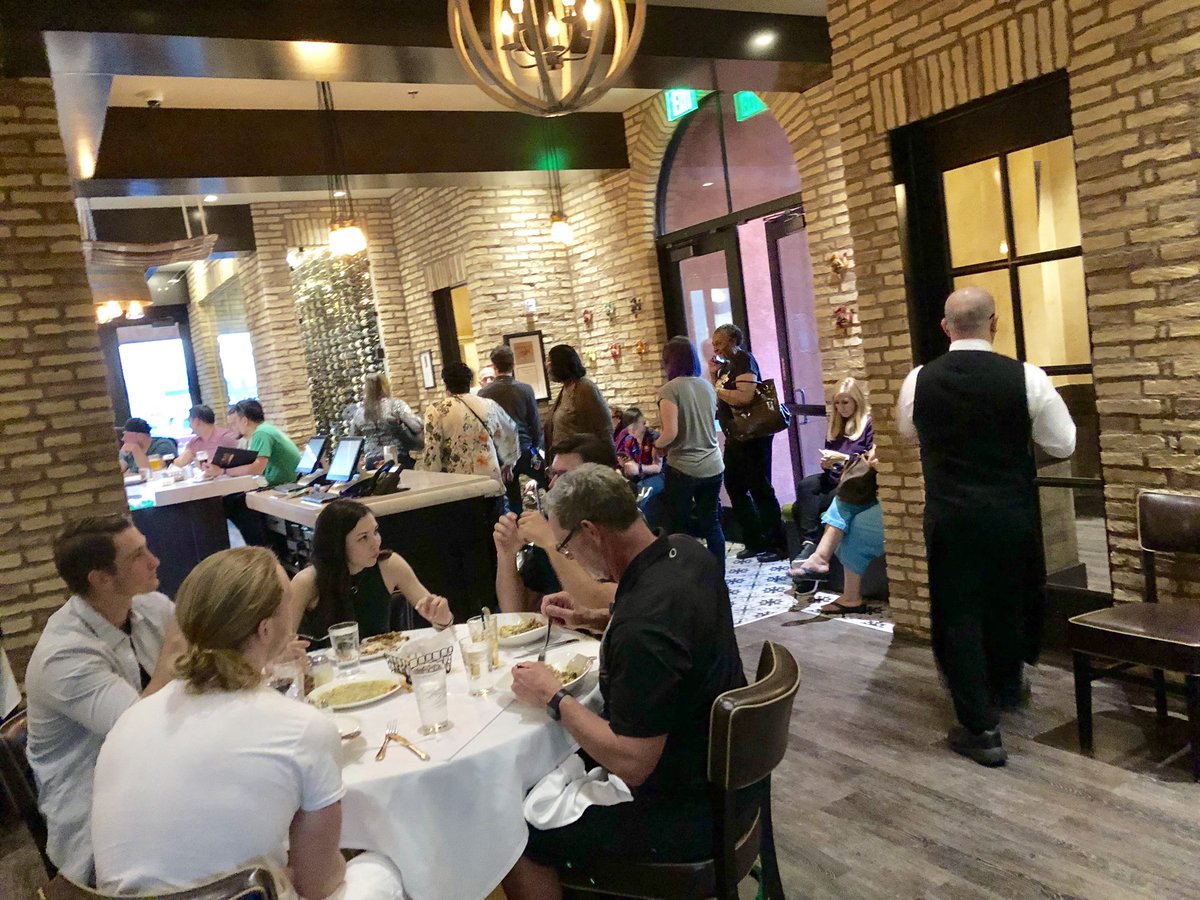 That place is so crowded no one goes there anymore. – Yogi Berra
Good restaurants are multiplying around here faster than a Catholic rabbit.
So what did I do last week?
Endured two meals that were long on calories and short on satisfaction — a cardinal sin for an experienced, conscientious carnivore catered to constantly by crave-able concupiscent comestibles.
I can make excuses for one of them (and will do so below), but the other disappointed in so may predictable ways I should've had my head examined for going there.
Let's save the worst for first, shall we?
I've been a huge Nora's Cuisine fan since it opened in 1992. Back then, its pizzas and pastas (like pasta con le sarde) were revolutionary for their time.
Back in the day, the whole joint was about as wide as a pizza box, had maybe six tables, and made most of its money on take-out pies. It was a tiny local treasure, known to the pasta cognoscenti as an island of authenticity amidst a sea of red sauce.
In 2004, Nora's (named after matriarch Nora Mauro) decided to go big time. It blew out walls on both sides of the skinny pizzeria, installed a cocktail bar, upgraded its kitchen, hired a bevy of waiters, and proceeded to rake in mountains of cash. (Fun fact: Nora's bar was the first local, off-Strip restaurant to sport a serious mixology program. When every bar in town was still pouring cosmopolitans, Nora's was doing magical things with obscure Italian vermouths, oddball bitters and craft spirits. The drinks here are still money, with the Lemon Drop and Sicilian Mule being justifiably famous.)
The pizzas were still good after the expansion, but the food became more pitched to the endless breadsticks crowd. The something-for-everyone menu eschewed small-bore quality for dazzle factor, and subtlety on your plate became harder to find than an ectomorph at a fat farm. Some time around a decade ago, I wrote it off, not because it was terrible, but because it was too much — too much starch, too much garlic, and too much tomato.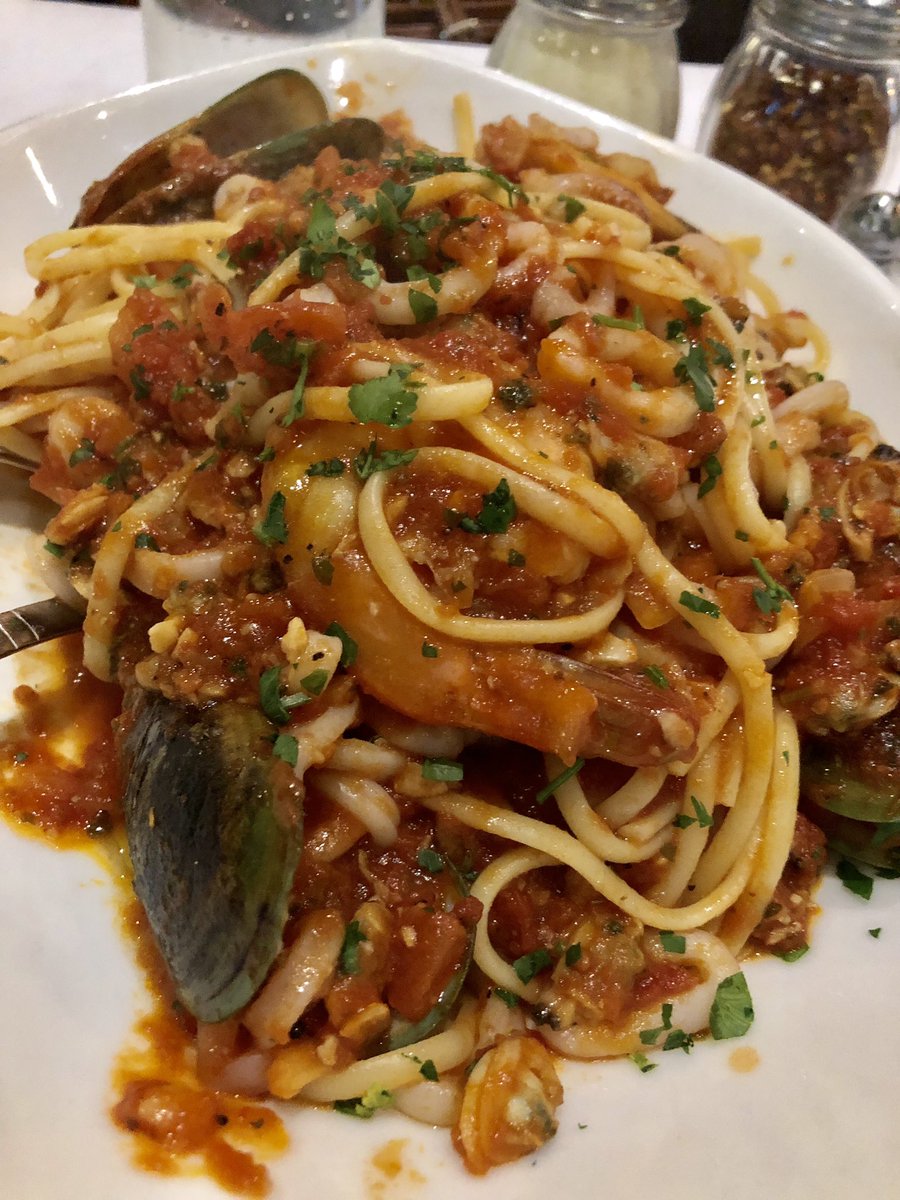 (
Four pounds of fruitti di mare, or so it seemed
)
So why did I go back? Especially when the excellent Pizzeria Monzú (owned by the same family) is only a block away?
Good question….and one The Food Gal® asked me continually on the ride home after we dropped $150 on two apps, two dinners, and two glasses of wine.
As I patiently mansplained to her, I went mainly to see what all the shouting is about. The shouting in this case coming from Nora's new digs (2016) in a free-standing building only a few hundred feet from their old location. (The old location now houses the aforementioned Monzú.)
That shouting, you see, is because, the new new Nora's is always full. Day and night, it is overflowing — with people, cars, and presumably, red sauce. Regardless of the time, there's never a parking space to be found.  It's so full the side streets are lined with its customers' cars (and it has a capacious parking lot). Nora's is so busy your average Indian restaurant could exist for a month on the patrons it turns away every day.
How do I know this? Because my in-laws live close by, and we drive by it. All. The. Time.
So I was curious, and took my wife along to take the plunge with me. What we found inside were three not-unattractive large rooms facing an open kitchen, with a long, comfortable bar taking up space in one of them (much as it did in the old place). As with the old Nora's, there's a winning wine list, excellent service, well-crafted cocktails, and serious digestivos — everything giving off a serious foodie vibe…except the food.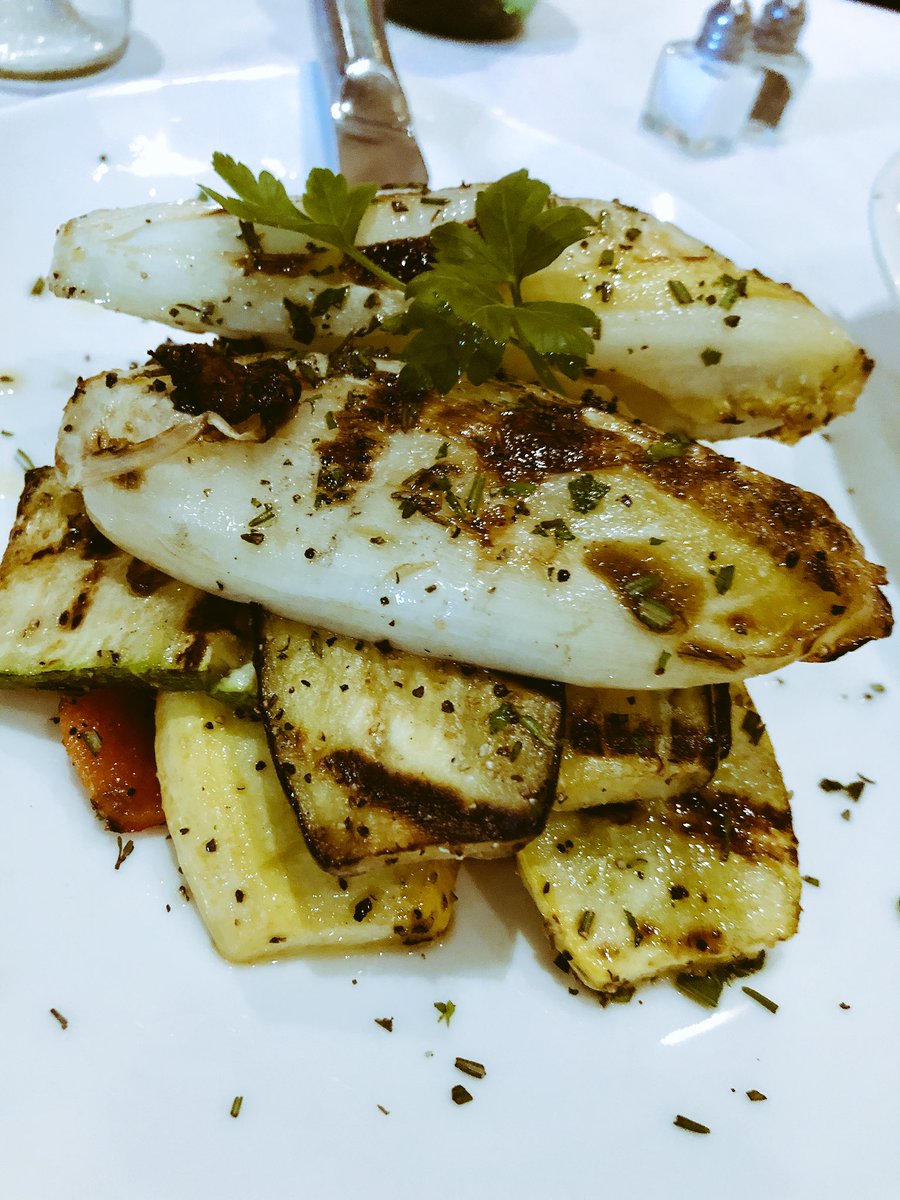 (
Fuggidabadit
)
As for that food, well, let's just say it hasn't gotten any better since they started serving it in a McMansion.
But I'm not blaming the owners, the managers, or the chef(s). The food has gotten worse because Nora's has become a victim of its own success. Nora's is too big. This new restaurant is double the size of the old one, which was triple the size of the original one. And no matter how big they get, they're always full. And being always full, they've now become too successful.
Some businesses are too big to fail; Nora's is too big to be any good.
With those physical expansions has come a menu that looks like it's locked in a bad recipe arms race with Piero's for who can offer the most over-the-top Eye-talian dishes to its undiscriminating diners.
"Over 70+ classic Italian dishes," the menu boasts, and, true to its word, it offers everything from fried calamari to chicken parm to  "Crazy Alfredo" for the hungry hordes. Wings? Pork bellies? Salmon? Spinach and Farro salad? We got 'em. Just add veal for $8 more!
To put things in perspective: if you're serving 30 different pasta dishes, dozens of pizzas (with 25 different toppings!), 20 proteins, and everything from arrabiata to mozzarella sticks, quality control is going to take a back seat to plate slinging and turning those tables.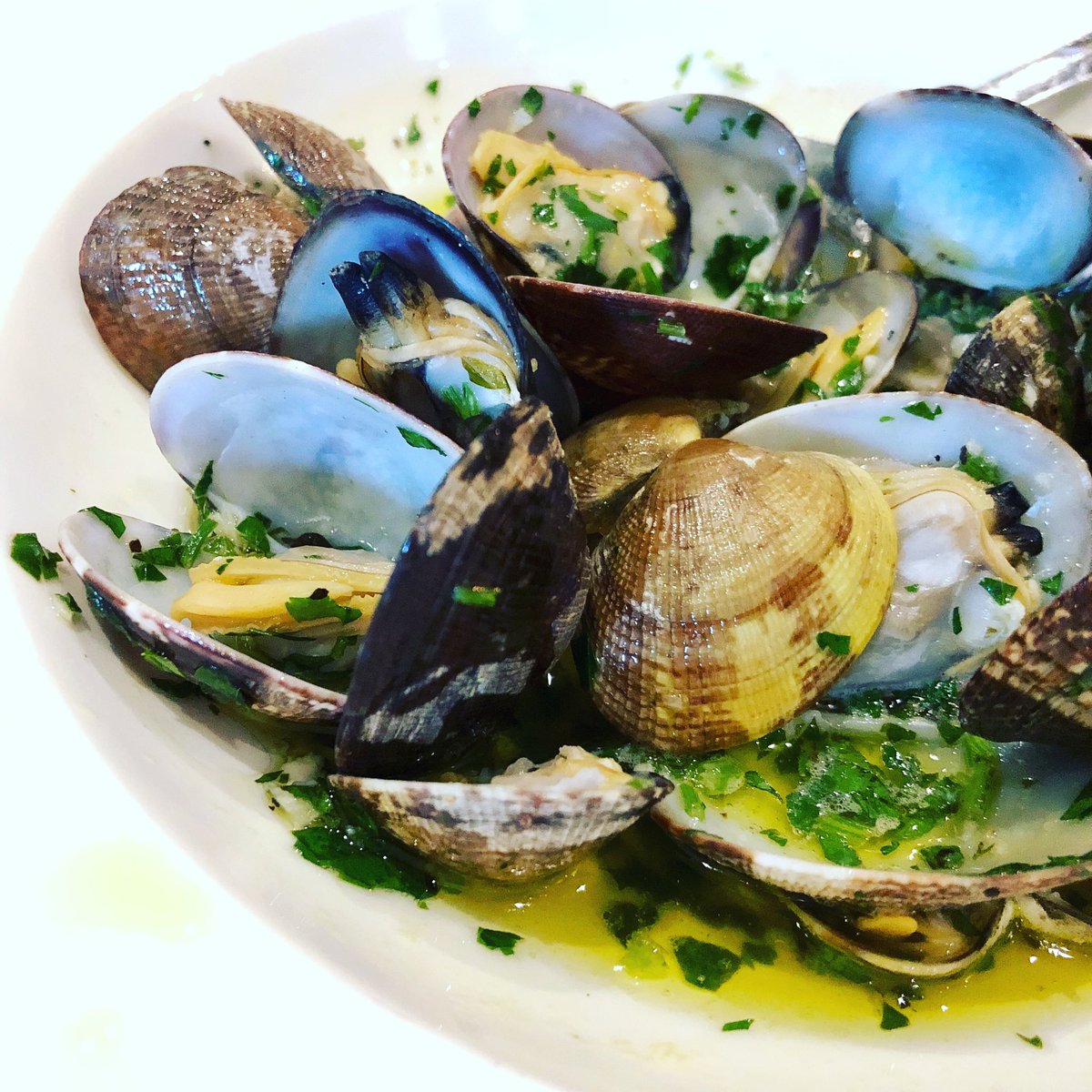 (
They had me at lemon clams
)
I think the chefs here deserve combat pay more than criticism, so we'll leave you with these final words about the new new Nora's (which really isn't that new anymore): the garlic bread is good, the lemon clams were great, and two pounds of pasta underneath the fruitti di mare isn't fooling anyone.
Serviceable osso buco bedecks a small mountain of mashed potatoes (that starch thing again), but the Josper-grilled veggies (pictured) were a waste of time and ten bucks.
But one can hardly fault the kitchen for not finely-tuning some grilled endive, when 300 growling stomachs are out there demanding their creamed fettuccine with chicken, sausage and shrimp.
So, as with Piero's, we will leave Nora's to those who love it, and resolve to eat Italian elsewhere the next time the curiosity bug bites.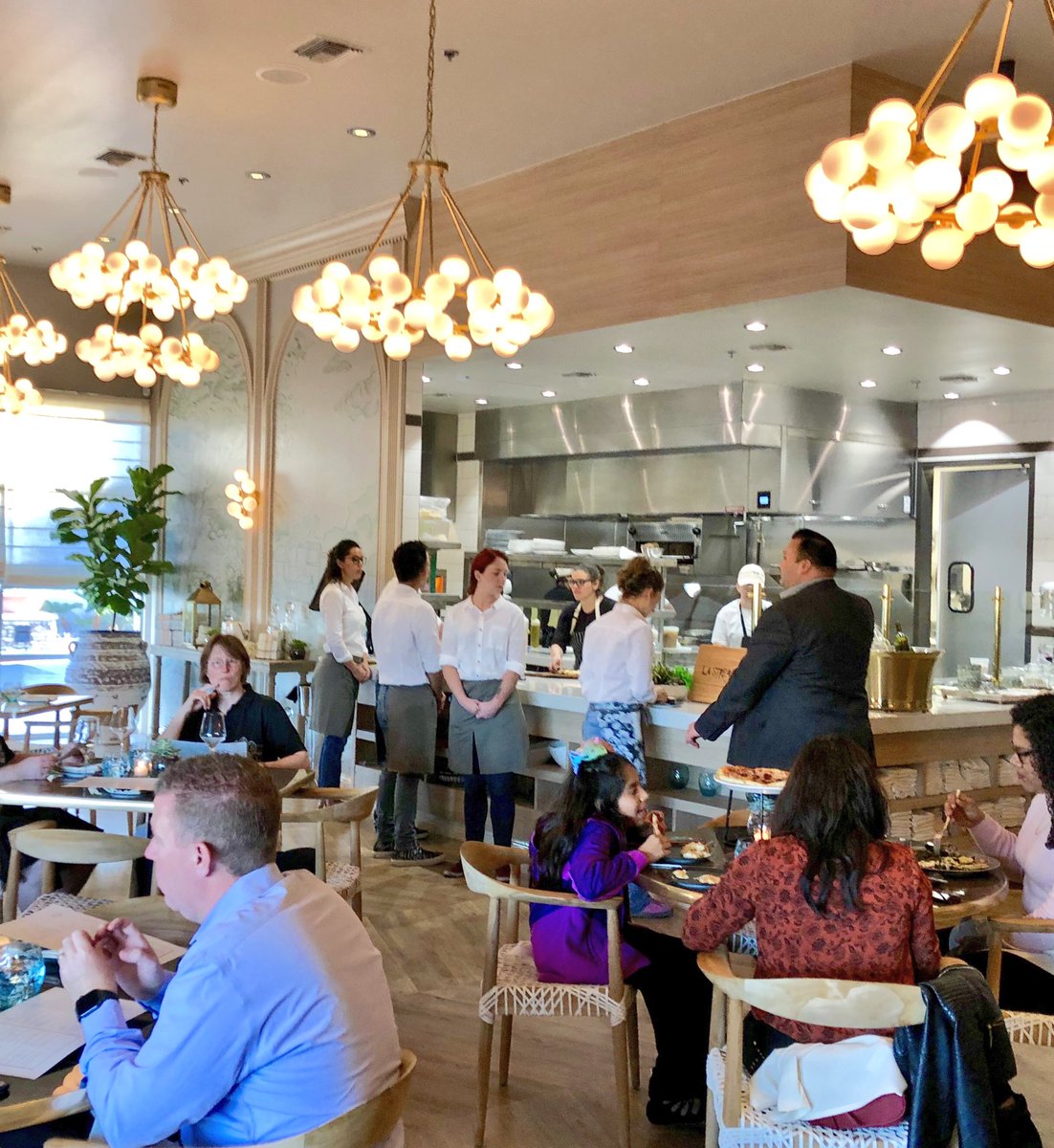 At the other end of the spectrum, in terms of vibe, clients and ambition, is La Strega. Located due west and some miles from Nora's, it aims to be new school Italian, bringing chef-driven food to those who know their polpette from their soppressata.
That chef is Gina Marinelli, and she's a Strip veteran who knows her way around a pesto. Open barely two weeks, Marinelli is still working out the kinks, but even after a quick glance (or, in our case, a quick meal) you'll find a lot to like about the place.
To begin with, there's the build-out. The owners (the Fine family of local real estate fame) have taken the old Due Forni space and blown it out in all the best ways. The kitchen is now open, the bar is in the middle of the room (sounds weird, but it works), and the feel is one of a casual, food-focused room.
The space compliments the food, and the wine list compliments everything. (As we've mentioned here and on social media, the wine selections in off-Strip restaurants have improved 1000% over the past few years, and wine director Stephanie Torres' list is the latest example.)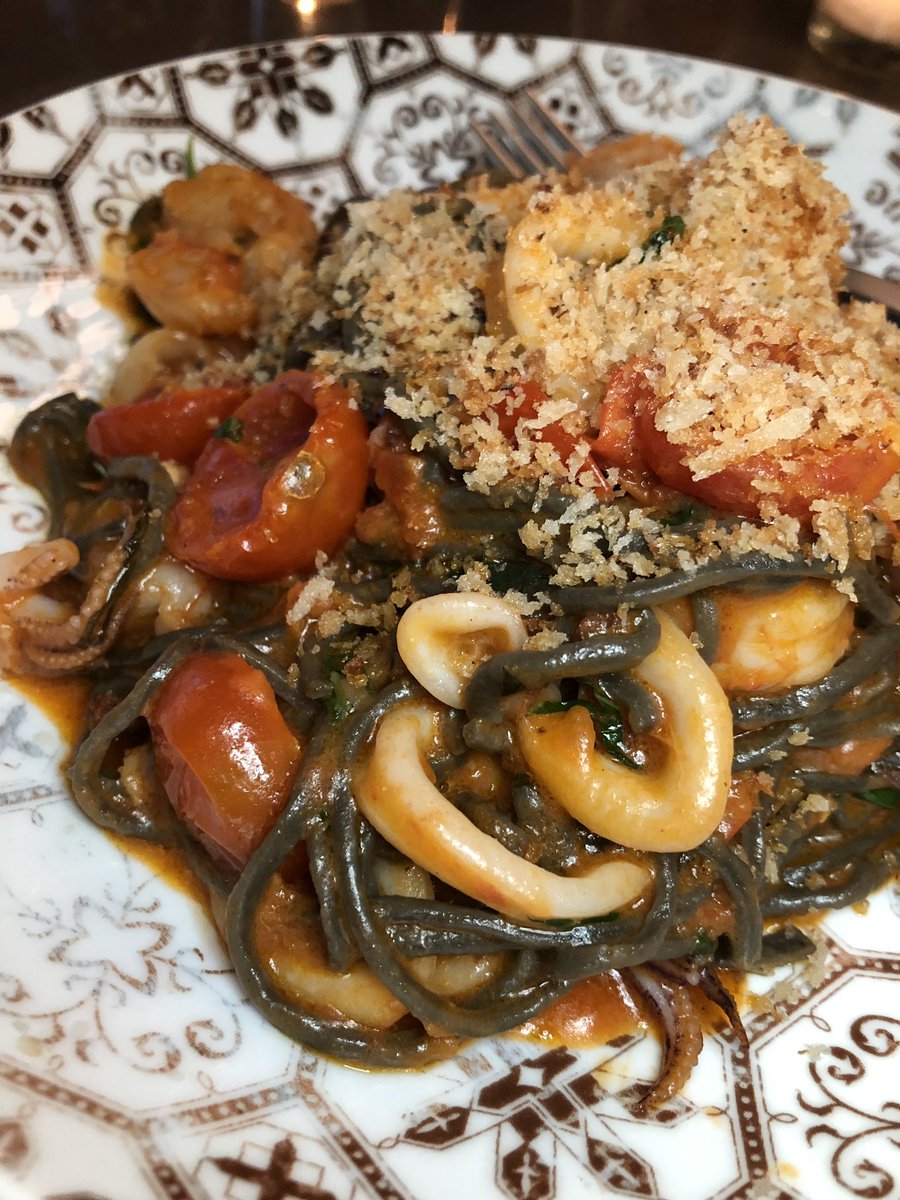 (
Looked great, which is all it brought to the party
)
Service was razor-sharp on a full-night not 10 days after the opening, and it was remarkable how poised everyone seemed under such pressure-packed circumstances. There are bones I could pick with some of the menu (the meatballs need to be bigger and cooked better; the frutti di mare (above) was all hat and no cattle; and the sardines need to be 86'd), but the signifiers are all there that this could be a major player on our restaurant scene — even though half the things we sampled missed their mark.
So, we'll chalk up La Strega's menu missteps to its infancy and give it another chance. As for Nora's, I'll meet you there anytime for a cocktail, as long as we can stroll over to Monzú to eat.
NORA'S ITALIAN CUISINE
5780 West Flamingo Road
Las Vegas, NV 89103
702.873.8990
http://www.norascuisine.com/www/
LA STREGA
3555 Town Center Drive Suite 105
Las Vegas, NV 89135
702.722.2099