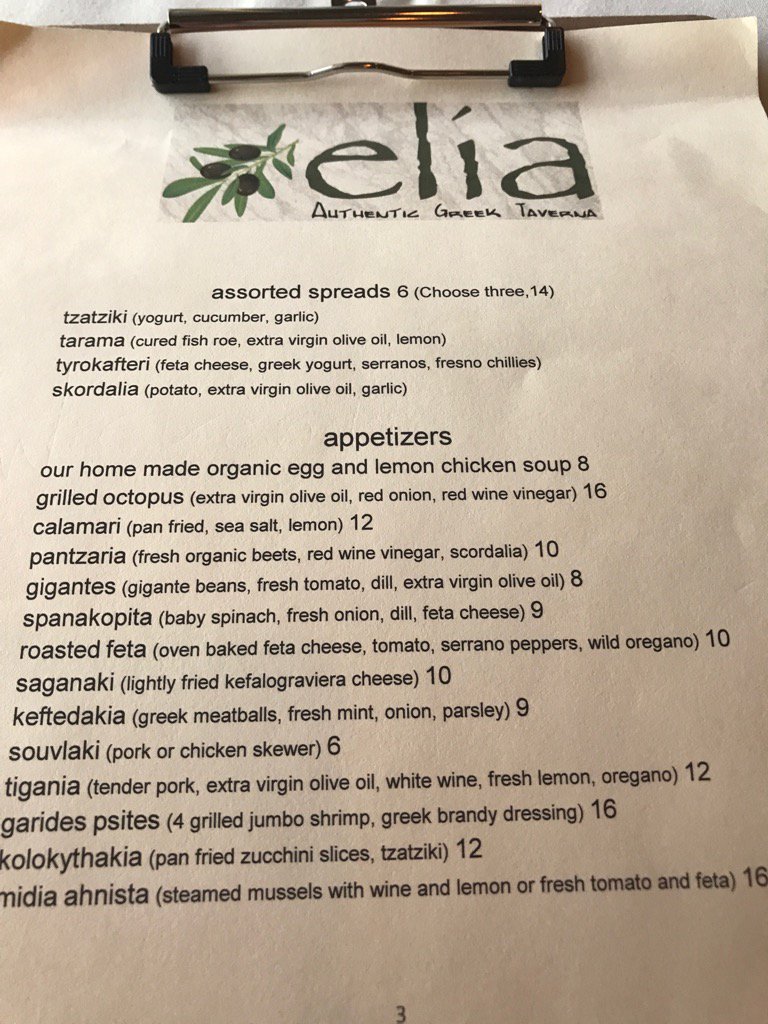 We at ELV don't wish to alarm you, but there's a mini-restaurant boom a' happenin' in our humble burg. And we've been a busy beaver checking them all out lately.
For every closure (Standard & Pour, Zydeco, Glutton) there seems to be several new kids on the block springing up.
Thus have we recently seen everything from Korean Chinese (Yu Xiang) to Israeli (2 Bald Guys) to barbecue (Sin City Smokers) to Mexican (Salud) to Greek (Meraki, Elia) to Spanish (Boteco) to badly-named, half-baked concepts (7th & Carson) become major blips on our radar. Don't forget, the hit-from-the-get-go Sparrow + Wolf is only a month old, and try to wrap your head around the fact that two of our best new eateries are….wait for it….GREEK!
The one that has blown us away is Elia Authentic Greek Taverna.
The one that has intrigued us is Salud Mexican Bistro and Tequileria.
The two that are packing them in are Meraki Greek Grill and Sparrow.
The rest of them have major uphill battles ahead.
For now, though, let's accentuate the positive.
Meraki is doing a land-office business based with a fast-casual concept that is being expertly executed by Nikos Georgousis (formerly of Milos) and Girair Goumroian. (Try saying those names after a few ouzos sometime.) It's basically your best hits of Greek casual food — gyros, (pronounced HEE-roe, not GY-ro) souvlaki, salad, tzatziki, taramasalata, avgolemono soup, dolmades, etc. — and all of it done to a "t". We've tried about half the menu and can highly recommend all of the mezze (appetizers) and the gorgeous lamb burger:
There are a dozen or so "Mediterranean" restaurants around town doing this food (many of them being run by Bulgarians and Russians, strangely), but Meraki is a cut above them all. As good as it is, though, it doesn't quite hit the heights of its first cousin a few miles away, as you'll read below.
The just-opened 2 Bald Guys did not impress, but we plan on giving it another whirl. The food (shawarma, tabouli) seems technically proficient but is woefully under-seasoned. It's the first restaurant I can remember where I actively reached for the salt shaker multiple times during my meal. On the plus side, the house-made hot sauces are fantastic…and necessary. This place can fill a much-needed niche downtown if it ups the ante on its seasonings, but if the food remains this timid,  we fear people will stay away in droves.
Boteco was a treat. It's got a big city/small tapas bar vibe, and a small menu of innovative small bites like botequito sliders made with smoked Gouda and caramelized onions: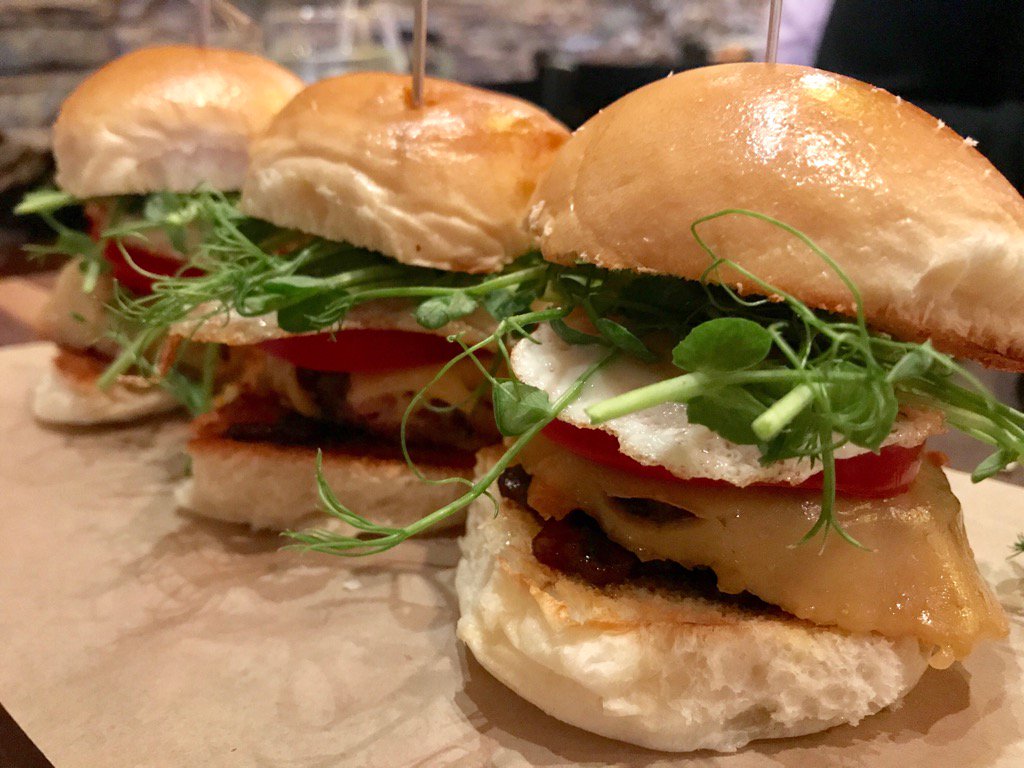 Dungeness- Singapore Chilli crab dip: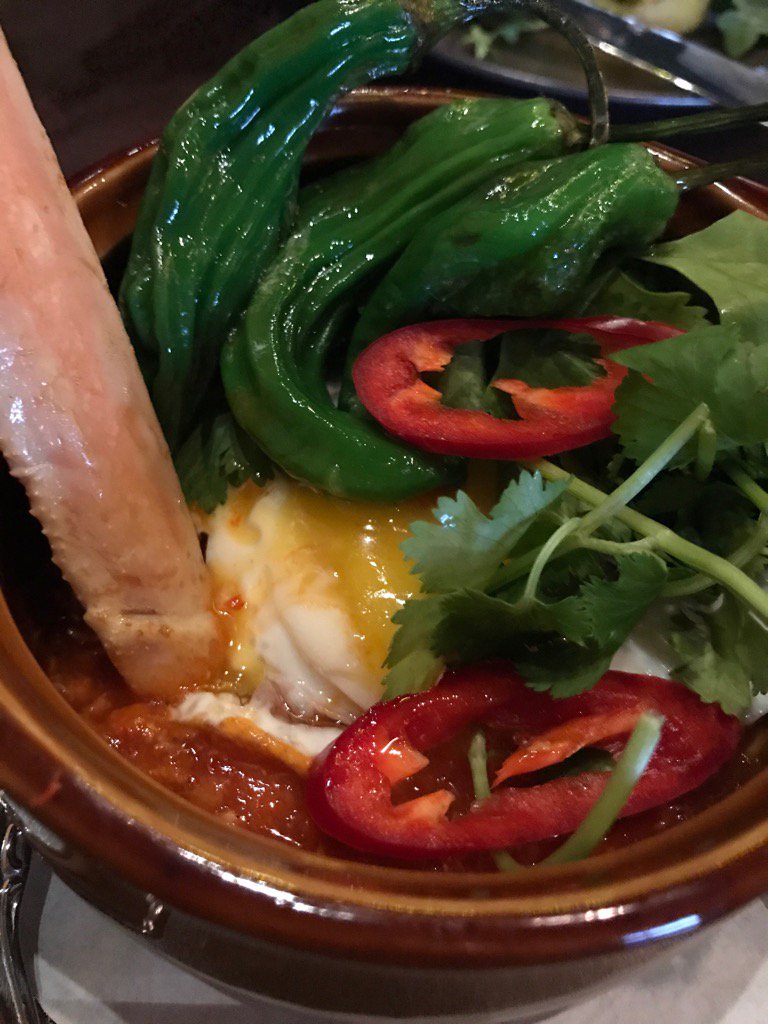 …and off-beat items like avocado crunch salad, escargot croquetas, and braised beef and Piedmontese rice — all dedicated to showing off the chops of Executive Chef Rachel LeGloahec, a veteran of Joël Robuchon's kitchens and a girl with serious skills. Boteco is a sliver of a place in a monster of a strip mall in the middle of a town (Henderson) that treats chef-driven restaurants like leprosy colonies. Like we told Cory Harwell when he opened Standard & Pour: "Good luck (Rachel), you'll need it."

YuXiang
is for fellow travelers (and adventuresome eaters) only — although the crispy beef (lower left in the picture above)  with sweet-sour sauce would make anyone happy.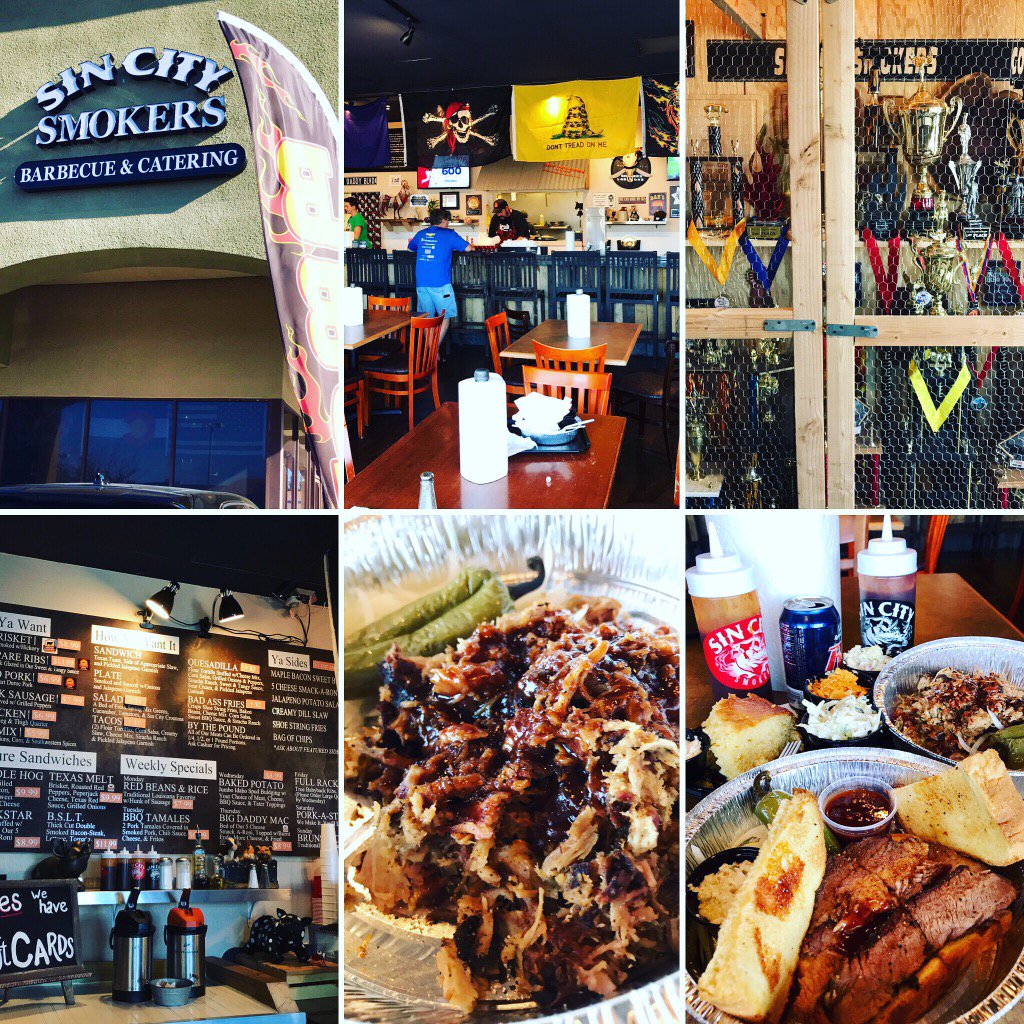 Sin City Smokers (above) showed us the best brisket we've seen in Vegas (other than our own), along with some serious sides.
It's not Central Texas quality, but it's a durn sight better than a dozen other mediocre spots in town, and its house-made sauces (especially the pepper-vinegar) are a treat. We weren't as keen on the chopped pork, but the ribs were first-rate and smoky — not the borderline-inedible, chewy ones passed off by some joints in these here parts. There is definitely a return visit to SSS sometime in our future.
Salud is something of a mystery. It sprung up almost overnight in the old Rosemary's space on west Sahara. We went in on a weekend night and it was mostly empty. Our hearts sank but our bellies were growling, so we took a seat, ordered some peppers stuffed with chorizo, ceviche, and guacamole, and expected some same old same old stuff. What arrived (above) showed the freshness and snap you don't usually encounter in by-the-numbers, south of the border cantinas. "This is a lot better than I expected," said the Food Gal®, and we had to agree with her. Time will tell if this place finds an audience in a 'hood starving for good things to eat.
And then there's Elia, which means olive in Greek.
One of my cousins told me I had to go. "It's real Greek food," he said. "No hummus, good bread, not pita (which Greeks consider Arabic bread), real pork souvlaki, out-of-this-world fish, amazing tyrokafteri (spicy whipped feta), great vegetables," he continued,  "actual gigantes beans in fresh tomato sauce, just like my mother makes (ELV side note: his mother is a wonderful Greek cook), you've got to go!" He was so excited he drove me there. One bite in and I could see what he was talking about.
Those beans were a treat unto themselves: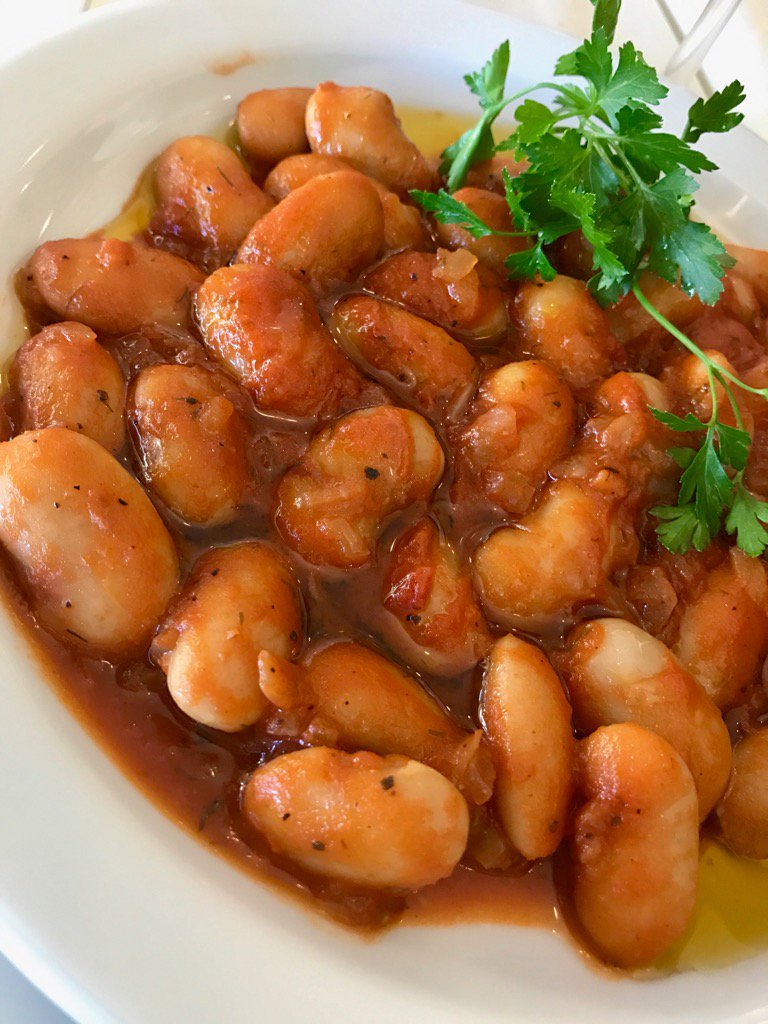 The lamb as perfect as lamb can get: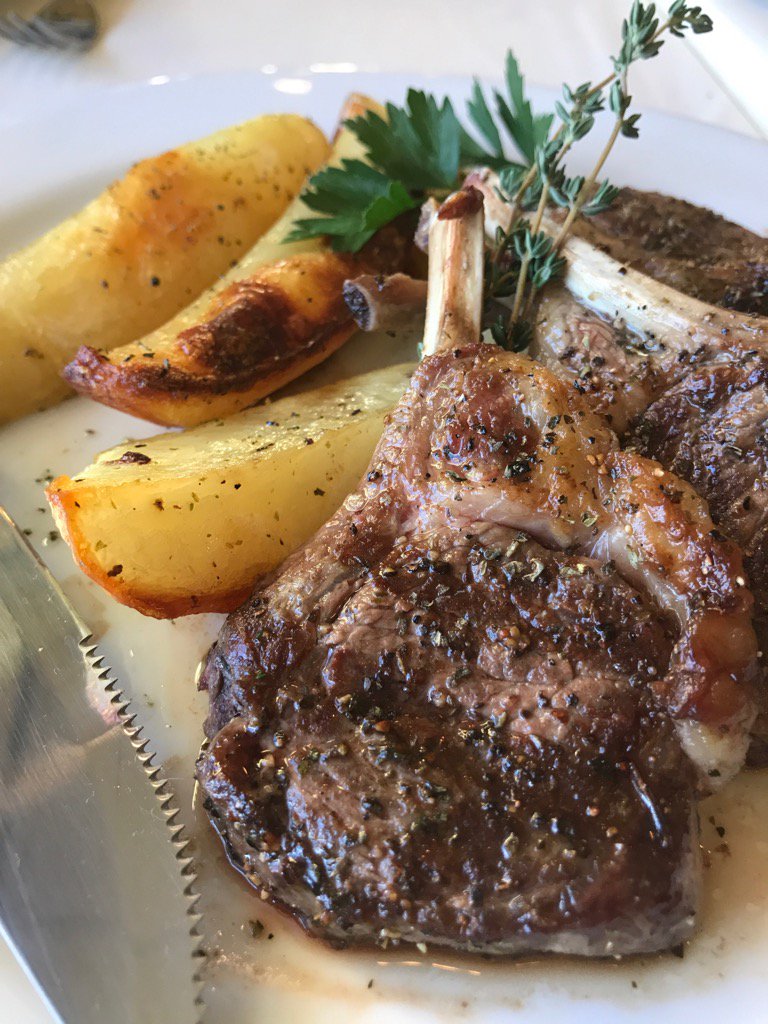 Those potatoes beside the lamb were beyond wonderful; the french fries with the souvlaki as crispy and melting as fries can be. (Real Greeks, not Bulgarians-pretending-to-be-Greeks, have a thing about seasoning potatoes correctly – with salt, pepper, oregano and lemon.)
They even do a beets thing here, topping them with chunky, garlicky potatoes sprinkled with green onions that is so good (this from a beet hater) you will want the recipe: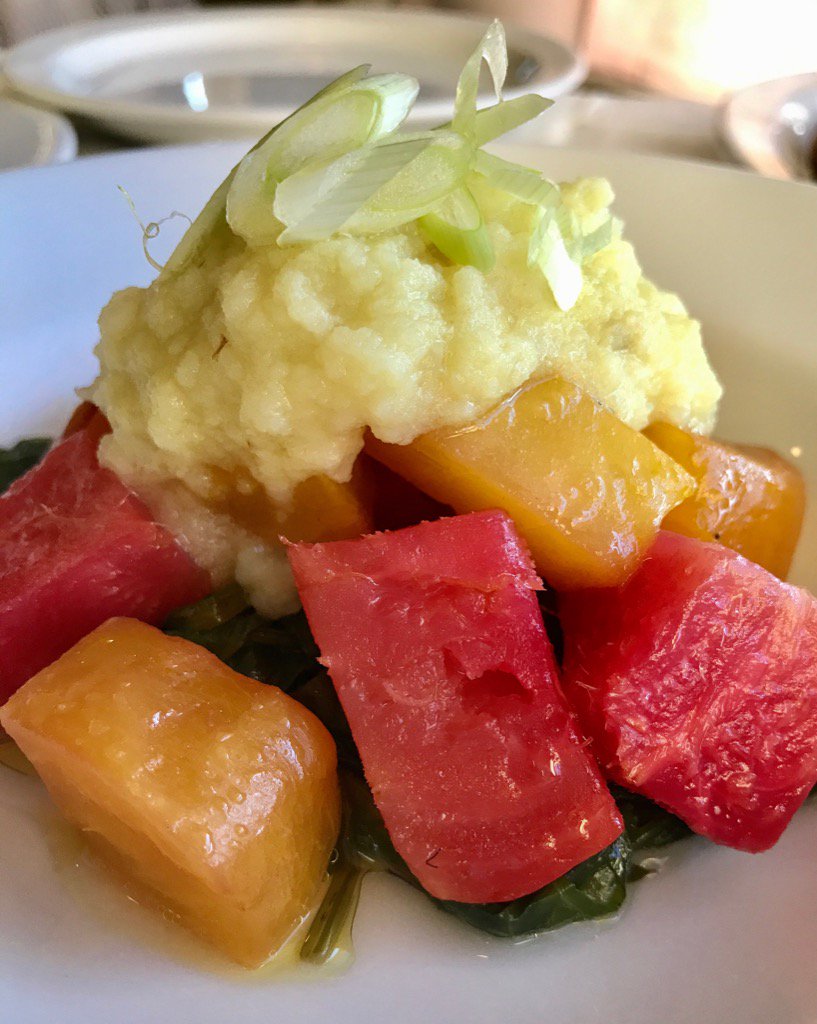 The galaktoboureko is the best I've ever had (outside of my yia yia's house):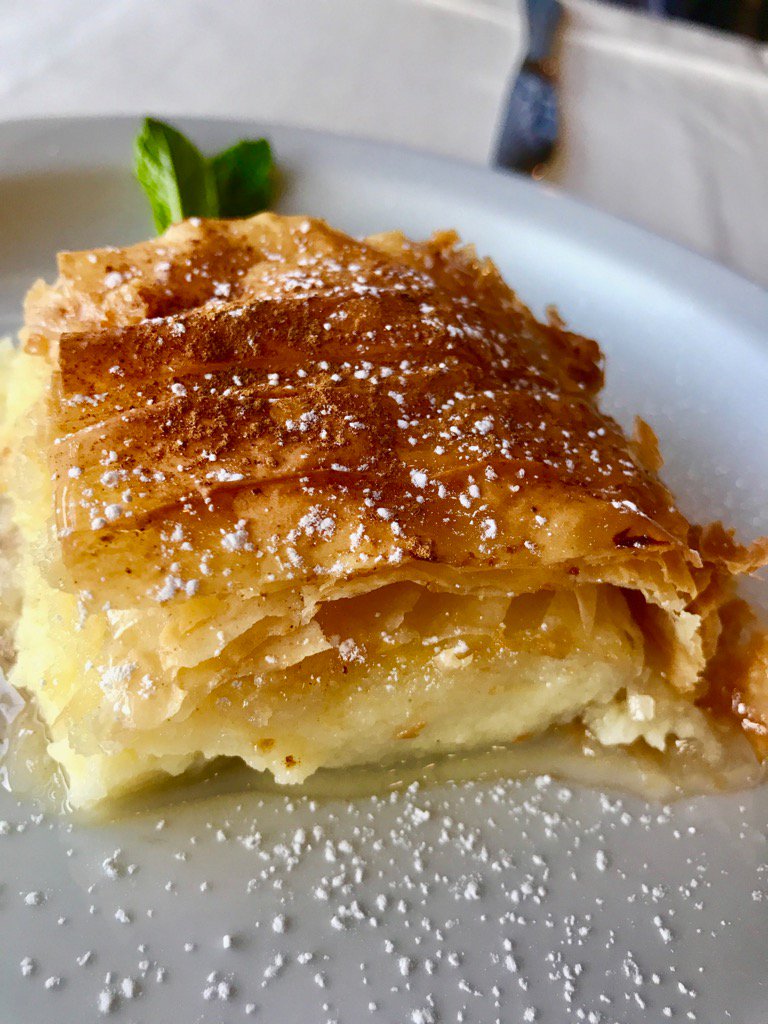 ..and the 40 seat restaurant is a charm to sit in, with a small selection of good Greek wines at soft prices.
Elia might be the most exciting new restaurant in town. (I'm not saying this because I'm part Greek.) It certainly is the best, most authentic, beautifully composed Greek food Las Vegas has ever seen. You might be tempted to drive right past it (on south Durango) thinking it's just another souvlaki/gyro shop. Don't. Stop your car. Park it and walk in and taste this cuisine the way it's supposed to be.
Kali Orixi! ("bon appetit"  in Greek).