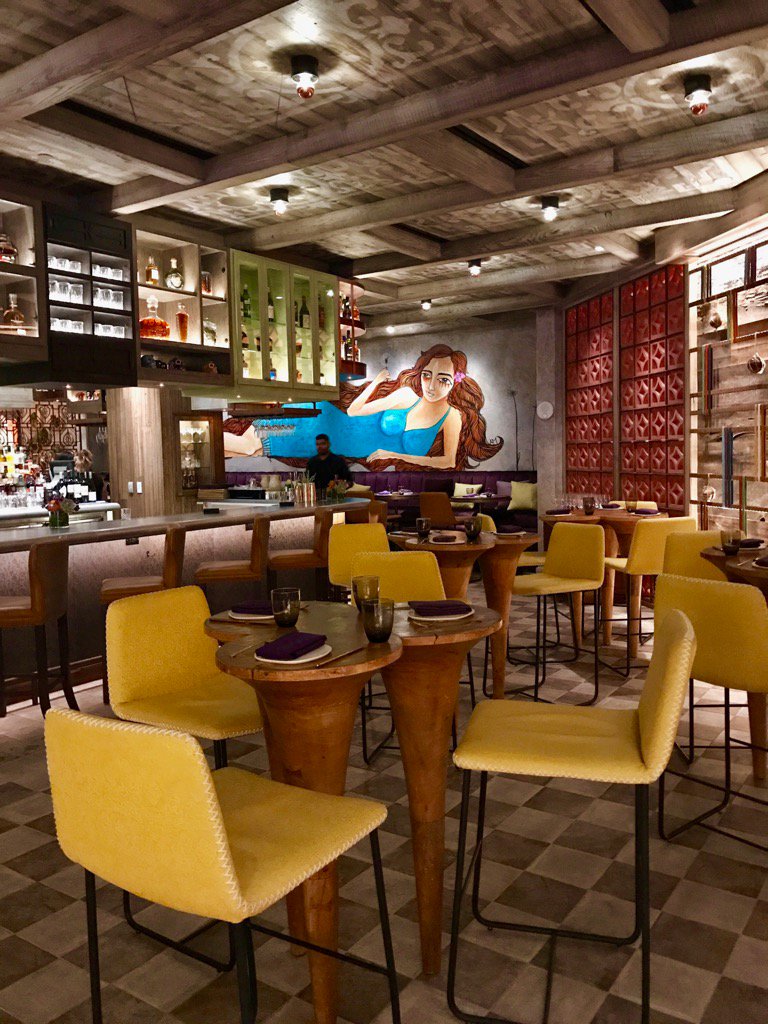 Something-for-everyone cooking has defeated more than one Las Vegas chef. Feeding tourists means trying to please everyone, and catering to everyone  means you're aimed at no one. Restaurants that specialize in something-for-everyone cooking have usually thrown in the towel before the bell has rung, e.g. the now-defunct Daniel Boulud Brasserie. That's because customers who demand all-over-the-map cooking couldn't care less about on-the-plate excellence of what they're eating.
Welcome to Las Vegas — the world's capital of something-for-everyone restaurants. Reading a Las Vegas menu is like being stuck in an endless loop of pasta, pizzas, wings, Caesar salads, shrimp, steak, pork, chicken and salmon. If you're lucky, you might find another fish, and if you're really lucky, you might be treated to every pork bellied, bone marrow-ed cliche in the book. Every Vegas menu, at its core, is composed of the the same basic appetizers, vegetables and proteins. Only around the edges do things get interesting, and it's up to the intrepid gourmand to hunt for the nuggets of deliciousness buried in the same old same old stew.
At the just-opened Chica, those nuggets are everywhere, and you don't even have to look that hard to find them.
At first glance, you might be excused for thinking that Chica's menu is a fount of cliches in its own right. Your glance quickly picks up the mandatory guacamole, tacos, calamari, quesadilla, Caesar and ceviche that you've seen hundreds of times before. Turn to page two and you find the mandatory chicken, shrimp, steak and fish. Your heart will at first sink, thinking it's in another by-the-numbers Mexican tourist joint. But then you remember something. What you remember is that Mike Minor is the kitchen. With that, your spirits begin to soar, and to your delight, the flights of fancy will continue on the wings of (almost) every bite coming out of his pan-Latin kitchen.
To be clear, Chica is not a "Mike Minor" restaurant. Nor is it a Mexican restaurant. It is a "Lorena Garcia" restaurant, and Garcia (a Venezuelan by birth) is all about introducing you to the glories of empanadas, amarillo, choclo, and all sorts of interesting spices. Minor is simply the chef tasked with executing Garcia's vision from far away Florida.
For those not in the know, Garcia is one of those Food Network stars who seemingly came out of nowhere to suddenly become a household name among those who can't get enough of "Guy's Grocery Games." (JEALOUS? YOU BET!) Hers is not a Mexican sensibility; hers is a cuisine informed by her heritage. You're going to get Latino cuisine here, and South American food, and food that reminds you of Mexican food but that is decidedly not Mexican food. And for that, all we can say is, "praise the lord and pass the arepas!"
Besides bringing this South American spin to Latino cuisine, the smartest thing Garcia did was to install Minor in the kitchen. As top toque at Border Grill for years, he knows a thing or two about executing a menu conceived by ground-breaking female chefs. He also knows how to excel at elotes: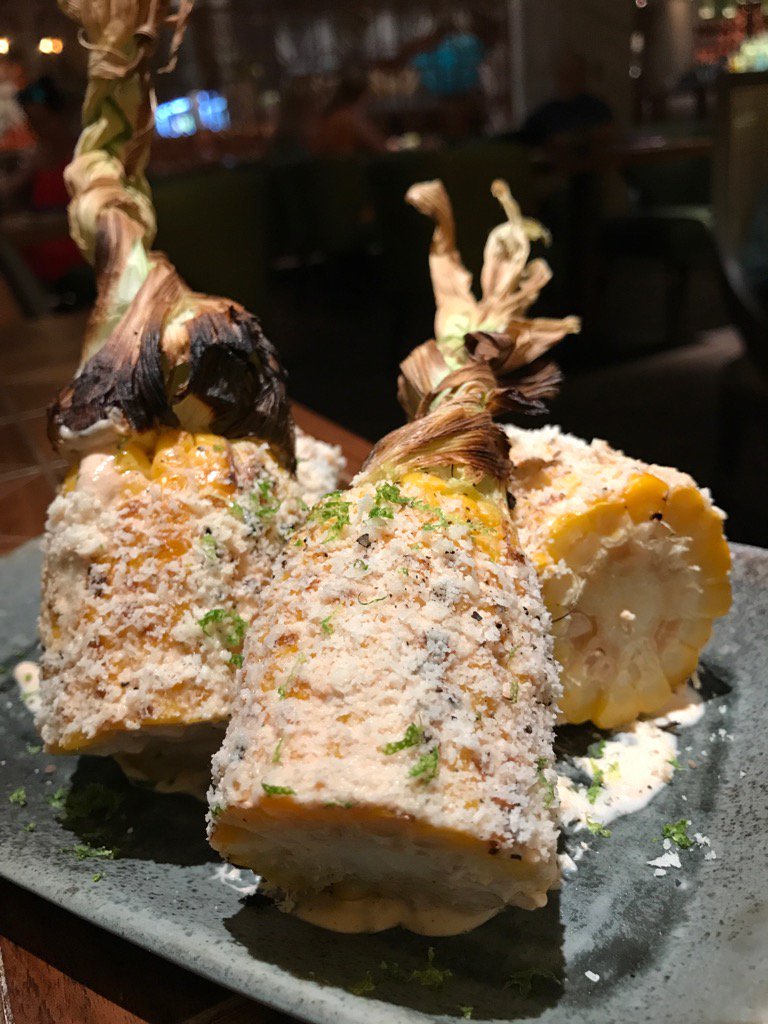 Serenade you with ceviche: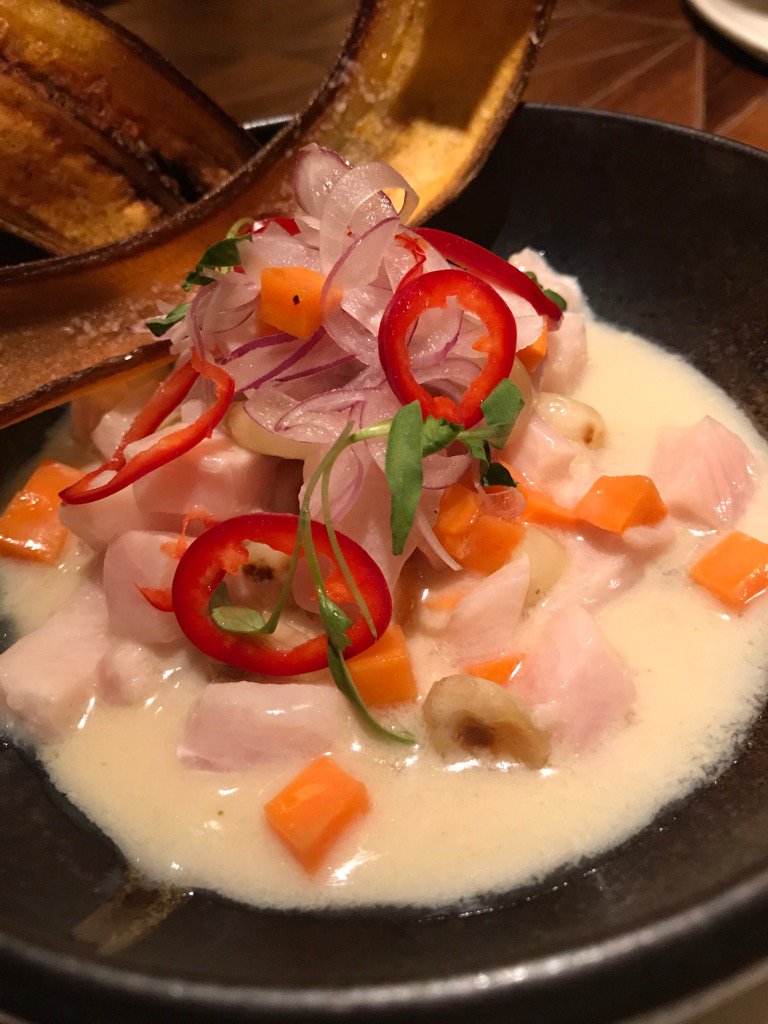 And cajole you with churros: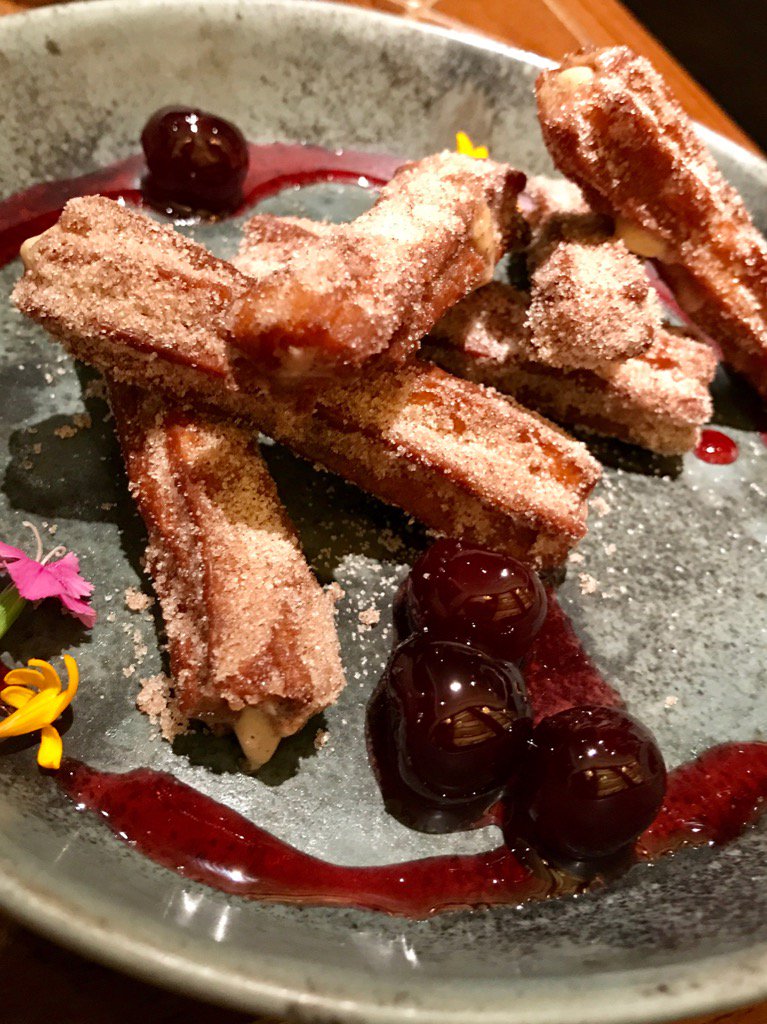 Those churros are the handiwork of Sara Steele (another Strip veteran) and between the two of them, they are laying out a menu that is sock-blowing-off scrumptious.
That ceviche (big chunks of firm fish in a perfectly balanced tigre de leche) might be the best version we've had that was either 1) not in Mexico, or 2) not at Rick Bayless's Topolobampo. Just as good, if not better, was the best cephalopod we've seen this century.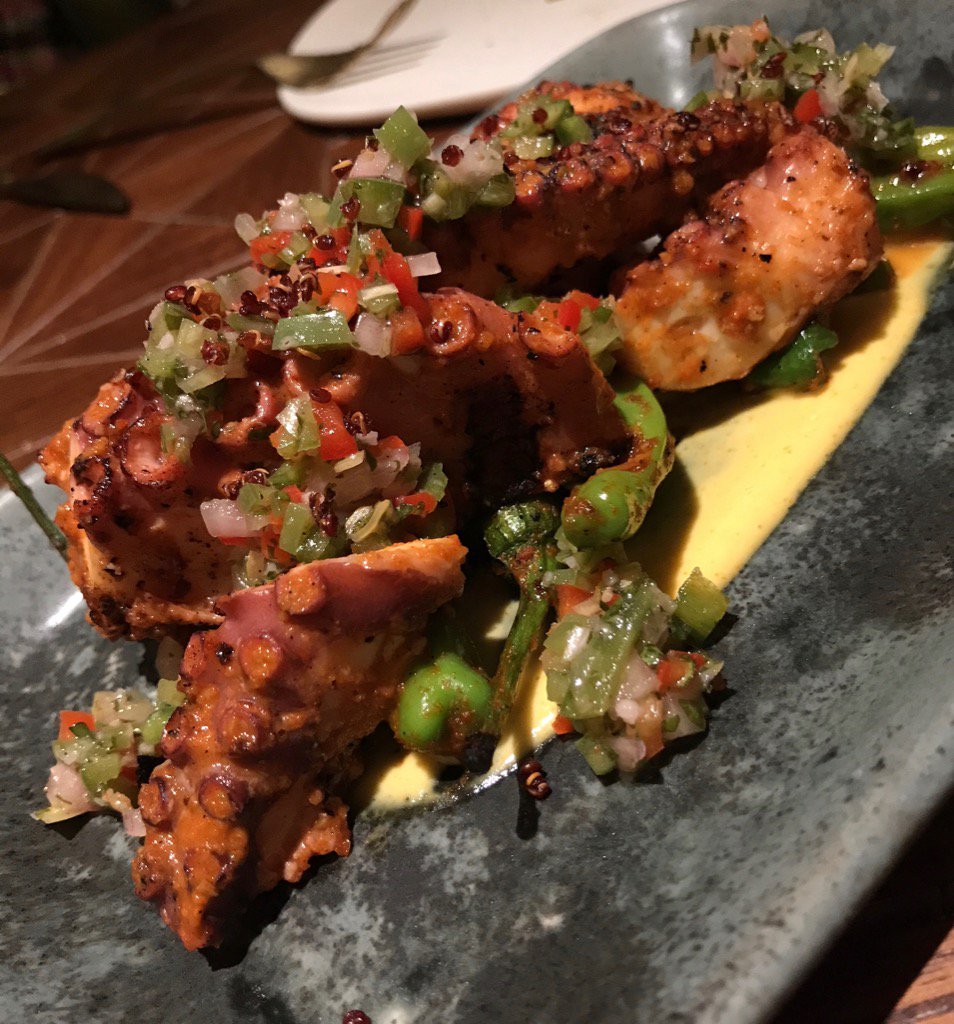 Spoon tender and spiced in all the right ways, it put even certain Greek versions in town to shame.
Everyone knows we hate brunch, but, truth be told, this Latin-infused take on everything from chicken and waffles to corn pancakes stopped us in our tracks. And by "stopped us in our tracks" I mean licking our plates and finishing every bite.
About the only dishes that didn't deliver were the chewy chicken chicharrones (we were expecting crispy skin, we got dried out meat), and mushroom quesadillas that delivered a lot of 'shrooms, but were lacking in the promised huitlacoche and bleu cheese flavors.
No biggie when you consider how strong the rest of the menu is. From the watercress Caesar: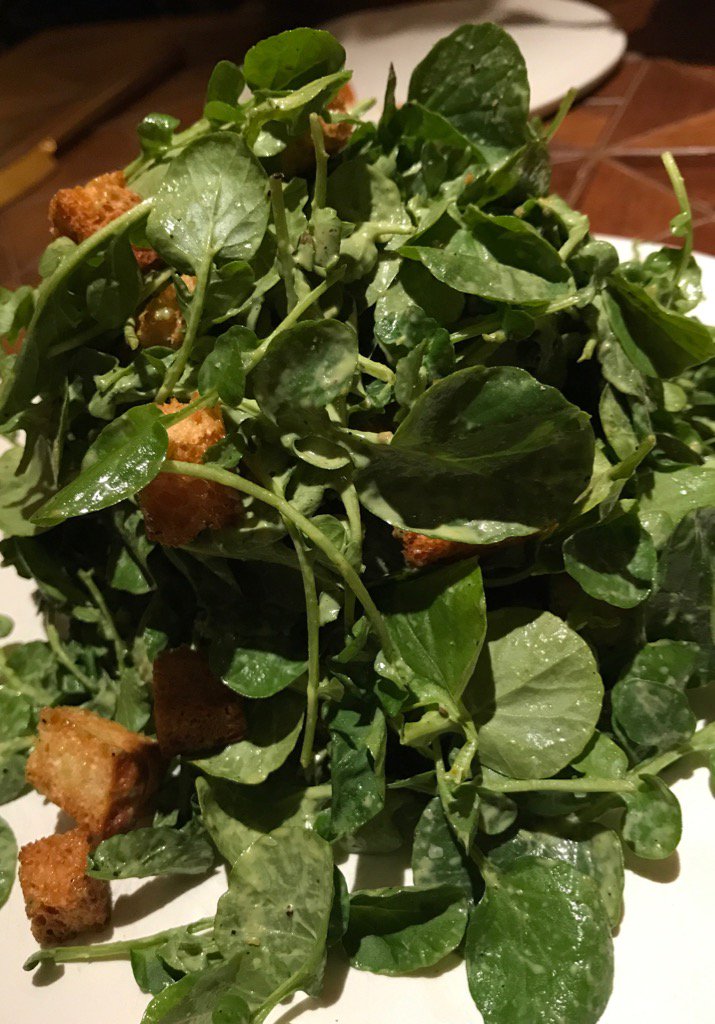 ….to the porchetta with crispy yucca hash: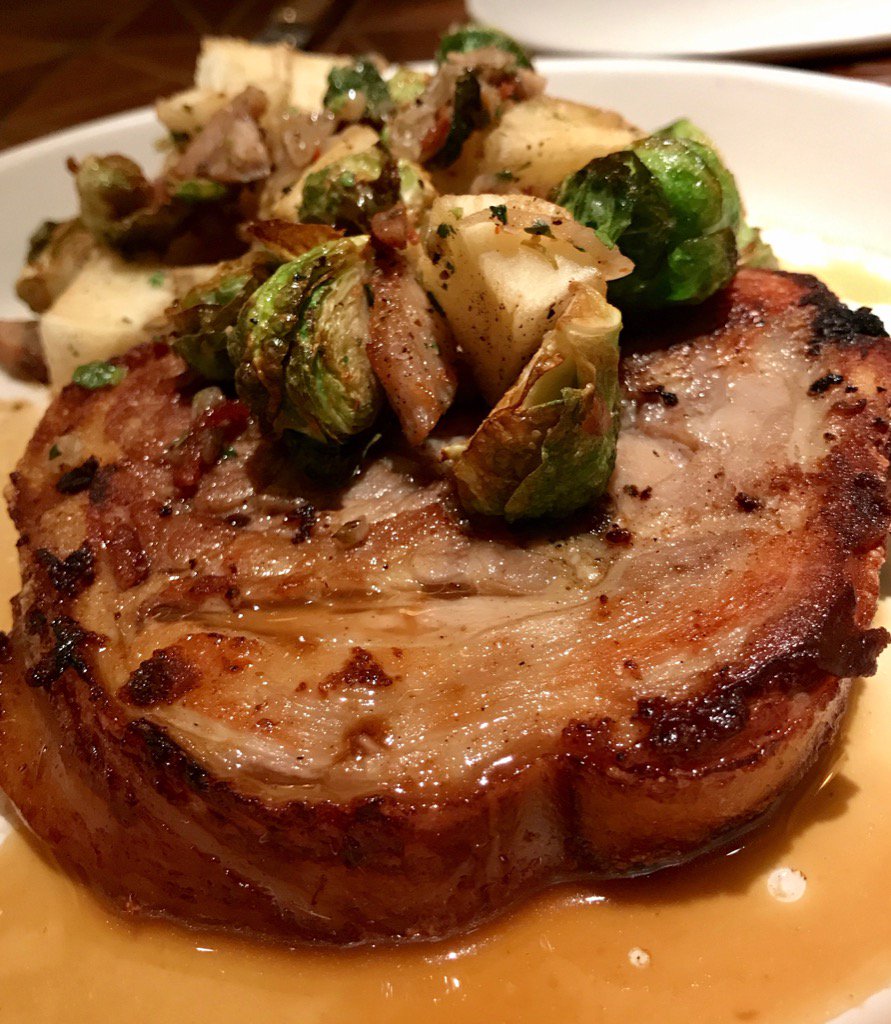 ….this is a menu full of eye-opening surprises.  Something-for-everyone South American food hasn't been done before in the High Mojave Desert — at least not to this degree of distinction. It's time to spread your Latino wings, and Garcia and Minor are just the right flight instructors.
One meal of ELV's meals was comped; another (for two) came to $140 + a $30 tip, including a couple of stellar "mocktails."
CHICA
Venetian Hotel and Casino
702.805. 8472
https://www.venetian.com/restaurants/chica.html