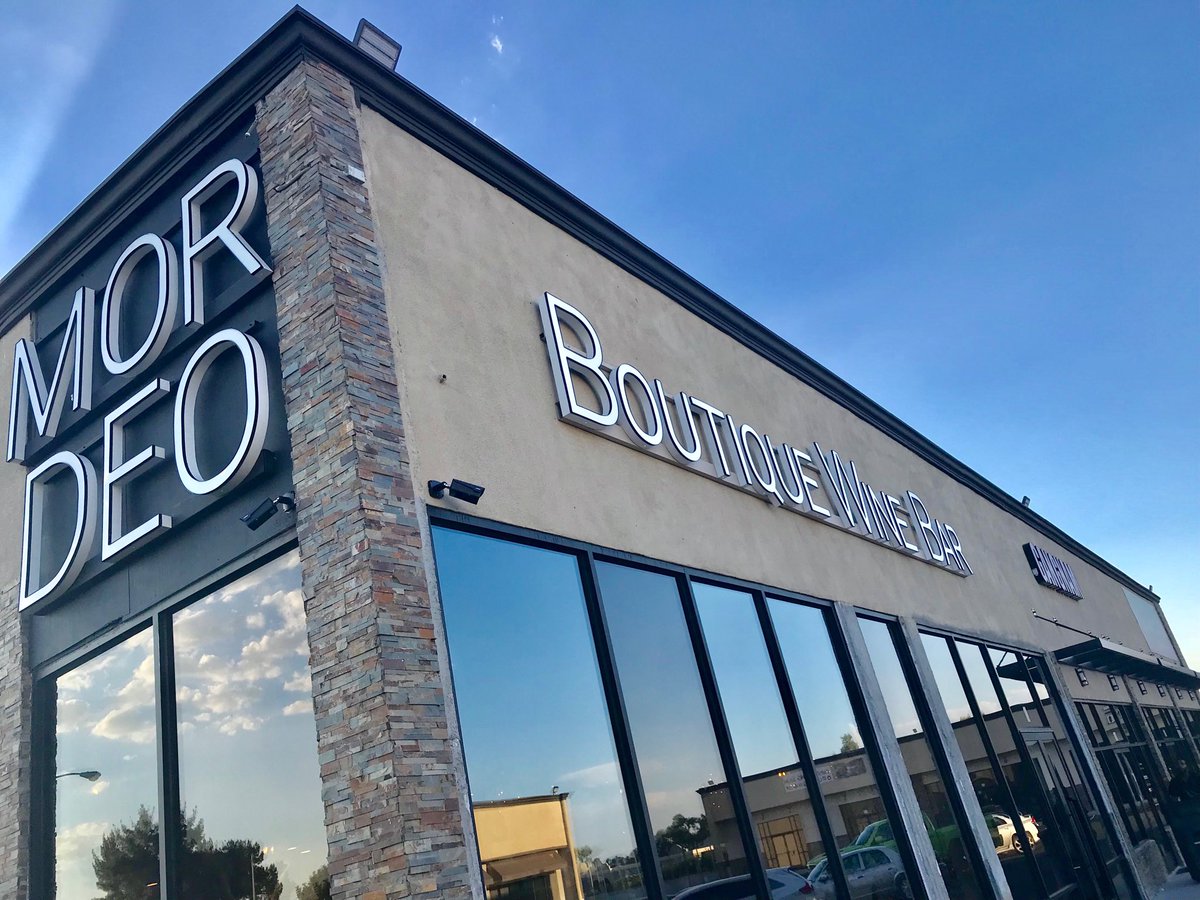 Mordeo Boutique Wine Bar is a small plates purveyor of a different stripe. Where Pamplona shoots and scores with authentic, Madrid-style tapas, and Edo gives an updated spin to their Spanish classics, MBWB takes the tapas thing in several different directions. And those directions have as much to do with wine as it does with shareable food. The good news is both are pretty nifty.
What confronts you when you enter is a long, in-laid, colorful three-sided bar. Very L'Atelier de Joël Robuchon that. This counter represents latest manifestation of the side-by-side dining that has been all the rage since Robuchon made such a splash with it in Paris in 2003. Grownups may find it a tad awkward, and for us there's a couple of high-boy tables in one corner where 4-6 people can actually talk without leaning in and out with every sentence. Hearing is another matter, as you'll see below.
Once you get comfortable (and to their credit, the staff here puts everyone at ease), you will observe the hustle and bustle behind that bar, as well as the refrigerated wine racks, and all sorts of people moving to and fro, taking orders, mixing drinks, pouring wines, and delivering plates.  It's really quite a scene, but only three months into its run, the staff and kitchen seem well-synchronized. If you score one of those tables, don't expect to hear any whispered sweet nothings from your dearly beloved though, as that would require a bullhorn over the din. (In this regard, side-by-side seating makes a lot of sense.)
If the term "wine bar" in the name doesn't give you an idea what this place is all about, then the two-sided list will. It's compact — five whites, six reds, some sake, several sherries — but (almost) everything is price to sell. Strip wine maven/veteran Luis de Santos (pictured above) co-owns and runs the libations side of things, and he has tailored his list to go with the food, but also to be quaffed and enjoyed, not pondered and discussed.
The whole point is to try a couple of bottles with your food, and when you can get a pretty Clarete rosé from Rioja for only $34, and tempranillo-syrah for the same price, there's no reason not to try both. (Those are bottle prices, not the by-the-glass gouges you find on The Strip.) You almost get the feeling that he and chef/owner Khai Vu are testing the waters with these wines, as they try out which ones, at what price point, will appeal to their customers. Something tells me the offerings will expand as this place gains its footing, and every bottle won't always be in the $30-$50 range. But for the time being, everything is quite a bargain. Even the beer.
Tasty, inexpensive wine may be what brought you through the door, but the food is what will keep you here.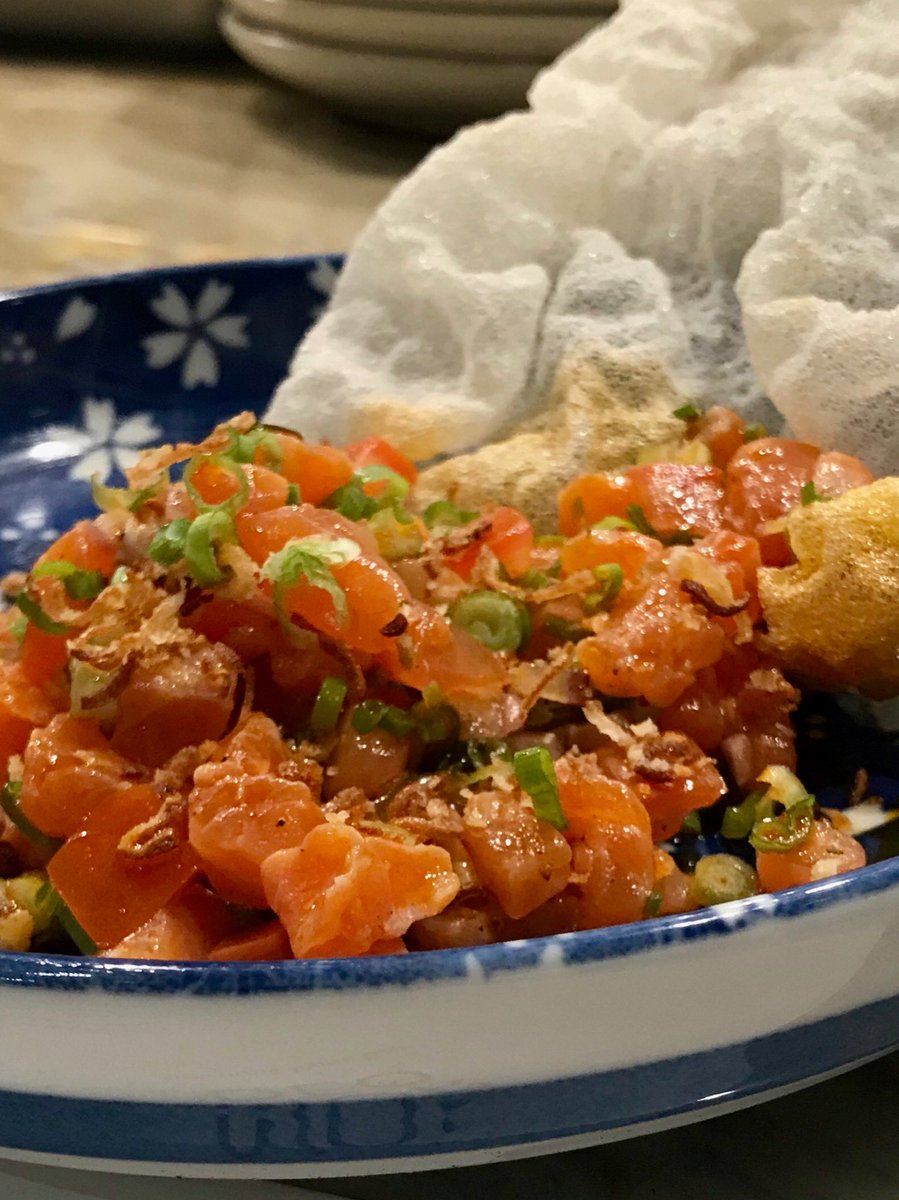 Here, you're just as likely to find a Mexican-inspired elote corn skewer, and snow pea leaves with garlic, ginger and sake, as you are a satisfying fingerling patatas bravas. This all-over-the-map menu has them all, and by and large, you won't be disappointed. The Lomi Lomi Ocean Trout (pictured above) can only be described as zesty. It may be the best ceviche you've ever had in Vegas. Right beside it on the ceviche list are a classic, Mexican shrimp aguachile, and Maine lobster with mango salsa, and they're no slouches, either.
Just as enthralling as all that sparkling seafood is The Cloud — thin, and we mean really thin, slices of Iberico de Bellota Cinco Jotas on top of a super thin, almost invisibly crispy chicharrónes :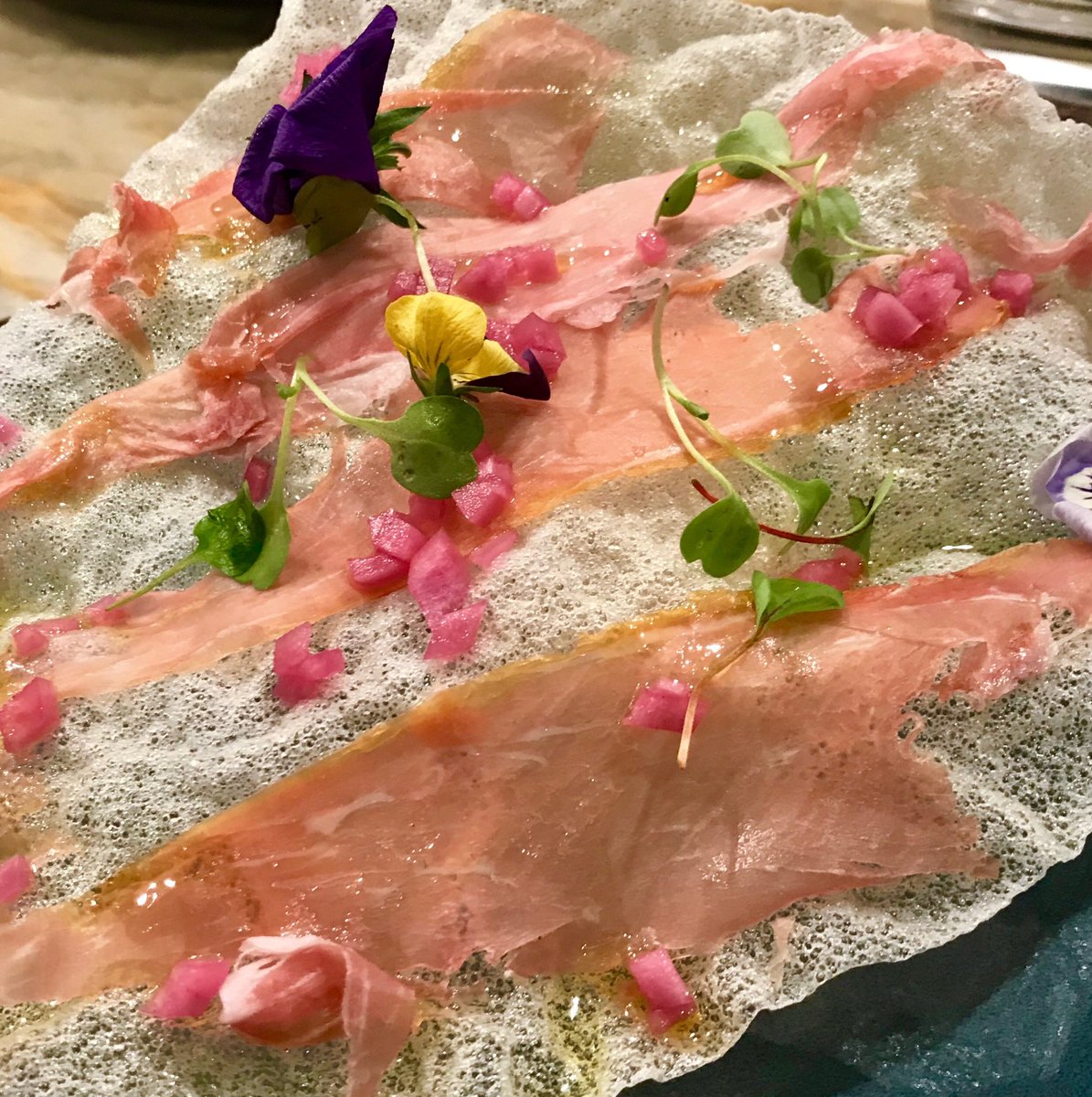 — as perfect a nibble with a glass of verdejo as has ever been invented.
They do something they call Beet Garden here — red and golden beets with a goat cheese mousse — that is as wine-friendly (and pretty) as any root veggie dish can get:
The meaty king crab leg (at $38, the most expensive thing on the menu, but not the most photogenic) is crabby enough for two, and the cold, briny oysters, and ginormous Nigerian prawn (below) show they're also serious about their seafood:
Other winners include a meaty La Asada (grilled Angus skirt steak with some kick-ass chimichurri sauce), and a stew of clams, chorizo, and mussels (pictured above with the prawn) that has quite a kick of its own (from the white wine/sriracha sauce).
Desserts are only two in number (and always in flux), but if this mango rice pudding (made to look like a fried egg) is offered, don't miss it:
You'll have no complaints about the flan, either, but when was the last time you complained about a flan?
Too many many modern restaurants, in their endless attempts to mash up American food into with every cuisine on the planet, try too hard to dazzle you with their footwork at the expense of harmony and balance. There is both ingenuity and restraint in these dishes, which is rare these days. While it's easy to decry the menu's lack of focus, the wild ride you take among these flavors captivates your palate without ever wearing it out.
If you squint a little you'll see a lot of similarities to what Edo is doing just down the street. But whereas Oscar Edo keeps his eye on Spain, Khai Vu let's his wander a little farther, and tosses in everything from Mexico to the Japanese/Chinese kitchen sink. That he does this without ever going a seasoning too far is quite extraordinary. Mordeo, like its competition, may have hit on just the right formula to drive complacent palates down to Spring Mountain Road: interesting, hand-tooled, strongly-seasoned, wine-friendly food. The kind of food Las Vegas has needed since I moved here in 1981. The kind you can now find in three restaurants (Pamplona, Edo and Mordeo) all within a couple of miles of each other.
(Dinner for two, with a few drinks, or a bottle of modestly-priced wine, should run around $100/couple, excluding tip.)
MORDEO BOUTIQUE WINE BAR
5420 Spring Mountain Road #108
Las Vegas, NV 89146
702.545.0771