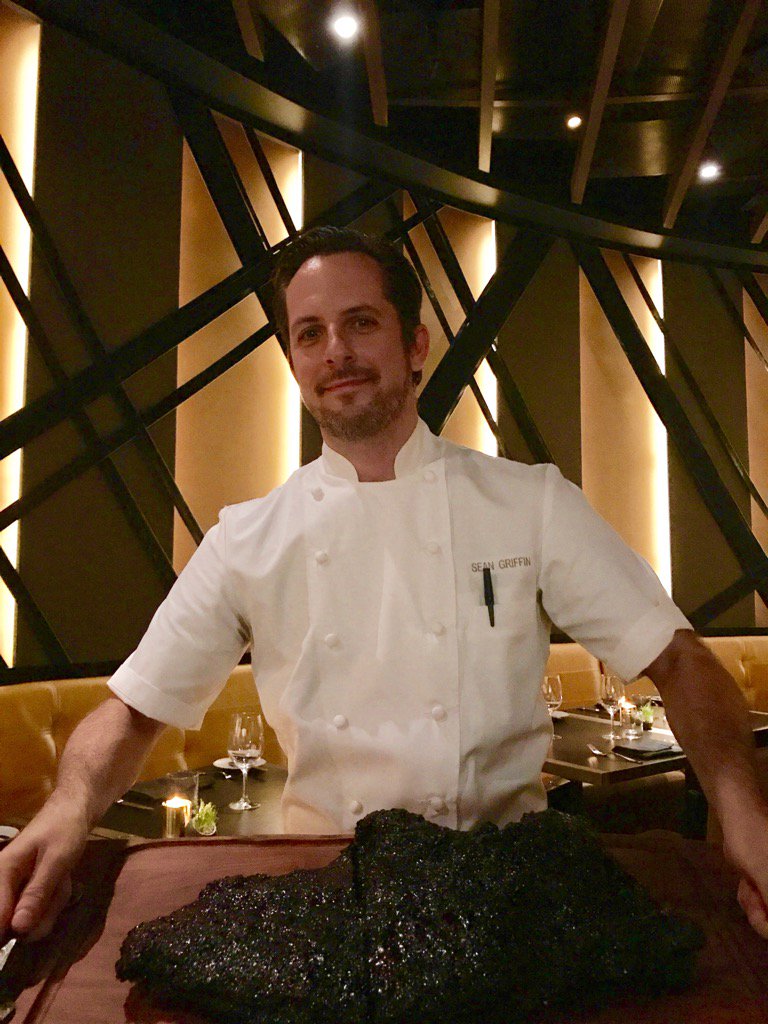 (A man and his meat: Sean Griffin is smokin'!)
They had me at "wagyu brisket." More on that in a minute. Actually, Jean-Georges Vongerichten has had me in his thrall since August 30, 1988, when I first tasted his then-groundbreaking Alsace-meets-Asia  take on French cuisine in New York City (at a birthday dinner for my then-spouse).
Back then, he was a wunderkind of French chefs, mixing and matching French technique with the mysterious scents and accents of Thailand. Today he has dozens of restaurants all over the world, and two of Vegas's best steakhouses. The oldest one — Prime in the Bellagio — will always hold a special place in our heart. For nineteen years it has been Las Vegas's prettiest steakhouse, and the food still sparkles as much as the room.
It's seven year old sibling — the Jean Georges Steakhouse  —  has always had a more casual vibe.  The classic feel of Prime extends to its menu (which changes about as often as I go to a monster truck rally), while JGS is where Vongerichten lets his chefs play with their food. The lucky chef in this case is Sean Griffin, a baby-faced veteran who knows his way around steaks like his boss knows a khao niao from a kai yang.
Truth be told, we've eaten here several times in the past and always felt like menu was derivative, dumbed-down, and a pale imitation of what big brother was doing. With the new re-boot, JGV has finally found its sea legs (?), and Griffin's cooking feels more confident and focused.
The operation hits all of the stations on the steakhouse cross (dry-aged, Japanese-raised, grass-grazed), along with the requisite Flintstonean tomahawk chop (42 oz.) and the  ungodly-priced A5 Kobe — for those who like to feel their arteries hardening while they eat. But what really distinguishes this place are the little touches Griffin brings to things like a Summer Fruits salad:
….phenomenal eggs-on-egg oscetra caviar toast — a construction so simple and perfect (rich, just-cooked yolk sandwiched between two thin pieces of toast, topped with fish eggs) that I couldn't believe I've never encountered it before:
If those don't inspire a tip of the fedora to the kitchen, then try this pepper-crusted foie gras (with strawberry-rhubarb compote) on for size: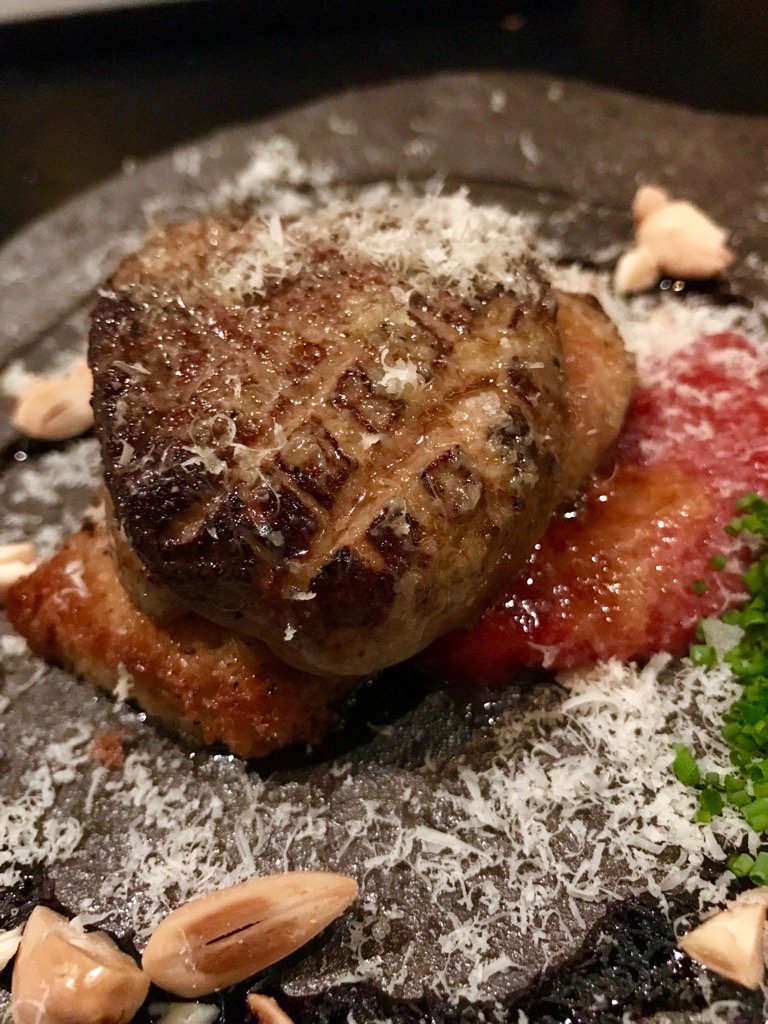 …and a crunchy breast of chicken in a shallow pool of uncommonly good hot sauce. By-the-numbers cooking this is not —  whether you're diving into a big lumpy crab cake, or a citrusy-glazed sea bass. The steaks are grilled over apricot wood (and finished with rendered beef fat) and take a back seat to no one's, but it's those apps and sides that will get your attention. Summer corn is brought to life by Manchego cheese, chili and lime, and if there's a better potato dish in town than Griffin's smashed Yukons with jalapenos, I haven't found it.
It's the aggressive-yet-balanced use of strong, tangy accents (peppers, citrus, soy, etc.) that distinguish this menu from so many others, including its big brother. These flavors announce JGS as a steakhouse with real kick, and one that will keep your palate awake throughout the meal.
Back to that brisket, it was black as coal and smoky as a Texas wildfire. It tiptoed between fork tender and slightly chewy and was all the beef-eaten a rootin' tootin' carnivore could ask for. It needed a little sauce, but the four they make in house — chili glaze, JG steak sauce, soy miso and Bearnaise — are all equal to the task. The desserts are superb, and par for the course for a chef who's had my gastronomic attention for half of my life.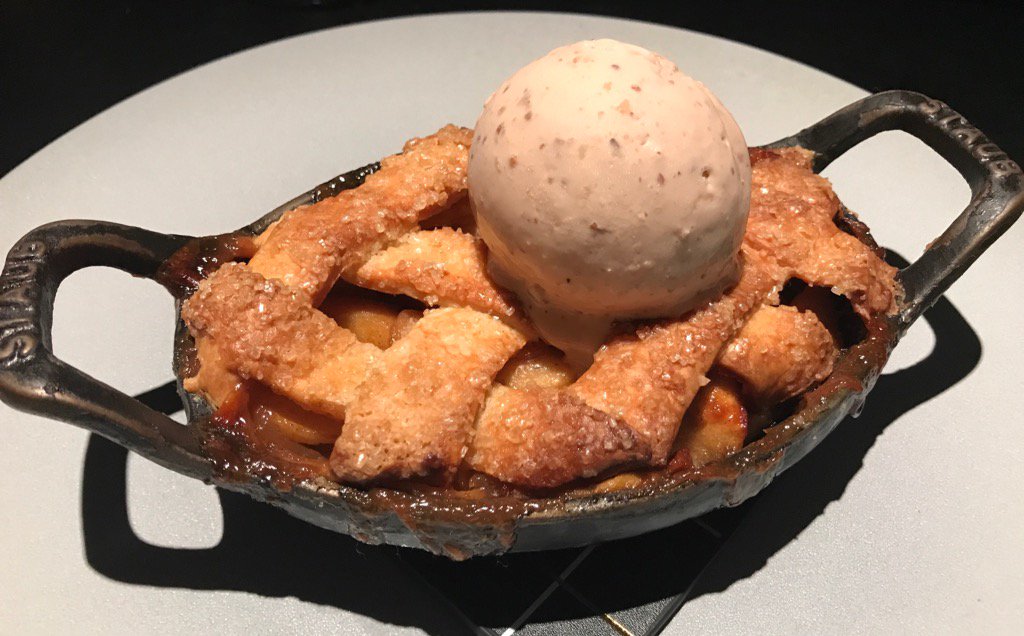 JEAN GEORGES STEAKHOUSE
Aria Resort and Casino
3730 Las Vegas Blvd. South
Las Vegas, NV 89109
702.590.8660
https://www.jean-georges.com/restaurants/united-states/las-vegas/jean-georges-steakhouse/
P.S. My sister and her grandnephews are probably still talking about the Brontosaurus (marrow) bone we were served:
Like everything else coming out of this kitchen right now, it was overwhelming (in a good way) and just about flawless.