"The food in Las Vegas is a lot better than it has to be." So said John Mariani to me over a decade ago as we were touring the Strip.
These days, a case can be made that the same could be said about our suburbs.
Do the steaks at Andiron have to be so top shelf? Does the seafood at Other Mama or Japaneiro have to be so impeccable? Couldn't Marche Bacchus get by with lousier pork?  The answers are: no, no and yes. Each of them could shave a buck or two on ingredients and it probably wouldn't hurt them at all. No one would notice, except maybe a chef (or finicky critic), and their bottom line would be boosted in the process.
The point is they do care about quality, even if their customers can't tell the difference. This makes them proud of the product they serve, and builds a level of trust between them and their clientele.
Restaurants like the ones mentioned are few and far between in the 'burbs, but they are slowly increasing in quantity (even in Henderson – thank you Standard & Pour), and we at ELV are glad that their number just increased by one.
André's Bistro & Bar took over the old DW Bistro space a few months back and has been packing them in from day one. They've kept the same floor plan but lightened up the space, given it a serious bar (and interesting, well-priced wine list), and took to cooking real French bistro food with no compromises.
In other words, they finally took my advice and picked up the restaurant gauntlet I've been throwing down for this entire century.
To say I'm pleased by all of this is an understatement. French bistro food is the most comforting, eat-every-day restaurant fare in the world. Only true trattoria cooking comes close, but no one in Vegas has the guts to go the full Roman, so Italian authenticity always gets drowned in a sea of cheap cheese and pizza sauce. I'll leave the I-told-you-sos for another time(?), but let's just say they've taken a classic formula here and run with it. And the public is responding.
One of the reasons, of course, is that the Stacked Hospitality Group had the good sense to move to this area of town — southwest Las Vegas being so restaurant-starved it makes Downtown Las Vegas look like mid-town Manhattan. The other smart thing they've done is to put Joe Marsco and Mark Purdy in charge of things. Marsco is the business/front-of-the-house guy and Purdy the Executive Chef, and years of working at Andre's in the Monte Carlo taught them both a thing or two about executing a menu of French classics.
French classics is what this menu is all about, no matter how many times they tell you that it's "American Tavern Cuisine." (For the record, we know that they have to use monikers like "American Tavern Cuisine" in order to appeal to the yokels who might be scared snail-less by an escargot, but make no mistake, this menu is as French as a sidewalk cafe.)
You don't get much more French than foie gras, and you won't get any better seared foie than this beauty sitting atop stewed apples and a caramel custard sauce: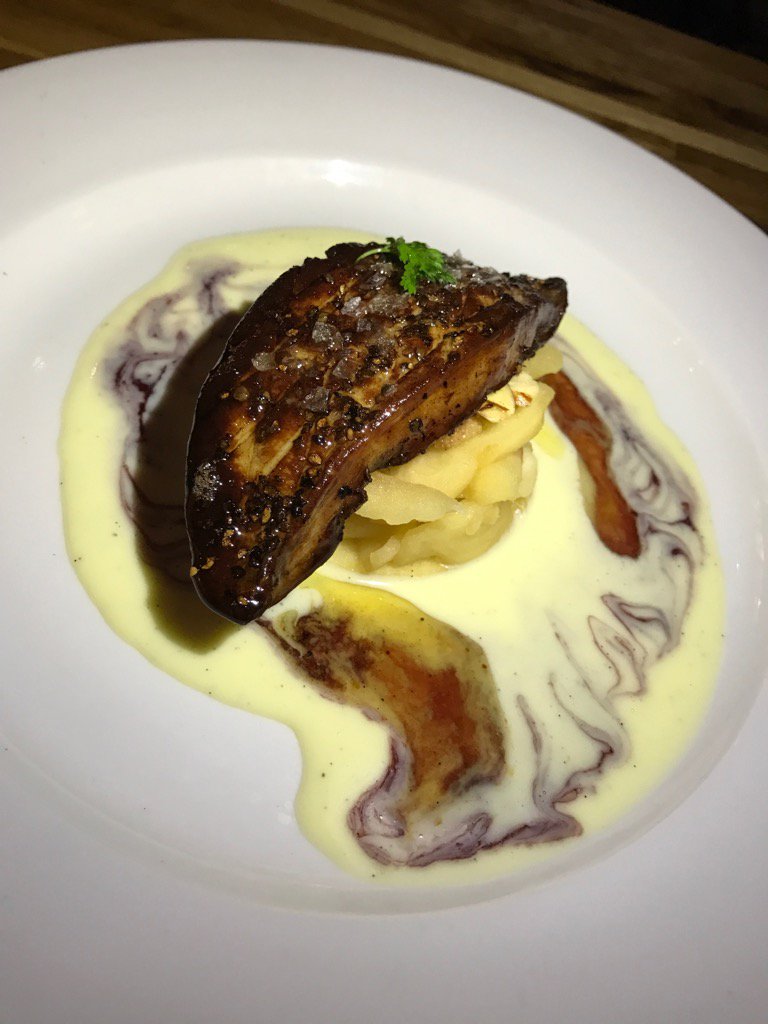 Does it taste like an apple pie under that unctuous liver? Absolutely. Does that make it the most decadent starting course this side of Guy Savoy? "Mais oui!" as the French would say.
Speaking of frogs, you can get their legs here (although we haven't tried them yet), along with a roasted vegetable terrine of concentrated tomato richness:
Just as good are the escargot (swimming in butter, garlic and parsley just the way they're supposed to be), and moules frites that cede no ground to anything you'll find at Bouchon, Mon Ami Gabi or Bardot Brasserie.
Of the salads tried, the Lyonnaise was proper in every way….if a bit uninspiring…and the beets with goat cheese were as beet-y as you could want them. (Chefs know I hate beets and are always torturing me with them, but if you like the taste of dirt, these are as tastily done and prettified as any gussied-up dirty root vegetable can be.)
Seafood continues to improve in the neighborhoods, helped along by a more knowledgeable public that now demands it. That explains the existence on the menu of this seafood risotto:
…as well as a textbook-perfect Dover sole "Veronique" that is old school French at its finest:
Neither of these items dishes would ever have come close to a local's restaurant menu a decade ago, now everyone sees them and dives in. (I'm told the Dover sole sells out quickly on the nights it is offered, and one bite of the thick, sweet fish and you'll know why.) Someone on my Facebook page said snarkily (when looking at the sole pictured above), "1985 called, they want their plating back." Yes it's as old fashioned as it gets, but it's also as tasty a fish as you'll find this far from the ocean.
None of this is ground-breaking cooking; all of it is grounded in good ingredients, treated with respect and proper (which is to say French) technique.
We also enjoyed the house-made sausages immensely — sitting as they are on top of some nice, sweet-sour Lyonnaise potato salad — as well as the nutty golden trout amandine:
…lightly sautéed (not heavily coated and fried) and properly adorned with a nice, brown butter sauce.
Both the trout and the flat iron steak are about the best $22 entrees you can find off the Strip, and the $12 burger is quite a mouthful (for $12) as well.
On our two visits, things seemed to be running preternaturally smoothly for a brand new operation, which is, again, a testament to having grownup professionals in charge of things.
No doubt there are kinks to be worked out (the wine list is tough to read, both the sauce and maître d'hôtel butter for the steak were too cold, and the mason jar hot fudge sundae tastes better than it looks), but quibbles aside, this place hit the ground running and doesn't look likely to stop.
One place you will want to stop and linger is the dessert menu. Tammy Alana's creations are the best thing to hit the 'burbs since free parking.
All of them are classics —  tarte tatin, chocolate walnut gateau, milkshakes (with malt!), Grand Marnier soufflé, lemon tart (pictured above) — all of them are made in-house, and all of them taste like you're in the hands of a master.
Which you are.
Just like I told you you would be.
ANDRE'S BISTRO & BAR
6115 S. Fort Apache Rd.
Las Vegas, NV 89148
702.798.7151
https://www.andresbistroandbar.com/