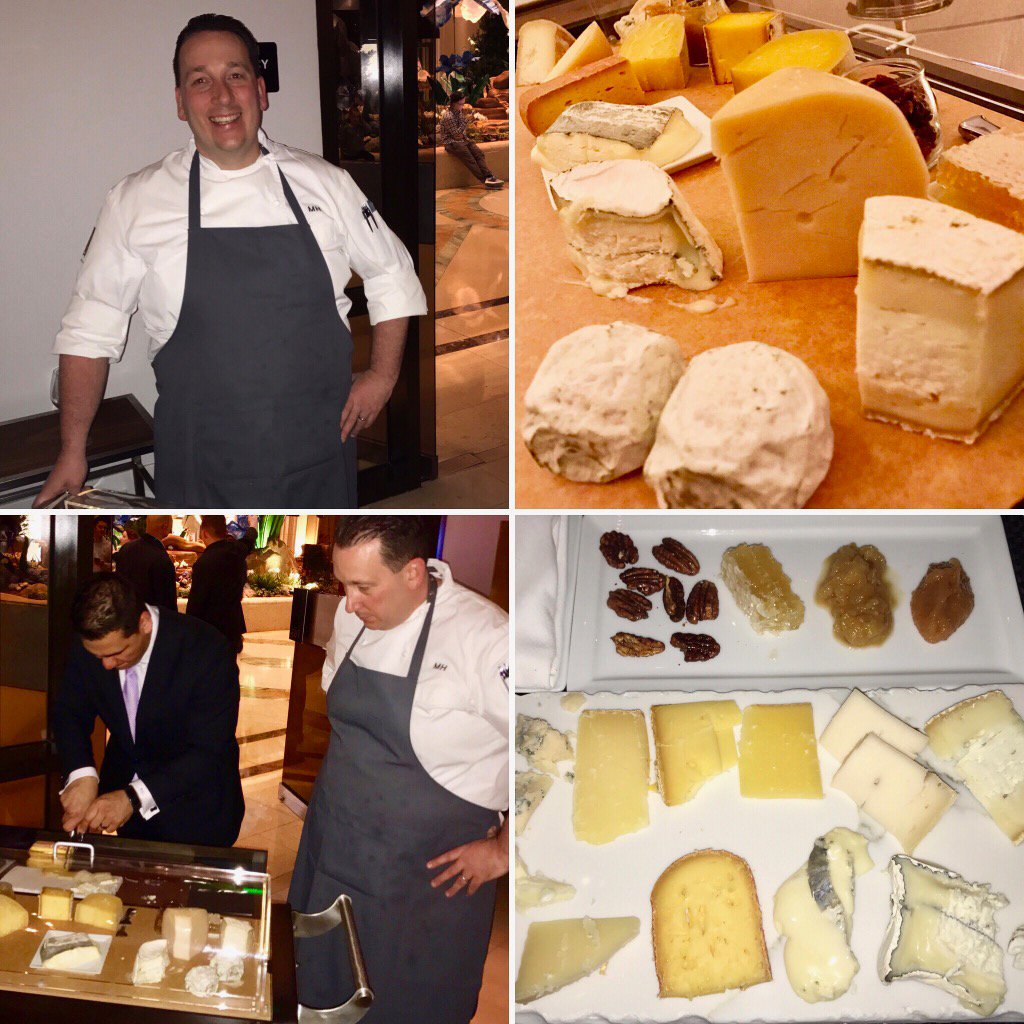 Why is Matthew Hurley smiling?
Because CUT Las Vegas celebrated its 9th birthday yesterday.
Why are we smiling these days?
Because we, like Matthew, are fromage-a-philes. Lovers of the fermented curd. Crazy for quark. Choosy about cheddar. Passionate for Parm. You get the idea.
Cheese carts are in short supply in Vegas these days. Cheese in general is not given its proper place at the table in all but a few places. Spanish cheeses are well-represented (but not displayed) at Jaleo, Bazaar Meat, and Julian Serrano, Morel's does a nice job with its eclectic selection, and our big hitter French joints (Robuchon and Guy Savoy) are ripe with the stuff. But when's the last time you were offered cheese in an Italian restaurant? Or saw any displayed?
Is it because Italy doesn't make much cheese? Or isn't proud of what its formaggio? Or perhaps Italians don't care enough about their curds and whey?
However you slice it, Italian cheeses are the Rodney Dangerfield of ingredients in Las Vegas's Italian risorante.
But what about American cheeses? Our artisanal cheese industry has grown by leaps and bounds over the past 30 years, and American cheeses are now some of the best in the world. Why don't they get any love in Las Vegas?
Is it because Americans don't eat much cheese?
That's probably, partially true. We are only 19th in world cheese consumption, well behind such cheese consumers as Norway, Luxembourg and Iceland.
Or perhaps it's because we're ignorant about how to eat cheese — as most Amuricans still think of it as a gooey topping for pizza and burgers, or shredded into taco oblivion.
In case you haven't heard, handmade real cheese, made with the purest, freshest milk is now being made by American fromageries from Vermont to California, Oregon to Georgia.
Many of these cheeses echo iconic European curds — Meadow Creek Grayson is trying very hard to be an Alsatian Munster; Cabot Clothbound Cheddar wishes it were a Neal's Yard Montgomery — while others like Rogue Creamery Smokey Blue could only be made in the U.S. of A.
The fun part is tasting all of them and deciding for yourself. Europeans have the right ideas when it comes to cheese: either make a meal of it by itself (with some bread, fruit and/or a bottle of vino), or use it as the ultimate digestivo — the amino acids and enzymes in cheese making it quite useful to help you digest whatever came before it.
Great cheese is a fitting climax to any great meal in a restaurant that's not a sushi bar. Sadly, the head-'em-up-and-move-'em-out mentality of most of our Strip restaurants does not allow for choosing and eating cheese in the leisurely way it should be enjoyed. Kudos to CUT (and Hurley) for bringing something new and fresh (in the form of something old and fermented) to one of the best steakhouses in the country.
What a fitting birthday present for CUT to give itself, and its customers.
CUT
The Palazzo Hotel and Casino
702.607.6300
Below is the cheese menu at CUT with appropriate wine pairings. You'll notice there's nary a red wine in the bunch — the tannins in red wine always fight cheese, and increase the wine's sourness. If you want to enjoy wine with cheese, drink a white, or something with a touch of sweetness in it. Port works beautifully. Cabernet sauvignon works not at all, no matter what the Bordelais say. If you're buying, I'd pick the Beerenauslese; if I'm buying, that Taylor-Fladgate will do just  fine.

The Pasture…
Cow…
Pleasant Ridge Reserve, Uplands Cheese Company – Dodgeville, Wisconsin
Rocket's Robiola, Boxcarr Handmade Cheese – Cedar Grove, North Carolina
Appalachian, Meadow Creek Dairy – Galax, Virginia
Grayson, Meadow Creek Dairy – Galax, Virginia
Goat…
Goat Gouda, Central Coast Creamery – Paso Robles, California
Wabash Cannonball, Capriole Farms – Greenville, Indiana
Humboldt Fog, Cypress Grove Chevre – Arcata, California
Freya's, Briar Rose Farms – Dundee, Oregon
Sheep…
Bohemian Blue, Hidden Springs – Westby, Wisconsin
Lamb Chopper, Cypress Grove Chevre – Arcata, California
San Andrea's, Bellwether Farms – Sonoma County, California
Peekville Tomme, May Fold Farms – Chatahooche Hills, Georgia
Artisanal Cheeses, Honey Comb, Toasted Nut Bread
Three 17   /   Five 22
 The Vineyard…
GLASS
Elio Perrone "Sourgal" Moscato d'Asti, Piedmont, Italy  2014                                            14
Torbreck Muscat "The Bothie", Barossa Valley 2009                                                          14
Château Rieussec, Sauternes 2005                                                                                       32
Taylor-Fladgate, 10 Year Tawny, Port                                                                                    14
Grahams "Six Grapes", Port NV                                                                                               14
BOTTLE
Foreau "Clos Naudin" Moelleux Reserve, Vouvray, France 2005 [750ml]                      165
Weil, Riesling "Kiedrich Gräfenberg" Beerenauslese, Rheingau 2002 [375ml]             228
Jermann "Vino Dolce Della Casa", Picolit, Collio, Friuli 2007 [375ml]                             95
Valdespino "Cardenal" Palo Cortado, Jerez, Spain [375ml]                                               456
Domaine La Tour Vieille, Vin Doux Naturel, Banyuls, France 2007 [500ml]                  68
D'Oliveiras Terrantez Reserva 1977, Madeira [750ml]                                                       450
Dow's, Port 1985 [750ml]                                                                                                           218
Taylor-Fladgate, 10 Year Tawny, Port [750ml]                                                                     72