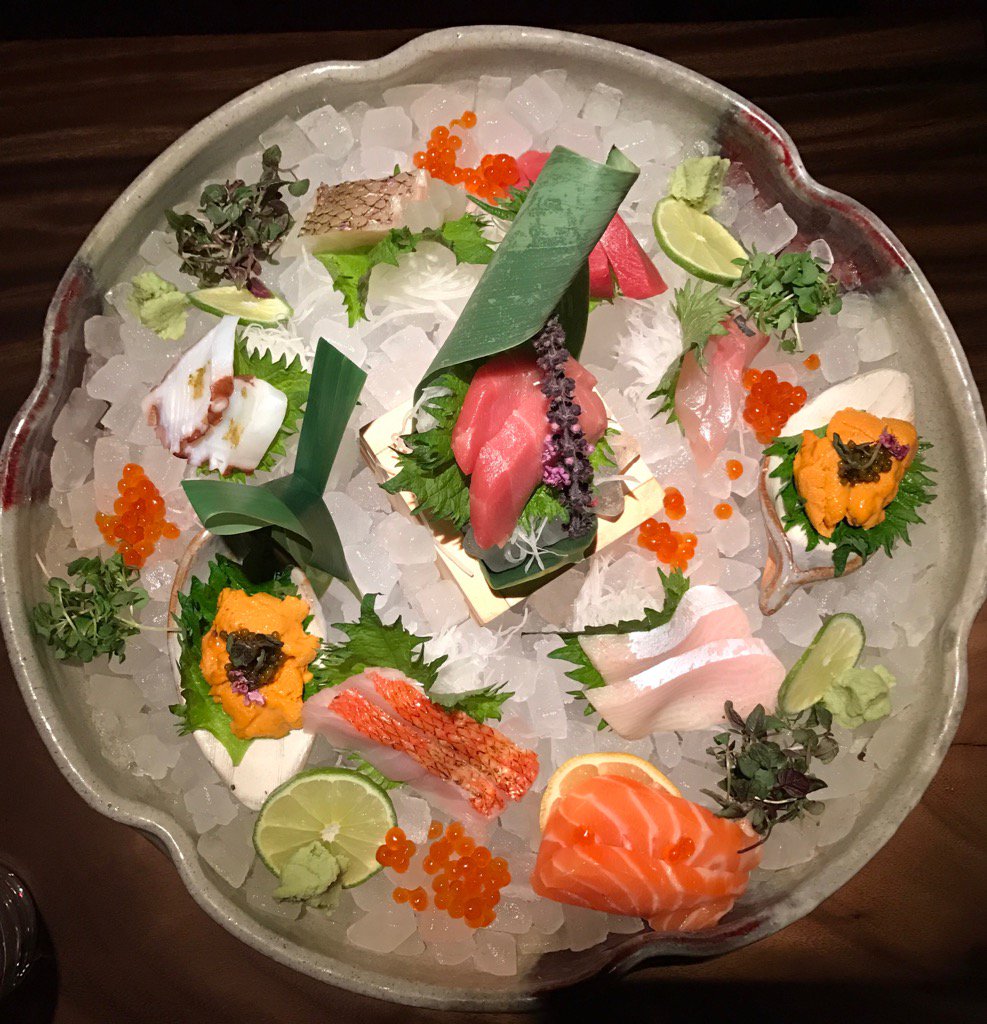 It's hard to get excited about big box Strip Japanese restaurants anymore.
It's hard because they're all clones of each other.
What Nobu started back in the late 90s has spawned copycat after copycat, until these days it's tough to tell your Hakkasan from your Yellowtail.
Morimoto, Nobu, and Mizumi are essentially the same restaurant. Remember Social House? That's okay, no one else does, either. Kan't rekall Koi? You're not alone. Everyone of them follows the same blueprint. You've got your bar, your sushi bar, and your fancy steaks and your edamame. Then there's the Japanese veggies, extravagant sushi and your robatayaki this and your yakitori  that. The only thing that's different is whatever flourishes the chef want to add to their garnishes and presentation platters.
We ascribe this phenomenon to the improbable/ecologically indefensible rise of sushi as the protein of choice for a world looking to "eat healthier." Ever since sushi became a "thing" around fifteen years ago, our insatiable hunger for what is, in essence, a pretty bland fish (tuna), has become the go-to ingredient for those looking to satisfy the hunger of the elite and the hoi polloi. Other fish (some of them actually tastier) are thrown into the mix, and by the time you've downed them, a few skewers and a "creative cocktail" or two, you'll leave fat and happy and about $200 lighter. Which is just what the hotels want.
But here's a dirty little secret: there isn't a whole lot of creative cooking going on in any of them. This is formulaic food pure and simple. Putting ponzu and jalapenos on some sashimi is nothing new. In fact, it's soooo 1996. Virtually everything else being dished up in these "modern Japanese" places is some repackaged idea the chefs learned from a Nobu Matsuhisa or Roy Yamaguchi cookbook, or from someone's recent trip to Japan, where the chefs have been serving their minimalist food with a flourish for centuries.
(Cooking-cutter, faux creativity also being what the hotels want, the better to impress the rubes — just like they do with all those Cirque du Soleil shows. Each one assaults you with the same, idiotic acrobatics, only in different costumes; each served with different, annoying music.)
In this way have big box Japanese restaurants become the steakhouses of the 21st Century. Everyone's doing the same thing. Everyone gets their fish from the same place; everyone's using the same Sriracha. Only the window dressing is different.
Which brings us to Zuma. The brainchild(?) of one Rainer Becker…someone who sounds as Japanese as Fabio Trabbochi.
But we ate in his restaurant — the eleventh location, just opened in The Cosmopolitan* — and had a very good meal there.
Which is another thing about "modern Japanese" restaurants: like steakhouses, it's pretty hard to have a bad experience in any of them. The formula is now so pat, and the techniques so well-taught, that whatever comes to your table is usually pretty tasty.
The first thing you notice about Zuma is the wood. There is lots of wood. Wooden hostess desk, wooden tables, wooden bars, wooden everything. We're talking whole trees here, not some namby-pamby sliced logs: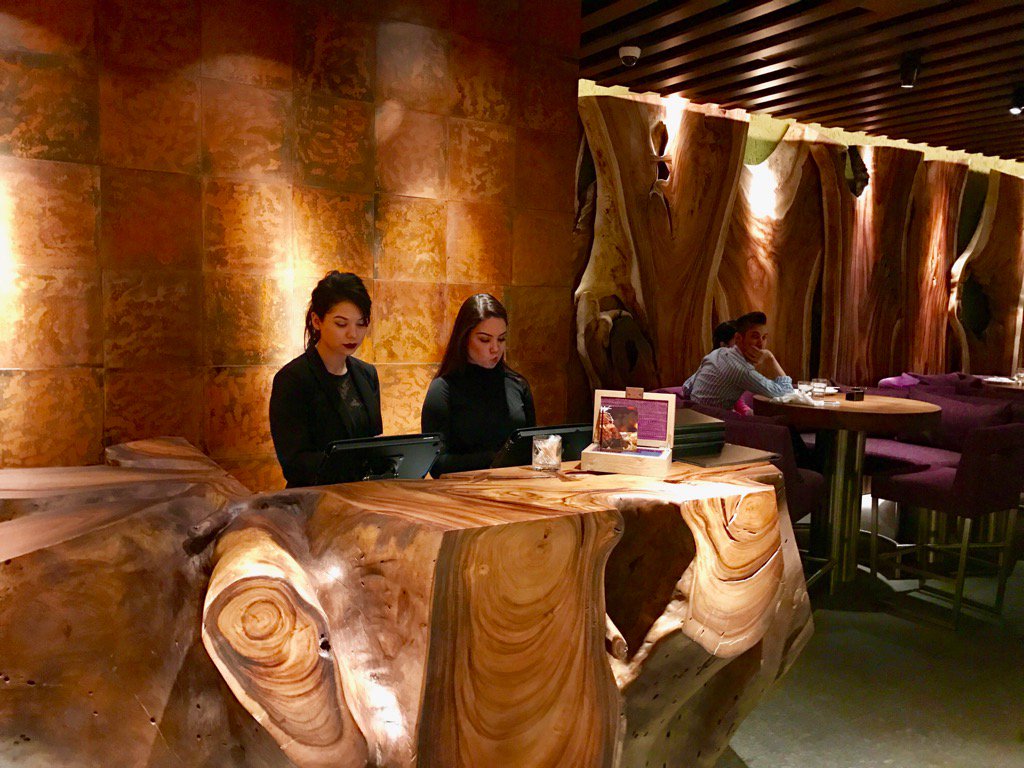 There's a sleek, modern bar (natch), and nice high top, thick wooden tables (natch), and sushi bars (natch) and three kitchens (natch) and a lot of seats filled with lots of good-looking young people who look like they're enjoying their skewers and their sashimi and their creative cocktails (triple natch).
What knocked us out was a beautiful lobster tempura: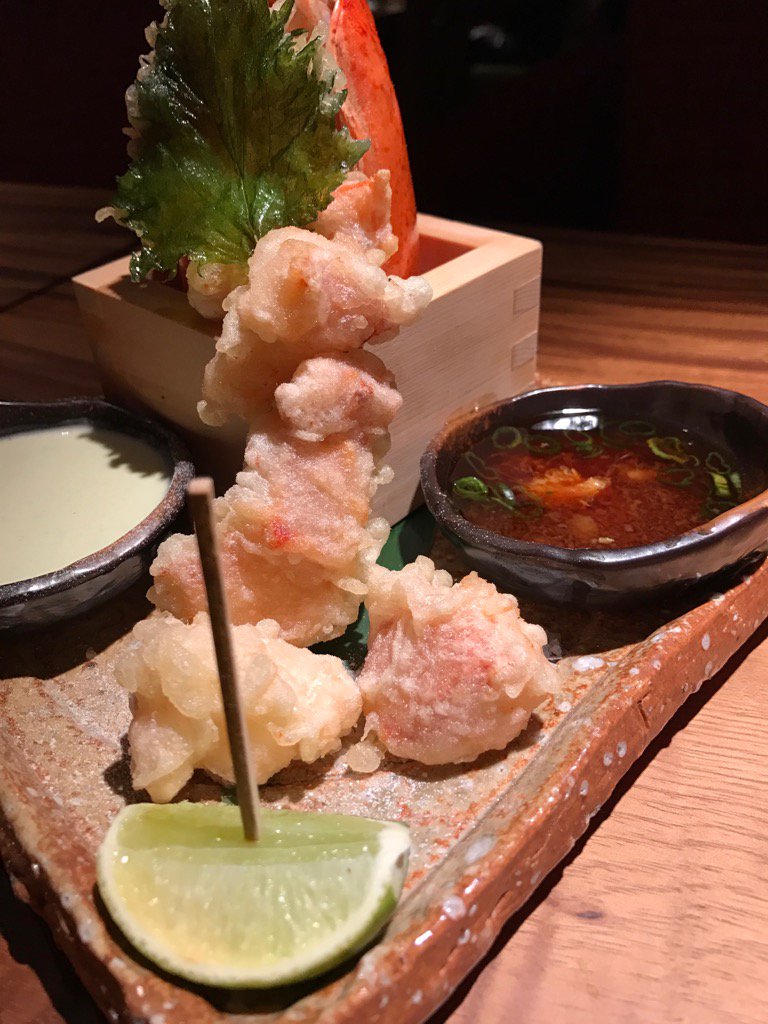 ….and a Japanese mushroom/rice hotpot of sublime earthiness: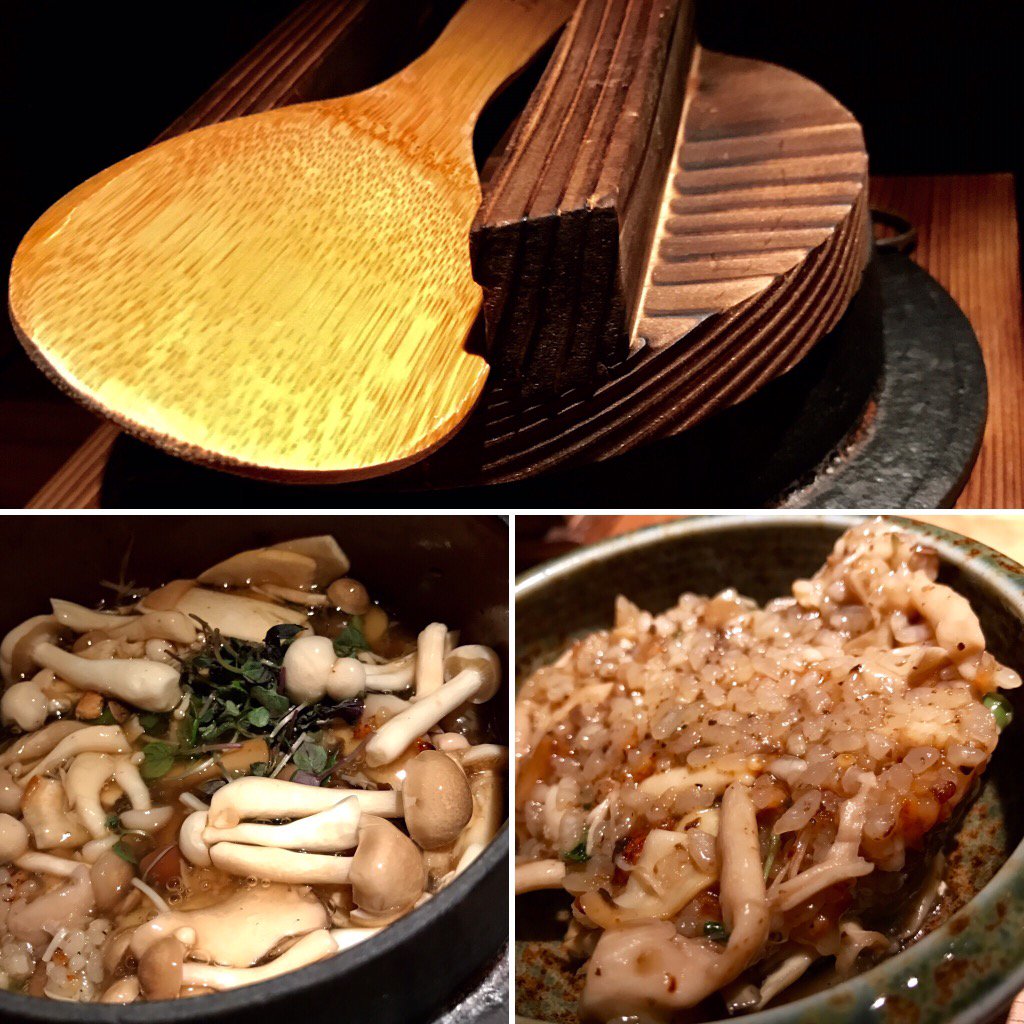 ….and a peppery watercress salad that hit all the right flavor notes: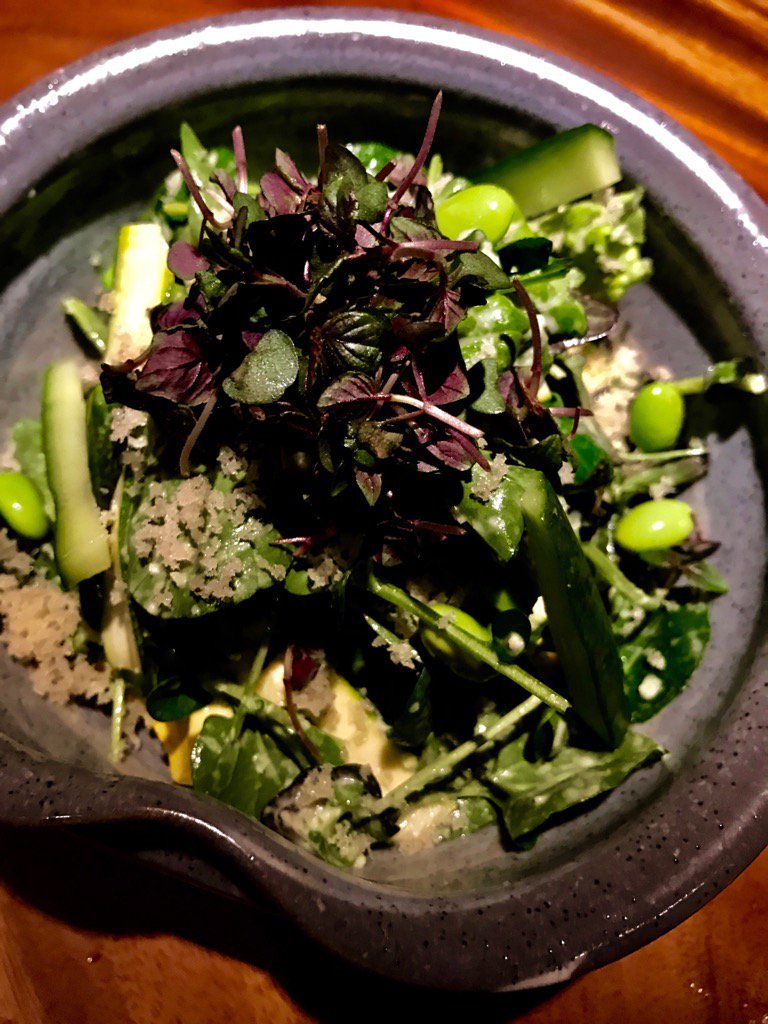 …it being dressed to a wasabi "T" with a subtle-yet-plenty-piquant dressing.
The fish was also top notch (see top of the page) with only a slice or two being a bit past its prime. The uni was out-of-this world wonderful, and the best we've had this side of Tsukiji.
The wine list is absurdly priced (natch) with the usual Strip gouges on things like $85 for a sauvignon blanc and $64 for a shot of gin. But hey! if some fool is going to pay that, who are we to argue?
What you can't argue with is the formula. It's getting as familiar as an old shoe, but at least Zuma is off a fresh and fast start. It doesn't feel like a high-roller/club kids haven (Hello Hakkasan!), or a tired re-tread (Nobu), or celeb chef money machine (Morimoto), or a copy of a copy like Kumi. What it feels like is a chef and his company trying to tweak a template with enough fun stuff to keep the crowds and the fussy critics happy. Which will always bring a smile to our face.
Natch.
ELV's dinner for two was comped and he left an $80 tip.
ZUMA
The Cosmopolitan Hotel and Casino
3708 Las Vegas Blvd. South
Las Vegas, NV 89109
702.698.2199
https://www.cosmopolitanlasvegas.com/restaurants/zuma
* Which (we guess) makes Zuma the Ruth's Chris to Nobu's Palm, with Morimoto making himself the Morton's of the bunch. Or something.