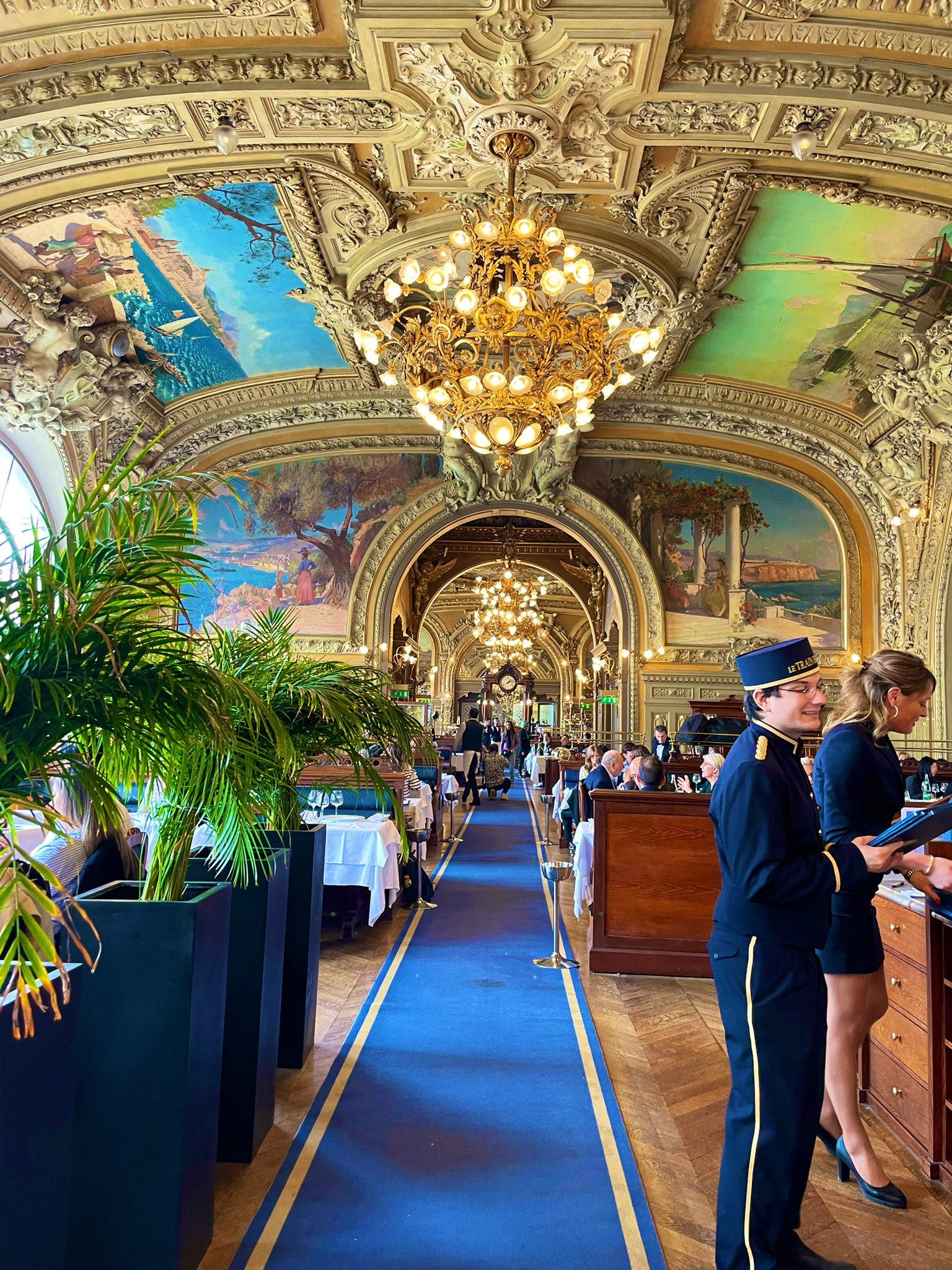 (Ed. note: It seems half the people we know are heading to Paris this year (Can you say: "pent-up demand"?), so we thought we'd suggest a few places for them to eat, particularly for those looking for the classic over the au courant.)
DEJEUNER ALL DAY  – Lunchtime in the City of Light
Lunch kills half of Paris, supper the other half. – Charles de Montesquieu
I like to break into my Parisian tours de degustation slowly, first as a tourist, then as a persnickety critic, and finally as a unapologetic sybarite — the kind  who likes to bathe in hedonism like asparagus in Hollandaise. Before completely surrendering to unfettered omnivorousness, it's fun to play tourist for a few days, and there ain't a more touristy way to dejeuner the day away than floating down the river on a sightseeing boat.
After that it's batten down the hatches and and all hands on deck as we stormed Paris's cathedrals of fine dining like a sans-culottes at the Bastille. Finally, we visit an old friend who, at 123 years old, is more ravishing than ever, especially at midday when dappled with sunlight streaming through her magnificent windows.  hese four iconic experiences explain why we love lunching the day away in Paris these days, rather than dining ourselves into a stupor at dinner.
BANKS FOR THE MEMORIES
Our Bateaux Parisiens lunch cruise was booked by our staff (aka #1 Son), who wanted his family to get the full visite de la rivière checked off toute suite, before they settled into a week of museum-hopping and crowd-battling.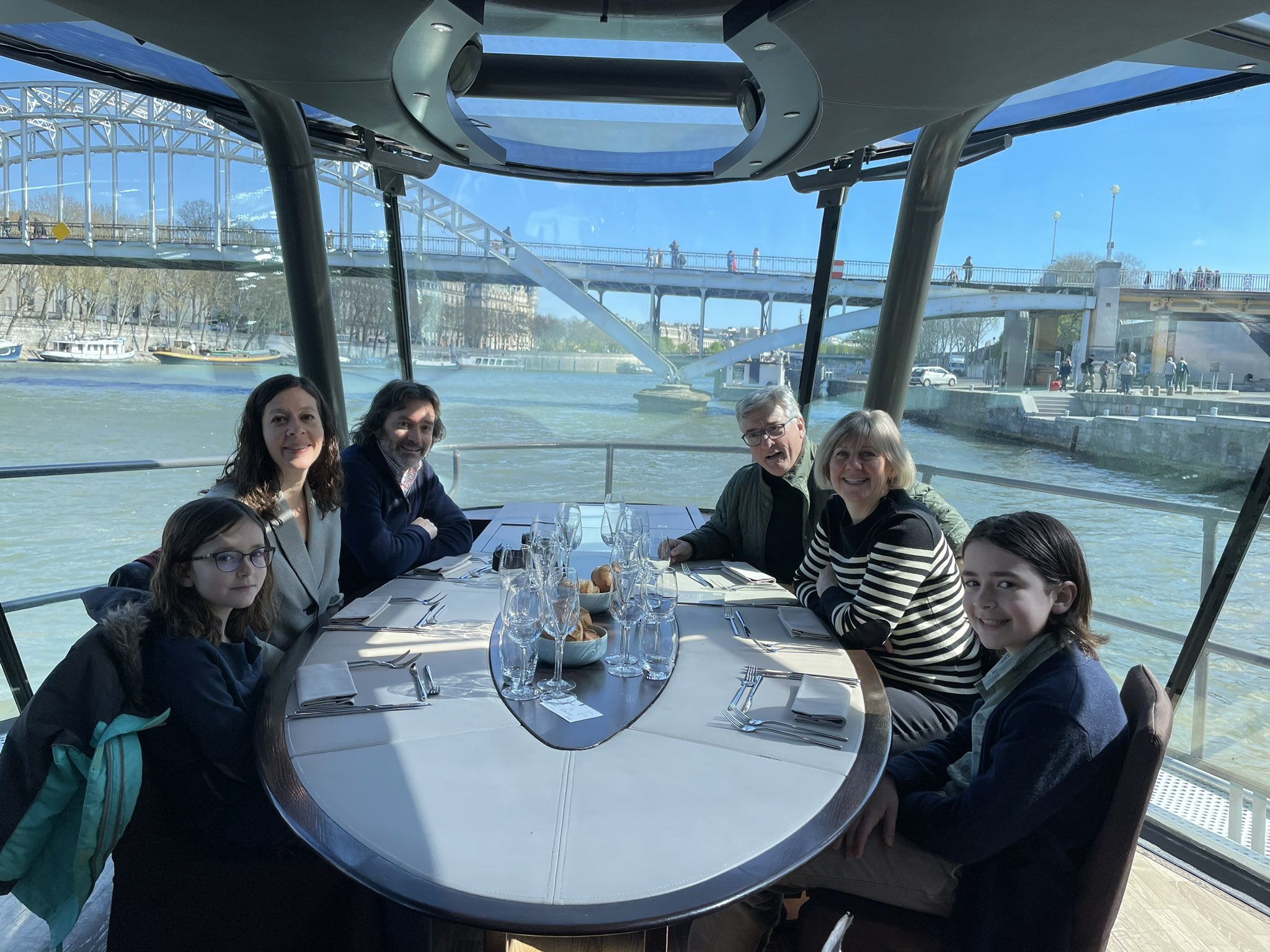 (Francophiles)
Amazing but true factoid: despite being crazy about Paris (and this being our twelfth visit in thirty years), this was the first time we have ever been in Seine about it.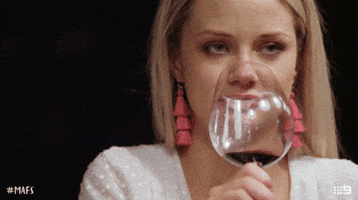 The sights, as one would expect on a sunny, cool Spring day, were glorious. What was unexpected was how good the food was. For 109 euros/pp they served four courses (and unlimited wine) that would be right at home in an upscale bistro.
They keep it simple, but there was no faulting our four courses of chilled broccoli soup; pâté en croûte; beef cheeks (they offer multiple choices which change seasonally) including chicken supreme below, salmon steak with pilaf, buckwheat with pesto and desserts from Maison Lenôtre — each course demanding pleasant enough attention on its own (as did the more-than-serviceable wine) which is pretty hard to do when you're competing with the world's most eye-popping architecture.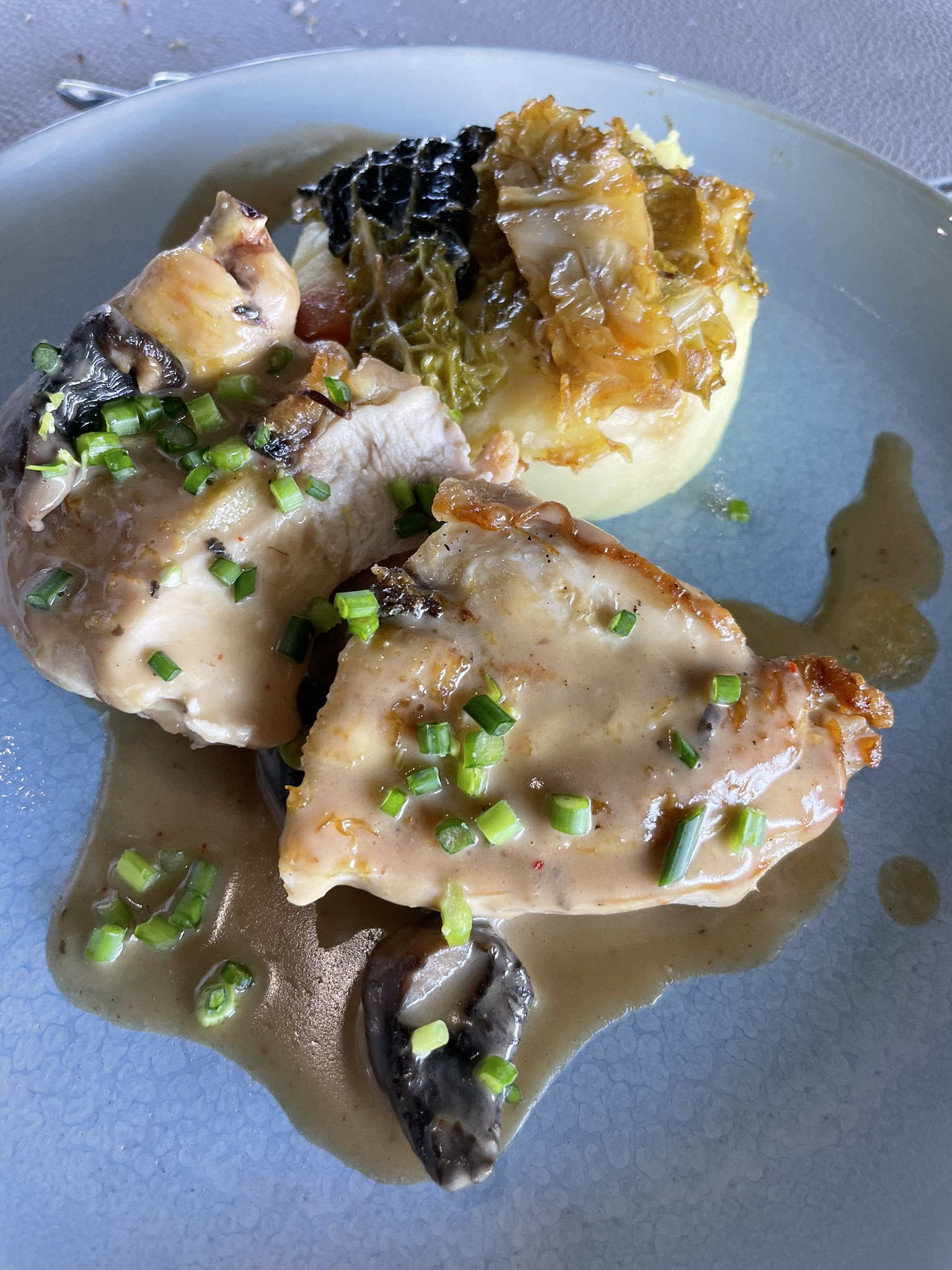 (Chicken in Seine)
The staff even did me a solid when I, in typical ready-to-overspend clueless American mode, was ready to grab the wine list and throw down a hundred euros for a bottle.
"Monsieur, your wine eet comes with zee meal eet eez pretty guud; you might want to try eet before you order somezing else."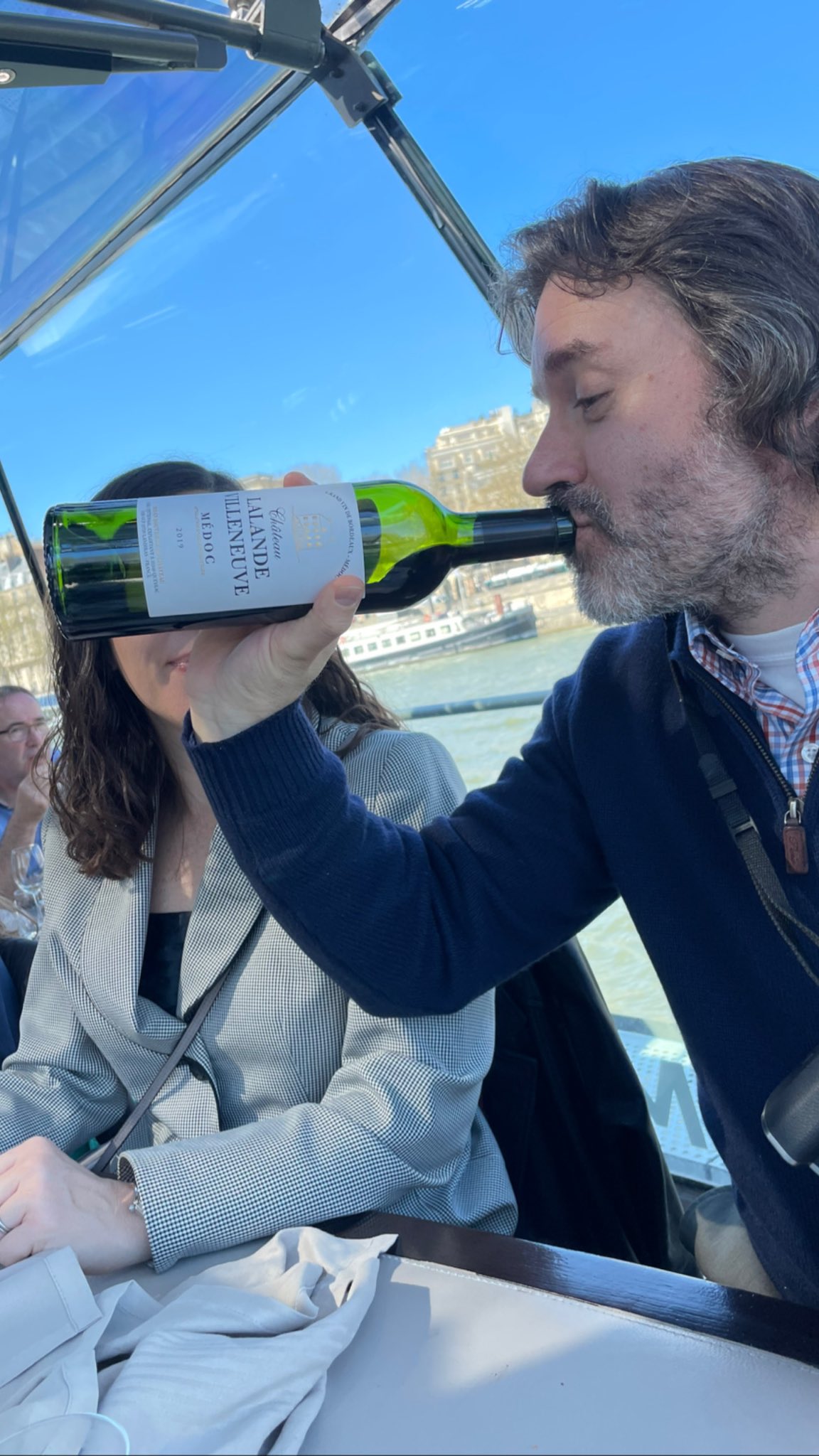 (Chip off the old Bordeaux)
And we did, and he was right and eet was. So much for taking advantage of ignorant tourists. In Vegas, they would've up-sold you a bottle in a New York-New York minute and never thought twice about hosing you.
You can sense the pride the French take in their culinary heritage with meals like this. In almost any other country, on something so touristy it practically screams "fanny pack", they would slapdash something onto a plate and call it a day's gouge. Here, the meal would pass muster at almost any gastro-bistro. It may not be inventive, but it checks all the boxes for an introduction to the cuisine. And the sights are unbeatable.
IN GUY WE TRUST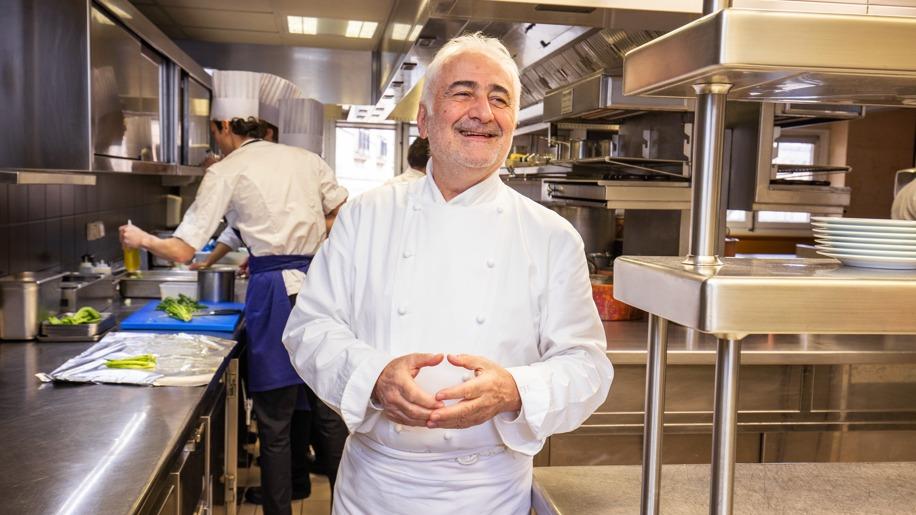 From the elevated to the ethereal is the only way to characterize lunching on the Seine one day and then heading to the warrens of Guy Savoy the next day in search of a seasonal tasting menu of the sort you only find in Paris. (Ed. note: my disdain for tasting menus is well-documented, but I make an exception in Paris, at Guy Savoy.)
You walk up immense stairs to the entrance to five separate rooms, each holding four tables and illuminated both by the sun reflecting off the river below and the luminescent modern art hanging from the walls — themselves worth a room-by-room viewing once the tables start emptying. The effect is one of dining in a private club, cosseted by muffled sounds, subtle but attentive service, and nothing to distract you from what appears on your plate.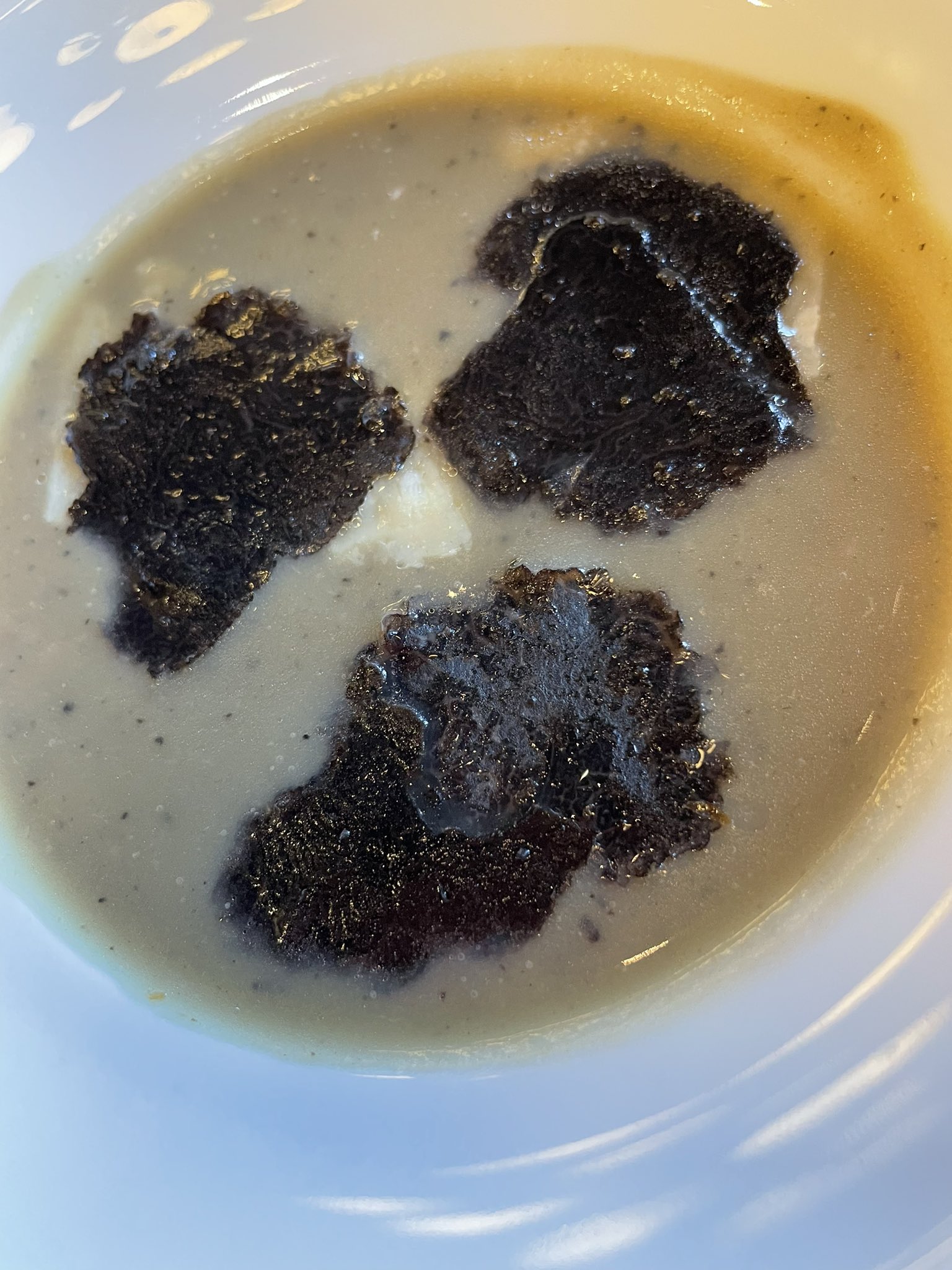 (Truffles in paradise)

Savoy retains his excellent standing in the Paris pantheon of destination dining despite losing a star in the last Michelin Guide, and absorbing the occasional jabs from bloggers like Paris By Mouth, who found the food bland and boring. Meg Zimbeck's palate is one we respect, and there is a back-story to her not recommending the restaurant, involving reservations, cancellations, and terrorism(!) which we won't get into here. All we know is we've eaten Savoy's food multiple times on two continents over twenty years, and with the exception of the iconic Parmesan-Truffle soup (above) and few standard amuse bouches (like the silver-skewered mini-burgers), we have never had a bad bite, or the same bite twice.
Having sung Savoy's praises so many times before, it almost seems redundant to comment on the effulgence of his cuisine — such as sea urchin so bracing in its haunting, dusky salinity you feel like you're eating it straight from the Atlantic floor.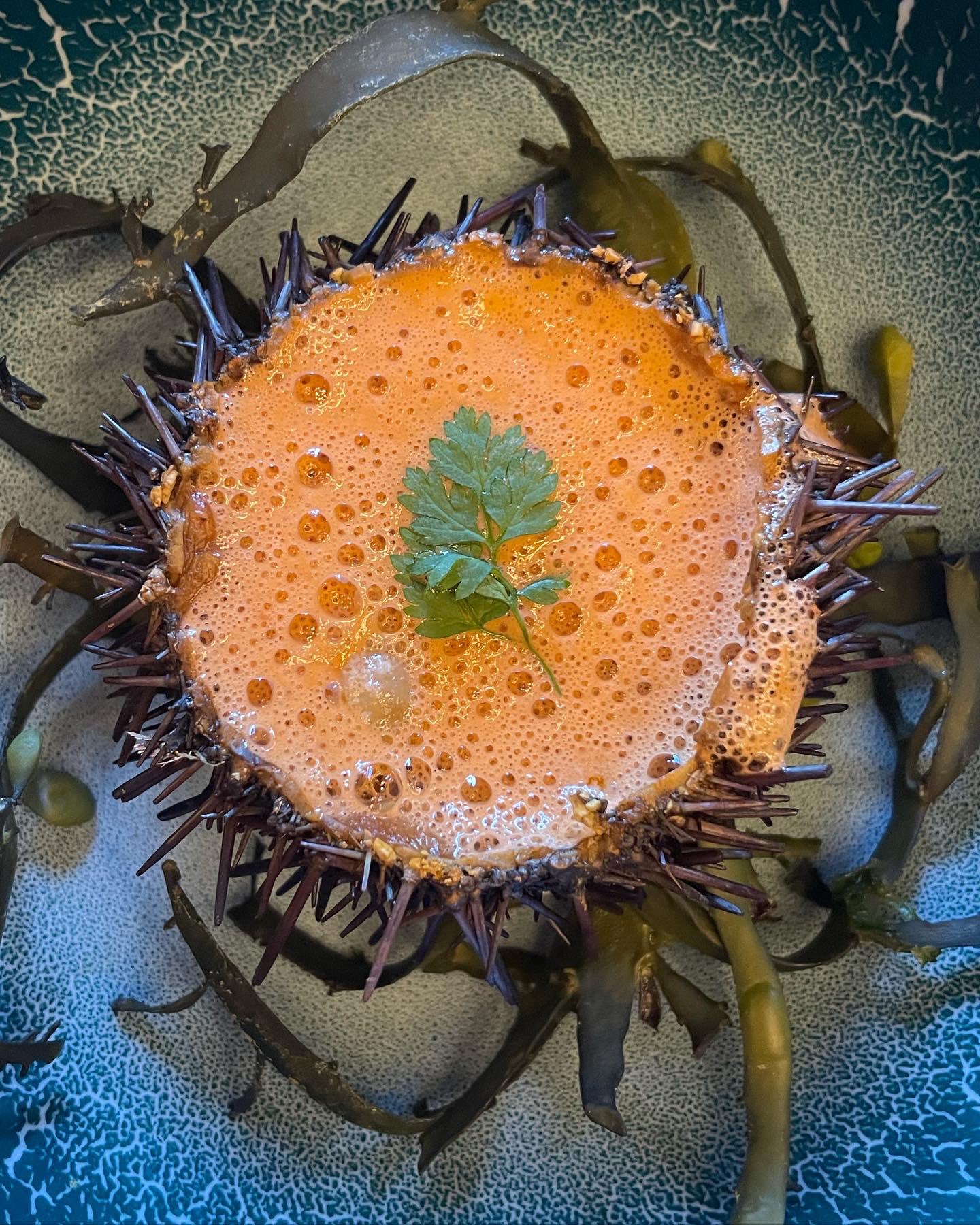 (An urchin to satisfy)
As if to guild the lily, Savoy then dresses the mahogany-colored organs of this echinoderm with scallops and caviar in a confluence of flavor which somehow merges into a single gestalt of ocean intensity: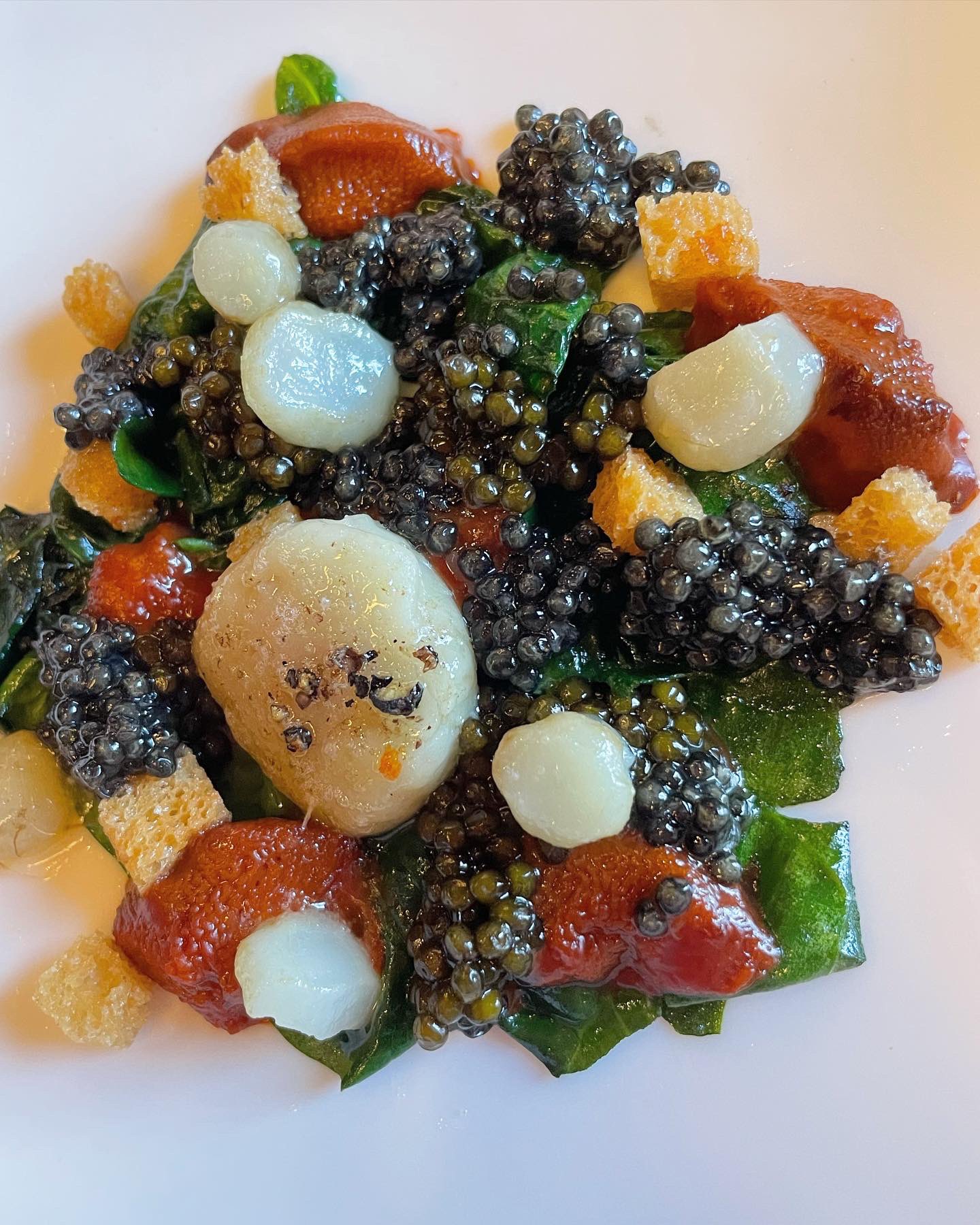 (Egg-cellent)
He follows this brininess with a slice of sweet, in this case a Daurade Royale (gilt-head bream), which is cooked and sauced as all seafood dreams of being: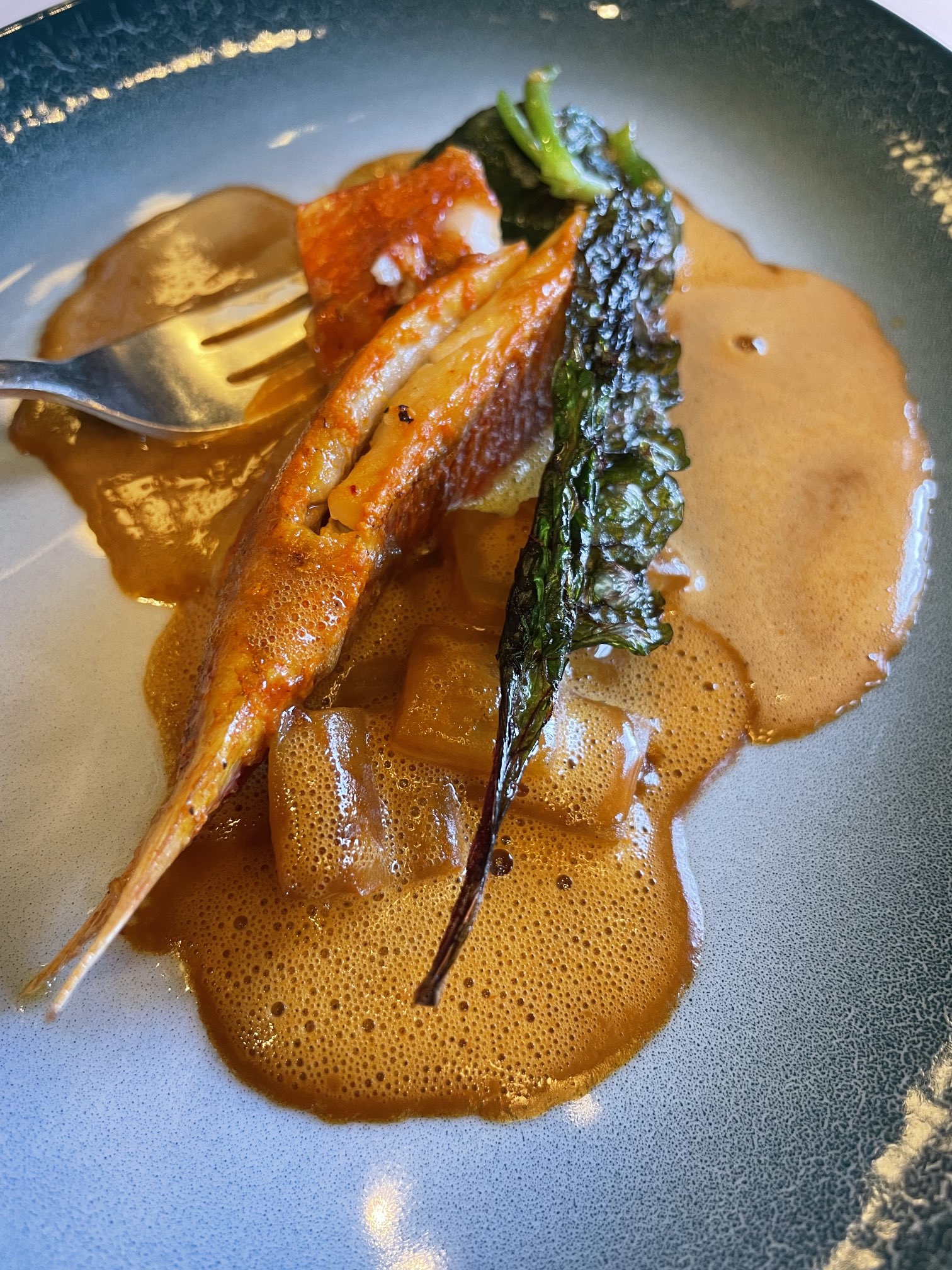 Each of our courses in the tasting extravaganza toggled between acutely focusing the palate and then soothing it. It's as if you're eating more of something than the thing itself. Vegetables were treated simply and given their due, and nods to seasonality were everywhere, such as in a spring lamb chop, no larger than the base of a thumb: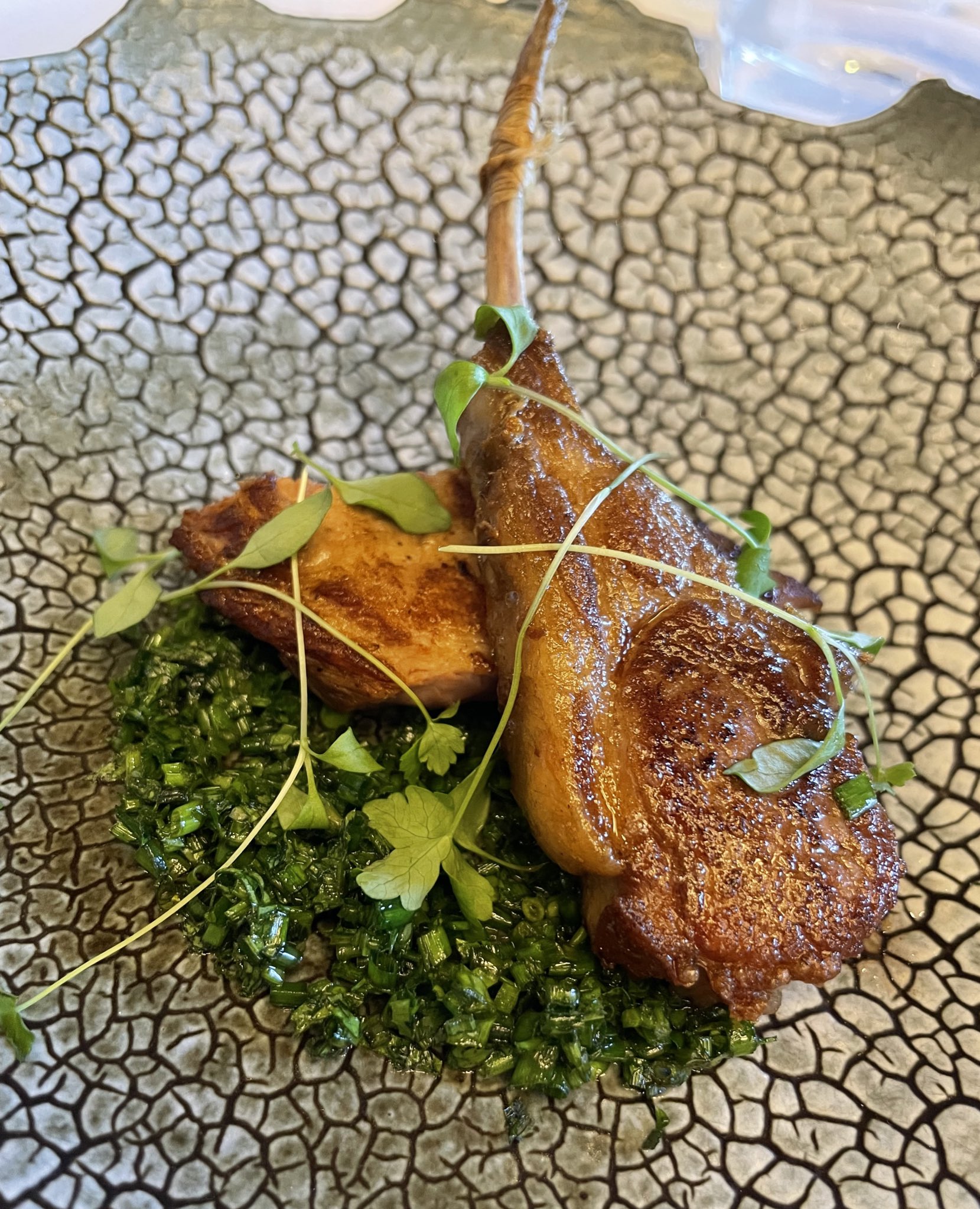 (Mary had a littlest lamb)
It takes a rarefied skills to make food like this work, and to our palate, Savoy never fails to hit the mark.
Lunch is the right move, because even after clocking in at three hours, you still have plenty of time for sightseeing, and walking off all those calories from tous les fromages, in the afternoon.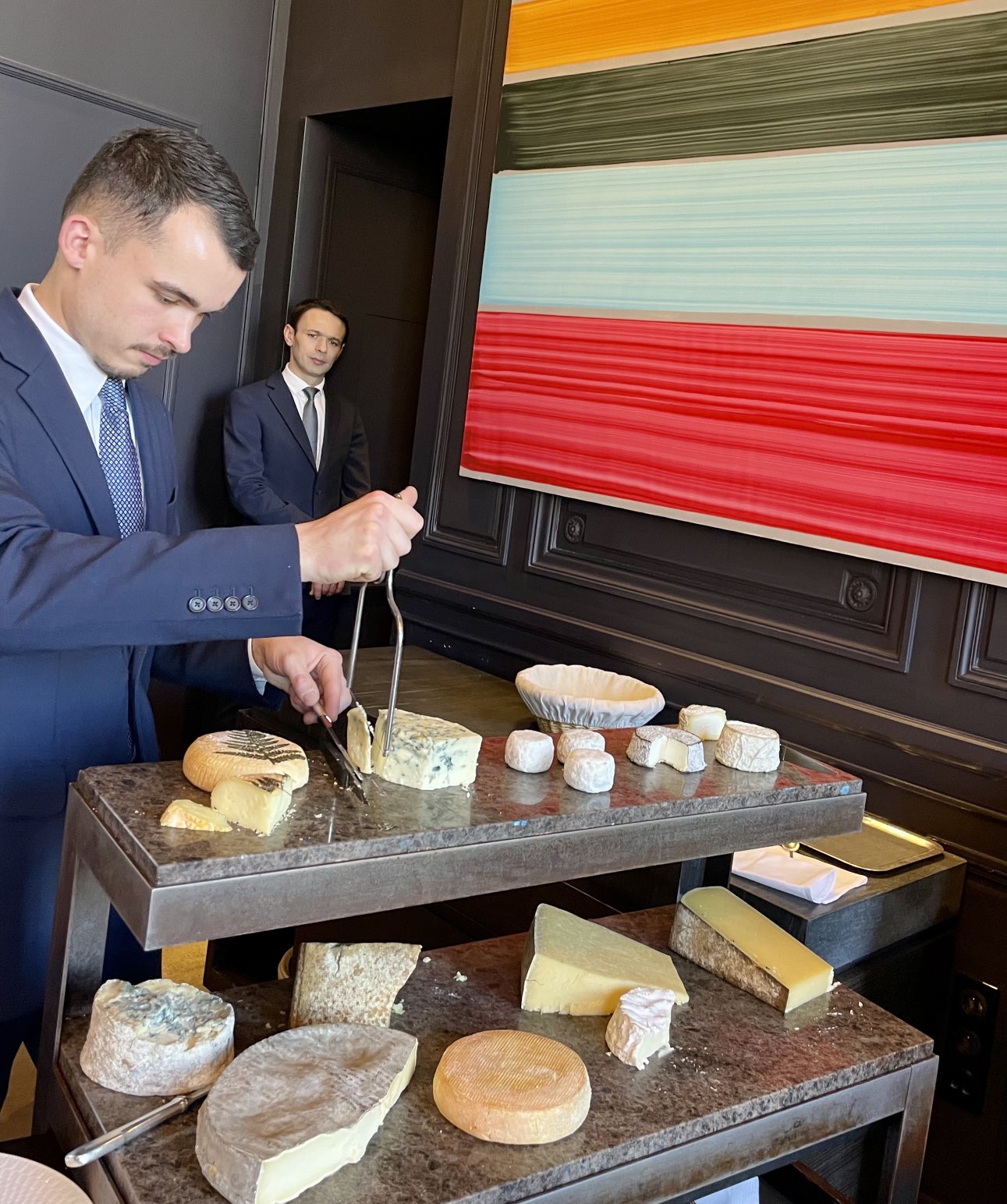 (Praise cheeses!)
Tariffs start at 250e for three courses (which is more like six courses once you factor in all the extra tidbits they bring you) but you can get north of that quickly if you opt for the full tasting Monty, or go nuts with wine.
The wine list is comprehensively French and full of bargains, if you fancy finding bottles in a restaurant for only double what they cost in a shop. In Las Vegas, the big Strip hotels think nothing of charging throat-clutching 4-500% markups, making every other wine list in the world look like a good deal to us. Be forewarned: if you're looking for wines under a hundy in these Michelin-starred temples, you're barking up the wrong tree.
This high-toned, exceptional cooking is perhaps not as innovative as it once was, but there is no faulting the recipes or their execution. And I'm still dreaming about the urchin and that lamb chop.
TALLY HAUTE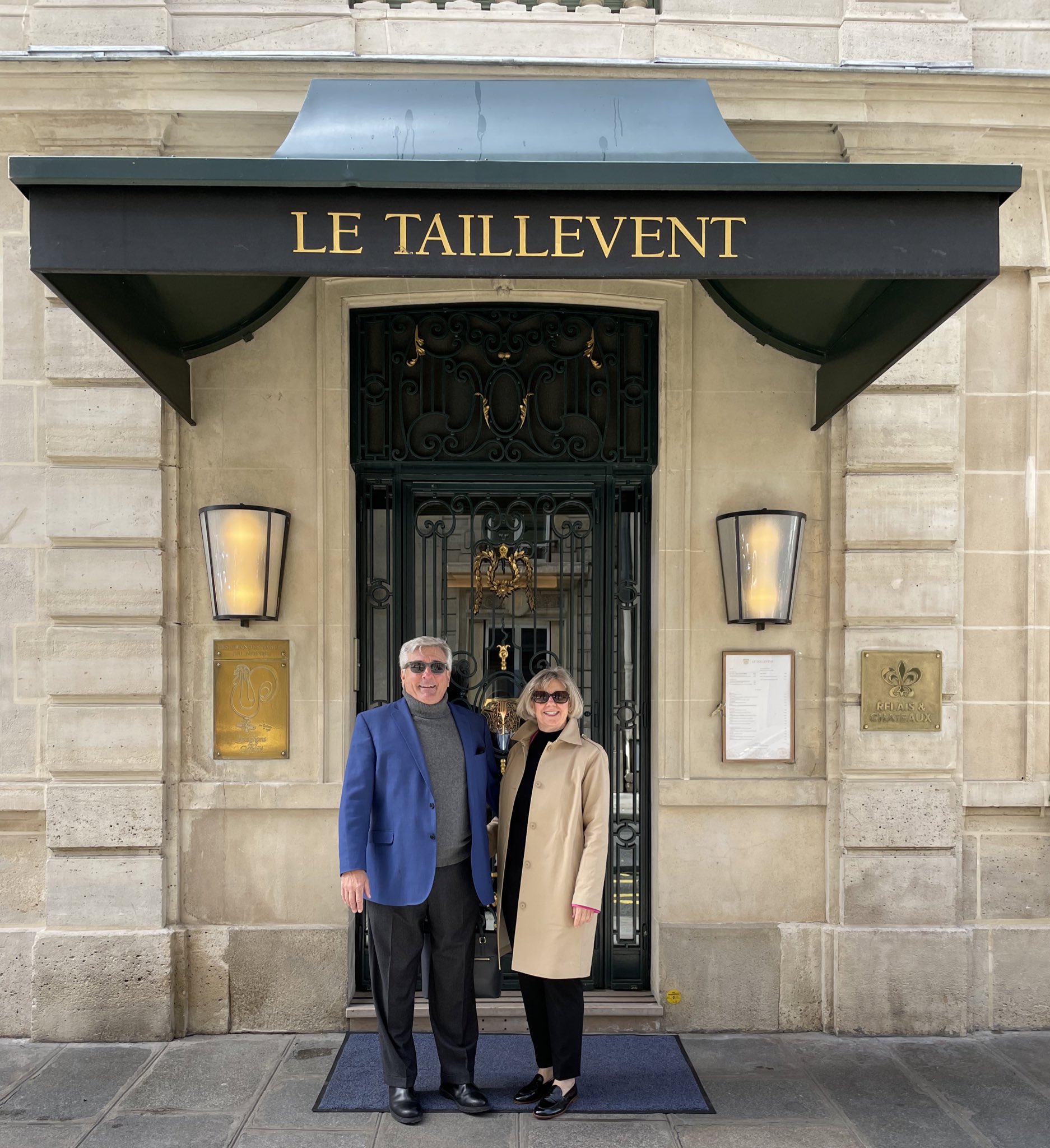 Most temples of Parisian gastronomy are famous for their chefs, but Le Taillevent has always been known for its owners. The Vrinat family opened it in 1946, and moved to the present location (formerly a duke's mansion, later an embassy) a few years later. For decades now, it has kept the gourmet flame alive as the most classic of sanctuaries — a refuge for those seeking the finest cooking in the most subdued of rooms.
People can be taken aback by the simple decor. At first glance, it is a bit tan on tan bland, but the welcome — from the smiling doorman to the maitre'd to the waiters — is so charming you quickly forget that you're dining in what used to be a Paraguayan reception area.
You will also come to see your surroundings as a frame designed to showcase the cuisine, which is more modern than you might suspect from the oak-paneled rooms.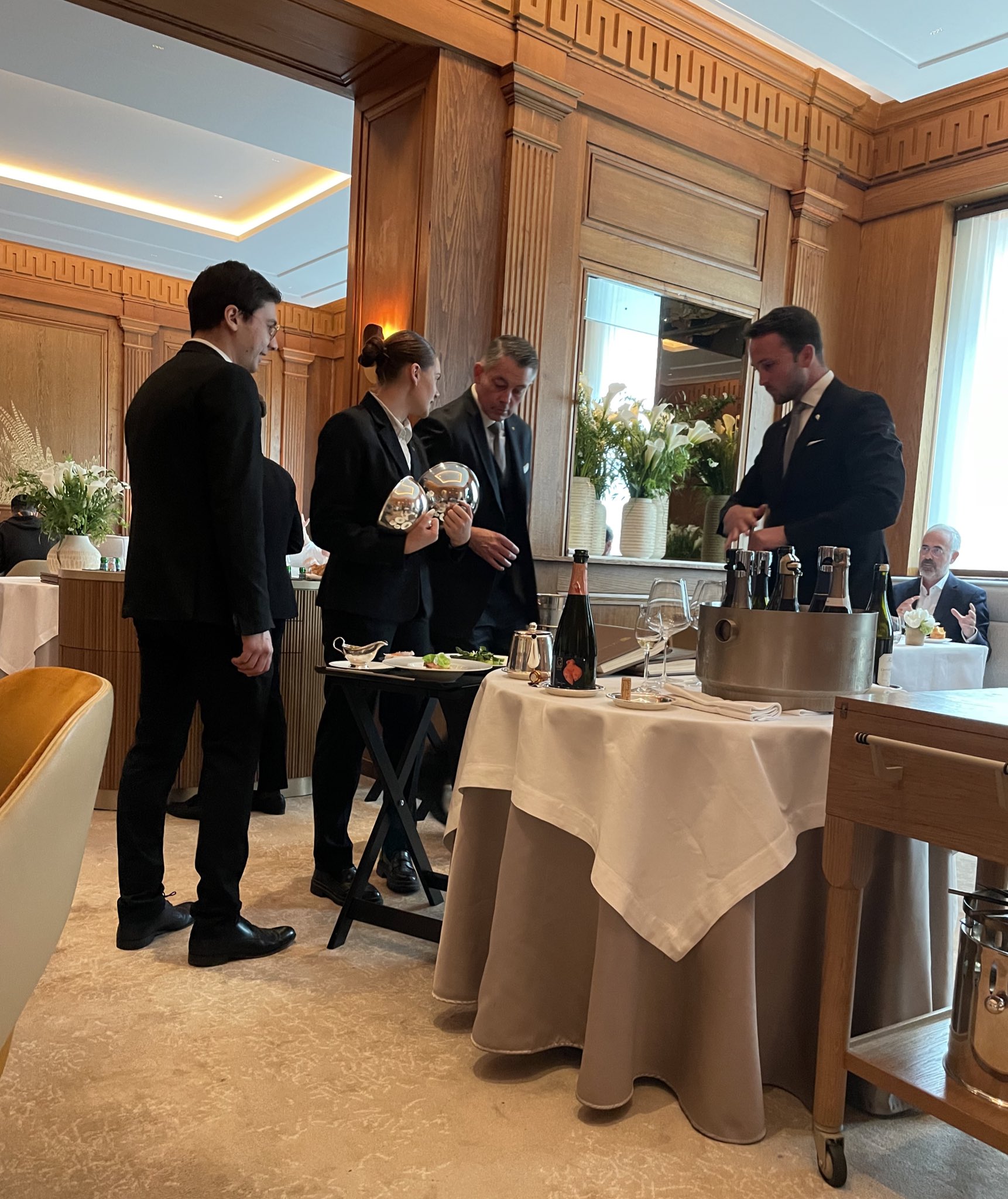 (Who gets the pepperoni?)
The ladies menu don't have prices. Which is a throwback in all the best ways if you're a traditionalist. If you're not, I'm guessing they size you up quickly and let everyone in your party share in the sticker shock. But no one in the room looks like they're taking in laundry to make ends meet, and most booths are populated by well-suited businessmen who know their forks: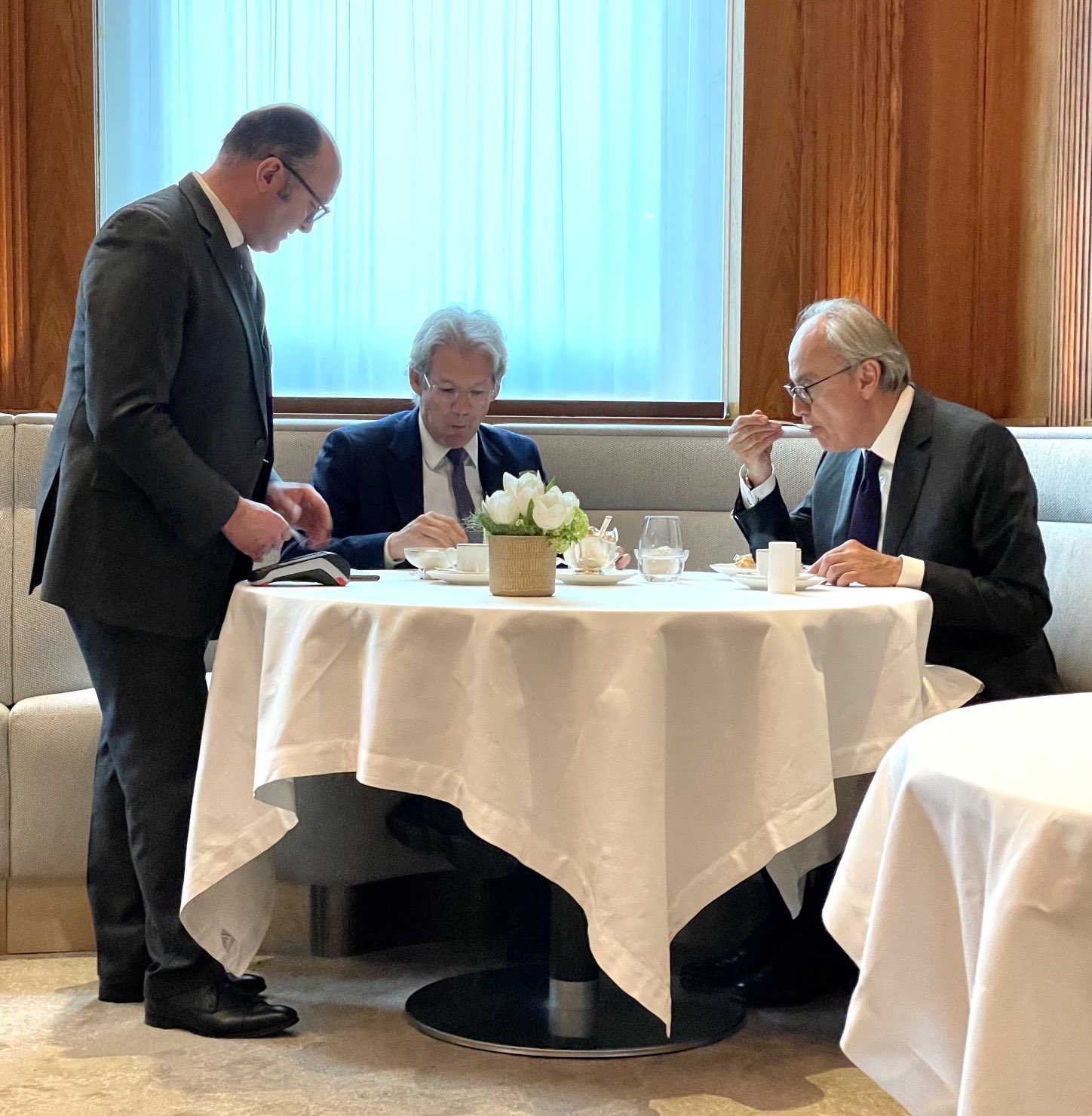 (Waiter, what's this fly doing in my soup? The backstroke, sir.)
Places this tony probably aren't used to excitable Americans whooping it up over whatever they're eating and drinking, but we were paying (through the nose) for the privilege, and the staff was more than happy to let us enjoy ourselves. So much for the supercilious French. A sprinkling of gastro-tourists completed the tableau, which was anchored by our corner — two couples out for a whale of a time who didn't mind spending a house payment on lunch.
And the menu couldn't be easier to navigate: three or four course lunch menus are offered (from 90-210-275 euros), or ordering a la carte from five starters, six mains, and five desserts, with unlimited cheese from the outstanding trolley being another 30e (more on this below). The simplicity is deceptive, because what seems straightforward soon becomes a lesson in kitchen choreography, as variations on a theme appear with each course, as dishes are bestowed and cleared with almost magical alacrity.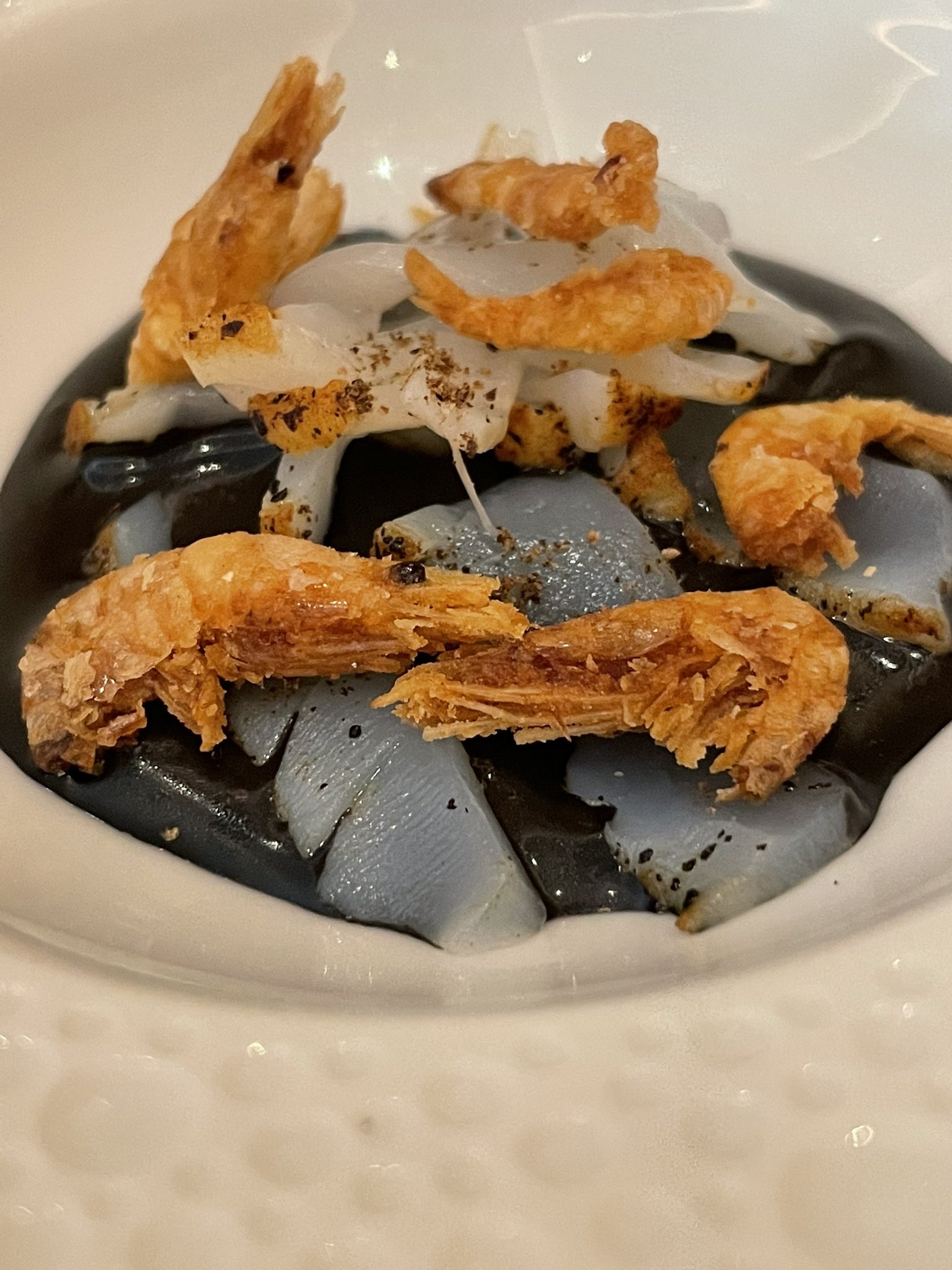 (Inkcredible)
Consider our appetizers: skipjack tuna with cabbage atop matelote sauce; langoustines "boudin" with coral butter; and smooth chunks of cuttlefish and small crispy shrimp suspended in a puddle of squid ink (above) — all of them accompanied by a separate riff on the same subject, calibrated to expand your thoughts about each ingredient.
This is high-wire cookery, and in less skillful hands might be a mess on the plate and a discordant assault on the senses. But in the hands of Chef Giuliano Sperandio every ingredient sings in harmony.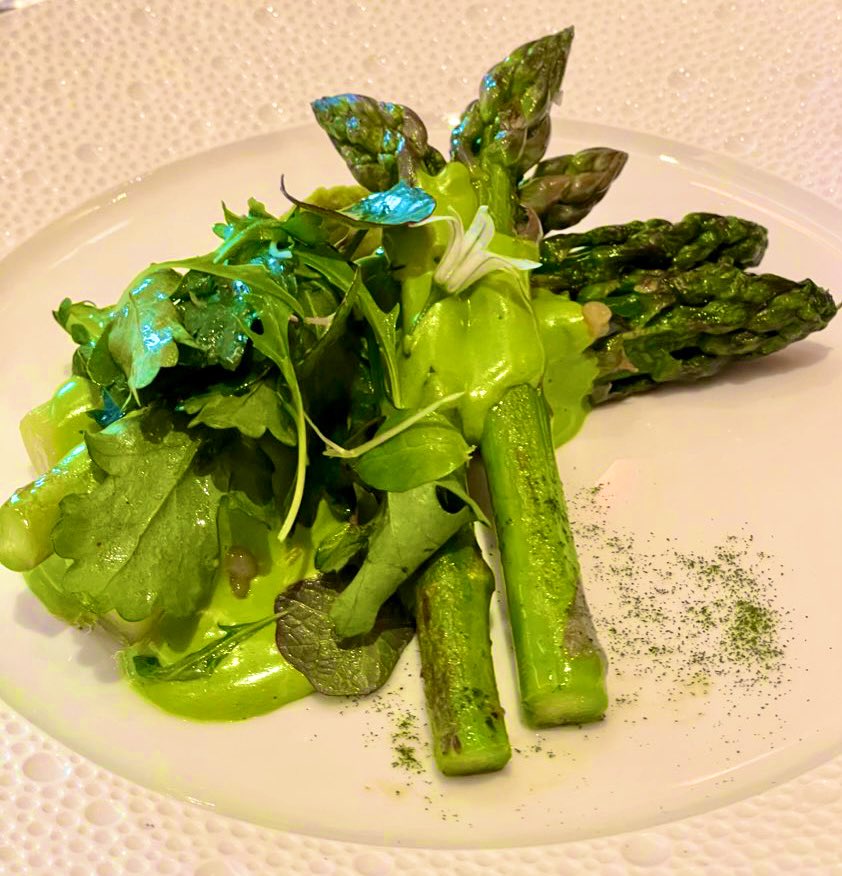 (Here's a tip: eat more greens)
Almost on a dare, someone ordered the "green vegetables" — and what arrived was a melange of asparagus in an extraction of fava beans (above), served with another bowl containing a scoop of pistachio mousse floating in a sea of sorrel sauce — each bite a study in veggie intensity. The combination of greenery needed to achieve this level of chlorophyll-laden lusciousness is more than just a patronizing nod in the direction of vegetarians, it is a celebration of all that they hold holy, and a prime example of why vegetarian cooking is too important to be left to vegetarians.
Before we leave them, though, we would not be worth our gastronomic stripes if we didn't mention food and wine pairings,  such as the aged Comté gougeres (of which we could've made a meal), sipped with a Henri Giraud rosé, while a fragrant, citrusy Didier Dageneau Pur Sang played the role of a complimentary sauce to those langoustines and shellfish. (None of these bottles was cheap — our wine tariff came to about $1,000 for four bottles — but on this side of the pond, our indulgences would cost three times as much.)
We stuck with the white wine theme through the mains, as a Hubert Lamy Saint-Aubin '17 married well with turbot with caviar sauce, roasted blue lobster, John Dory with peas and bottarga, and a rabbit loin and rack: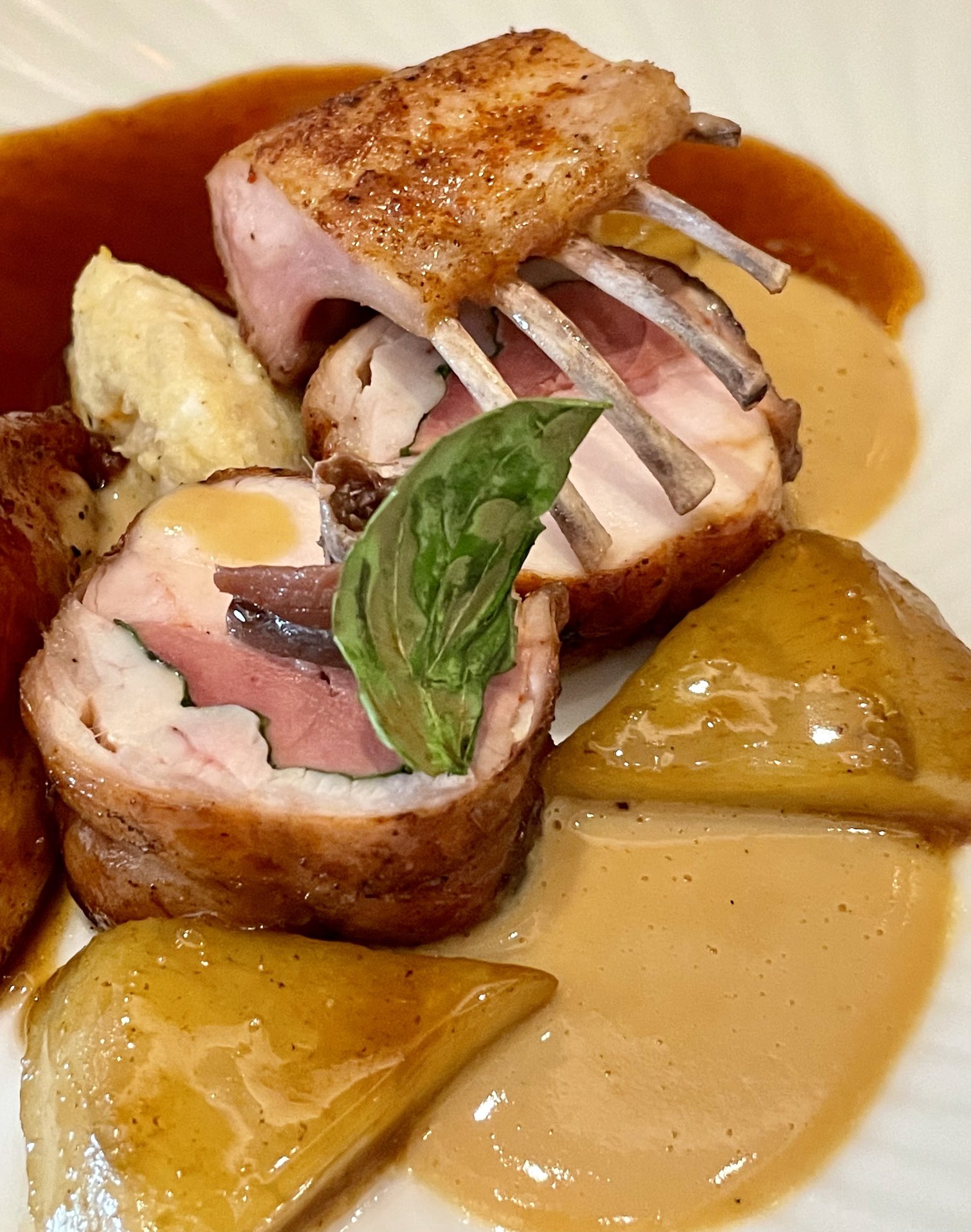 …the lagniappe in this case being a stew of thumbnail-sized kidneys in mustard sauce: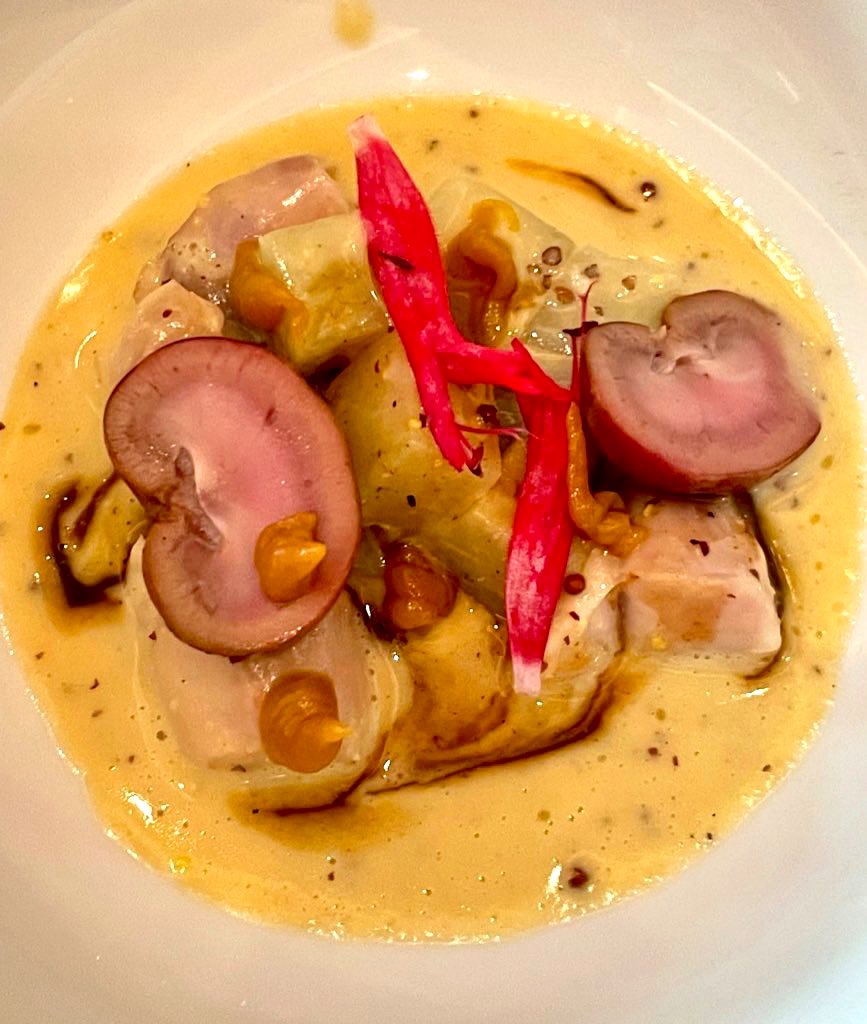 (I kidney not, you mustard try these)
…from an animal so young it could've been frolicking with Guy Savoy's preternatural lamb.
As mentioned, the kitchen loves to sneak in these little plates alongside the main event, each carrying through the theme: in the rabbit's case with those kidneys, and with the roasted lobster, another helping of crustacean under a shell of charred coffee mayonnaise which genuflects to the classic Newbergs of yore: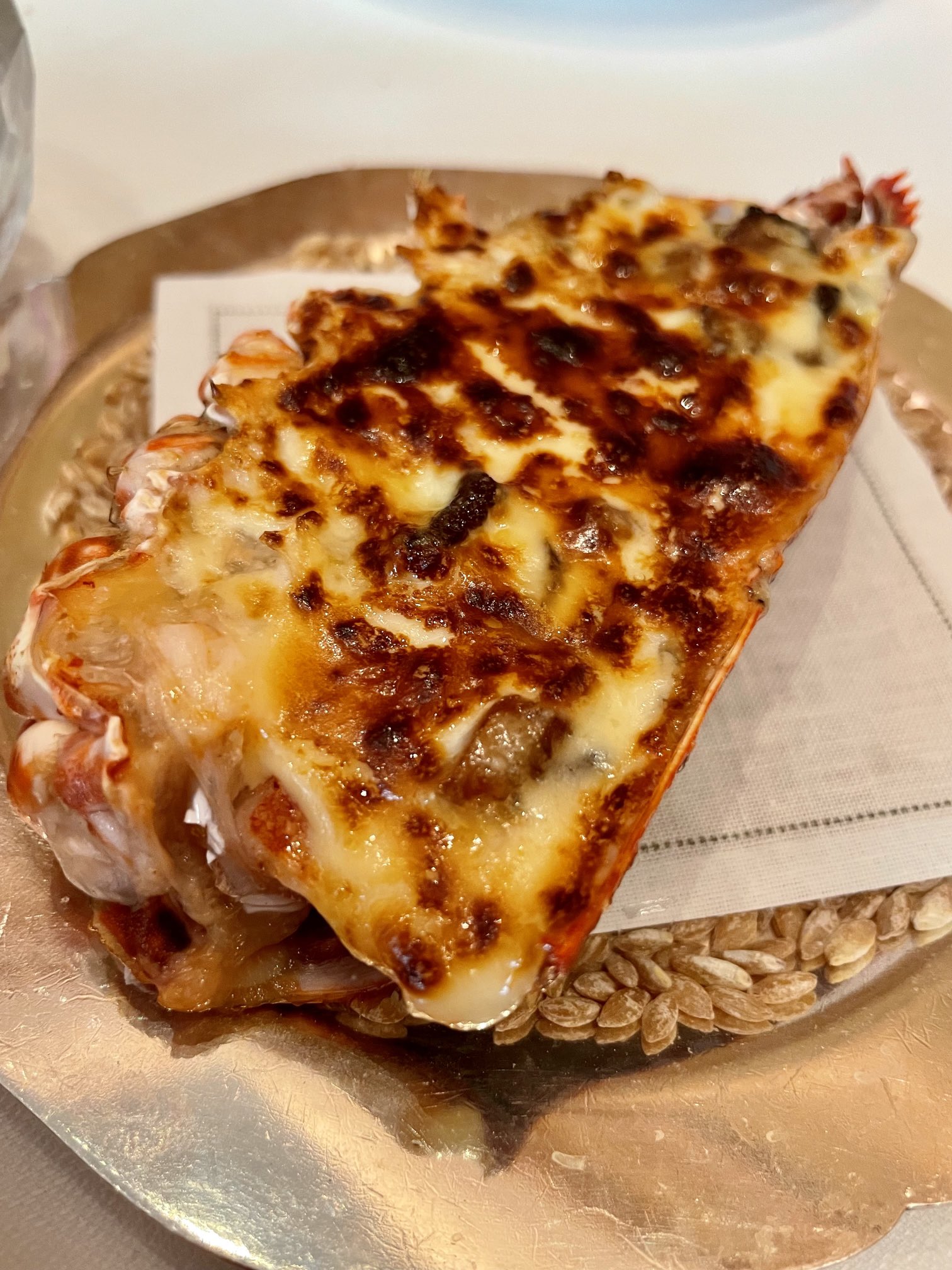 Each dish an example of the French art in making things taste like more of themselves. Which was also present with one of the most stunning desserts we've ever eaten, made from an ingredient we don't even like. In this case baked grapefruit blanketed with a grapefruit gelee — giving this overly tart, often acrid citrus fruit a whole new dimension, and single-handedly changing our minds about it: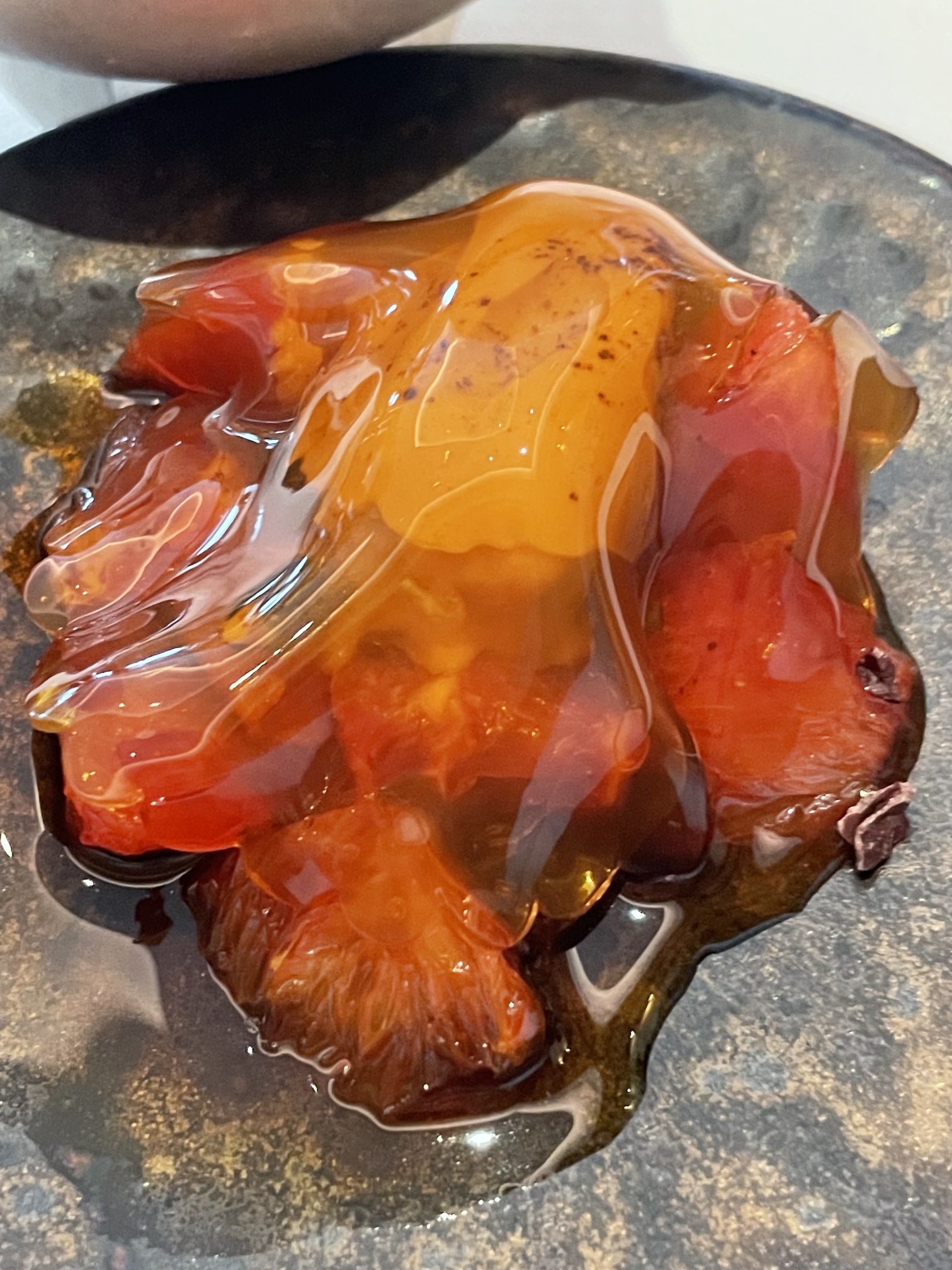 Lest you think this stuffiness translates to the staff, consider my attacking the cheese cart with all the gusto of Homer Simpson at a doughnut shop: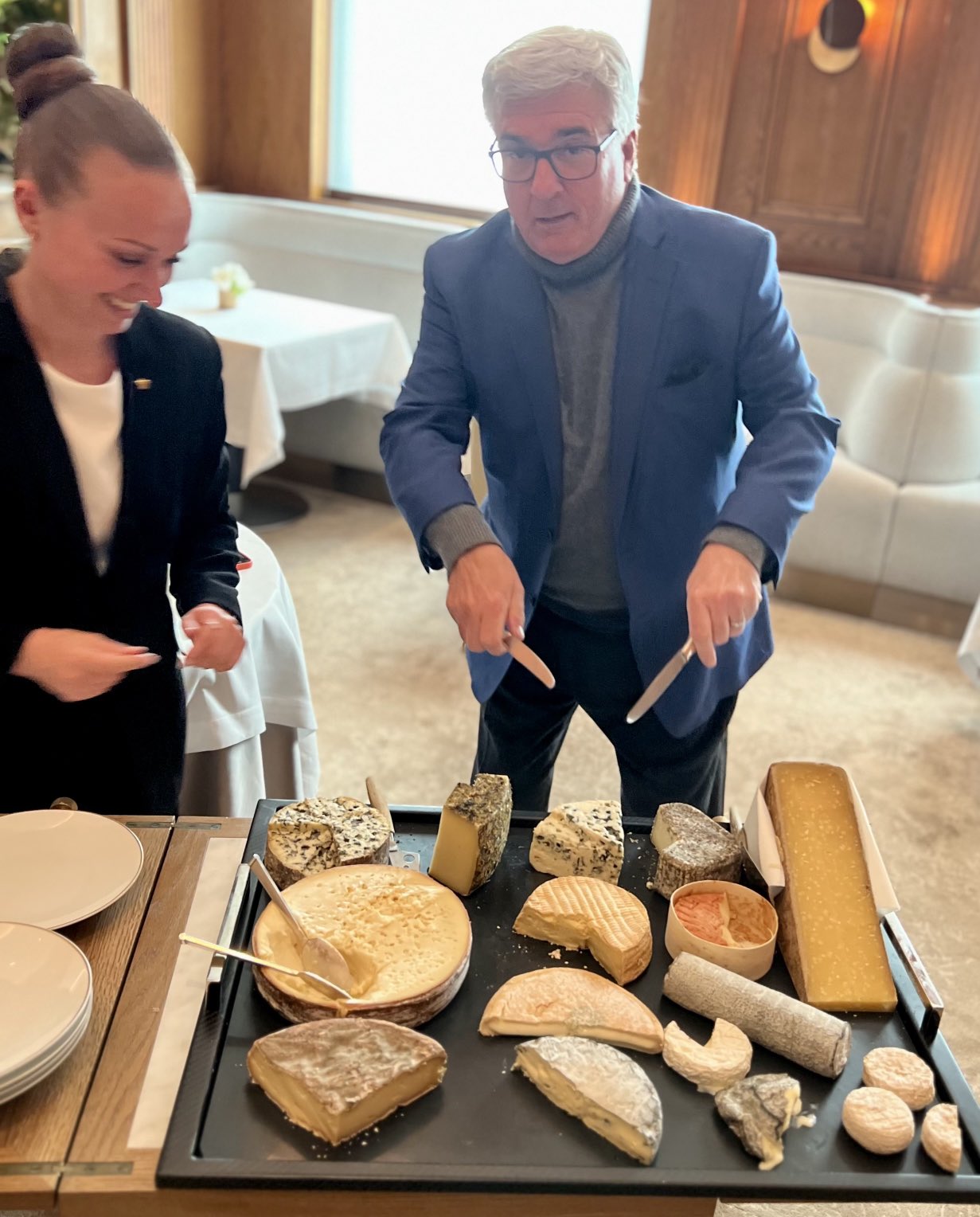 (It doesn't get any cheddar than this)
All of this is being served so seamlessly you barely notice the passage of time. The mood of the restaurant is convivial, but civilized. If you want to geek out over every plate, the bi-lingual staff is there to help. If your conversation whips from food to wine to whatever suits your Parisian fancy, I can't think of a more luxe place to indulge. If you missed the point: none of this comes cheap (our final tab came to $1,100/couple with about half of that being wine), but experiencing food this perfect is an indulgence every galloping gourmand owes themselves at least once in a lifetime.
A final word about stars: In recent years both Savoy and Taillevent have been demoted to two stars from three by the famous Guide Michelin. Having eaten in Michelin-starred restaurants for thirty years, I am fairly conversant (at least for an American) in the distinctions which goes into these coveted awards. In France, these ratings are gnashed over with archeological precision. However, to customers (even experienced ones) the distinctions can be hard to parse. The difference between a one and three-starred establishments are fairly easy. A solid one-star experience (like the Burgundian Les Climats) the fuss and accoutrements are a little less fine, the cuisine isn't as inventive, nor the techniques quite so bedazzling.
Figuring out what the inspectors look for in three-star establishments (and why they knock some off that pedestal), is much harder to discern, but my guess is a lot of it has to do with who is the most "modern" in their approach to cuisine. (Only one of the current three-star Parisian restaurants – L'Ambroisie – could be considered "traditional".) In that vein, Savoy and Taillevent are traditionalists with a twist, with one foot in both worlds, and all the better for it, no matter what a bunch of trend-chasing arbiters say.
CHOO CHOO-ING UP THE SCENERY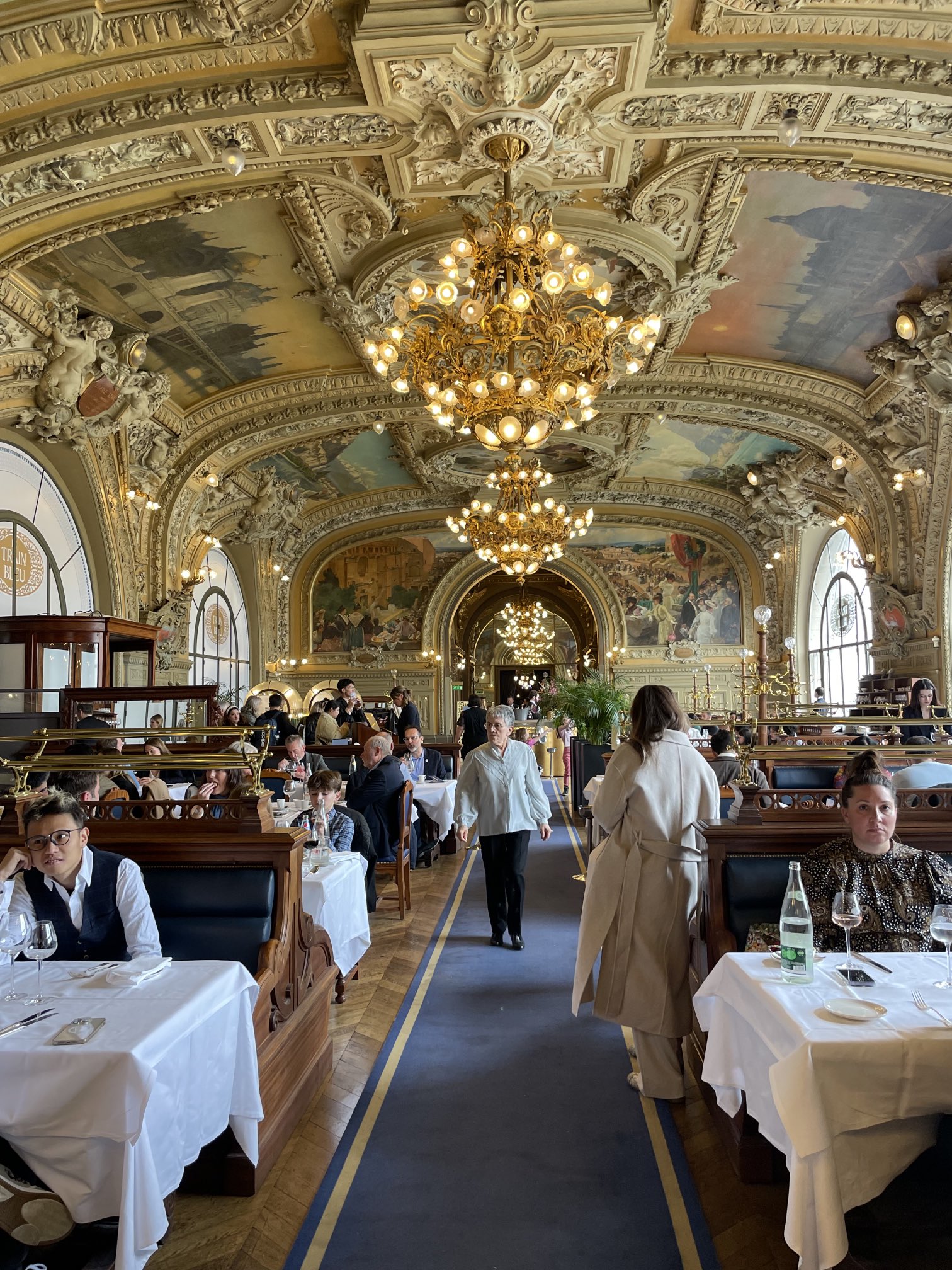 Ah, understatement. The French are known for it. Such minimalists, dontcha know? Brutalist architecture, earth tones aplenty, all cinder blocks and right angles…sometimes you feel like you're stuck in East Germany, circa 1972.
I kid. I kid.
But a point needs to be made here: modern restaurant design — all hard surfaces, exposed beams, and flat color palettes — is about as interesting as a barndominium.
Which is why we dine in Paris: as salve for the soul and to soothe our senses. For if there's a cure for everything that is wrong with 21st Century decor, it is lunch at Le Train Bleu — the most spectacular (and Instagrammed) restaurant in the world.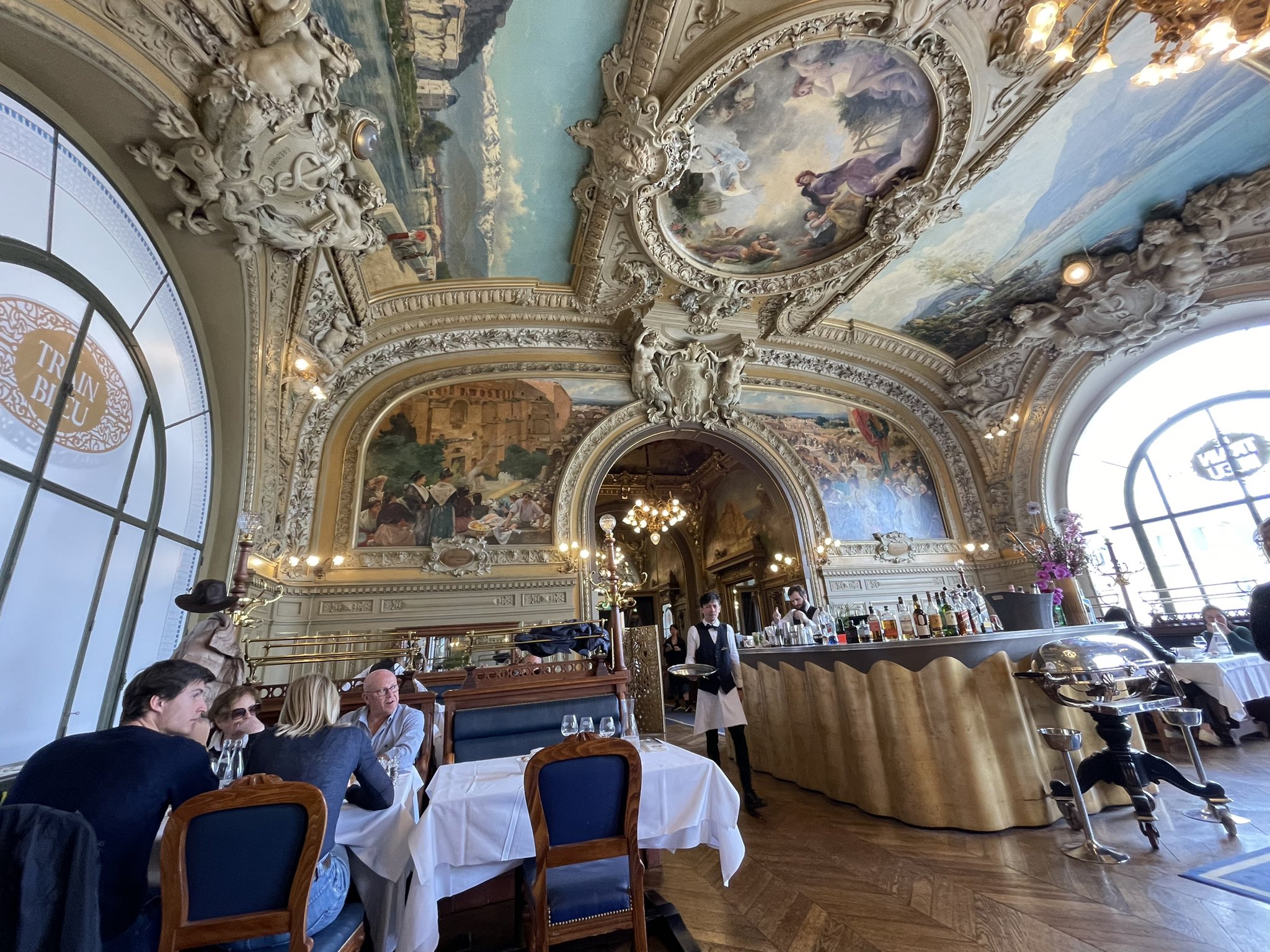 (Toto, we're not in Taco Bell anymore)
We don't just go for the eye-candy, even though it is so dazzling they could probably get away with serving rancid headcheese and still be packed to the rafters.
The food — which has always been better than it has to be — seems to have gotten an upgrade. The tartare de boeuf, which used to be huge, is now is more hockey puck than small football, and garnished like there's a micro-green aficionado in the kitchen. Thankfully, it has lost none of the beefy tang we remembered from a decade ago. Our bread was warm and fresh and served with Échiré butter, and even the side dishes — a bright green salad and thick-cut, creamy-crispy fries — were exemplars of the form: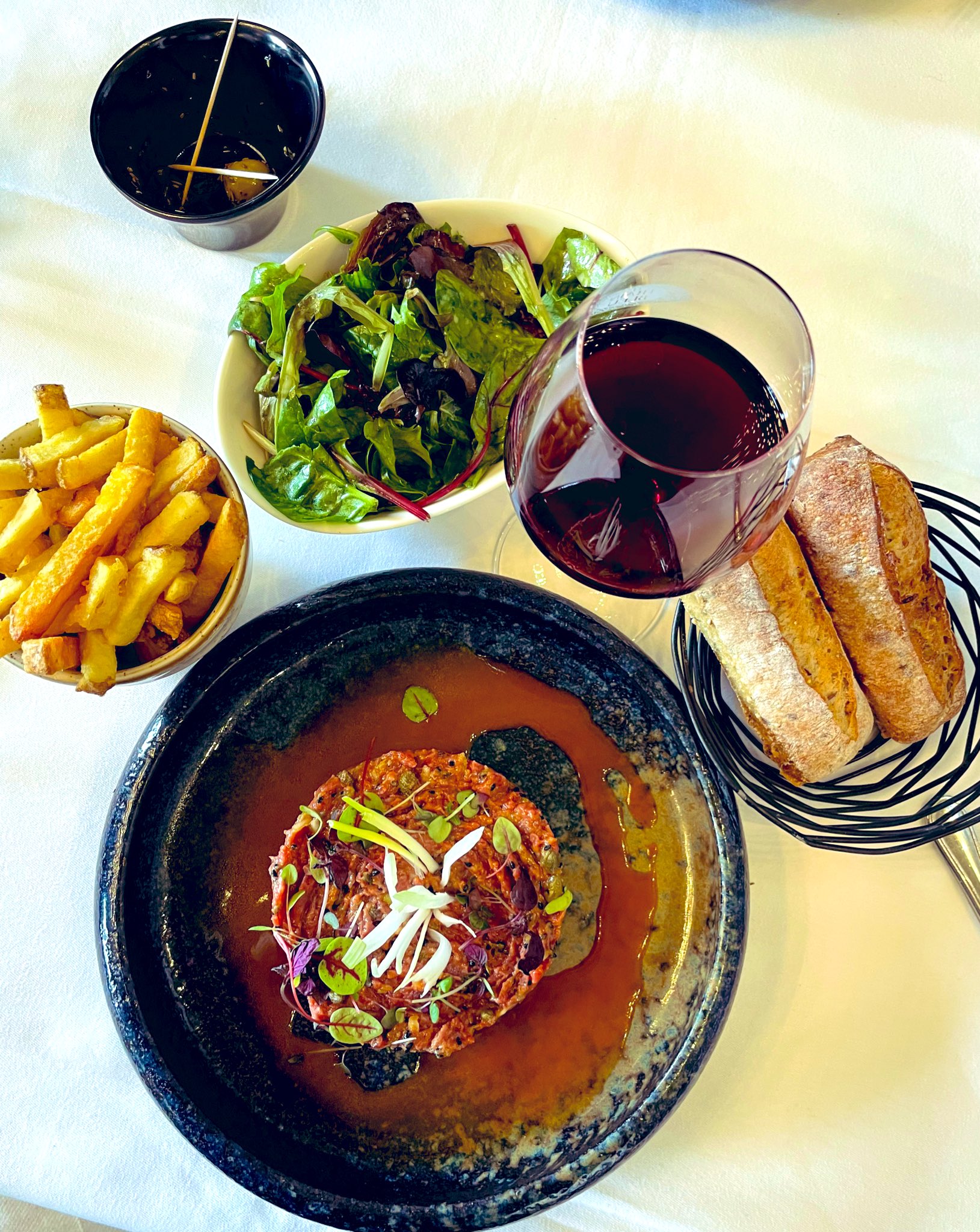 The Food Gal® — perhaps because her liver was rebelling from a steady diet of foie gras and pâté de campagne —  swooned over her tightly-composed Spring salad, and called it  a welcome respite from all the charcuterie we had been force-feeding her: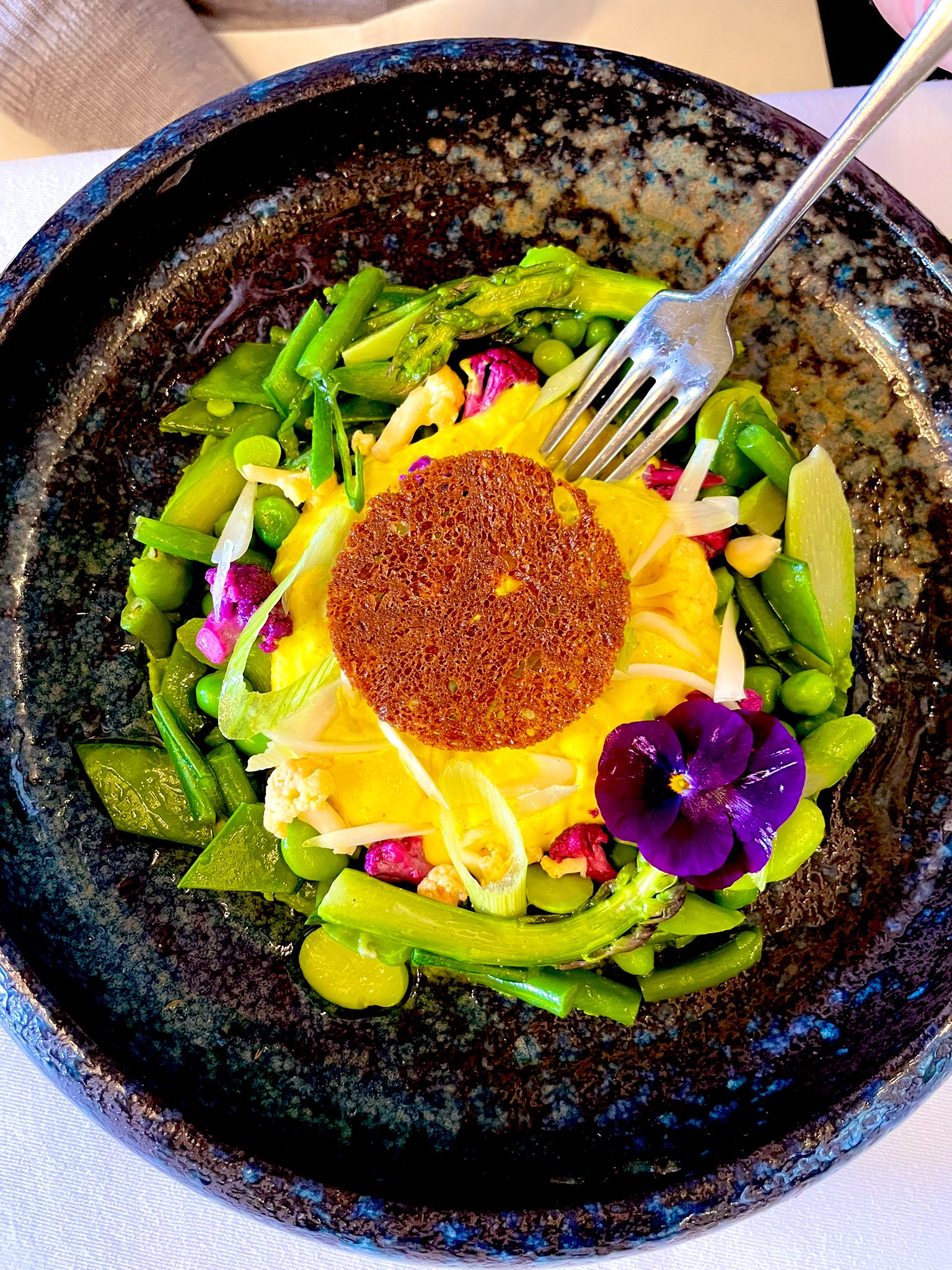 And the staff surprisingly cheerful for a place that expects to turn your table over at least five times a day. All of this is happening in a huge restaurant in a bustling train station with a constant flow of famished travelers, curious tourists, and gawkers traipsing through — a place that could easily get by with thoughtless service and indifferent food, but instead seems to take as much pride in what is on the plate as in what is overhead: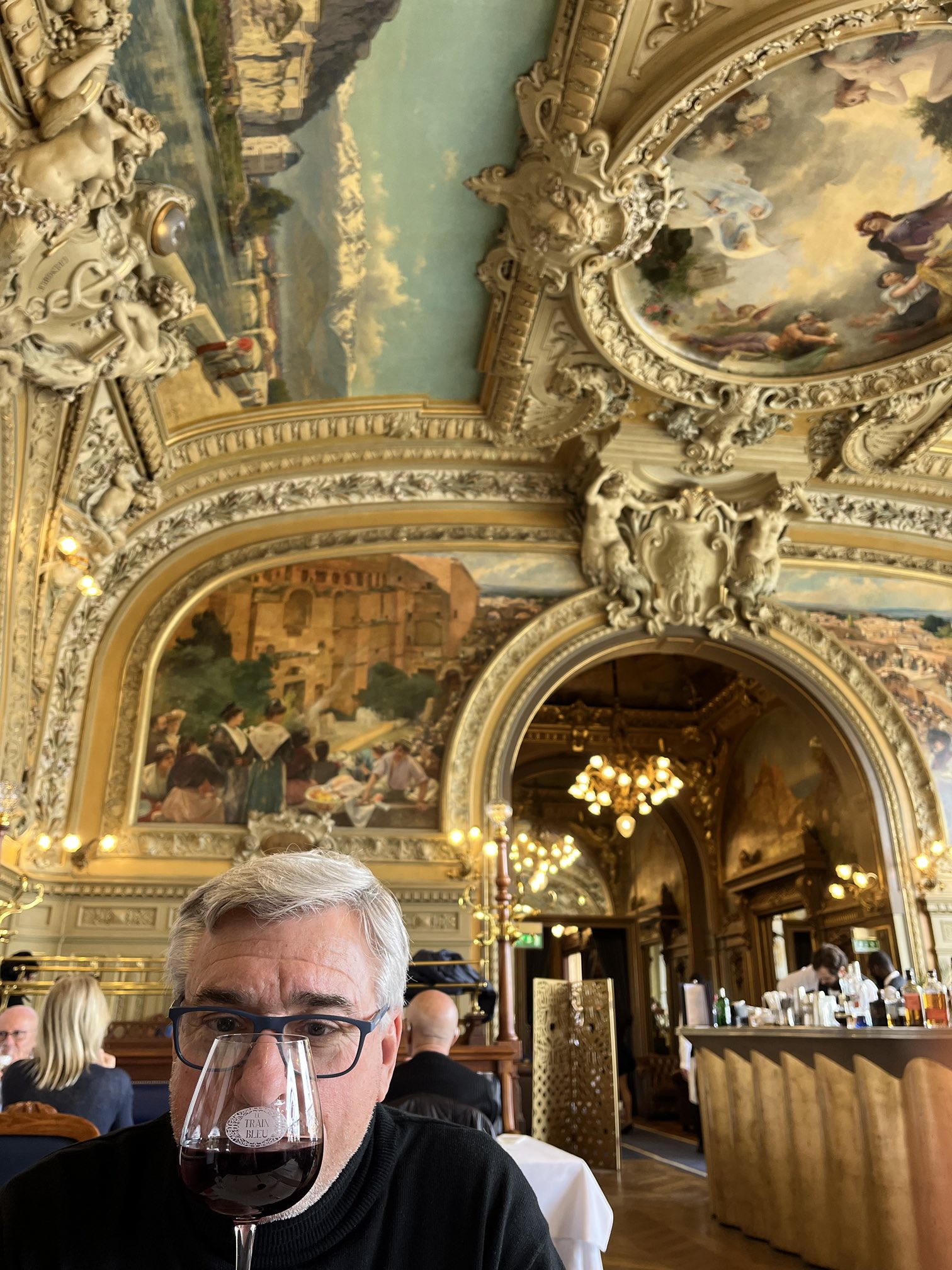 (Work. Work. Work.)
One lunch for two is hardly a reliable sample size, but from our vin rouge colored glasses it looked like everything about LTB had been spruced up, both in and out of the kitchen, since our last visit in 2012.
Cuisine this polished from such a large operation, in such an overwhelmingly beautiful space, catering to thousands of people a day, is a mind-blowing achievement. Instagram, Tik Tok and the like have obviously been good for business (in years past, the place always felt slightly forlorn to us), but this grande dame of Parisian dining has come roaring back. As have all Parisian restaurants.
Vive la France! And Happy Bastille Day!