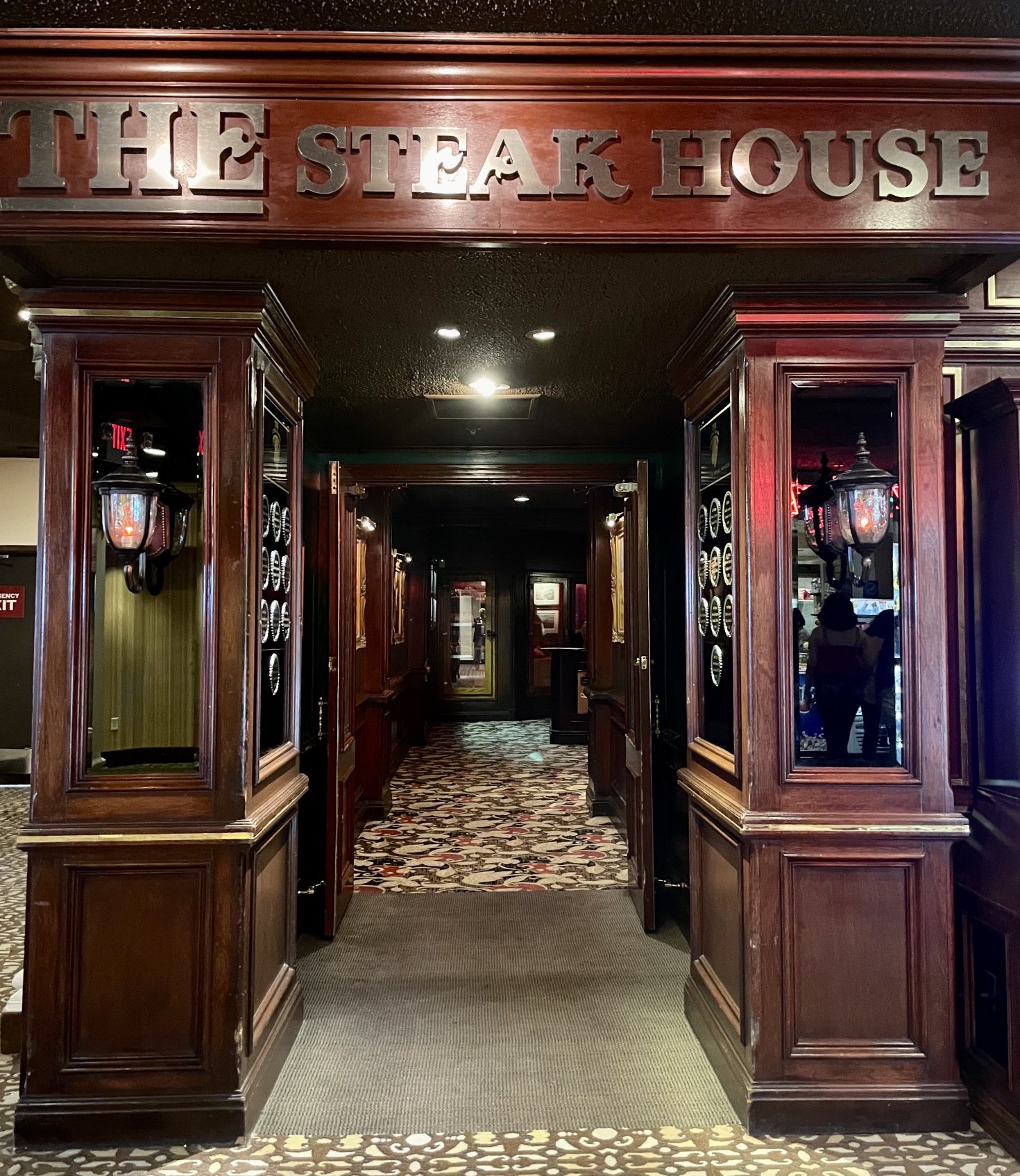 Any freak…can walk into the Circus-Circus and suddenly appear in the sky over downtown Las Vegas twelve times the size of God, howling anything that comes into his head. No, this is not a good town for psychedelic drugs.
There I was, standing at the entrance, of my own free will, and not on drugs. But they would've helped.
Had I lost a bet? Gotten waylaid on my way to CUT? What possible confluence of forces could've driven me to such an etiolated place when I'm surrounded by properties  brimming with boffo beef?
Was I suffering from sentimentality. In such a malaise that my eternal quest for excellence was enervated?
The answer is more prosaic: I accepted a free-lance assignment to write about Vegas's most iconic restaurants. And they don't come much more well-known than THE Steakhouse at Circus Circus.
Thus did I voluntarily enter the one hotel on the Las Vegas Strip which is as appealing as a Wal-mart on payday, bumping elbows with strollers, snot-nosed monsters, and insundry trailer park refugees looking for a good time on the cheap. The one hotel that would cause nary a tear to be shed if it imploded tomorrow.
Counterintuitively, it may be because the Circus Circus is so shitty that this place thrives. For forty years patrons have come, seeking refuge from the surroundings  — a dark enclave from the fear of cacophony and loathing of kiddies cavorting mere feet outside the entrance.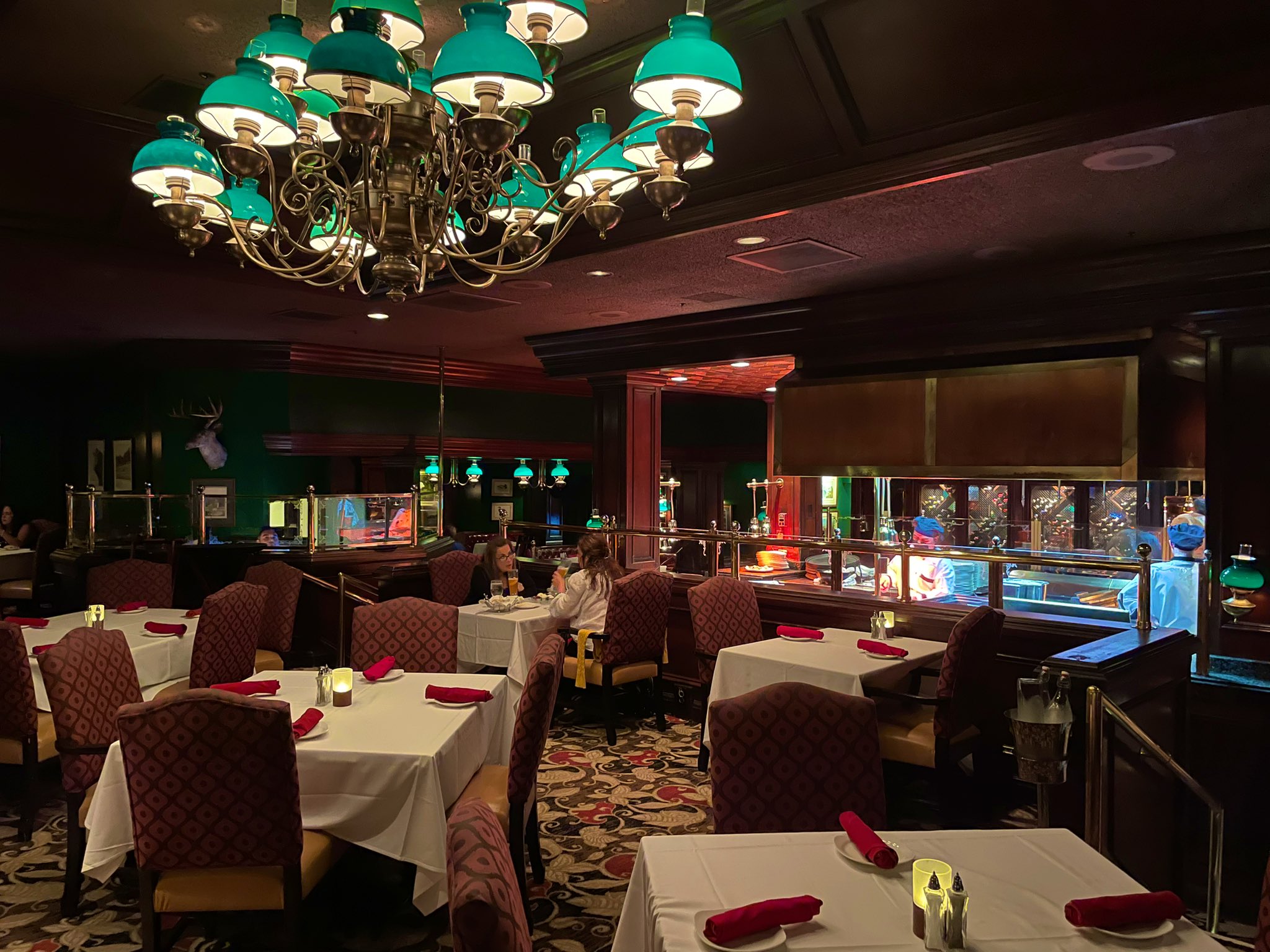 (Never give a sucker an even steak)
A little bit of this town goes a very long way. After five days in Vegas you feel like you've been here for five years.
If restaurants age in dog years, then THE Steakhouse at Circus Circus is 287 years old. All things considered, like yours truly, it looks pretty good for its age….at least when the lights are low.
When TSACC first opened in 1982 it was quite a sight. There was a meat locker beside the hostess stand when you could salivate over your sirloins. Then and now it was mostly for show, but at least hinted at dry-aging the beef — twenty years before most American steakhouses picked up the chant. Those were heady days to be sure, and tastier times lay ahead, but this was as good as it got in the early 80s and we were thrilled by it.
There was madness in any direction, at any hour. You could strike sparks anywhere. There was a fantastic universal sense that whatever we were doing was right, that we were winning.
Back then the possibilities for Vegas seemed endless, but it was still a cow town in more ways than one, and this brawny, plush restaurant hinted at a new era of steakhouse sophistication. The cozy bar, hanging beef, green leather booths, and birdbath-sized martini glasses were a revelation. As was an elevated wood-fueled fire pit where you could watch the steak chefs work their magic over spitting flames and smoke, while the smell of sweet/musky mesquite perfumed the beef and the room.
The dark, clubby, masculine vibe has remained intact and aged well and least when compared to most Eighties' decors. (When it comes to good taste in design, THE Steakhouse is to Hugo's Cellar what a filet is to a stale cheeseburger.)
No sympathy for the Devil, keep that in mind. Buy the ticket, take the ride.
It's been at least five years since our last visit, and experience has taught us that these joints don't change, but game we were, so gird our loins we did, paid the freight and took the ride.
Unsteady doesn't describe the half of it.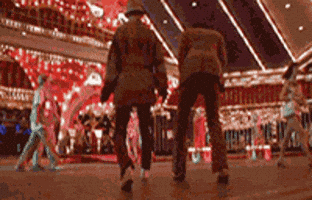 Then and now, entrees came with soup, salad and sides, making them seem a relative bargain when compared to a la carte everything, which is now the template for all but the hoariest of emporiums. Back in the day, a forty buck steak could get to a hundy in a hurry when you factored in a complete meal. Now, the meat alone will set you back that much.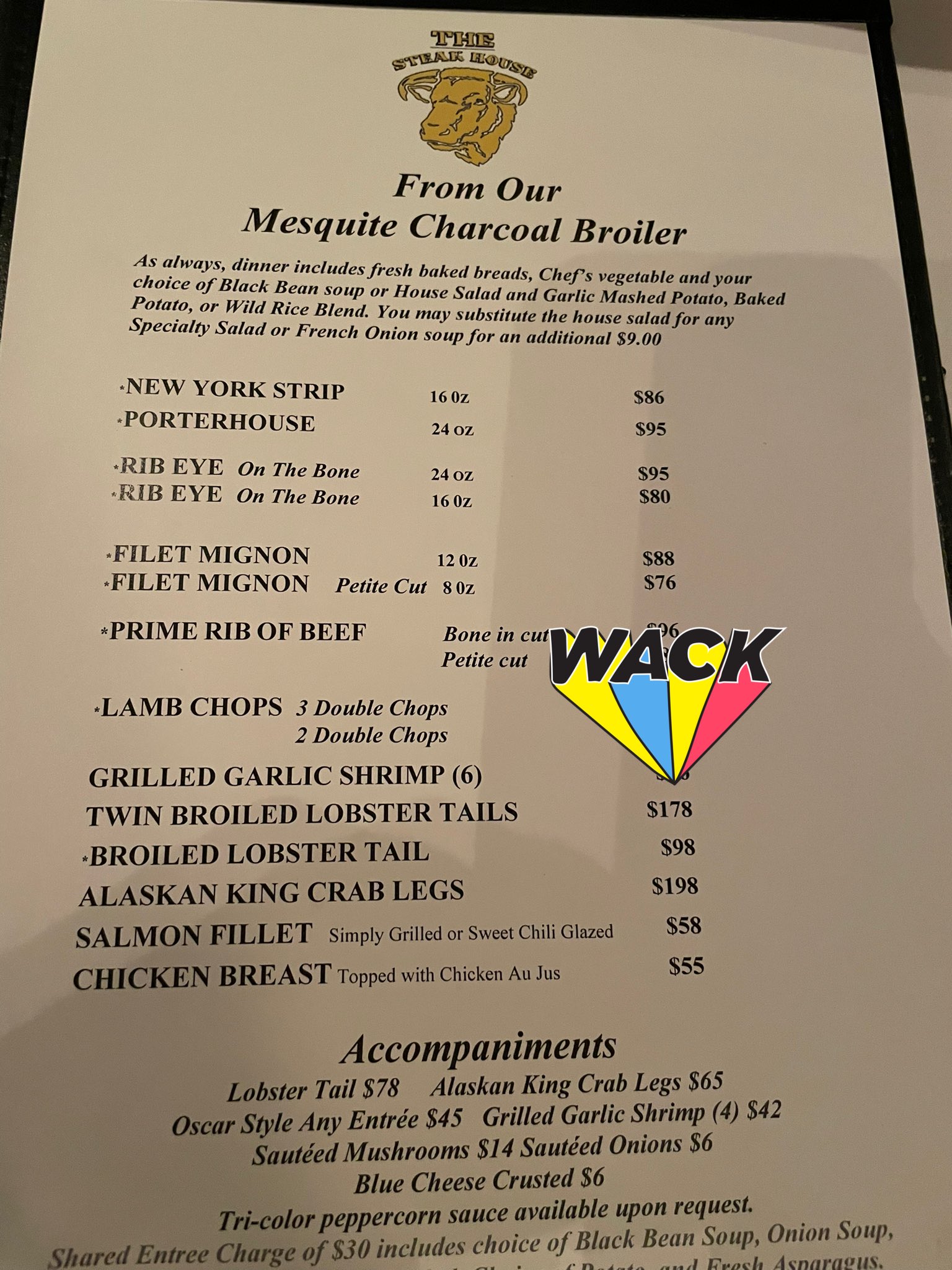 (We have a beef with prices that steak the bank)
Nostalgia is one thing, but sentimentality served with gouge is another. Yours truly considers himself practically impervious to price tag trauma these days, but those frozen lobster tails got our attention. As did $42 for four shrimp, and a "seafood sensation" of crab legs, oysters and shrimp that will set you back 183 clams.
While we're at it, riddle me this: Where in this town would one go to eat an onion soup not tasting of onions? Topped with cheese so cheap it is not fit for a grade school lunchbox? Or a bean soup bereft of beans? (See below.)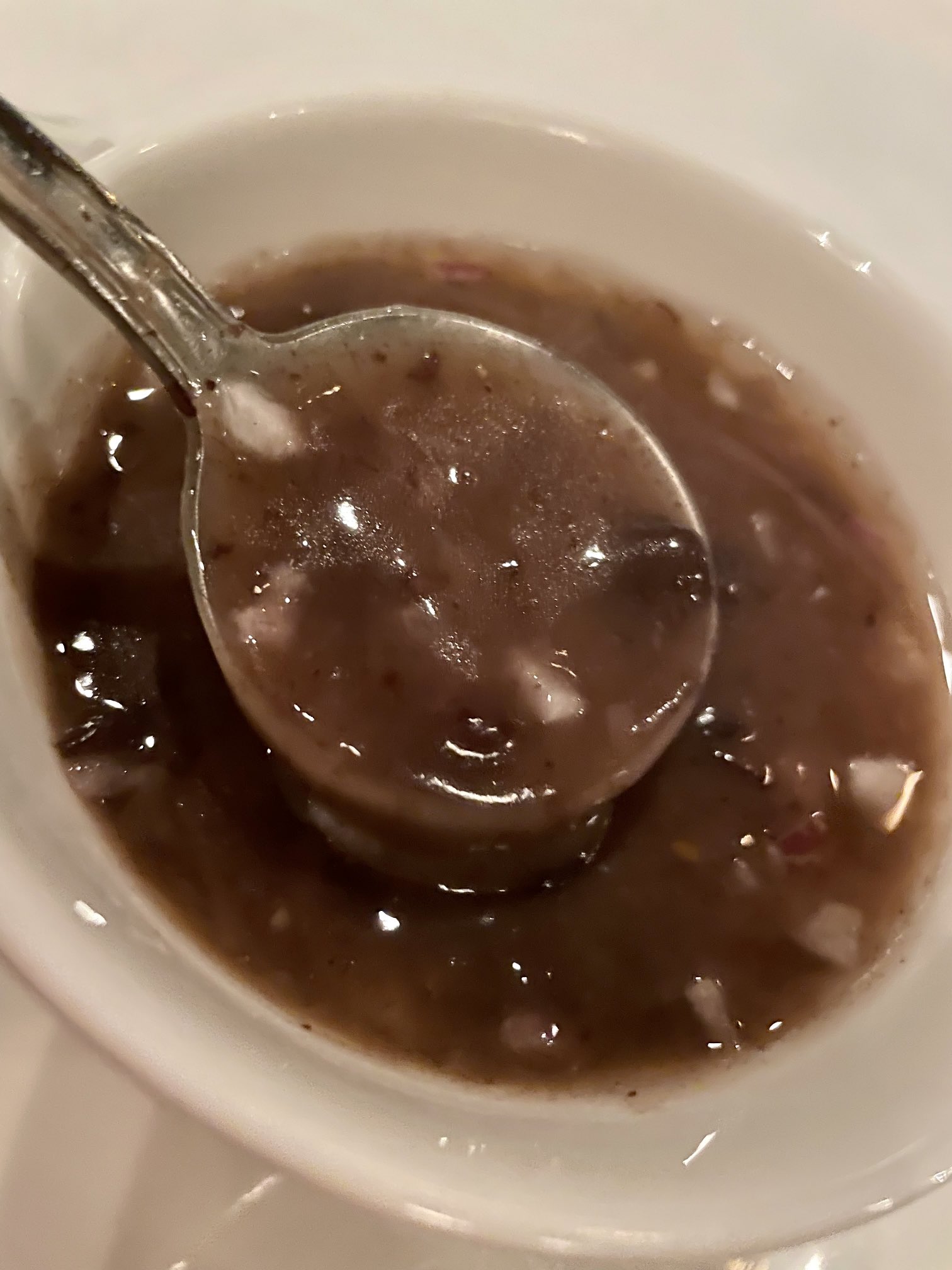 (Cornstarch Circus)
Answer: A once venerated, long-in-the-tooth, union-staffed casino eatery which has been coasting on reputation for decades. Who else would have the crust to charge $178 for two lobster tails when one can be had, a la carte, for 78?
Answer: The same place confident enough in its clueless reviews) to charge $95 for a unseasoned porterhouse of dubious pedigree, served looking like it was hacked into portions with a butter knife: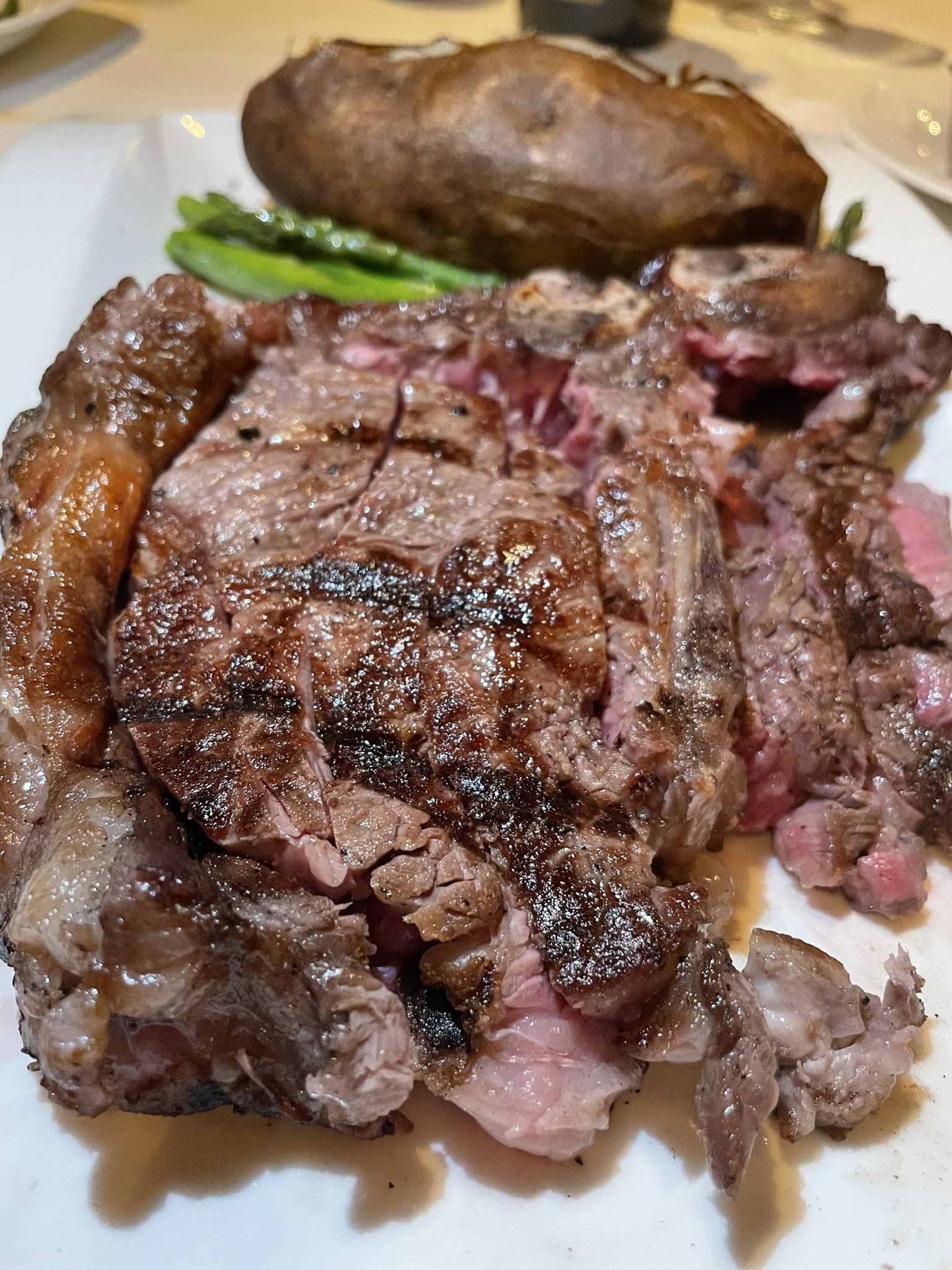 (Past its prime)
"It's like someone bought a supermarket steak and threw it on a grill and decided to charge 100 bucks for it."- the quote of the evening.

Looking around the room one has to ask: Who, exactly, is gullible enough to pay these prices for dated, bland food in such a crummy hotel…for four decades?
We asked ourselves this throughout the meal, but kept eating. As disappointing as the meal was…we would be fools not to ride this strange torpedo all the way out to the end.
We had no choice. We were in too deep. It was either finish the meal or shoot the pasties off the nipples of a ten-foot bull-dyke and win a cotton-candy goat.
So we plowed through, guided by a waiter who was professional, fast and friendly, and who even took the time to guide us to better deals on some side dishes and salads (it gets confusing when factoring in what comes with what).
Along the same lines, the wine list is priced for the clientele, not fools like the person typing these words, with lots of bottles well under a Benjamin.
And we found some things to like, like the baked crab cake ($27) that had it all over the gummy, bready one we had had the previous night at Vic & Anthony's, and two salads (blue cheese wedge, and fresh spinach with (not-so) hot bacon dressing) which were decent enough to justify the $18 price tag. And the lamb chops ($78/two) made up for in taste what they lacked in presentation.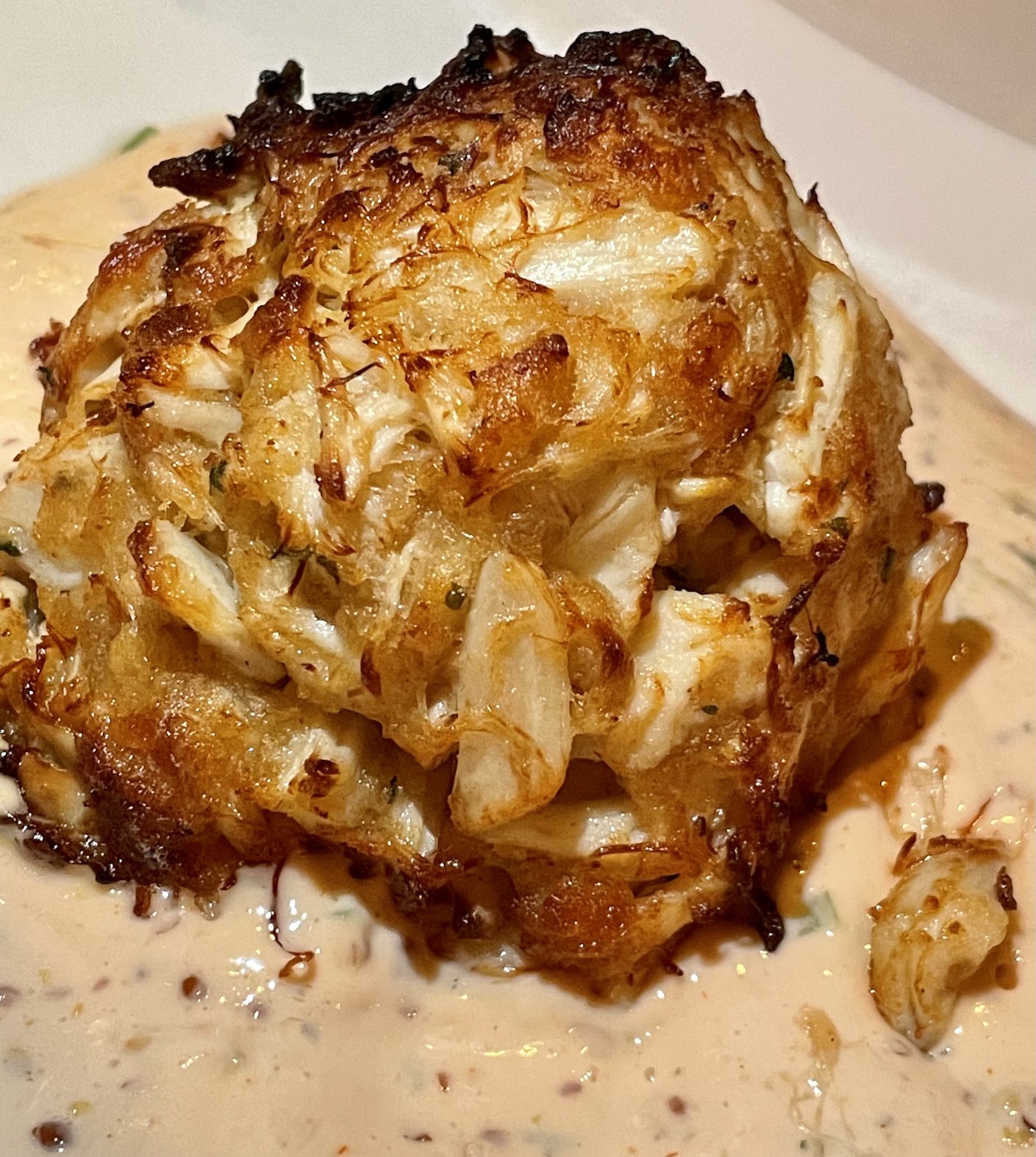 (Getting crabby at Circus Circus)
But when the final tally came ($640, including tax, tip and drinks) , we couldn't defend it. The steak was just too plain and pathetic and so not-in-the-same-league as dozens of better ones on and off the Strip.
So now…years later, you can go up on a steep hill in Las Vegas and look West, and with the right kind of eyes you can almost see the high-water mark—that place where the wave finally broke and rolled back.
The high water mark for 80s Vegas steaks was THE Steakhouse, which is the last time the moniker fit. Today it limps along — a once-proud restaurant stuck in a ground chuck of a hostelry from which there is no escape. Time has passed it by but no one has bothered to tell the chefs or the customers — a shared, convenient lie serving both sides, since neither seems to care. Walking into the ass end of the hotel to get there, it feels as if the whole infrastructure, casino, and customers are just waiting to be plowed under.
Old elephants limp off to the hills to die; old Americans go out to the highway and drive themselves to death with huge cars.
In 1983, we marveled at the operation, even if, or maybe because, it was surrounded by the most peculiar hotel in town. Las Vegas has always been a bizarre place. It will never go out of style because it was never in style. No matter how much it has been corporatized, standardized, and lobotomized, it remains a place of gargantuan, tacky hotels stuffed with people driving themselves to death by throwing hard-earned cash at unreachable dreams and mindless diversions.
THE Steakhouse was always a pleasant diversion. It may never have been in style, but it was always more stylish than the fleabag hotel surrounding it. Such was its strength. But the years rob us of vigor, and in old age, the penumbra of despair cannot be shed. Like all washed-up restaurants, it will continue opening the doors, night after night, overcharging for its goods and hoping nobody notices.
We noticed.