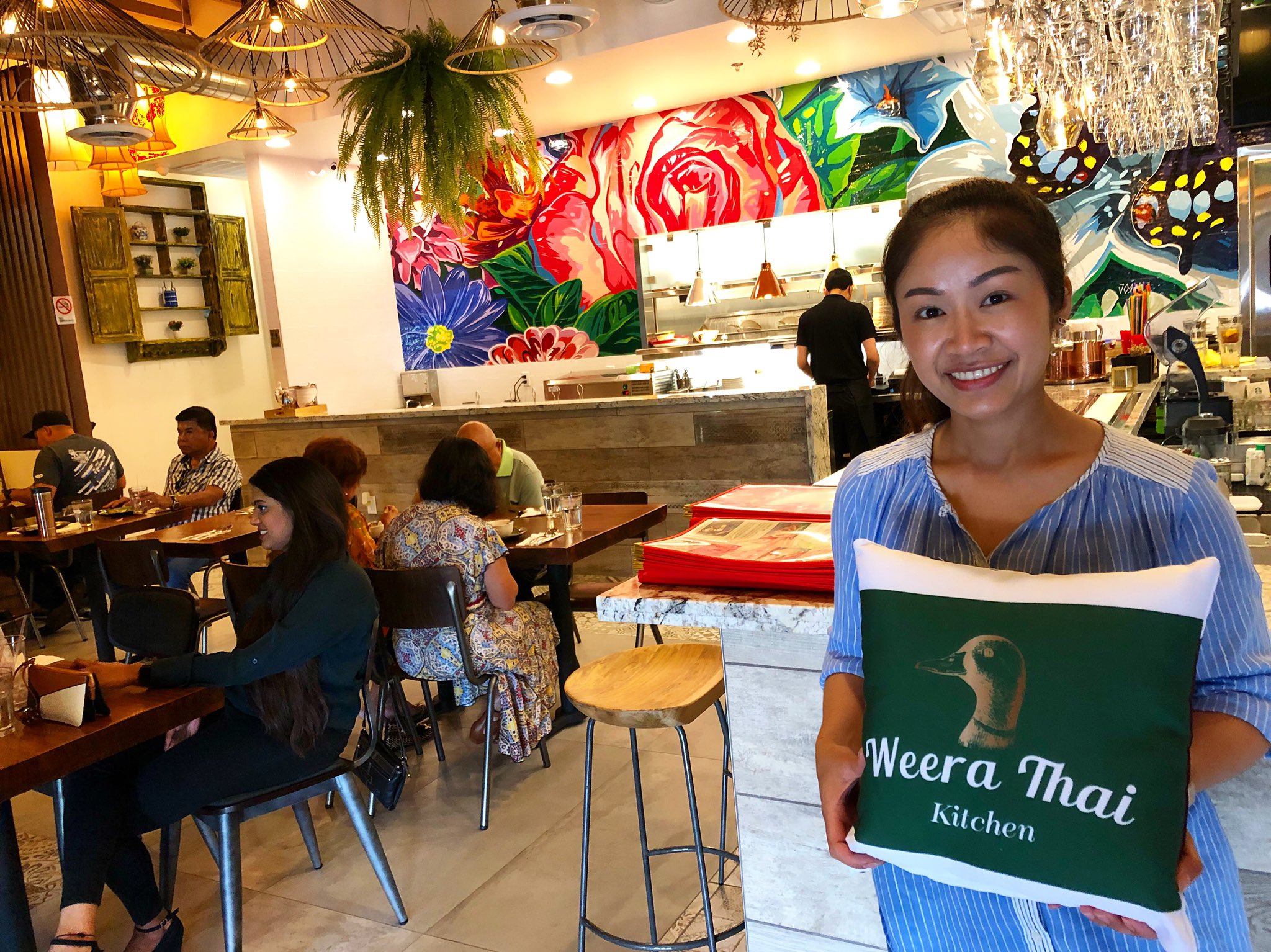 Las Vegas has had a robust Thai restaurant scene for decades. Even before Saipin and Bill Chutima put us on the Siamese gastro-map with Lotus of Siam in 1999, there were dozens of family-run Thai joints serving crab sticks, papaya salads and tom kah kai to a fare-thee-well.
My introduction to this cuisine occurred in the early 1980s at a free-standing white building on Las Vegas Boulevard (across from where the Federal Courthouse now sits). I don't think it even had a name, just the words "Thai Food" in big red letters on the side of the building. Even then, it was one of three Thai places downtown, and there were a couple more in Commercial Center off east Sahara.
You could get a decent larb or mint chicken in any of these, but they pretty much stuck to a greatest hits catechism of deep-fried wings, beef salad, pad Thai, and those hot pot soups that made Thai food famous. When anything had to be sauced, though, "sweet and gloppy" always took precedence over sour and pungent. This was also the era of "How hot do you want your food on a scale of 1-10?" — as if a heat level of "7" would be all that different from a "6."
As similar as these menus may have been, they provided just the right introduction to this country's food, and they paved the way for our Thai 2.0 revolution. These new players (including the small-but-mighty DE Thai downtown, and Chuchote Thai on west Sahara) are expanding our horizons, in nicer surroundings, and using better groceries to boot.
The first thing you'll notice about Weera Thai Kitchen is the decor. Located in the spanking new Shanghai Plaza, it is quite the upgrade from its older sibling, Weera Thai on west Sahara. Cool, conical lamps descend from the open ceiling and illuminate a yet-to-open bar, while oversized flower murals dominate a brightly-lit room with well-spaced tables.
The eye-popping picture menu will next appear, and you'll immediately wonder if everything tastes as good as it looks. It does. So much so, the only problem you'll have is trying to reign in eyes growing bigger than your stomach with every luscious item. With the move to Chinatown, the Weera Thai clan (including the lovely Sasi, pictured above) is broadcasting its intent to compete with the big boys, and bask in the black belt foodie cred Spring Mountain Road now represents.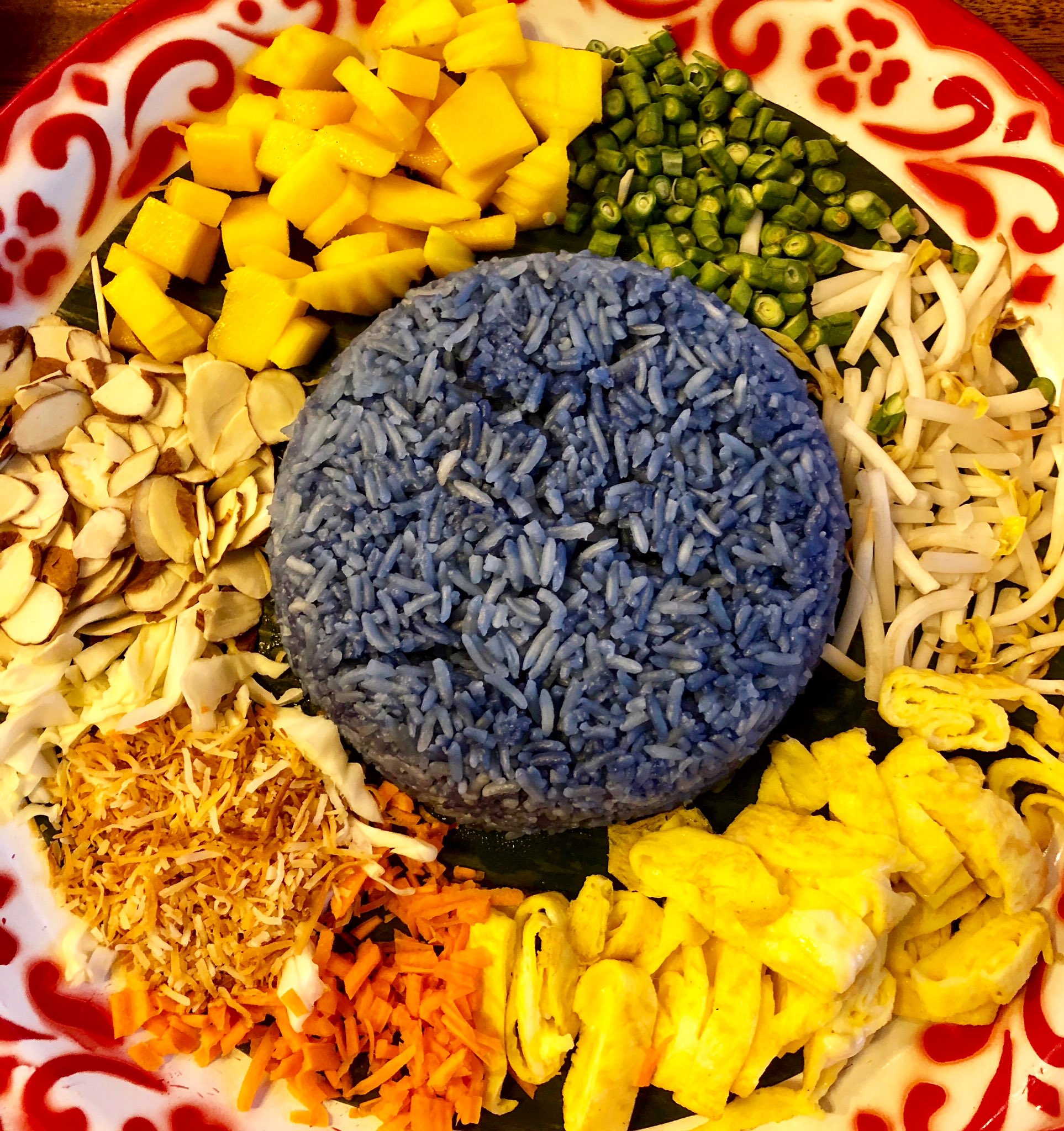 (Khao yum means yummy)
Every Thai meal starts with appetizers, but somewhat confusingly, these don't appear until page four of the multi-paged menu. This is no doubt calculated, since the fish cakes, crab sticks and curry puffs are supporting players to the upscale'd street food — the real stars of the show.
Top billing on pages 1-2 is given such jaw-droppers as khao yum (above – blue-tinted butterfly pea rice with toasted coconut and all sorts of crunchy veggies), khoa kluk kapi (another rice dish given special pungency by fermented shrimp paste, and depth from chunks of pork belly, and giant river prawns (goong maenam pao (below) or goong pao cheese – with mozzarella cheese, which is apparently a thing in Thailand. Dipping sauces are to Thai cuisine what melted butter is to French, and these house-made beauties always seem to hit the right balance of tart to sweet to hot.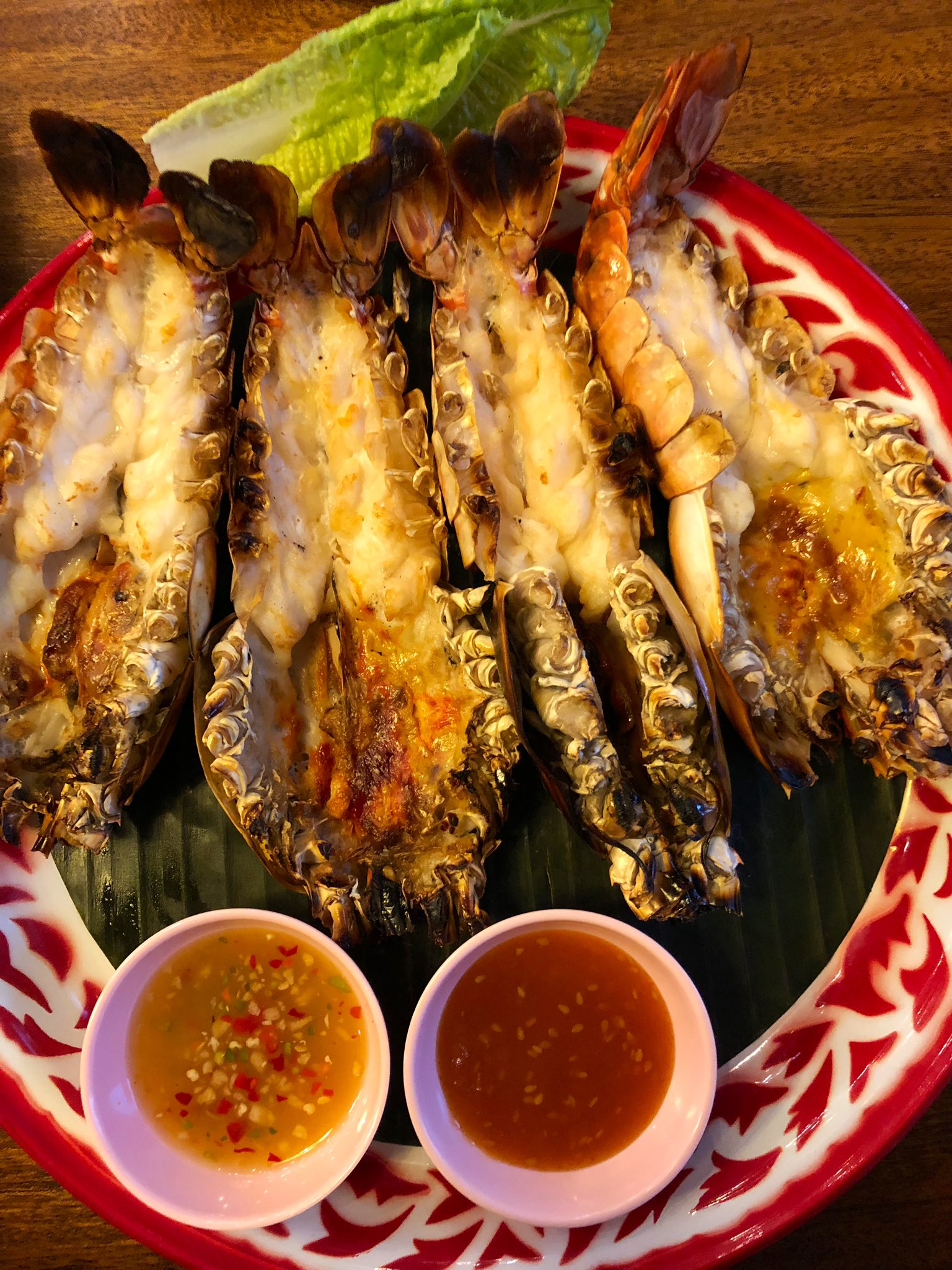 (Nuthin' shrimpy 'bout these shrimp)
These river prawns (above) might be common in Bangkok, but they're new to this part of the world. As big as small lobster tails, they are perfect as an appetizer for four, or a meal for two.
Before you get to them, a platter of ma haw or ma hor (literally: galloping horses, below) might catch your eye. These balls of caramelized minced pork are served up on pineapple slices and are best described as meat candy. They are very sweet, but somehow beckoning bite after each teeth-aching bite. If nothing else, the sweet meat sets up your palate for the barrage of penetrating flavors yet to come.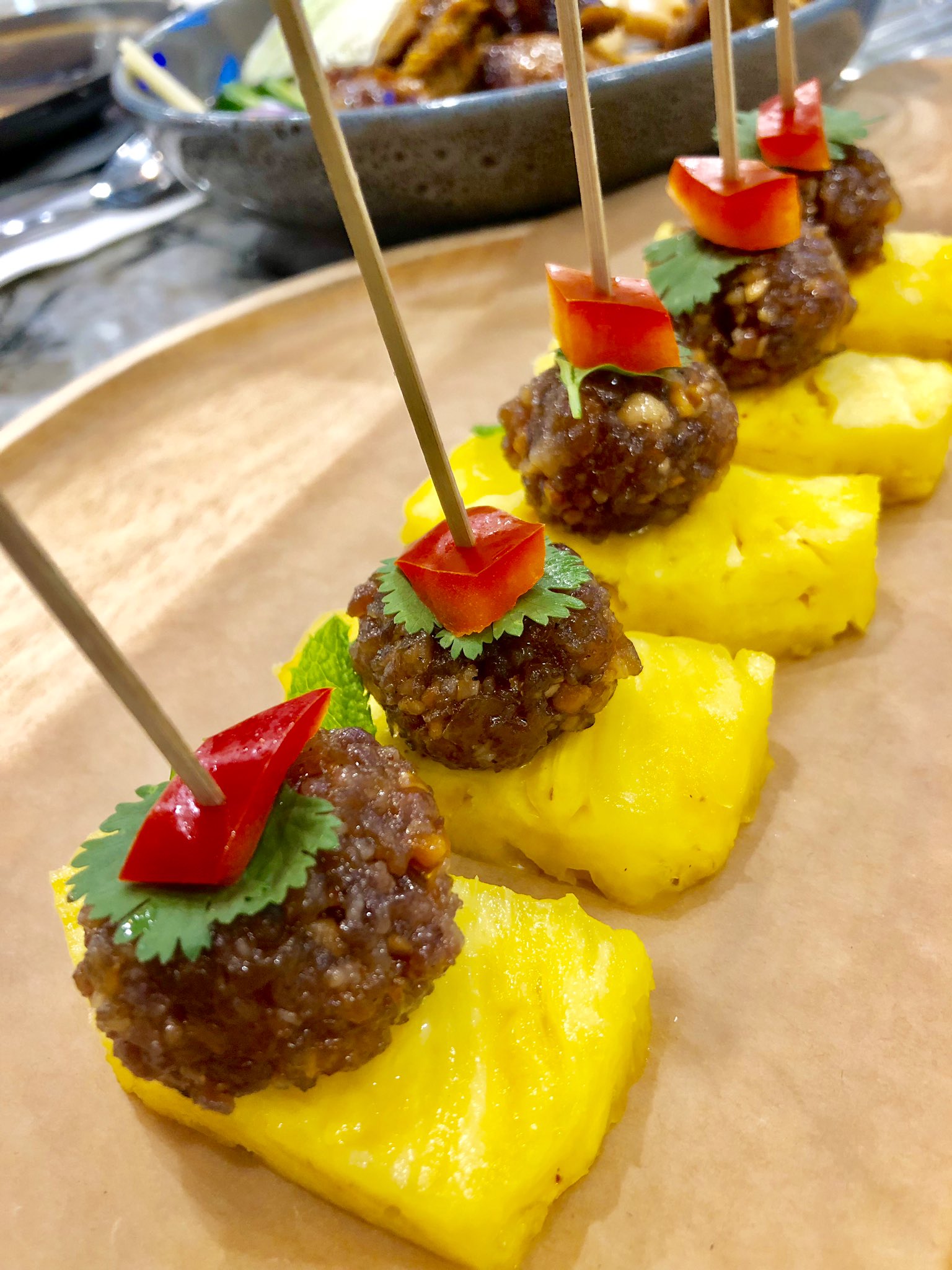 (Galloping horses? Or meat candy?)
If there's one way WTK distinguishes itself from the original restaurant, it is with the emphasis on both things that swim and street food. Beautiful shrimp get wrapped in thin rice noodles and deep-fried in kung sarong, yum hi-so sees slightly slimy, raw blue crab get lit up with chili and lime. That crab and the tender spicy squid salad will give you all the heat you can handle. And then there is the garlic shrimp (below)  — so loaded with melted slices and crispy chips you'll think you've died and gone to Allium heaven.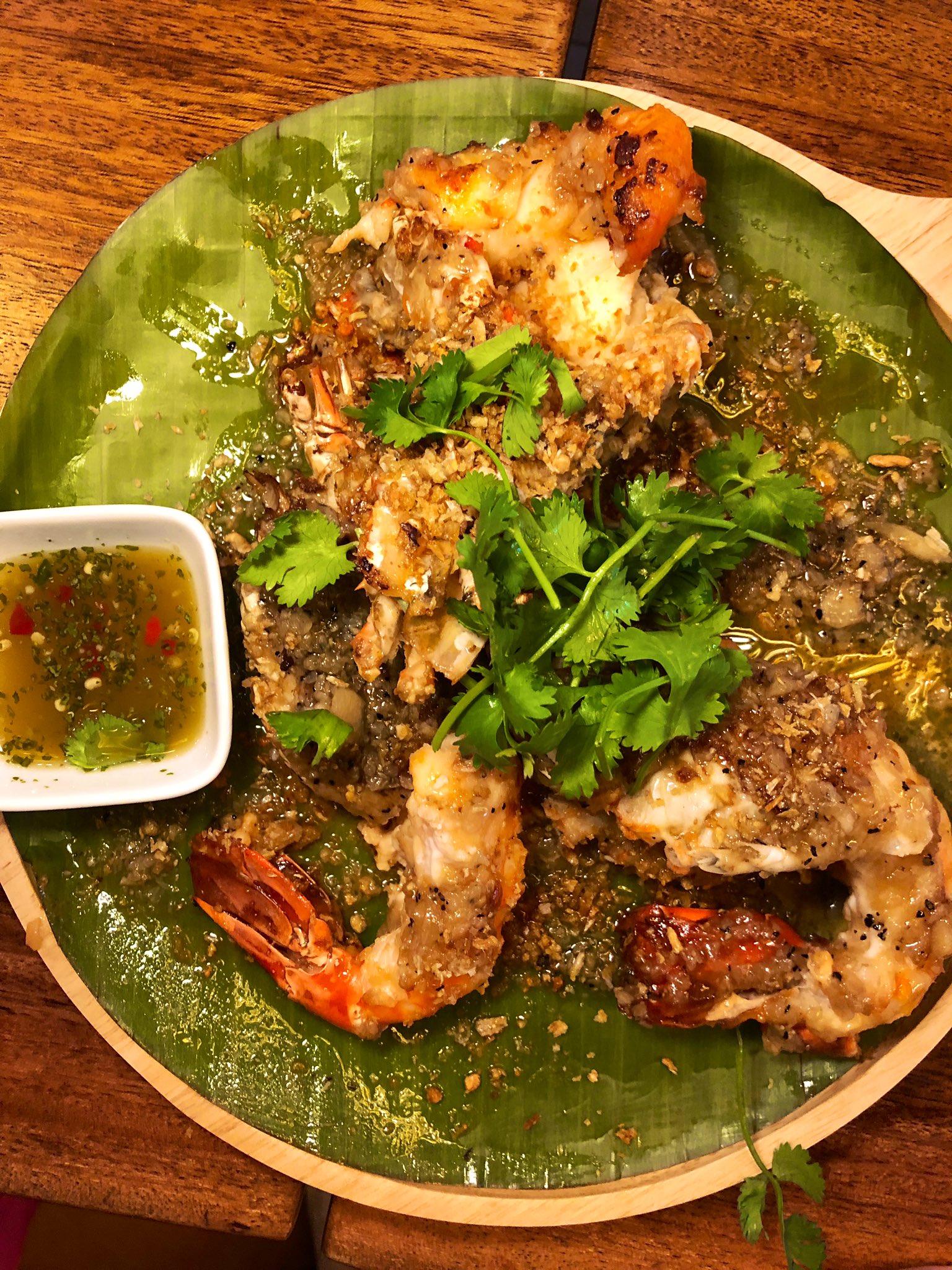 (Garlic, garlic, and more garlic)
One of the tamer dishes is ka pow gai-kai dao – four bowls containing minced basil chicken, rice, onion and peppers and a fried egg — all ready to mix into an amalgam of a one-dish meal, but we'd rather spend our time with their sai oua ("stuffed intestine") northern Thai sour sausage, or the nam khao tod which is right up there with Lotus's.
They also do a nice dry version of yen ta fo, here called yen ta fo hang, which is much more palatable in the Vegas heat than the same ingredients served up in a giant steaming bowl of tomato-laced broth, and you shouldn't miss their definitive pad see ewe pong (below) — broad flat noodles, with really tasty shrimp, in yellow curry.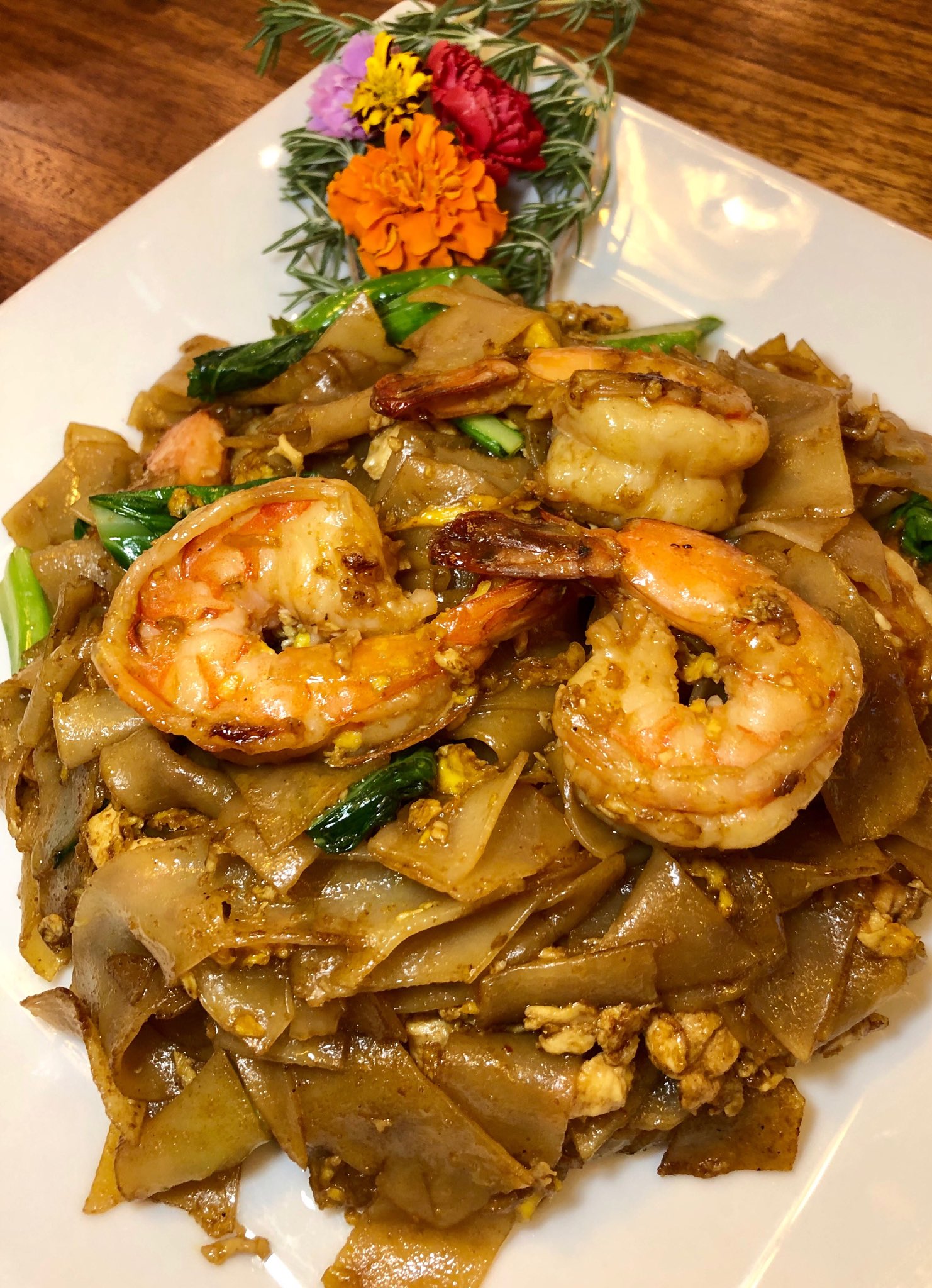 (Pad see ewe = pad see perfect)
You won't find any fault with the pinkish pad kee mow with chicken, either, but the whole pompano lard prik — deep fried topped with sweet-hot chili sauce — is a bit challenging for those used to eating fish in neat little fillet form.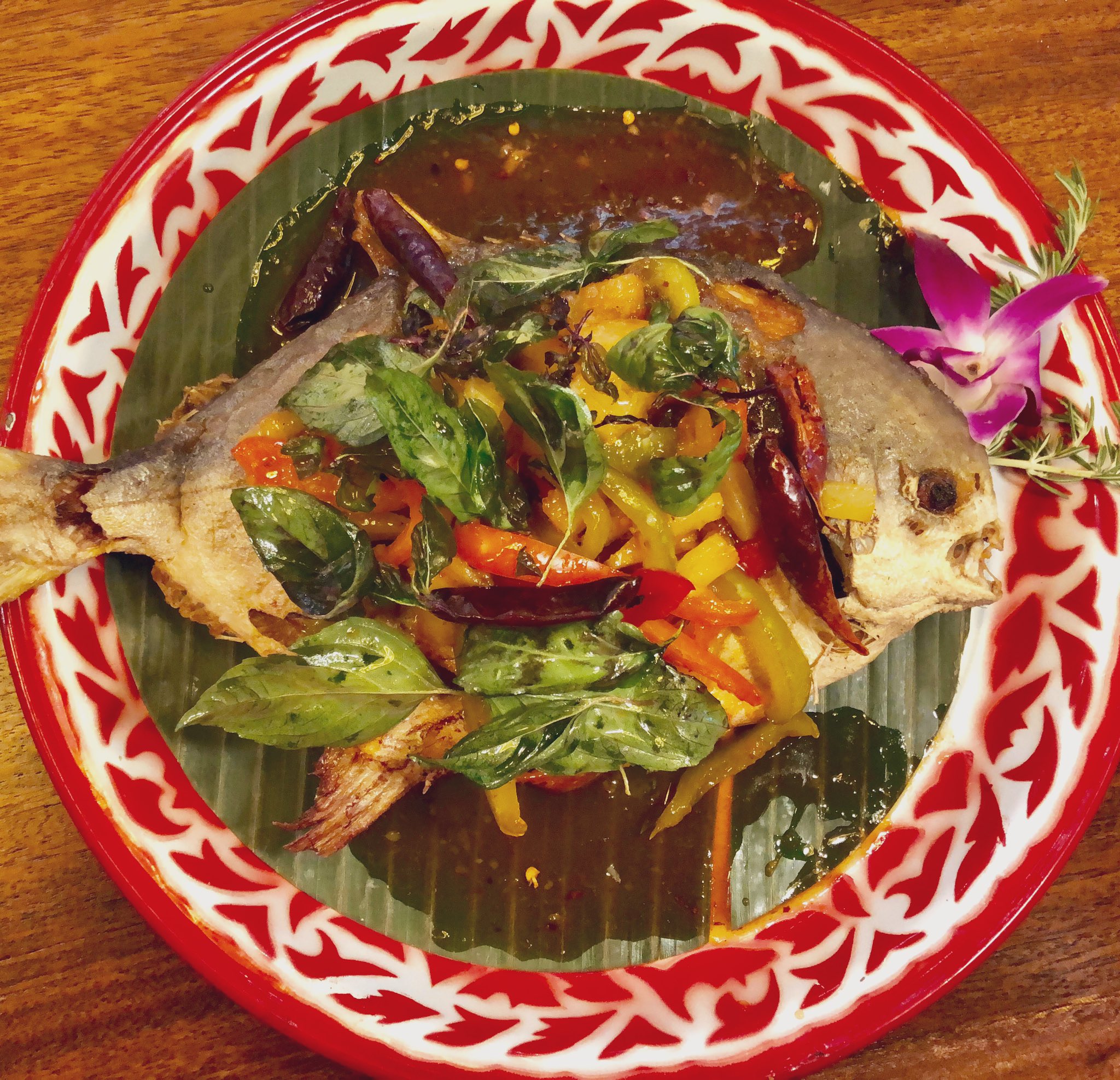 (Deep-fried pompano makes you work for the tasty bits)
The crowds have taken to WTK from day one: it's been open for barely a month and tables are already a precious commodity at peak hours. It's as if they (the Thonguthaisiri family and its loyal customers) recognized a pent-up demand for a good Thai restaurant on Spring Mountain Road — one bringing forth the in-your-face flavors of the Thai street with better ingredients in a stylish atmosphere. As soon as they get their full liquor license, and start featuring cocktails and wines to go with all of this incredible food, it might become as hot as gaeng tai pla.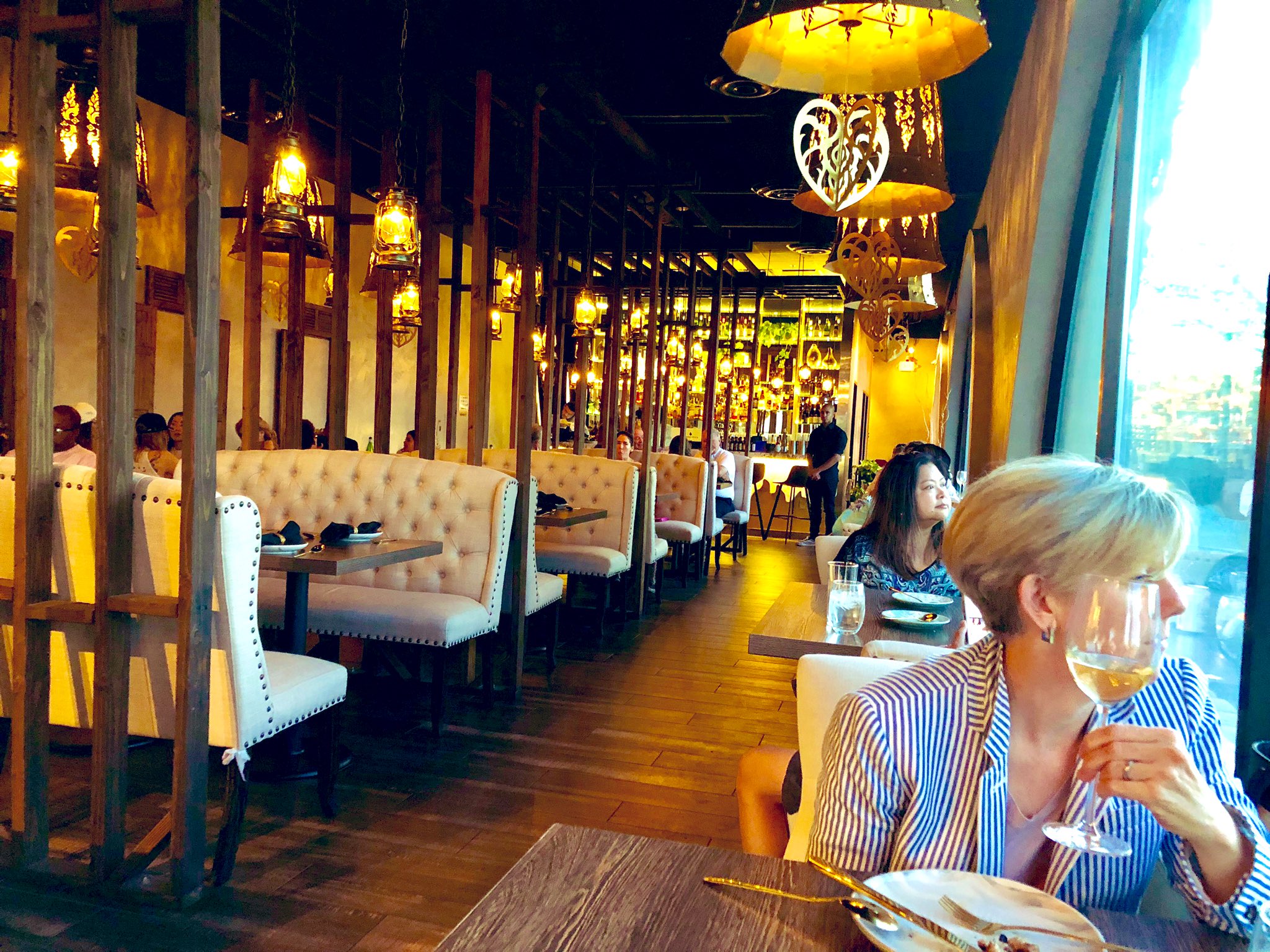 (Lamaii at twilight)
Lamaii is playing a different game — one rooted in the Thai street food vernacular but also seeking broader food/wine credibility. Chef/owner Bank Atcharawan has picked up where Chada Street (his previous Thai-meets-wine venue) left off. In this case, by taking an ice cream parlor at the far end of a strip mall (Sparrow + Wolf anchors the other end) and creating magical space of comfy booths and upscale furnishings that are as far a cry from a Bangkok street as a Thai fishing boat is from a cabin cruiser.
While you wouldn't call Lamaii luxurious, it certainly wins the Chinatown design award for those booths, subdued colors, lots of wood, muted lighting, and huge, drop-down lamps. (Thai people apparently have a thing for light fixtures the size of hot tubs.)
As pretty as the decor is, it is also noisy — like gymnasium noisy — at peak hours. They also turn the lights too low at night, which is a problem since the joint is only open for dinner. Grab a table early (preferably in summer) if you want a good view of your food. What you'll find on your plate (either by touch or flashlight) will blow your socks off, sometimes literally.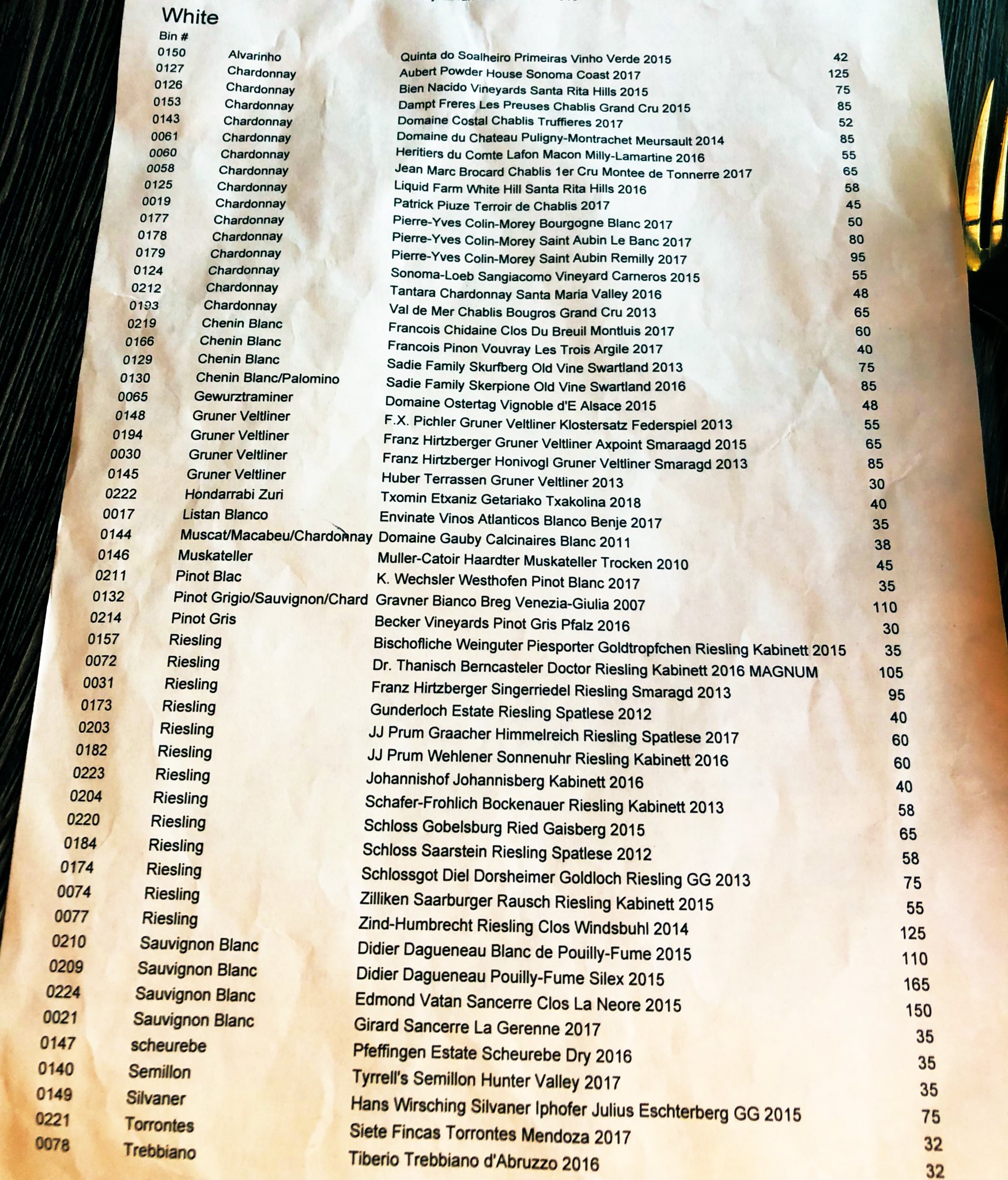 (I'll take Zind-Humbrecht for 125, Alex)
Before you get to the food, you'll have to negotiate the beverage selections. Atcharawan is an old F&B pro (he previously managed Lotus of Siam), so his lists are full of saison ales, obscure stouts, and (by now obligatory) creative cocktails — none of which go as well with this food as a Kabinett Riesling or cru Beaujolais. (In the interest of fairness, we will concede that certain chilled, malted beverages — pilsners, session beers and such — match this food just as well.)
Regardless of your preferences, there's no ignoring the wine list here. It is short, wrinkled, and superb. (see above) Prices run from the low $30s to the low 100s, and to a bottle, selections are priced at at least half of what you would pay on the Strip. The Gravner Breg (at $110) is less than I paid for the same bottle in Italy a year ago. There is a grand cru Chablis for $65….which has to be close to the wholesale price of this bottle to the restaurant. (Personally, I consider myself fortunate whenever I can score any Chablisienne grand cru for under a hundy, retail.)
In other words, this list is insane. A treasure trove of interesting bottles at ridiculous prices.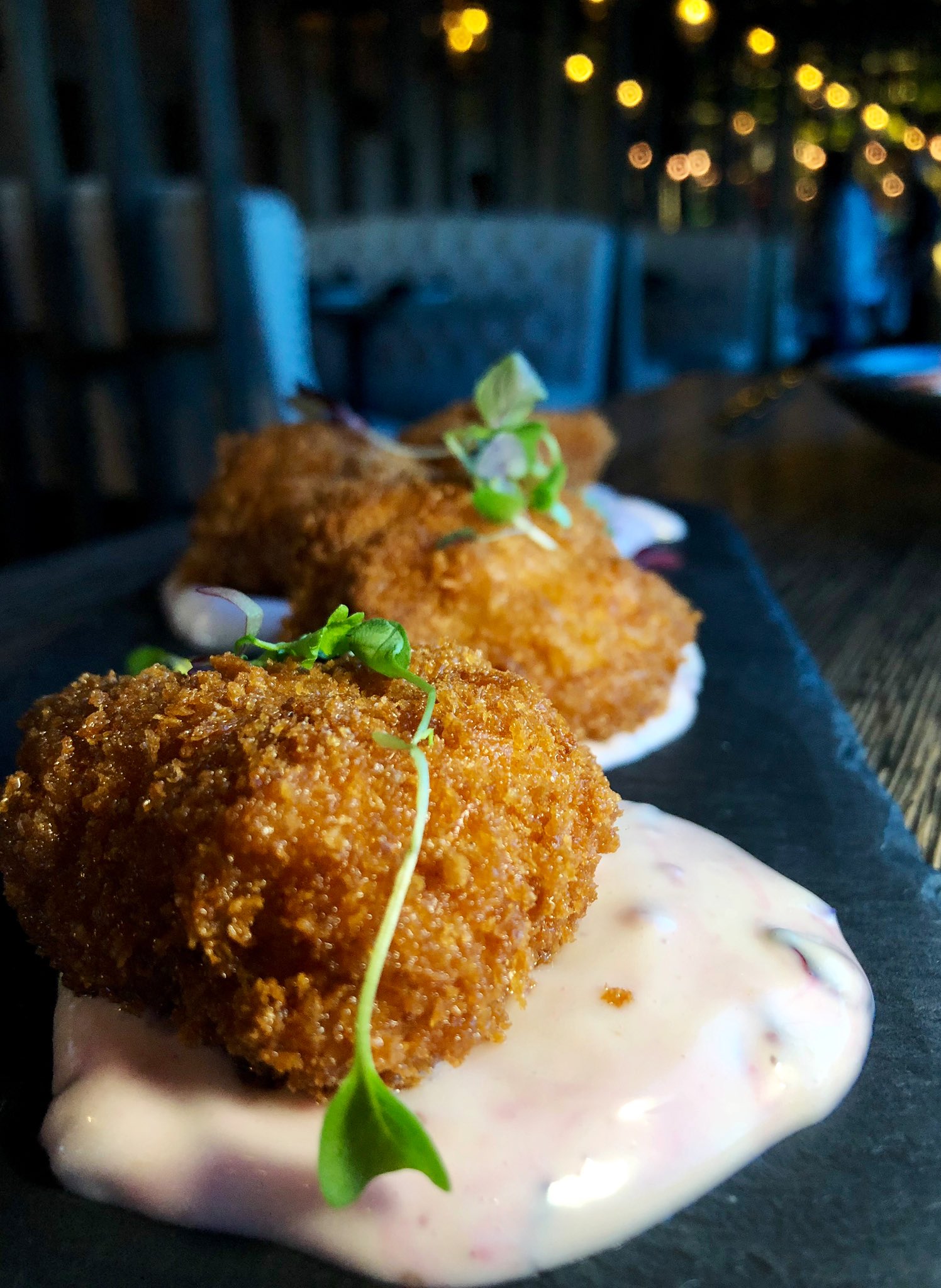 (Shrimp cakes with plum-blueberry sauce)
The only down side is, it's a small restaurant with limited storage space, so what you want may not always be available, but if you're a white wine lover (and let's face it, who isn't?), you owe it to yourself to dive in. Like almost every wine professional in town already has.
Atcharawan's cuisine is designed to match with these top-shelf wines, and much of his menu dials back the heat in favor of more wine-friendly fare. Pork jowl gets grilled, belly gets deep-fried, chicken is satay'd, and fluffy shrimp cakes the size of ping pong balls float on a plum-blueberry sauce — all of them designed to be enhanced by a steely Riesling or herbaceous sauv blanc.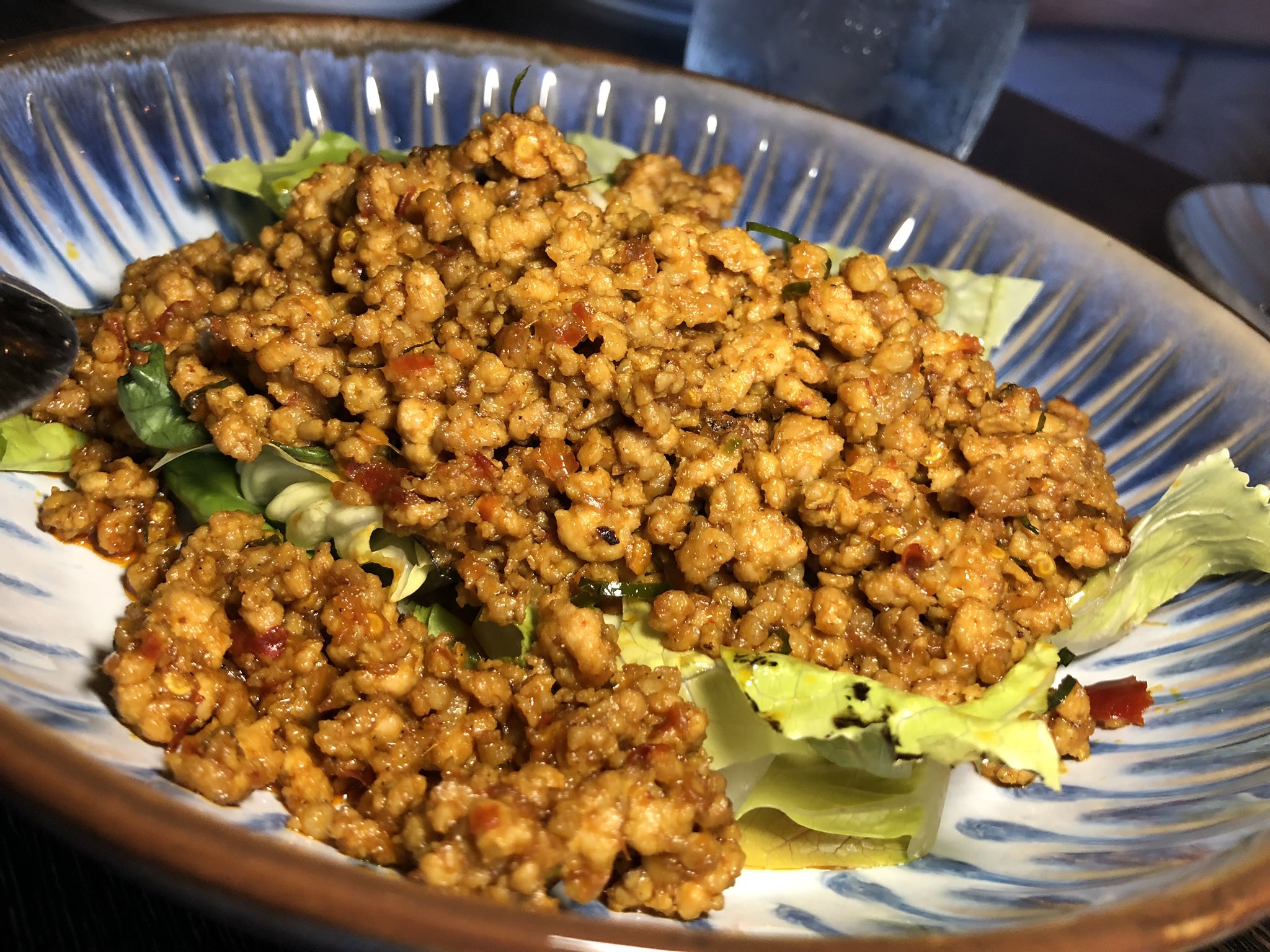 (Kua gling is not for the Thai timid)
Loui  suan wraps ground pork in lettuce and rice paper, and is designed to showcase the Thai herbs, not incendiary heat. When the staff does ask you how hot you want something, as in the kua gling ground pork with southern curry paste (above), or gang pu (spicy crab curry noodles) be forewarned, then strap in and hang on.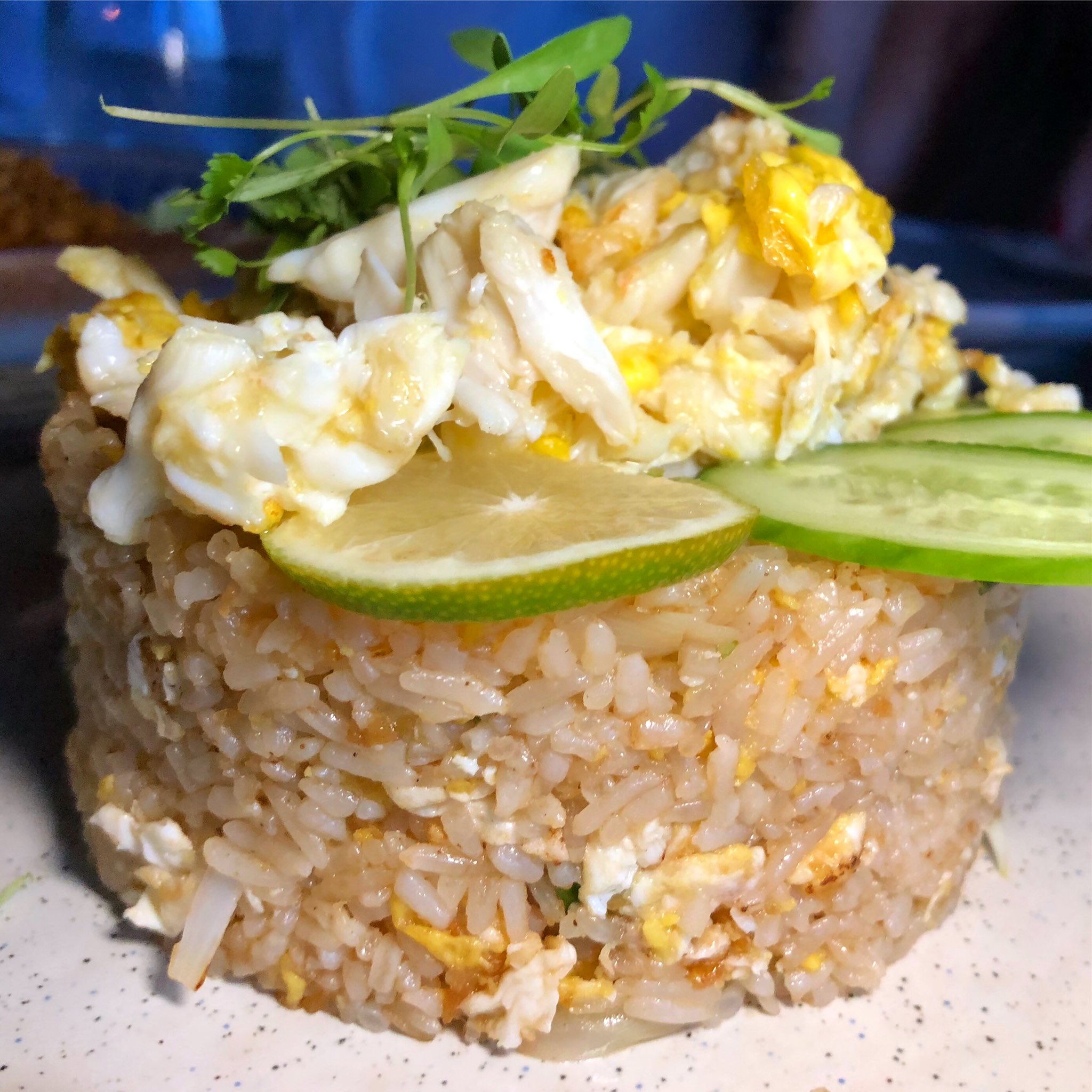 (What's mu pu with you?)
No one will ask you how spicy you want your mu pu (crab fat) fried rice, but the silky richness of rice shot through with crab tomalley doesn't need a pepper kick. Neither does a grilled 12 oz. rib eye  (sua rong hai on the menu, below) that might be the best $24 steak in town. The pad Thai here comes festooned with huge crispy prawns, and the surprisingly fresh, non-muddy-tasting catfish comes dressed with just the right tart chili-lime-mango dressing.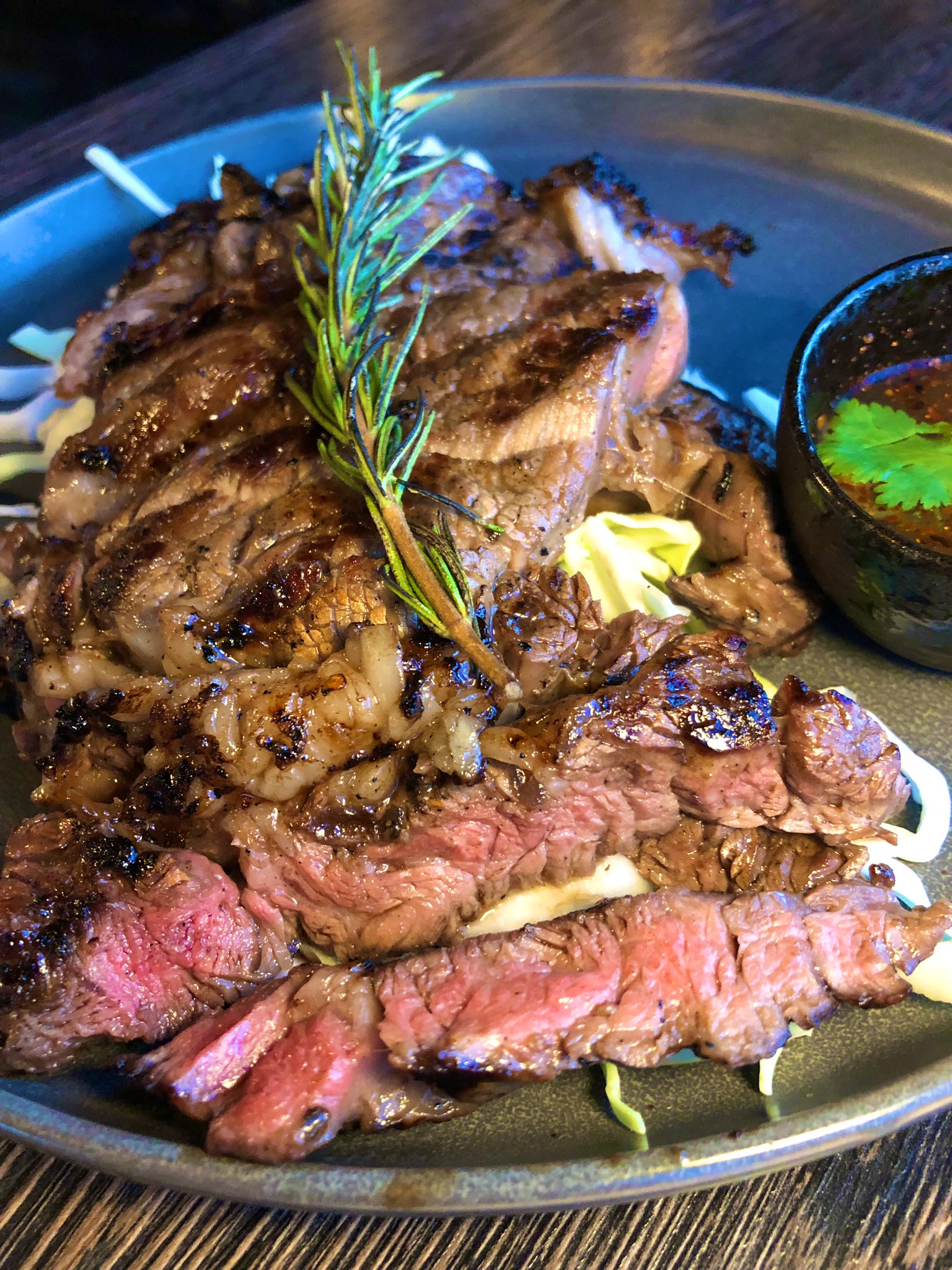 (The best 24 buck steak in town)
Even the curries are toned down here, but are none the lesser for it. Gang rawaeng, described as an ancient turmeric curry, has the creamy depth to play off fork-tender chunks of braised beef, and that old reliable, panang curry gives new life to crackling slices of duck breast. Atcharawan has always done a tongue-searing steak tartare, and the one here is for brave souls only.
Everyone gets the honey toast for dessert here, but the mango sticky rice, fried bananas, and coconut ice cream are just as exemplary.
Lamaii isn't a standard Thai restaurant, but it challenges all your preconceptions about Thai food. Weera Thai Kitchen is like a old friend who's decided to shape up with a nicer wardrobe, upscale attitude, and fresh new ambitions after moving into new digs. Between them, they signal a quiet but significant change in the way Vegas now appreciates the food of this country. It is spicy and soul-warming, but it is also one of the world's great cuisines. Las Vegas is finally starting to appreciate it as such.
Nothing on any of these menus is over $24, and most dishes are priced in the $10-$15 range, meaning: it's hard for two people to spend more than $50-$70 on food. Lamaii offers half price portions of some of its noodle dishes. I've been comped once at Lamaii and a couple of times at WTK.
Get this (Weera Thai Kitchen): Yum hi-so – raw blue crab salad; Thai fried rice with shrimp paste; yen ta fo hang – "pink noodle dry version"; "Galloping Horses" – minced pork on pineapple; jumbo river prawns; khao yum – butterfly pea rice with vegetables; ka pow gai-kai dao – ground chicken stir-fry with basil and egg; sai oui sausage; kung sarong – noodle wrapped fried shrimp; beef salad; spicy squid salad; fish cake; papaya salad; garlic shrimp; pad see ewe.
Get this (Lamaii): Garlic green beans; loui suan – ground pork wrapped in rice/lettuce; shrimp cakes with blueberry sauce; steak tartare; moo ma now – grilled pork jowl; gang rawaeng – ancient curry with braised beef; panang duck curry; pla crispy beef; kua gling – ground pork with southern curry paste; sua rong hai – grilled rib eye steak; mu pu fried rice; pad Thai with shrimp; mango crispy catfish; honey toast; mango sticky rice.
WEERA THAI KITCHEN
4276 Spring Mountain Road #105-106
Las Vegas, NV 89102
702.485.1688
4480 Spring Mountain Road #700
Las Vegas, NV 89102
702.238.0567