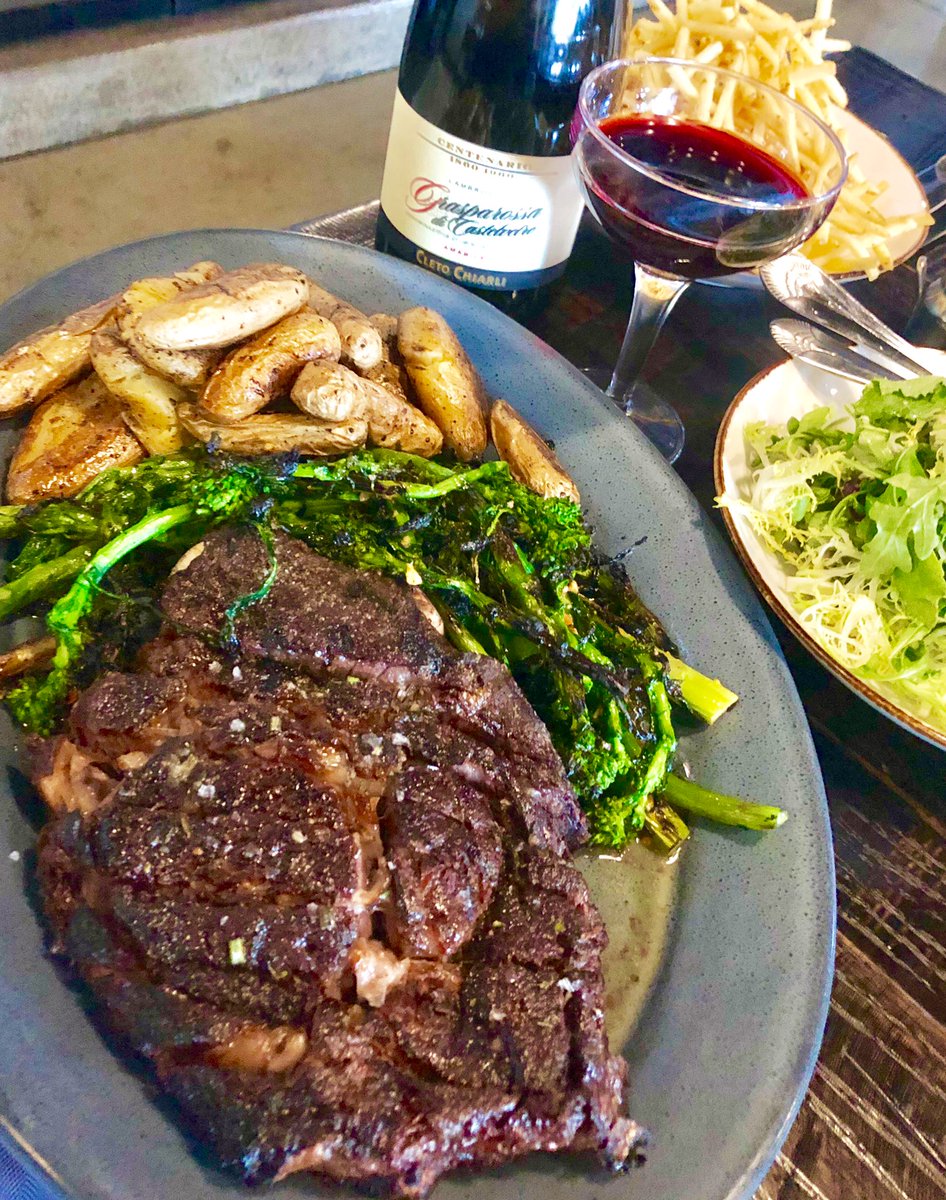 "Kitchen at Atomic Sticking With Elevated Cuisine" read a recent headline. The article asked, primarily, how can you have an upscale restaurant right next to a dive bar? The point of the piece, if there was a point, read like the author was throwing a publicity bone to a place he wishes would quit with the fancy stuff.
But the point of The Kitchen at Atomic is not to be fancy, it's simply to be good. Not burger and fries good, but foodie good, interesting good — the kind of chef-driven good that packs them into gastropubs from Boston to San Diego Bay. The kind of excellence that still struggles to find an audience in Las Vegas.
And the struggle is real. Because people struggle with the idea of paying for good food here. Mass-produced franchise food and soulless shopping malls create a race to the bottom for pricing, which puts local restaurants on their back foot from the jump.  (I wish I had a dollar for every time someone said to me: "Why should I pay $20 for something I can get for 15 at ____?") Even when intrepid gastronauts take a place to their bosom (Esther's Kitchen, Sparrow+Wolf, EATT), there's not enough of them to go around.
The City of Las Vegas estimates that to hit critical mass for a vibrant downtown, you need 50,000 gainfully-employed people living there. Right now the number is around 5,000. God bless 'em (both the City and the residents), because they're doing what they can to create a vibrant social, cultural and gastronomic scene between Charleston and Fremont Street, but there's only so much discretionary income those 5K folks can spread among the restaurants vying for their attention.
The real issue comes down to this: Do enough people want a real restaurant on East Fremont Street? Not finger food, not another cocktail lounge, and not, god forbid, another uncomfortable, loud-as-fuck hipster hangout — but a real down-to-earth bar/restaurant serving coursed out food with good drinks.  You know, the way grownups eat.
Let's analyze the data to (try to) answer this question. And by "analyze the data" I mean share the opinions springing feverishly from my brain as I type these words.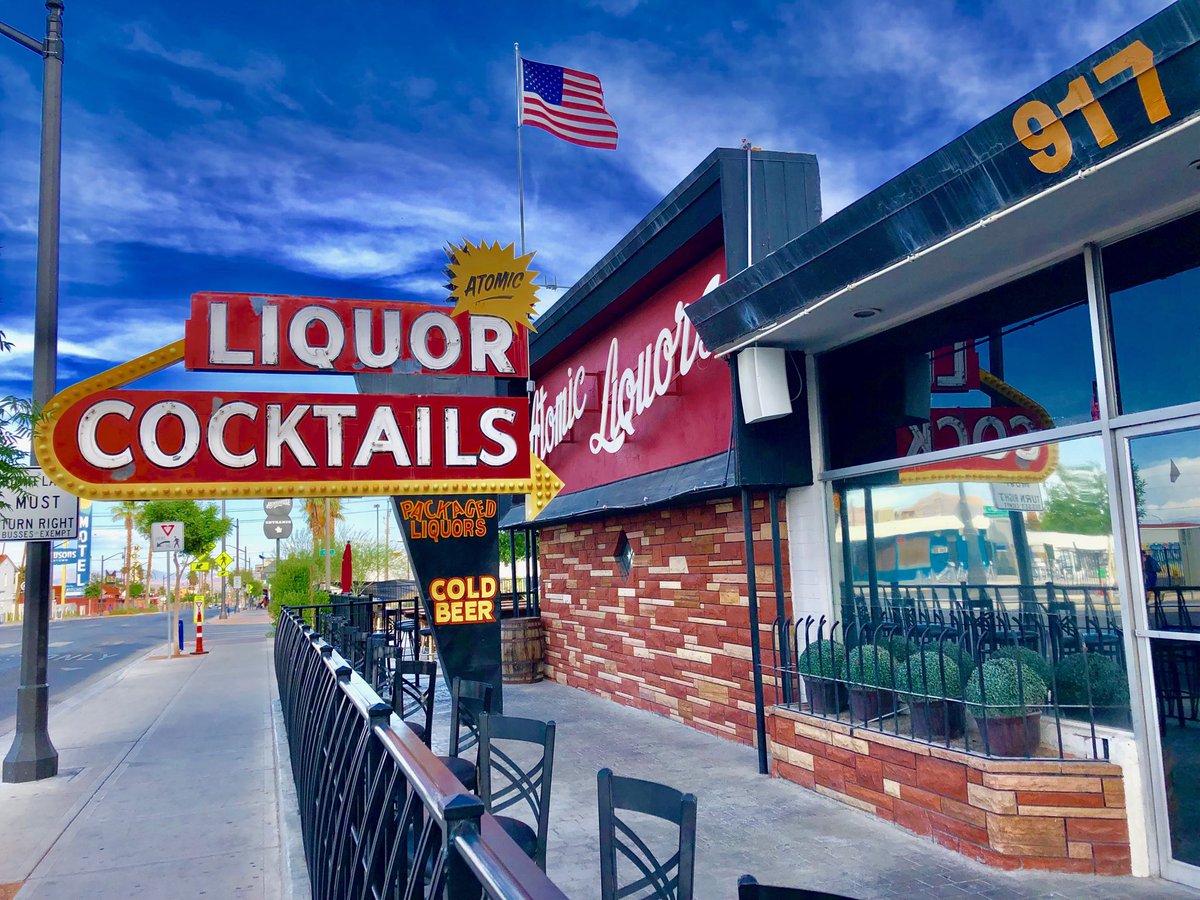 The Kitchen at Atomic began two years ago as an adjunct to Atomic Liquors — an über-cool, laid back cocktail/beer bar (above) with a steady clientele of Millennials, and a smattering of Gen Xrs. Like most things Millennial, half the people at AL look like they're there for a purpose (quality imbibing, hooking up), while the rest look like they showed up because the 'gram told  them to. Most of the AL crowd looks like it's more at home discussing session beers and saison ales than it does the fine points of hamachi crudo, or the piquancy of a yogurt-herb vinaigrette as it plays off the herbaceousness of fresh English peas.
Atomic Liquors was an old bar given new life six years ago by owner Lance Johns. It retains the feel of a place Charles Bukowski might've called home in the 60s, but its craft cocktails and PhD beer program make it more like a run-down jalopy with a shiny new turbocharged engine under the hood. It operates on many levels — old Vegas icon, new Vegas hangout — and has an avid following of both locals and tourists.
TKAA resides in the shiny renovated space adjacent to AL. In a previous life it used to be a gas station. In its present incarnation, it will strike you as as a sleek and somewhat cold industrial space — no more than 50 feet from its louche neighbor next door. The incongruity lies with these two co-joined siblings existing in two separate universes. At AL, you drink; at TKAA the food is the star. And quite a star it is, even if the drunks next door don't know it.
The menu checks all the right boxes as a destination restaurant — marrow, long beans, cured fish, charcuterie platter, artisanal greens — with appetizers hinting at the kitchen's creativity, and mains driving the point home.  The attention to detail given to those beans, or a cold cucumber/grape gazpacho, announce a new level of cooking for downtown, and offering a whole fish at market price is a bold move indeed for a neighborhood still pockmarked with vacant lots and tattoo parlors.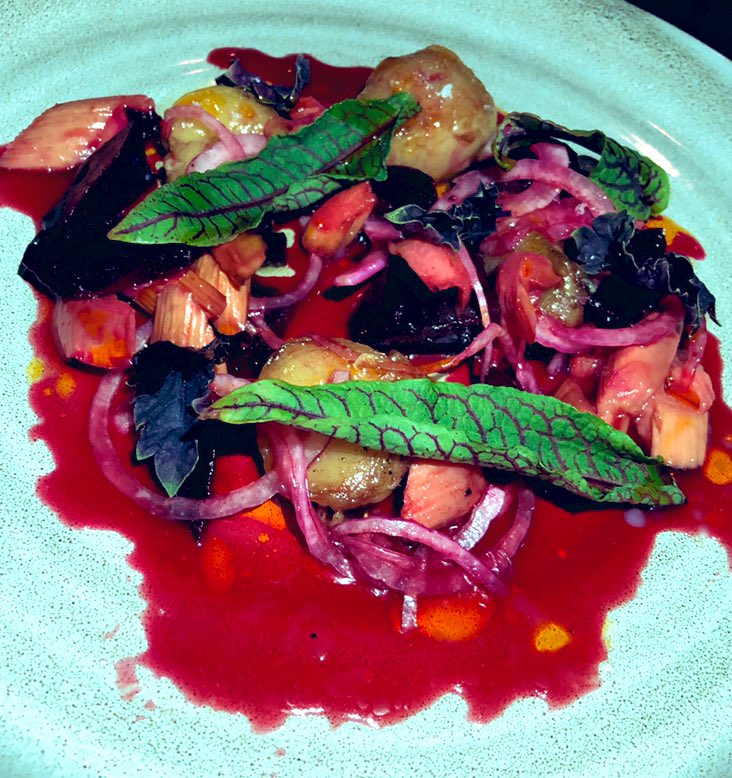 (Marrow me; beet me)
Glistening knobs of quivering marrow may be as foreign to East Fremont Street as a hooker with teeth, but you'll forget where you are as you slather these jewels of adipose protein on the gorgeous, nutty toasted bread served with them.  Grilled halloumi cheese may not fit with the neighborhood either, but the squeaky fromage will fit just fine as an appetizer for four. Raw seafood is everywhere these days, but the crudo, or denser, cured, striped bass, are both light and punch-packing — either with chili lime, or sumac and sherry vinegar.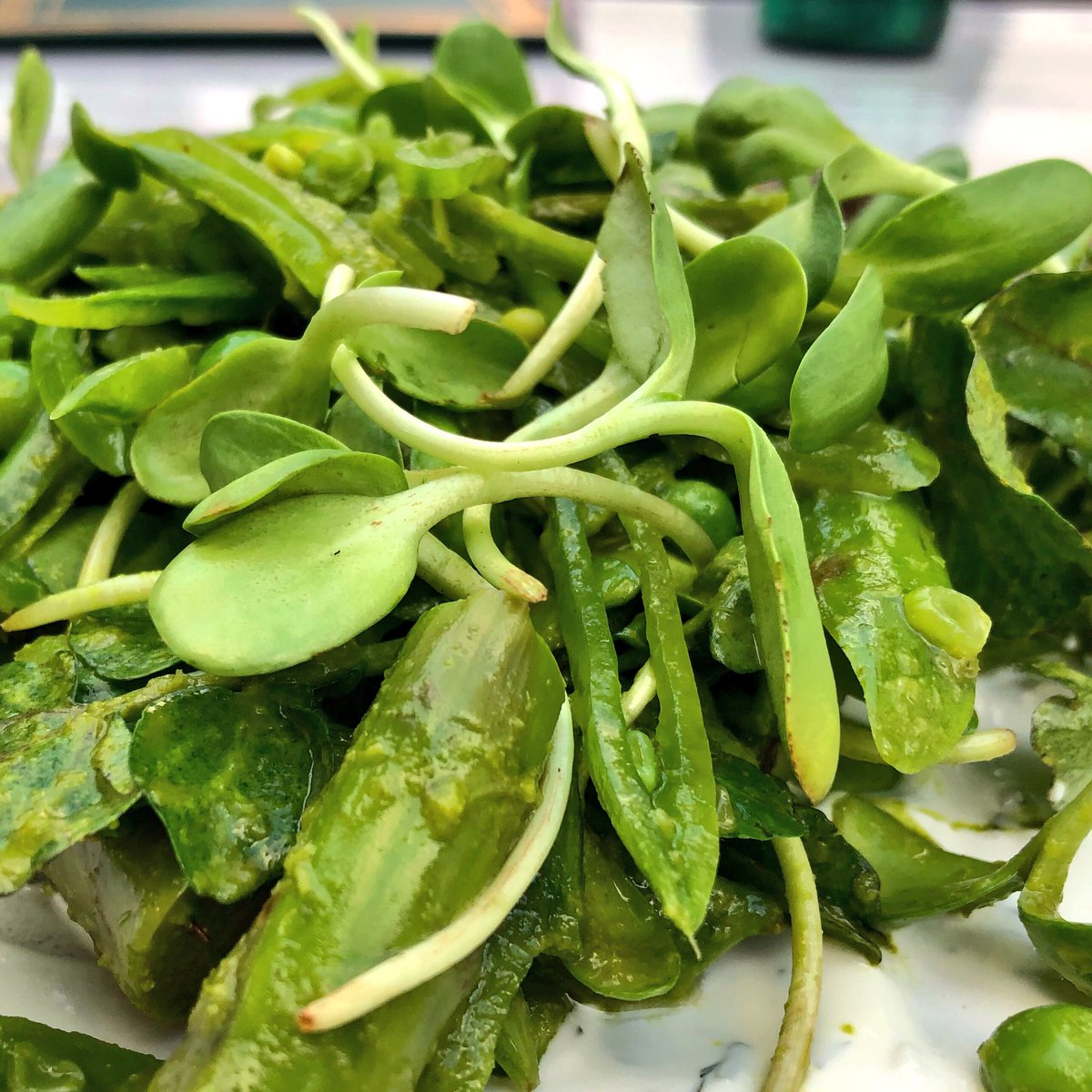 (How green was my salad? Pretty friggin' green.)
"Spring has sprung" were the words dancing in my head as I wolfed down the tumble of crunchy greenery called the Spring pea salad (above), while "clams to beat the band" was my mantra for the colorful array of grilled, sweet shellfish frosted with breadcrumbs and tinged with Fresno chili (below). In my lexicon of least favorite eats, raw veggie salads rank somewhere between frosted cupcakes and gummy hummus, but I found myself grooving on every bite of those snappy greens. The clams are simply in a class by themselves. You won't find a better version of baked bivalves, on or off the Strip.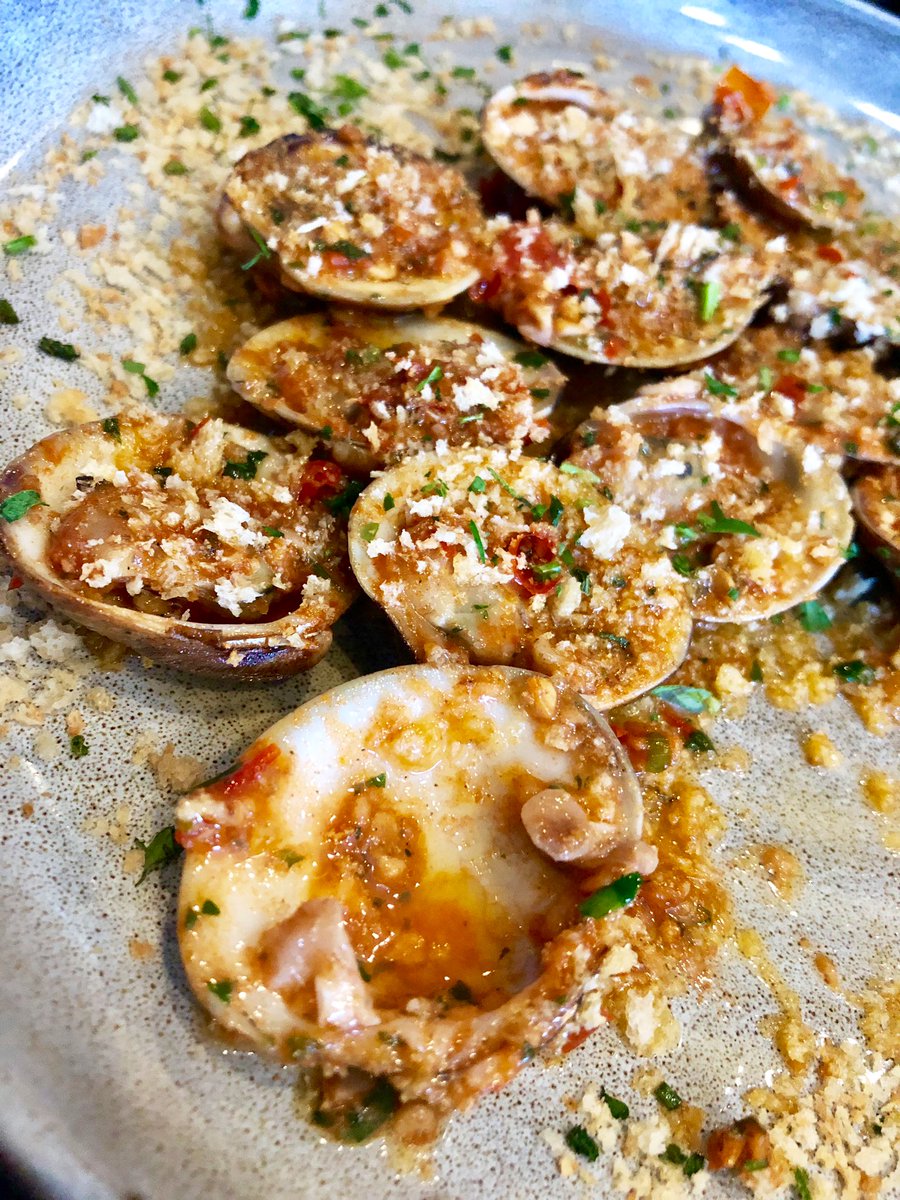 (
Beauteous bivalves)
In many a gastropub, the larger the format, the worse the food gets — big proteins lacking the sexiness of high-concept tweezer food to some chefs. Not so to newly -installed Executive Chef Jackson Stamper, who seems to lavish just as much attention on pan-seared cauliflower steak and grilled swordfish as he does on his starters. I liked the menu of his predecessor, but the food now feels more focused, and the platings are prettier.
The biggest of his big boys is the Creekstone Farms dry-aged rib eye (at the top of the page). It's priced by the ounce, and around $80 will get you enough mineral-tinged properly stored steer to feed four hungry souls. It may not have the iron-y tang and Roquefort-like zing of super-aged beef, but you won't find a better steak within three miles of this one.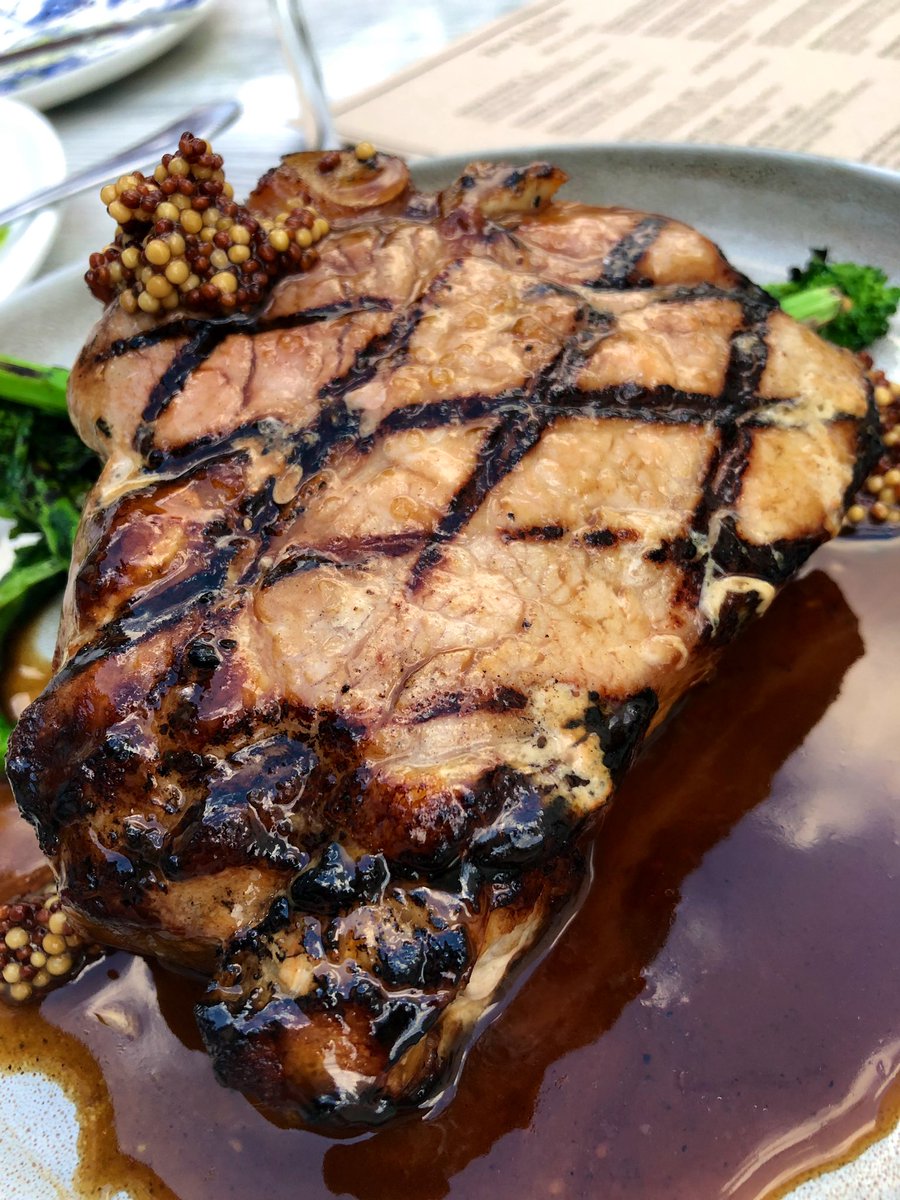 (Peak pork perfection)
And then there's the rum-brined chop (above) — a dulcet compaction of pork so luscious and savory you will re-think your prejudices against this usually boring entree. Broccoli rabe, rum jus and mustard seeds complete the picture, and you'll be tempted to graze upon another one as soon as it's gone.
Desserts are more elemental and less chef-y than the savories. The deconstructed apple pie is a nice twist on an old standard, and the Guinness chocolate cake (below, really more like a dense, lacquered brownie), will have you reflexively polishing it off in defiance of all common dietary sense.
They seemed to have dialed back the beer and wine list, but it's still interesting and well-priced — probably not enough for a true oenophile, but certainly so for the clientele. I won't bother praising the top shelf cocktails because a bad mixed drink is now harder to find in Las Vegas than a good mixed drink used to be.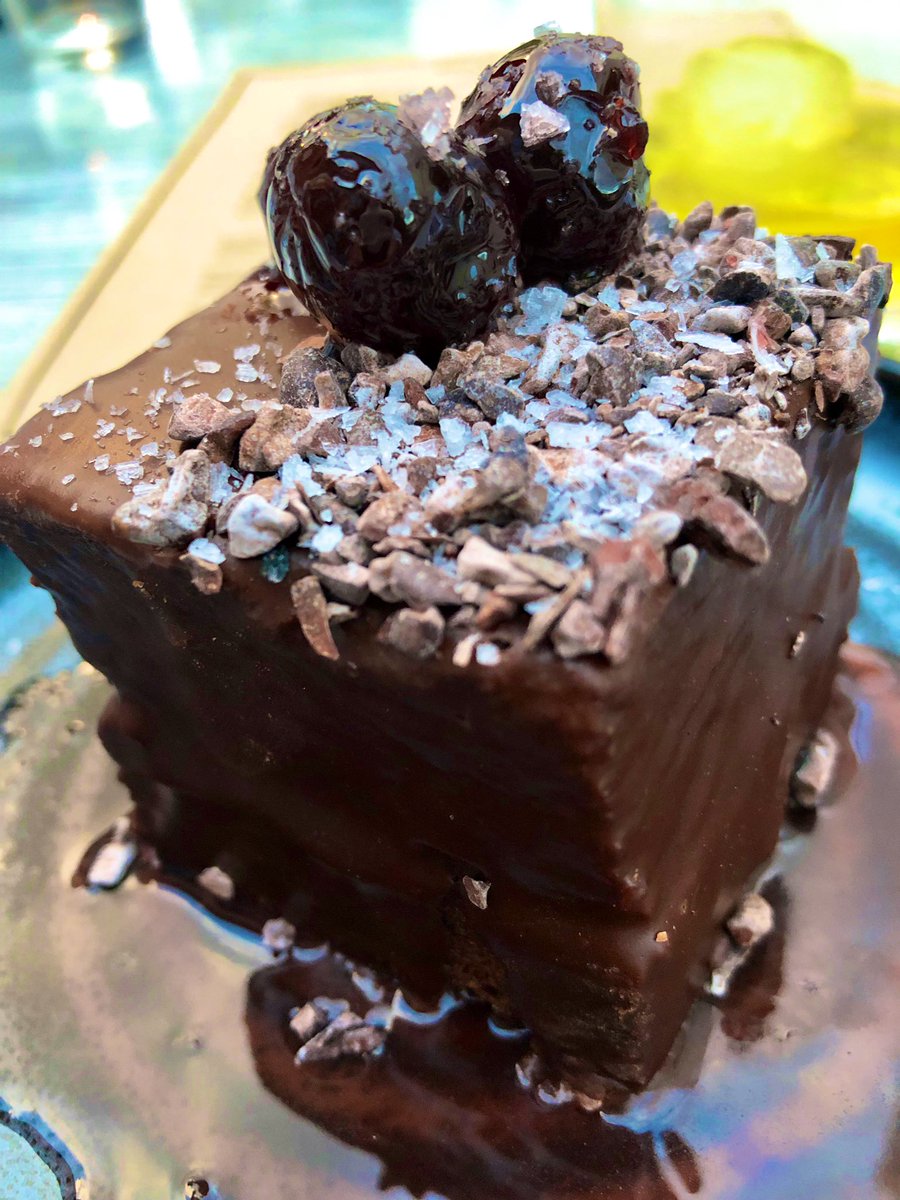 (Just what the doctor didn't order)
Two years on, The Kitchen seems to have hit its stride. The talent is there, and the cooking is there, but will it be enough? Here is a restaurant that is doing almost everything right — from the bar to the service to the decor and to the food. Will it find its audience? Is there enough audience to find? Publicus down the street (with the most unwelcoming location in town) is packed all the time. Hatsumi (a stone's throw across the street) seems to have hit a home run. But neither of them is a traditional, three-course restaurant. Are Millennials (the only customers that count downtown) ready to embrace this place?
Who knows? I've been at this too long to make any predictions. What I do know is that Las Vegas is in a constant battle with itself. The chefs and owners and food lovers — folks who really care about what they put in their mouths — desperately want downtown to become another Seattle or Denver….but you look around some days and realize we're barely beating Bakersfield.
We are in the middle of another boom to be sure, and East Fremont and the Arts District are now on everyone's radar. Will there be enough customers to sustain not just TKAA but all of these businesses? Or will there be a regression to the mean?
Las Vegas doesn't need any more average anything. (That's what Henderson is for.) But mediocrity is still what sells. Only time will tell.
(Apps run $15-$20; mains from $25-$30; and sides $6-$8. Dinner for two with a couple of drinks should run around $125. The rib eye is at least 30% less than you would pay for a comparable cut on the Strip, and worth every penny.)
927 East Fremont Street
Las Vegas, NV 89101
702.534.3223