One has a big sign, announcing its presence in a large, almost all-Asian strip mall, directly on Spring Mountain Road. It is located just a mile west of the Strip.
The other is tucked into a small, all-Asian strip mall, a couple of miles further west.
One you can't miss; the other you can miss standing right in front of it.
Both are relatively small — with one having a bigger feel to it, thanks to some overstuffed furniture and a long bar. Neither is open for lunch, which is a tragedy.
Chada Thai is darker; Chada Street is more brightly lit and feels more casual.
Large groups will do better at Chada Street; first dates will be impressed by Chada Thai.
Oenophiles will be impressed by both of them.
The service at both is excellent.
The wine list at Thai is shorter than the one at Street; the champagne list at Street is awesome; the markups at both are so mild you'll wonder why you ever bother to drink wine (especially white wine) anywhere else in Vegas.
If I had to distinguish the food between them, I'd tell you that Street aims for rougher, urban, spicier fare — befitting its "Thai street food" moniker — while big brother Thai skews towards more traditional regional dishes, albeit with much nicer presentations, and in a more sophisticated setting than your usual neighborhood joint.
Look for dishes labeled "medium spicy" at both if you want to enjoy what you're eating. "Medium spicy" enables you to enjoy both the food and those delicious white wines that compliment it. Anyone who doesn't like the electric jolt of Thai chilies should book elsewhere. Anyone who asks for anything "Bangkok hot" has rocks in their head. (In this regard, the menu has a helpful chili pepper legend beside the hot dishes — dispensing with the old "pick a 1-10 level of spiciness" nonsense. Stick with 1-2 chili pepper symbols for the tastiest dishes….unless you're a complete hothead, or a masochist.)
As for the food at both: it is flat out wonderful. At Thai, Bon Atcharawan (who recently took over from big brother Bank)  is as adept with crispy deep-fried oysters and larb, as he is with sea bass.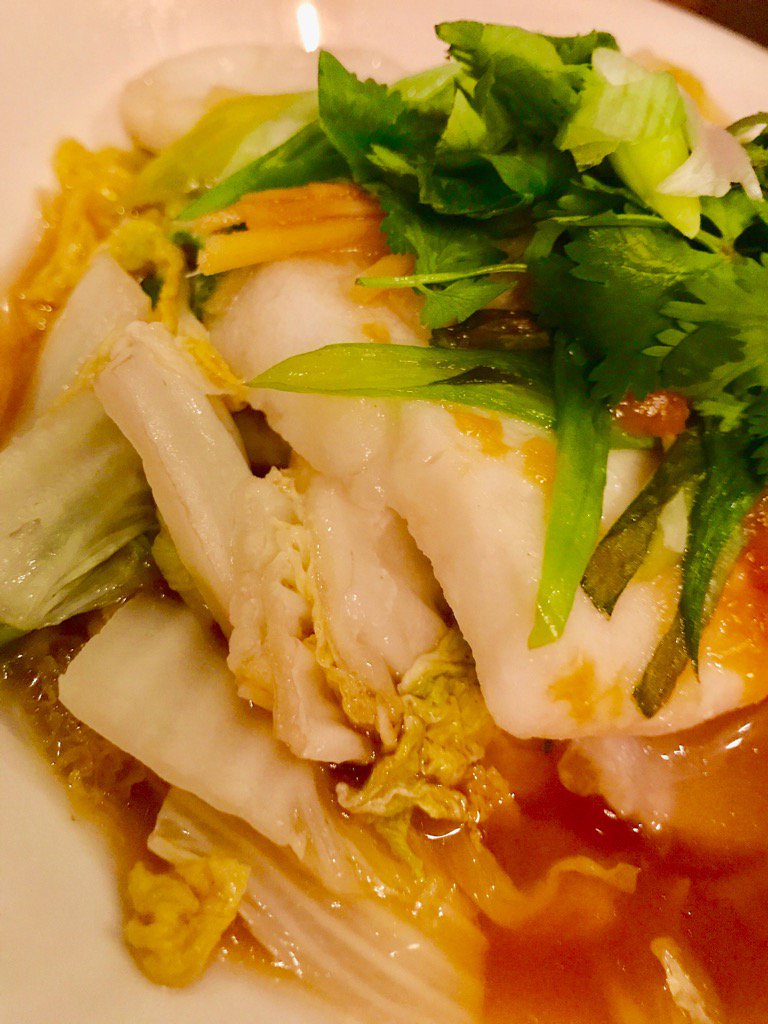 (Steamed sea bass with special plum sauce at Chada Thai)
They have tilapia on the menu in various guises, but the sea bass is the swimmer to get. Just as essential on this menu are the miang pou (crab-stuffed lettuce wraps), almost raw rib eye steak (yum nua) marinating in chili-lime dressing, green papaya salad (som thum), the house-made beef jerky (nua dad diew), and the rice powder-dusted crispy beef (pla nua tod):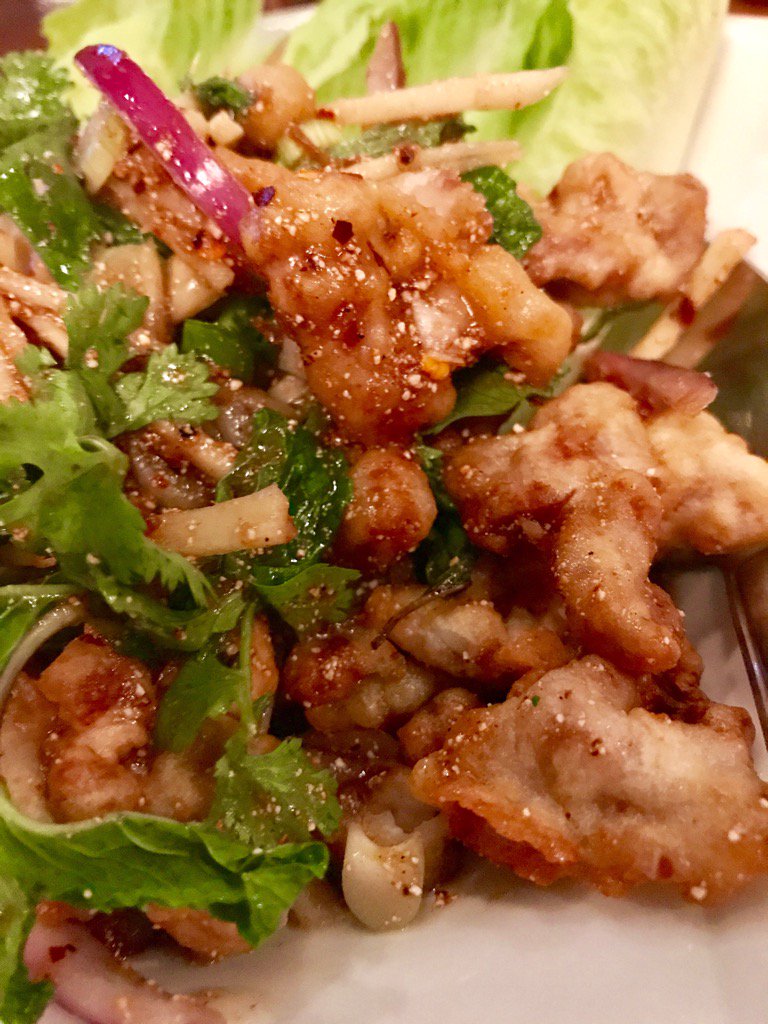 …it being a study in crunchy/spicy/beefiness.
The thing about this food is that it never gets boring. You can have the same dish multiple times and be intrigued by the spices one time, or the balance between sweet and heat another. Or maybe it will be the fine interplay of proteins, textures and herbs that catches your attention. In no way do I profess to be an expert in Thai cuisine, but it doesn't take a native to notice how these recipes have been honed over a millennia to orchestrate a controlled riot of flavors in the mouth. (Mediocre Thai restaurants always overplay the gloppy sweet-meets-heat paradigm, and miss the herbaceous, sour-bitter subtlety that characterizes a finer hand in the kitchen.)
From top to bottom, the kitchen at Chada Thai seems to ace dish after dish effortlessly. A small but mightier restaurant you will not find in Las Vegas.
(Crispy chicken and larb at Chada Thai)
Chada Street, in its own way, is just as good.
Plating is not as refined (they use a lot of banana leaves here), and there's a certain rustic simplicity to the recipes (lots of grilled and skewered items), but the food is no less tasty and the experience no less satisfying. Chili heads should plunge right into the goong share nam pla (raw shrimp bathed in incendiary spice);
…and purists won't want to miss the straight-from-the-Bangkok-streets calamari with salted duck egg (pla muk pad kaikem):
…the sort of dishes that intrepid foodies dive right into when they're deciphering the foodstuffs of an Asian capital.
Such is the menu at Chada Street: less refined, gutsier, and aimed more at the culinary adventurer in you. You can play it safe here with things like the crab fat fried rice (kao pad mun pu), or the crispy pork hock (ka moo tod), or the gorgeous shrimp pad thai.
For our money, though, it's more fun to tuck into some koi nua (raw, diced, chili-dusted beef), and watch the sweat form on our foreheads.
No matter what your savory compulsions, you won't want to miss the Thai toast at either location: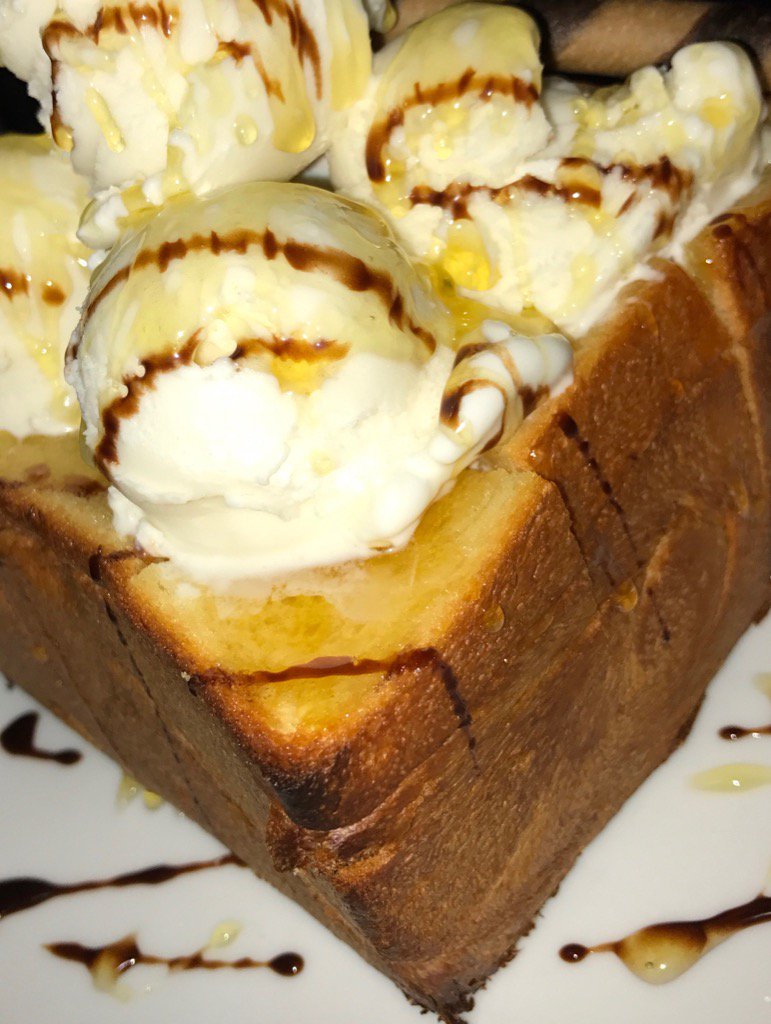 …it being the perfect shared dessert for a group of adventuresome foodies who need to quell the heat.
No matter how you slice your vertical bread, what Bon Atcharawan and Aime Wanmaneesiri are doing at these two restaurants is phenomenal. Having these two Thai siblings in town is one of the coolest things about eating (and drinking) in Las Vegas.
CHADA THAI & WINE
3400 S. Jones Blvd.
Las Vegas, NV 89146
702.641.1345
CHADA STREET
3839 Spring Mountain Road
Las Vegas, NV 89102
702.579.0207