The average Italian restaurant gets more customers in one night than a good Indian restaurant gets in a month. – Calvin Trillin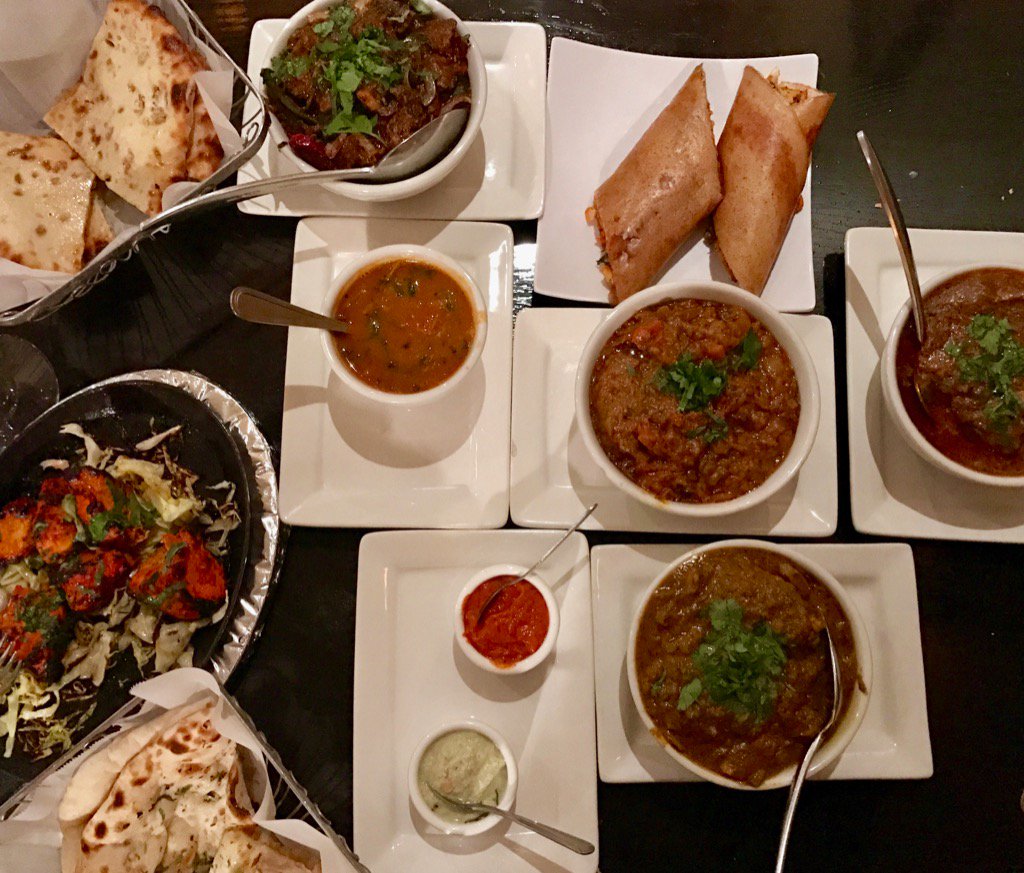 When it comes to restaurant food, I have the attention span of a housefly. I can be awash in wonderful Italian and find myself dreaming about French. Knee deep in delicious dim sum can't dissuade me from dreaming about Dijon, and when I'm tucked into a tiramisu, I tremble at the thought of terrific tom yum.
And when I'm supping on seafood, I sigh about steak. And vice versa.
Yes, I'm an inveterate food slut, jumping promiscuously from cuisine to cuisine, and chef to chef, always looking for something elusive and delectable and just out of reach. A true gourmet is always a bit unhappy; always unsure of whether he has found the perfection that he seeks, invariably restless to fall in love with whatever he's not having that very minute.
Any great restaurant town — New York, Chicago, Tokyo, Las Vegas, etc. — is like an orgy to an epicure. Lying before him are endless pleasures of the flesh: ripe, nubile, willing morsels there for the taking. But as anyone who's ever been to an orgy knows, they can be exhausting and overwhelming…or so I've been told.
Yes, there is such a thing as too much great Italian food, an overflow of fine French, or a surfeit of steak. I can even overdose occasionally on superior sushi. When a confluence of these things occurs, there's only one cuisine that helps me re-calibrate my desires — Indian.
Maybe it's the breads, maybe it's the vegetables. Most assuredly it is the heady mix of spices that infuse this cooking. Indian food overwhelms the senses. Subtlety is not its strong suit.  Kaleidoscopic flavors, intense aromas, and powerful punches to the palate are what defines it. There is also a depth and richness to its soups and stews that is deeply soul-stirring. The Japanese may have defined umami, but Indian culture imbues its cuisine with almost mystical levels of savory complexity. Just like it does its religion.
It always amuses me to wonder what an Indian chef or cook must think of a simple, French tarragon chicken, or spaghetti and meatballs. "My god," they must think, "what kind of simple-minded baby food is this? It only has a few ingredients and hasn't been absorbing fifteen different ground spices all day."
Spices being the raison d'etre of Indian food. Not spicy in the sense of extreme heat and concentrated capsicum (although some Indian food can be as fiery as any foods) but spicy in that every dish contains a plethora of pronounced piquancy, presented by a panoply of palate-pleasing presentations.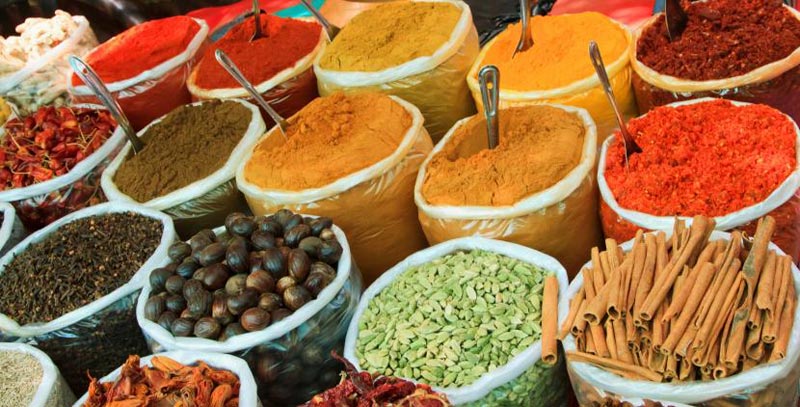 When you consider the dozens of spices, and hundreds of combinations that can be made with these ingredients, a mastery of this cuisine seems almost unobtainable:
And these are just the basic ones. Did you know that both green and black cardamom is used in the Indian kitchen? Or that cumin should be freshly roasted? Or that un-ground nutmeg lasts forever?
The point is toasting and roasting of these seeds is essential to good Indian cooking, and it is the mastery of these things that distinguishes a good Indian chef from a poor one.
I'm not going to sit here and tell you I can tell whether an Indian chef is a whiz at re-creating this cuisine 8,000 miles from his homeland. I can however, say that we are experiencing an upgrade among our Indians, brought forth by chefs who seem to be putting a lot more effort into their dishes, and trying to take tepid tikka masala and lame lamb rogan josh from the doldrums of the dreaded all-you-can-eat Indian buffet, and bring them into the 21st Century. And our two best are only a half mile apart from each other on Paradise Road:
ORIGIN INDIA
Part of the reason Indian food has such a dreadful reputation is that the dishes lend themselves to constant reheating — the thick, stew-like concoctions fairly begging to be put in a steamer tray buffet. Unfortunately, this re-serving of yesterday's (and the day-before-yesterday's) dishes results in a flattening out of the piquancy that distinguishes the great, spice-infused concoctions of the sub-continent.
Origin India has always aimed to be our best Indian restaurant, and by and large it has always succeeded. It's definitely the most upscale, with a nice bar, wine list and decor that stresses comfort over quick and easy convenience.
What the menu now stresses, under the new hand of Chef Jeyakumar Jeevamurali  (call him Murali for short) is the bright, powerful flavors of southern India. I've eaten at Origin many times in the past, but this is the first time I noticed the dense, unique layering of flavors in each of the dishes. Indian food is as tough to photograph as the names of its chefs are difficult to pronounce, so you won't get a deluge of food porn close-ups like we might with other cuisines.
Suffice it to say that each of Origin's dishes at the top of the page — chutney chicken, lamb nihari, goat pepper fry, et al — may look similar from afar, but each punch you in the palate with their own flavor profile. The chili paneer (batter-fried cheese in a tomato-pepper sauce) was sweet and slightly spicy, just as it should be, while the ground lamb chapli fairly explodes with fresh herbs and green chilies. Only the slightly dry tandoori chicken seemed a bit careless, but as most customers want chicken cooked until the last drop of juiciness is  wrung from its tender striations into a cinder of meat (the same way Greeks overcook everything into a briquet), it's probably just a concession to the public.
Better by far are those stewed proteins — each one different in spice and texture. What we look for in Indian food is distinctiveness between its dishes, and Jeevamurali provides it in spades. A touch of sweetness distinguishes the chutney chicken (along with some bright vinegar notes), while the lamb is deep, soulful richness in a dark gravy. His signature dish is the goat pepper fry: it being a study in drier, stir-fried meat-meets-heat. The Peshwari nan coming out of this tandoor is the best you'll find this side of Harvest by Roy Ellamar.
URBAN TURBAN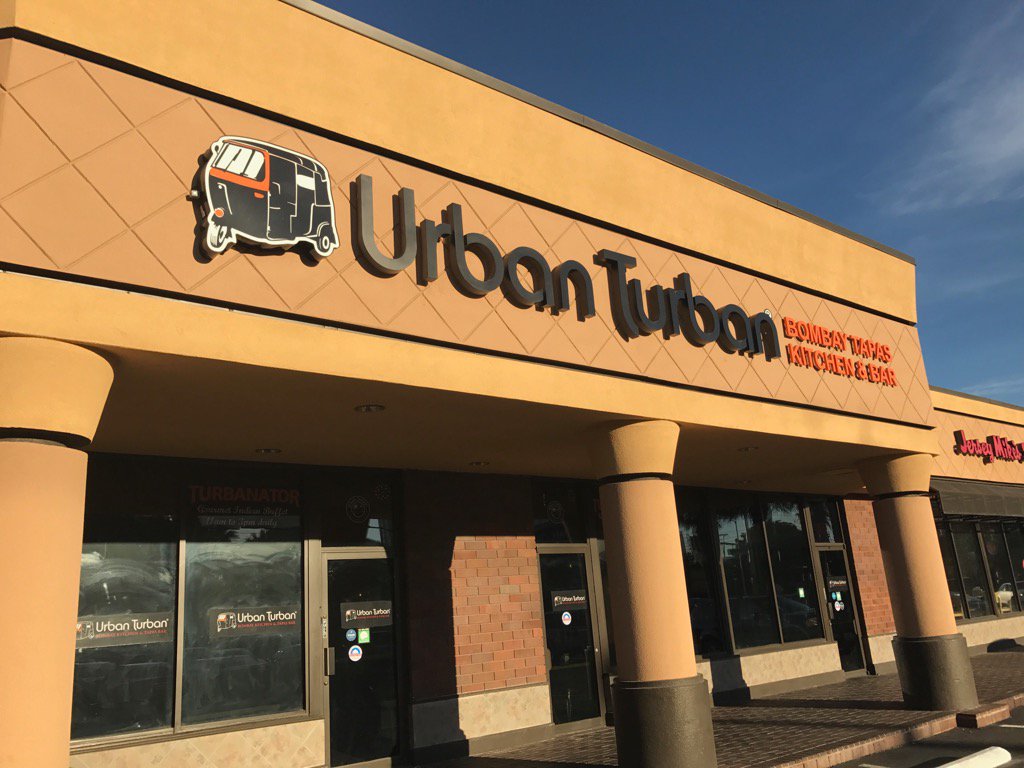 A relative newcomer (only two years old), Urban Turban occupies the space of a former cigar bar on Paradise Road.
Small bites and more creative plating than in your average Indian joint are what separates it from the pack, and the meal we recently had felt more refined and polished than the stew and soup-centric stuff you usually get.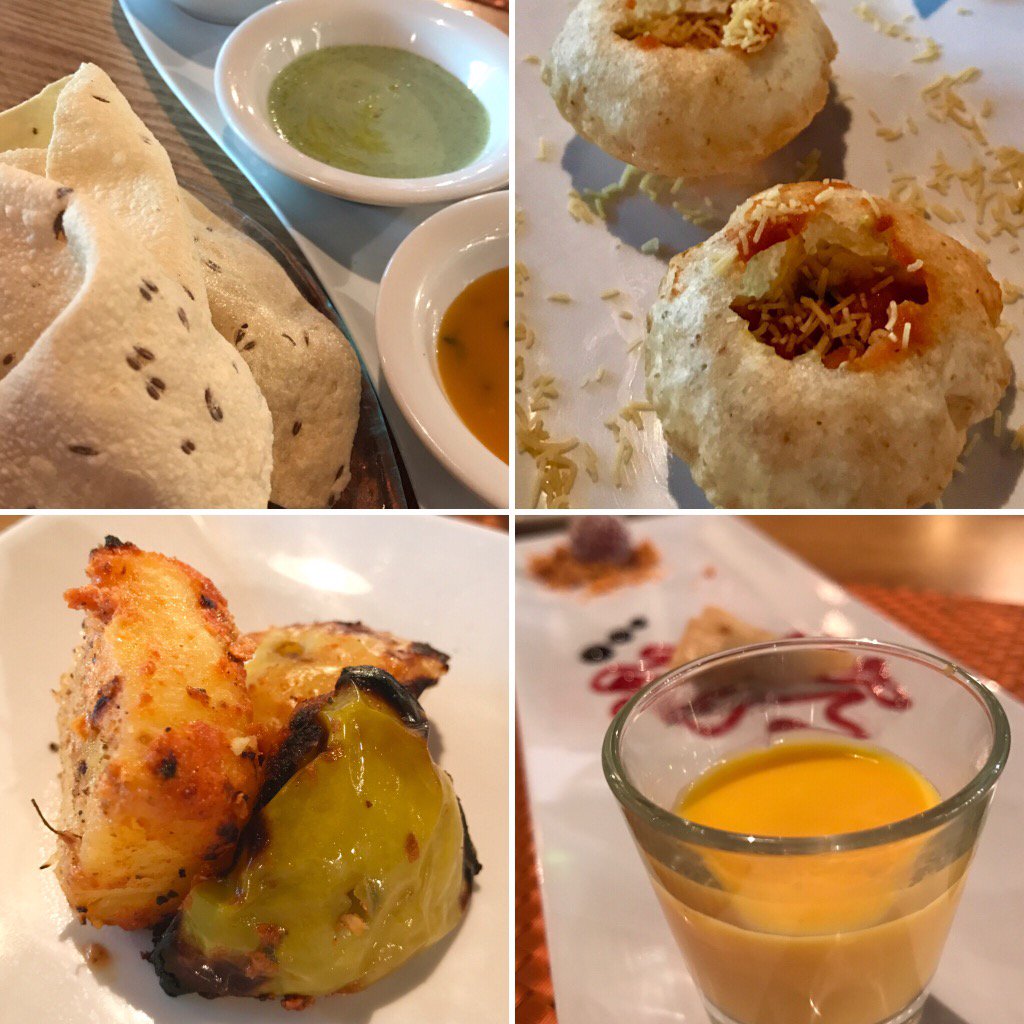 Credit for this goes to Chef Tarun Kapoor, who brings a more modern sensibility to this menu, without sacrificing the multi-dimensional ka-pow that distinguishes this cuisine. The butter chicken royale (pictured above) employs cream cheese to take this ground nut, butter-cashew sauce to a different level, and his clay oven roasted fruits (bottom left above) are a thing of subtle beauty.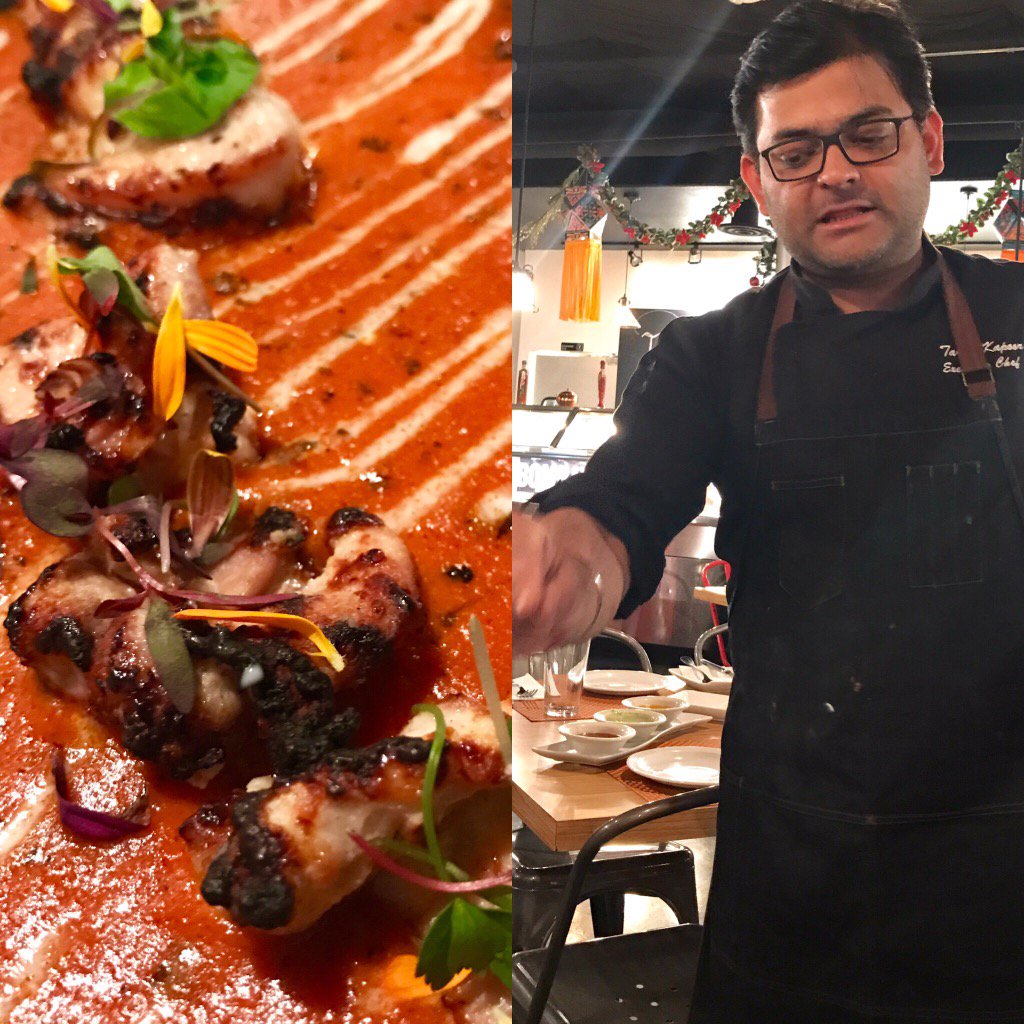 (Tarun Kapoor emphatically instructs on his intense, indigenous Indian eats)
Speaking of soups and stews, you won't find a more life-changing one than Kapoor's take on black lentil dal: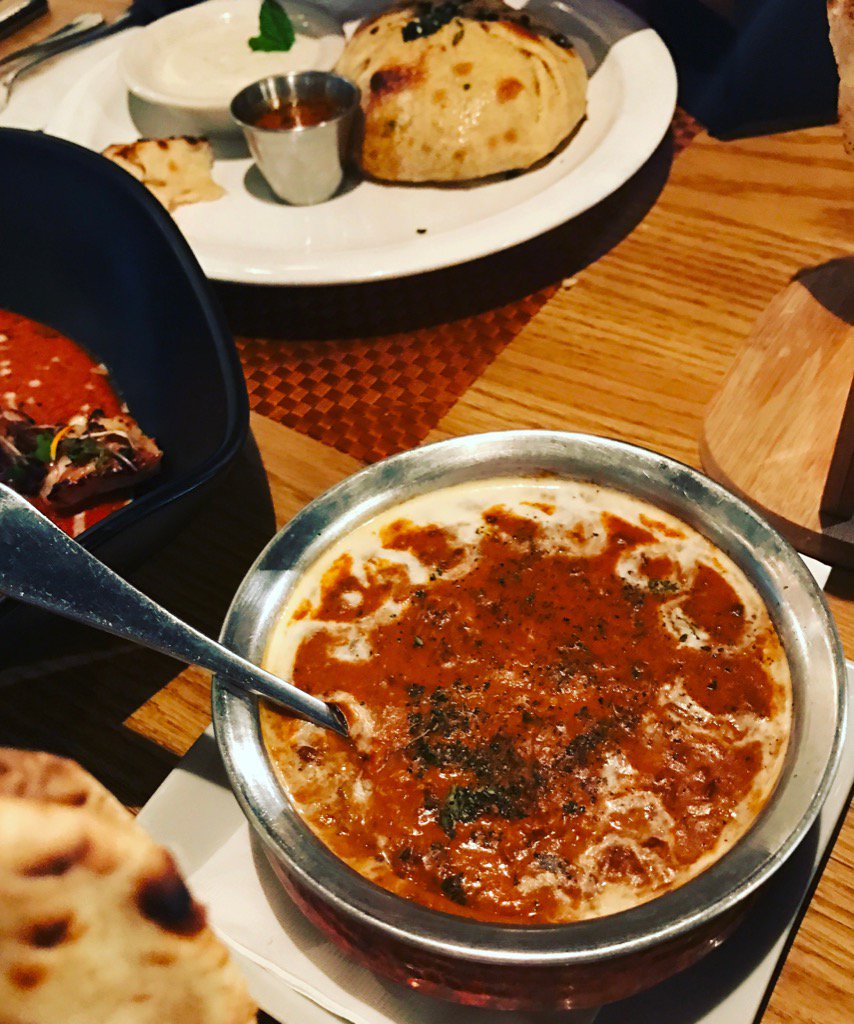 ….it being surpassingly complex for something that looks so simple. Kapoor tells us that it takes long, long cooking to get the lentils, spices and milk to blend into a buttery mass of vegetarian decadence. One bite in and you'll be willing to forswear meat altogether.
Equally good is his parda biryani (bread-covered rice):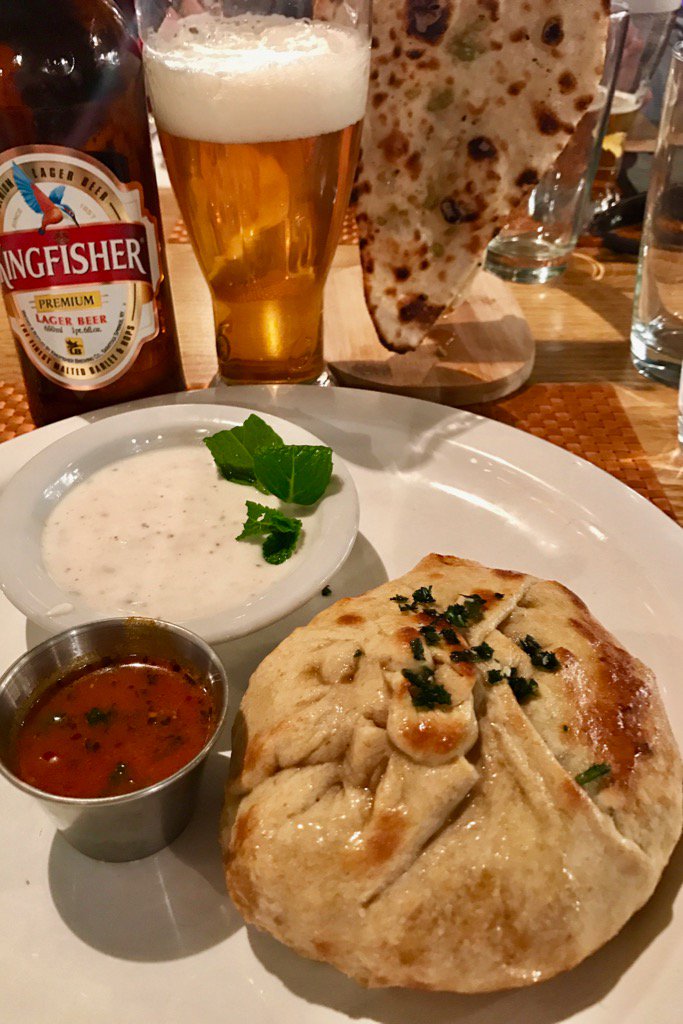 …a satisfying  marriage of two ingredients not usually made for each other. But unlike most nuptials between two starched souls, no friction ensued. Instead, you'll find yourself reflexively dipping into the rice with your bread, and then dipping the both of them into the cool raita, or the nice, warm tomato sauce.
As we said at the top, there is a depth to this food that few Western cuisines can match. Between the long, slow cooking, the raft of spices, and the liberal use of legumes, you will find yourself hardly missing meat at all. Which is sometimes just what your palate and your body needs.
Both of ELV's meals were comped.
ORIGIN INDIA
4480 Paradise Road
Las Vegas, NV 89169
702.734.6342
http://www.originindiarestaurant.com/
URBAN TURBAN
3900 Paradise Road
Las Vegas, NV 89169
702.826.3217
http://www.urbanturbanusa.com/
ELV postscript: We dearly, direly, desperately wanted to include Turmeric Flavors of India in this round-up, but after four meals there (each one worse than the last) we simply cannot recommend it. Our love of this cuisine is such that we will probably give it a fifth try, sometime in the near future, before writing it off altogether.