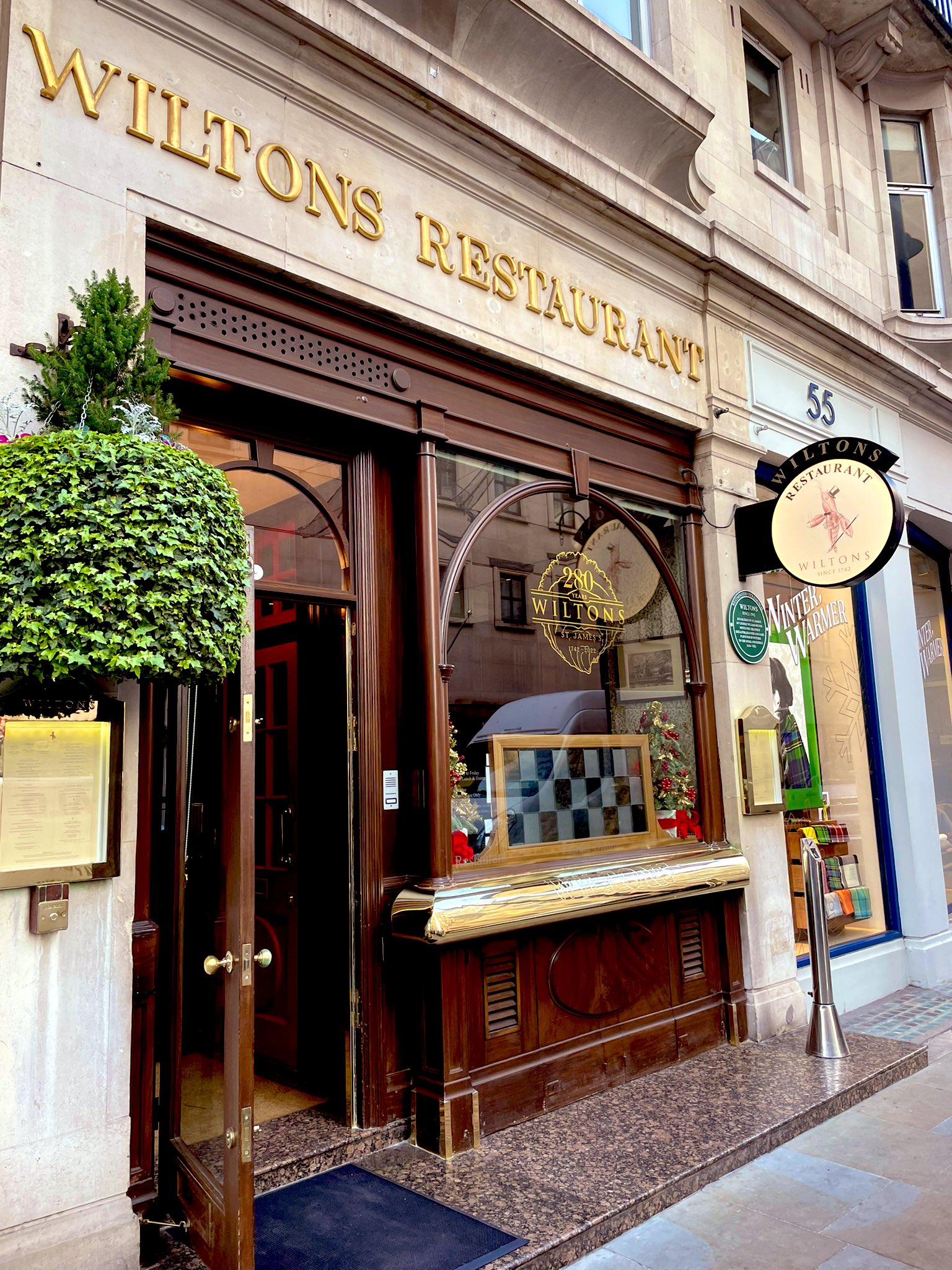 Man does not live by meat alone. Even if English cuisine is challenged by finding green things to eat, it more than makes up for it with its seafood. The British Isles take a backseat to no one in the flavor of their fishes and the succulence of its shellfish, and if you happen to be there in oyster season (the dead of winter) as we were, you will find no shortage of bivalves to keep your palate enthralled.
It would have been easy enough to stop into a fish 'n chips shop around London, but we had bigger pisces to fry in our quest for the best. So off to Ramsgate we repaired (a couple of hours south of London), at the far southeastern end of England, to sample this iconic staple of British vittles at the Royal Harbour Brasserie — a cozy local's favorite, located towards the tip of a half-mile long causeway, called the East Pier, overlooking the Ramsgate harbor: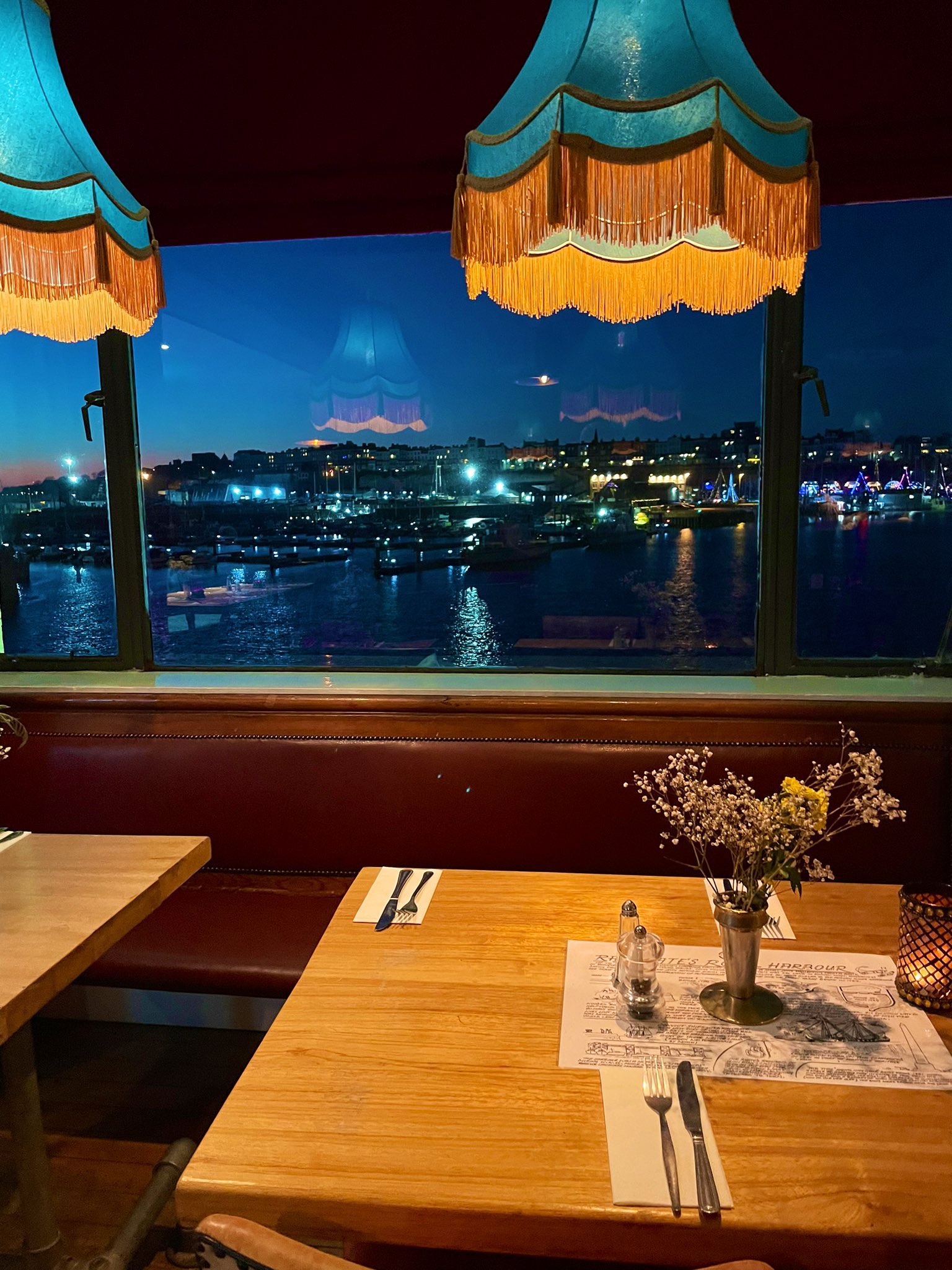 (Ramsgate at night)
Our guide was an American friend of The Food Gal® who has called England home for the past 10+ years. He picked the restaurant both for the the setting (looking as if the dry-docked bridge of a ship had been hoisted wholesale onto the breakwater), the view (with windows on three sides giving everyone the sense of floating in the harbor), and the seafood, of which we plowed through some first class oysters and the best fish 'n chips of our lives (made with local haddock):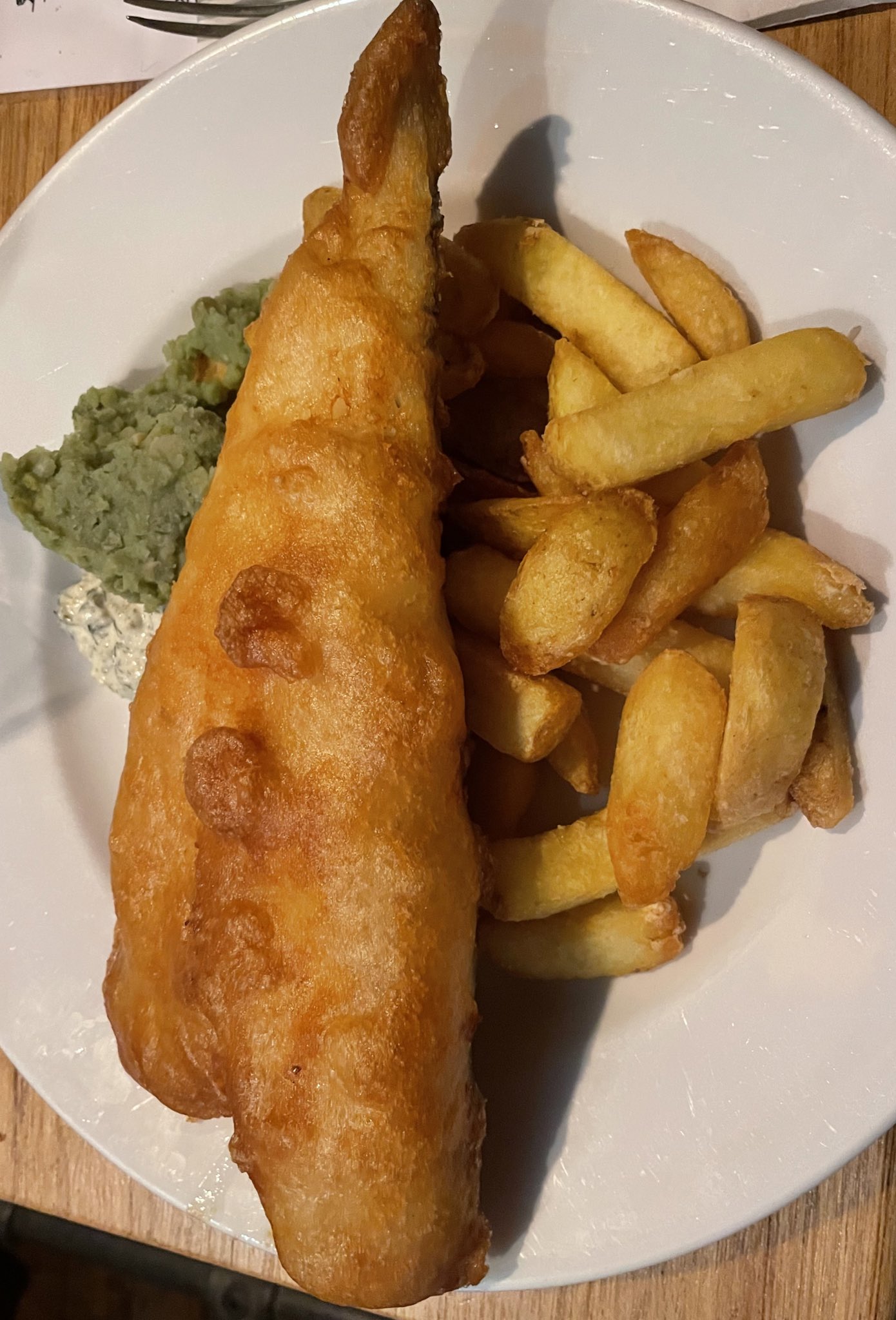 (Chippee kay yay)
If you're a student of fish 'n chips (and let's face it who isn't?), you know that you're looking for the perfect thickness of non-greasy, malty beer batter, fried to just done, so the moist, firm fish is enveloped in a steamy, soft, starchy blanket of just the right crunch giving way to a fish that's allowed to show itself to its best effect. If done right, all you need is a splash of malt vinegar, or a dab of lemon dribble, or the slightest tang of tartar sauce to complete the picture. This fish was good enough to stand without accoutrements.
As for the mushy peas, we don't get it. Never have, never will. No matter how concentrated the pea-ness, it'll always be green wallpaper paste to us.
There, I said it.
After eating England's national dish, it was back to London, where Wilton's took us from one end of the seafood spectrum to another. Wilton's is as iconic as any eatery in England, having been serving seafood in the city, in one form or another since 1742. For perspective's sake — that is 280 years, and almost a century before the first restaurants opened in America. What began as an oyster bar is now the clubbiest of seafood parlors (in looks and clientele), catering to a carriage trade who know their fish like a ploughman knows his meat pies.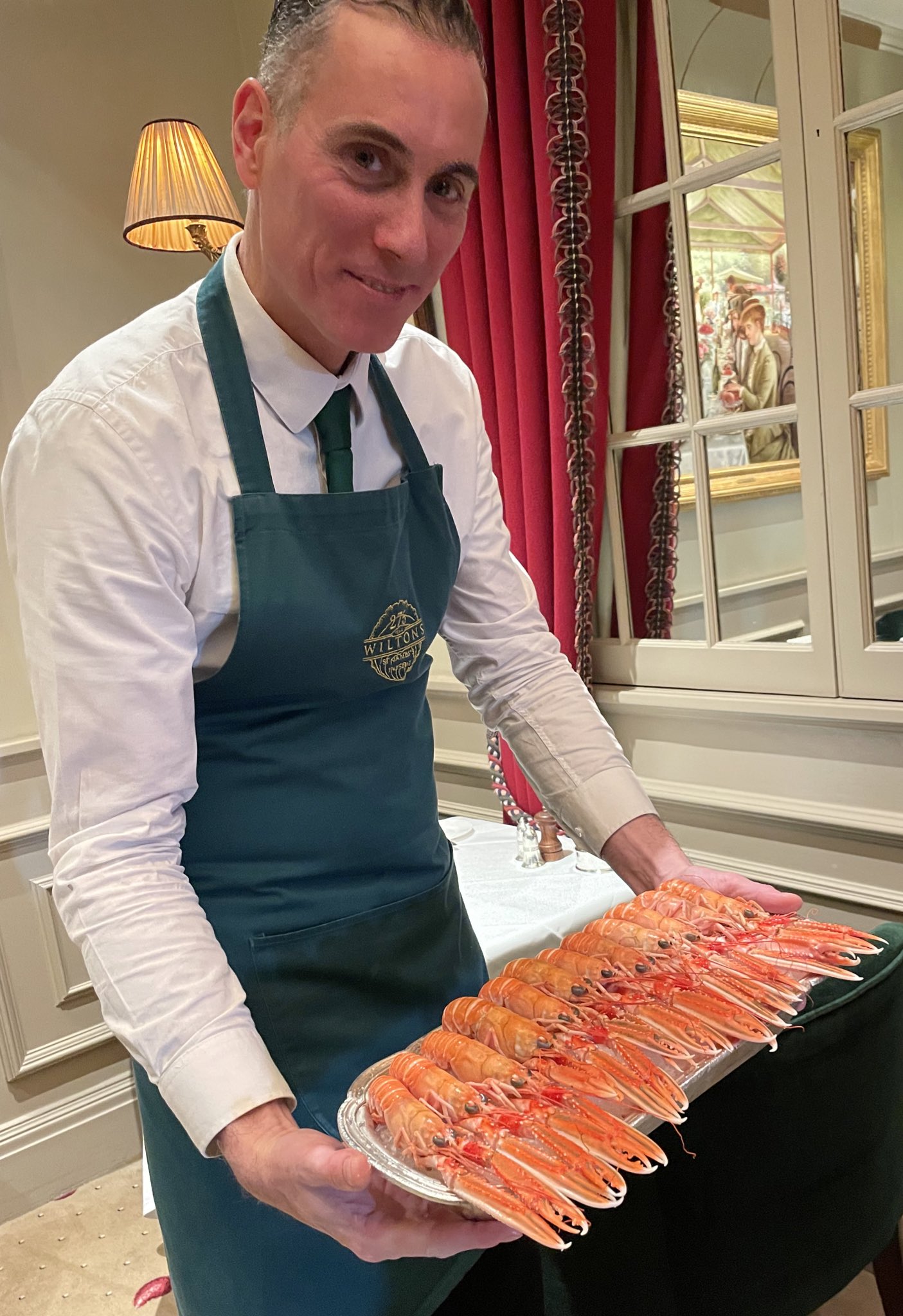 (How do you say 'Hell ya!' in British?)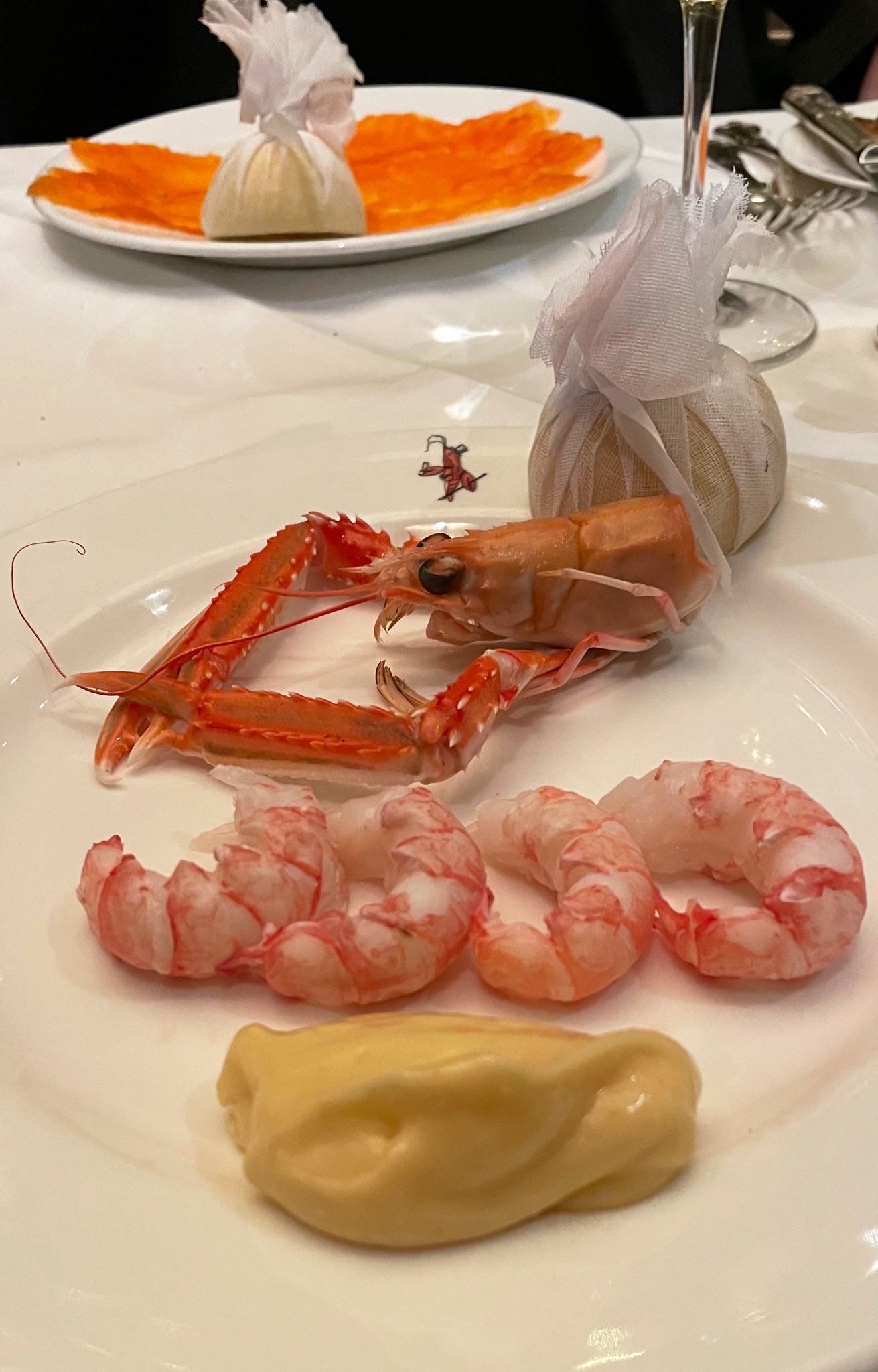 (Luxuriating in Langoustines at Wilton's)
The look and feel of the place may reek of old-school Brit exclusivity, but the welcome is warm and the service cheerful and courteous.  Located amongst the fashionable shops of Jermyn Street, this is a serious restaurant stocked with big fish in more ways than one. Our cozy two-top was perfectly positioned to watch the parade of patrons and waiters as they perused, pondered, and plated the various poisson to a fare thee well.
English food is best which is interfered with the least, and Wilton's practically coined the phrase. This is food unfoamed and unfused (as Colman Andrews once wrote) — as true to its roots as Royals behaving badly.
The day we were there a coulibiac of salmon was being paraded around the dining room to ohs and ahs aplenty. (Typical Brit reserve seems to melt when faced with a salmon "Wellington" the size – and weight – of a fire log):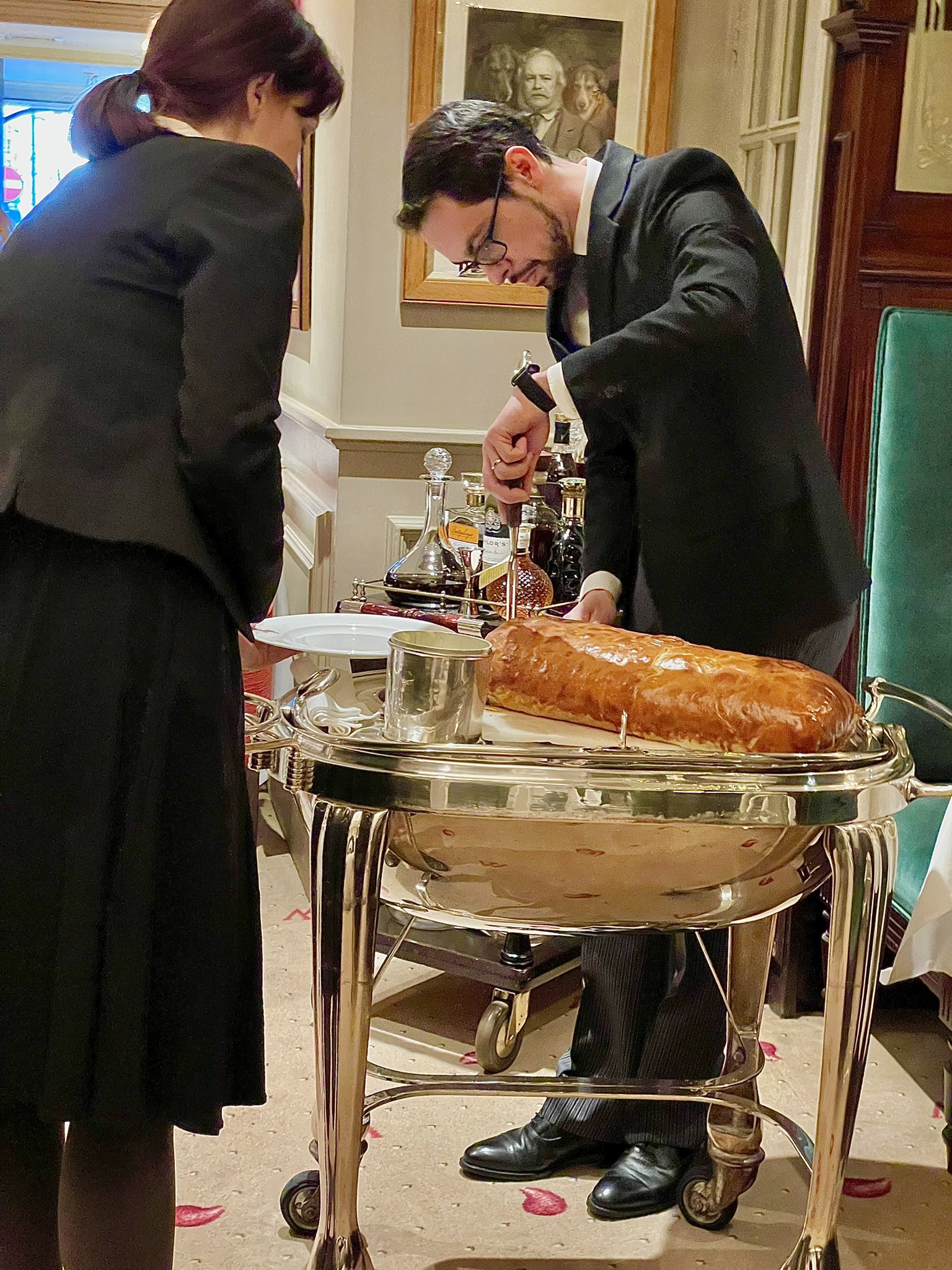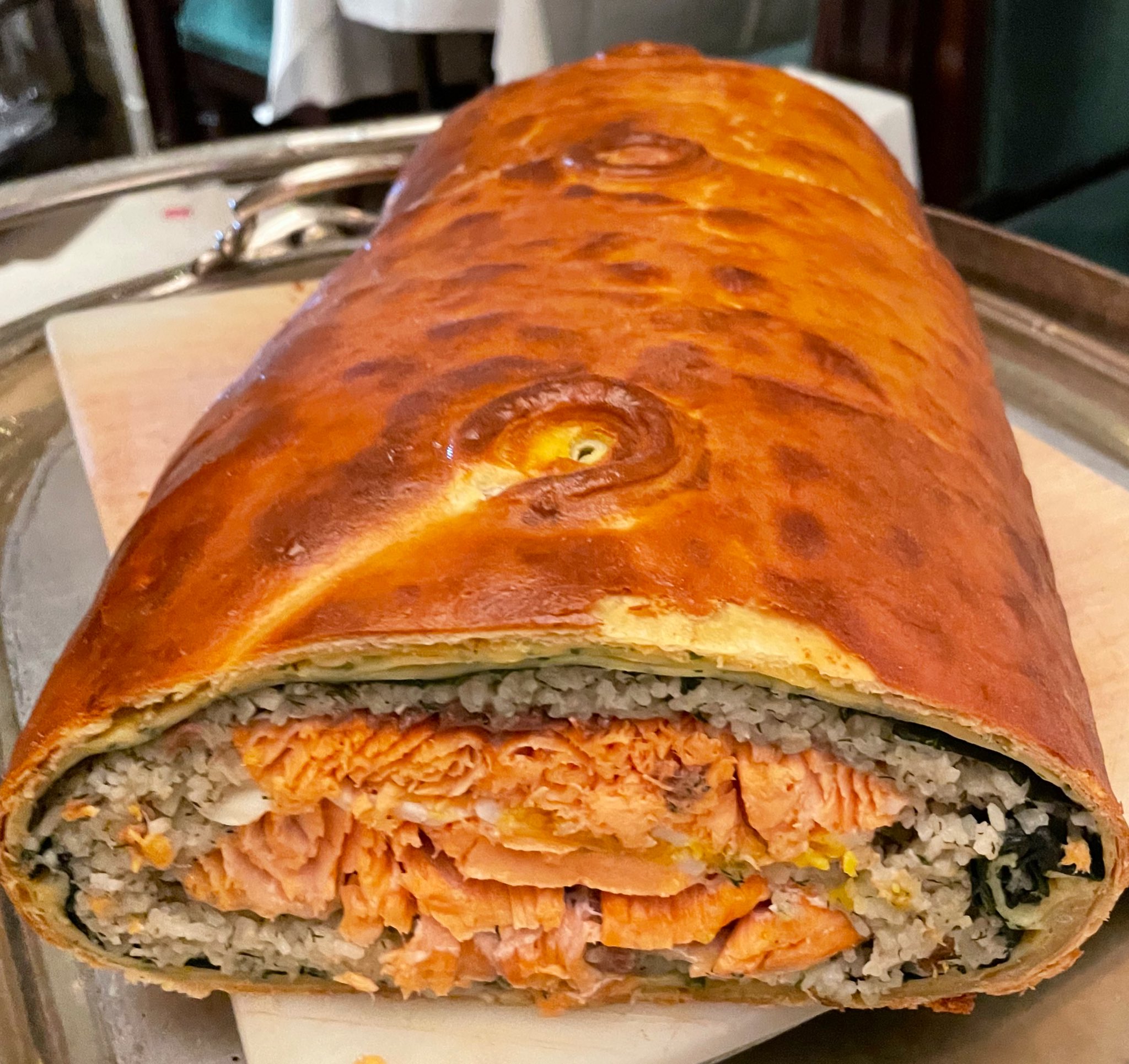 Dutifully wowed, we ordered our hefty slice, which followed a dozen oysters, lightly smoked salmon, Scottish langoustines, and, of course, the Dover sole, barely breaded and on the bone.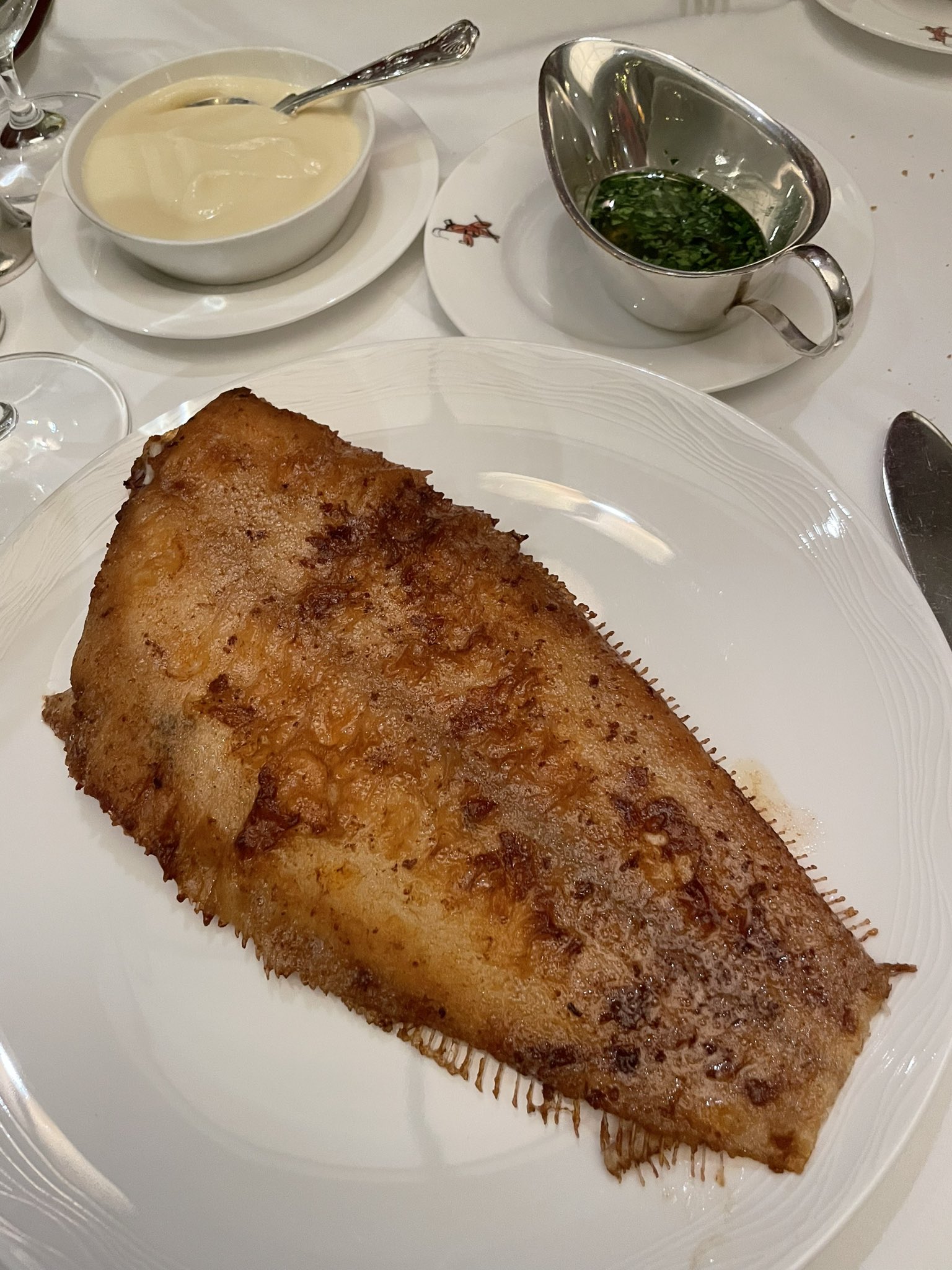 The food could not have been more straightforward, or scrumptious — tasting as if everything had jumped directly out of the sea and onto our plates.
What passes for Dover sole in America (often Plaice, Petrale, or lemon sole) lacks the sweet, firm meatiness of the genuine article. This is the real deal: the thin flour coating barely sauteed to a whisp of crispness, then de-boned to four dense fillets of uncommon seafood richness — the pinnacle of flatfish sapidity, and one worth traveling a great distance to taste.
"Sapidity"… great word that.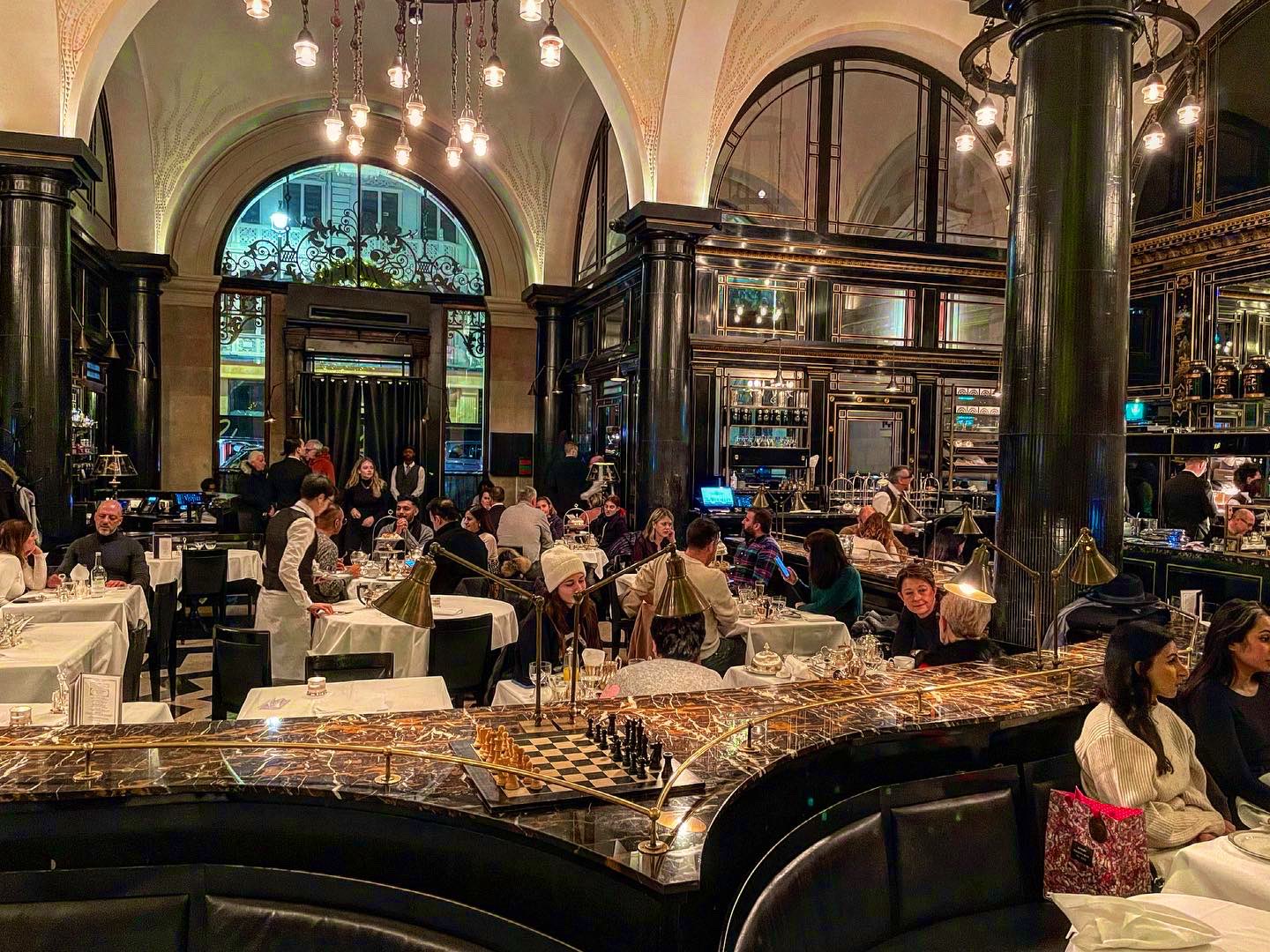 Built in the grand cafe style of various European capitals — Vienna springs to mind, or a high-ceiling-ed 19th Century railway cafe full of ladies in ruffles, bustles and huge hats — The Wolseley (above) is a modern restaurant masquerading as an artifact of days gone by. It is one of those eye-popping restaurants that wows you even before you take your first bite. Being so capacious allows them to hold back a number of tables for walk-ins (just like they do in Venice and Budapest), so even without a late afternoon reservation, we were promptly seated by the amiable staff and within minutes were tucking into some first-class oysters, surrounded by folks taking in British high tea, wolfing down finger sandwiches, crumpets, and other ruin-your-dinner- nonsense, which seems like sacrilege when coquillage this comely is there for the slurping.
The menu is huge, the crowds constant, and the vibe something Oscar Wilde would recognize. Food offerings toggle between daily specials and recipes from all over the map. Our tiny sample size — those oysters and some spicy, smoky kedgeree (a Hindu-English rice-fish fusion) — is hardly enough to take the measure of the place, but for a couple of weary Yanks wandering through Mayfair on a chilly afternoon, it hit the spot.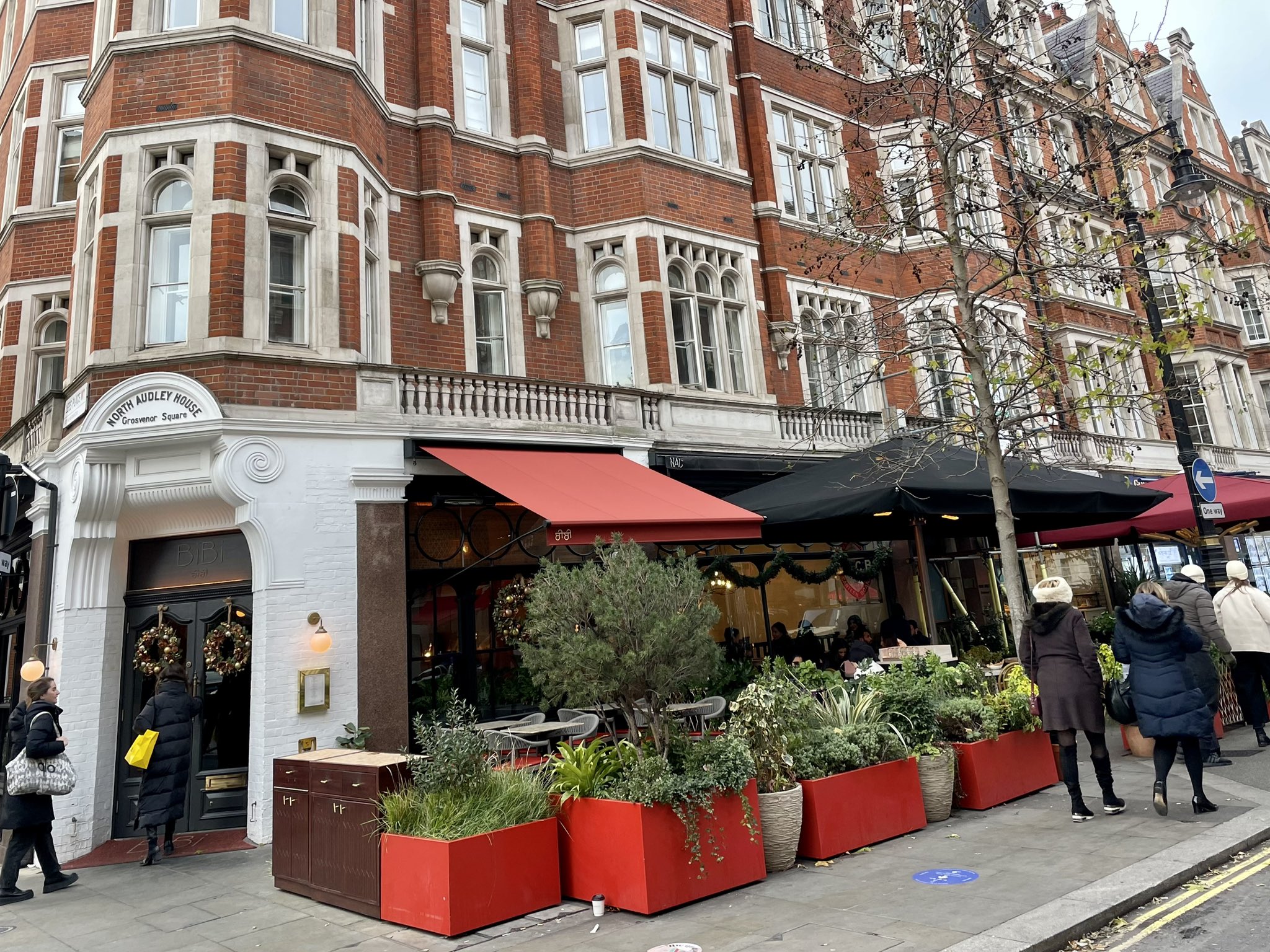 (BiBi = Indian nana)
Britannia may rule the waves, but in London, its cuisine shares equal billing with any number of countries, and one week is not enough time to get but an amuse bouche of all it has to offer. You may have to search for Spanish tapas or Chinese dumplings, but Indian curry parlors are as common as corner pubs. High-end Indian (on a level found nowhere else in the world outside of the country itself), is also in abundance. We put aside our search for classic restaurants just long enough to slide into BiBi — a mere sliver of a space, tucked into the side of a tony address in Mayfair (above), featuring impeccably-sourced groceries (they list the origins of everything from the basmati rice to the ghee), fashioned into some real menu stunners: buffalo milk paneer, beef tartare, aged lamb, and a wolf-in-sheep's-clothing green chilli halibut that was as fiery as it was plain to look at.
I make no pretense in knowing the fine points of northern Indian cooking (Indian menus in America are more predictable than an IHop), so whatever metaphors were being mixed, or traditions being upended, went straight over our heads. But we're savvy enough to appreciate the "Wookey-Hole cheese papad" —  a sharp, cheese-flavored papadum dipped into cultured cream, mango and mint, layered in a cup to look like the Indian flag, and the raw Highland beef pepper fry (a crunchy-spicy tartare that will snap your palate to attention):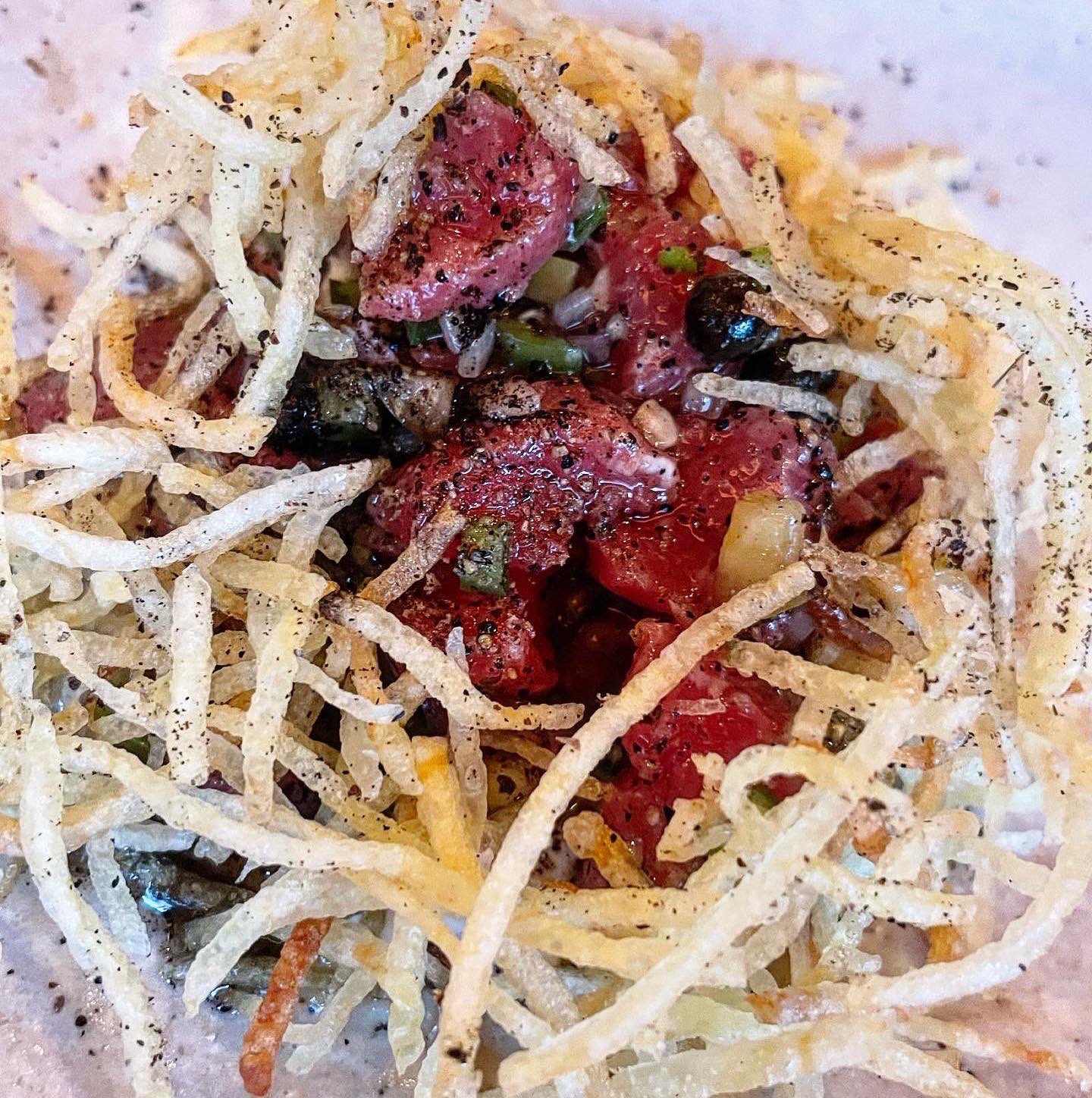 Every bite of every dish seemed to be a hidden minefield of flavor — studded with glorious little surprises like the cheese in those papadum, or seared free-range buffalo milk paneer cheese overlain with chillies and a fenugreek kebab masala: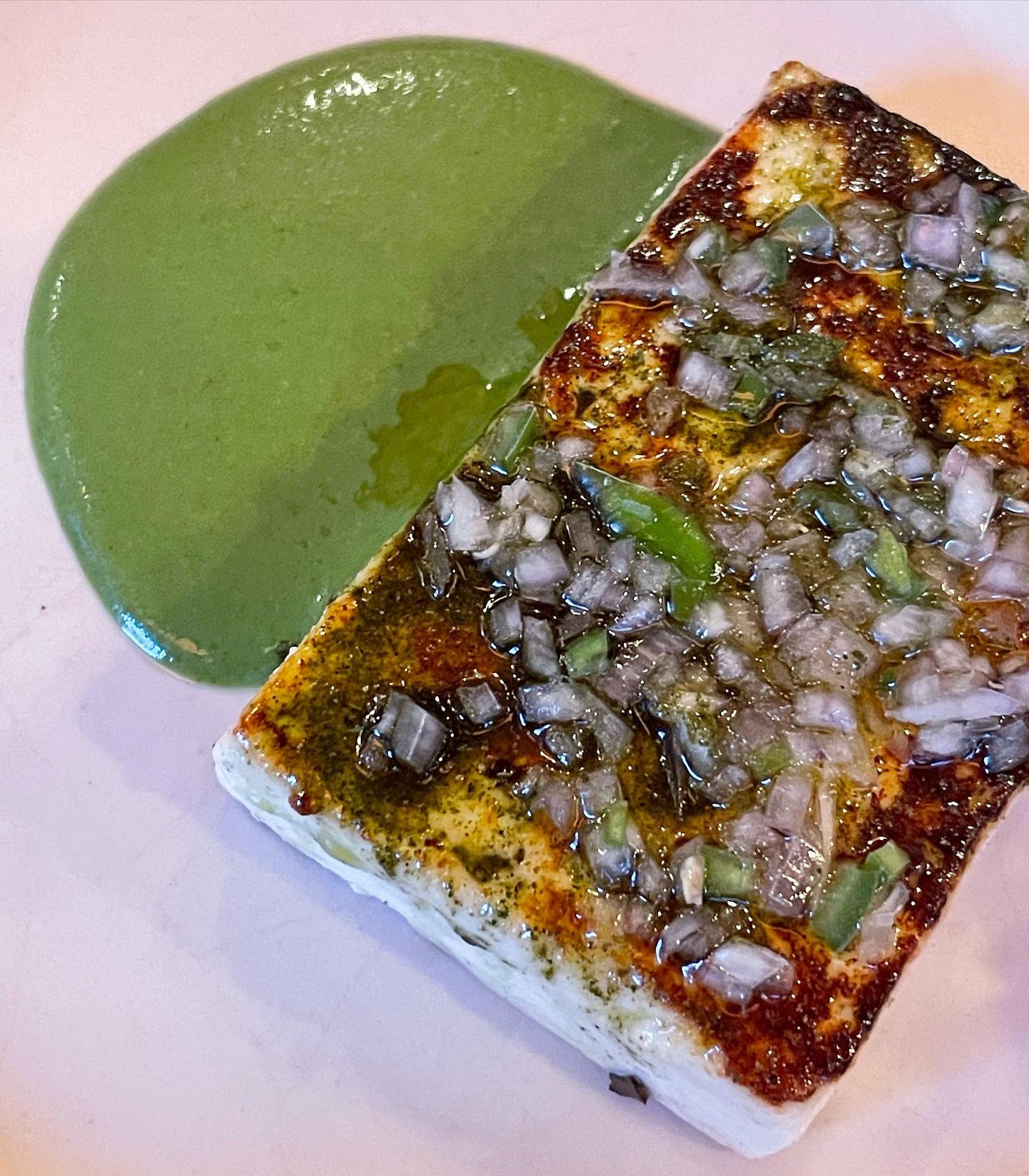 None of it familiar; all of it an eye-popping reminder of why god gave us taste buds,
From the sigree (grill) section, we tackled a small portion of almost fork-tender aged Swaledale lamb and finished with an exotic Indian tea (the charms of which were lost on me), and a creamy/puffy, panna cotta-like saffron "egg", whose delights were not: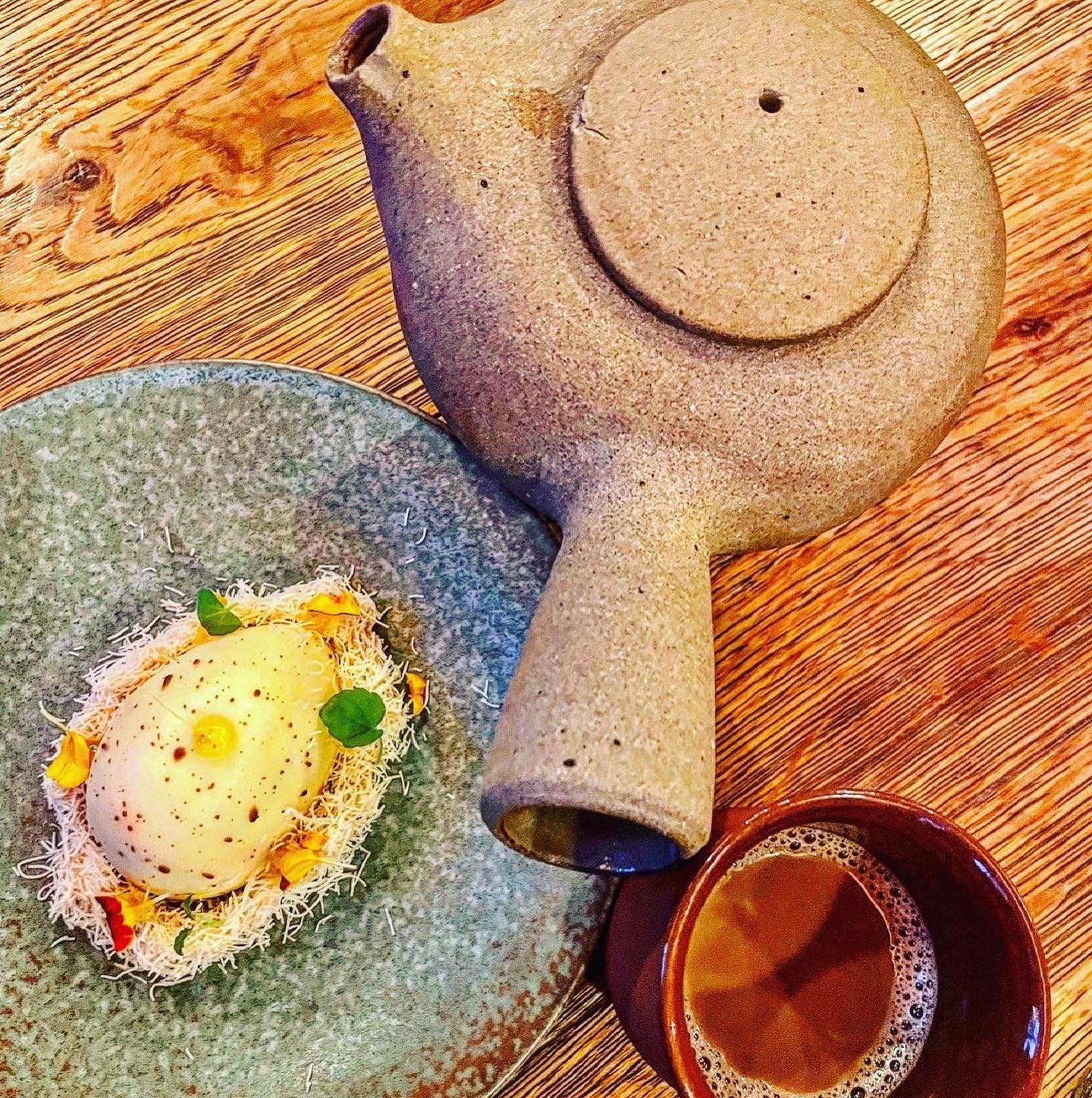 How you react to BiBi's high amplitude cooking probably depends on how much you want to invest in deciphering the serious and complicated stuff going on in the open kitchen. It is very much an of-the-moment Indian restaurant which is seeking to shift the paradigm for what people think of as Indian food. But even if you don't like cogitating on your plate that much, the tastable sensations will blow you away…in more ways than one.
We can't quite leave England behind without a few recommendations and shoutouts to a few other stops — each of which was notable both for what we consumed, and its very British commitment to first-class hospitality; even to a couple of rubes from the Colonies.
No self-proclaimed gourmand should ever visit London town without a stop at one of their iconic food halls. We didn't have time to hit Harrod's, but we were a short walk from Fortnum and Mason  and found ourselves wandering its floors several times, marveling at everything from its bowler hats to bangers: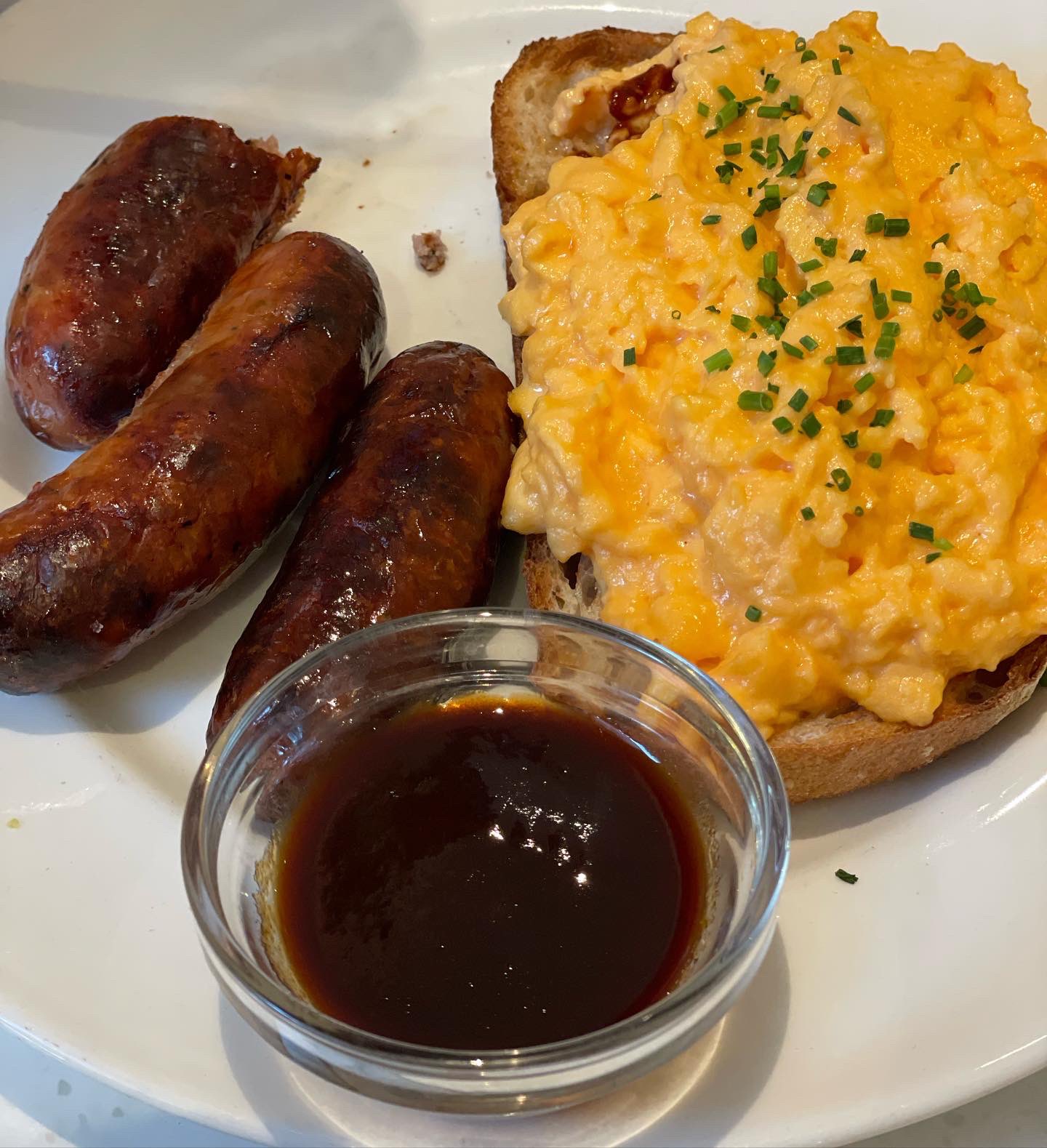 (Banger? I don't even know her!)
Those sausages were part of a simple English brekkie, side by side with the yellowest eggs we've ever eaten. Calling F&M an upscale grocery store is a serious understatement. It's floors are stocked with the best in gourmet gifts and dry goods, from tea towels to jewelry to stationary. Stores like this simply do not exist in America anymore. This one was packed day and night. No wonder they look down their aristocratic noses at us.
We can't conclude our travelogue without a mention of some serious imbibing. But first an aside: We ducked into several local pubs advertising local ales and cask-brewed this or that, but despite the adverts and charming surroundings, all seemed to offer the same, boring industrial suds you can find on this side of the pond (Guinness, Harp, Boddington's and the like). Whassup with that?
We're long past our beer drinking days, so it didn't phase us, but a word of warning: If you're a serious about your brews, choose your pub wisely, because despite their outward charms, many of them have become more standardized than Taco Bell. Where you can't go wrong, as long as you have the coin, is a cocktail at the Connaught . Swanky doesn't begin to describe the joint, but if you don't mind paying $40 for a drink, you get a pre-cocktail with your libation of choice, and the joy of sipping in a whole new tax bracket.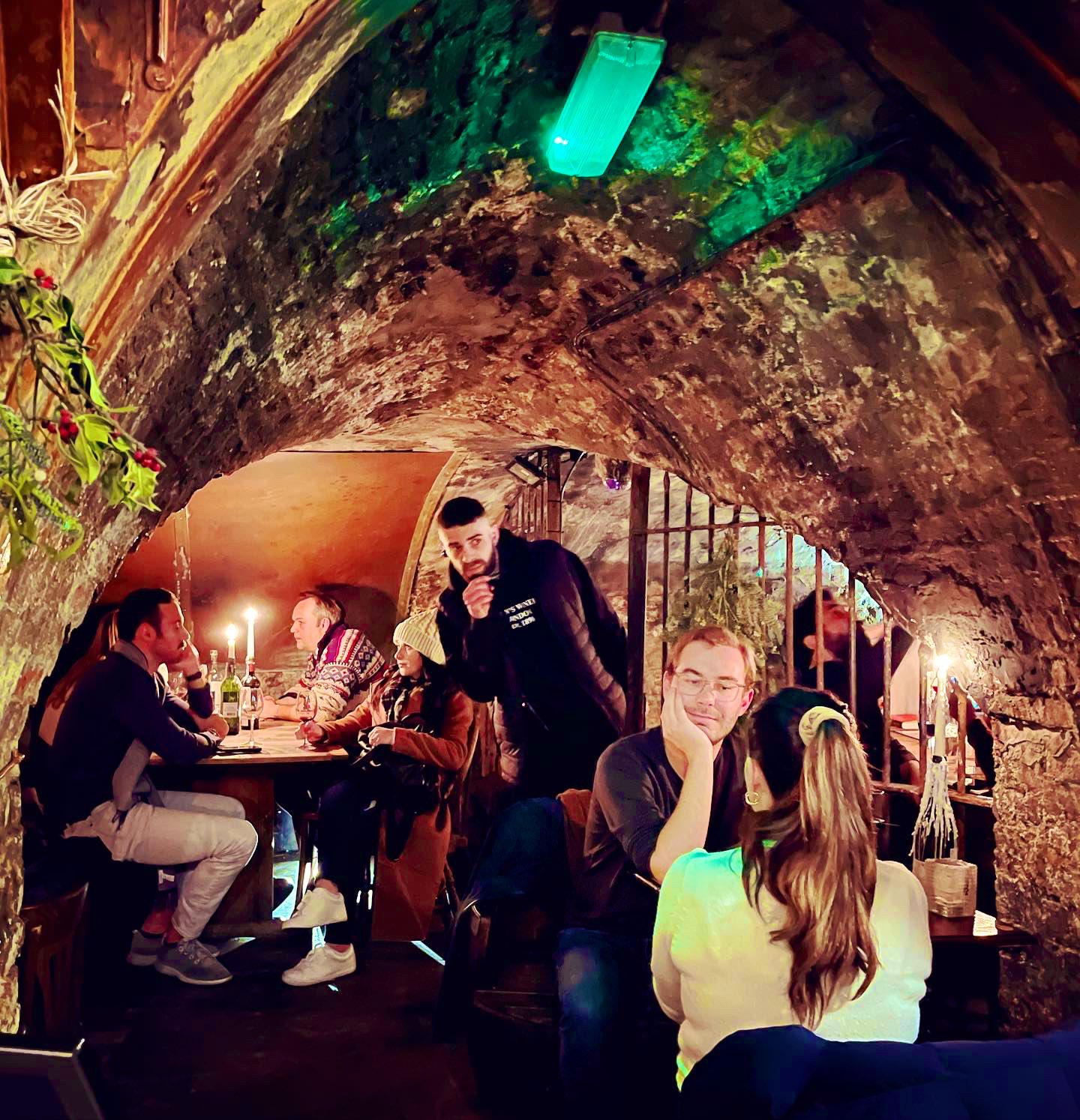 (Duck! And order another manzanilla!)
But our favorite tipple of all was at the oldest wine bar in London  — Gordon's Wine Bar — which has been pouring out amontillados and vintage ports since 1890. The subterranean space is a treat, and the list of fortified wines is something to behold. You can't give away sherry and port in America, but here there were oenophiles of all ages sidling up to the bar, and ordering  beakers of old wood tawny like Winston Churchill on a bender.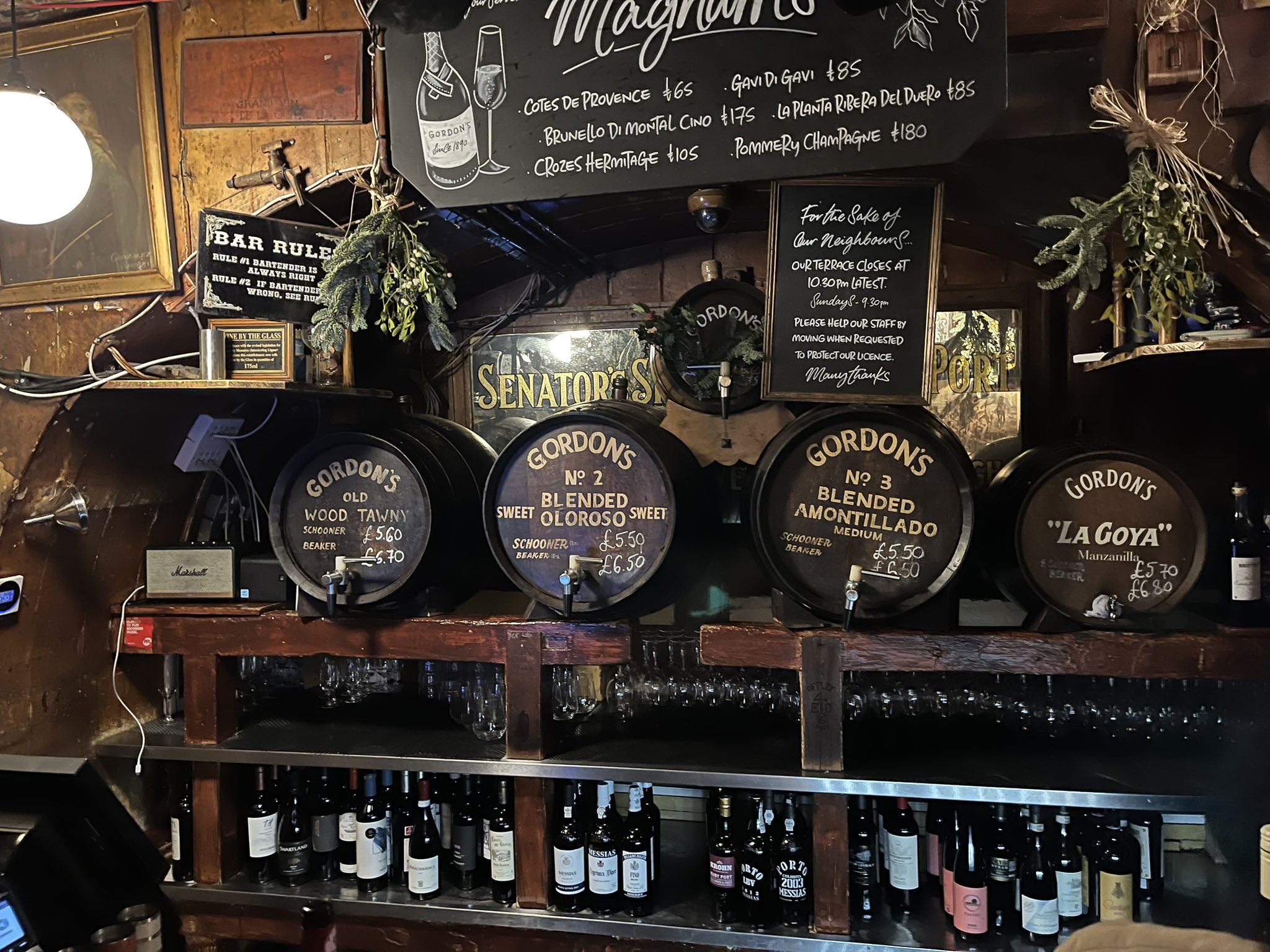 I guess that's the thing about a country this old and this steeped in tradition; it doesn't have to keep re-inventing itself. People appreciate, even luxuriate, in their history without a need to jump to the next big thing to satisfy their short attention spans and lust for the next selfie wall. Everyplace we visited was sedate and welcoming. Best of all, none of them felt like they were trying too hard — a refreshing respite from the relentless boosterism which surrounds us at home. Dining around London town fit us like a cashmere cardigan, and was the perfect antidote for the modern American restaurant.