(Is he cool or what?)
I'm happy for David Chang.
Happy that that the teeny tiny Momofuku Noodle Bar, that I first ate at in 2006, has spawned an Asian-American empire that now stretches from Soho to Sydney.
I'm ecstatic that he can now open restaurants the world over, trusting his food to a rotating cadre of young cooks; chefs who weren't even in high school when Chang made his fame serving up-scaled bao buns on eight toadstools to the trend-loving New York food media.
I'm glad Chang took the ho-hum bun from so-so street food into a foodie favorite — mainly by upgrading the pork and not steaming the shit out of it like most Korean restaurants do.
And who doesn't love the fact that he's elevated dishes like bo ssäm and Korean fried chicken into cult-like status, and now has the luxury (and pretension) of operating his very own, Ferran Adrià-like, (not-so-secret) secret test kitchen?
I'm elated that he can parade his food out to compliant critics like Mitchell Davis, and sit there while they swoon over every bite. After all, every Pollock needs his Clement Greenberg; every Scorcese his Pauline Kael.
I'm overjoyed that David Chang can pretend to write magazine articles for star-fornicating magazines, because it gives him eminent foodie street cred to be a published author, along with his many other duties and talents.
I'm amused that he can ironically expound on the attributes of shitty beer, and has the time to run a media empire built upon "we're cooler than you" food articles, filled with tales of him hangin' with other "bad ass" media mogul chefs. (Isn't it wonderful how, as soon as a chef gets "hot" or mega-successful, they immediately turn into a highly literate writer, capable of turning phrase after phrase with wit, precision, and poignancy, not to mention proper syntax, grammar, and diction? Like most ardent foodies, I'm exultant when this happens!)
And it gruntles me that Chang (and Christina Tosi, his pastry chef) have made time-worn standards like butter cake, crazy milkshakes and above-average cookies "a thing," mainly by catching the wave of young Millennial's FOMO (fear of missing out), at the dawn of the Facebook, Twitter and Instagram age.
It also pleases me no end that a championship golfer (TRUE!) of Chang's caliber, who describes himself as "the worst cook in every kitchen I ever worked in" has now found peace and happiness (and no small fortune) by tweaking the humblest, saltiest and densest of Asian cuisines into gringo-friendly formulas that no other Korean-American cook ever thought of.
We're beside ourselves over his cult-like status among foodies; and his bro-tastic cred among other uber-cool dudes like Eric Ripert, Tom Colicchio and Wylie Dufresne. (For a terrible line cook, that's really saying something.)
I'm overjoyed when he whispers (sotto voce) to Food & Wine magazine, "I don't want Mario (Carbone) to get mad at me, but I think the Carbone in Vegas is better than Carbone in New York." How cool is it that that he could be so ironic, so "inside baseball," such a name dropper, and such a humble braggart AT THE SAME TIME, IN ONE QUOTE! (Shhh, but please don't tell him or Mario Carbone I said this.)
And who among us isn't jubilant over his arrival in Sin City, where he can expand his empire of small, personal restaurants into a  263 seat behemoth. I mean, how bro-tastic is that, dude?
All of these things make me happy for David Chang.
But eventually you have to get to his food, and aye, there's the rub.
Or rather, there's the umami.
Because, you see, David Chang is overtly enamored of umami.
Don't get me wrong, I'm usually on cloud nine about umami. But eating Chang's one-dimensional food will quickly kill any exaltation you usually feel about this fifth taste.
And since murdering your taste buds' appreciation for any semblance of subtlety is what Momofuku's food is about, let's consider the evidence, shall we?
Exhibit 1: Krappy Kaarage
See the one on the left? It costs $5.50 at Udon Monzo on Spring Mountain Road. It was crispy and just-fried and  juicy and everything kaarage is supposed to be. The one on the right came from David "The King of Creative Korean" Chang's kitchen at Momofuku in The Cosmopolitan Hotel and Casino (the restaurant we're reviewing here if you've lost track). It costs $14 for two buns of dry, stringy, soggy chicken. Grade: C-. Grade when compared to the better stuff you can get up and down Spring Mountain Road: F.
Exhibit 2: Pork Meatballs with Black Eyed Peas and Benton's Bacon
Here's where Chang starts showing his true colors, and by "true colors" I mean obliterating the taste of everything by drowning it in a tsunami of umami. What appears at your table are two pork meatballs for $18. What you taste is a bunch of smoky, black eyed pea mush smothering whatever the pork is trying to do inside those orbs. Grade C-.
Exhibit 3: Country Ham with Red Eye Mayo
David Chang loves country ham. He also loves bacon. And smoked pork in all its forms. Why does he love them? Because they're an easy (some would say a shortcut) way to add umami depth to anything they touch.
And by "add umami depth" I mean massacre the taste of anything and everything else on the plate.
At least with this dish, you get honesty (and your money's worth – $26) by having the cooks shave the thing on a plate for you. The first time they do it (on the left) it's a mess, but the next time (on the right) it's properly sliced and appetizingly presented. The red-eye mayo tastes like light brown, store bought mayonnaise at meal #1, but by meal #3 they've gotten their act together and the coffee flavor comes through in the emulsion. (For the uninitiated, red eye gravy is simply liquid coffee added to the hot fat drippings of a fried country ham steak and then poured over the meat.) Nothing is being cooked here, but the ham is top notch, and this would be a great appetizer to share (along the lines of Italian prosciutto) if the rest of the meal gave you any respite from Chang's non-stop umami overload. Grade: A-.
Exhibit 4: Momofuku Oysters
Here, Chang starts to reveal his innermost inadequacies. And by "innermost inadequacies" I mean a complete indifference to the flavor integrity of any ingredient other than smoke and the piling on of pork. These strike me as something that probably took the New York trendsetters by storm a decade ago. Kimchi on oysters? How novel. With better than average bacon? You bet! And on the backs of such mangled mollusks was a food empire born. Grade: C.
Exhibit 5: Pork Ramen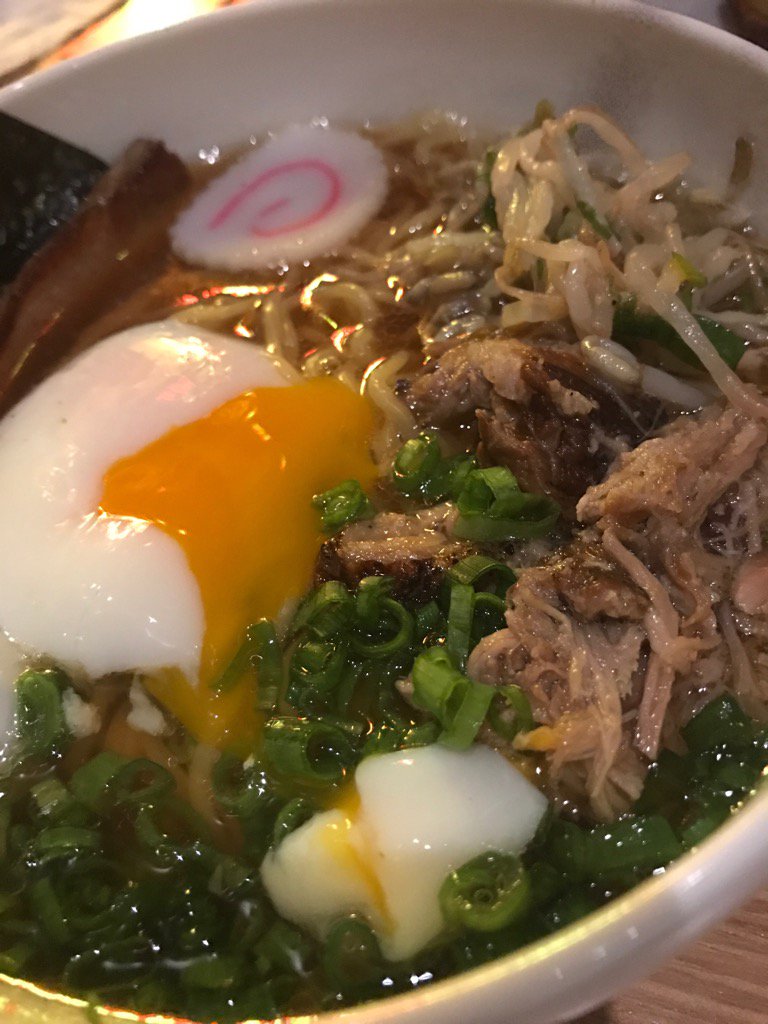 This is where David Chang really hits his stride. And by "hits his stride" I mean demolishes all subtlety in favor of loads and loads of smoke. The food at Momofuku is so damn smoky it ought to be sponsored by Marlboro. Here is another signature creation that's about as refined as a tae kwon do punch to the solar plexus. Pile on the shredded, smoky pork, serve it in a smoky broth, add smoked kombu here and no doubt something else smoky there and pretty soon you feel like you've just swallowed a lit cigarette. There's ramen just as good up and down Spring Mountain Road for a lot less than $18. But none of it as smoky. Grade: C+. If you love loads of  overstated smoked pork in your ramen: B+.
Exhibit 6: Spicy Sichuan Rice Cakes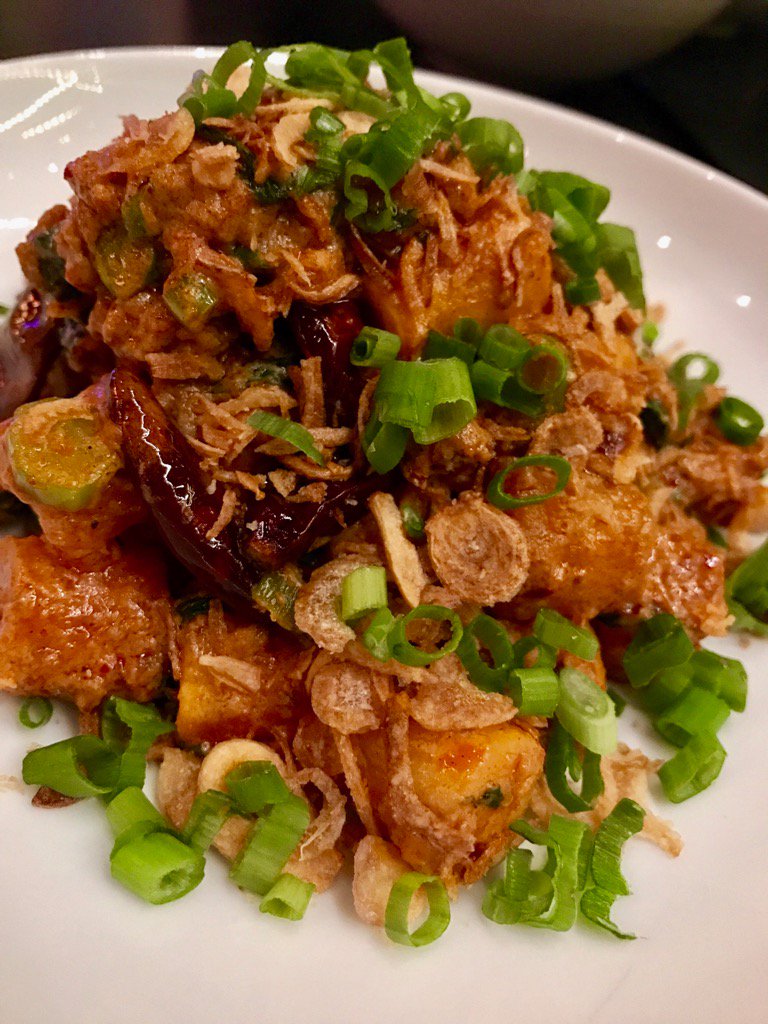 No one loves Szechuan food more than yours truly. These cakes (really thick, stubby, chewy noodles) were as good as you'll get this side of Soyo Barstaurant on South Rainbow. At Soyo they're half the price, but  not smothered in pork sausage — another recurring theme of Chang's as we'll see below. For authenticity, crispiness, chewiness and overall eye and palate appeal they get a winning grade. For more of Chang's same old same old, fatty-salty, umami-drenched flavor profile, they get a small deduction. Grade: A-.
Exhibit 7: Chilled Spicy Noodles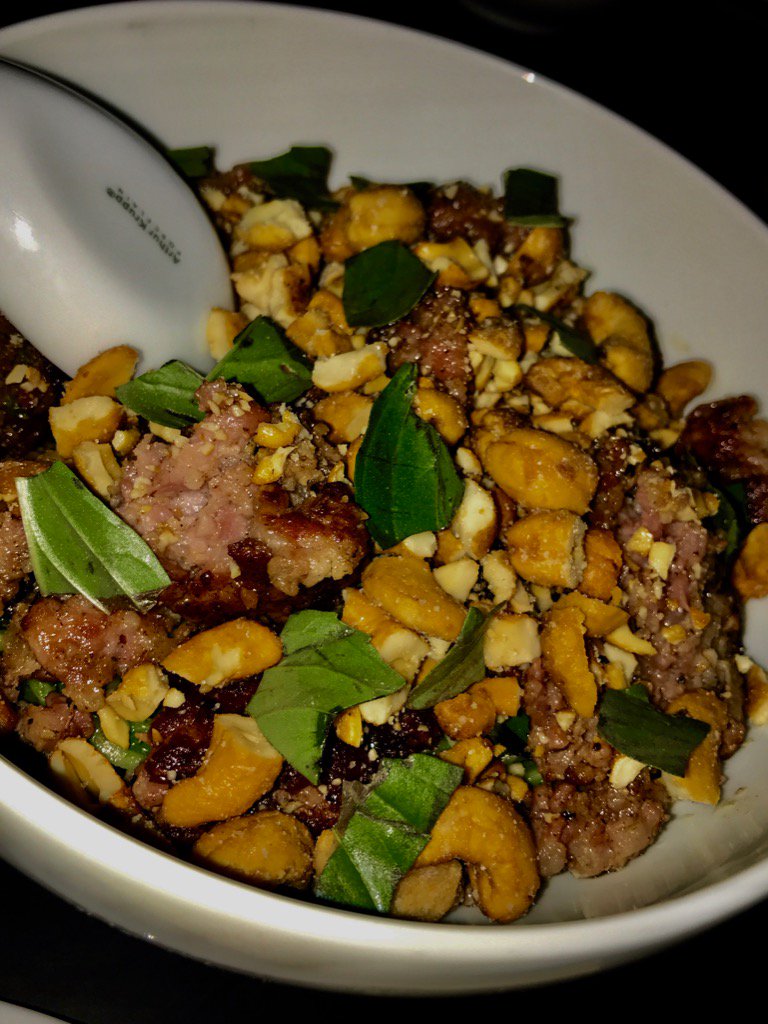 Yep, more noodles, this time cold, green, and spicy. Really spicy. No holds barred spicy. The kind you'd get in a real Korean restaurant where no one asks you how spicy you want them. The problem is, of course, that you can't see them. Why can't you see them? Because they're buried under a mountain of pork sausage. And cashews. Pork sausage and cashews being the belt and suspenders of the umami-overload world. Still, a solid effort that taste just as good as they did when I had them at Momofuku Ssäm Bar (with Mitchell Davis of all people) seven years ago. Grade: A.
Exhibit 8: Spicy Cod Hot Pot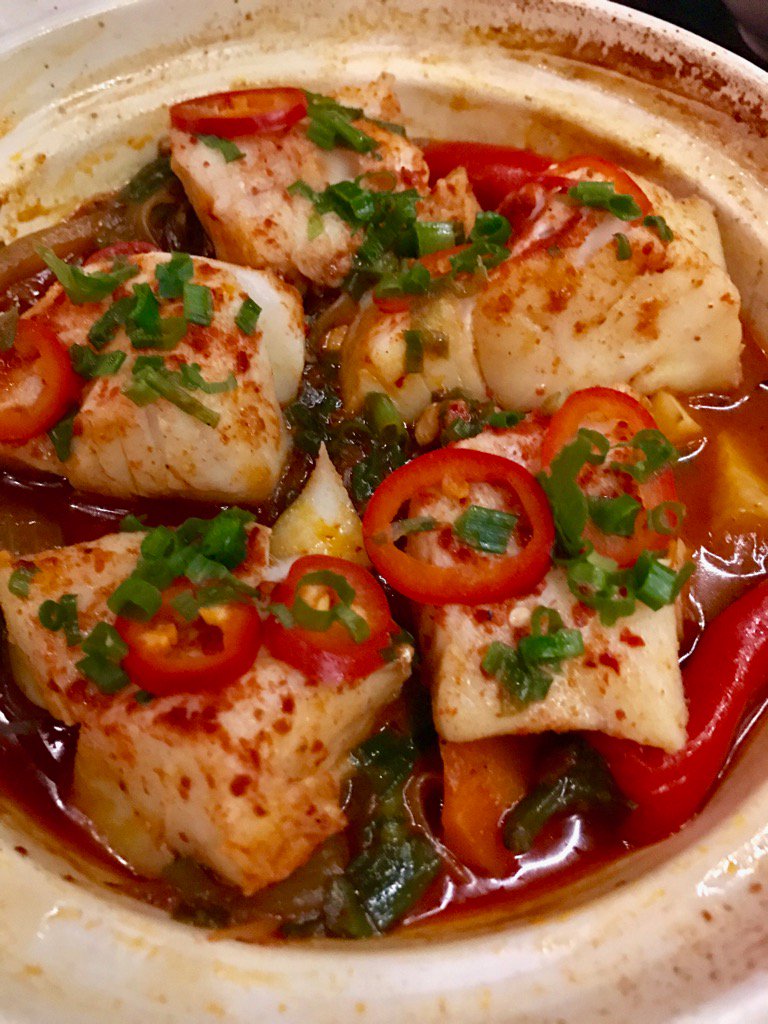 One of the prettiest dishes in the Chang lexicon. (David Chang generally does pretty about as well as Vin Diesel does Shakespeare.) It's the lightest thing on the menu, and the fish is of good quality and not boiled to oblivion like you get in many an Asian hot pot. If it was a stand alone dish there would be little to complain about. The problem is you get the same chili/salt/umami profile here as you do with every other dish in the Chang oeuvre. The question has to be asked: Has he never eaten in a Japanese restaurant? Is he unacquainted with refined French? Why is he wedded to hitting you over the head with the same salt and spice with every recipe? Still, if you need a let up from all the smoke, this is the way to go. Grade: A.
Exhibit 9: Chicken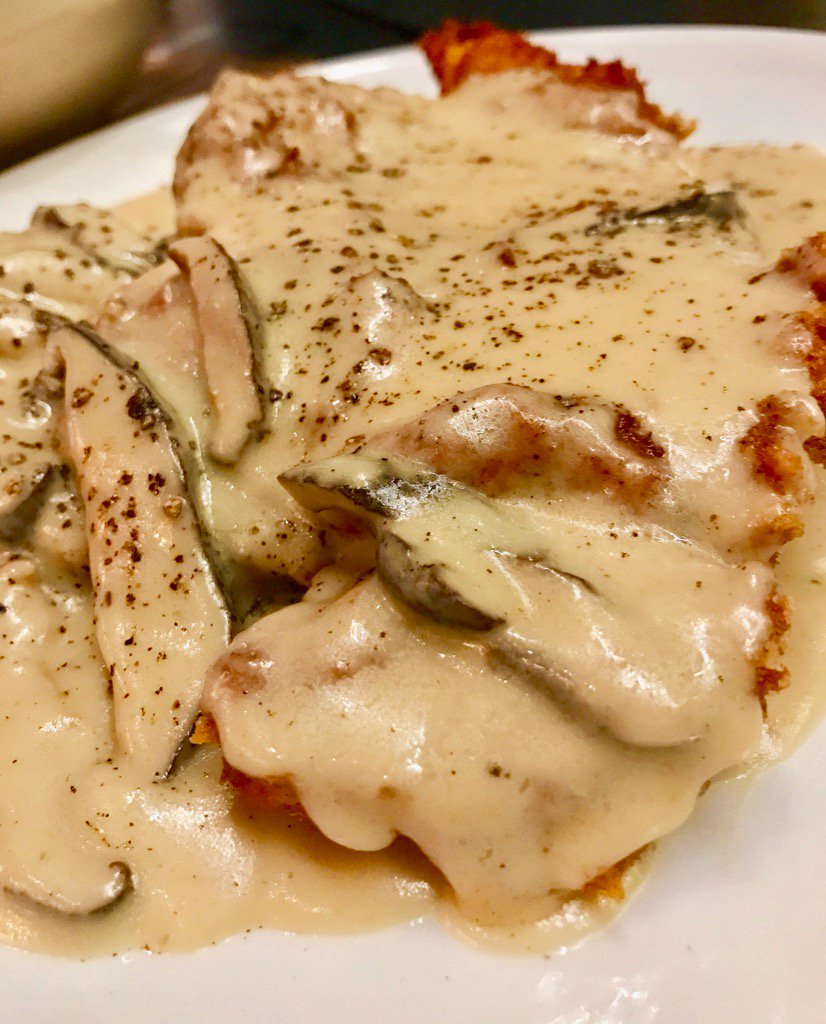 Chicken is where the Chang oeuvre most reveals itself. And by "reveals itself" I mean bludgeon you with his incessant umami aura. The rotisserie bird (a portion of which look deep-fried)  is competently done, if a bit dry, but nothing that El Pollo Loco doesn't do equally well. It's salvaged a bit by a ginger-scallion garnish (the closest you'll ever get to sharpness on a Chang menu), and subtracted from by deep-fried bones that are more gimmick than substance. Chang has been quoted as saying, "I wanted to strip away as much excess flavoring as possible…." which makes absolutely no sense but sounds really cool when he says it. His Smothered Katsu Chicken is smothered all right — with so much sauce that the poultry is superfluous. To be fair, the shiitake gravy was damn tasty, even if it brought more of the same, flat flavor palette to the table. And if Chang ever served the lifeless, "fresh" kimchi under the roasted chicken to his grandmother, he'd be laughed out of the house. A Midwesterner expecting so-so slaw would probably applaud. Grade: C+ for the roasted chicken that's not nearly as good as it thinks it is, and B+ for its crispy, gravy-laden cousin.
Exhibit 10: Vegetables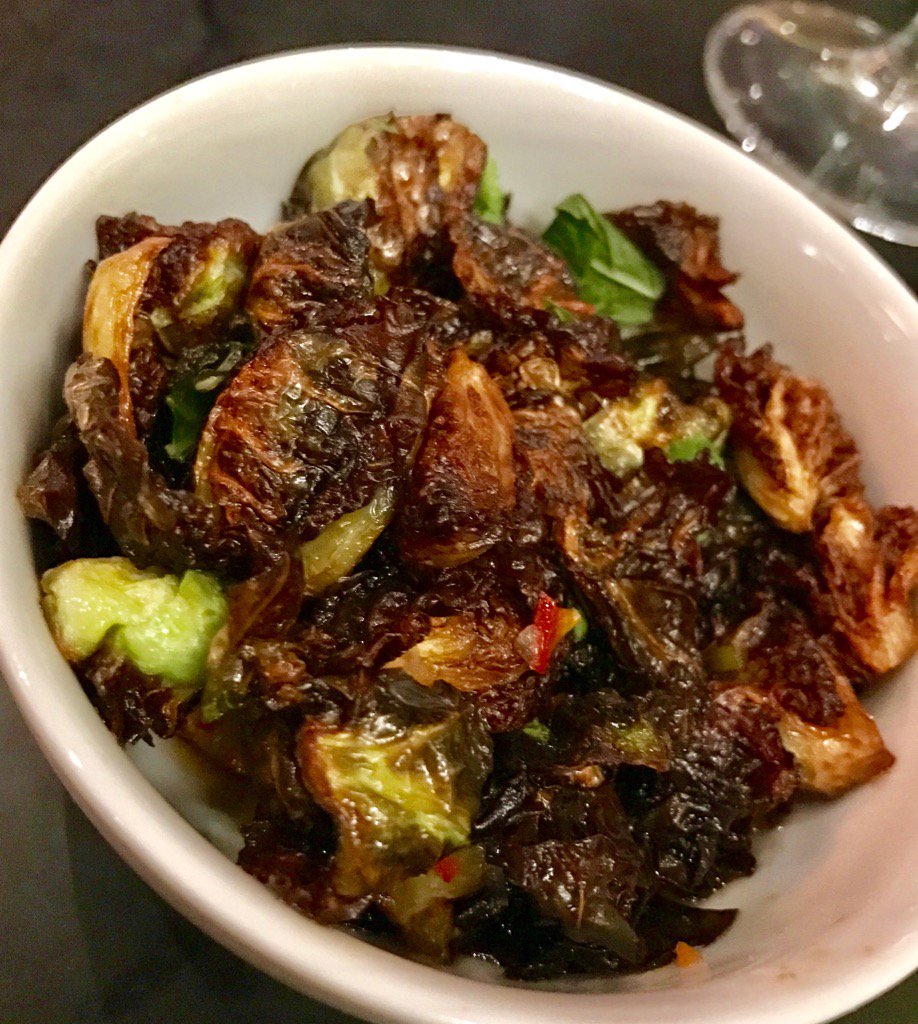 Speaking of vegetables, they're probably the best thing on the menu, even though the black-eyed peas are more sweet than savory (but plenty smoked!), and the long beans more sour than sweet. The pickle plate is fantastic, if expensive ($15), but the hacked up cucumber ($7) a waste of time and money. The Brussels sprouts were, of course, fried, and, of course, doused with some salty/savory/shoyu/miso/kombu concoction that Chang can't keep from incorporating into everything he touches. Grade: A-.
So there you have it. No nuance. No balance. No piquancy. No acidity either. Plus a complete absence of refinement. (The bibimbap at your local Korean bbq joint is a model of Grant Achatz artistry next to these plates.) Sweetness is in short supply too. Which might explain the child-like, overly-sugared desserts that Tosi throws at you from Milk Bar next door.
Like I said, though, I'm happy for David Chang. I do not begrudge him his success. He took an obscure Asian cuisine and made it palatable for Millennials. For ten years they've been beating a path to his door, and from day one in The Cosmo, they've been lining up to get a seat. This food was not as much created by Chang as it was tailored to capture the attention of the flannel shirt and man-bun crowd — a youthful, insecure, and finicky bunch who were notoriously resistant to real Korean cuisine ("What is that?" "I like to know what I'm eating." "Do they use MSG?") — by giving them something cheap and good to eat. As with ramen, beer and tacos, everyone could become an expert in this food with relatively little effort, or cash.
And seemingly everyone has. People love it, even if they don't understand that the range of flavors runs the gamut from A to B. There are no peaks and valleys here, just a slog through an umami swamp. The art of the meal never occurred to Chang when he was making his name with his noodle bar, and it won't occur to you when you're eating here. A Korean-American friend once told me, "everyone eats everything at once in a Korean restaurant." That was an amusing but sensible explanation. What he didn't say (because it's not true with real Korean food) was that everything always ends up tasting the same.
Our three meals here averaged around $140 for two with a couple of glasses of wine. Some of the dishes were comped, i.e., sent out gratis from the kitchen. There is the obligatory fancy cocktail list and the usual obscenely-priced wine list, and a shockingly sparse sake and sochu selection. Shocking because they (along with beer) make the best matches with this food. Most wines would be annihilated by it, although the Baumard Chenin Blanc ($65) held up well to some of the less smoky items.

MOMOFUKU LAS VEGAS
The Cosmopolitan Hotel and Casino
702.698.2663