(Photo by Cierra Pedro)
Do you like a good sandwich?
I know I do.
If you're like us and our staff, you think that John Montagu, the 4th Earl of Sandwich did the world a solid in the 18th Century by placing his lunch meat between two pieces of bread:
(Photo by Jon Estrada)
….the better to expedite his eating and not interfere with his gambling habit.
Whether you subscribe to this English lineage (that some have called England's greatest contribution to gastronomy), or to more ancient origins, there is no denying the toothsome quality of placing good proteins between two pieces of fluffy and fresh bread.
Whether your taste runs to compressing that bread, a la a Cuban sandwich at Siegel's 1941:
….or grilling it, as in this delectable patty melt at Du-par's:
…Downtown Las Vegas has a murder's row of sandwich restaurants that will fill every craving.
At the top of the page is Le Pho's justifiably famous Banh Mi Beef Dip, which takes a back seat not at all to Zydeco Po-Boys' fried shrimp beauty:
…served (if you're smart enough to order it this way) with maybe the best skinny fried onion rings on earth:
And if all of these animal proteins offend your tender, vegan sensibilities, you can always tuck into a most excellent veggie burger at VegeNation:
The king of all of these sandwich shops is, of course, The Goodwich:
…which never met a protein-veggie-bread combination it didn't think it could improve upon.
And if those aren't enough to convince you that Downtown Las Vegas is sandwich heaven, consider that downtown has two outlets of Capriotti's — the original location on West Sahara and one in the Clark County Courthouse — where you can get the "world famous Bobbie":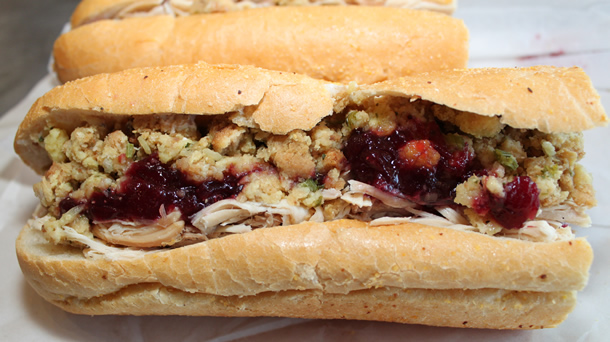 …or, as we like to call it, an entire Thanksgiving feast on a roll.
Not convinced that Downtown is the Sandwich Capital of the World? (Or at least Las Vegas?) Then feast your eyes on this concupiscent beauty:
Can corned beef get any better? Not unless you house-cure it for ten days like Martin Swift and Hansel Tan do at The Smashed Pig. (They also make their own Thousand Island dressing, and put the whole enchilada on a squishy, slightly sweet roll.)
Put it all together and you have the apotheosis of bread on meat, all within two square miles of sandwich eating bliss. Lest we forget our south of the border amigos, both La Comida and El Sombrero do some pretty mean tortas as well.
And, lest we forget our LBGT brethren (and sisterhood), the Bronze Cafe is no slouch in this department either.
We rest our case.
LE PHO
353 East Bonneville
702.382.0209
THE GOODWICH
1516 Las Vegas Blvd. South
702.910.8681
SIEGEL'S 1941
In the El Cortez Hotel and Casino
600 Fremont Street
702.385.5200
DU-PAR'S RESTAURANT AND BAKERY

In the Golden Gate Hotel and Casino
One Fremont Street
702.366.9378
ZYDECO PO-BOYS
616 East Carson Street
702.982.1889
VEGENATION
616 East Carson Street
702.366.8515
CAPRIOTTI'S
322 West Sahara Ave.
702.4740229
200 Lewis Ave.
702.631.1112
THE SMASHED PIG
509 East Fremont Street
702.444.7816
LA COMIDA
100 South 6th Street
702.463.9900
EL SOMBRERO
807 South Main Street
702.382.9234
BRONZE CAFE
401 South Maryland Parkway
702.202.3100