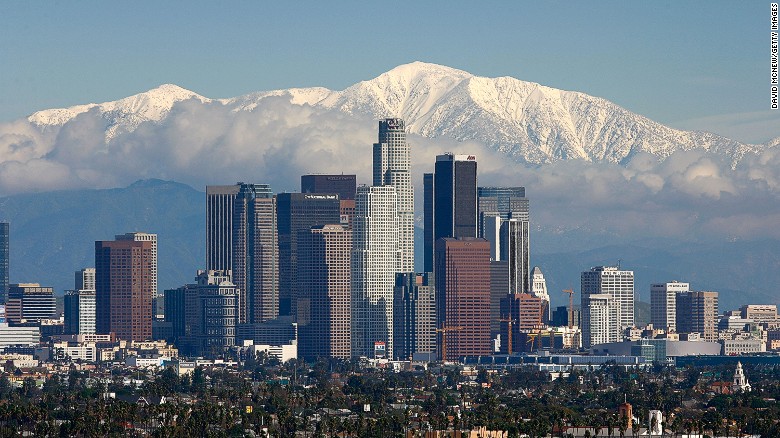 I'm still in a bit of shock from my long weekend in Los Angeles last month. Shock from the mediocre meals I had. Shock from spending hours navigating the filth and rubble of downtown L.A., and shock from how I was sold a bill of goods describing how a "downtown Renaissance" was going on there. Something is going on all right — every block seems beset by either new construction or a condo conversion — but the progress has been glacial since last we visited a few years ago, and don't hold your breath if you expect it to look like mid-town Manhattan (or even downtown Seattle) anytime soon.
On the plus side, there's many a nook and cranny amongst the vacant buildings where someone is trying to sell something other than ultra-cheap everything. But L.A. is still the only big city in America where you can walk a quarter mile in any direction and not see any commercial life whatsoever, other than the types of goods and services that appeal to people who like to sit around on cheap plastic chairs all day long. The last time urban America depressed me this much was when I got lost driving around the south Bronx in the late Eighties. (Cue: Bonfire of the Vanities.)
Before we itemize our list of disappointments, a little background is in order. I've been visiting Los Angeles (and by L.A. we mean downtown proper as well as Santa Monica, Hollywood, West Hollywood, Beverly Hills and the beach towns) on a semi-regular basis since 1982. I've been eating in Wolfgang Puck's restaurants since then (first at Spago, then at Chinois on Main, Granité in Malibu straight through to the opening of CUT in Beverly Hills a decade ago), and also at the Too Hot Tamales girls' restaurants since 1991 — when we first heard of their Cal-Latin-American-fusion breakthrough cuisine at CITY. We're huge fans of everything from the Grand Central Market to the Fairfax Farmer's Market, and usually don't leave without whipping by Koreatown for some dolsot bimbimbap, or Langer's for a few pounds of pastrami to sustain us on our way home. We remember when Mark Peel and Nancy Silverton set the baking world on fire with Campanile in the late 90s,, and were wolfing down Monterey Park dim sum, and packing Pink's Hot Dogs for the four hour drive back to Las Vegas, decades before anyone heard of Yelp, or thought about photographing their food.
One thing that did not disappoint was the Ace Hotel on South Broadway, just around the block from the Staples Center. The Ace is hipster central in these parts — creative hat-wear was in full bloom on the weekend we stayed — but the simple, DIY-vibe and  environmentally-friendly rooms were well-appointed,  comfortable, and the perfect expression of the modern, urban hotel. We didn't try the restaurant, but the coffee bar made a good cappuccino, and offers a nice selection of pretentious teas that satisfy the Millennial penchant for paying far too much attention to simple beverages.
Good luck finding a decent place to eat at this end of downtown, however. Aside from the always-open Original Pantry Cafe, an Umami Burger outlet, and the huge and wildly popular Bottega Louie (nice decor, good French pastries, boring Italian menu), you can look forward to block after long city block of urban nothingness:
Connoisseurs of bombed out buildings and thrift shops will be in hog heaven; hungry people will not.
Hungry you will be, but food you will not find for blocks on end. When you do find it, in the form of two new, celebrated joints at the north end of town, expect to be underwhelmed.
Our first meal took place at the recently opened Otium (above) adjacent to the also just opened Broad (pronounced "Brode") Museum. Both the museum and the restaurant are housed in spectacular structures. The difference is, things get better when you step inside the Broad (and experience its eclectic and interesting collection), but worse once you plunge into Otium's food, which is anything but. Is Otium odious? Not really, but it is derivative and predictable.  The brunch menu lists every cliché in the book, from smoked salmon to duck hash to kale and quinoa — all of it serviceable, none of it inspired enough to merit a return visit.
The question has to be asked: Is this what they're teaching in chef school these days? Or does all of this food get cooked in some industrial kitchen in Brooklyn, ready to be shipped out in sous vide bags to every so-called gastropub-y restaurant in the country? As soon as I saw the menu, riven with such Millennial-safe selections as "country ciabatta" and avocado toast, I wanted to hit the exits. But our dining companions had traveled some distance to meet us there, so stuck we were. None of the food at Otium is as good as it thinks it is, which makes it just fine for the aging culture vultures and Yelpers who want to believe they're having an eating experience to match the art next door.
At first, we were feeling a lot more charitable towards Otium than the above paragraph indicates. Our small plate array of cured hamachi, (barely) smoked salmon, Hangtown Fry, jerk chicken, crispy potatoes, and the aforementioned avocado toast, did their job in sating our appetites, but weren't anything we haven't been eating in Las Vegas for years now, and in SoCal for decades. Then we saw the dinner menu (Big Eye Tuna! Agnolotti! Whipped Lardo! Smoked Everything!) and realized Otium was as much a something-for-everyone operation as a Cheesecake Factory. It also occurred to us that Puck should sue for plagiarism and patent infringement.
On the plus side, Wine Director Elizabeth Heuttinger's list is everything the food is not: personal, thoughtful, and pleasantly off-beat. Reading it alongside the menu felt like listening to a be-bop jazz riff while digesting bubble gum pablum.
But you can't judge a food scene based upon one brunch, which is why we walked about a half mile down the hill to Redbird (above) for dinner. Both of are located in culinary No Man's Land, which might explain all the praise the local press has lavished upon them. But if any food writers looked up from their wishful thinking and star gazing (Was that Vince Vaughn? I heard Benifer(sic) loves this place!), they might notice that chicken pot pie, day boat scallops and cavatelli are about as original as a Charlie Sheen sitcom.
Pan-fried soft shell crab sounded somewhat original — paired with asparagus mint, Thai basil and red curry — but those advertised accents were notable mainly by their absence. Hopes were raised again by some house-made porchetta di testa, that was every bit as toothsome as it was attractive. Sadly, it turned out, that headcheese was the highlight of the meal. We opted for the $76 suckling pig over the $96 veal chop, and what appeared was a an dried-out hip joint, finished in a deep fryer, pocked with scorch marks, each bite after bland bite a blackened bit of circumstantial evidence indicting  the kitchen for biting off more than it could chew. The advertised "molé amarillo sauce" was distinguished mainly by its ability to appear on the plate but not on the palate. Some vertical dessert-in-a-jar thing they threw at us was a disaster, and could've come straight from a Hof's Hut.
The whole point of Redbird appears to be elevating classics like rack of lamb, scallops and ("Aged Liberty Farms") duck by surrounding them with seasonal produce and cross-cultural accents. In other words, what Spago was doing in 1992. I'm sure Vince Vaughn and his posse were most impressed.
After two failed attempts at a memorable meal from two "modern" restaurants, we decided to go old school for our last dinner in town, and traipsed over to Santa Monica for a visit with old friend Piero Selvaggio (pictured above) at
Valentino
. Selvaggio may be one of the last of the great ones  — a proud and sophisticated owner of a host-driven restaurant — but he and Chef
Tommaso
Tarantino
have kept pace with the times. Valentino's cuisine is no less fork-droppingly delicious than it's always been, but I detected a lighter touch with the pastas, and a little more Sicilian flair in items like his shrimp-stuffed calamari in an oregano
brodetto
, and Sicilian stuffed rabbit (
conigilo
) with a hint of chocolate in a rich, wine-friendly sauce. And if there's a better red wine risotto in America — this one made with radicchio and buffalo blue cheese — I have yet to try it. Selvaggio excels because he does one thing well — hew to the flavors of authentic Italian cooking. He has been around so long (44 years) that Los Angelenos probably take him and his
ristorante
 for granted. They may but we don't. A meal at Valentino is a must for lovers of the real deal in Italian food and wine, and one of the tastiest experiences — Italian or otherwise — you can have on the West Coast.
Doing one thing well 
was a thought that kept running through my mind as we were headed out of town. It's what separates a Valentino from all the also-rans, and why delis like the venerable Langer's, or the much newer but excellent
Wexler's
(photo above) thrive. It's why we love hitting the dim sum at
Sea Harbour Seafood Restaurant
in Rosemead:
(Photo by Alex Farnum, and no, that isn't ELV with the chopsticks)
This is what we come to L.A. for, not a rehash of fusion food on something-for-everyone menus. We especially don't travel four hours by car to get food that's done just as well, if not better, in Las Vegas and dozens of other cities in America. In this way are these new chefs — Neal Fraser (Redbird) and Tim Hollingsworth (Otium) missing the point. They may be opening shiny new places to great fanfare, but they're not doing anything personal and they're not doing anything new. What they're doing is food to please their investors, and it's all a little sad.
Am I being overly harsh? I don't think so, especially when you consider this work-in-progress that is downtown Los Angeles has barely changed in half a decade, while other cities like Washington D.C., Chicago, and Portland have been in full bloom. After all this time (and by "all this time" we mean the last half century) it remains the red-headed step-child of urban America: an under-performing shell of its former self, driven to the brink of oblivion by 60 years of love for automobiles, freeways and cookie-cutter suburbia. We were full of hope and appetite as we saw the skyline looming ahead of us a few weeks ago, but after three days in L.A., we think our next visit will be straight to Olvera Street for some tacos, or straight to Philippe's or Wexler's for a  sandwich.