David Ross Reviews TABLEAU
ELV note: For some reason known only to computer-literate brains larger than ours, David Ross's tasty snaps appear when we first post them, then disappear. If you're able to see them, mores the better. If you can't, our staff apologizes.
TABLEAU by David Ross

Last Thursday, I was in Las Vegas for the 2010 Epicurean Affair. (You can read my report here). I made it a long weekend and one of the restaurants I visited while I was in town was Tableau at the Wynn for lunch on Friday afternoon.
Finding a fine-dining restaurant open for lunch on the Strip has always been a challenge in Las Vegas and the continuing woes of the local economy has only added to that problem. Rooms that were once open at noon are now dark. One is hard-pressed to win a bet on the ultimate trifecta-lunch, high-quality cooking and a quiet respite from the throngs of tourists, gamblers and conventioneers to find a decent mid-day meal. After lunch at Tableau with a friend who lives in Las Vegas, I would venture to say we won the bet.
Tableau is located in the Tower Suites and one enters through a separate entrance from the main hotel and casino. The main restaurant is set in a round atrium with floor to ceiling glass windows looking out toward the garden and pool areas with outdoor seating on the patio. Chef David Spero's focus is on preparing American cuisine using fresh, seasonal ingredients.
Mr. Wynn recently changed his dietary persuasion to Vegan and as a result, Tableau offers a separate Vegan menu. I must say I was surprised, but impressed, to presented with a separate Vegan menu at lunch as if it were a wine list. (Quite surprised given my carnivorous appetite).
Some diners would probably turn their noses at the thought of a Vegan menu. In most cases, a vegan dish is listed in passing at the bottom of the menu and the word "wheatgrass" scares most diners from ordering. But at Tableau, the concept is presented with options in the appetizer, entrée and dessert courses and is sure to be popular with today's tastes.
The Vegan items included a Chop Salad, Creamy Corn Soup, Napoleon of Savory Tofu, Ratatouille of Eggplant and Chocolate Cake. We started with one of the Vegan starters, (designed by Chef Spero to be a play on "Tuna Tartare").
"Watermelon, Peach, Mango and Kiwi with Beet Gastrique"-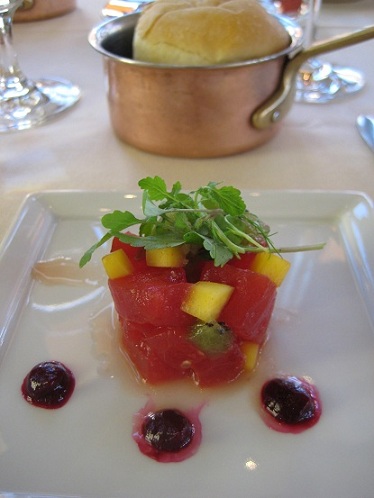 For lunch, we shared three dishes, starting with the un-Vegan "tartare."
"Yellowfin Tuna Tartare, Mango, Avocado and Soy Vinaigrette"-

"Lobster 'Danielle' with Orange, Pickled Fennel and Mango Crème"-

The next dish was new to the menu within the past two weeks. It was fresh and simple, composed of three main ingredients-Turbot, chanterelles and fresh peas, yet it was full of vibrant summer flavors and contrasting textures. Chef Spero poached the turbot in olive oil, and then appeared to have lightly crusted the fish with breadcrumbs and run it quickly under a salamander.
"Olive Oil-Poached Turbot, Chanterelles, Pea Puree"-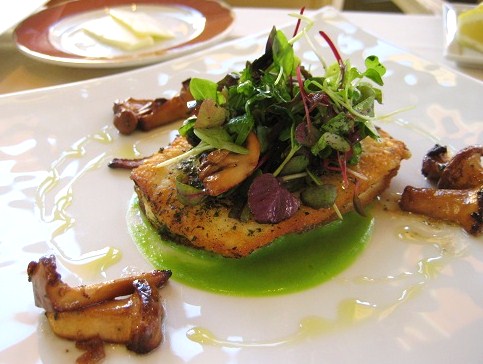 While we were waiting for dessert, the kitchen sent out two of the popular dishes off their breakfast menu.
"White Chocolate and Orange French Toast with Orange Blossom Honey Butter" and the
"Housemade Elk Sausage, Poached Egg, Marble Potato Hash and Charon Sauce"-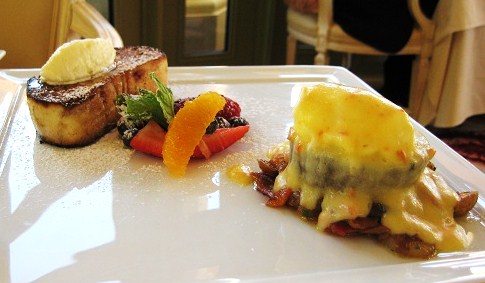 I don't think I've actually ever seen a soufflé offered for dessert on a luncheon menu-at least not in my lifetime. But I relied on the recommendation of my friend and we ordered the restaurant's signature dessert.
"Milk and Cookies Soufflé, Chocolate Chip Soufflé served with Chocolate Sauce and Vanilla Ice Cream"-

One final note. Given my professional background in customer service, I was impressed with the attention to detail and the personalized service we received from our waiter. One typically doesn't find such gracious service in Las Vegas during the noon hour.
If you are looking for a quiet oasis for lunch and fancy a glass of champagne with superior American cuisine, I would recommend Tableau at the Wynn.