(Gimme gimme)
Los Angeles is a city, a county, a tangle of towns and a state of mind. It begins in the San Gabriel Valley just west of the El Cajon Pass, and ends at the beach cities along the Pacific Coast Highway. In between are almost 5,000 square miles of municipalities (88 in all), along with the biggest spaghetti bowl of freeways in America. Hidden among them are all sorts of good things to eat.  Getting to them, however, will always be a challenge, in more ways than one.
If you're driving from Las Vegas, the gravitational pull of L.A. is palpable. Once you've crossed that mountain pass, it is downhill all the way until you hit the terminus of the Original Route 66 underneath the Santa Monica Pier. Driving is the only way to see LA, by the way, it having sold its soul to the cult of the car before anyone reading these words was even alive. (There are walk-able areas among its many towns, but they are laughably small, and you'd better know the territory before beginning any trek, unless you enjoy hobnobbing with the homeless.)
But up to the challenge we were, so drive there we did (courtesy of friends with sweet, oversized rides befitting the landscape), to check out the food scene. This time, though, we weren't in search of the best new places. This time we were big game hunting — bagging the ultimate elusive prey like Hemingway on a bender, led by a local food guide, and armed with credit cards instead of shotguns.
It was epic eating of a particular SoCal sort, punctuated by meals both highbrow and low, from the absurd to the sublime. We covered a lot of territory in four days…and here is the tale: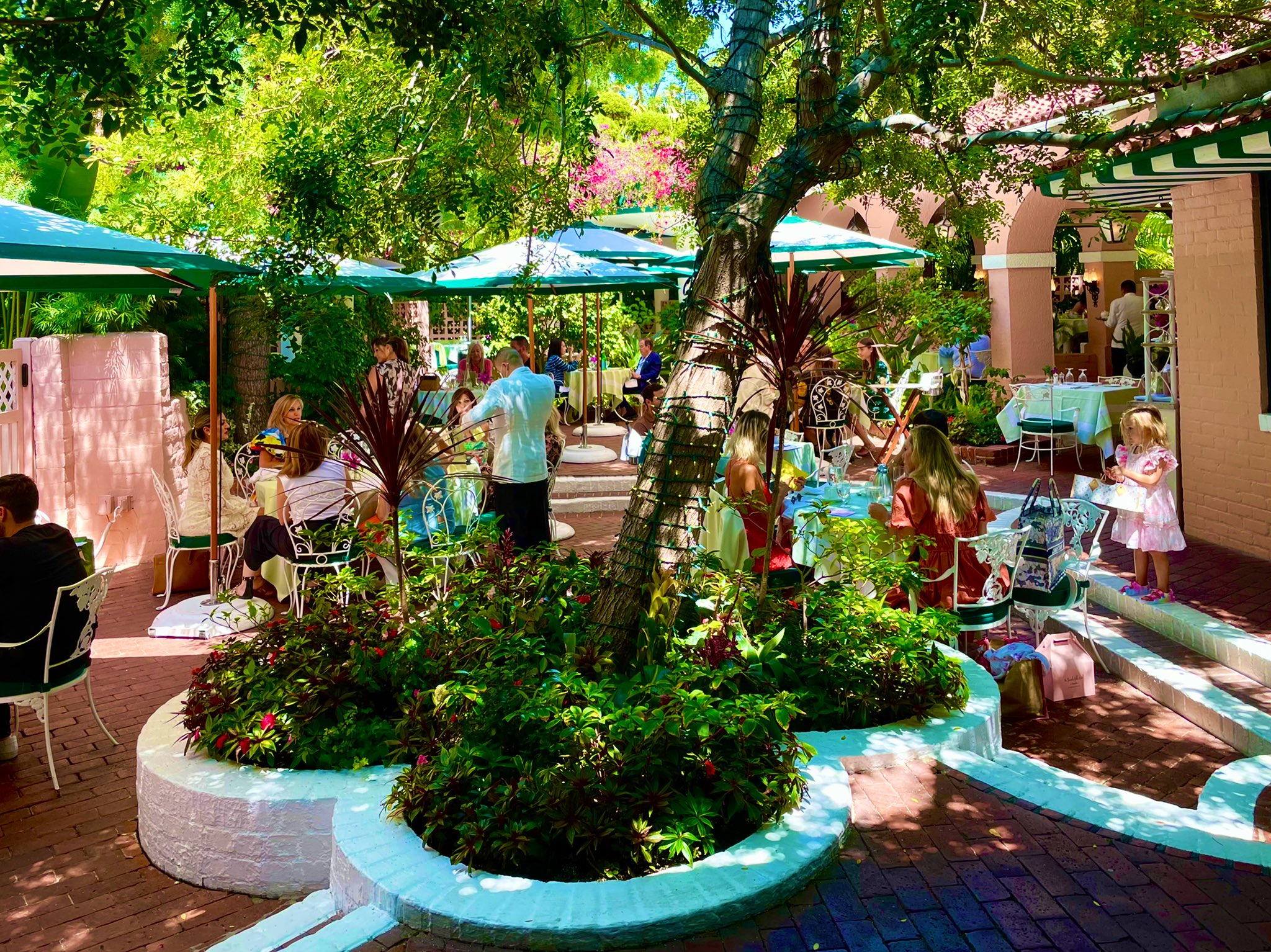 Polo Lounge
It doesn't get more old school than The Beverly Hills Hotel — perched on a hill above Sunset Boulevard, looming over swimming pools and movie stars like an edifice of pink excess. The BHH has been in more movies and dreams than one can count, and its Polo Lounge serves as a de facto commissary for big shots of the movie producer ilk. (These days, you're more likely to be rubbing shoulders with FOMO Instagrammers and bachelorette parties than Jerry Bruckheimer, but such is the century we live in.)
While it is still possible to be seduced by the prospect of running into B-list actors and eurotrash here, we came for the food…and maybe a little of the glamour that this place still wears like a faded fur on Norma Desmond.
What we found was a lot more spruced up than we remember from 20 years ago. Now a part of the Dorchester Collection, its mega-rich owners cannot be accused of letting it go to seed. Things were polished to a fare thee well; the bathroom fixtures are now more Louis Quinze than Louis B. Mayer, with carpet so plush you could sleep on it.
There is lots of obsequious head-bowing as you stroll through the joint  (which must be the way hotshot Hollywood hottentots like it) and food calculated not to offend — artfully presented and tasty, but un-challenging to the palate (which is another way wealthy barbarians like their pablum). There's nothing particularly interesting on the card, just the standardized menu fare that gets hustled out of hotel kitchens from Long Beach to Louisville — here made with better groceries than most. You will eat well, but you won't be so distracted by the food that you can't spend most of your meal searching for someone famous. Which is, after all, the whole point of this place.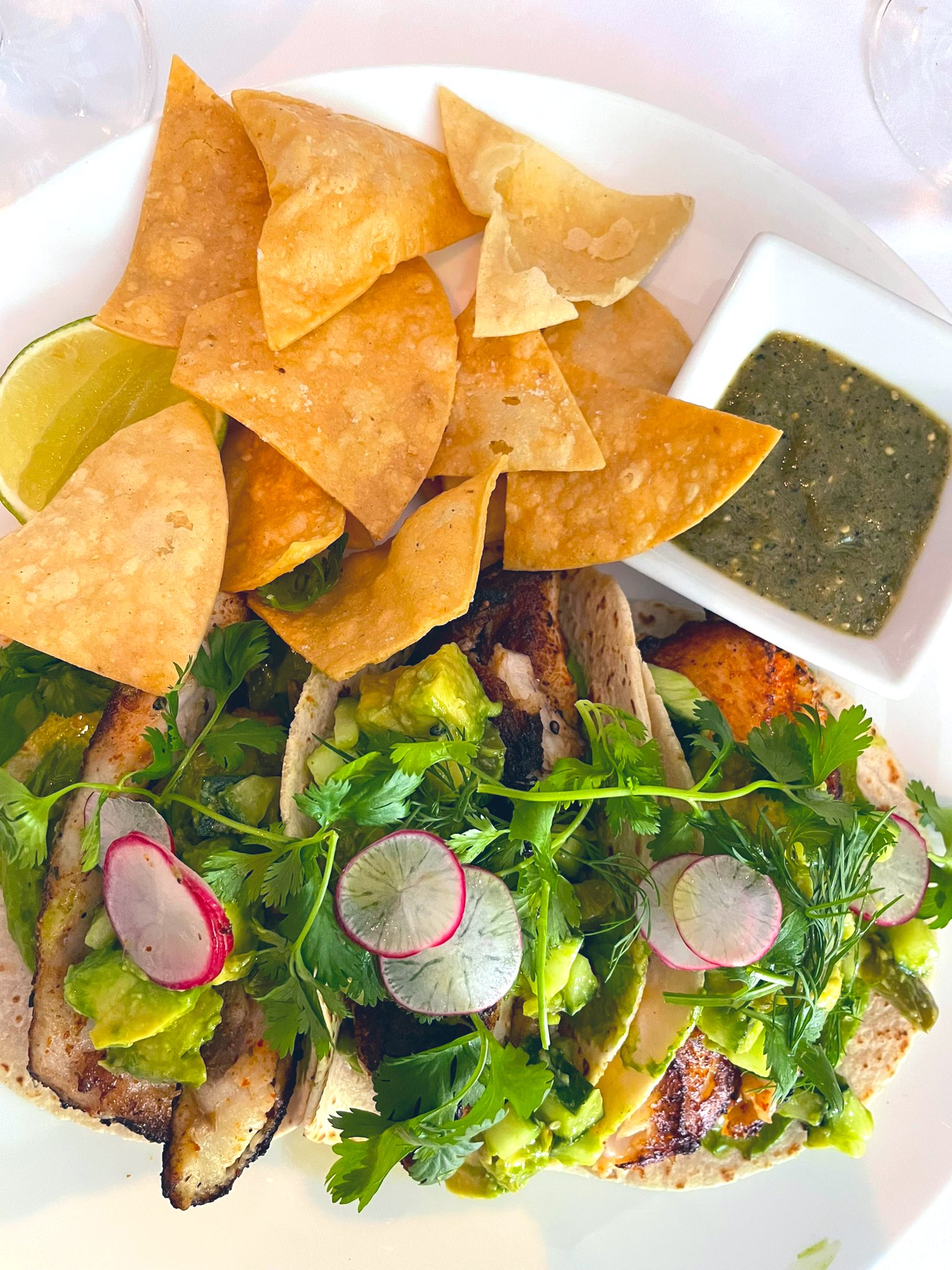 (Not included: lubricant)
Worthy menu items included a really good piece of California sea bass — a fish that never seems to find its way to Vegas, 240 miles up the road — a substantial steak, excellent steak tartare, mammoth double-decker club sandwich, and a not over-priced wine list. On the down side: prices are astronomic and service metronomic — for the privilege of paying $32 for a Cobb salad, and 42 bucks for fish tacos (above), you also get waiters who barely look at you.
The Damage:
Around $130/pp. The Food Gal® says: "Only my husband is dumb enough to pay forty-two dollars for fish tacos. Get a salad and hope Jennifer Aniston shows up to make it worth your while."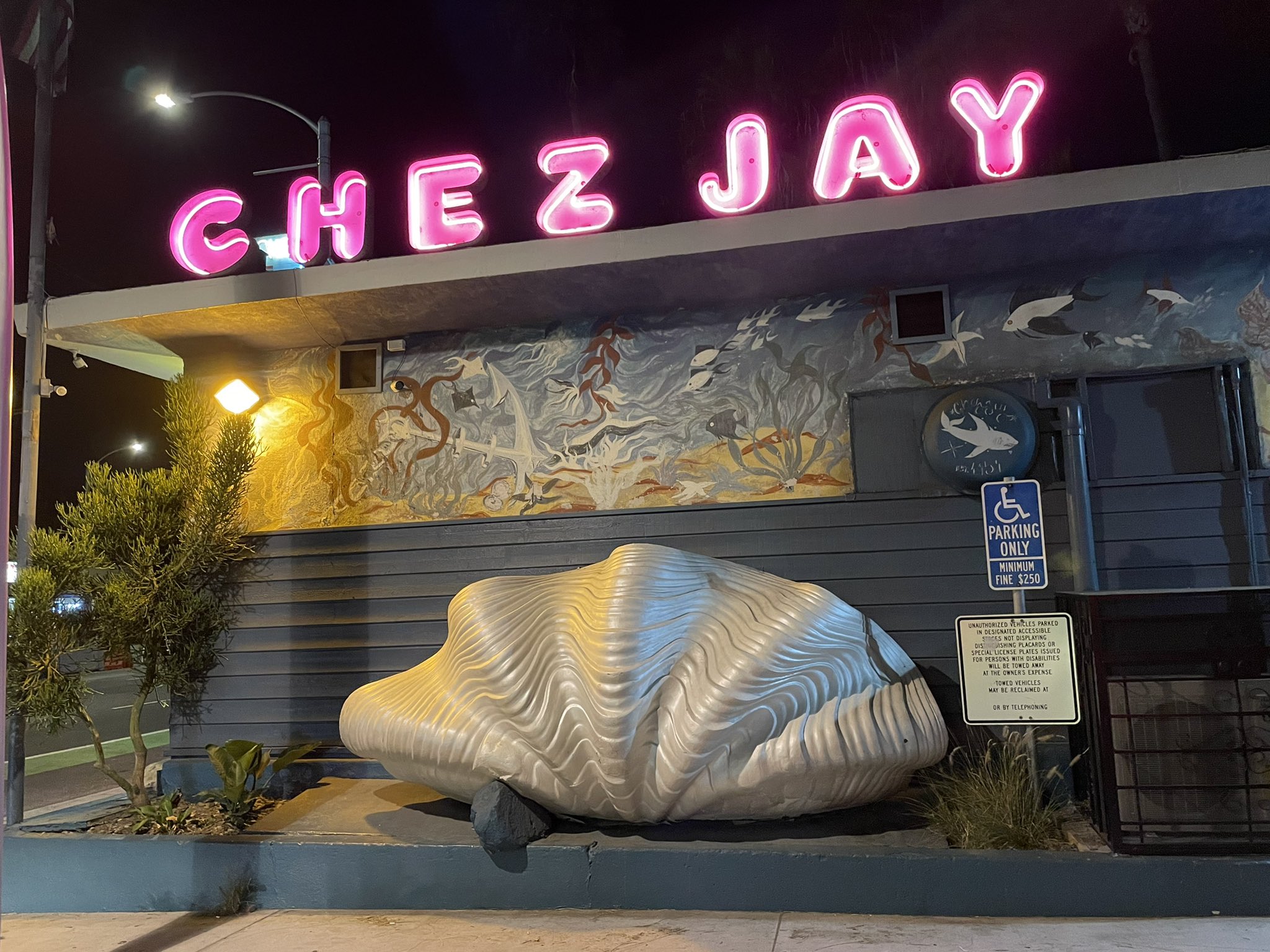 Chez Jay, Baby

We're spoiled, of course. You can pin a lot of negatives on Las Vegas restaurants, but bad service isn't one of them. From our haute cuisine palaces to pizza/pasta/sports pubs, the management and staffs both on Strip and off are always happy to see you.
The great thing about Chez Jay is, it never got the snooty L.A. memo. Here, the absence of attitude is as refreshing as the salty breeze coming off the Pacific. Even when you roll in slightly inebriated, late at night (Who? Me?!) with the kitchen about to close, it feels like you've staggered into an old friend who is happy to see you.
This downmarket, laid back louche-ness has been drawing us to this lovable dive for thirty years. Only a stone's throw from the Santa Monica Pier, the place used to be filled with drunks and fisherman (not to mention drunk fishermen) and smelled like Coppertone mixed with bait. The smell is gone, but the boozers remain. This is a good thing. There is a quiet, scruffy alcoholism to Chez Jay that provides the perfect antidote to its upscale neighbors. "Every guy who ever played Tarzan used to hang out there," says writer/director James Orr, and you can still feel their presence every time some worn-out fellow with a weather-beaten tan and a floppy hat walks in.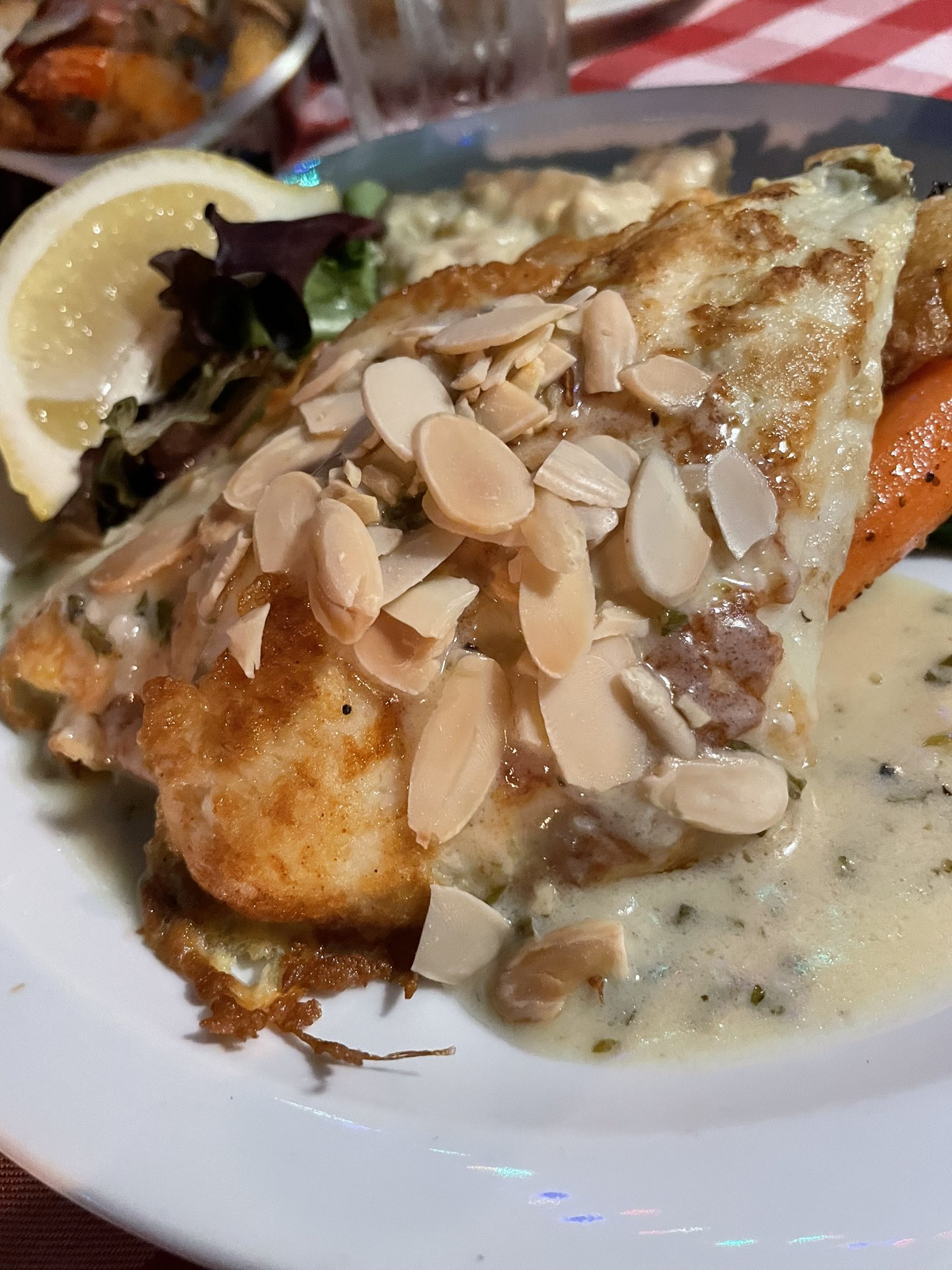 (Sand dabs by the sand)
What you'll find at CJ is the opposite of hoity-toity: a smiling welcome (whether you're a has-been actor or not), strong, well-made cocktails, and an old-timey "steaks, seafood, chops" menu with some surprisingly tasty fare. Skip the so-so steaks and head for the garlic shrimp or sand dabs (above). And tip your sassy waitress well: she's honed the skill of reading people into a fine art.
If there's a better way to bring eating Los Angeles into sharp relief than lunch at the Polo Lounge and dinner at Chez Jay, we haven't found it.
Sadly, Denny Miller is no longer around.
The Damage:

Two entrees and a few stiff drinks will run about $50/pp. The Food Gal® says:  "Chez Jay is old-school fun whether your spouse is sober or not when you arrive. Sadly though, Billy Bob Thornton, was nowhere to be found, either."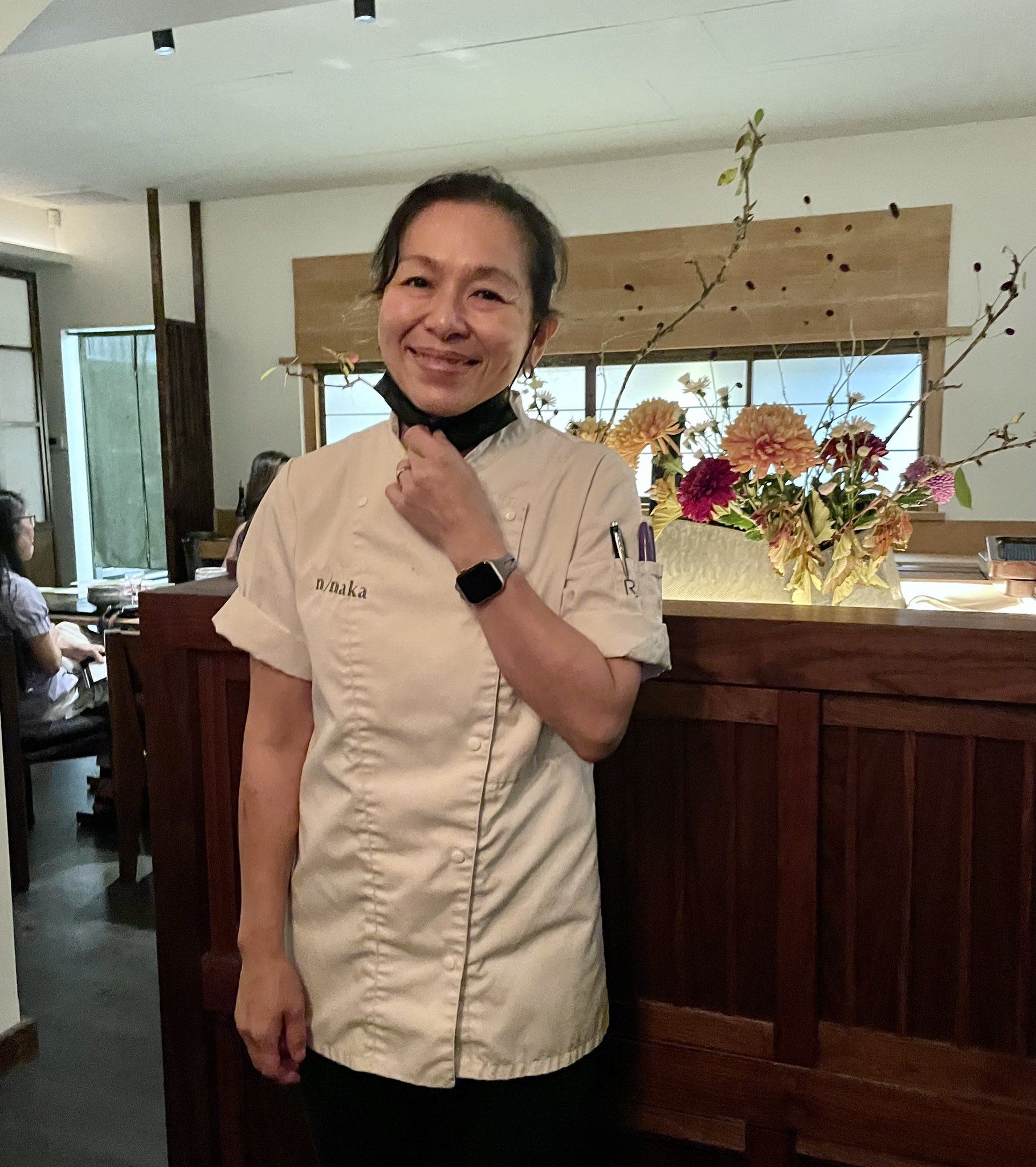 (Niki knows kaiseki)
n/naka
Then, shit got real. Scoring a res at n/naka takes the patience of Job and the perseverance of Sisyphus. The person typing these words has neither, but he does have friends with connections, so in we strolled to the toughest ticket in Los Angeles — a small house on a corner of a commercial street containing a 30 seat restaurant, a multi-course kaiseki meal, and a bill that would choke a horse.
Having appeared on the first season of Netflix's Chef's Table made a ticket to this meal harder to come by than a backstage pass at the Oscar's.
Fawning, persistent press has sealed its fate as one of those places that actually transcends the hype and has become a cultural touchstone. To eat here is to know what high-falutin' Californian food is about, but you no longer come to n/naka just to eat; you come to embrace it as a status symbol. As with the French Laundry up north, the food (good as it is) has become beside the point.
You're also up against drivel like this:
Though the effort to evolve the restaurant industry's bro culture has seen some progress, those toxic roots still run deep. Niki and Carole carved out a successful restaurant in a male-dominated industry while cooking a historically male-dominated cuisine, never compromising on their vision and values. "What is so interesting about the whole subject, about how kaiseki is this male-dominated form, is that it's a form that relies so deeply on nature, which seems to me to be inherently feminine," says Kleiman. "So I find that in a way Niki is this correction."
…so woe to the diner who wants to assess things through a prism of culinary objectivity rather than a "gendered lens" of alphabet soup sexual politics.
Because these things are so important to Los Angelenos, chefs (Carole Iida-Nakayama and Niki Nakayama) have found their perfect niche: a casual-yet-formal, California-inflected Japanese kaiseki restaurant that pushes all the right buttons. Here, you can enjoy the best seafood/sushi/produce Cali has to offer, and congratulate yourself for doing the right thing while paying for the privilege.
Of course, we're more interested in the dashi than gendered lenses, so our thoughts drifted to similar meals we've had in Tokyo, New York, and Las Vegas.
Nothing compares to Japan, where these multi-course, hyper-seasonal feasts are rigidly formal, with flavors so obscure they sometimes border on the invisible. Las Vegas has a kaiseki restaurant, and like n/naka, Kaiseki Yuzu is tiny, pristine, and all about impeccable technique. It can't compete with the Nakayamas when it comes to right-off-the-boat fish, or produce grown in their own back yard, but in terms of what I saw on the plate, I'd call it a push. (Our kaiseki is also $100/pp cheaper than their kaiseki.)
Where n/n excels is in unforced elegance. The restaurant itself is simple bordering on the austere, but look closer and you see exquisite details — in the plates, the table, the seating and the food. They don't miss any of their marks here. Service is as smooth as the inside of an oyster shell, and informative without being intrusive.
The sake and wine lists are short and superb and like the Polo Lounge, much softer in markups than what we're used to in Sin City. (Absurdly overpriced Vegas wine lists have inured us to sticker shock forever.)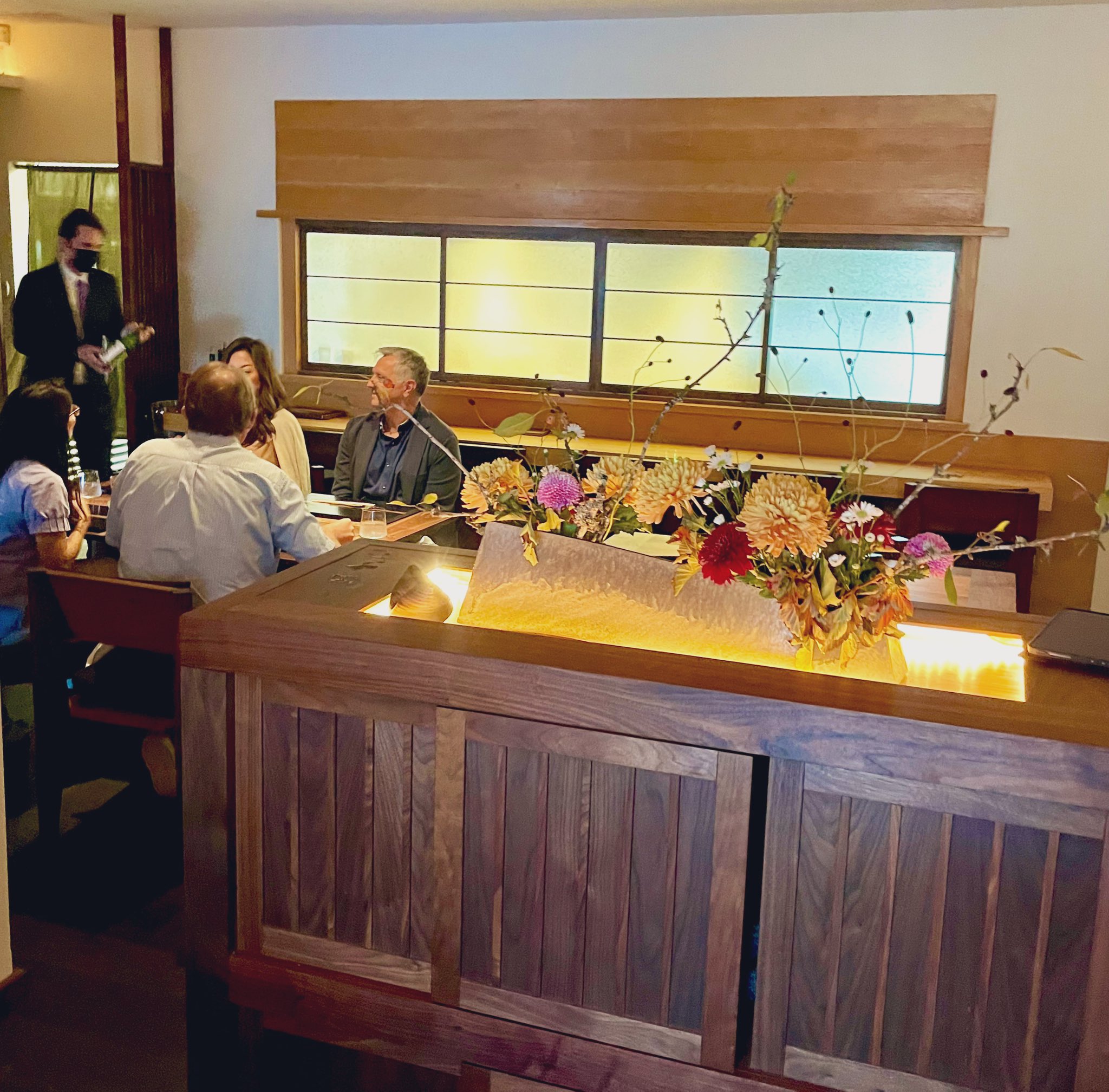 The food is one eye-popping course after another, smoothly, almost effortlessly served with succinct explanations and instructions. There's an old joke about every waiter in L.A, being a wannabe actor, so the boss says, "Why don't you try acting like a good waiter for a change." No one's acting here; the service is as good as it gets.
The point of kaiseki is not as much to wow you with a single dish, but to soothe your soul with a parade of bite-sized, ultra-fresh delights, plucked at the peak of their deliciousness. It actually started out as a few small savory bites served to blunt the effects of strong green tea during a  sadō  – Japanese tea ceremony, but has morphed into its own thing. Both here and across the Pacific, "kaiseki" now denotes the height of Japanese epicureanism — a prix fixe, omakase, tasting menu (does anyone call them degustations anymore?) representing the pinnacle of a chef's skill — hyper-seasonal, and full of symbolism (both obvious and inscrutable), edible and otherwise.
Your twelve courses aim for each station on the kaiseki cross: Sakizuke, Zensai, Owan, Yakimono etc., and to a plate, there was something to rave about.
You begin with a Sakizuke of Hokkaido uni so fresh it practically sparkled. Sippery-slick, orangeish-tan and luminescent, it enveloped a carrot coconut ice and was topped with a dollop of trout eggs, every element announcing right out of the chute the chef's skill at combining disparate ingredients into a whole greater than the sum of its parts: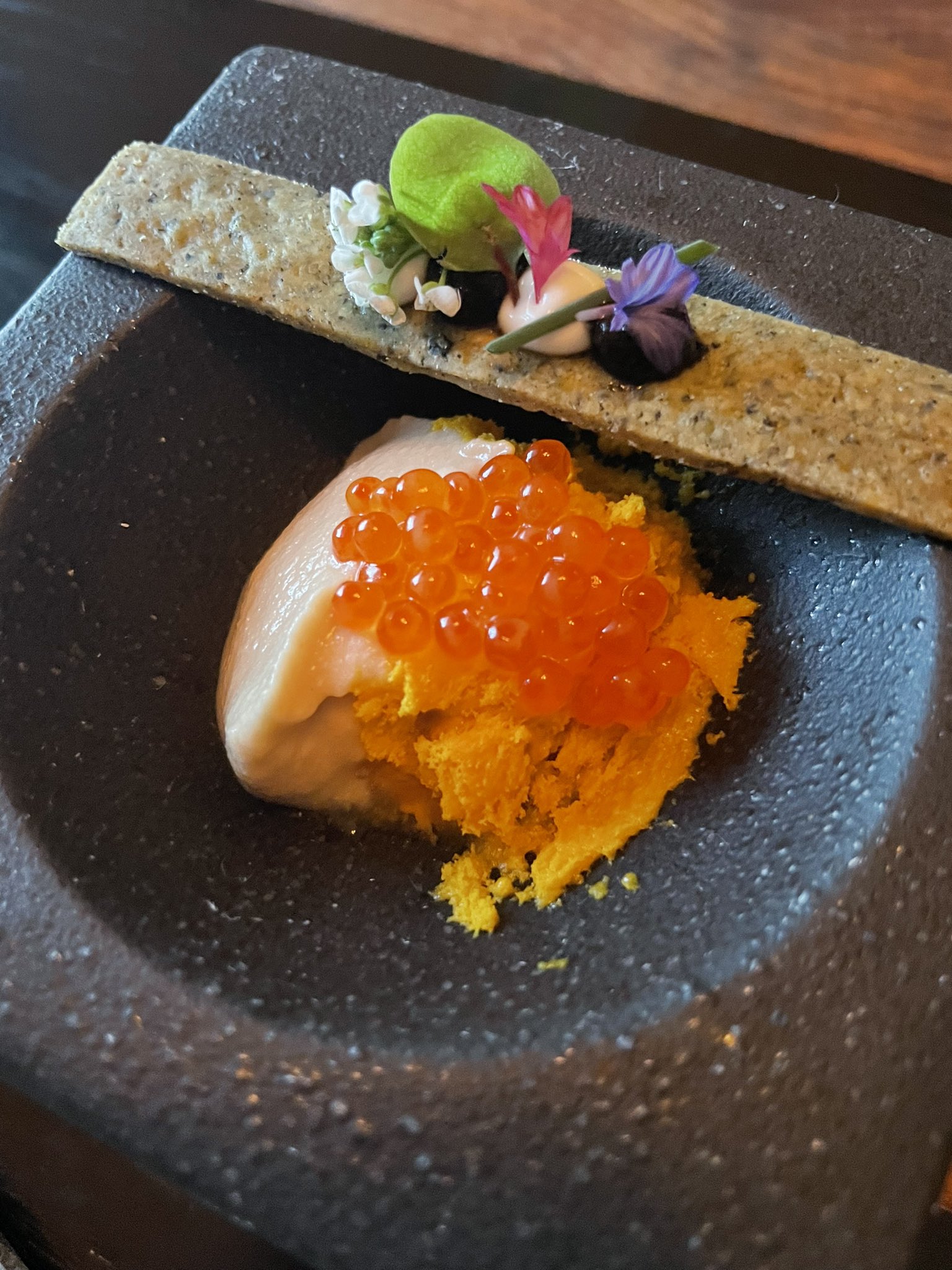 This is high-wire cooking without a net, and every bite has to be in perfect balance with what came before, which it was in the Zensai course (assortment of small bites), showcasing the chef's repertoire: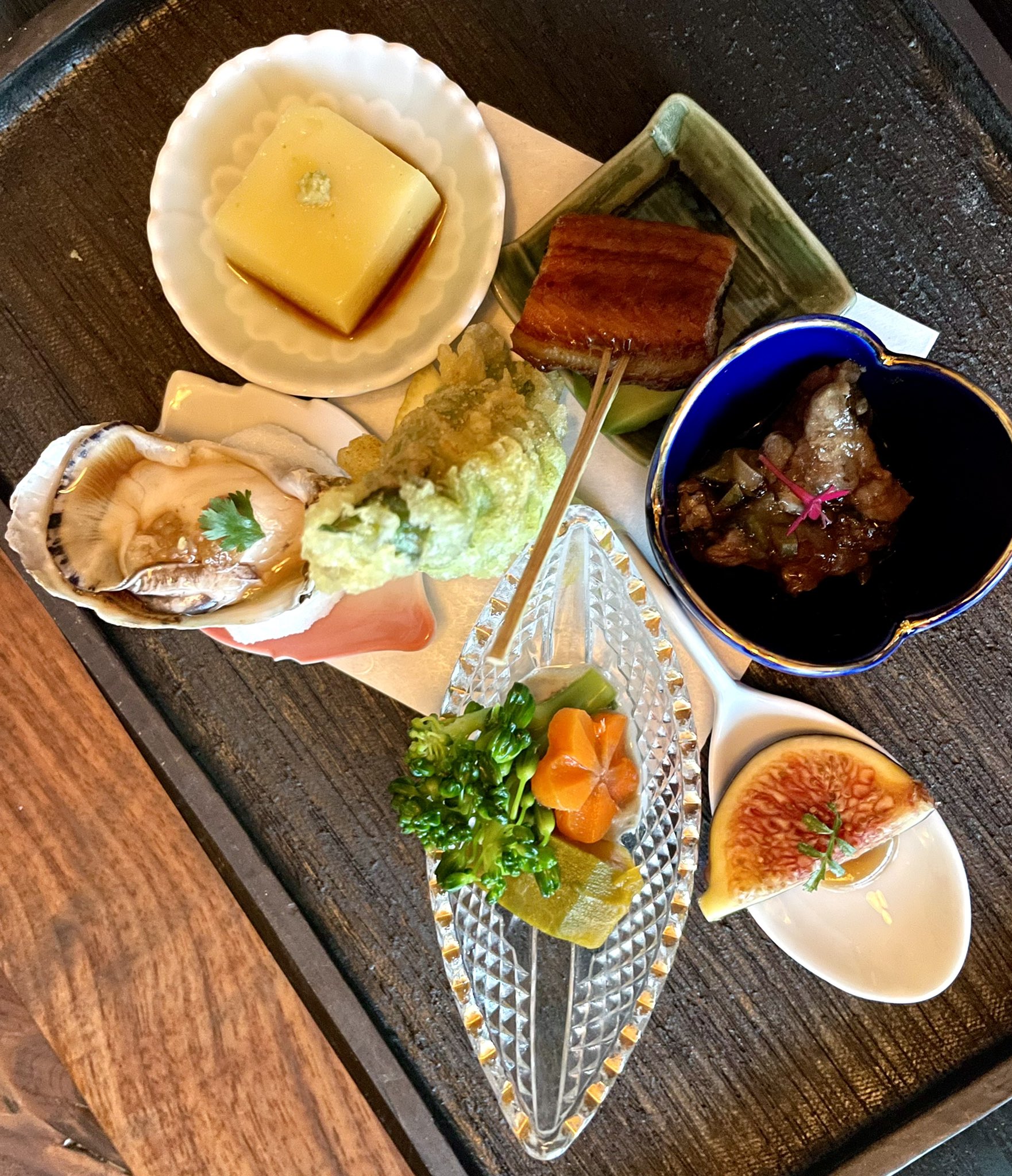 ….and then on to "Modern Zukuri" course (raw fish from live seafood, usually served whole) of the kind of freshness you only find within a few miles of an ocean: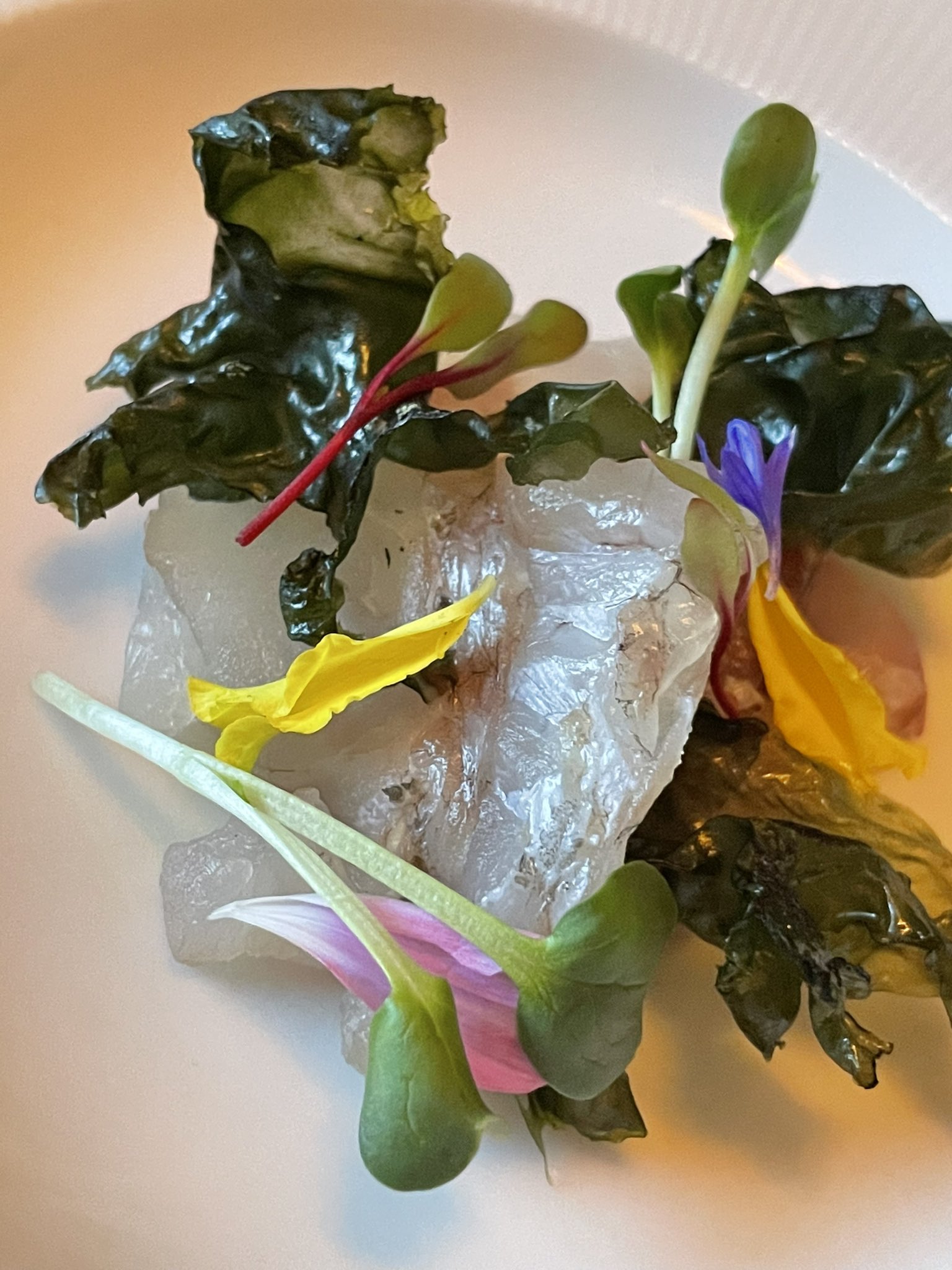 …and from there your meal proceeds through an Owan (soup course), with dashi so bracing we could've slurped it all night long.
One course leads seamlessly into another: after the Tai (sea bream) soup comes twin ribbons of sashimi, followed by grilled sea trout, and then the star of the show: a Mushimono of a peeled, poached tomato wrapped around lobster, floating atop fennel mochi croutons in a tomato broth: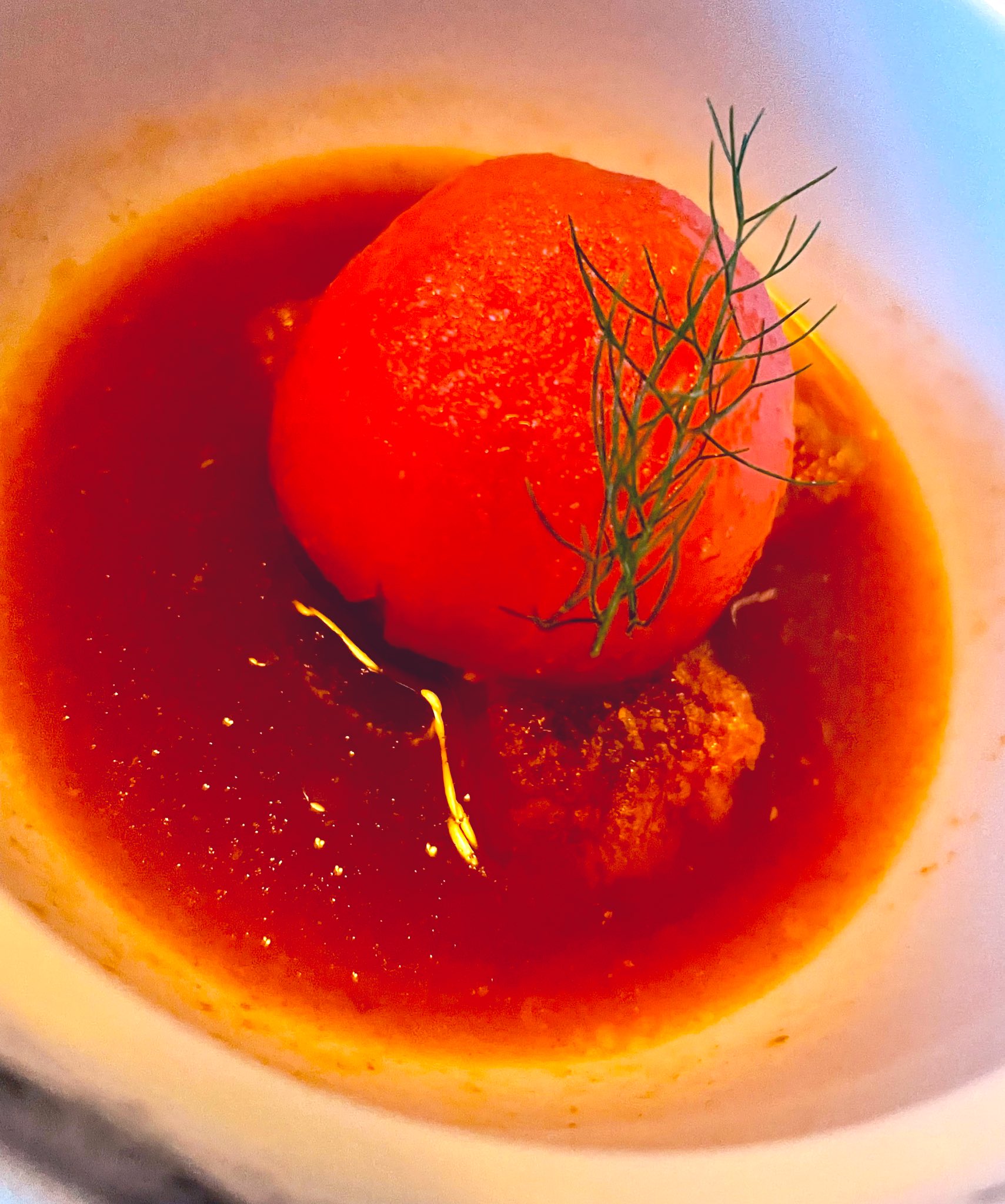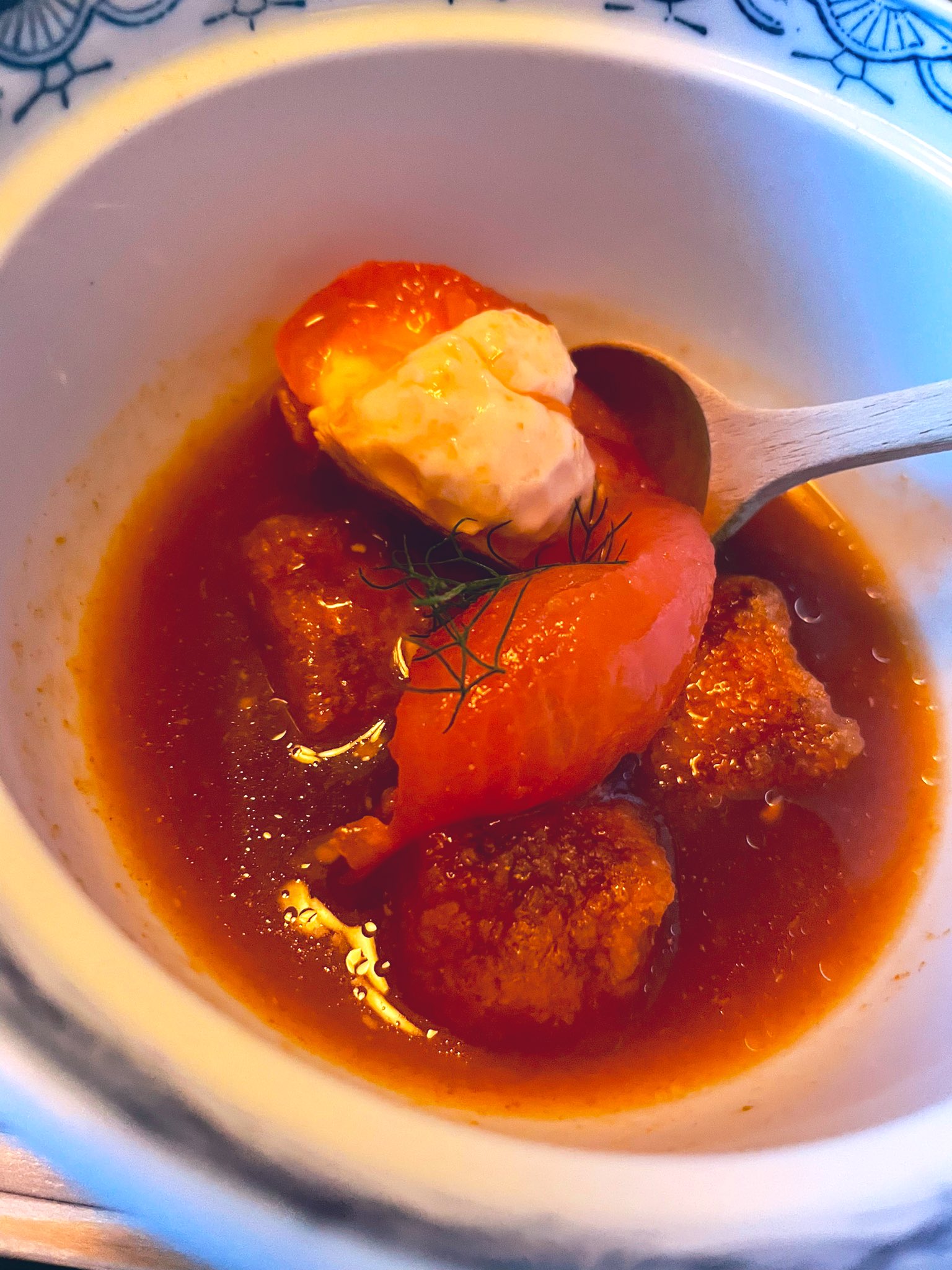 Gorgeous, complex food somehow retaining its elemental simple dignity — the best evocation of summer on a plate we can remember.
A couple of things I didn't "get" on the menu: some weird  jelly of cactus leaves, cukes and chia seeds as the Sunomono course — usually a tart, refreshing cucumber salad. This one could compete with okra in the slimy foods Olympics. Ending the meal with with Nigirizushi (after the A-5 Mizyazaki wagyu course) was likewise odd.  "Must be a Cali thing," I thought to myself. It sure as shootin' ain't a Japanese one. The signature dish of spaghetti with abalone and Burgundy summer truffles (ugh) was also about as seasonal as ski boots on a surf board, but these were but tiny blips in an otherwise extraordinary experience.
I may have had it with western tasting menus, but you'd have to be one jaded palate to ever tire of a proper kaiseki dinner. There are only a handful of restaurants in America that can compete with n/naka in delivering a meal of such subtle refinement. I'm fairly certain there isn't a better one in Southern California when it comes to service.
The Damage:

Cost pp (including wine and sake but nothing too precious): $560. The Food Gal® says: "Loved it, but there's definitely a California bump in pricing which is ridiculous."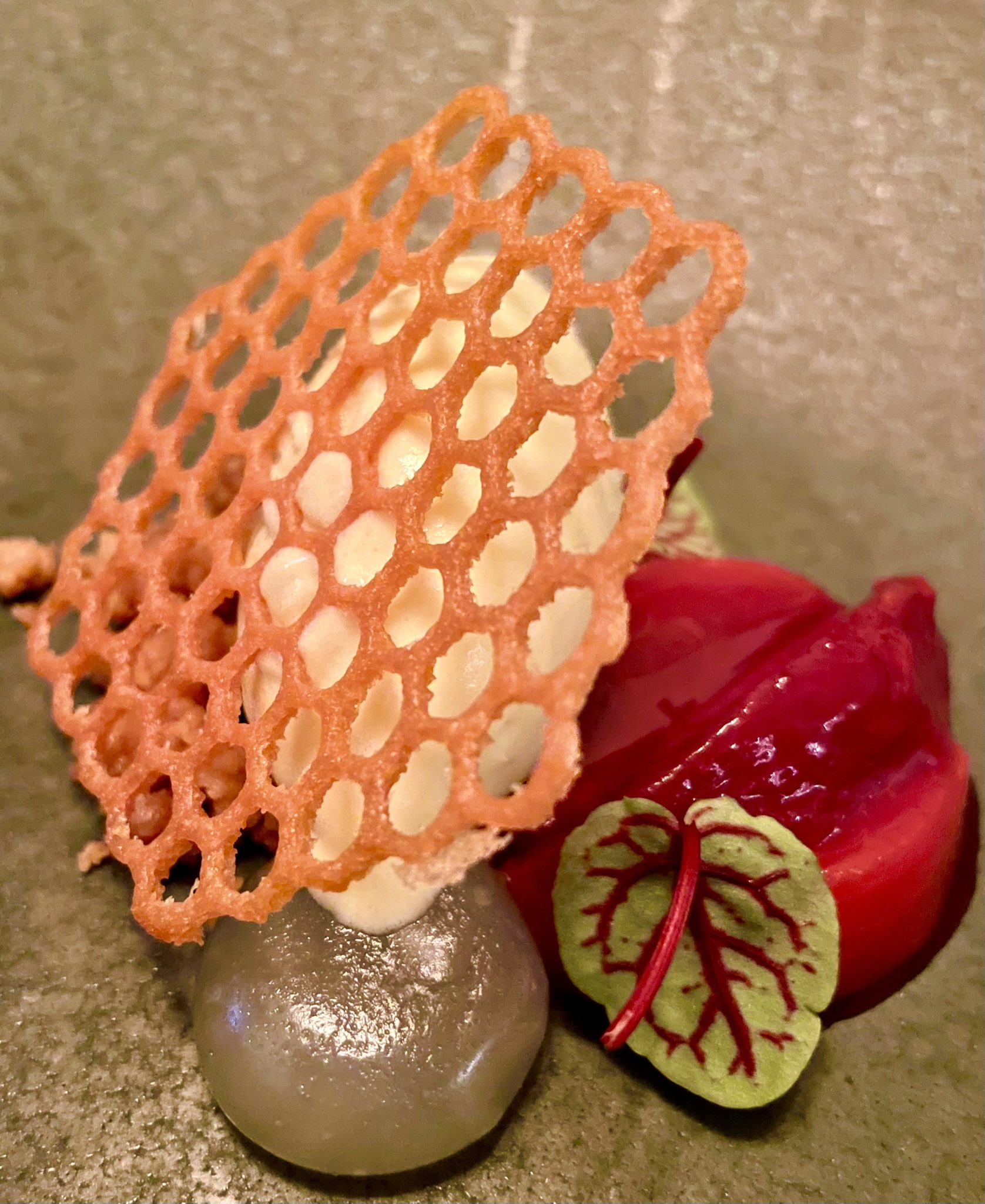 (Mizumono – ginger-poached plum, lavender ice cream, warabi mochi)
This is Part One of a two-part article.