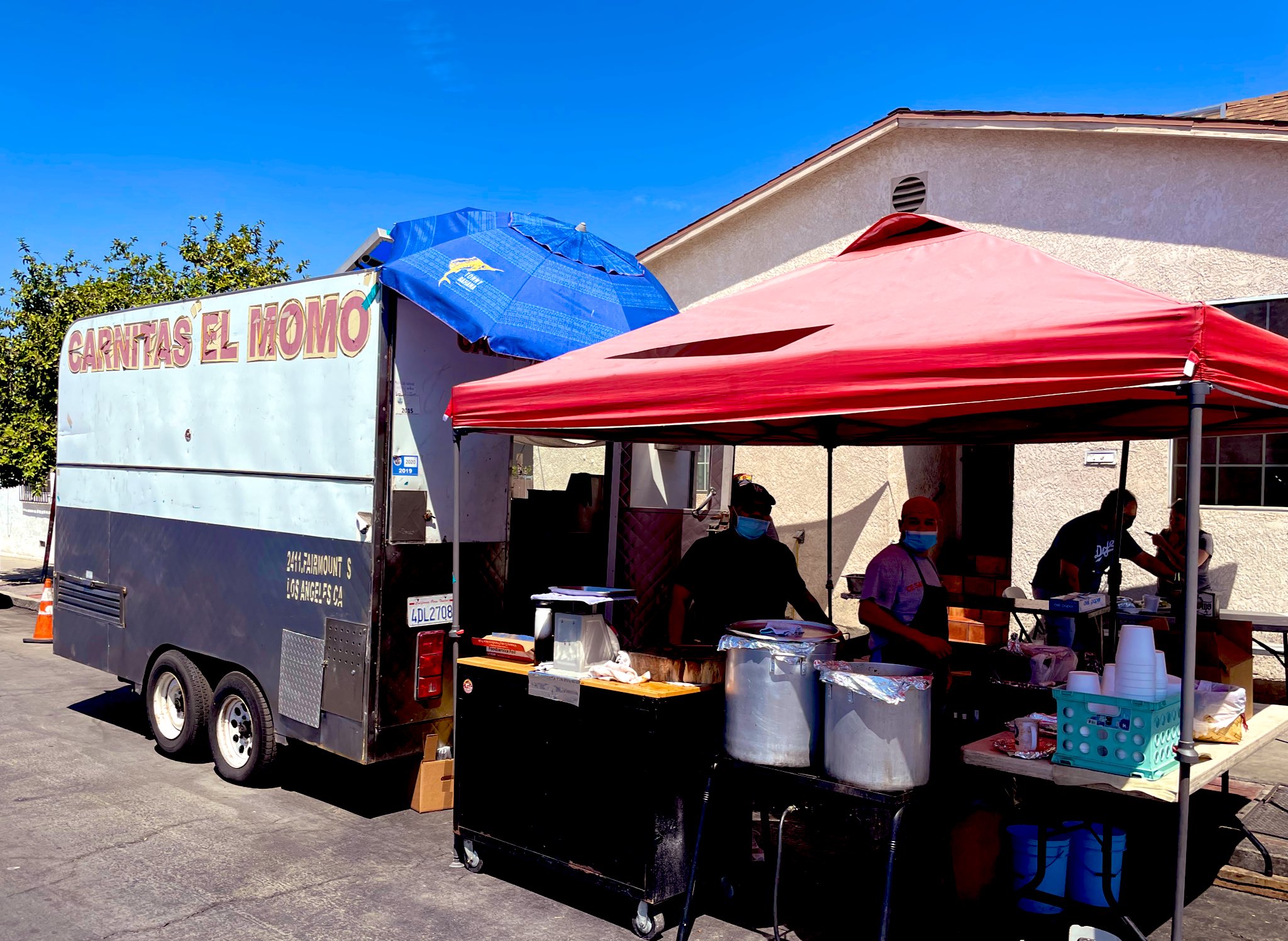 EAST L.A. TACO CRAWL

Proceeding from exquisite, punctilious Japanese to wolfing down tacos off the hood of a car is how we were rolling this weekend. Our intrepid sense of adventure led us straight up Olympic Avenue, to Boyle Heights in the heart of East L.A., where Latino feed wagons dole out bulging tortillas to lines of customers, drawn to the food and oblivious to the seediness of the streets upon which it is served. These trucks have huge followings on social media, making them wildly popular with an array of gueros who wouldn't have been caught dead on these streets ten years ago.
If there's one thing that distinguishes this taco culture from what most Americans think of as tacos, it is the utter, unbridled abandonment with which these are made. Meat is cooked, braised, or barbecued in great volume, with the pockets of luscious proteins composed with all the portion control of a four year old with an ice cream scoop.
Mealy-mouthed tacos these are not. Big, fat, thick with meat and onions and salsa, fairly bursting from their corn or flour confines. Every bite is an adventure, a balancing act between getting the food into your mouth before it hits your shirt. The results, either way, are glorious.
We began at Carnitas El Momo —  nothing more than a trailer parked on a side-street with three cooks furiously tending pots of luscious stewed pork and searing it on a portable plancha under an unrelenting sun. Our taco guide began us with these overstuffed wonders: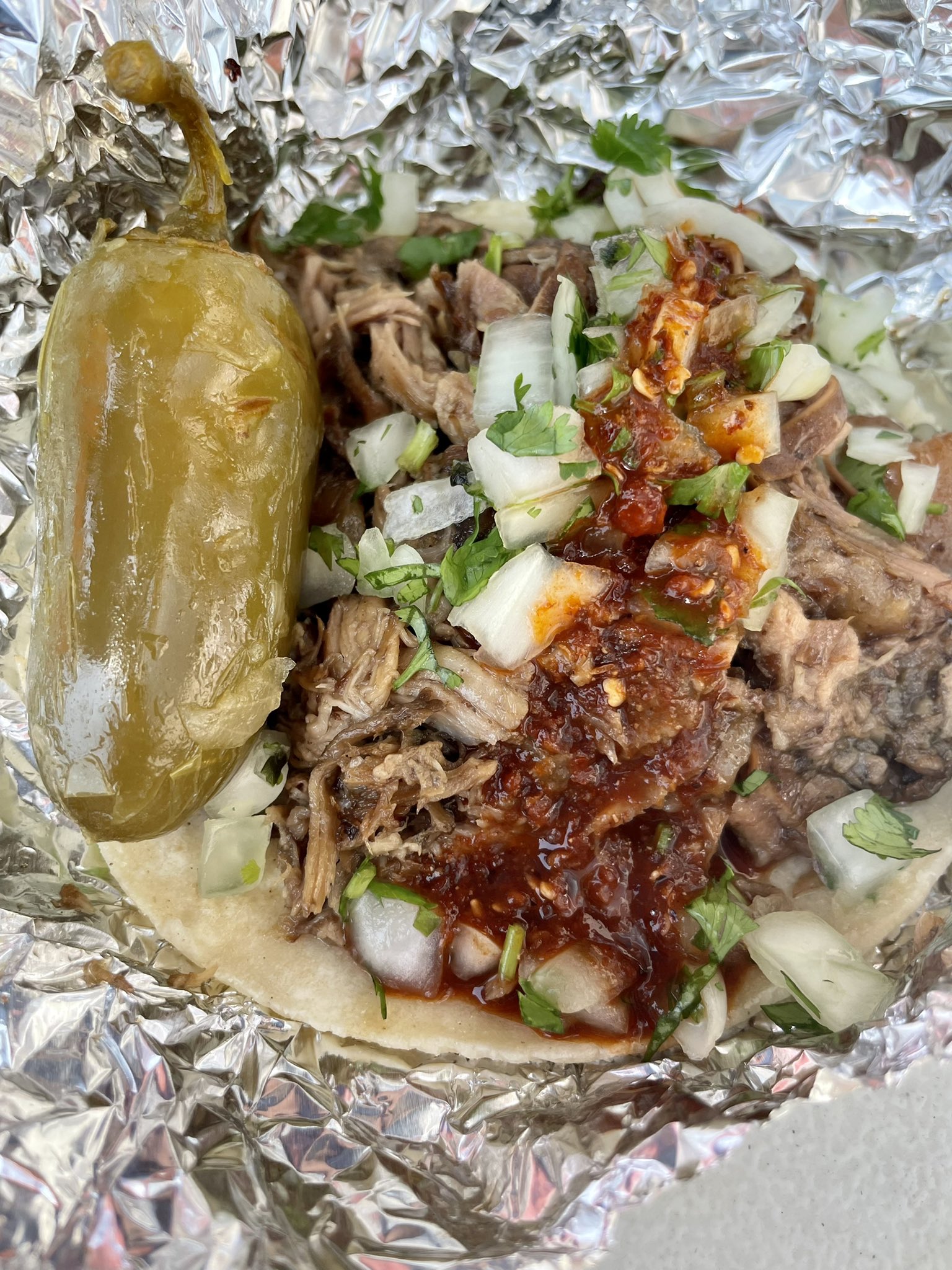 …and they were so good we could've parked our behinds on the curb and spent the day parking a bevy of these braised beauties into our gullets.
But there were other trucks to be tackled, so no mixtos, tripe or tortas for us. After a few bites we were off in search of seafood: Mariscos Jalisco's crispy tacos and ceviche tostadas to be precise: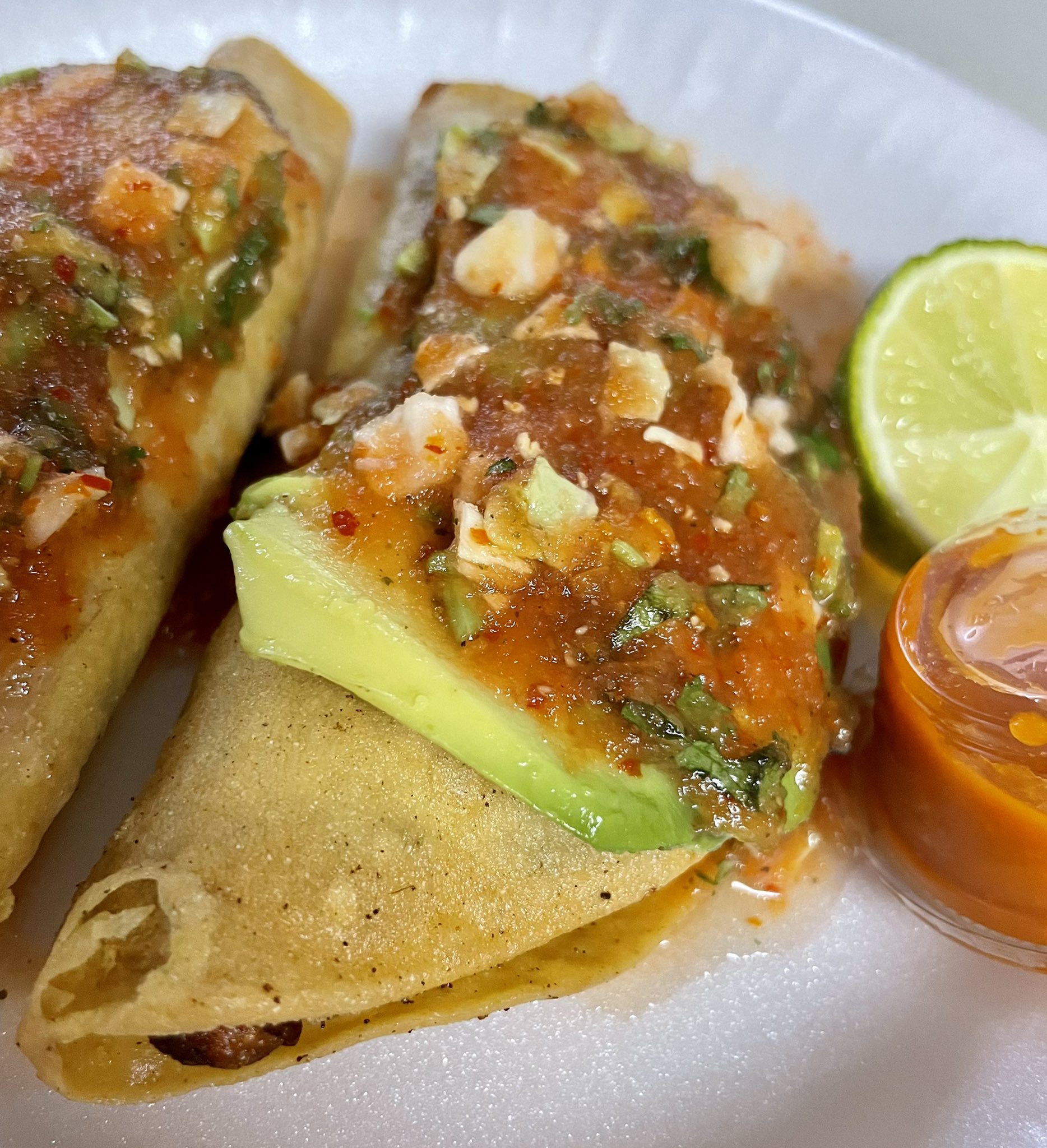 (Shrimply delicious – hard-shelled shrimp tacos the way they were meant to be)
…then in quick succession, Tacos y Birria La Unica for some crunchy, roasted, shredded goat, dipped in a rich consommé, the savory equivalent of dipping a fudge brownie in chocolate sauce: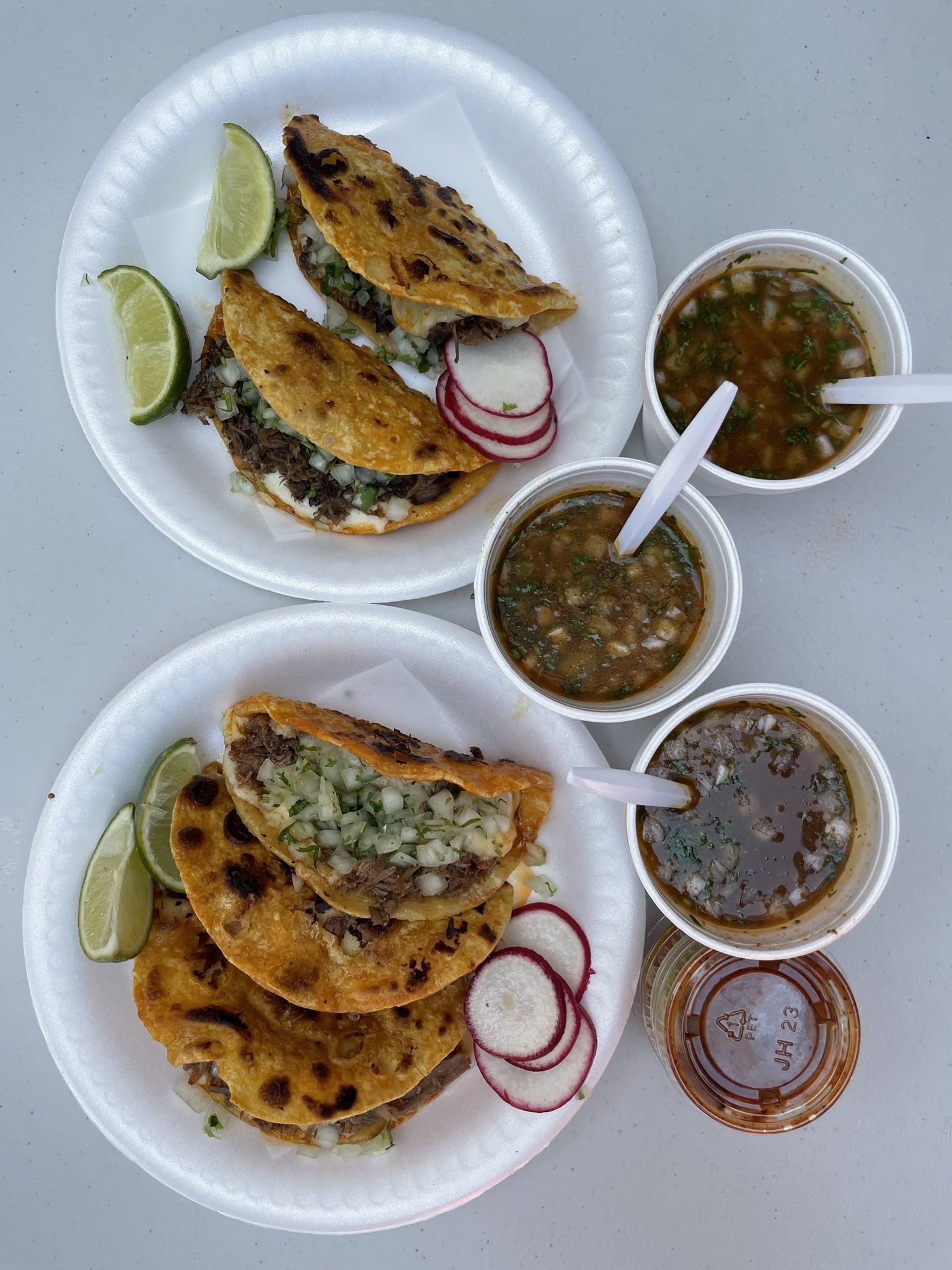 …before ending at Enrique Olvera's Ditroit Taquería— cut into the backside of a warehouse where his more formal restaurant  (Damian) is located. The long narrow space is really just a backdoor window, but the limited menu showcases tacos given a chef's touch — composed of top shelf products and brought to tables and chairs on an outdoor seating patio, that, when compared with the Olympic taco trucks, felt like dining at the Ritz.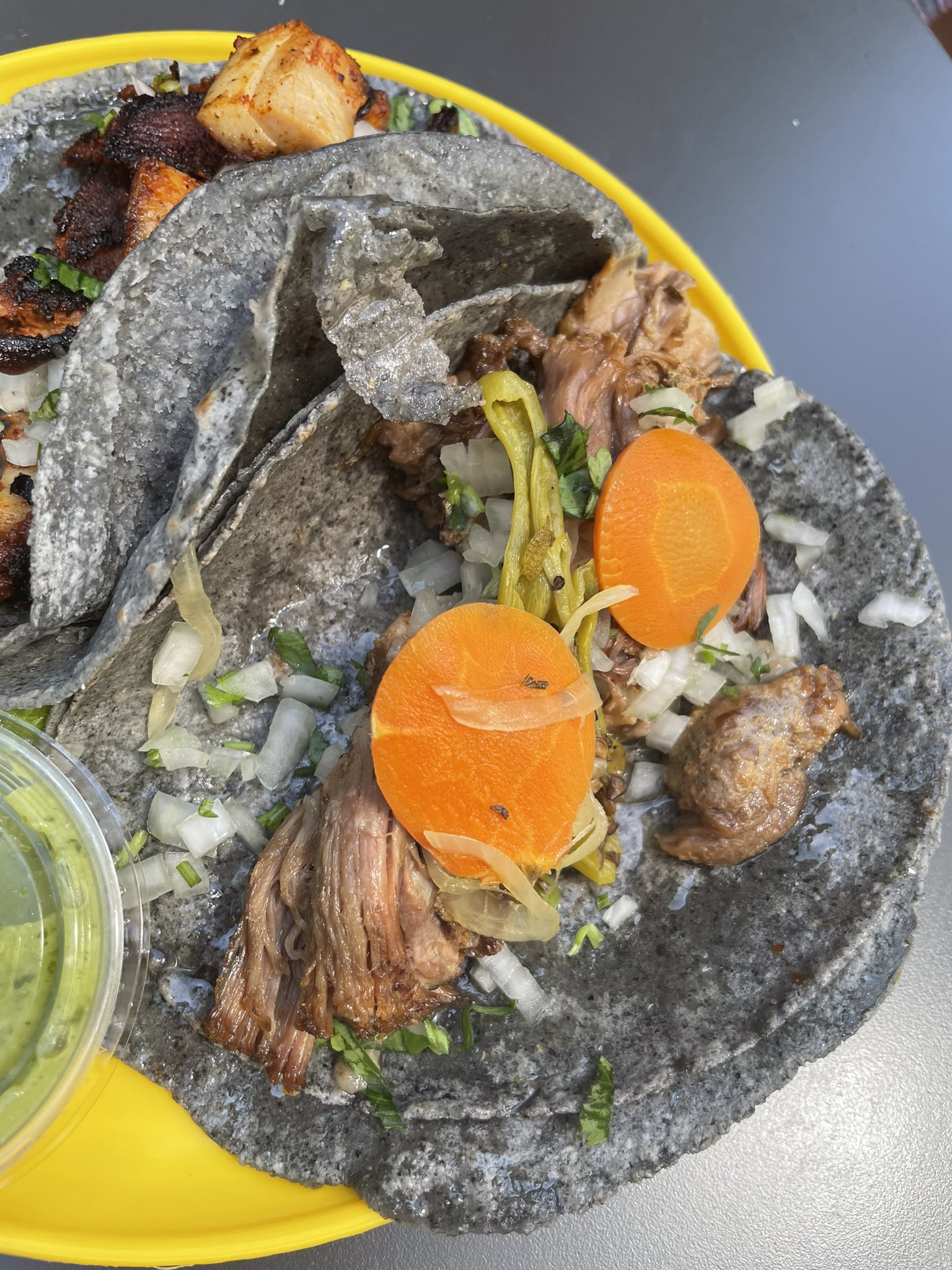 (Pollo Las Brasas taco)
Our only regret was lack of hunger, due to having consumed a raft of tacos already, and looking down the barrel of a "secret beef" orgy only hours away (see below). Still, the quality of Olvera's oeuvre shined through our food comas, enhancing this most humblest of lunches, while respecting the essence of L.A. taco culture. It was the perfect ending to our six taco and two taquito midday snack-a-thon.
A trip to east L.A. is not recommended for the extremely white or faint of heart. Or after dark. Or without a guide. You will feel as out of place as Baptist at a bar mitzvah, but don't let that deter you. Everyone in line, no matter what their lineage, is worshiping at the same church of Mexican street food brought to its pinnacle of deliciousness. This is may be where some fear to tread, but the intrepid (like our taco hound/guide, the inimitable JB Bagley) press forth, conquering this uniquely Mexican-American territory — a gourmand's paradise where only the strong survive. And by "survive" we mean retain the strength to always hit another taco truck.
Price:
The Food Gal® says: "Tacos, tacos, y mas tacos…will still only cost you about $5/piece. The most expensive ones at Ditroit, were only $8/per. Mas tacos por favor!"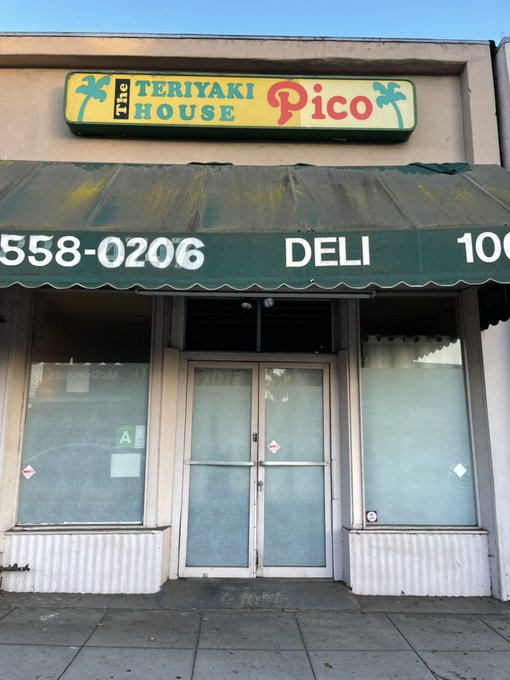 TOTORAKU ("Secret Japanese Beef")

Good manners and good sense keep me from saying too much about this impossible-to-get-into Japanese steakhouse. For over twenty years Chef Kaz Oyama has run Totoraku like a semi-private club  — only accepting reservations from known regulars. It is not like New York's  Rao's  — where a limited number of regulars "own" the tables on certain nights — but more like a secret society where only the privileged get his private number and are allowed to book one of the five tables available five nights/week.
The beef extravaganza is the best you will find anywhere; the cooking instructions precise (you grill most of it, yakiniku-style at hibachis at your table), and the booze policy strictly BYO, which means trophy bottles abound. (He originally opened a teriyaki joint in the space in 1999, but that lasted about ten minutes, so he quickly pivoted to exclusive steaks, but kept the sign – see above.)
It is easy to see why Oyama-san keeps the secrecy thing going. One set of social media pictures and the place would be overrun with FOMO Instagrammers and Millennials more interested in bragging rights than the food. The day that happens will be the day he closes up shop. A meal here feels like you're in someone's home — if that someone was a dedicated Japanese chef sourcing some of the best beef on the planet. Since I'm looking forward to a re-match with all that meat, these words will be all you'll get…besides this picture of one of their ancient hibachi grills: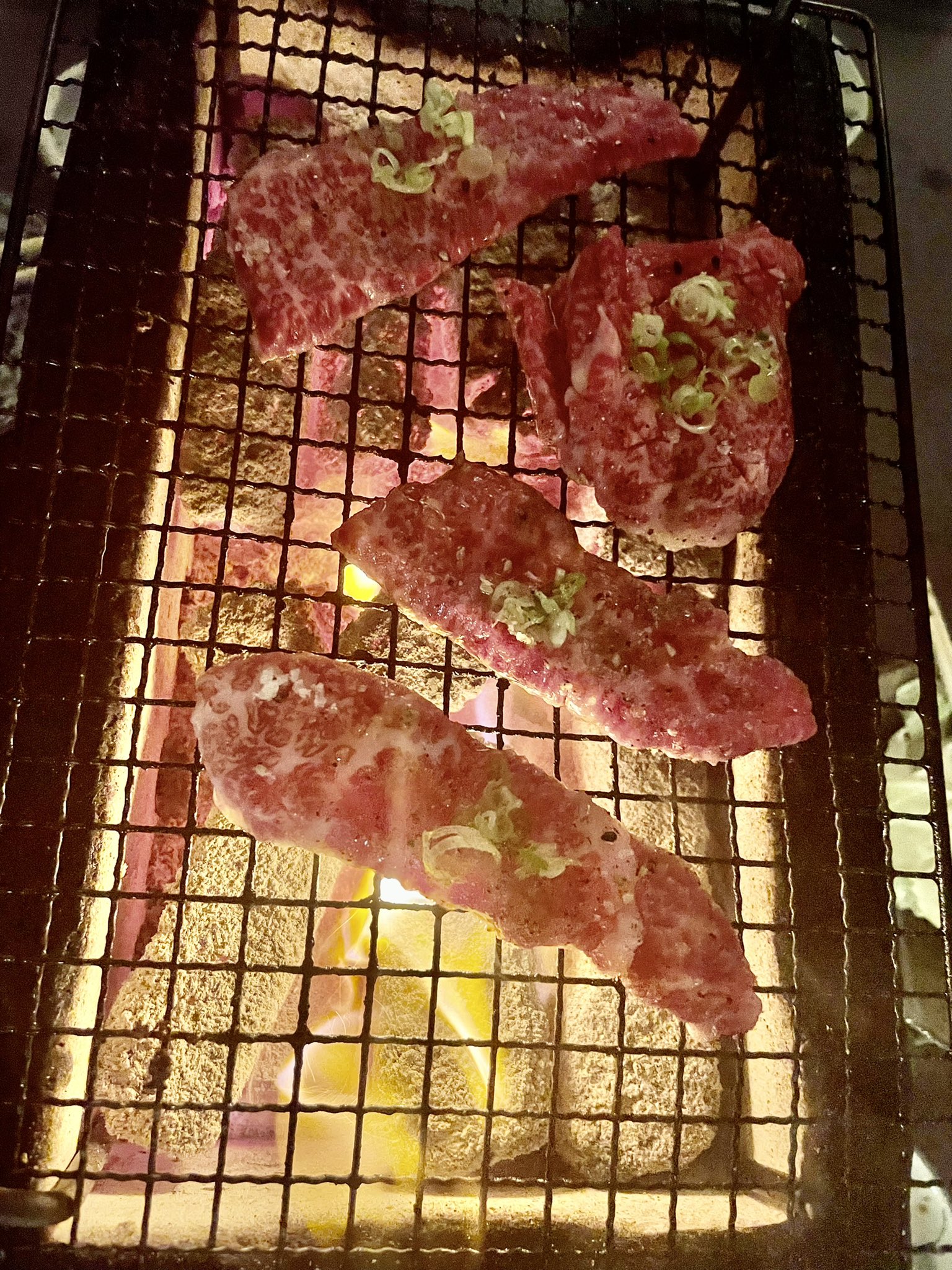 A litany of the dishes seems ridiculous (or needlessly braggadocios), given the futility of describing food most will never try for themselves. There is no menu; and the 10+ courses toggle between all sort of beef cuts, from ultra-tender tartare to spongy beef throat, bracketed by a simple amuse-bouche platter of minced and chopped delights, and a soul-warming crab soup at the end — all of it served by an attentive staff, threatened not by flames or unruly customers, but by the tsunami of big-hitter red wines being poured all around them.
They handle the meat, the guests and the wine with good-natured aplomb, keeping your four-hour cholesterol-fest moving at a smooth clip. Carbohydrates are non-existent, and everyone is usually too drunk for dessert. But I'm sober enough to remember I promised Kaz-san I would say no more….so I will say no more.
IVY BY THE SHORE

Santa Monica is a funny place — it has some of the most expensive real estate in America, but always seems in danger of being overrun by people who can barely afford to park their backpacks. Any day of the week you'll find the homeless mixing with the well-heeled here, interspersed with tourists and Inland Empire families seeking to escape the summer heat. It's probably the greatest mingling income brackets anywhere in America, which is one of the reasons we love it.
Ocean Avenue runs the length of the western edge of the city, and the name is a bit misleading. You can see the ocean from Ocean Avenue, but it's still a half-mile hike to get to it, down huge cliffs, across the Pacific Coast Highway and large expanses of sand. There is a nice park running atop of those cliffs, beside which is a strip of mostly motels, and one tourist trap restaurant after another.
It's something of a rule of thumb that the closer to the Santa Monica Pier you are, the worse the food gets, but there is one exception. It is something of a tradition for us to stop by the Ivy at the Shore  for our last meal before heading back to Vegas.
We do this for several reasons, one of which is the food, expensive as it is, is still actually quite good in a laid-back California sort of way. The other is you never quite know when some Los Angeles Dodger, or that guy who used to play that guy in that sitcom might walk in. (Besides beach bums of all stripes, Santa Monica is also full of "what's her/his name?" actors.)
Prices at the Ivy act as sort of a cover charge to keep the hoi polloi out. One look at the
"Laura Ashley goes native"
decor (above) usually does the trick too. It's not cheap, but after dropping over a grand on each of two dinners (n/naka and Totoraku), a buck-sixty-five ($165) for lunch seemed almost parsimonious.
They serve old-style, Cali comfort food here, like they have been since 1984, and it never fails to hit the spot. While you're waiting for Steve Garvey or Bob Saget to walk through the door, you should order a couple of the fresh squeezed juices. The come in milk shake tumblers and are worth every penny of the $10 they charge for them. Then nibble on scones right out of the oven (served with good butter), as you peruse the menu: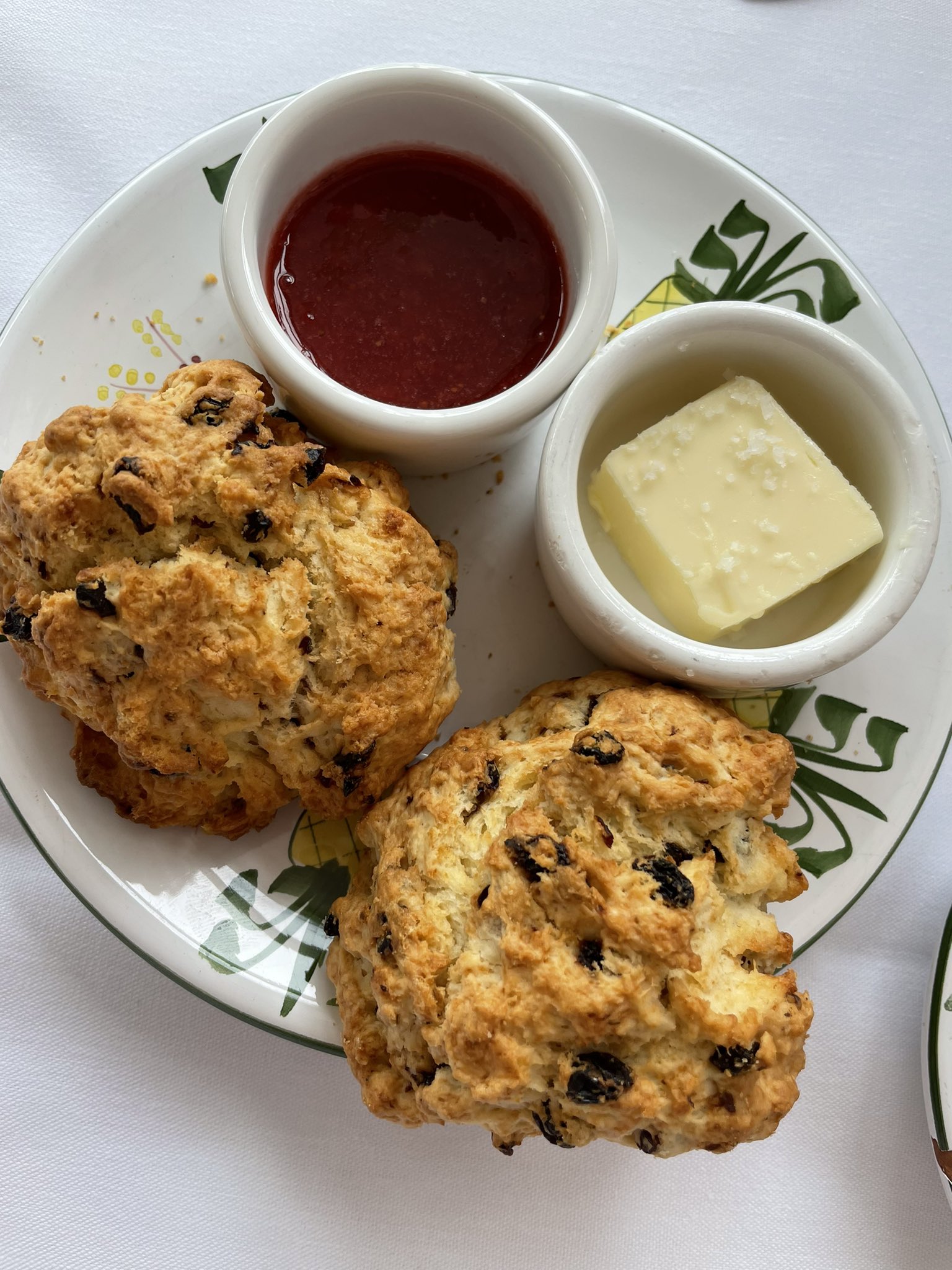 Don't expect any surprises on the menu, just well-made standards like crab meat eggs Benedict, a spicy corn chowder, a good burger, seriously crabby (deep-fried) crab cakes (below) and salads made without compromise.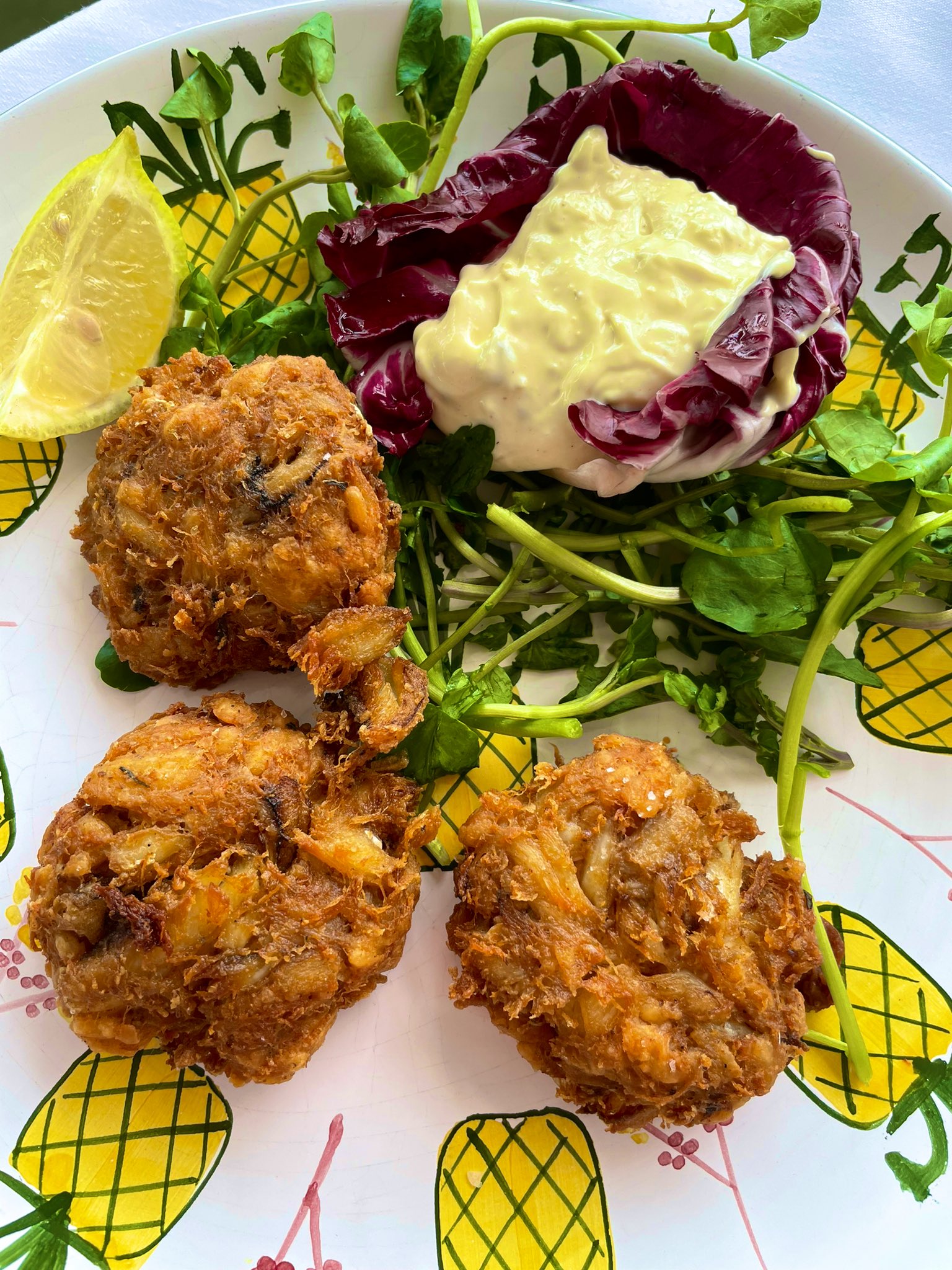 The Ivy has gone from new-fangled to old-fashioned in the thirty-five years we've been showing up, and still feels like the owners care about quality. Most restaurants this age would be starting to show theirs, but even the pink thing has been kept fresh. In spite of being a celebrity hang-out (and despite us being nobodies in this part of the world), I've never detected a whiff of attitude from its staff, and from the young(er) couples all around us, it looks like its reputation has grown beyond those of us who remember their glory days of 1992.   Colorful, comfortable, beach-y and bright, it is the best you can do on Ocean Avenue. For a price.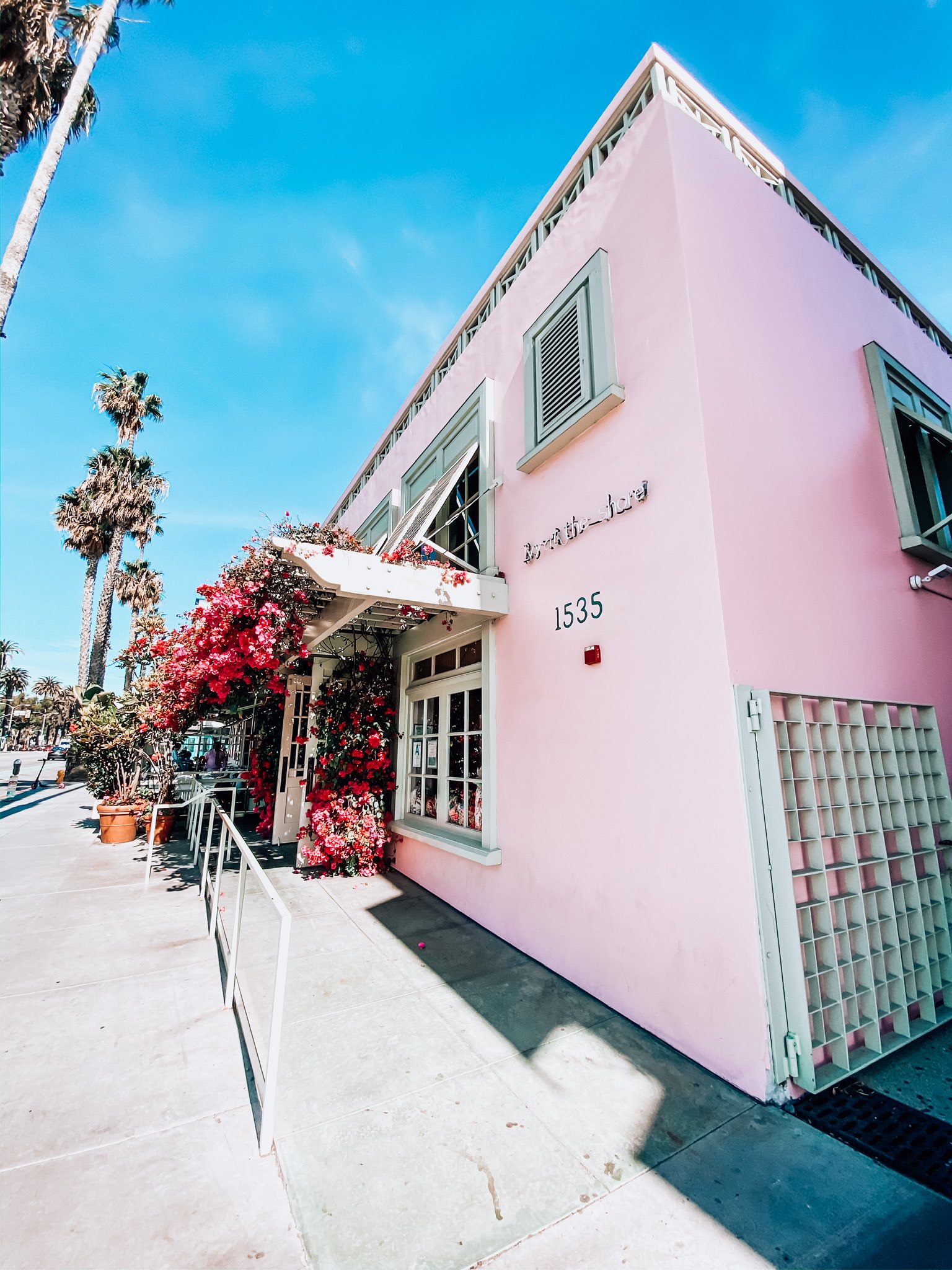 The SoCal food media (what little there is left of it) love to boast that L.A. (by which they mean the whole county), has the greatest restaurants/food scene in America. They say this, poor things, because they've never spent much time in New York.
L.A. does have a wonderful (Asian and Hispanic) food culture(s), but you don't just trip over good restaurants in L.A. like you do in New York or Paris. Or even Chicago for that matter. Great eating can be found, but it is scattered among those 5,000 square miles and hundreds of hamlets. Even when you condense your search down to the affluent urban arenas, worthy venues are few and far between. Even in the Asian food fantasyland of the San Gabriel Valley, there are many miles to be traversed between bites of the best stuff.
It's no wonder Los Angelenos use Vegas as their playground. Restaurants in Sin City are no muss, no fuss, and can be found on foot.
You can eat well in The Southland if you're willing to pay for it, and you can eat well and cheaply if you know where to look. But whether you're stalking the wilds of Santa Monica, or crawling through the barrio, or stuffing yourself with superior sushi, you had better know the territory. And have a nice ride.