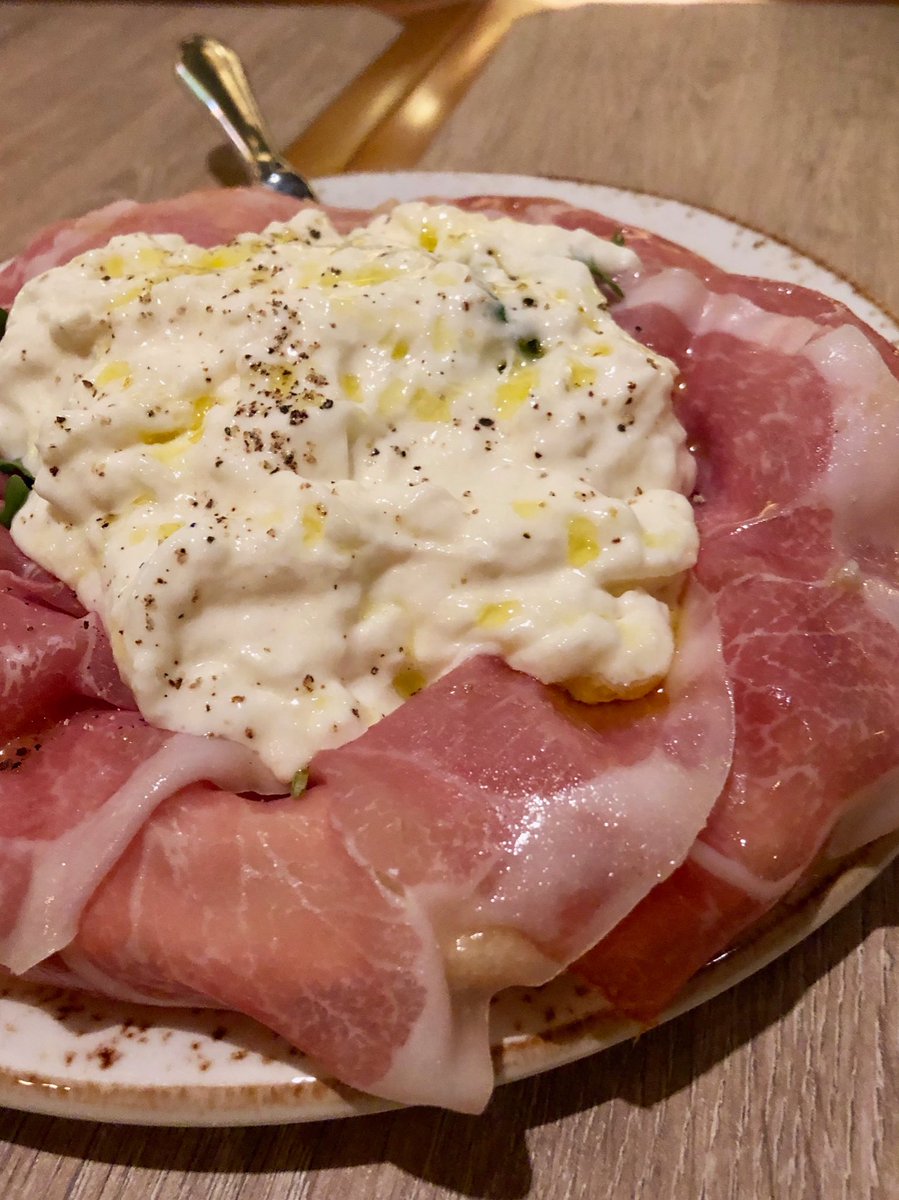 An Italian renaissance has been underway in Vegas for well over a year.
What began with Esther's Kitchen (the restaurant that doesn't sound Italian, but is), has blossomed into a into a full blown tidal wave of authenticity — where competitors joust for prominence to allow the cream of this peninsula to rise from a sea of mediocrity. (For the uninitiated, "Being John Curtas" means being able to mix metaphors faster than shooting monkeys in a barrel.)
Seriously, though, take stock of all the fabulous Italians who have opened their doors since the beginning of 2018:
Esther's Kitchen
Pizzeria Monzú
Eataly
Vetri
Masso Osteria – closing at end of May. I have bananas that lasted longer than this place.
La Strega
Cipriani
Manzo (inside Eataly)
The Factory Kitchen
All of them pitched not to some lowest common American-Italian denominator, but seeking to replicate the clean, precise, ingredient-driven flavors of the homeland.
What is so fascinating for an old, Italo-phile like me is how true each of them is to their roots. Manzo echoes Tuscany with prime meat being grilled over an open flame; Cipriani carefully mimics the flavors of Venice, and La Strega is serving sardines fer chrissakes…way out in a neighborhood! Monzú may be the most crowd pleasing of the bunch, but its menu is a far cry from your basic chicken parm/pizza/pasta joint.
Vetri may be first among equals with its gorgeous setting and evocative, northern Italian pastas, but right behind it, at both a lower altitude and price point, is The Factory Kitchen — the restaurant with the best food and worst feng shui in town.
Before we get to all the great food, let's get the feng shui issue out of the way.
To begin with, there is the name. Let's be blunt: it is not a good name. It tells you nothing about the place, and sounds like the exact opposite of a finely-tuned restaurant.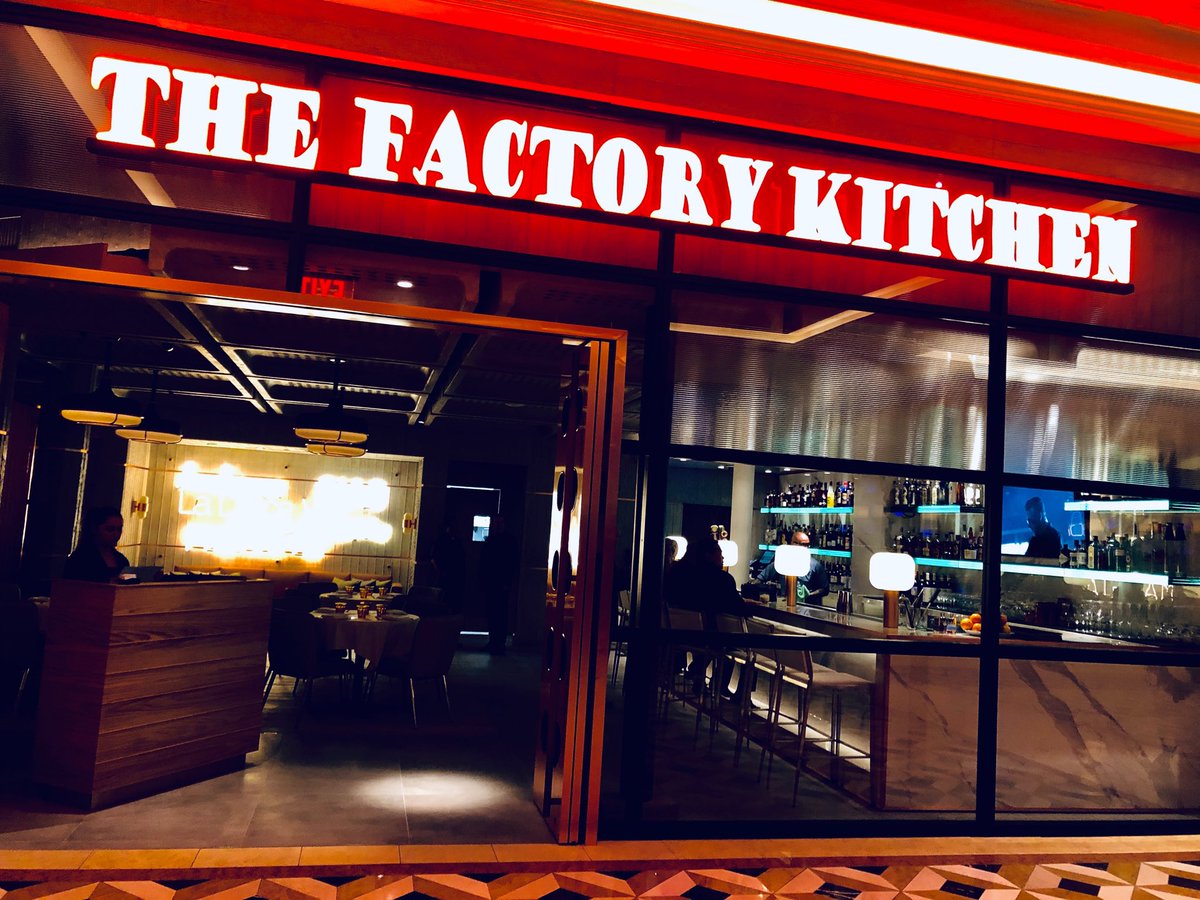 The words "The Factory Kitchen" are so aggressively anti-appetizing, one thinks at first that they must be some sort of ironic joke. They may have made sense in Los Angeles — as the original address — but what resonates among SoCal gastronauts holds no currency in Vegas. Here, meals need to be telegraphed to customers from a hundred yards away.
Let's be frank: Vegas tourists are not the sorts to parse out vagaries of nomenclature when choosing a place to eat. If it doesn't spell things out, they get scared and confused.
If the name isn't bad enough, there is the decor. From the outside, you see a long, industrial-like wall separating diners from passers-by. If you approach from the Palazzo end of the hallway, you can't even tell if it's a restaurant. (From the opposite end, the open entrance, hostess stand and bar signal that food and drink are nigh.)
These are not minor quibbles. If the place doesn't look like a restaurant and the name doesn't sound like a restaurant, what message are you sending to people walking by? I get that they're going for an informal/comfortable vibe, which breaks the chains of fine dining (or whatever nonsense restaurant consultants are selling these days), but I didn't know "late 20th Century cafeteria" had become a design aesthetic.
The room you first see (part of the bar area) has only a few tables, but they're the best in the house. Turn left, and you'll see the main dining room (below) stretching all the way to an open kitchen on the opposite wall. This room has comfortable chairs, well-appointed (and spaced) tables, decent acoustics, and all the charm of a mess hall.
Fortunately, once the food appears, all these feng shui problems go poof!
Your first sign of how serious TFK is about its food will come from the wine list — it being of manageable size and almost entirely Italian content. In an easy-to-read format, you will find well-chosen bottles priced to drink, not dazzle the rubes and soak the high rollers. Most are listed by grape varietals, with plenty of interesting bottles in the $50-$100 range. You won't find any bargains, but neither will you need a proctologist after ordering from it.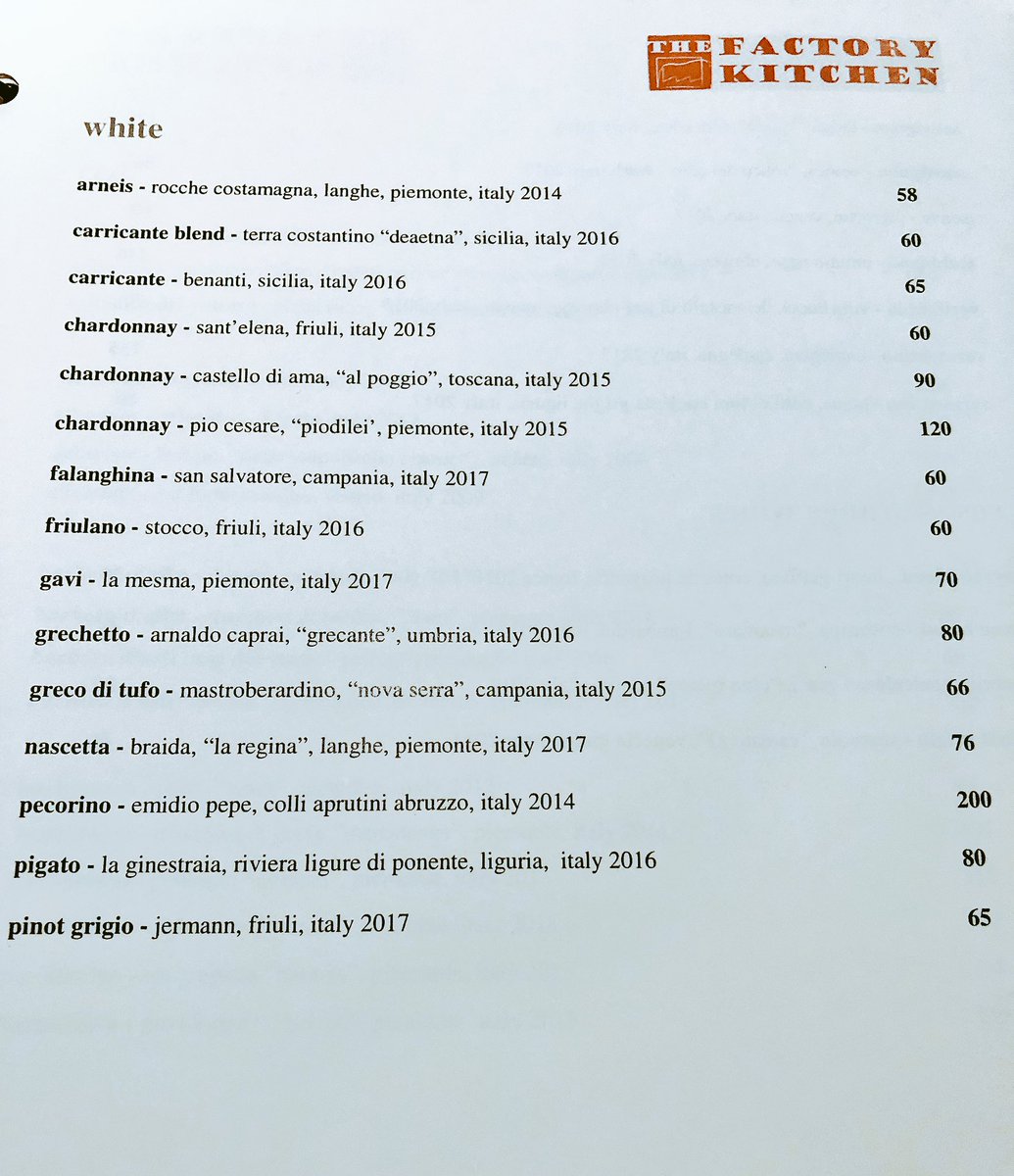 The next thing you'll notice is the olive oil. This is not the run-of-the-mill half-rancid  stuff put out by Italian restaurants everywhere. This is the real deal from Liguria — with herbaceousness to burn, and a soothing, back-of-the-throat peppery finish that lasts until next Tuesday. The soft white bread that comes with it is rather bland (just like in Italy), the better to serve as a carrier for all of those creamy-herbal notes coming from the oil.
While you're lapping up all that awesome olive oil, you'll then confront the menu — and a more pleasant confrontation you cannot imagine. Things you've never heard of (ortolana, peperú, sorentina, mandilli di seta) sit beside those you have (carpaccio, frittura, pappardelle, branzino) — all of them eye-popping in appearance and fork-dropping in taste.
Don't despair if your Italian isn't up to snuff. Everything is listed with complete descriptions in English. My guess is the affectation of giving each dish its native name is to inform diners up-front that they're not Chicken Caesar Land anymore. (For that there are six other Italian options (whew!) in the Venetian/Palazzo.)
Over a dozen starters are offered, and they cover the Italian map from prosciutto to Sorrento. Pleasant surprises abound — such as the sweet and spicy, soft-cheese-stuffed peppers (peperú), or the tangle of bright, fresh field greens with watermelon radish and champagne vinaigrette (ortolana), or beer-battered leeks with chickpea fritters (frittura).
As good as they are, the two starters not to miss are the prosciutto and the "sorentina," The prosciutto (at the top of the page) finds a flower of thin slices of sweet/salty ham sitting beneath a mound of stringy-creamy stracciatella cheese, speckled with pepper and drizzled with more of that insanely good oil. All of these sit atop crispy fried sage dough, making for a picture perfect amalgam of crunchy, creamy, salty and sweet.  The dish represents the sort of flavor/mouthfeel gymnastics Italian food pulls off effortlessly when the ingredients are right. Here, they are more than right. This is a dish not to be missed. It may be the most expensive antipasti ($25), but it also feeds four as an appetizer.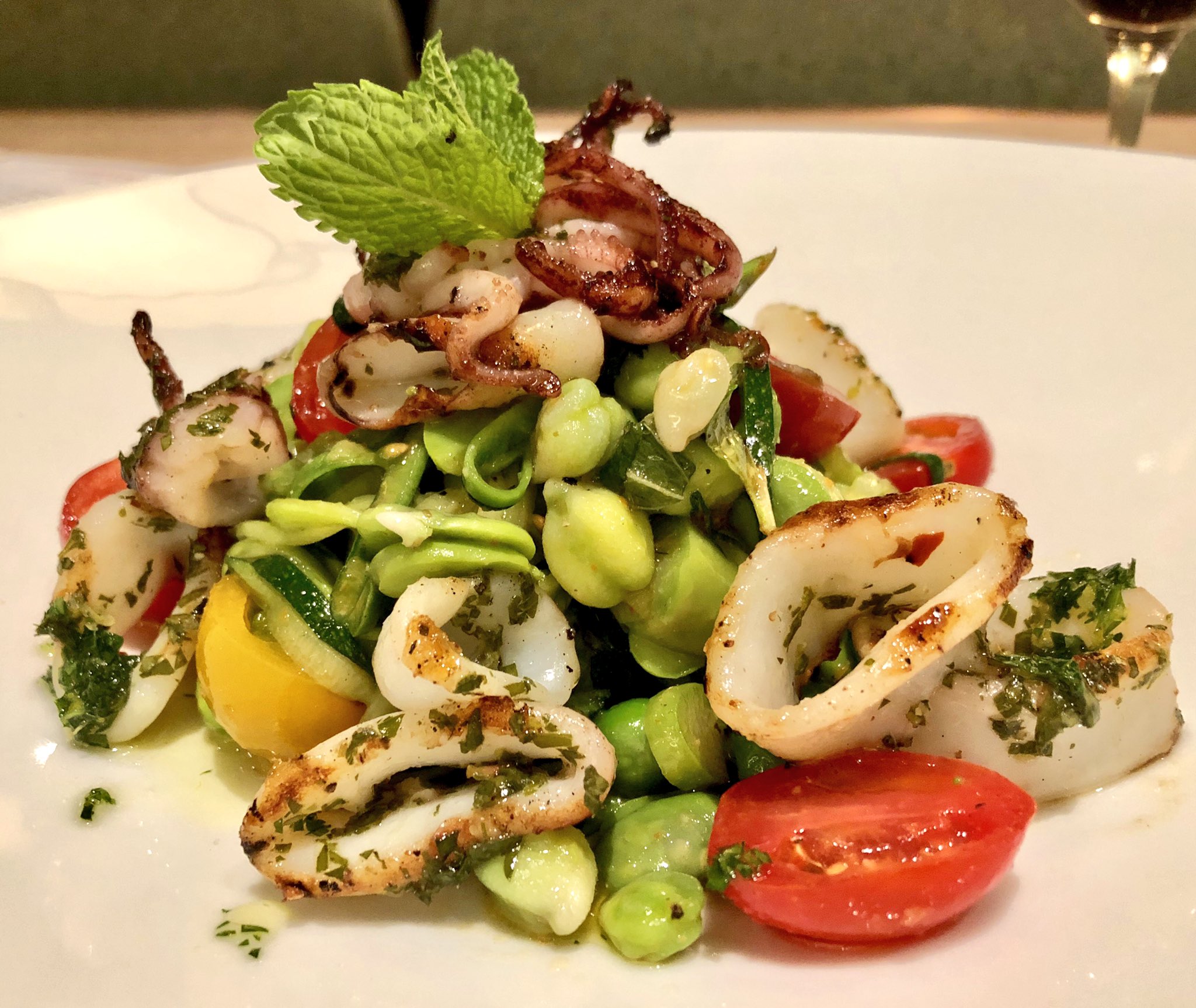 "Sorentina" (above) is chef Angelo Auriana's homage to the seafood salads of the southern Italy — its grilled calamari, chickpeas and fava beans being enlivened with just the right spark of chili in the lightly-applied dressing. Good luck finding another salad (seafood or otherwise) where each individual element pops as much as these do.
Light and simple might be the way owner describes Matteo Fernandini describes this food, but I think he's being coy. Most of the dishes sound more complicated than they appear, but there's nothing particularly simple about plancha roasted octopus with garbanzo puree, roasted carrots and cotechino sausage. The trick is in using good groceries, and knowing how to balance flavors on the plate. Once you get to the pastas, you'll realize how well Auriana and his on-site lieutenant Eduardo Pérez have mastered this craft.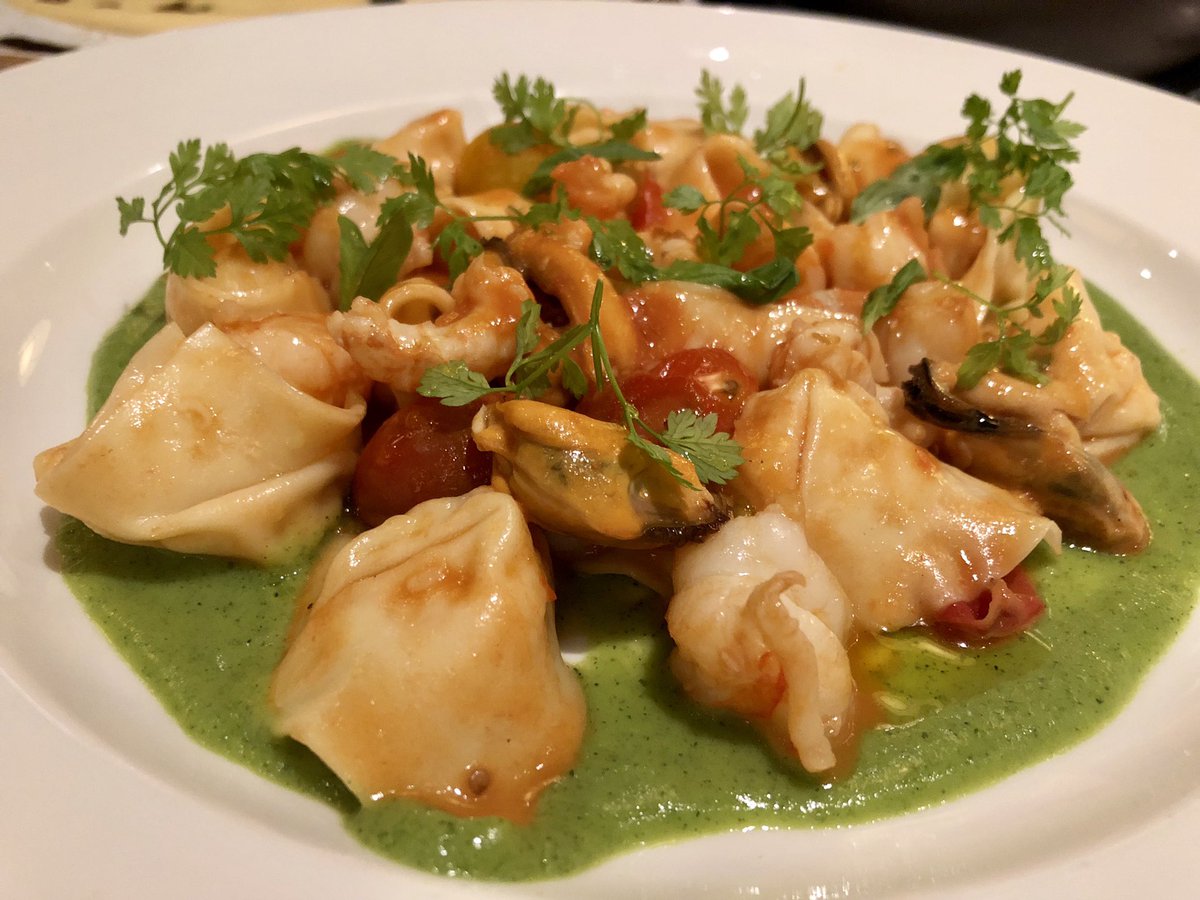 (Ravioli di pesce)
Pérez, is a man who knows his way around a noodle.  He held down the fort at Lupo in Mandalay Bay for years, and here, he hand-rolls (yes, he personally hand-rolls pasta with his staff and you can see him do it), a variety of fresh pasta every day — from black olive-speckled pappardelle to ravioli di pesce, to short rib agnolotti — and the results are so vivid they will make you question your previous pasta preferences.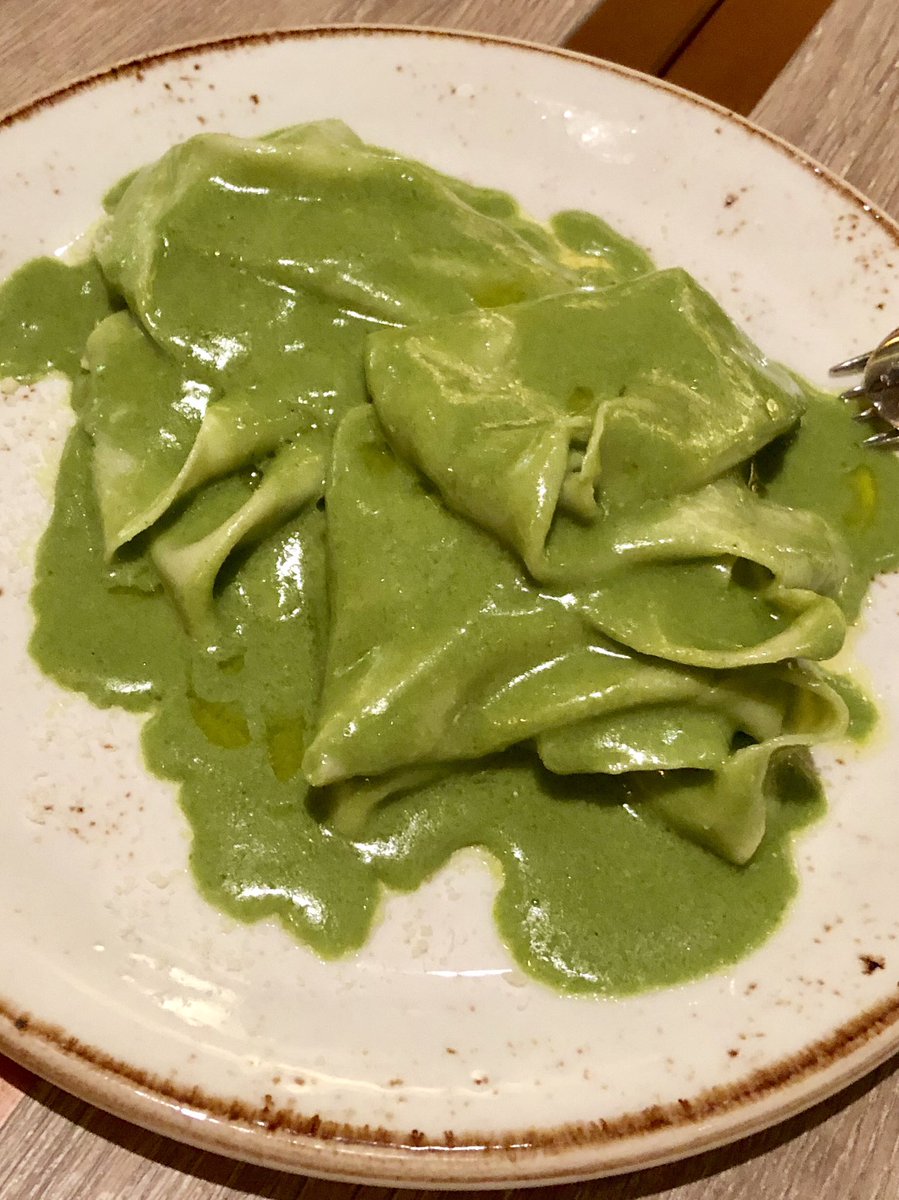 The signature "mandilli di seta" (handkerchief-flat noodles bathed in almond-basil pesto, above), will be a revelation to those who don't while away their time on the Cinque Terre, and the seafood-filled ravioli are like pillow-y surprises straight from Naples. The point is: get as many of the pastas as you can stuff into your piehole. They are fairly-priced (between $21-$31), meant to be shared, and as fresh as Genovese basil.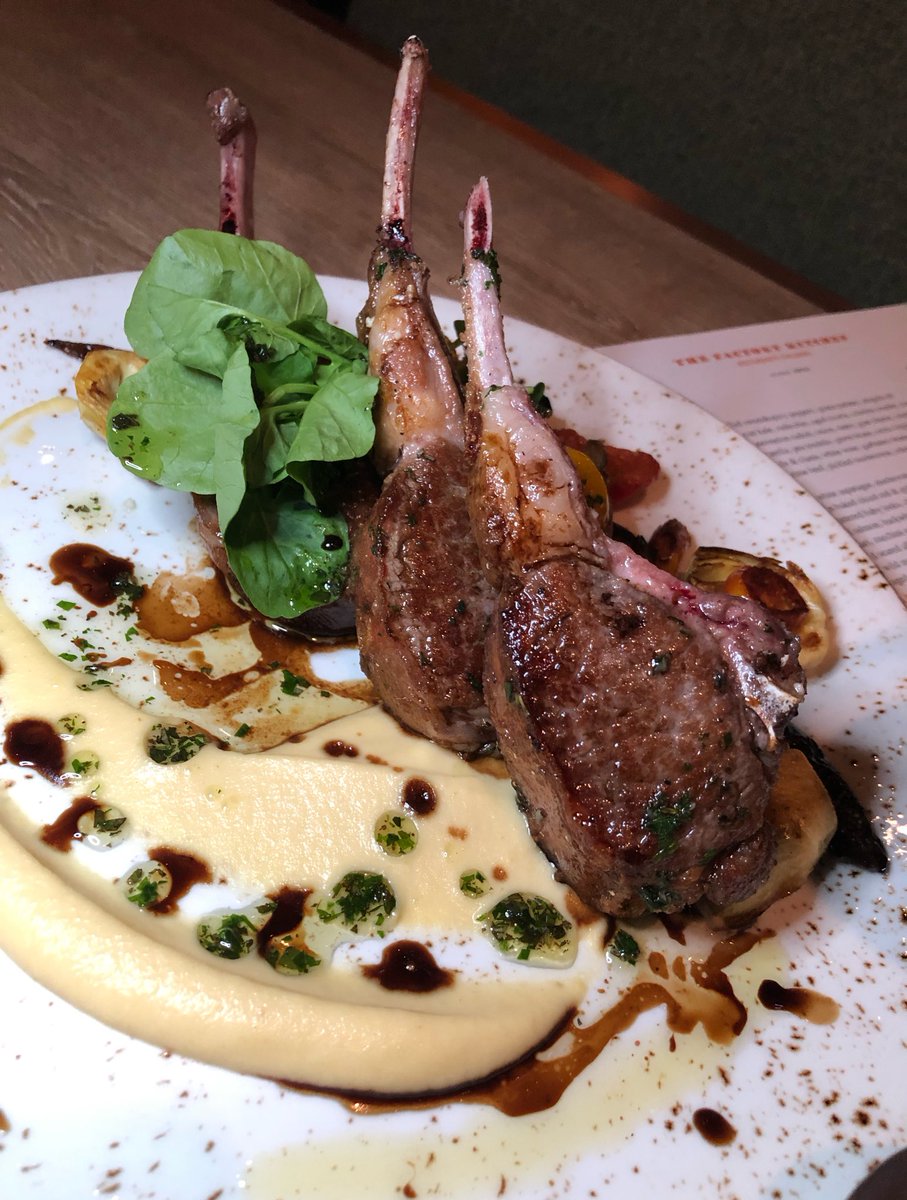 (Lamb chops with root veggie purée)
I wish I could tell you more about the secondi (main courses), but truth be told, we've run out of gas on all three visits after waltzing through the top two-thirds of the menu.  The only one we've had were the lamb chops, and they were superb. No doubt they treat their branzino right; and the 16 oz. boneless rib eye looked interesting (as did the grilled veal). But if you want the scallops or New Zealand fish, there's nothing I can do for you.
TFK aims to take you on a culinary tour of Italy, in a streamlined, easily digestible fashion. It has neither the pedigree of Cipriani nor the ambition of Vetri, but what it does it does well, at a friendly price point, with recipes that will open your eyes to the possibilities of real Italian food.
Ignore the name and the decor and dive in.  And get the cannolis for dessert. They're fantastic.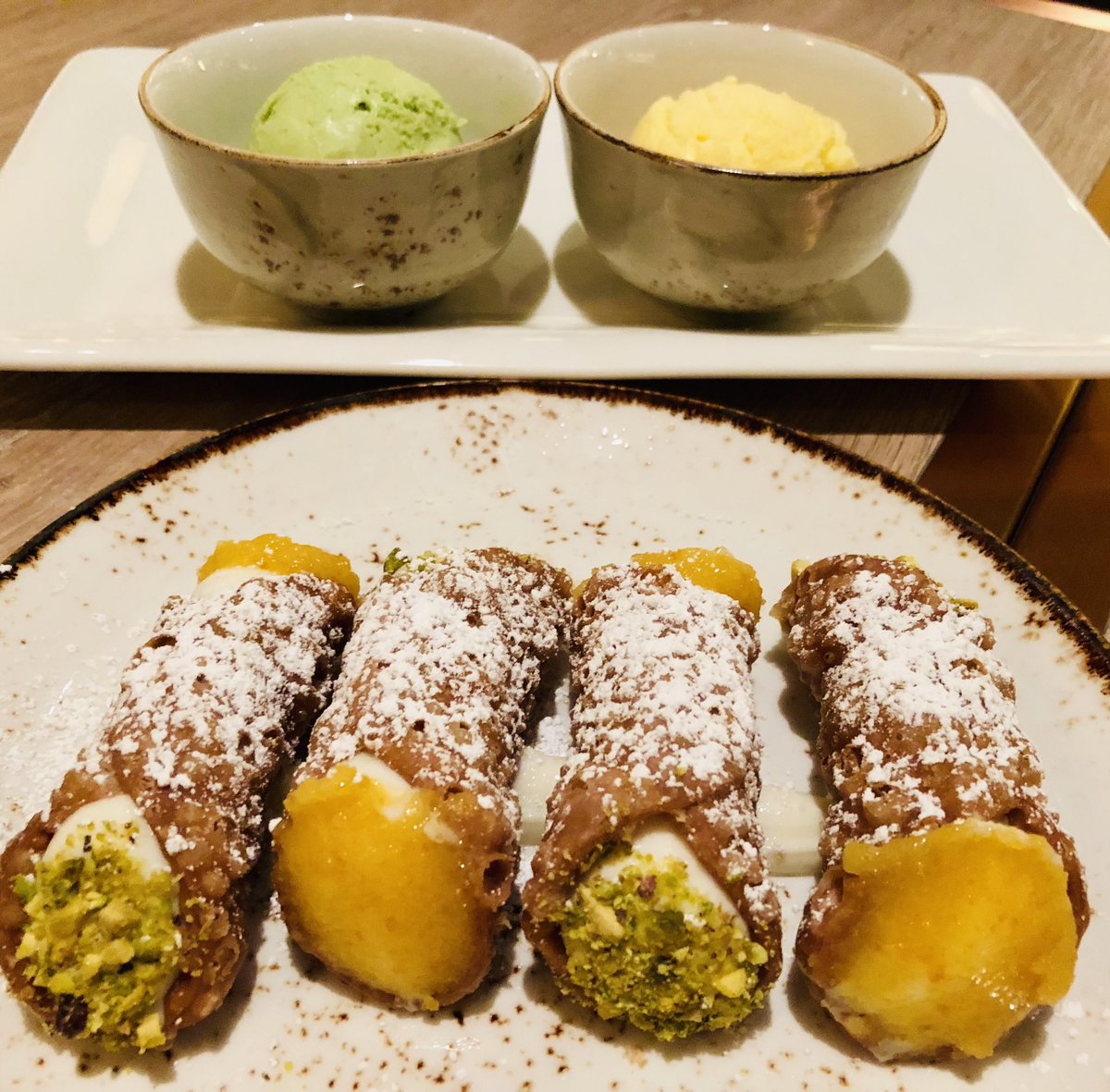 (Everything on the menu is meant to be shared, with salads and apps running $10-$25; most pastas in the mid-20s; and big proteins $30-$50.
Dinner for two sharing three courses will run around $100 – much more if you go nuts like we do. One of our three visits here was comped.)
Venetian Hotel and Casino
3355 Las Vegas Blvd. South
Las Vegas, NV 89109
702.414.1222