Hay-Seuss Friggin' Christie! What a wild ride!
What started with a whimper ended with a bang, and not since the glory years of 1998-2008 have we seen such a watershed of good eats arrive in our humble burg in such a short period of time.
Two years ago we were bored out of our skull and complaining about the moribund nature of our Strip and local dining scene. In the span of 12 short months, all of that kvetching got canned, and now we're like a kid in a candy store.
Consider the following:
The year began with Esther's Kitchen debut downtown — it was a hit from the get-go.
Spago closed in January (sigh) after 25 years in the Forum Shops.
The next six months would see Pizzeria Monzú, Pamplona, Jammyland, Partage, Mordeo, and EDO Tapas & Wine, all open in rapid succession.
Spago then re-opened at the Bellagio. (hooray!)
DE Kitchen brought another excellent (tiny) Thai to downtown.
Bajamar Seafood & Tacos served up platters of Ensenada excellence right on Las Vegas Boulevard.
China Mama came back from the dead.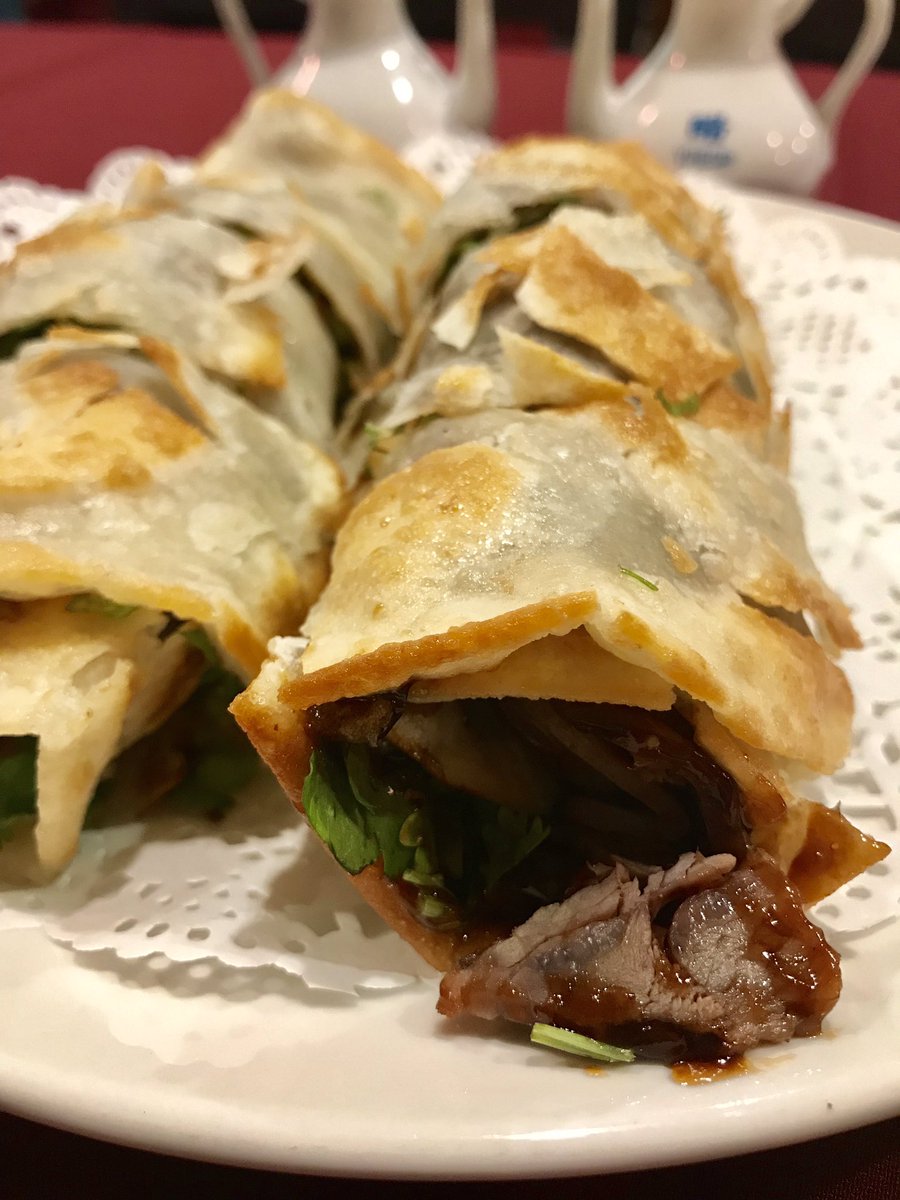 (Beef roll at China Mama_
Nuro Bistro brought Hainanese chicken to the 'burbs.
Michael Mina re-booted itself into Restaurant of the Year status.
Scotch 80 Prime re-imagined the old N9NE steakhouse as a major league whisky bar-cum-meat emporium, and in one fell swoop vaulted to the top tier of our prime steak locations.
All of it was almost enough to get me over the loss of Carnevino in July.
Then things settled down for a few months, before a blizzard of fab food hit the Strip — the first time in a long time for such an influx.   November 2018  might go down as one of our greatest milestone months, as it saw Cipriani, NoMad (both the bar and the restaurant), Vetri, and Mabel's all spring to life.
(By our calculations, the last time so many great restaurants opened at once was December 15, 2010, when The Cosmopolitan threw open its doors revealing the likes of Jaleo, Scarpetta, D.O.C.G., China Poblano, Estiatorio Milos, STK and Blue Ribbon.)
And, the cherry on top of this sundae was Eataly opening this week.
We took a break from this blog on April 1st, but by mid-August there was so much to write about we couldn't keep up.
If things weren't tasty enough around here, we went to Italy (twice), Nantucket for the umpteenth time, and even wedged in trips to New York, L.A., and Washington D.C..
Then, we even found the time to update the 7th edition of  EATING LAS VEGAS – The 52 Essential Restaurants, which, coincidentally, was published this week.
Yes, it was a busy twelve months.
As good as the offerings on the Strip are, it's no secret to anyone that the explosion in quality neighborhood eateries has been the big news this year. Not for nothing did Partage, EDO and Esther's share Restaurant of the Year honors, and new developments in Chinatown (and Bank Atcharawan's upcoming wine-centric Lamaii) promises even more adventures in the year ahead.
Put them all together and there's plenty to keep even the most voracious gourmand busy for months.
Make no mistake, most of these Strip newcomers are simply the most current links in well-developed chains. The outlier is Vetri — only the second restaurant with the chef's name on it — and one getting his full attention these days. It may be the most polished Italian food Las Vegas has ever seen. It is certainly the most stunning. How locals and tourists alike react to his blend of tradition-meets-modern-deliciousness will be interesting to watch. (Our full reviews of it and NoMad will be coming out in January.)
How much wine and cheese and beef Eataly sells (as opposed to grab-and-go sandwiches, coffee, pizza and snacks) will also be mighty interesting to see.
Before we go, we cannot sign off for the year without remembering the losses the culinary world suffered. Both Paul Bocuse and Joël Robuchon died in 2018, as did that magnificent bastard Anthony Bourdain. The marks all of them left on the food world, are indelible. The restaurant empires of Bocuse and Robuchon will soldier on without them, but we shall not see the likes of them again, not in Las Vegas, not in my lifetime.
Robuchon once got misty-eyed describing to me the simple, grilled seafood he found in a seaside restaurant south of Barcelona. It was almost a perfect meal, he said (though an interpreter), nothing more than the freshest fish grilled over embers bathed in the ocean mist. He did that thing French chefs do when they half close their eyes and bring their fingers to their mouths to signal perfection, and I could see the elemental glory of great food shining in those eyes.
That the greatest chef on the planet could be moved by a simple piece of fish said a lot about him, and his glow in describing it has stayed with me for thirteen years. It was the first thing I remembered when I heard he had passed away in August — his beatific elation at having having found completeness in a simple meal. The elemental act of feeding ourselves becoming a transcendent meld of our lives and nature. Many times in the past few months I have pondered the visceral connection between Robuchon and the natural world he conveyed to me that day. Sadly, we restaurant customers too often forget how tied to the land and sea chefs really are. The good ones anyway.
(JR and JC 2006
)
I would run into JR many more times over the years, and he always gave me a big hug, and always jabbered away in French that I could barely understand. (It usually had to do with me being the first American writer to actually review his American restaurants.)  The Food Gal® and I even ran into him  briefly at the 2017 Bocuse d'Or and joked around with him for a few minutes.
He and Bocuse (and Bourdain, for that matter), had that quintessentially French combination of being intense and bombastic but also a bit shy. Being French, they considered great food a religion to be worshiped, and being who they were they would want their legacies to be remembered by people enjoying their meals to the utmost, prepared by people who really care about it.
As we embark on a new year, we should honor them by basking in the glow of all these sensational eats that are now on our doorstep. Las Vegas has come a long way in twenty years. Our avenues are teaming with some of the best restaurant food in America, both simple and sophisticated. You may never be as religious about it as Chef Robuchon was, but just like most religions, you can never go wrong by trying to live up to the ideals they represent.
HAPPY NEW YEAR!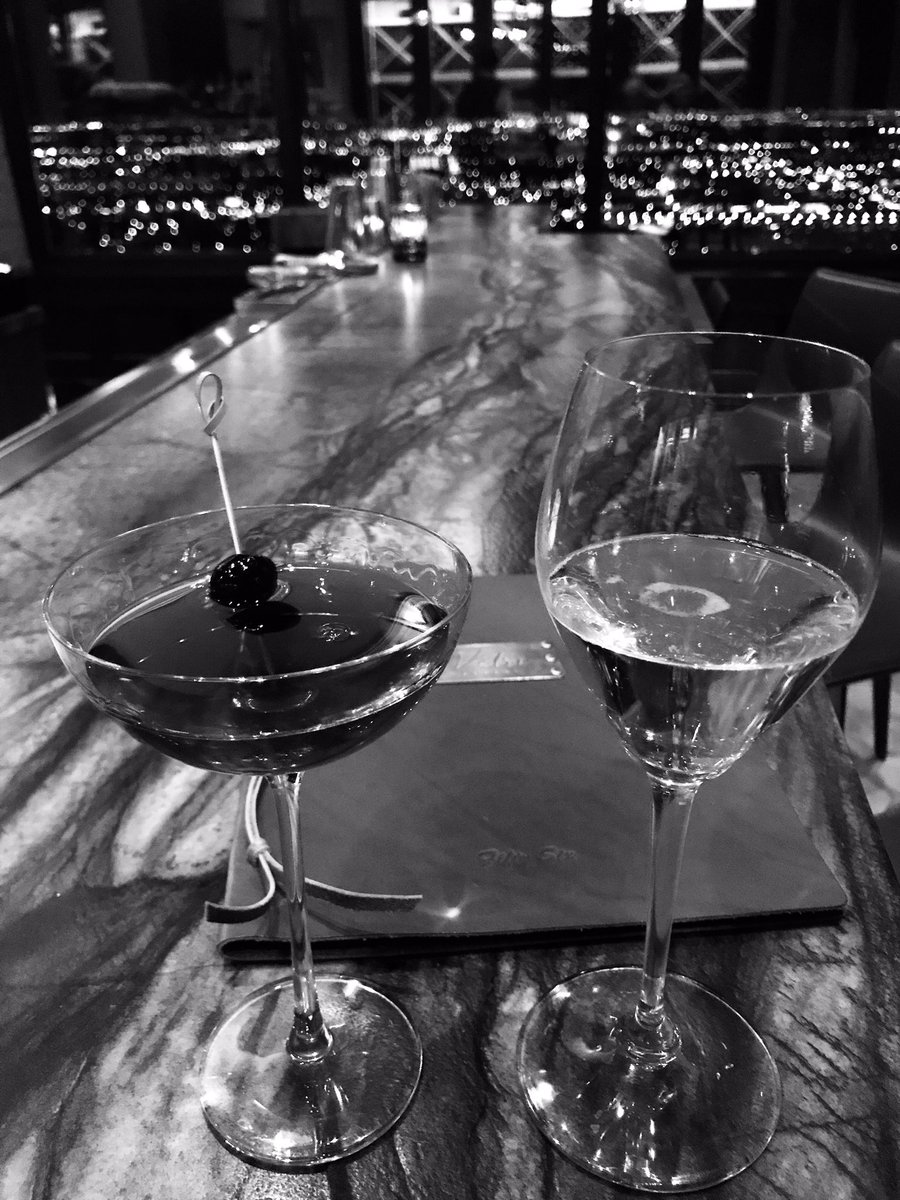 (The bar at Vetri)