Aureole is a restaurant that no longer knows what it wants to be. And the disconnect between what it once was, how it still looks, and what shows up on your plate is startling. If you have a long history with the place, as I do, you will leave your meal here — be it in the main, cavernous dining room or the bar — scratching your head. If you're the kind of new customer it is now hoping to attract, you might be satisfied, but you won't be a thrilled. And that's a pity.
The most pitiful thing they've done to the dining room (with this new reboot) is to darken it (with lighting and fabric) in an attempt to warm things up. What before was a stunning, three-story architectural wonder with 40 foot ceilings, blond wood and a stark, sophisticated feel, now has the same bones, but feels like a feeble attempt to "go casual" with print fabrics, awkward place mats, and muted atmospherics. The effect being one of trying to turn a gastronomic temple into a something-for-everyone dining hall.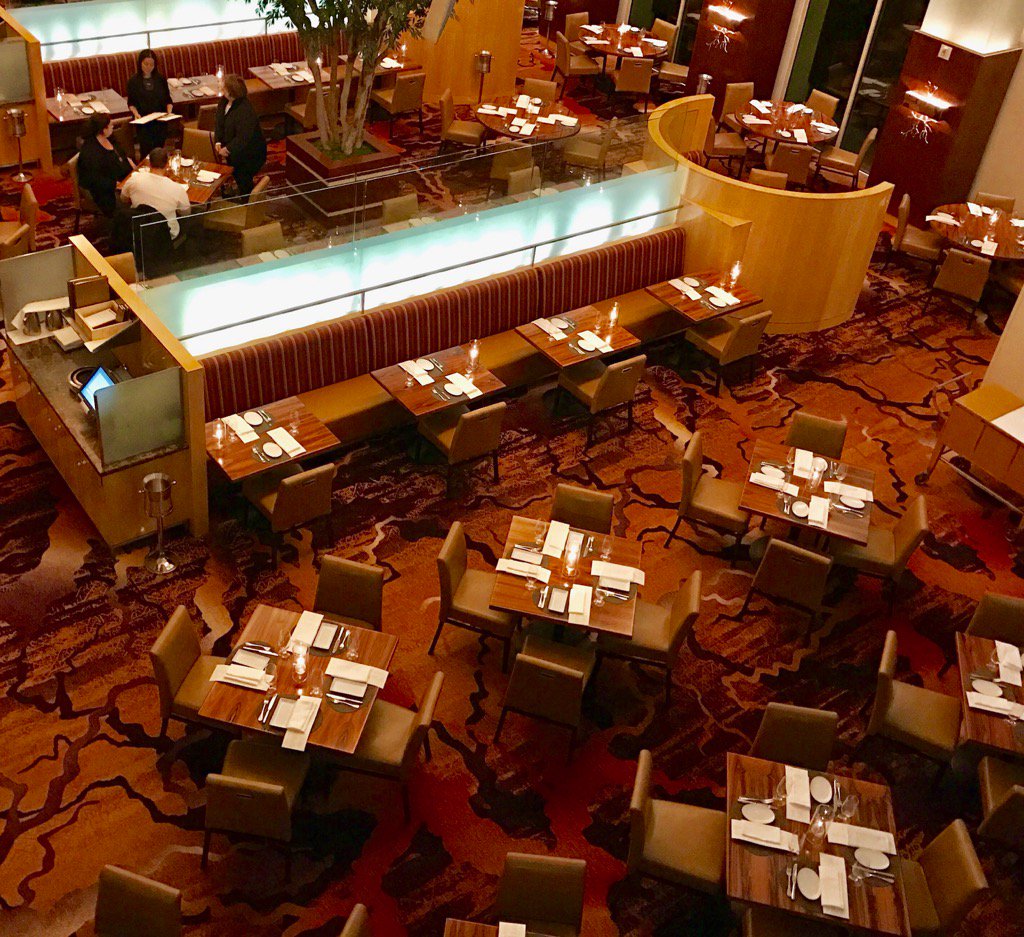 They're not fooling anyone. Anyplace this big and striking advertises itself as a very special, big deal meal emporium, but big deal meals are no longer in favor, so the powers that be are stuck with trying to fit a ho-hum concept into a gourmet hole.
The poor fellow in charge of trying to make all of this work is Johnny Church, one of our most talented chefs, who has the unenviable task of crafting an all-over-the-map menu and somehow make it distinctive so prices can be charged commensurate with the architecture.
Church is an inventive, resourceful guy, but here he's a thoroughbred  being chained to a milk wagon. The menu is filled with the usual suspects — surf, turf and root — with each dish trying very very hard to distinguish itself from dozens of other rooms in town doing the exact same salmon, steaks, kampachi crudo and roasted beets. Crafting a menu for a 335 seat restaurant cannot be easy, but why bother composing a beef and octopus carpaccio that tastes of neither? And leave the pastas to the Italians, rather than sling a beef cheek ravioli was so thick it could be used to patch a tire. But the sea bass comes with its head on it (and standing up(?) the head that is), and there's all sorts of dribbles and drabs on the plates to impress the rubes. (And, apparently, every other food writer in town.) But look closely and you see a lot of been there done that dishes. This isn't a Charlie Palmer restaurant anymore; this isn't a Johnny Church restaurant. It's just a random assortment of recipes in an eye-popping setting. Throw in the obligatory Caesar salad, risotto, meatballs (very good), four fish and three pricey steaks and a California crab roll…and voila! you have a menu that's obviously been designed by committee.
The service at the bar was terrible on the night we tried out the happy hour menu, as were the dips: tzatziki, babaganoush and hummus. But at least the bread was stale.
The wine list is outstanding. If you can get the bartender's attention.
Think of it this way: What is the thing that keeps you coming back to a restaurant? (Or, put another way, why do you go somewhere in the first place?) At Mr. Chow it's all about the spectacle of intensive care service and upgraded Chinese standards. Carbone ropes you in with old fashioned Italian food made formal and fun, with a great retro vibe permeating the place. Le Cirque is classic, old school French, with marvelous food in a jewel box setting. Spago is Spago. Sui generis. The place that invented the type of Cal-Ital menu it serves — a menu that's been copied a million times by now. Aureole used to be about the soaring, inventive American cuisine of Charlie Palmer, with drop-your-jaw decor (along with a soaring wine tower) to dazzle you along with his architecturally precise food.
Now, there is no focus, nor theme. This is functional food designed to dazzle conventioneers from Kansas. MGM (the parent company) did the same thing when they re-booted and ruined FLEUR a few years ago. Because they figured Norm and Edna from Evansville want to see Hubert Keller (one of America's greatest French chefs) do tacos.
A restaurant should me more than the sum of its parts. Really special restaurants are. Aureole has ceased to be really special, and at the prices it's charging, it cannot afford not to be.
AUREOLE
Mandalay Bay Hotel and Casino
3950 Las Vegas Blvd. South
Las Vegas, NV 89109
702.632.7401
http://www.charliepalmer.com/aureole-las-vegas/