46. EL SOMBRERO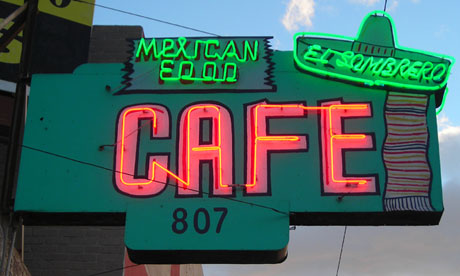 The old El Sombrero was Las Vegas's oldest restaurant. It opened its doors for the first time in 1950, and was considered time-worn and venerable when, in 1970, Teresa and José Aragon took over and started cooking their unique brand of Mexican-meets-New Mexican food. After a 44 year run, the Aragons retired in April and sold the joint to Irma Aguirre. It reopened in August, and what she and Executive Chef Oscar Sanchez have done to the 43 seat space is nothing short of amazing.
Begin your meal here with sangria. Not a fan? Well, neither were we. We've always considered sangria to be something of a bad joke. Throw some fruit slices into some shitty wine and voila! …what you have is shitty wine with fruit in it.
Not so at 807 South Main Street. Here you get a variety of sangrias — rosé with watermelon and mint, chardonnay tweaked with bay leaf and green apple, red wine laced with strawberries — each tasting like a well-crafted, herb and spice-laced cocktail. To get off on the right foot, get all three. At eight bucks a piece, you owe it to yourself after a lifetime of crappy spiced wine. Take that sangria!
When such care has been taken with so pedestrian a starter, you've gotten a major hint that there are revelations aplenty ahead.
The guac is fresh and good (but could use a little "bam!"),  and the Quesillo Fondue Mexicano with "Hormiga (ant) Sauce" quite serviceable (although we at ELV don't think the dark red chile sauce actually contains any ants, although knowing Mexicans, it could). You'll also find the Piquillo Peppers stuffed with herbed goat cheese to be plenty goat-cheesy and surrounded by a mighty tasty roasted tomato sauce.
As good as they are, it's the Spicy Calamari a la brasa that tells you you aren't in Casa Cocina de Nacho Cantina-land  anymore. These squid circles are fork-tender, char-broiled and sitting in a pool of jalapeno-infused squid ink sauce that looks as forbidding as it is addictive.
Go down the list of entrees — available at lunch and dinner — and there's nary a clinker in the bunch. No one in Vegas does a better, fresher, brighter, healthier Chile Relleno, this one filled with butternut squash, potato, onion and a blend of cheeses, and you'll have to go to Letitia's way up in Centennial Hills to find a mole that even comes close to the deeply flavored one napping a superior roasted chicken, tasting of a good bird given proper treatment by a trained chef, instead of the usual flabby white breast every other Mexican restaurant in town throws at you. (Face it folks: your generic South of the Border joint uses the cheapest ingredients it can get away with.)
Good groceries are the rule here, so prices are a few bucks higher than you'll get at Lindo-Chapala-Chalupa, but once you bite into Sanchez's Tamal de Carne with roasted guajillo sauce or Costillitas en Salso Verde (pork ribs in molcajete–tomatillo sauce), you'll be spoiled forever. And we haven't even mentioned the meat platters. And they're the best things on the menu.
Two platters are offered, each easily feeding two : Tradicional ($35) and Del Patron ($45). Roasted chicken, chorizo and carne asada come on a wooden board on the first one, with sliced filet and rib eye taking center stage on the second. Three dipping sauces come with each: a house-made ancho chile steak sauce, chimichurri, and that ant (hormiga) sauce again, which is really more of oily, slap-my-ass-and-call-me-Sally pureed chile concoction.
And finally, there is the rib eye. Simply put, it is the best damn $32 steak in Clark County — the equivalent of steaks costing twenty bucks more a couple of miles to the south, and better seasoned than most. Sanchez has a way with meat — he used to work at Envy Steakhouse — and it shows in the care he lavishes upon all of his carnivore-craveworthy creations. For the record: his Halibut a La Plancha is no slouch either.
Everything about this place is a gem….except the noise level. Tablecloths would help, but hard surfaces abound and until they start using those, don't expect much muted conversation during busy (read: lunch) hours.
Aguirre and Sanchez are to be applauded by trying to resuscitate our moribund local Mexican scene with an upscale option. This isn't a taco joint and it isn't a tamale house. Our staff likes Mundo and La Comida (its downtown competitors), but they are not working with so fine a brush as this kitchen. This is Mexican made better, much better.
If the food stays this good, we're predicting another 64 year run.
Favorite dishes: Sangrias; Chile Relleno; Spicy Calamari; Quesillo Fondue Mexicano; Tamal de Carne; Halibut a La Plancha; Costillitas en Salso Verde; Tradicional and Del Patron Meat Platters; Pollo con Mole; Rib Eye Steak; Bread Pudding.
EL SOMBRERO
807 South Main Street
702.382.9234