Regarding a Properly-Cooked Sausage
From The Reverend Chad Kroeger: Hey Choad.* Would you happen to have any good classic or unusual sausage recipes for a fellow foodie? Cooking sausage, not dry stuff like salami and shit. There's all kinds on Google but hard to filter through 350,000,000 Nothing says lovin like getting real tanked and making sausages for yo peeps.
ELV responds: We could steer you to any number of cookbooks, but wethinks it better to give you our default sausage-sauteeing recipe — one that works for any uncured sausage — everything from andouille to Italian to Johnsonville brats.
ELV update: Since we completely misunderstood the question — thinking Rev Chad was looking to cook not make sausage, we suggest you read our answer for informational purposes only (after the jump), or skip directly to the oyster and blogging questions beneath it (which are much more entertaining).
– Poke some holes in your sausage with a sharp knife on all sides (to let the fat escape).
– Heat up a good stainless steel or anodized-aluminum pan (non-stick will work but not as well).
– Throw some olive oil in it (not too much).
– Start browning the sausage (expect the oil to spit like a mouthf*cker when you toss them in — you might want to keep a splatter screen handy) — this will take four to five minutes.
– When you've got some char on both sides (don't worry too much just get some brown showing), toss in a sliced onion or two along with some sliced bell peppers. Let the whole enchilada cook until the onions start getting soft and caramelizing (salt, pepper and hot pepper to taste, but don't skimp on the last two).
– Toss in a cup of whatever you're drinking. Wine and beer work very well. Whiskey, lemonade and milk, not so.
– Let the whole mess simmer down until the liquid evaporates (ab0ut ten minutes) and you have some plump, browned sausages sitting amongst a nice pepper-onion-wine stew.
– Serve.
– You're welcome.
Regarding Oysters
From Nate: I was always told to only eat oysters in the –ber months (Septem-ber, Octo-ber, etc.). Have I been missing out on extra months of oyster goodness?
From Adam: I must have been eating them (oysters) wrong. My wife and I had oysters just 1 time and we both were disgusted. Is it a flavor thing or a feeling food? I know a lot of people eat custard both because it feels good and tastes good, but I must have missed something. I love almost every food in the sea but this.
ELV responds: Oysters, like anything exquisite (blue cheese, oral sex, blood sausage, the music of Radiohead or the films of Ed Wood) are revolting when you first encounter them. In other words, they are the very definition of an acquired taste. A raw oyster (especially the big ones, that even ELV finds a bit off-putting)  can be the equivalent of swallowing a salty phlegm-ball.
The best way to develop a taste for them is to start eating them slightly steamed, or in a cocteles or ceviche — where they're allowed to "cook" and firm up in all of their sweet and saline seafood goodness. If you find yourself liking the brisk, salty-sea-air flavor that comes through, it is but a short stroke to start slurping them raw — the better to appreciate the bracing minerality that comes through in the best ones.
The proper way to eat them is sucking them right out of the shell (or off an oyster fork) and swallowing them pretty much whole. They should spend enough time in your mouth that you feel the whole thing, but not so much that you actually chew them. A big dose of cocktail sauce spiked with horseradish is also a way to bust your cherry on these sumptuous little non-swimmers. As for eating them in "R" months, it makes some sense when you realize that they start to mate as soon as the water warms up, i.e., May, June, July and August, and like anyone in the throes of post-coital bliss, they become a bit flabby and uninteresting.
Regarding Blogging
From Mickey: Hmm it looks like your website ate my first comment (it was super long) so I guess I'll just sum it up what I wrote and say, I'm thoroughly enjoying your blog. I too am an aspiring food blogger but I'm still new to the whole thing. Do you have any tips for beginner blog writers? I'd definitely appreciate it.
ELV responds: Blogging is EASY. Any moron can do it. Just get a platform (ELV uses WordPress), sit down, pick a topic, and type whatever thoughts are in your mind THAT VERY SECOND. Don't think about it too much, JUST DO IT.  You will be amazed at how many people love hearing about your cats, exercise routine and the Glass-Steagall Act of 1999.…along with whatever you had for lunch that day. The occasional picture of hot chicks helps to build readership as well. The mistake most bloggers make is in thinking they actually have to know something about their topic. You have opinions, right? SHARE THEM! And never, ever doubt yourself. If you have a keyboard, a digital camera, and an internet connection, the world is out there, waiting for you to educate it.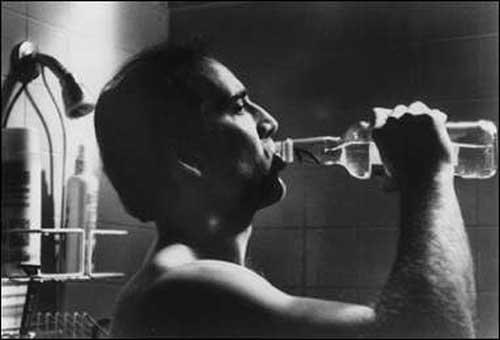 Special Added Bonus:
Bizarre Comment of the Week
From Holly (who couldn't wait to tell us): We are moving out of Las Vegas because of the unhealthy dining out options. Las Vegas desperately needs a True Food by Fox Restaurant Concepts to get the clean food ball rolling in this town. I even wrote to Fox to open next door to Whole Foods — instead we are getting a Container Store. Red Velvet and Canyon Ranch (CR-horrible quality/service) Cafes are not really clean eating. Probably the best we've had in Vegas is Society at Encore – organic green juice (freshly juiced), quality organic, raw, vegan and vegetarian options. Wynn offers clean eating done right — to the point where you know that glass straws are on the way. They also have amazing gluten-free breads that are not published on the menu (ask). Outside of that the pickings for clean food restaurants are very slim.
ELV responds: Unhealthy dining out options are, no doubt, the NUMBER ONE cause of people moving out of Las Vegas. The unclean nature of the food in ALL of our restaurants continues to astound and disgust us. It is sad that it comes to this, but when you are being INUNDATED with impure food, a mass exodus is inevitable.
ELV will get José Andrés, Guy Savoy and Rick Moonen on the phone this afternoon and tell them to CLEAN UP THEIR ACTS….or face his wrath. If that doesn't work, our staff is sure that Sam Fox (he of the twelve restaurant concepts) will come to town and teach them (along with Hubert Keller, Geno Bernardo, David Walzog, Claude Le Tohic et al) a thing or two about proper restaurant hygiene.
>>>>>>>>>>>>>>>>>>>><<<<<<<<<<<<<<<<<<<
* "Choad the Douche Sprocket" is ELV's nom de plume on Hot Chicks with Douchebags.