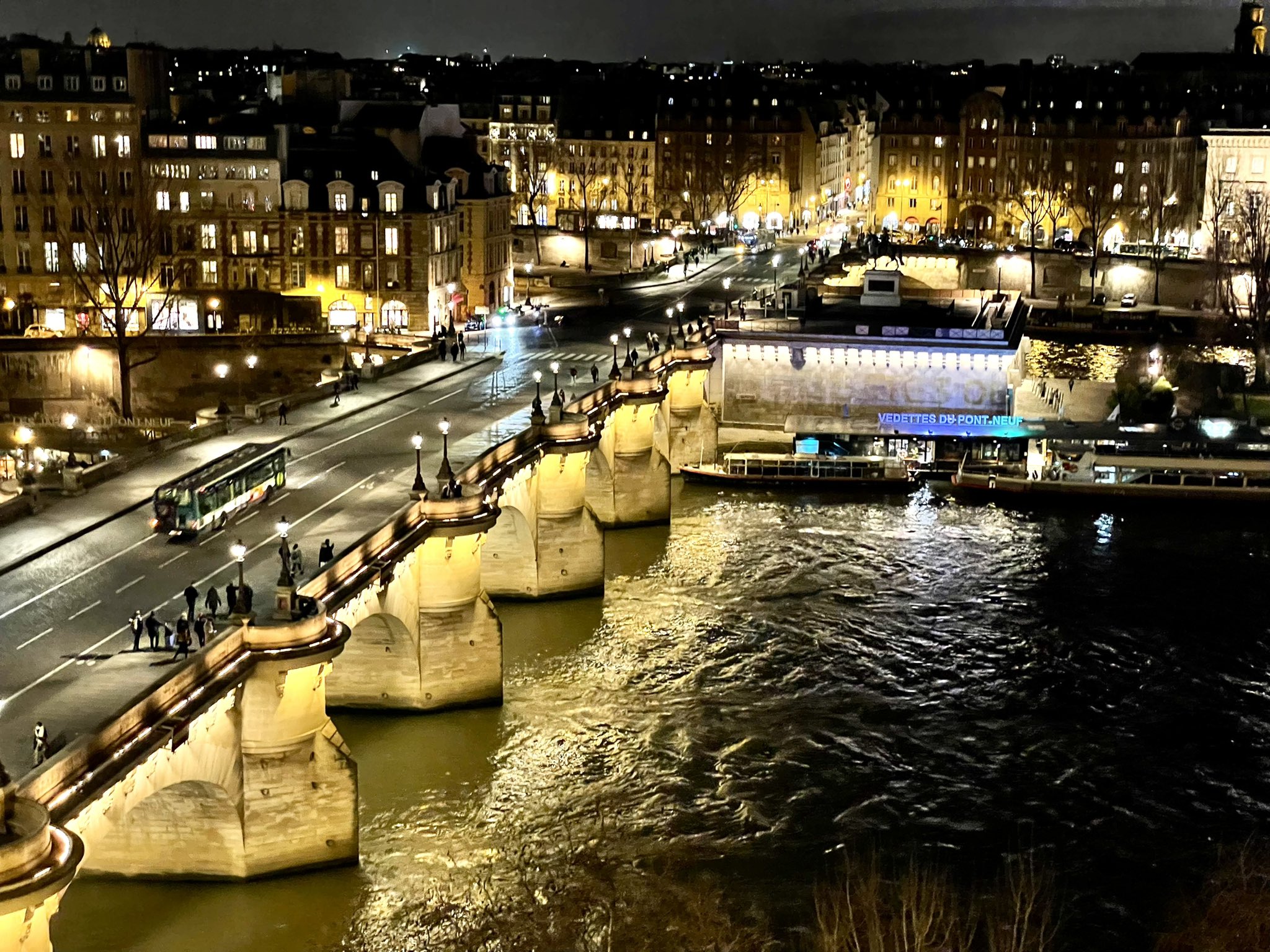 (Le Pont Neuf)
Paris is chock full of cutting-edge eateries with hot young chefs, willing to mix culinary metaphors willy-nilly to put their stamp on la cuisine Francaise. These gastro-bistros are all the rage in the age of Insta, but because of it, some of them can be painfully difficult to book. No disrespect, but at a certain time in your life, you simply do not have it in you to pursue the latest culinary fashion, or endure the indignities of begging for a table.
The last time we fell victim to restaurant-of-the-moment syndrome was a few years ago, when we were told we just had to go to Le Sevran, Le Severo, Spring, and Bistro Paul Bert if we wanted to taste real bistro cooking —  the au courtant pillars of bistronomy all the Instagrammers were raving about. We went (sometimes at great inconvenience – some are far removed from Paris central) and found the cooking generally to be precise and delightful, but not worth the travel or the hype. To be fair, Le Comptoir de Yves Camdeborde and  La Bourse et La Vie  (both in the heart of the city) did live up to their billing, but not so much we would sacrifice our time and self-esteem to eat there.  (cf. La Rotisserie d'Argent – where the food is just as good and reservations are a snap.)
Let's just say we're pretty comfortable kicking it old school these days, and after a two-year, Covid-imposed absence, we were more in the mood for old haunts than new discoveries.
LE GRAND COLBERT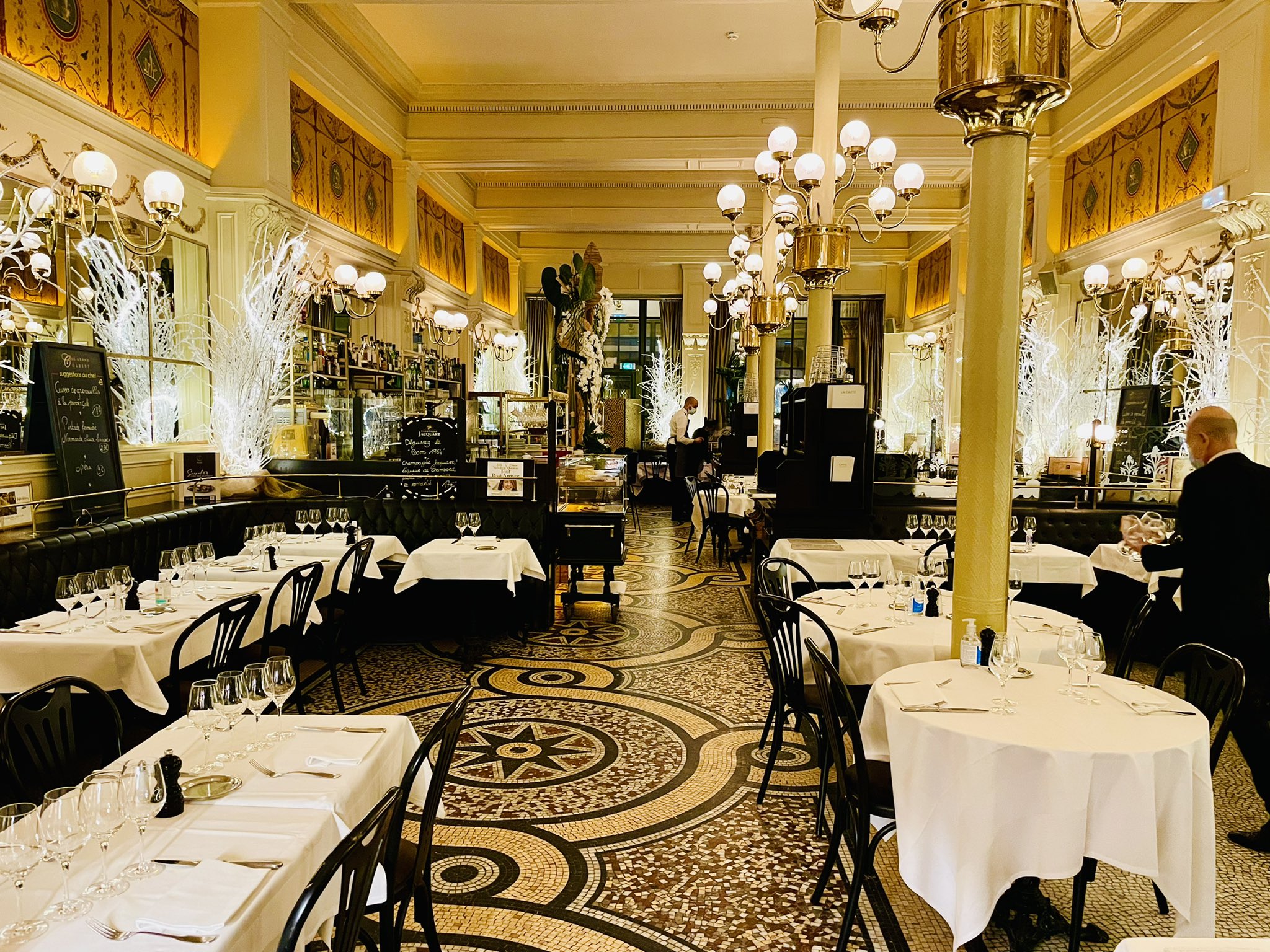 (Gorgeous at any hour)
One battle you will have to fight on your first few days in Paris is adjusting your appetite to the time zone. Hunger always seems to strike us in late afternoon, when Paris affords few options for a full, gastronomic meal. You may be starving and exhausted at 5:00 pm, but the French are still two-to-three hours away from even thinking about dinner. Popping into one of the ubiquitous cafés is always an option, but the better choice is to find one of the great brasseries (Ma Bourgogne, Lipp, Bouillon Chartier, Pharamond, to name but a few), in which to quell those pangs at surprisingly modest prices compared to the grand surroundings in which they are charged.
As brassieres go, they don't come much grander than Le Grand Colbert —  a Right Bank institution (since 1900) — which we approached at 5:30 pm,  ravenous and ready to gnaw an arm off, even though the sign said it didn't open until 6:00. As we turned away, ready to concede defeat, a voice wafted from the doorway in that sing-song-y cadence so beautifully employed by French women. "Bonjour Monsieur et Madame. I saw you walk by a few minutes ago. Yes, we are open."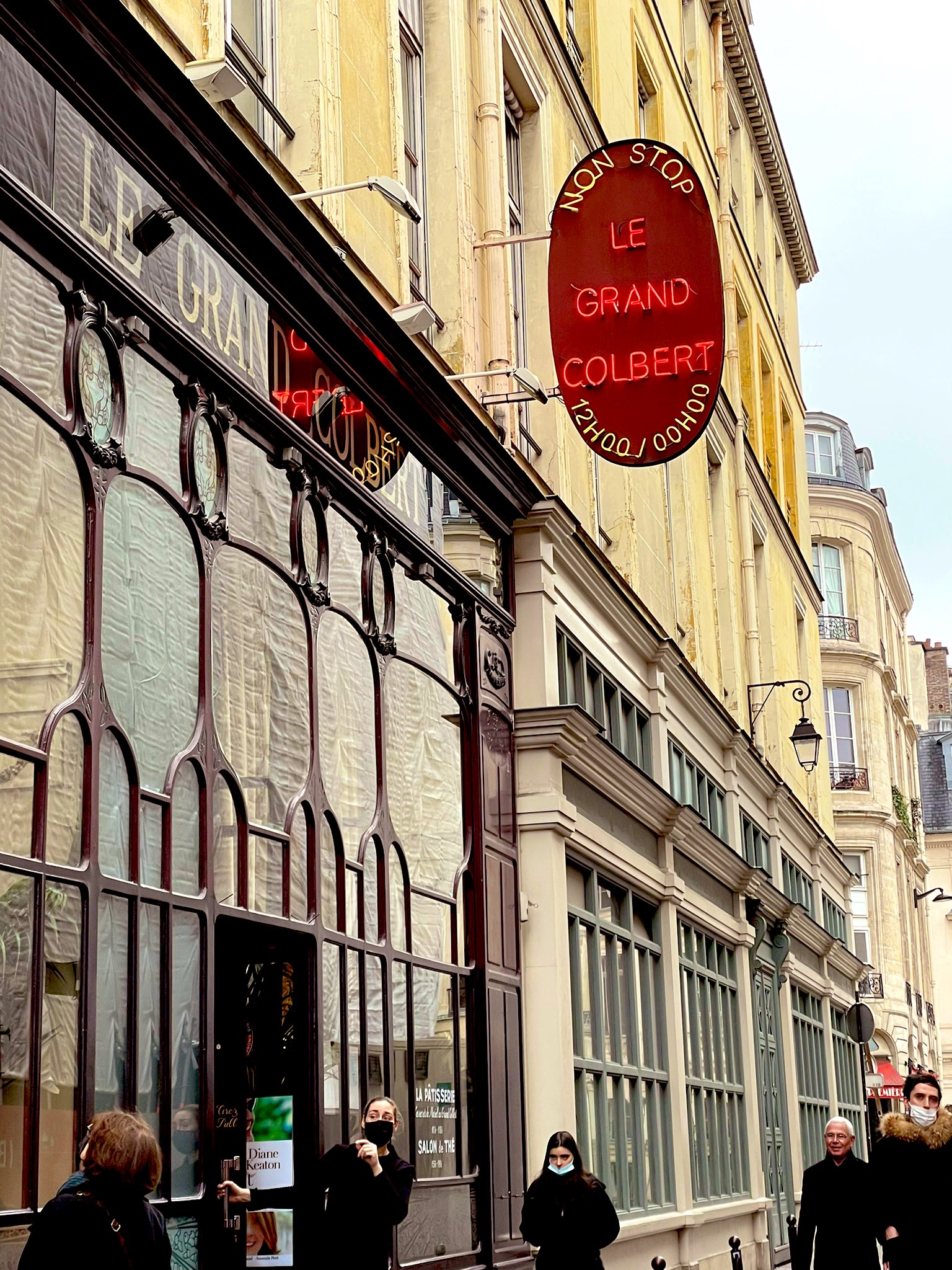 (Monsieur, thees way, s'il vous plait!)
Within seconds we were whisked to a corner booth in the eye-popping, Art Nouveau space and had menus in our hands. At this hour, only a skeleton crew was holding down the fort, and a young French couple were the only other diners basking in its Belle Époque splendor — by equal parts spacious, romantic, dramatic, and cozy. No mean feat that. But the tuxedo-ed waiters treated us like we were regulars, and within minutes we were being happily sated.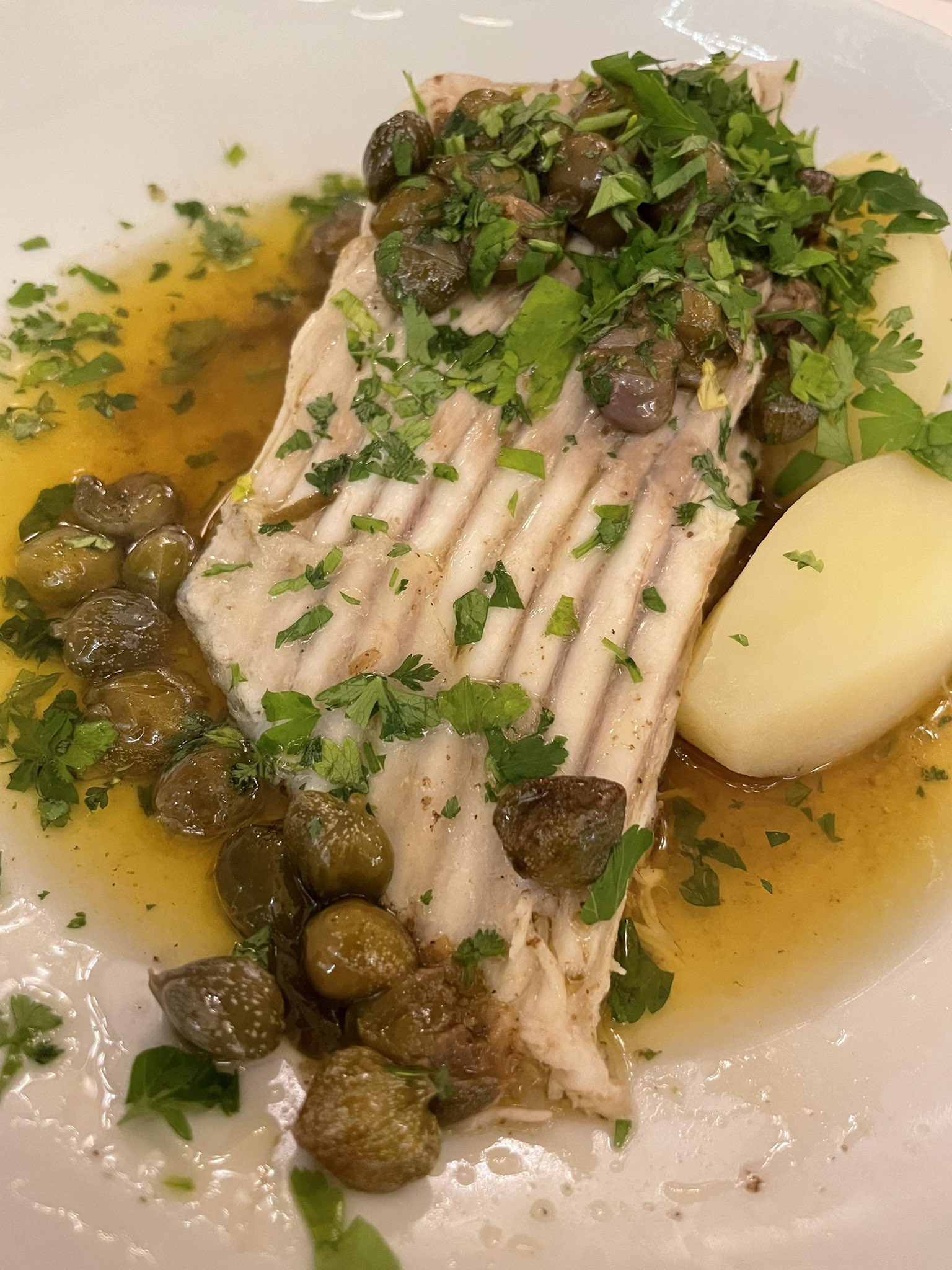 (Skate it from me: this ray of hope capered our day)
The menu is as comfortable as the design is spectacular. Nothing fancy, just French comfort classics like blanquette de veau, smoked salmon with blinis, Breton skate wing (swimming in butter) with capers (above), and the ever-present Ile Flottante (below), which we could eat every day…and almost did! We polished these off with an alacrity that probably confirmed a few stereotypes to our hosts, but they served everything in good cheer to a couple of famished, appreciative Americans. A half-carafe of house Sancerre rounded things out, and it was as satisfying a meal as we could've hoped for at that hour. (All of it coming to 131 well-spent Euros.)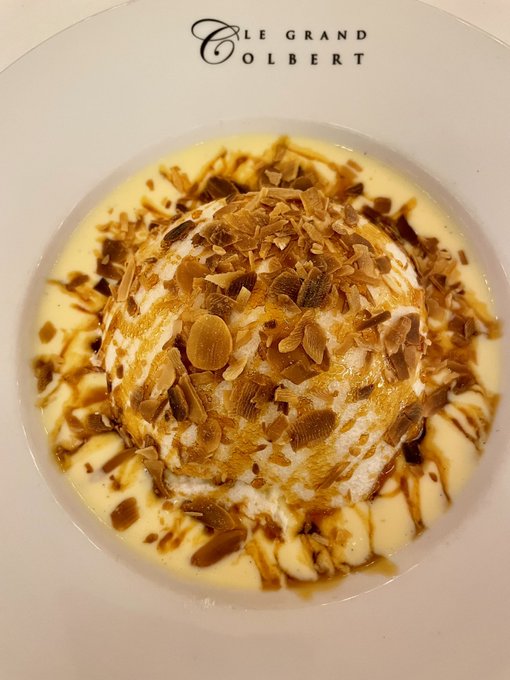 (Floating island floats our boat)
Le Grand Colbert wears its casual elegance the way only a one-hundred and twenty-two year old Parisian icon can. It is one of those places where everyone looks great bathed in its golden glow, and you can just as easily envision people dressed to the nines there as you can a bunch of businessmen or a mysterious couple pursuing an affaire de coeur. But there's nothing stuffy about it, the service is sincere, and the cooking keeps everyone happy, whether you're a local or an esurient tourist looking for a plate of honest grub. Restaurants like this simply do not exist in the United States. They are one of the great treasures of France, and reason enough, all by themselves, to hop a plane across the pond.
2 Rue Vivienne 75002
+33 1 42 86 87 88
LE GRAND VEFOUR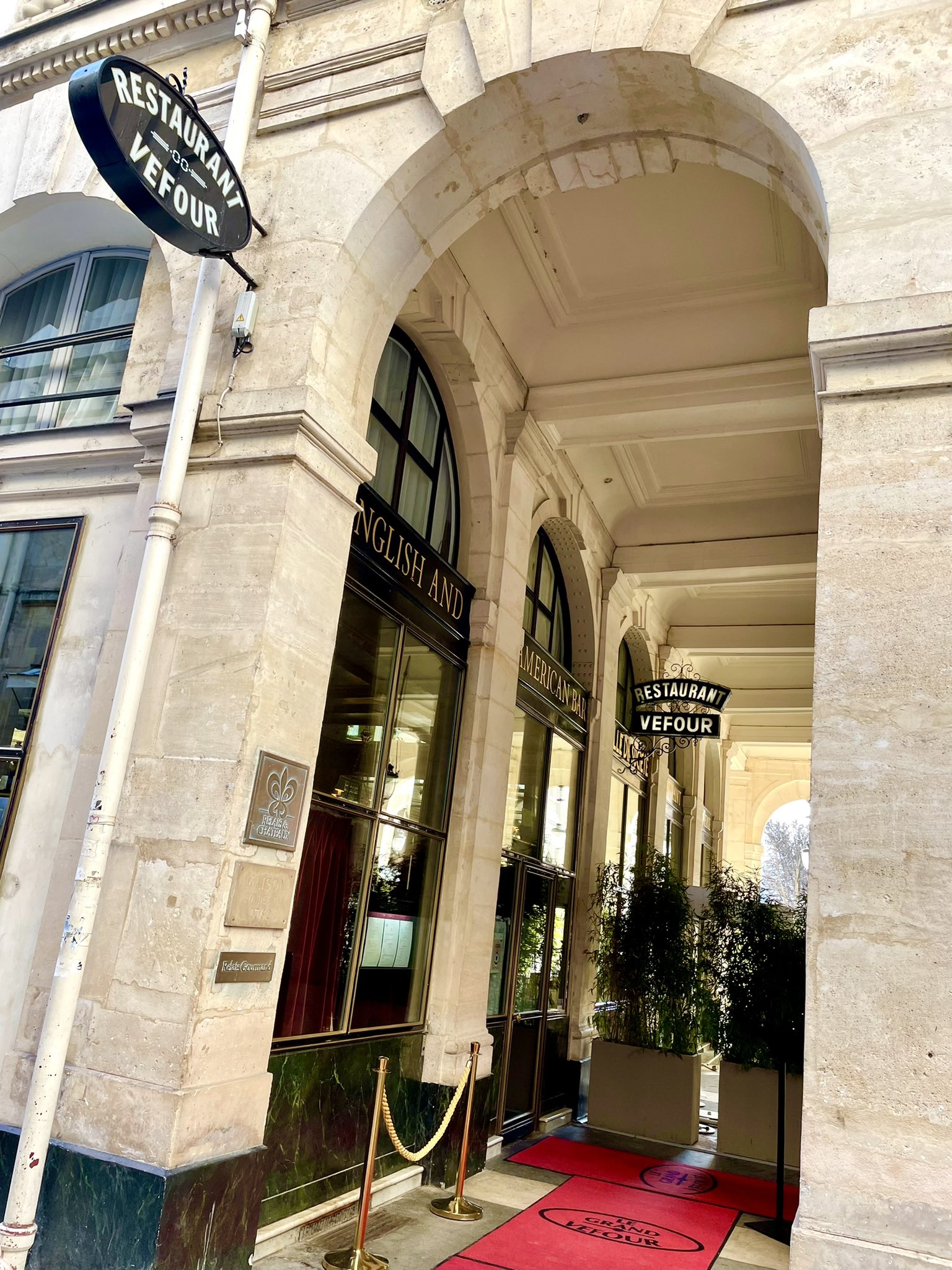 (Once, my happy place)
As you can see, we're a sucker for historic French restaurants — the older the better. In that regard, they do not come much older than Le Grand Vefour — which has been serving food in one form or another from its corner of the Palais Royale since 1784. There is something so bewitching, historic and lovely about the interior of this grande dame that is almost impossible not to fall in love with it. And in love with it we have been, since we first ate there in 1995.
In fact, it was John Mariani's own recommendation — read in Esquire magazine — that led us to this jaw-dropping icon over a quarter century ago. We sat in a booth where once Colette held court, right next to where Napoleon and Josephine used to park themselves. Over the years we have been multiple times, and it always seemed like we were dining at the spiritual home of French cuisine when we walked through the doors.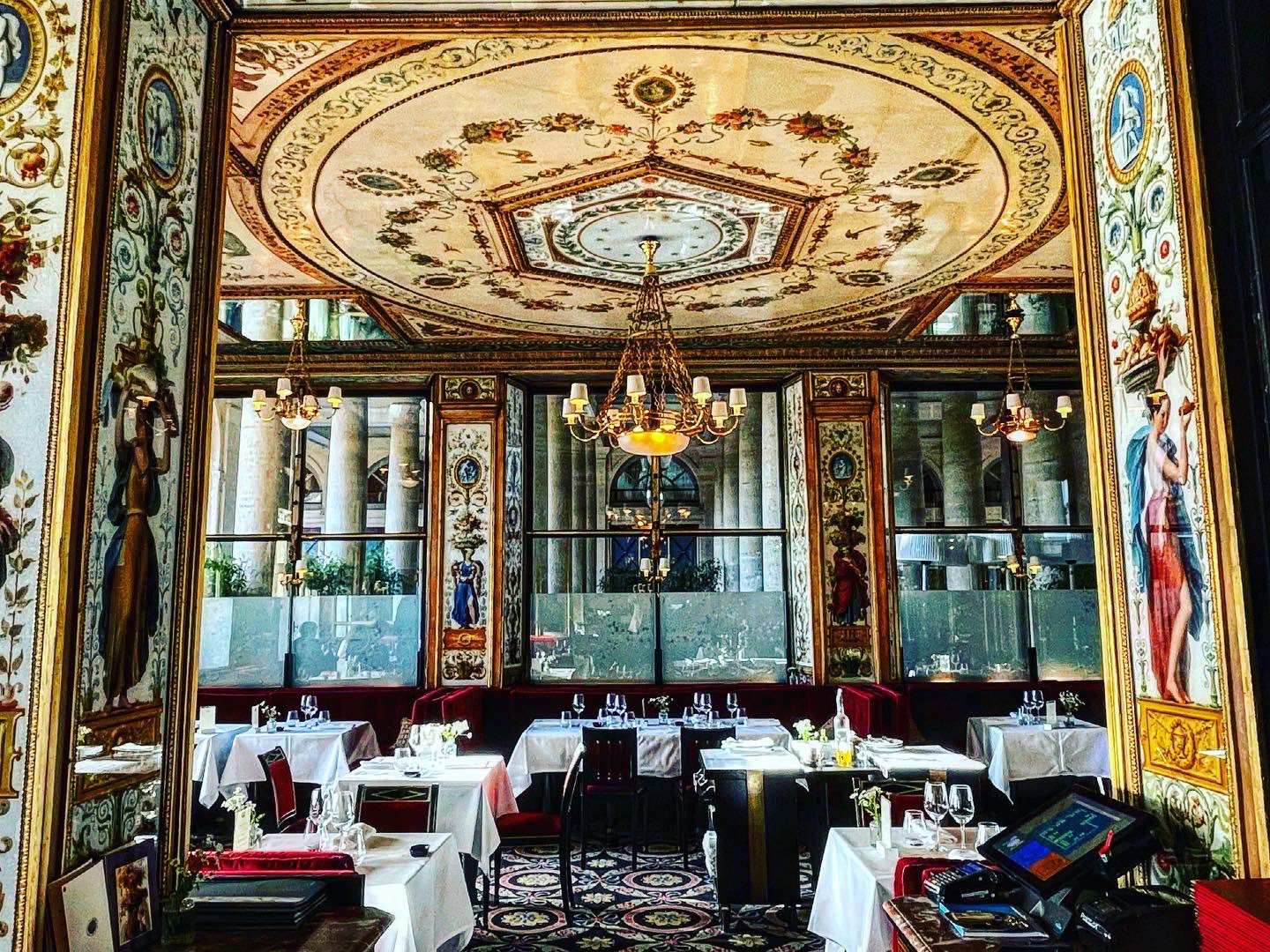 (Minimalism got guillotined in 1793)
To me, Vefour has always been the complete package: elegance, historical, from the gleaming antique mirrors to the lush velvet booths, to the service synchronized to Guy Martin's cuisine: modern in concept, classic in execution, with enough oblique angles and surprises (he's a wizard with vegetables) to keep you interested. It all worked with the precision of an exquisite jewel box.
The long-suffering Food Gal, had heard me rave about LGV so many times she insisted we make it our first "big deal meal" in Paris. Both of us assumed these restaurants would be over their Covid hangover and back to normal, by and large, most were. From the modest cafes to the grandest palaces, aside from checking our Covid passes, everything felt just as as comfortable as 2019.
Except here.
Nope, here everything was palpably different. The only thing that rang true was the look of the place — not even a pandemic can undo two hundred years of over-the-top, Louis Quatorze decor.
Our first sign of discomfort came from the shockingly shrunken wine list, more befitting a bistro than the grande dame of Parisian dining. The one they offered was a mere wisp of the hefty text we had perused two years ago. Imagine expecting a dictionary and being handed a magazine and you'll appreciate our discombobulation.
When we inquired of the surly sommelier (once in English, then in French) where the actual, main list was, he pointed to his temple and said dismissively, "Eet eez all up here." Mr. Happy never cracked a smile and barely acknowledged us as we thumbed through the dozen or so pages. The list was not without its appeal, and we drank well, but it was obvious from the jump that something was amiss.
Then we looked around the room. It was a mid-week lunchtime, and only two other tables were occupied, and the service crew had shrunken to a handful of casually-dressed waiters — not the tuxedo'd brigade of waiters that had moved through the room with balletic grace in a beehive of activity two years earlier. (Mix. That. Metaphor!)
Then the menus came and they were abbreviated as well. We were consigned to a young, bilingual chap who did his best but seemed out of his depth whenever a simple question was asked. The somm appeared when a bottle was to be opened, and then disappeared to who knows where the rest of the time.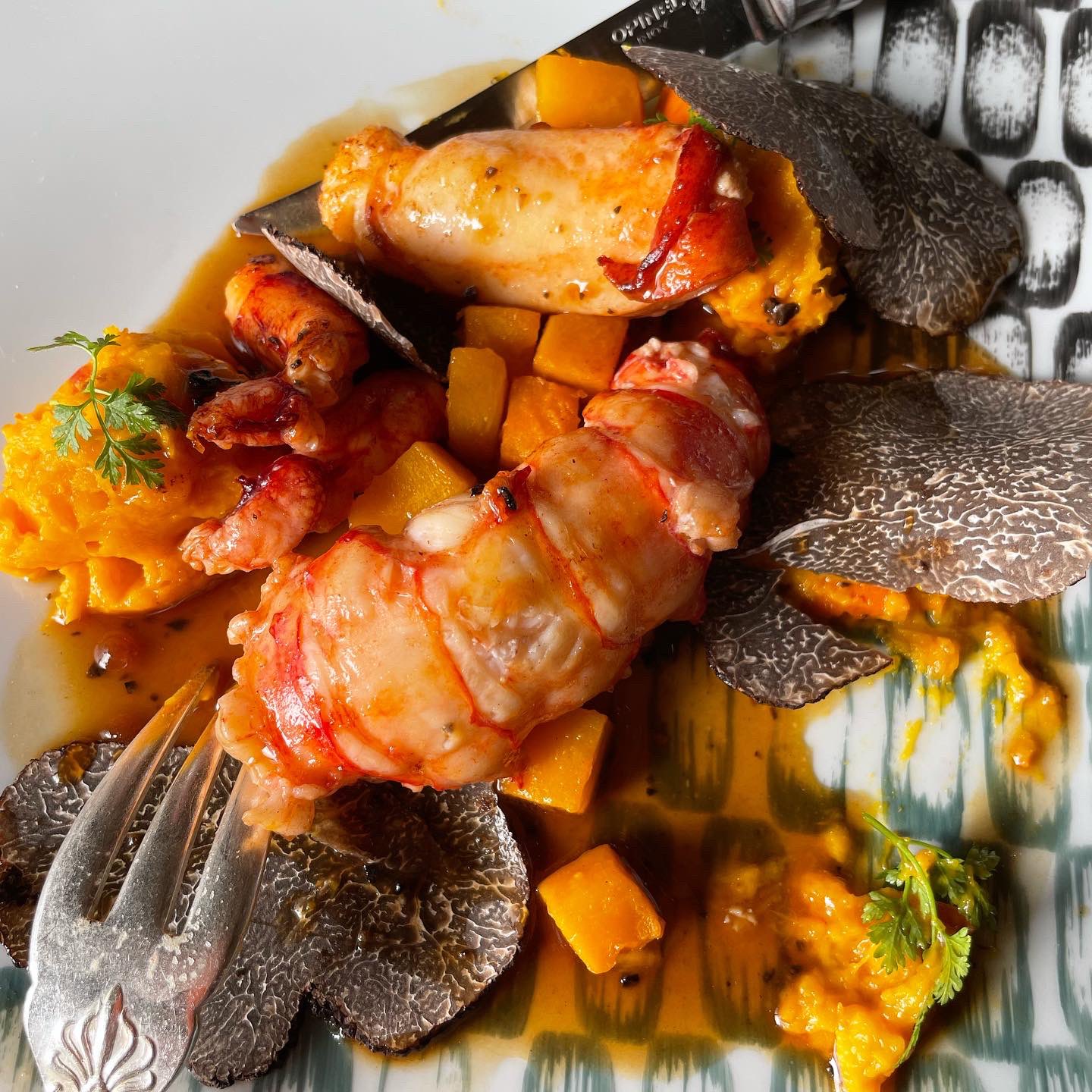 (Lovely lobster; superfluous truffes)
The four of us ate well, but the meal was but a shadow of the precision and pomp we remember. Brittany lobster brought all the right pungency notes Homarus Americanus never achieves, but the sweet-sour haunch of wild boar was overwhelmed by a sauce both too sweet and too sour(?). A real head-scratcher, that.  I went all-in on the black truffle lunch of 120 euros… it wasn't worth it. (This from a Guy Martin fan-boy who would've gladly paid double for any of his previous meals.)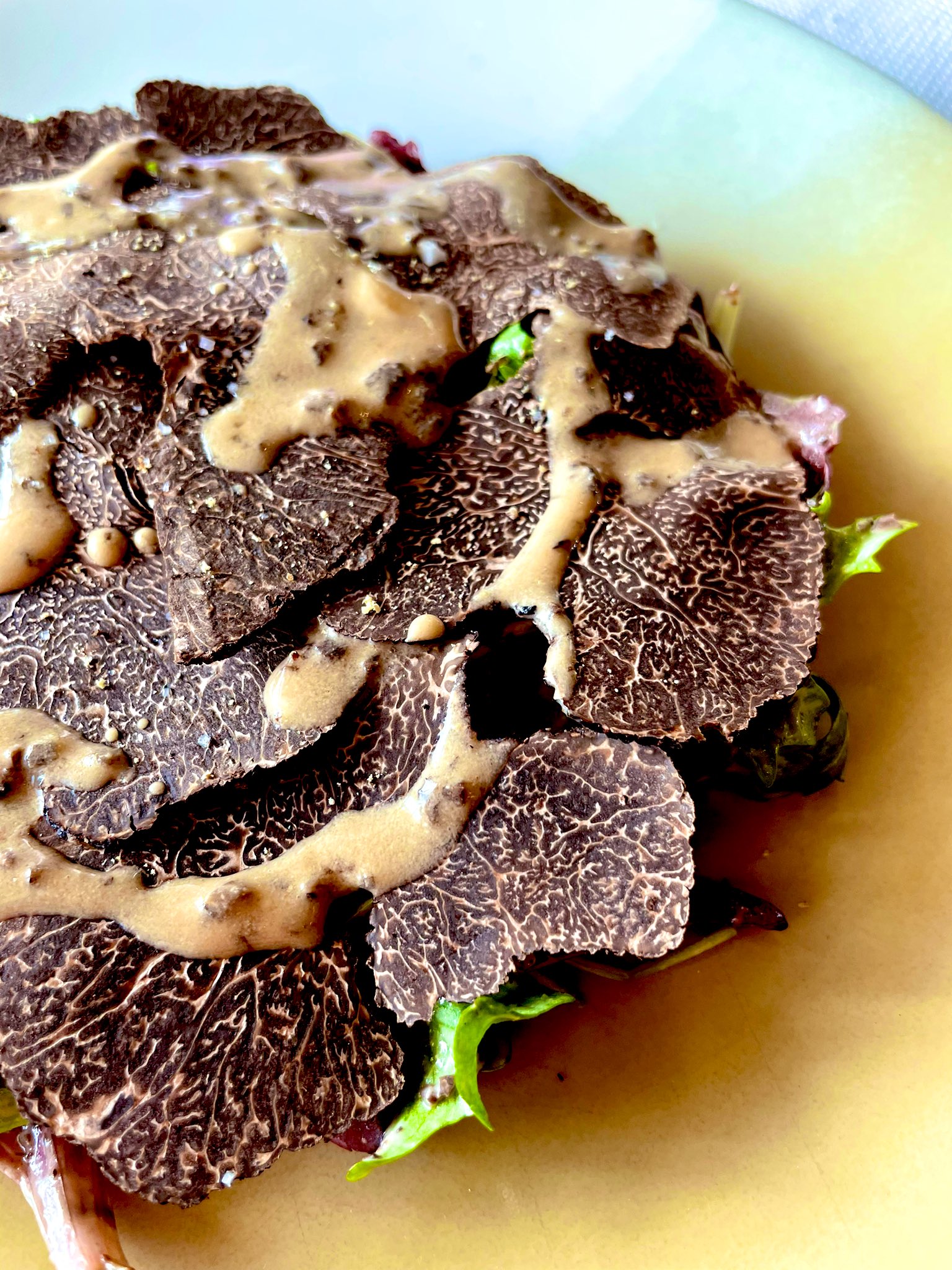 (Truffle salad, not worth the tariff)
The salad peaking beneath a festoon of sliced tubers was pedestrian; the truffles had no punch, and the dressing brought nothing to the party. 
Most everything else was functional but forgettable. The best thing we tasted were the black-truffled mashed potatoes (below), because the black ones need to be cooked in order to properly strut their stuff, and it was the only dish that bothered.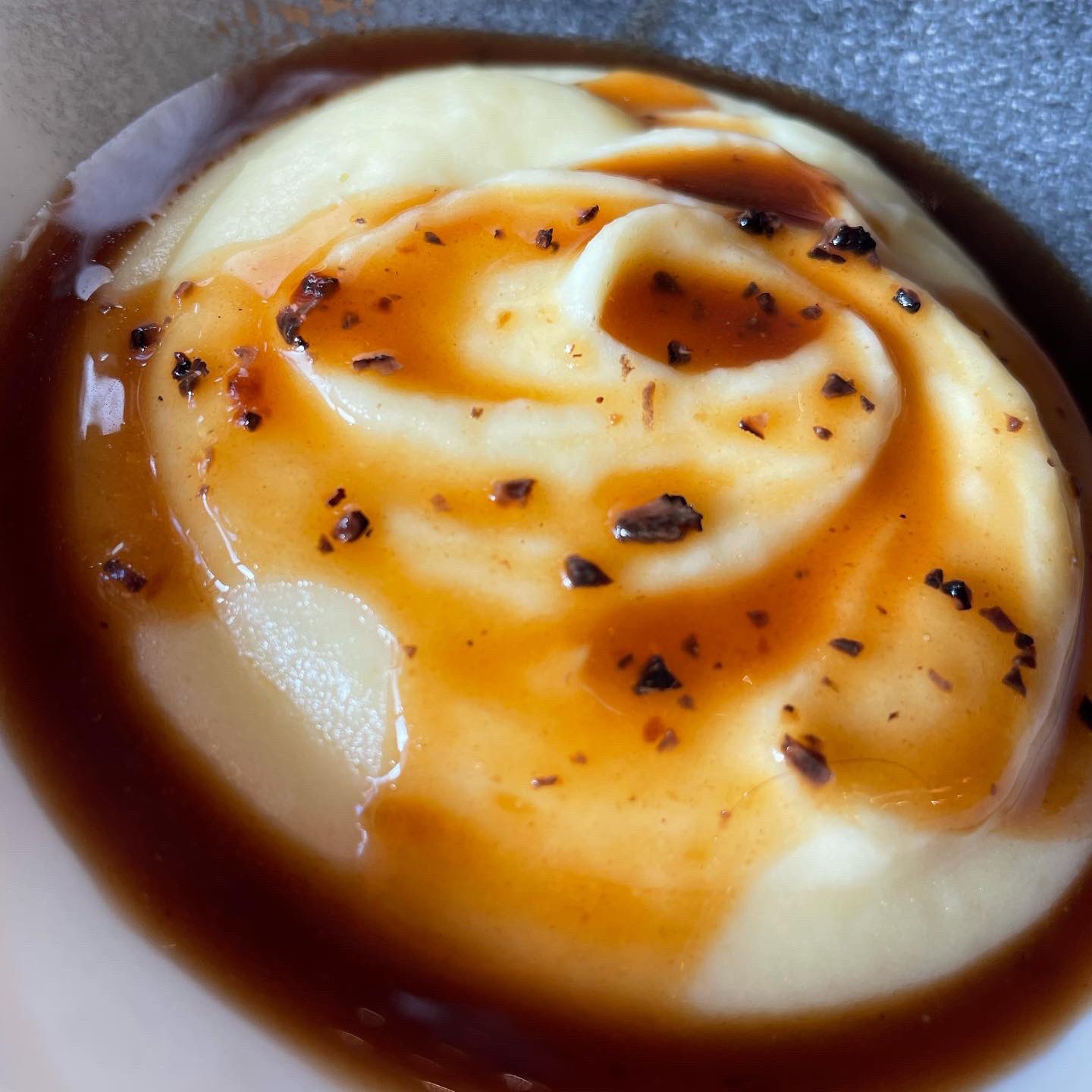 (Black truffles at their best)
The three-course prix fixe of 58 euros is a steal, but on the whole, the food felt slapdash rather than refined. Certainly nowhere near the level of Michelin stars we had come to expect.
And then there was the cheese problem — by which we mean the lack of cheese problem — which was the last thing we expected in this temple of gastronomy.  Before we explain, please allow a slight digression.
Yours truly looks forward to the cheese carts in fine French restaurants the way a five-year old anticipates Christmas. Les cartes des fromages are one of the gastronomic glories of France, a reason all by themselves to fly there. By the time our trans-continental flight lands, my chops are already well-licked, and honed to a (cheese) knife's edge of anticipation.
I attack a Michelin-starred cart with unbridled passion and shameless salaciousness: "Will I gorge myself on Brie so fresh it tastes straight from the udder? Or look to an aged Beaufort shot through with butterscotch-tinged umami? Or perhaps confine myself to a eye-watering Reblochon, a ripe Roquefort, or some obscure goat shapes with bloomy rinds resembling crushed white velvet?"
These are the thoughts dancing in my head as we approach the front door of Le Grand Vefour — as nervously excited as a child entering a candy store.
But not in 2022, mes amis. Not at this lunch. Believe it or not, there was no cheese cart. No luscious wheels of Camembert tempting me, no mighty cylinders of ivory-colored Fourme d'Ambert, no esoteric, nutty Alpines, zero chance to tuck into a type of uncompromising, unpasteurized cheese you've never heard of.  In a restaurant that has existed as a showplace for haute cuisine…for 238 years! — we were told by the disconsolate somm: "the chef will select the cheeses for you" — which, to a turophile is about as compelling as having someone pick your porn.
A plate of four was presented, all were fine, but that's not the point.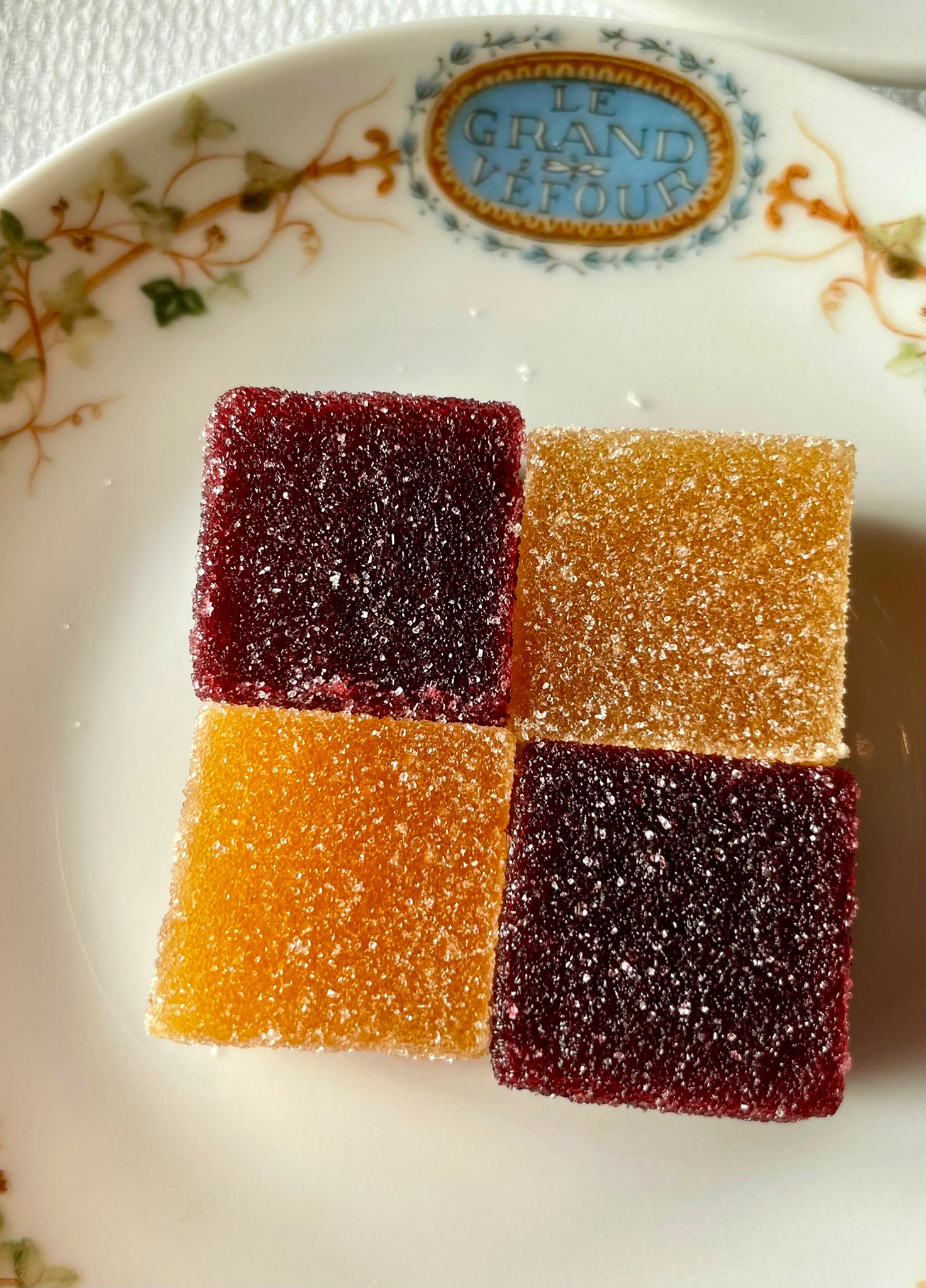 (Breaking up is so very hard to do)
By the time the desserts rolled around, Monsieur Sourpuss had left the mop-up duties to his young charge. The place was empty and our spirits had curdled harder than a broken Béarnaise. Later in our trip, we shared our disappointment with a famous chef. "I heard they were turning it into a brasserie," he said with a smirk and one of those Gallic shrugs. He didn't know it, but his words sounded the death knell of our twenty-seven year love affair with this restaurant.
Which, like most affairs, ended not with a bang but a whimper…and a sigh.
Our dejeuner pour deux came to 480 euros.
17 Rue de Beaujolais 75001
+33 1 42 96 56 27
LES CLIMATS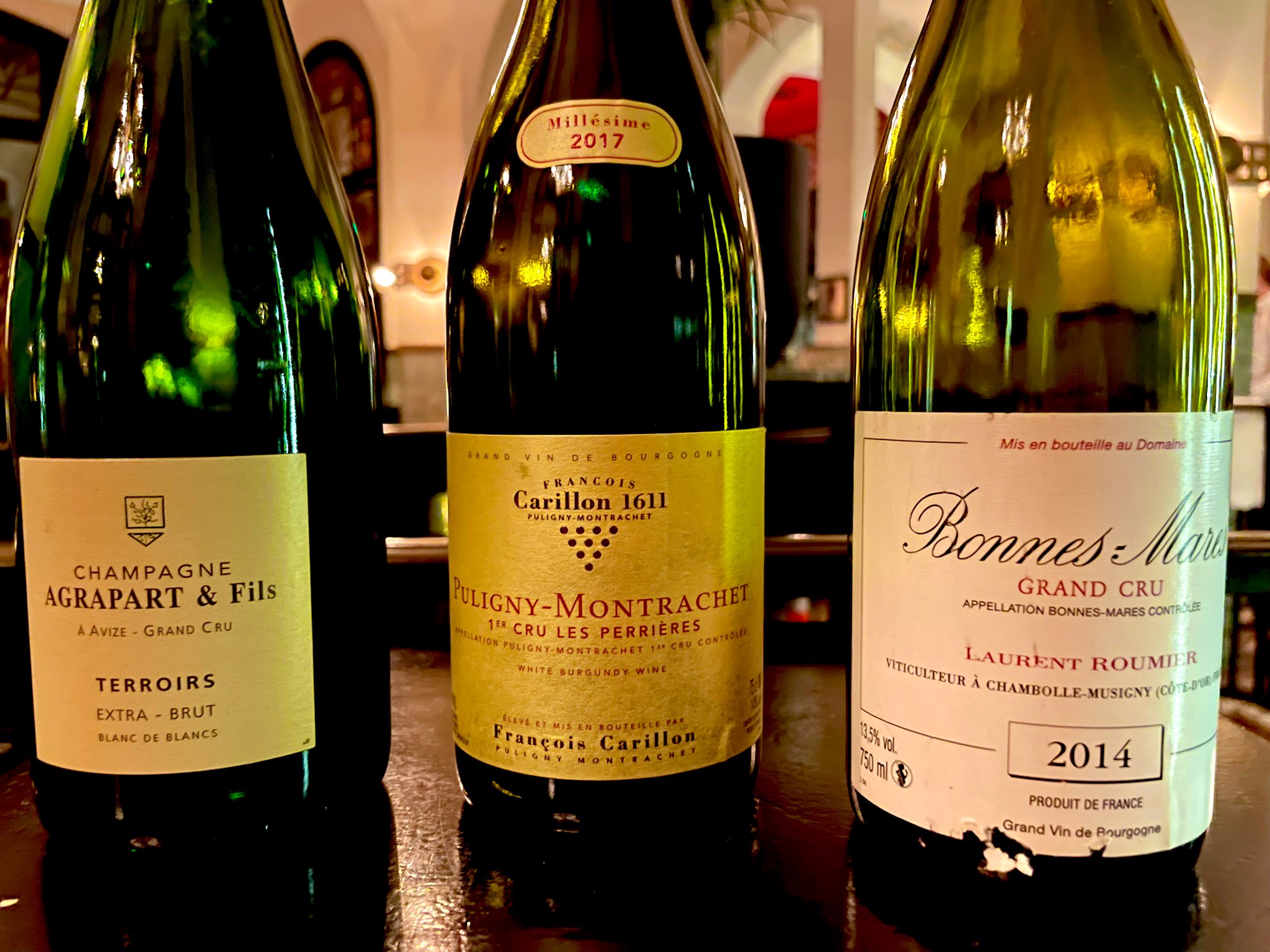 Like many of the restaurants this trip, Les Climats has become an old favorite, even though we can't tell you very much about the place. To be honest, even after three trips here, I don't know what the joint looks like.  Truth be told, I haven't paid much attention to the food either, although my friends tell me it is excellent and my plate always seems to be cleaned. This is because our eyeballs rarely divert from the wine list, and our prodigious proboscis is usually too deep in a glass.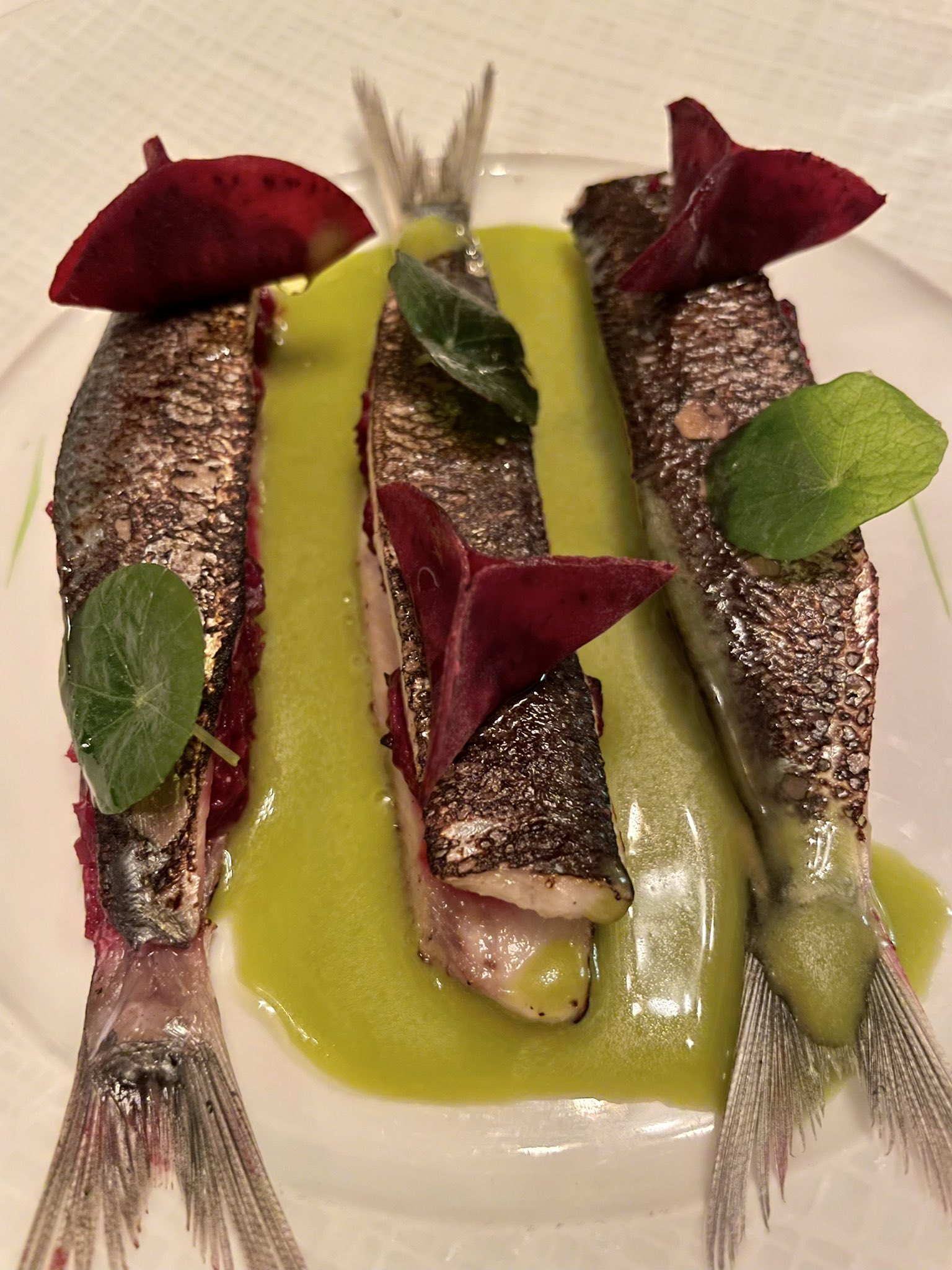 (These sardines are an example of the excellent food at Les Climats about which we know very little)
Apparently the design is a good example of Paris' arts-and-crafts aesthetic, but paying too much attention to such folderol will only serve to divert you from the real point of this place: to explore the greatest Burgundy wine list north of Auberge du Pot d'Etain.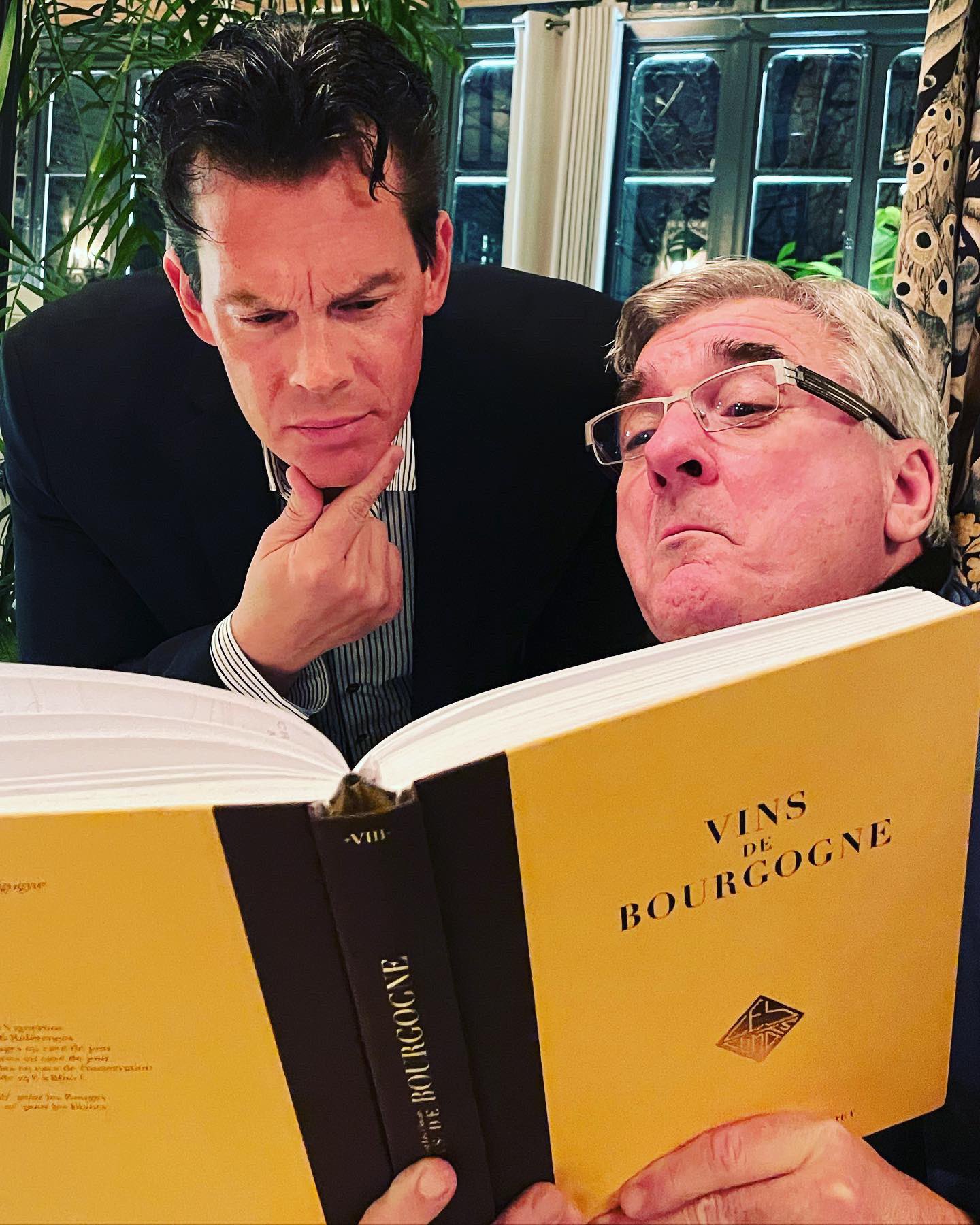 (Wine cards in Paris take many forms, some of which can be taken to the gym)
Over 300 winemakers are represented, in a cellar of 28,000+ bottles. "Les paradis des Vins de Bourgogne," say owners Denis Jamet and Carole Colin, and that pretty much nails it.
It is a list which is a Burghound's dream come true — a  carte des vins organized according to village, producer, vintage and vineyard. (The term "les climats" refers to the various terroirs, i.e., climates of Burgundy where the grapes are grown.) You can't nerd out much more on wine than diving into these pages, and the astonishing collection will keep even the most arrogant grapenut occupied for an entire meal.
But enough about me.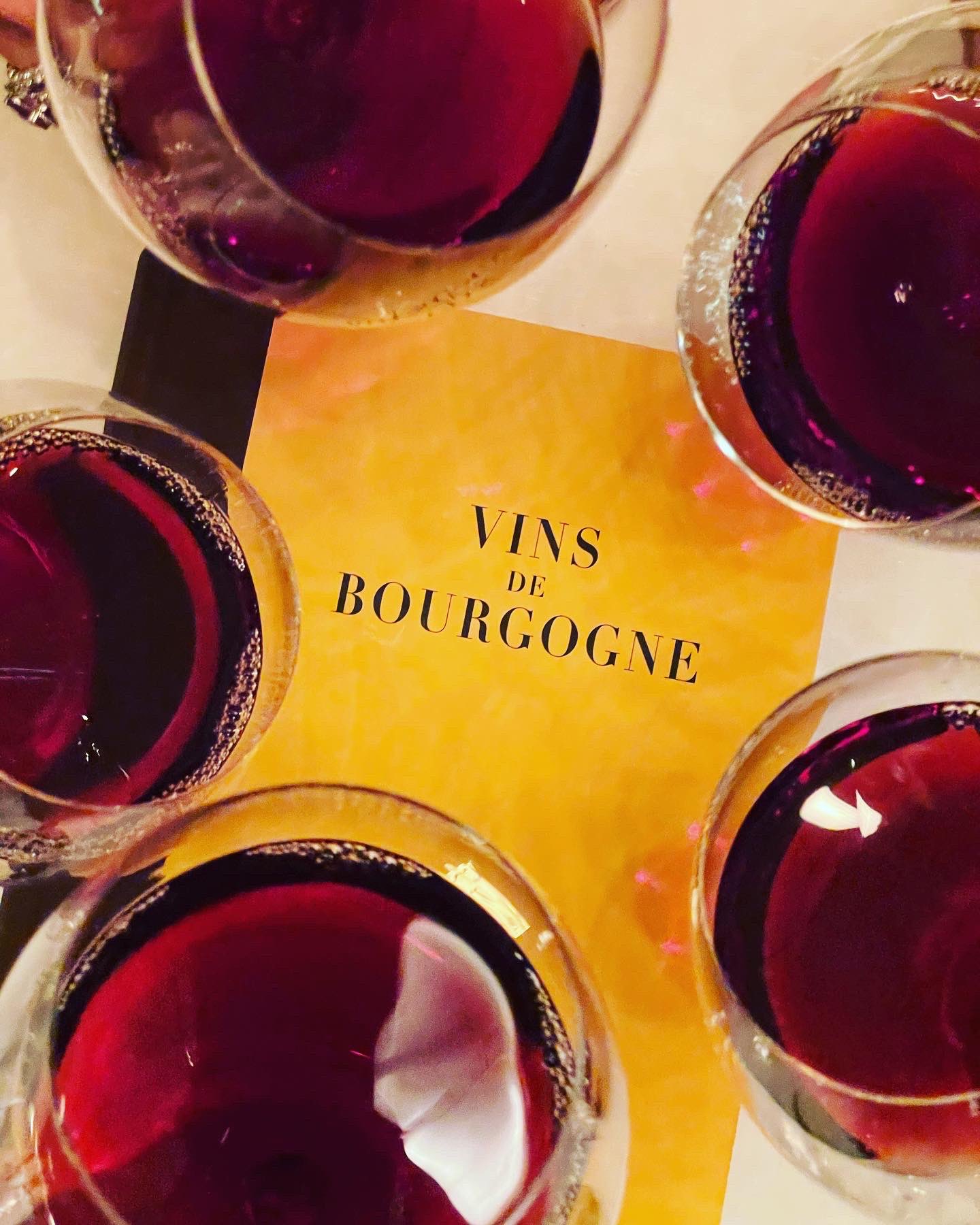 Our technique for choosing a bottle is well nigh perfect and we've yet to be disappointed with the results. It consists of studying the hefty tome with the solemnity of a Talmudic scholar parsing the Dead Sea Scrolls, then fretting and fussing over the wealth of choices before us…. and then giving up. With gleeful resignation, we motion the sommelier to our side,  and stab at one of the 465 pages with a plaintive look in our eye while indicating a general price point. On cue (this is not his first rodeo), the  sommelier smiles at our defeat at the hands of the weapon he wields and makes a joke about how overwhelming it can be. He then says something like, "Mais oui, monsieur, I theenk we can find for you some-zing you will love." Invariably, a fantastic bottle arrives, slightly underneath my budget and far above my expectations.
Neither a grand café, nor a classic brasserie, nor a gourmet palace, Les Climats occupies a middle ground in the firmament of Paris dining. The food is haute but not haughty; the rooms are pleasant but not baroque; and the settings are proper but not showy. Service is attentive but not intensive care, and the customers more casual and local than you'll find at the "worth a special trip" addresses. It may have a Michelin star, but as I cruise into my golden years, I care less and less about such things. You will eat and drink very well here, and feel like a Parisian while doing so. If there's a better place to drink Burgundy in Paris, I haven't heard of it.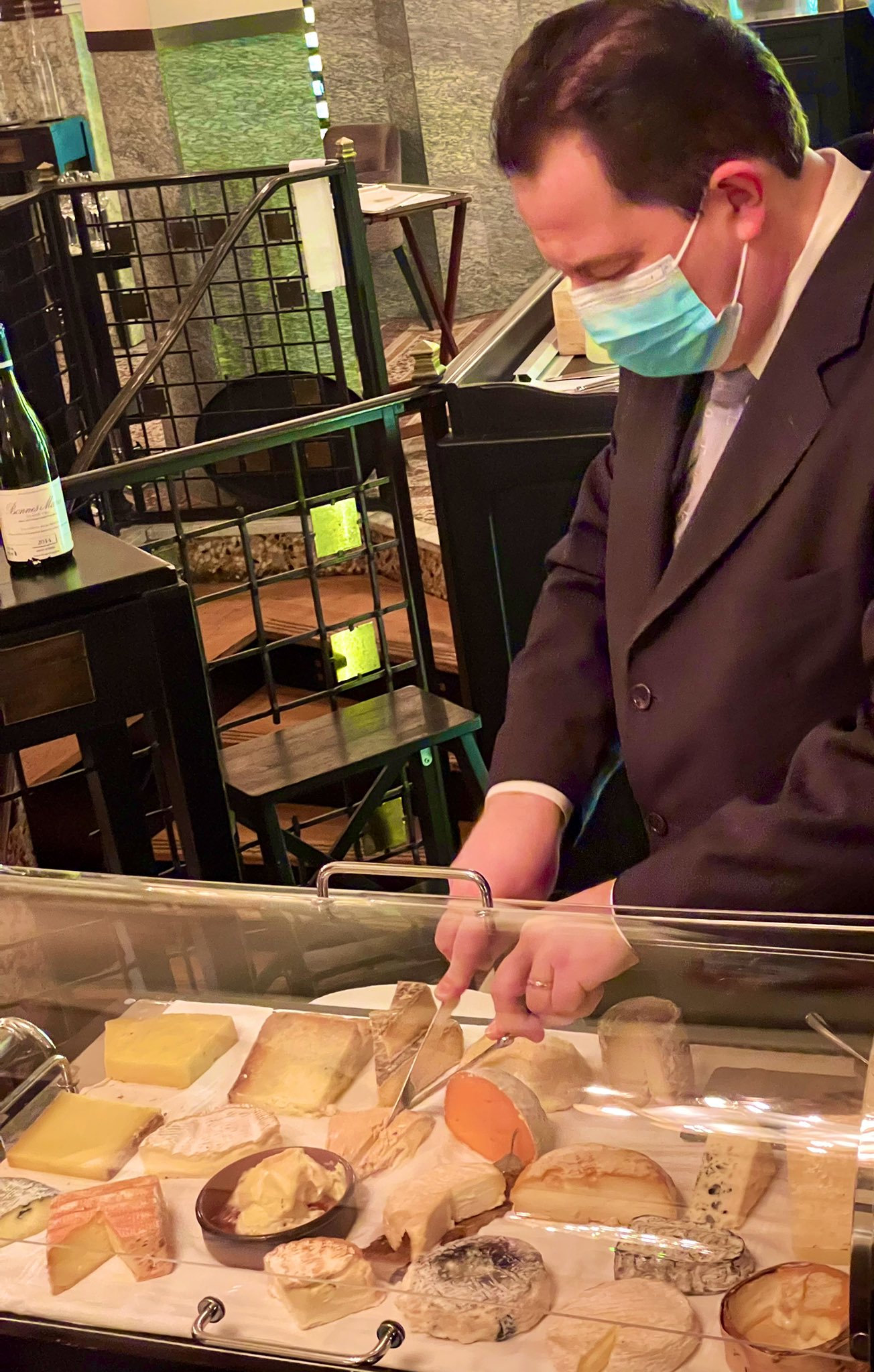 (Curd, glorious curds)
BTW: they also had a cheese cart of impeccable pedigree, and a waitstaff who knew their curds. Take that, Le Grand Vefour!
Dinner can get to 150 euros/pp in a blink, and even with bargain Burgundy (by American standards), your wine tariff will exceed 50% of the bill.
Our dinner, including several trophy bottles, came to 671 euros. I have never been here for lunch, but like most better Paris restaurants, they offer a prix fixe three-course bargain (56 euros).
41 Rue de Lille 75007
=33 1 58 62 10 08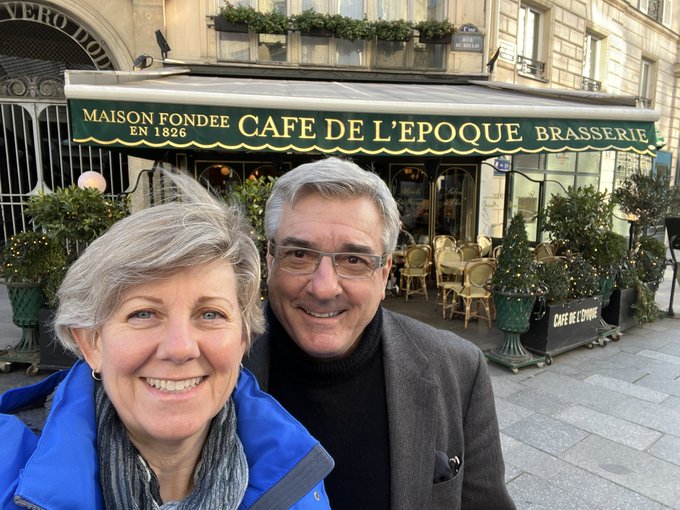 Paris is always a good idea – Audrey Hepburn)