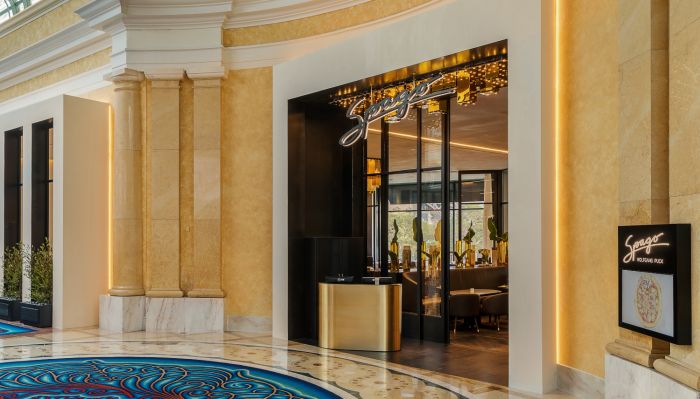 No matter what it does, it does well. No matter what you order, expect it to be one of the best versions you've ever had. Call it Wolfgang Puck magic; call it a great management; call it hiring good chefs at the top of their game. Whatever it is, call it consistency. Because if there's one thing that sets Spago apart from its competitors, it is an almost military precision to its food. You will rarely have a bad dish in any Puck restaurant. At Spago, you'll never have a bad bite.
Las Vegas got its first taste of Spago in December. 1992, and for the next twenty-five years it loomed large over the Strip dining scene as the granddaddy of all of our great restaurants. When its lease finally was up at the Forum Shops in 2018, it decamped for the Bellagio. Puck signed a management deal with the hotel (no more operational headaches for him!), and with a wave of the hand (and a "don't let the door hit your ass on the way out"), the dreary Olives got a bright, modern makeover into Spago 2.0.
About the only thing not to like about the new location is the front of it (seen above). Instead of signaling you're in for a big deal meal at one of the most famous restaurants in America, the signage is abstruse to the point of invisibility, and you can be right in front and not know there's a restaurant there.
Once you're inside, this aesthetic sin will be quickly forgotten. The bar still hugs the right side of the restaurant, and low-slung table seating allows you to eat or linger near all those top-shelf cocktails. Large windows and glass doors now frame an outdoor patio that provides the best seating in the hotel for the fountain show. (There are lots of tables outdoors, but they go fast at peak times, so reserve ahead if al fresco is how you want to go.)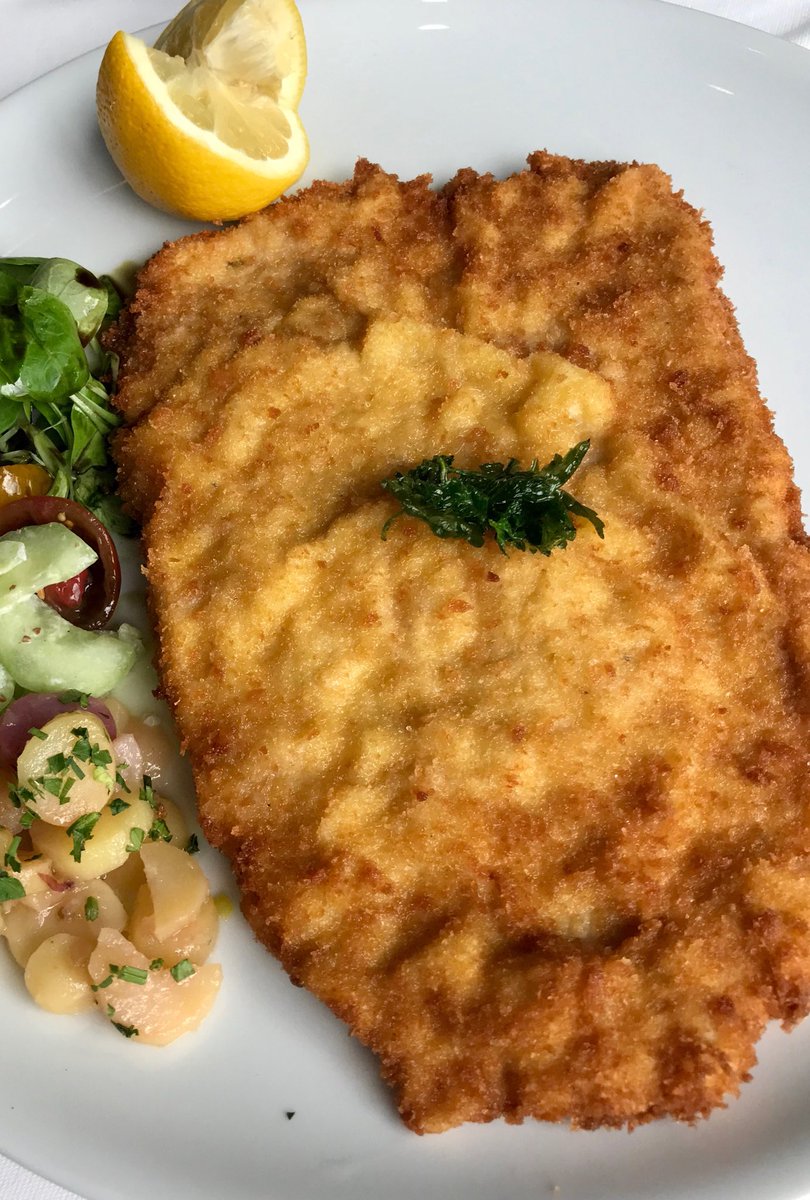 Whether you sit outdoors or in, the menu will provide the sort of soothing satisfaction Puck has always delivered: a blend of classics (veal wiener schnitzel, steamed cod "Hong Kong style," smoked salmon pizzas, crispy skin branzino), with the seasonal (sweet corn agnolotti, heirloom tomato salad, Santa Barbara spot prawns, vegetable ragout with asparagus velouté), and the formidable (veal chop, lamb rack, and a côte de bouef for two – each as good as any steakhouse's). Sometimes there will be big eye tuna crudo, sometimes foie gras ice cream. Whatever specials your waiter recites, rest assured it will be worth the tariff.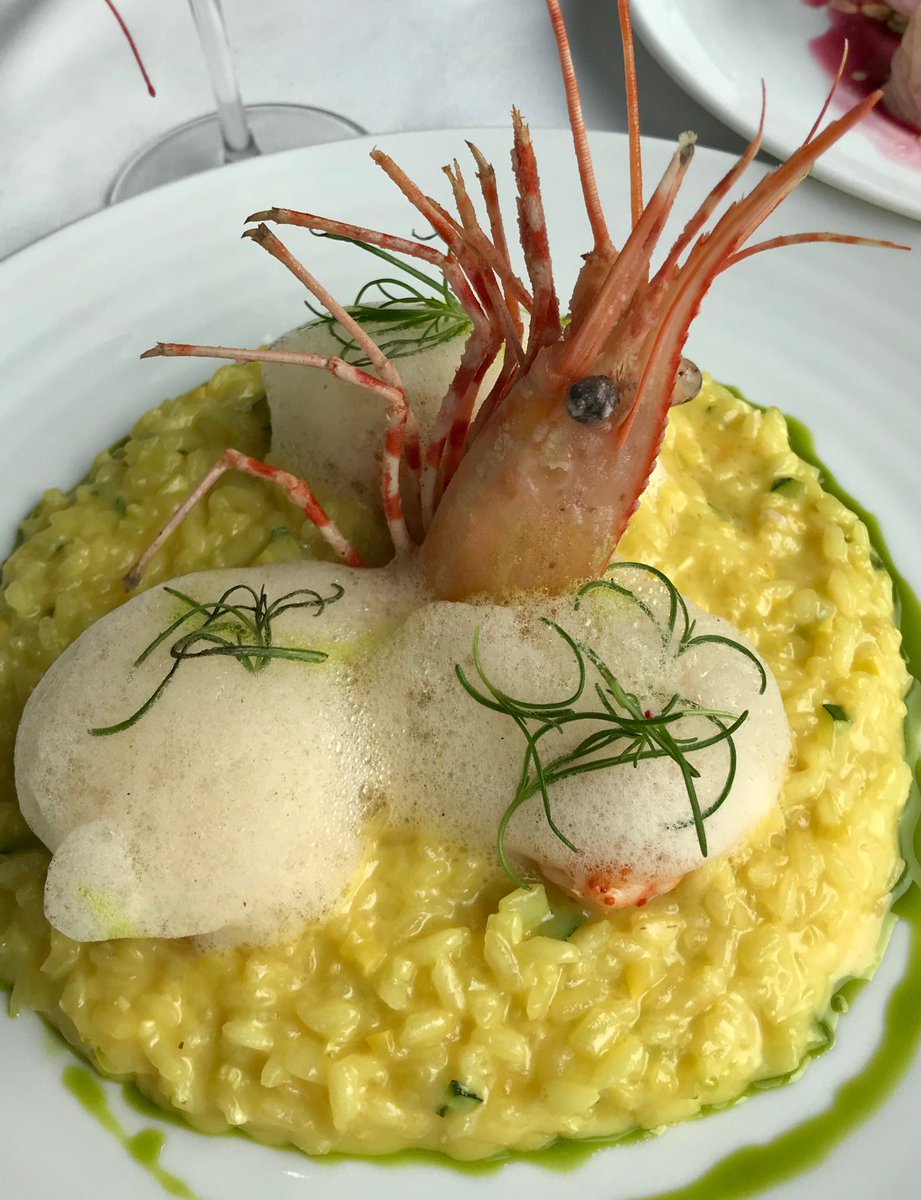 (I'm just mad about saffron…risotto)
Mark Andelbradt, a Puck veteran, has been at the helm since the move to the new digs, and his facility with pasta is every bit as nimble as his command of roasted cauliflower. If his proteins are the equal of a beef emporium, his noodles match up nicely against any Italian. More than once I've done a side-by-side comparison of Spago's house-made pastas with some celeb-chef versions around town, and every time Spago's has come out on top. Andelbradt's spicy lamb Bolognese cavatelli, squid ink garganelli, and those agnolotti are textbook examples of the genre, and when he's doing saffron-seafood risotto, don't miss it.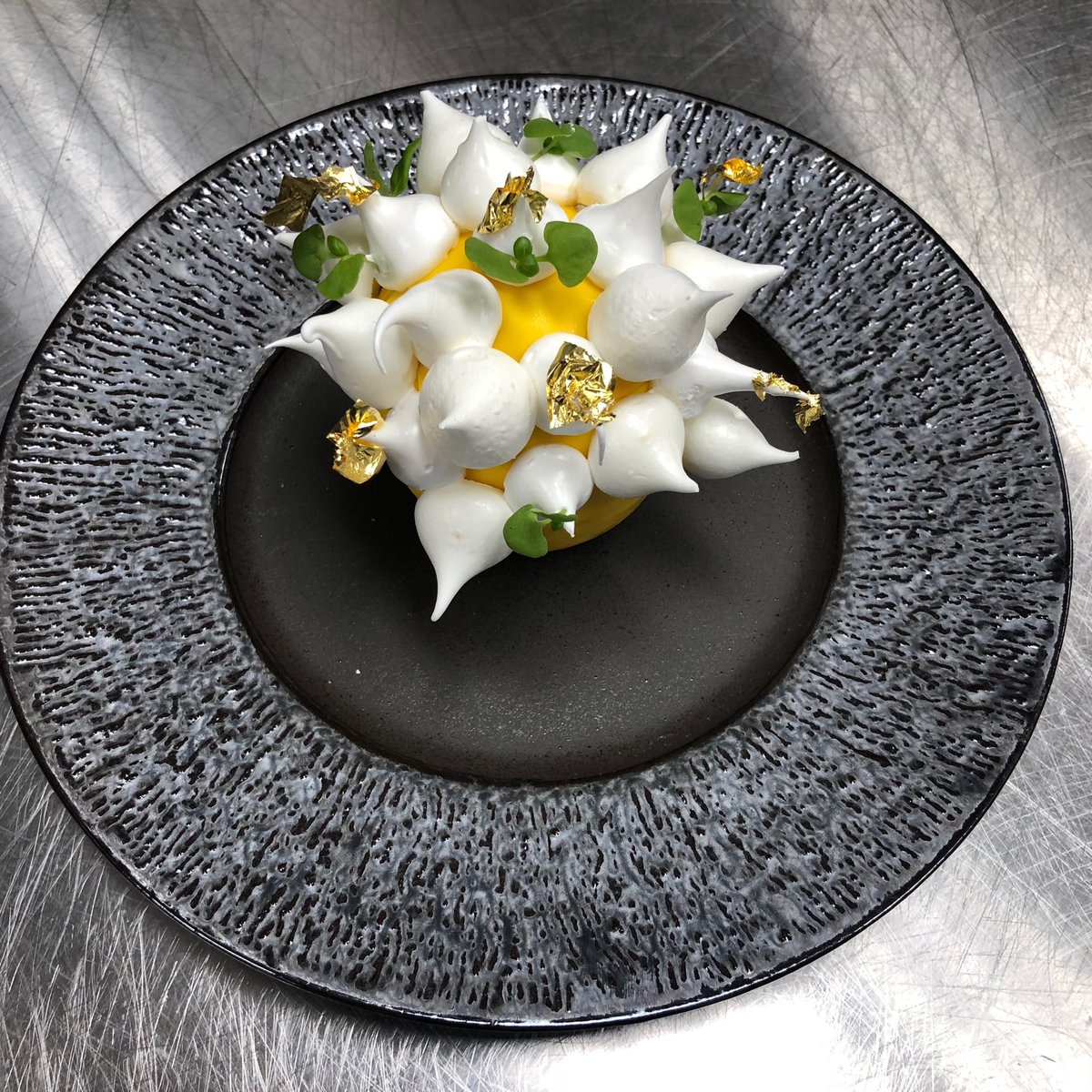 When you're done with the savories, the sweets are there, just waiting to destroy your willpower. The spiked lemon with yuzu cream, chiffon cake and citrus mousse (above) has been on the menu so long, it's almost iconic as those pizzas. The chocolate chip cookies are worth a trip by themselves, but as memorable as those are, the thing to get is Wolfgang's Kaiserschmarren — a showstopping souffléd pancake (for two) that actually feeds four…but which will probably be wolfed down by the first one lucky enough to get to it.
The wine list holds few surprises. (It was pretty boring at the old location, too.) There are plenty of overpriced bottles from the usual MGM-Bellagio offerings. (Yes, they standardize the wine selections throughout the MGM family of hotels these days. Because accountants.) Stick with the by-the-glass selections if you don't want to feel like you've been asked to bend over and grab your ankles.
You don't go to Spago looking for culinary adventure anymore than you go to Pierre Gagnaire's Twist in search of a pork chop. What Spago is selling, what Spago has always sold, is a Cal-Ital blend of Europe technique with American panache — a hybrid cuisine that's as fresh today as it was 35 years ago; a cuisine as elemental as a pizza and refined as caviar.
All of America owes a debt to Spago for the way we eat nowadays — combining finely-tuned, gutsy food with just the right sophisticated spin without pretense. Open kitchens, upgraded pizzas, casual dining with killer food — all of these started with Spago. In a way, every gastropub from Portland, Maine to Portland, Oregon is an homage to the type of cooking first popularized by Wolfgang Puck. But he did it first, and in many ways, Spago still does it best.
I've eaten at Spago so many times I've lost count. This new incarnation I've been to five times. They never comp me, but a few freebies always show up. Dinner for two will run around $150-$200, including a shared dessert and a couple of drinks each. Service is uniformly excellent whether they know you or not.
Get this: Artisanal salumi pizza; smoked salmon pizza; spicy shrimp pizza; spicy tuna tartare; foie gras ice cream; Gulf shrimp cocktail; prime beef burger; field mushroom soup; roasted cauliflower; Anson Mills grits; veal wiener schnitzel; steamed cod "Hong Kong" style; branzino; all pastas; seafood-saffron risotto; Santa Barbara spot prawns; vegetable ragout; veal chop; lamb rack; côte de boeuf rib eye steak for two; cookie platter; spiked lemon with yuzu cream; Wolfgang's Kaiserschmarren.
Bellagio Hotel and Casino
3600 Las Vegas Blvd. South
Las Vegas, NV 89109
702.693.8181