Jamie Tran is no bigger than a goi cuon. Her restaurant isn't that large, either (50 seats), but between the two of them, these pocket dynamos are pioneering neighborhood dining in a big way.
The Black Sheep's modest dimensions belie its ambitions. Within you'll find a small bar towards the back and a loyal following of local foodies who have turned this unassuming storefront (in another soulless shopping mall, natch) into a a mecca for a unique blend of Asia-meets-American eats.
The restaurant is named after Tran's familial nickname, but meeting her, you'll have a hard time wondering where that reputation came from. Tran is as bubbly as a glass of Prosecco, with a smile as wide as one of her luscious, cross-cultural pancakes. She can talk your ear off about food, family, or the fun she has running this restaurant, and the enthusiasm she brings to the conversation can be tasted on the plate. That a female chef this young has made such a big splash on our local restaurant scene is no small feat.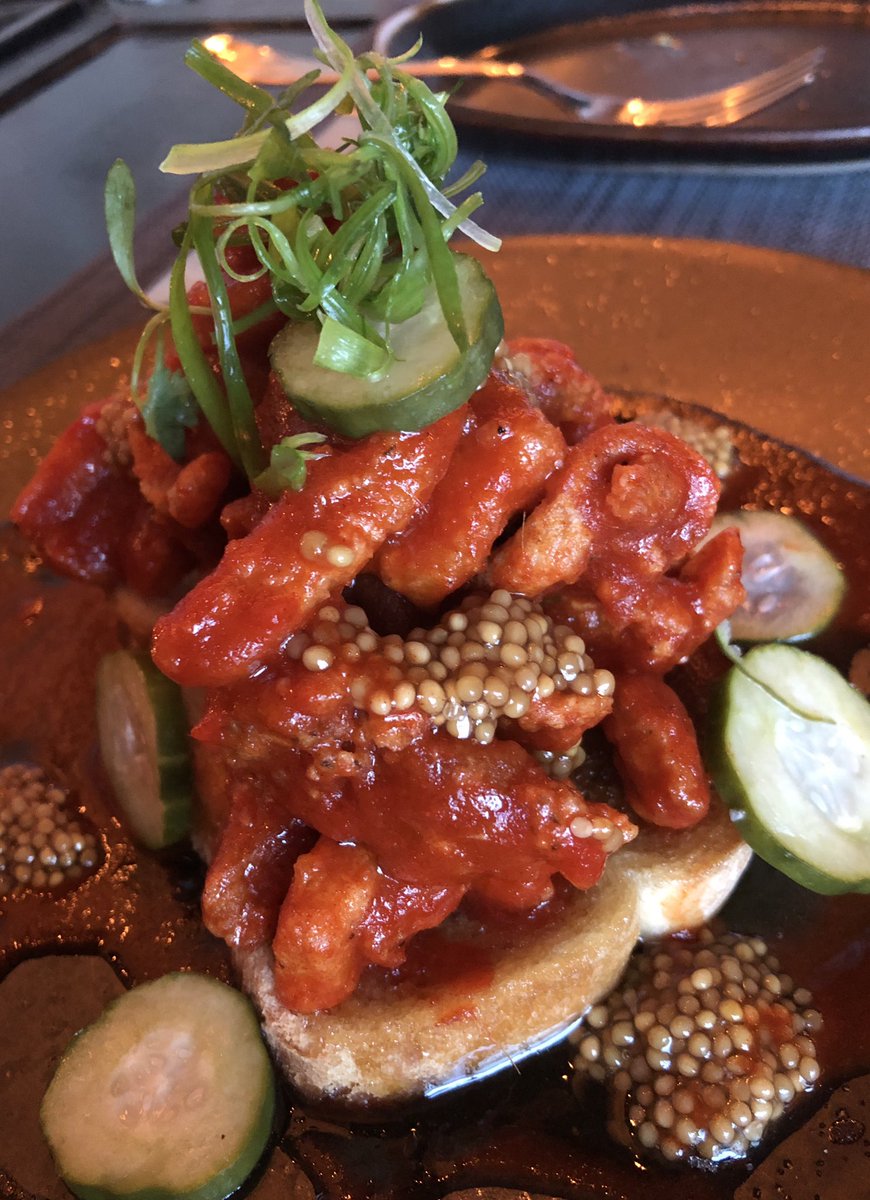 (Honey, toast me some hot chicken)
Calling her food all over the map is an understatement. But this is one time the term "fusion food" fits. Tran takes salmon skins (at the top of the page) and turns them into tacos; perfumes her duck confit with lemongrass; and punctuates Indonesian corn fritters with mango salsa. There's not a metaphor she doesn't like to mix, which may first strike you as odd, but after a bite or two, as you'll be calling it spot-on delicious in a "I never thought of that" sort of way.
Dishes as diverse as duck prosciutto salad, Thai basil shrimp ceviche, and "hot chicken"  on honey toast all come at you from multiple directions, but once in the mouth, they all make sense. Tran is playing with her food, to be sure, but she's equally at home sautéing vegan Vietnamese noodles, deep-frying a whole trout, and braising a lamb belly…after spicing very French flageolet with the scents of Vietnam.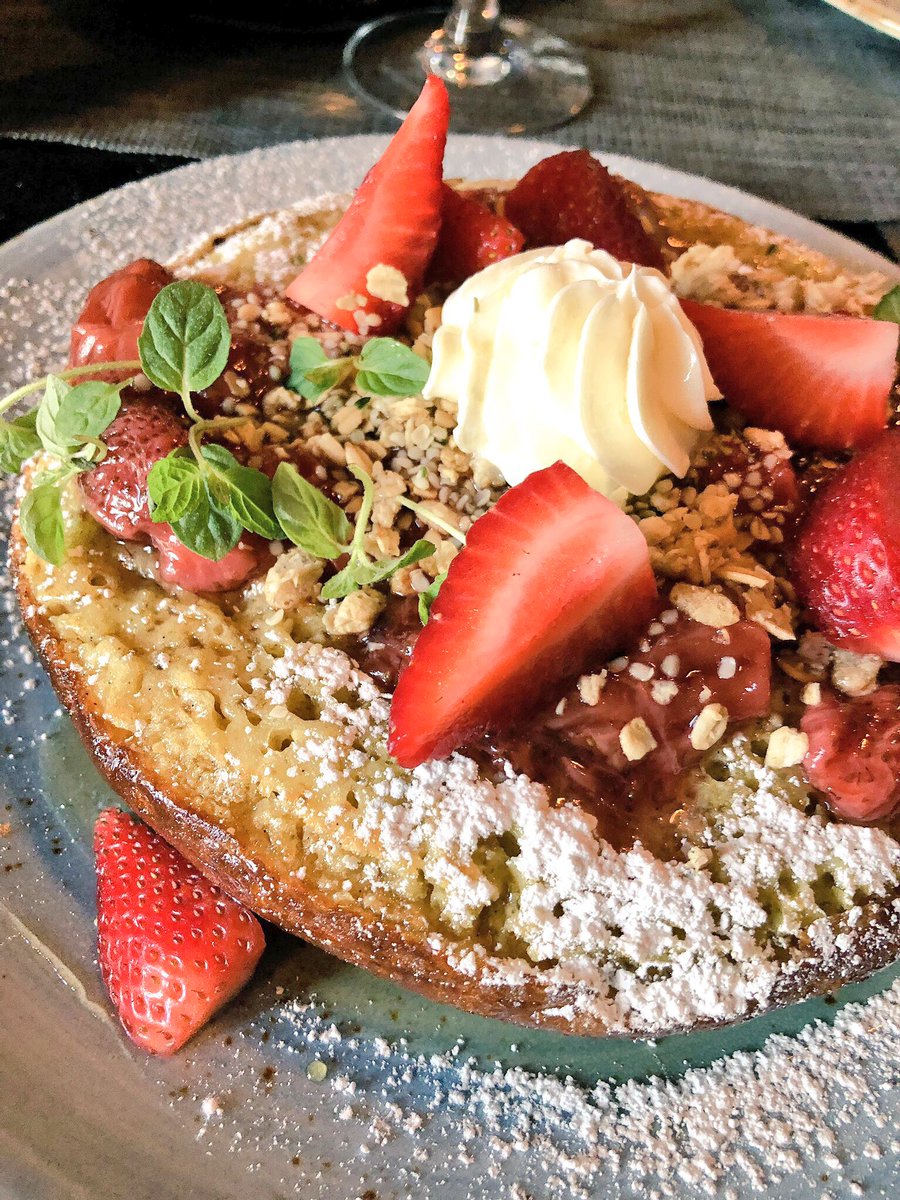 (Picky palates prefer puffy pancakes)
If that's not enough to pique your palate, then there's her brunch — a meal most of us epicureans love to hate. The most confusing of meals (booze for breakfast? dessert for lunch?) is usually caloric and boring beyond words. Somehow, in the Tran oeuvre, it achieves angles of interest — from the ordinary to the oblique — that will keep you fascinated.
The ordinary starts with old reliables like challah French toast and chicken and waffles, which quickly announce themselves as anything but old hat standards. The eggy-yet-light toast gets a brandy syrup bath, eggs Benedict lie over meltingly-rich, soft ropes of lemongrass short ribs, and Tran's hot chicken goes full kaarage — managing a sweethotsoftcrunch from chicken set off by mustard seeds, fermented cabbage, and sriracha.
You can also go with traditional steak and eggs here (Creekstone Farms beef being topped and a fried egg), or a perfect soufflé pancake (above), or watch Tran indulge her heritage with deep-fried Vietnamese Imperial rolls, given a boost with better ingredients (Duroc pork, briny shrimp) than you'll ever find in a same old same old pho parlor.
(Bao before me)
If there's a signature dish on the menu, it's probably the hot chicken, but the crackling Imperial rolls, and bao sliders (above) — made with housemade pork sausage — give it a run for your money.
The sausage gets its kick from fish sauce, the sliders cover all the flavor bases with their adornment of oozing quail egg, crispy shallots, and jalapeño-spiked aioli. You won't find a more soothing mini-bite anywhere in Vegas.
They do serious cocktails here, too (doesn't everyone these days?), but bargain-hunting oenophiles know the wine list is the real libation star. Owner Andy Hooper is obviously on a mission to bring good bottles at affordable prices to his 'hood, which explains Veuve Cliquot champagne at $95, and Gaja 'Promis' for $90 — marked up at double the wholesale price, not triple the retail, like they do eight miles to the east. By-the-glass offerings all hover in the $10 range, and there's even a selection of funky amaros for Italophiles who are into that sort of thing (like yours truly).
(Mexican-Vietnamese is a thing? Who knew?)
Tran does double duty as pastry chef in a tiny kitchen that used to be a sandwich shop, so desserts tend to be limited in number. When she's doing it, the chocolate tres leches cake (above, beneath a bird's nest of chocolate thatch)  is not to be missed, nor should you pass on her macarons, cheesecake or persimmon bread pudding.
The Black Sheep calls itself a "New American Kitchen," but it's not like any American kitchen you've ever been in, or Vietnamese one, for that matter. What it is is American food filtered through the sensibilities of an Asian American who is equally at home blending the two cultures on a plate. In doing so, Jamie Tran is paying homage to both cuisines, and inventing a new vocabulary of restaurant food. She's not the only chef doing it (Khai Vu at Mordeo and Kevin Chong at Japañeiro also spring to mind), but she's one of the few doing it in Las Vegas. (No one on the Strip has the gumption or the chops to try to duplicate these highly personal brands of hybrid deliciousness.)
The Black Sheep is much more revolutionary than people realize. It is the direction in which all American food is headed. We are a deeply cross-pollinated society and our cuisine should reflect that. More and more it does, and chefs like Jamie Tran are leading the way.
(Starters run $6-$12, with mains in the $15-$30 range. Two people can dine very well here with a good bottle of wine or a few drinks for well under $150 — half that if you share a couple of dishes. Brunch is a steal for cooking this good.)
8680 W. Warm Springs Road
Las Vegas, NV 89148
702.954.3998