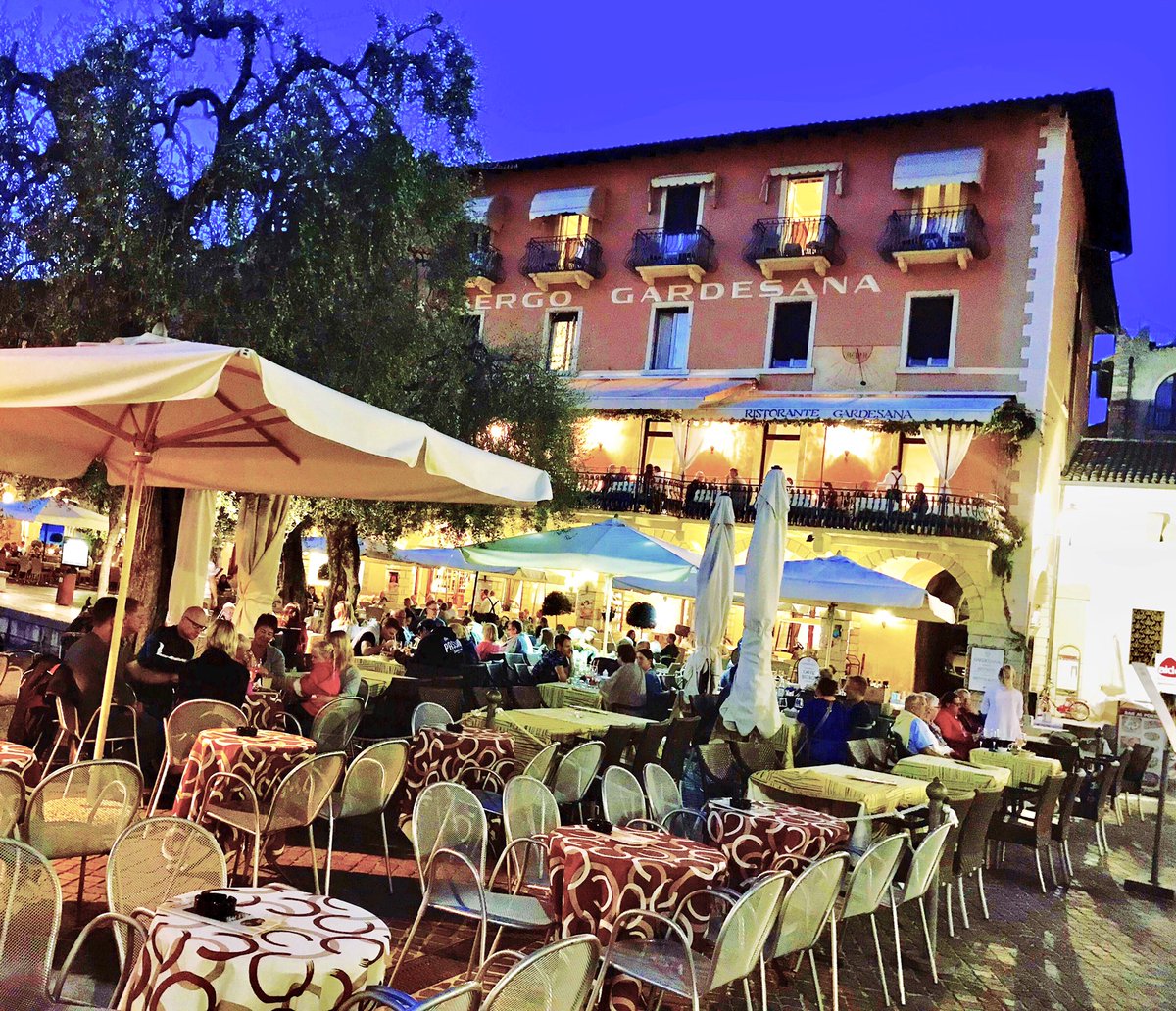 (Al fresco dining and rosé wines are a match made in heaven aka Italy)
Ed. Note: I've been traveling a lot to Italy lately, and swimming in a lot of Italian wines. One revelation has been Italian rosés — which are some of the best bargains around when you want to rosé all day. So follow along below if you'd like to learn something about these surprisingly satisfying summer sippers — wines supremely suited to a sizzling Vegas summer.

 A primer on the wines of the Veneto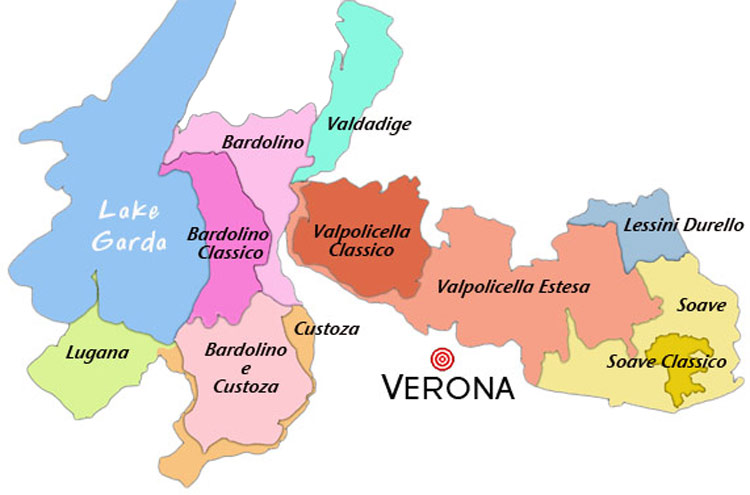 If there's a wine region of Italy that can be said to be unsung, it is probably the Veneto.
Stretching from Lake Garda in northwestern Italy, to the shores of the Adriatic sea,  this area has long been famous for producing oceans of supermarket Soave and light, gulp-able versions of its slightly weightier red cousins, Bardolino and Valpolicella. Both of the latter are made primarily from the Corvina grape, with various amounts of Rondinella and Molinara tossed in for fragrance or body.
But aside from the region's most venerated wine: the muscular Amarone (itself something of a late 20th Century phenomenon), these wines have never garnered the respect doled out to varietals in Tuscany or the Piemonte. In many ways, they were victims of the region's success with its lighter wines — so much mass-produced Soave and red Valpolicella was sold in the 1970s and 1980s, they became generic brands unto themselves, and the better versions of these wines got lost in the flood.
Which is a shame, since a tour of the region recently showed us how much variety there is in a place long overdue to take a bow for what it produces for the world to drink. This trip was not about the much-maligned Soave (or the ever popular Pinot Grigio, also made in the Veneto), but rather, it was concerned with Corvina — the grape that is the backbone of all the region's reds and blush wines. Our travels took us from the town of Bardolino, along the coast of Lake Garda, and then to wineries in both the Bardolino and Valpolicella — wine countries, where the DOC (Denominazione di Origine Controllata) designation has been granted (not without controversy) to wines ranging from the palest pink to the thickest, most mouth-coating red.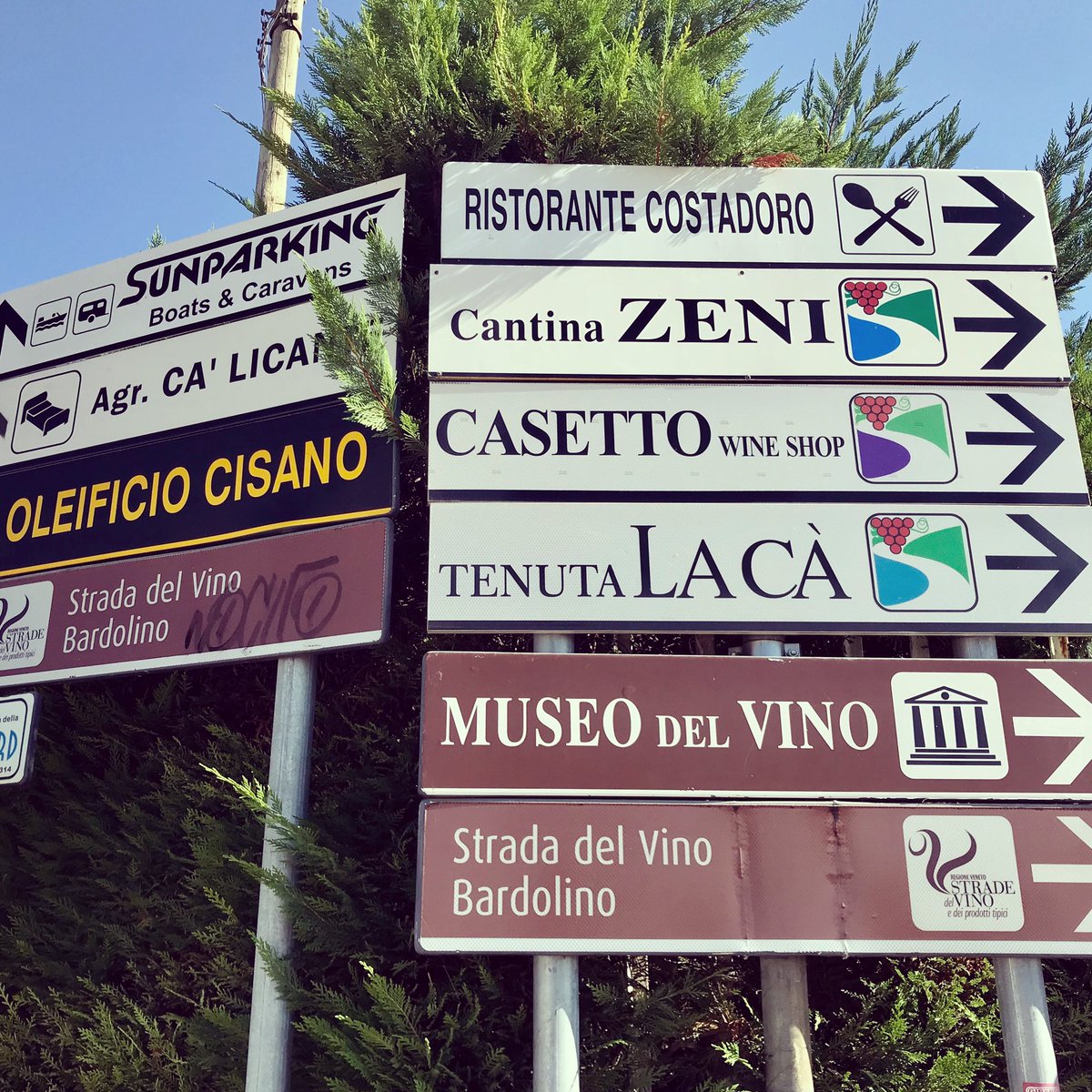 The smokey, thick-skinned Corvina grape makes everything from those unctuous Amarone to light and refreshing Chiaretto (key-ar-et-toh). In between there are the crisp, cherry-bright Bardolinos, and Valpolicella — wines ranging in intensity from a simple pizza parlor drink to "ripasso" wines of startling complexity.
To decipher how so many styles can be made from so obscure a grape, we buckled into a wine tour that traversed the commune of Bardolino, and then plunged deep into the heart of the Veneto.
We began on the shores of Lake Garda, in the picture postcard town of Torri Del Benaco (pictured at the top of the page). There, in one day, at least two dozen rosato (rosé) wines were tasted — but we powered through with the help of both the wine makers themselves, and experts like Elizabeth Gabay MW (pictured below), whose recently published book Rosé – Understanding the Pink Wine revolution helps to explain the "rosé all day" trend that has revived interest in pale wines for a younger generation of drinkers.
A Whiter Shade of Pale
Chiaretto di Bardolino (or simply Chiaretto), as it is locally known, is a (generally) paler rosé produced on those Lake Garda shores. Chiaro means "light or pale" in Italian, and it was one of the first appellations in Italy to be awarded the DOC denomination (in 1968) in recognition of the wine's historic tradition. For the longest time, it was thought of as a simple quaffing wine, but a new generation of Italian winemakers — who have taken note of the rosé revolution going on around the world — are trying to upgrade its image by creating wines with more aromatic and floral notes.
Freshness and citrus fruits are what comes through with Chiaretto, along with a whiffs of minerality, salinity, and herbaceousness. It may not have the depth of the storied rosés of Bandol and Tavel, but what it lacks in their complexity, it makes up for in bright drinkability, not to mention extreme food-friendliness. It's hard to imagine a better summertime wine, and at price usually well under $20/bottle, it is hard to imagine a better bargain as well.
Here are some notable Chiaretto you should be sipping poolside this summer. Some are available in the United States, while others are looking for distribution here. Either way, these tasting notes will give you an idea what to expect at some very friendly price points:
Santi Infinito Rosé 2017
Bright aromatic notes of ripe strawberries and cherries. Very pale pink caused by short contact with the grape skins, but lively and fresh on the palate, making it a perfect match with seafood and salads. $12 retail.
Le Fraghe 2017 Rodon Bardolino Chiaretto
A tasty, almost salty minerality comes through at first, followed by fragrant red berry aromas and a hint of spice. Ideal with salmon, it shows lots of crispness, finesse and energy, and a hint of bitter herbs, rather than fruit forward, but still quite a mouthful for $16.
Albino Piona 2017 Bardolino Chiaretto
Pale, dry, and light on the palate with a strong mineral nose, this is a classic quaffing Chiaretto of the sort you see accompanying pizzas in trattorias all around Lake Garda. $15 retail.
Poggio delle Grazie 2017 Bardolino Chiaretto DOC
Another classic Chiaretto (80% Corvina and 20% Molinara blend), this one retails for around $10 if you can find it. Bracing, but rounder and softer in the mouth than many of its rivals, with a hint of salt on the front palate – a perfect aperitif to sip with antipasti. Around $15.
Monte Zovo 2017 Bardolino Chiaretto
Very indicative of the style they shoot for in these Italian blush wines: crisp, pale, austere and very dry, it presents whiffs of white flowers and is not for those who demanding a lot of sappy, feminine fruitiness in their glass. Around $10.
Monte del Frà 2017 Bardolino Chiaretto DOC
Cool fermentation in stainless steel tanks helps to preserve the aromas and gives it freshness and brightness. A blend of 65% Corvina, 30% Rondinella, and 5% Molinara lends this wine a vivid cherry blossom pink hue with hints of red raspberries and currants on the nose. A juicier, fruitier Chiaretto, with lots of youthful acidity, makes this a perfect summertime refresher that's begging to be paired with prosciutto. All for about $14/bottle.
Villa Calicantus Chiar' Otto Vino Rosato 2017
Winemaker Daneile Delaini uses organic, biodynamic methods to produce an array of wines from his hand-picked 6 hectares in the hills above Bardolino. He ages his reserve Chiaretto in wood vats which allows it to develop a complexity his competitors can only dream about. A mineral-rich nose leads to bright red fruits, with a mildly tart finish.  Sleek, elegant, and balanced, with beautiful length. An amazing wine for under $20/bottle. It's too bad you can't buy it in the United States. Yet.
Tinazzi Ca' de' Rocchi Bardolino Chiaretto DOP Campo delle Rosé 2017
The name means "Field of Roses." Pearly-pink and deeper colored than most Chiaretto, its visuals indicated it would be a bigger, richer rosato than most, and the color didn't lie. A wine full of cherry and raspberry aromas, with a longer finish than many of its rivals. Along with Calicantus, definitely the Chiaretto of the trip. It retails for around $20/bottle, and its salmon-colored cousin —  I Serengni (named for the round stones in the vineyard) — was even more opulent for around $10 more.
Guerrieri Rizzardi Chiaretto DOP Classico 2017
G R is a large operation — the polar opposite of Villa Calicantus, Monte Zovo, and many of these family-owned wineries. It dates back to the 16th Century and is the product of two ancient Veronese wine producers coming to together in 1914 to produce their first joint vintage. Production is over 750,000 bottles of wine a year, ranging from Chiaretto spumante to Amarone della Valpolicella DOCG. (The Calcarole 2011 Amarone, its most recent release, is a knockout worth searching for.) The winery and tasting rooms are within walking distance of downtown Bardolino, making a visit here mandatory on any wine tour of the region. Its Chiaretto is emblematic of the style: spicy, herbal, restrained nose, finishing dry but not astringent. Like all of these Chiaretto, it is eminently drinkable and matches well with almost any seafood pasta you can think of — which is quite a bargain for ten bucks a bottle.
I have to admit that when I began this expedition, I had no idea what to expect from these wines. Italian rosé may not be the first wines to spring to mind when you think of drinking pink, but they may be the best bargain in blush wines available on the market right now. They are clean and refreshing drink, nothing to really ponder, but a lot of satisfaction in the glass, and something I'd much rather sip than some insipid Soave.
(This was the last time on the trip I was even remotely sober.)