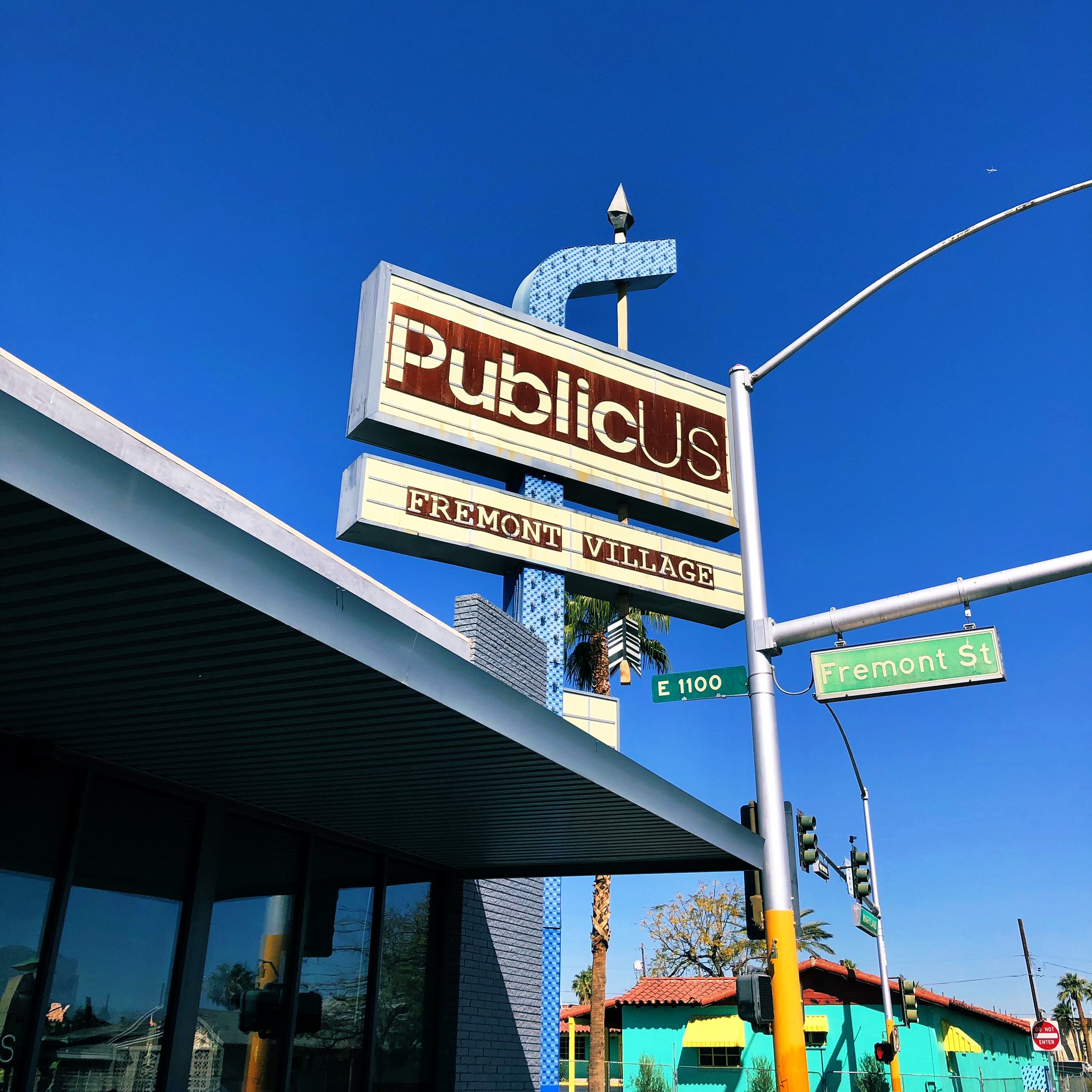 Downtown is awash in great coffee these days. So, as a public service, we at #BeingJohnCurtas thought we'd scope them out for you.
Before we begin, some admissions are in order:
One, yours truly is no coffee connoisseur. In fact, coffee is something yours truly swore off of for the longest time. Having been married to two caffeine fiends in a row (the type who need a hot, steaming cup in their hands the minute their eyes pop open in the morning), we pretty much gave it up for a decade or so in the late 20th century.
Admission number two: #BeingJohnCurtas doesn't give a puck about pour-overs, cold brews and nitro this or flat white that. John Curtas is a coffee classicist first and foremost.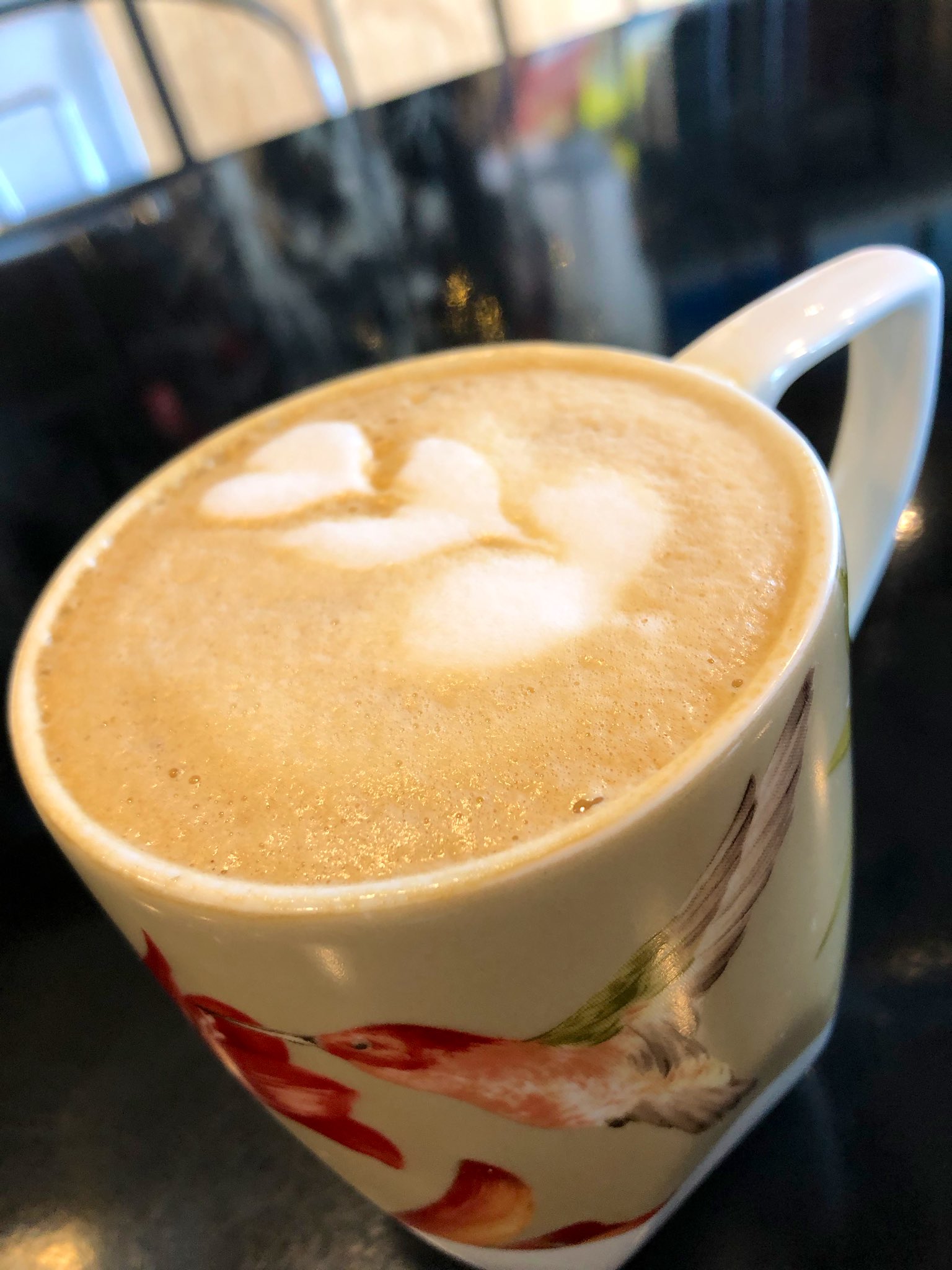 (Cappuccino at Writer's Block)
Italy is where JC regained his caffeine mojo fifteen years ago, and Italians are the coffee standard by which all others are measured. A bad cup of caffè is harder to find in Italy than a Southern Baptist, and when it comes to brews — from ristrettos to correttos — they get it right, whether you're in an airport, a trattoria, or a convenience store.
Coffee is wonderfully subjective, both the flavors and one's relationship to it. One man's macchiato might not cut the cortado for another. Some use it simply to get up in the morning; for others it's a social thing. Some people like to drink coffee all day long; others can't stomach it after lunch. One of our exes could pound a doppio espresso at 10:00 pm and sleep like a baby.
But like a lot of beautifully simple things, coffee has also jumped the the shark in multiple ways. The whole barista thing is pathetically ridiculous. As is obsessing over your beans' origins and attending coffee "cuppings." Whatever you might think about comparative tastings (and sure, they can be fun no matter what the beverage), giving "awards" to people for pouring a cup of joe is as dumb as competing for who is the best lasagna layer.
In other words: we care not a whit about fancy-dancy ornamentation or exotic concoctions. They are the quintessential Millennial pursuit: creating a cult of obsession  over something that should be elementally satisfying on its own terms, without parsing the details to death.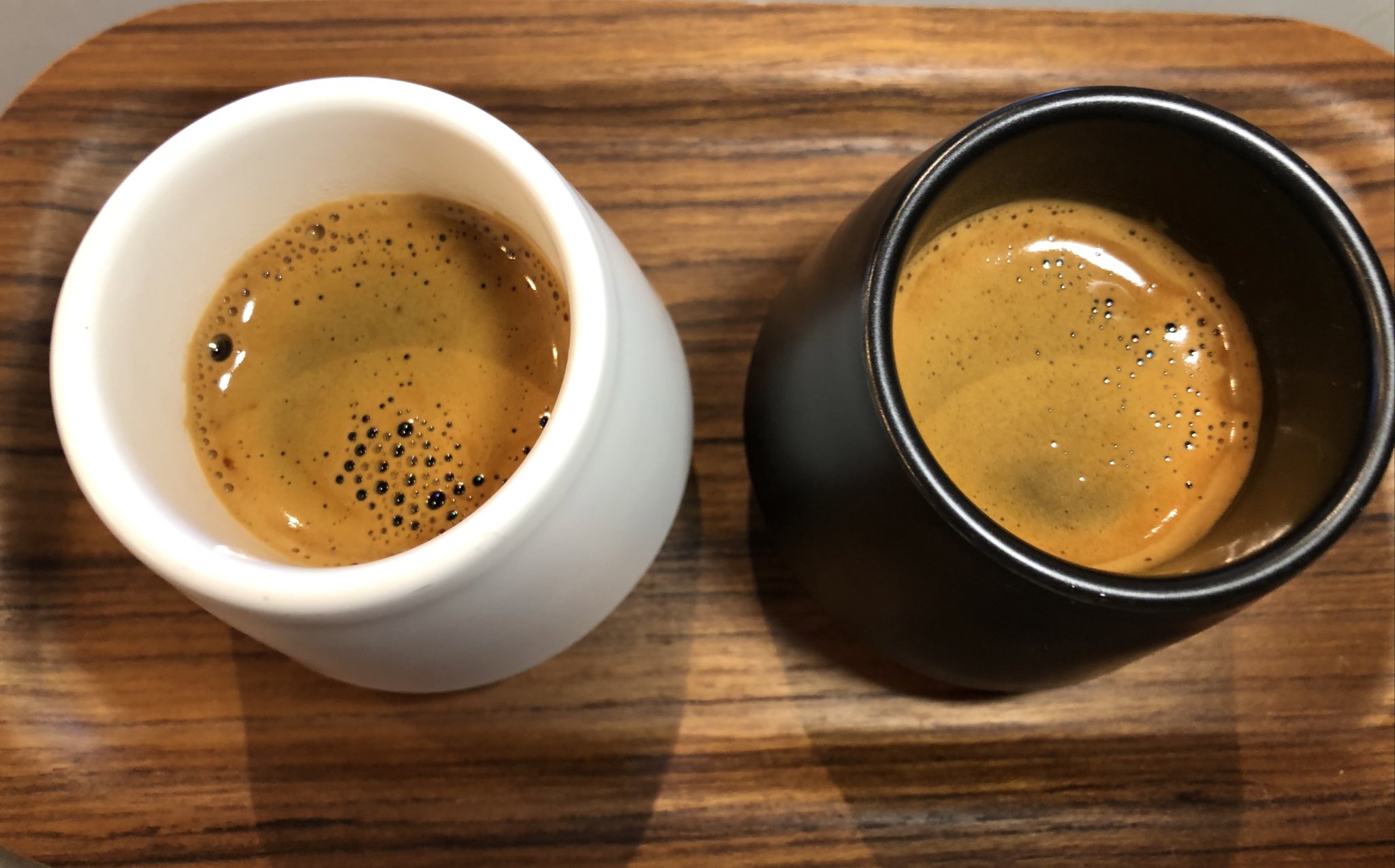 (Dueling espressos at PublicUs)
When it comes to all things Arabica, it is about the warm, brownish glow of these beans and the soul-soothing broth they bring forth. To us, it's about the ritual, the taste and the deeply-satisfying buzz you get from a good cup.
If you're expecting a dissertation on free-trade fermentation, you've come to the wrong place.
But know this: there isn't a coffee house in Las Vegas who can make a proper espresso to save their life. None of them gets the viscous, syrupy mouthfeel right, and the primary flavor component is always sour, as opposed to the sweet-bitter release of a great Italian cup.
So bad are local espressos, we've given up entirely. If you want a good one, go to Cipriani at the Wynn. It's the only one we've had recently that truly tastes of Italy.
But I've sampled the wares at all of our newest coffee hound hangouts, and here are my conclusions. For ease of reference, we've broken each coffee shop into five components: Coffee, Comfort, Comestibles, Crew and Crowd.
PUBLICUS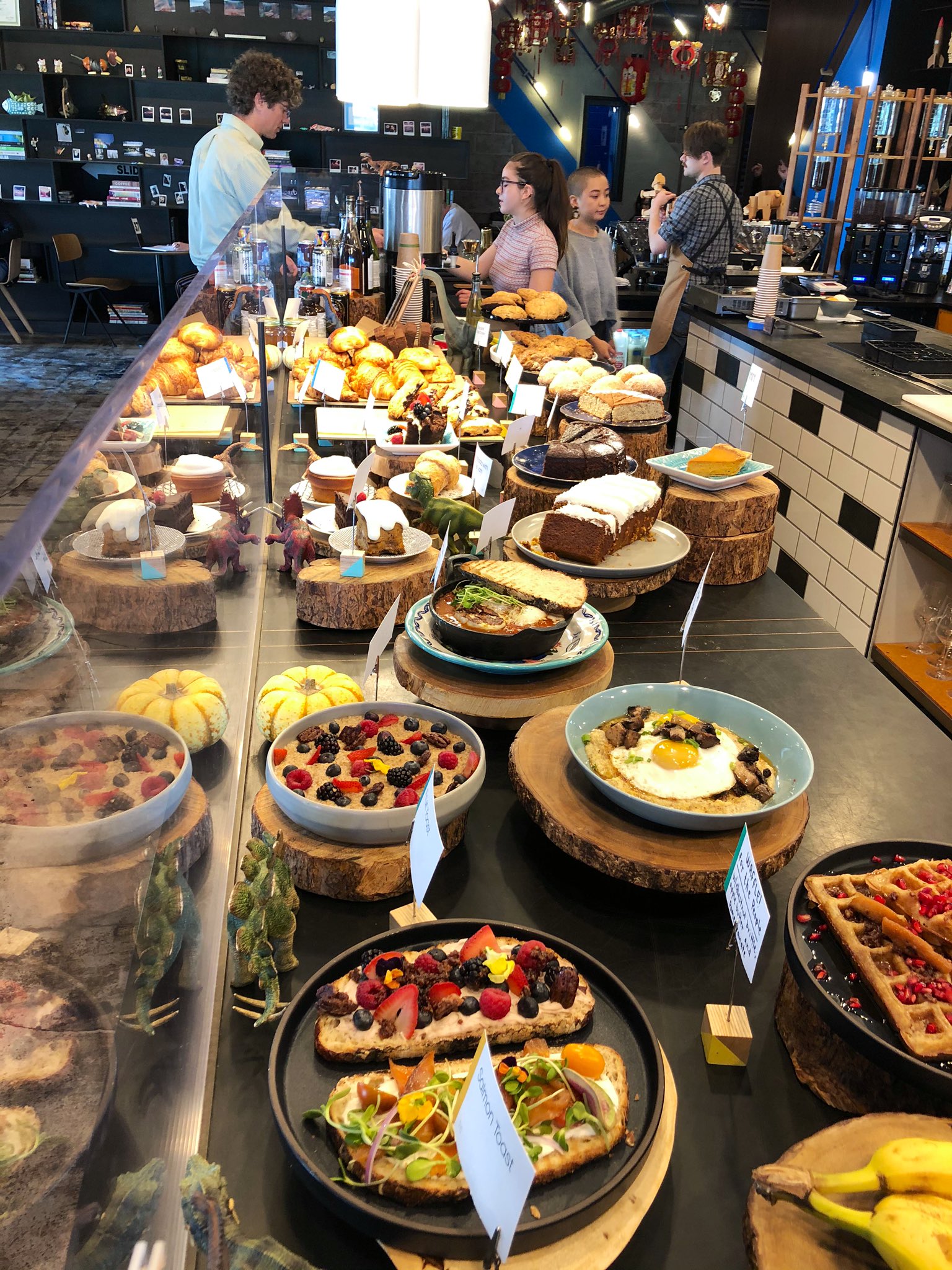 PublicUs kickstarted downtown's coffee renaissance  five years ago in a big way. It's always busy, despite being on a forlorn corner of east Fremont Street. Until Vesta came along a couple of years later, it had the upscale coffee market all to itself.
Coffee – the espressos here range from unforgivably sour to lightly bitter and acidic, depending on the beans they are made with. The cappuccino is wonderful, as are the pour-overs (what, back in the day we called good old Chemex drip). The cappuccino is the closest you'll get to Rome in the High Mojave Desert.
Comfort – everything from two-tops to communal tables, in a modern, naturally-lit room that screams "urban hipster hangout." Nice bathrooms. In fact bathrooms so nice they make you want to go to the bathroom.
Comestibles – all made in-house. Excellent pastries; good savories, avocado toast, waffles, and even a killer corned beef hash on polenta. If you're hungry for a big breakfast or lunch with a nice range of menu choices, this is where you want to come.
Crew – young, attractive, lots of crazy haircuts, tatts and such. Invariably friendly and fast. The baristas know their beans.
Crowd – an odd assortment of hipsters, youngsters, 'grammers and tourists….with tables of actual grownups thrown in the mix occasionally. (Amazingly, a lot of cops love it here too.) Probably the artsiest crowd of the coffee bars downtown. This is where you're also most likely to see some poseur walk in with one of their filthy dogs.
VESTA COFFEE ROASTERS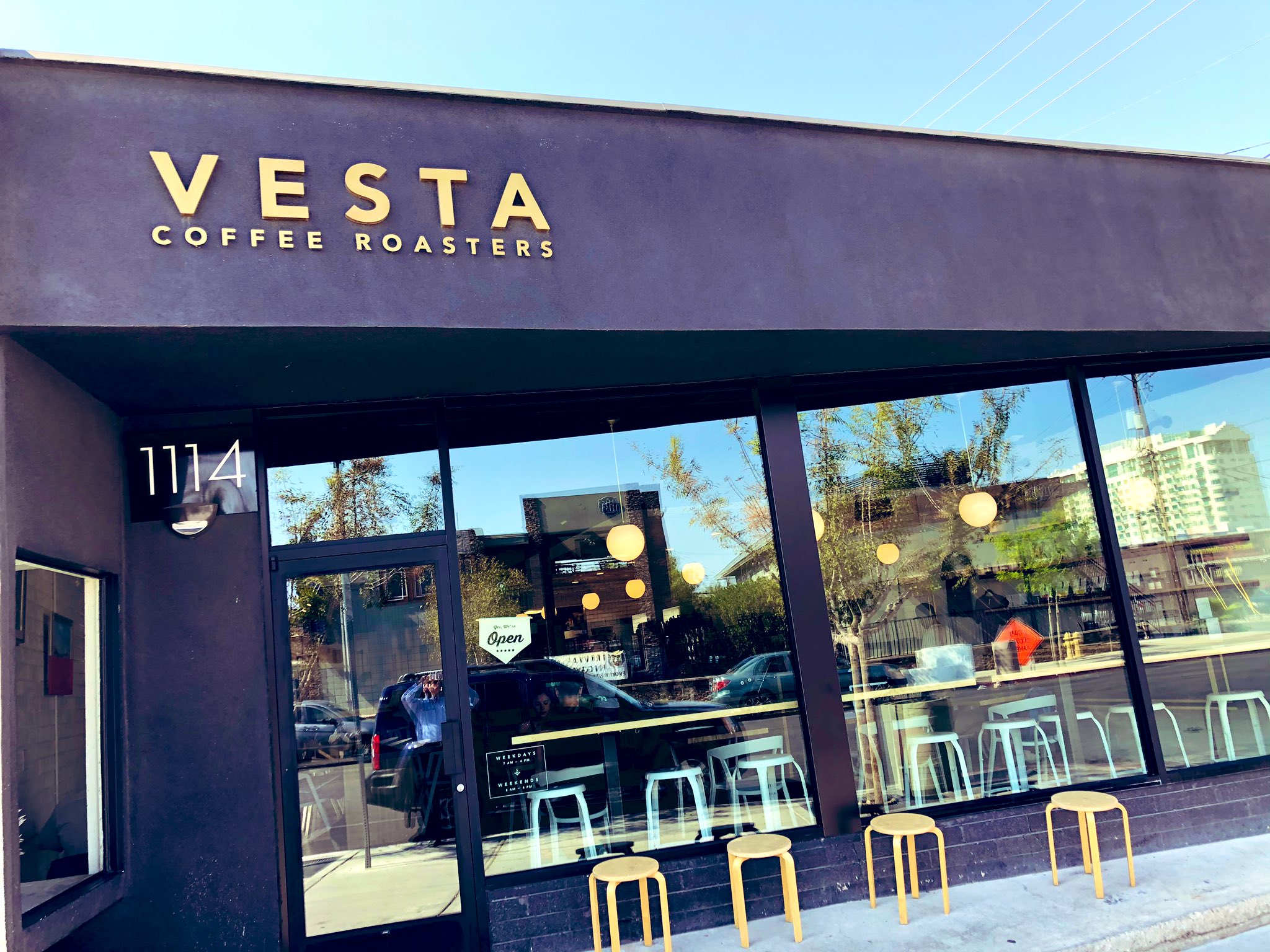 Mr. Curtas has a confession to make: he is secretly in love with all of the female baristas here. (Please do not tell Mrs. Curtas.) Because of this, he cannot be fully objective about Vesta Coffee Roasters, although he will try.
Coffee – strong. Really strong. The most lethal of any coffees downtown. All roasting is done on premises and you can taste the freshness. You can also taste a cappuccino that, compared to other brews, hits you like 151 rum after a light beer. The Food Gal® (aka the Mrs. Curtas referred to above) also swears by something called "Golden Milk" here, which isn't coffee per se, but which she claims has health-giving properties. In the summer, we're also partial to their "Espresso Tonic" which is just what it sounds like: cold espresso mixed with tonic and lemon. Remarkably refreshing. The cold brew here is also our favorite, but the espresso was given up on long ago. That doesn't keep us for ordering it occasionally (for the caffeine kick), but it always tastes of acerbic blueberries, rather than the elusive, dense, haunting pungent holy grail of which we seek.

Comfort – seating can be problematic at peak times, simply because all of the tables are always taken with by Millennials furiously pecking away, pretending to be doing something important. Wait a few minutes though, and something always opens up.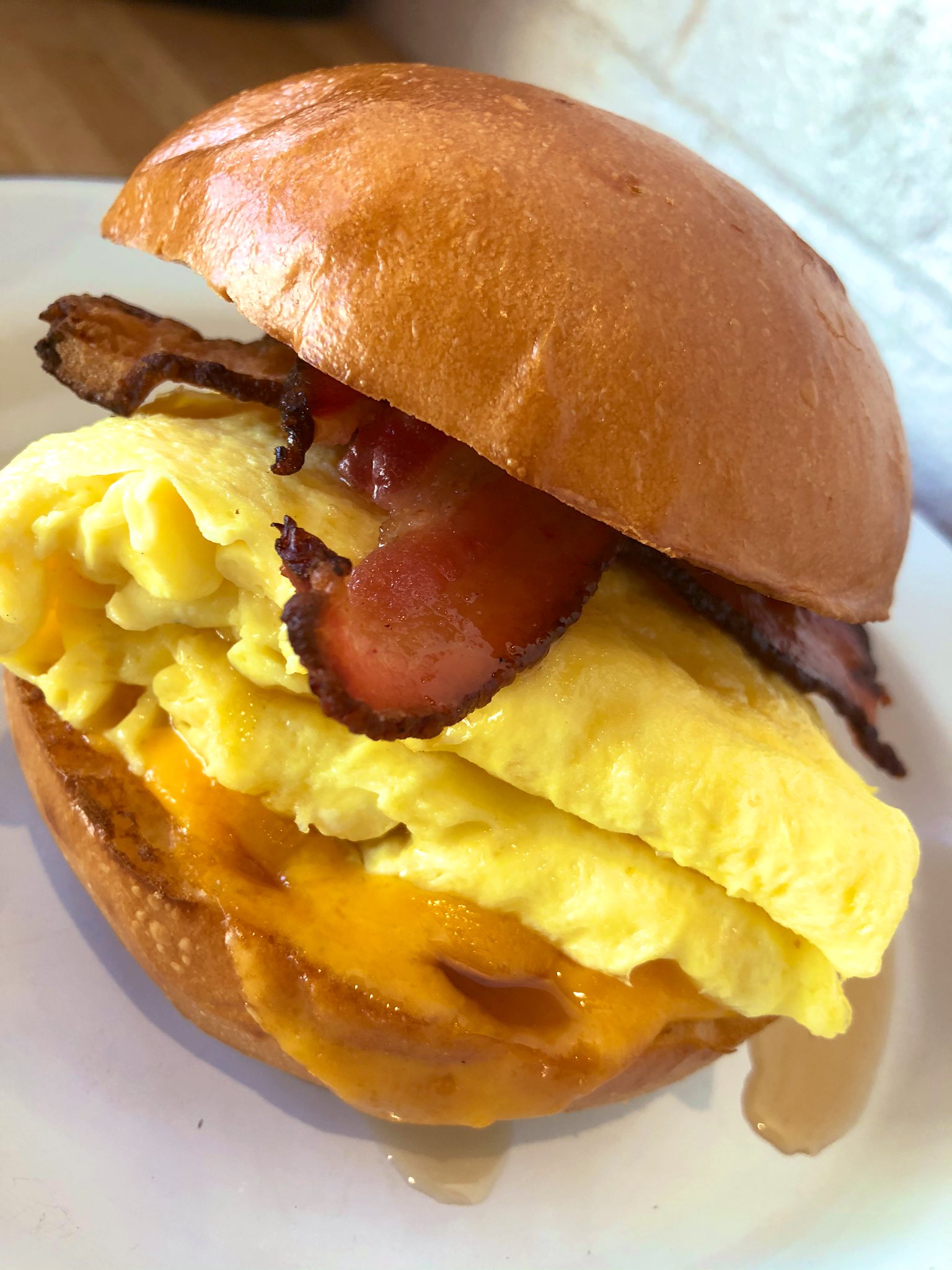 (Egg-cellence at Vesta)
Comestibles – very limited, especially compared to PublicUs. No great pastries, a few lunch items (sandwiches and such), good soups made in-house, but that's about it. Wonderful egg sandwich though (above).
Crew – as we said above, not something we can be completely objective about. Let's just say they're mostly female and work their tails off at peak times. There may be some dudes who also work here, and we believe the owner is also a person of the male persuasion, but to be honest, we've never really noticed.
Crowd – eclectic to say the least. A mixture of business types, tourists, lawyers, smelly hippies, tatted-up hipsters, hairdressers, chefs and crowd-following Yelpers. Also big with the alphabet soup sexuality crowd.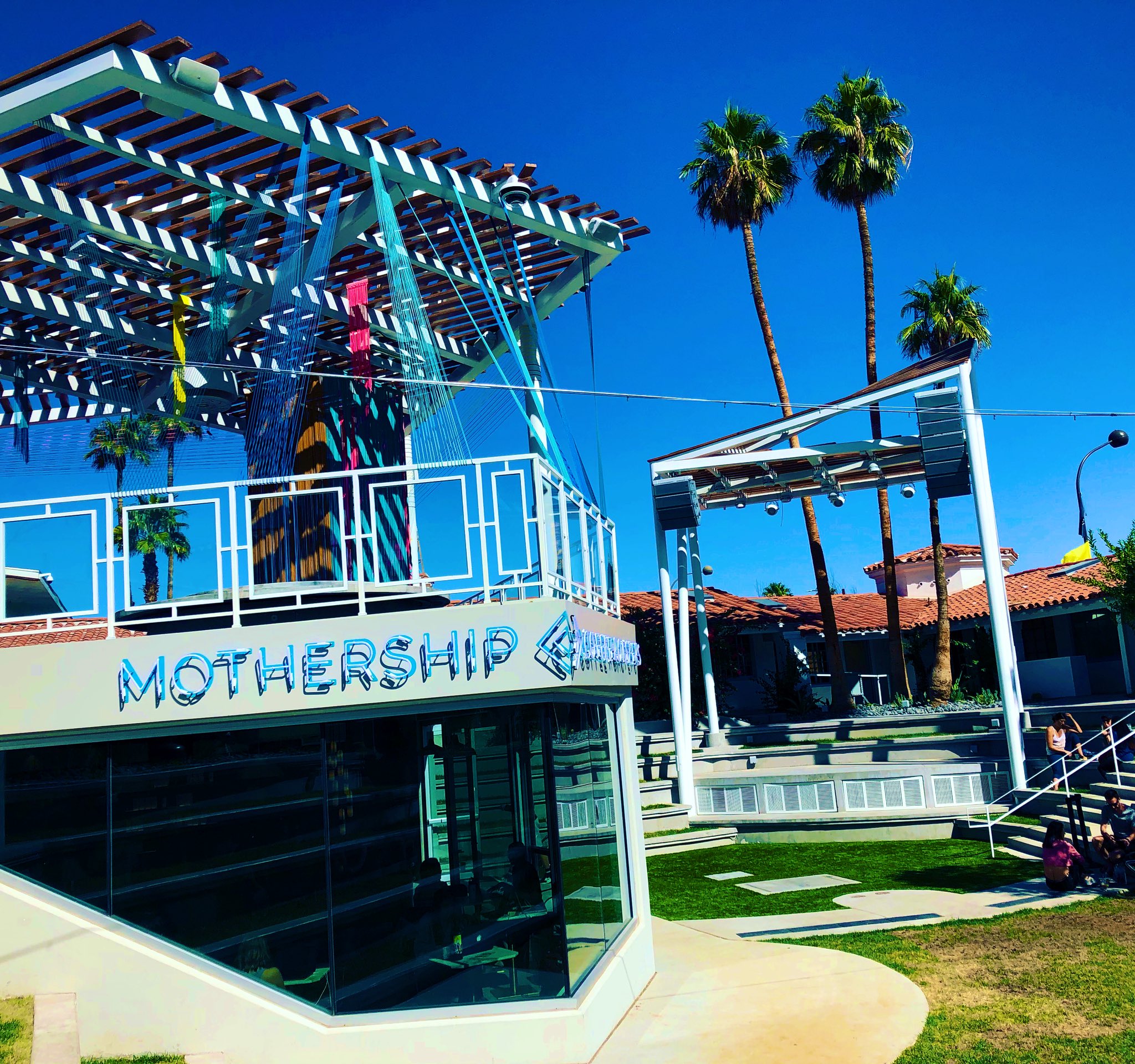 Mothership Coffee is an offshoot of the teeny tiny operation in Henderson that became a coffee nerd favorite a few years ago. It is as renowned for its small selection of exquisite pastries as it is for its Guatemalan Feminino.
Coffee – "Can I get a single espresso?"
"We only pour doubles."
"Can I get it made with more water –  what the Italians call lungo?"
"We only pour doubles."
"Okaaaaay…."
Moving on: gorgeous, nutty, beautifully balanced cappuccino. The espresso was beautiful one time, thin and acrid the second, undrinkable the third. A younger, Millennial cousin of ours (who is a major coffee hound) claims that what we call sour is actually the fruitiness of African beans coming through, as opposed to the milder, less acidic nature of South American coffee. What we call impermissibly sour, he refers to as too sweet. We love the kid, but think he has rocks in his head….or a gueule de bois (wooden mouth). Be that as it may, despite this worthwhile newcomer, a good espresso remains harder to find downtown than a hooker with teeth.

Comfort – open and airy. Kind of a pain in the neck to get to, located as it is in the back of the Ferguson's Motel complex (at what was once the bottom of its swimming pool, see above), but very nicely appointed inside. Not a lot of seating, although you can also sit on the terraced lawn outside. Because of the location, you won't be fighting many crowds (like Vesta and PublicUs) but you will be surrounded by self-serious Millennials furiously attached to their laptops.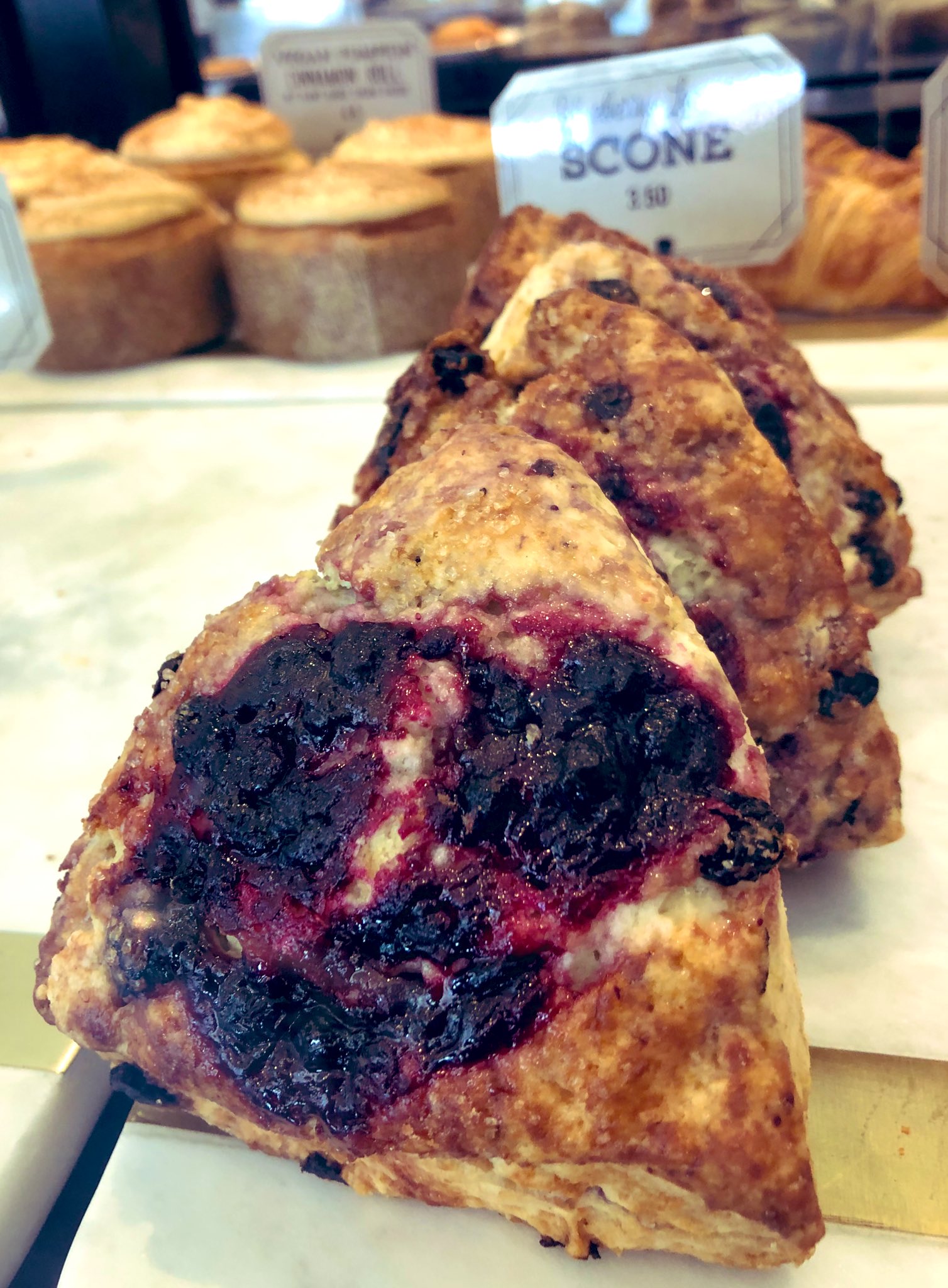 (You'll love getting sconed at Mothership)
Comestibles – Mothership is known for their pastries (above) and all are top notch. A limited selection of savories and sandwiches, which are invariably fresh and well-crafted. More of a place for a light snack than a full meal. If forced to bestow awards, we'd give the sweet pastries here a slight nod over PublicUs, while the latter wins the savory battle by a landslide.

Crew – Nice, but as green as an Arabica bean.

Crowd – lots of Tony Hsieh acolytes and other youngsters who keep their heads buried in their laptops for hours on end. In many ways this joint feels like a clubhouse for the Downtown Project crowd….which is probably the whole idea.

WRITER'S BLOCK COFFEE SHOP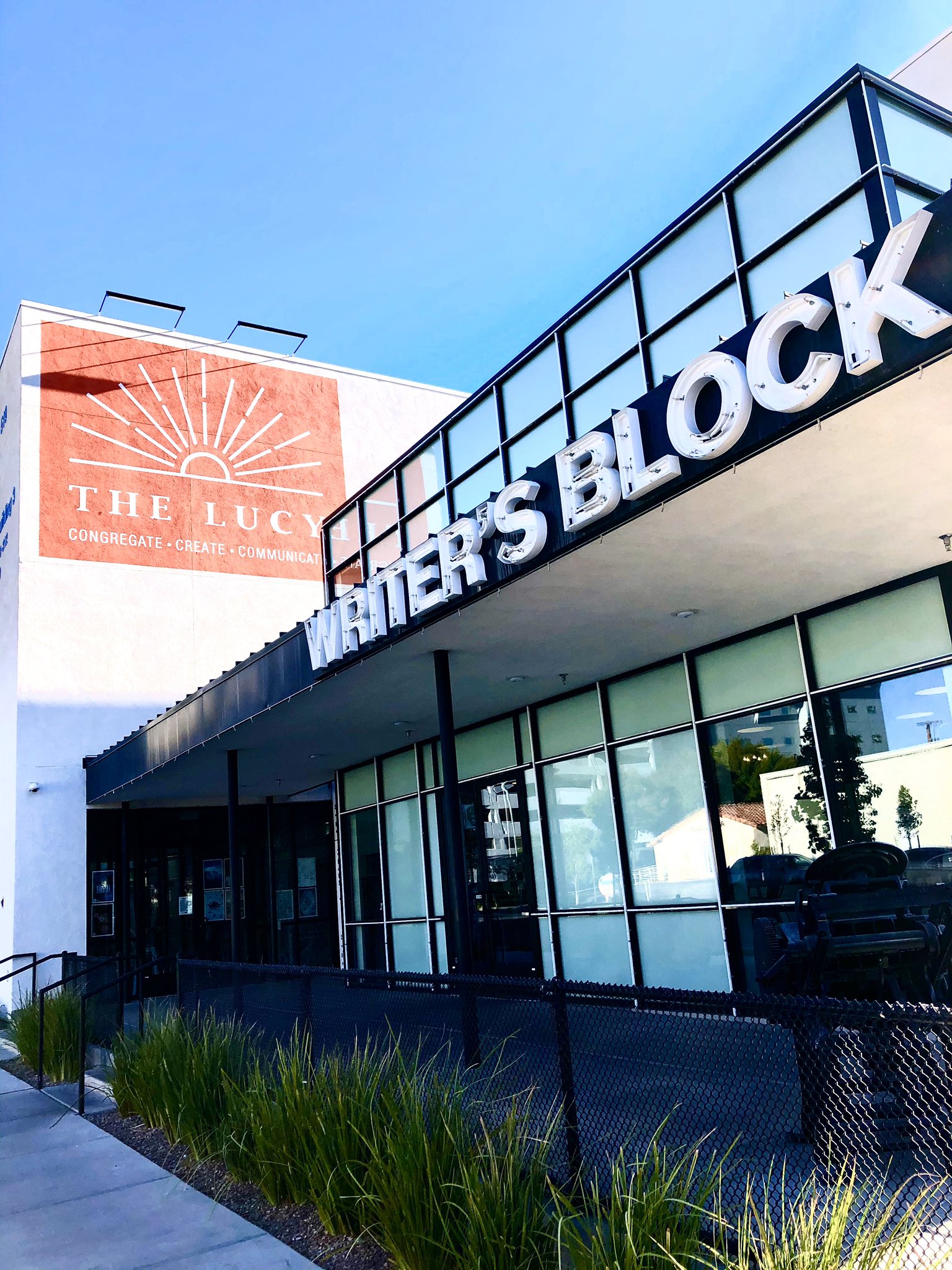 Rock and roll journalism was once described as people who can't talk being interviewed by people who can't write for people who can't read. In this same vein, putting an erudite, interesting bookstore (Writer's Block) in downtown Las Vegas is the clueless trying to sell the thoughtful to the thoughtless. The good news is even if the Paris Review and LBGTQWXYZ Quarterly are not your cup of tea, the coffee and pastries will capture your (short) attention span.
Coffee – they use Mothership's beans here to create the mildest brews of the bunch. This is a compliment to the cappuccino, as it reaches peak coffee perfection with its balance of sweetness, nuttiness, bitterness and acidity. Not a lot of folderol going on with the foam, but the proportions are just right. The espresso, though, is gawdawful — weak, bland, thin, and as sour as a parson's smile.
Comfort – nothing more than a few tables, a counter and some high-tops located in the entrance foyer. The outdoor seating on the patio is a real plus. You're also inside a groovy bookstore, which is also a real plus. Parking is a breeze and free along Bonneville.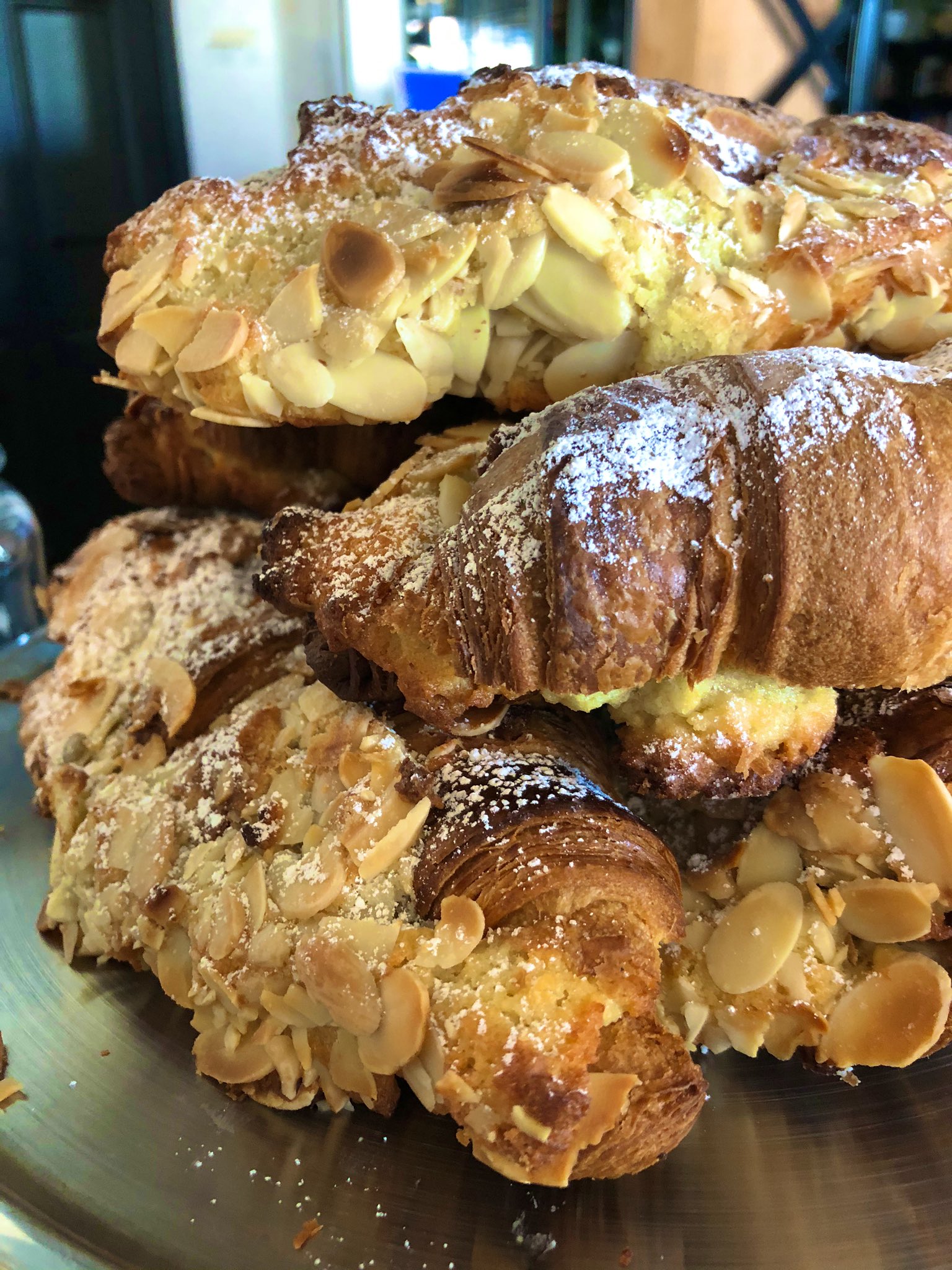 Comestibles – extremely limited. Almond croissants (above), cookies, a cinnamon roll and a couple of other items provided by Sonia El-Awal at Rooster Boy Café.  The good news is they are wonderful. The bad news is they run out early.
Crew – also limited, as the place is tiny. One of our favorite barista/bartenders Michelle, moved over here from Velveteen Rabbit/Vesta, making us feel right at home. I'm secretly in love with her too (Jeebus, Curtas, what's with you!?), so that means this place is now on our steady rotation.

Crowd – here ya go: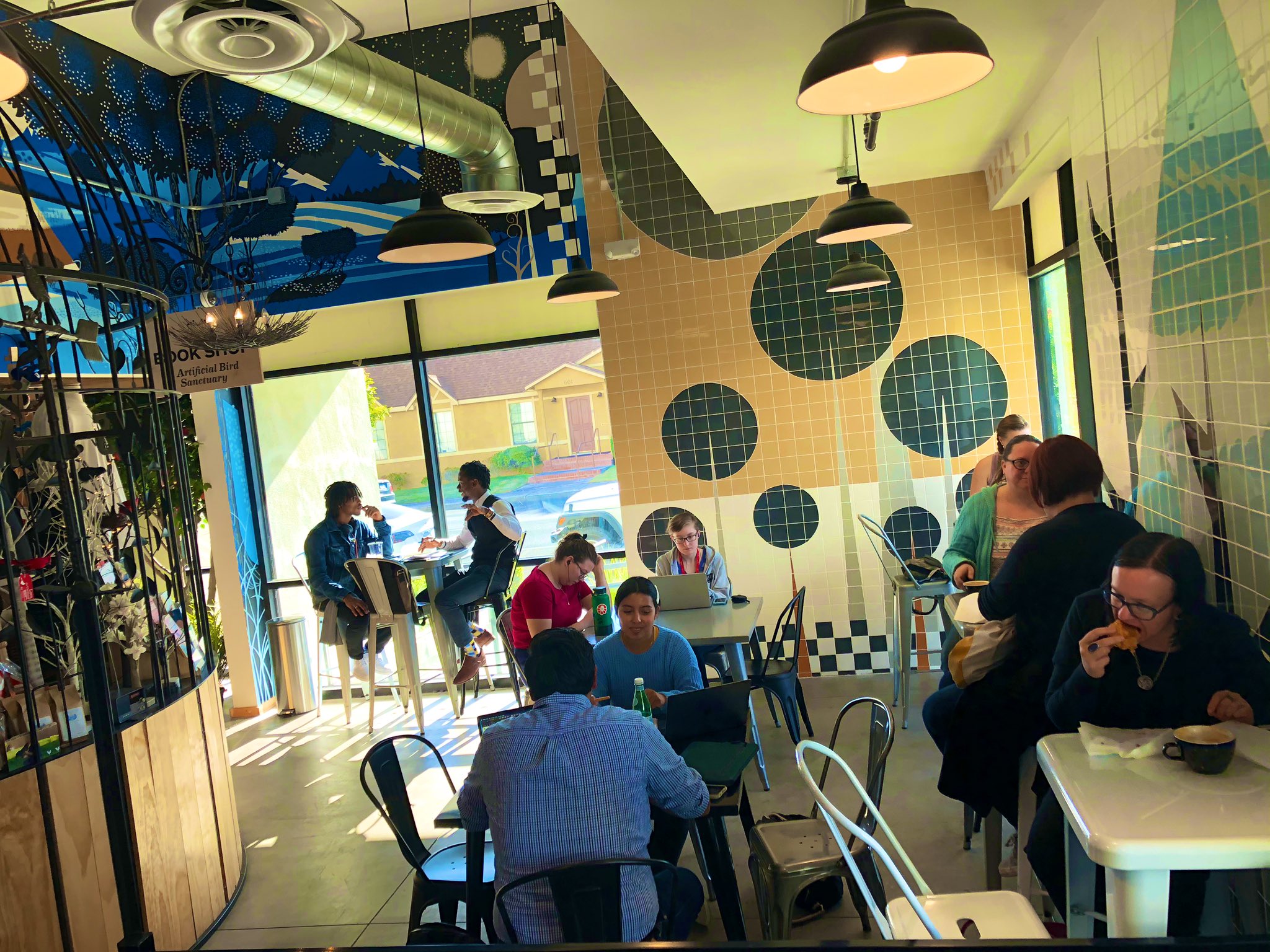 As this post grinds to a halt, and comes to its bitter end, we almost afforgato to tell you something. So, let us not procaffeinate any further, and espresso some final thoughts.
Unbeanknownst to Las Vegas, a hot beverage revolution has been going on around the world for some time now. It's a brewtiful thing to watch Vegas finally perk up and smell the…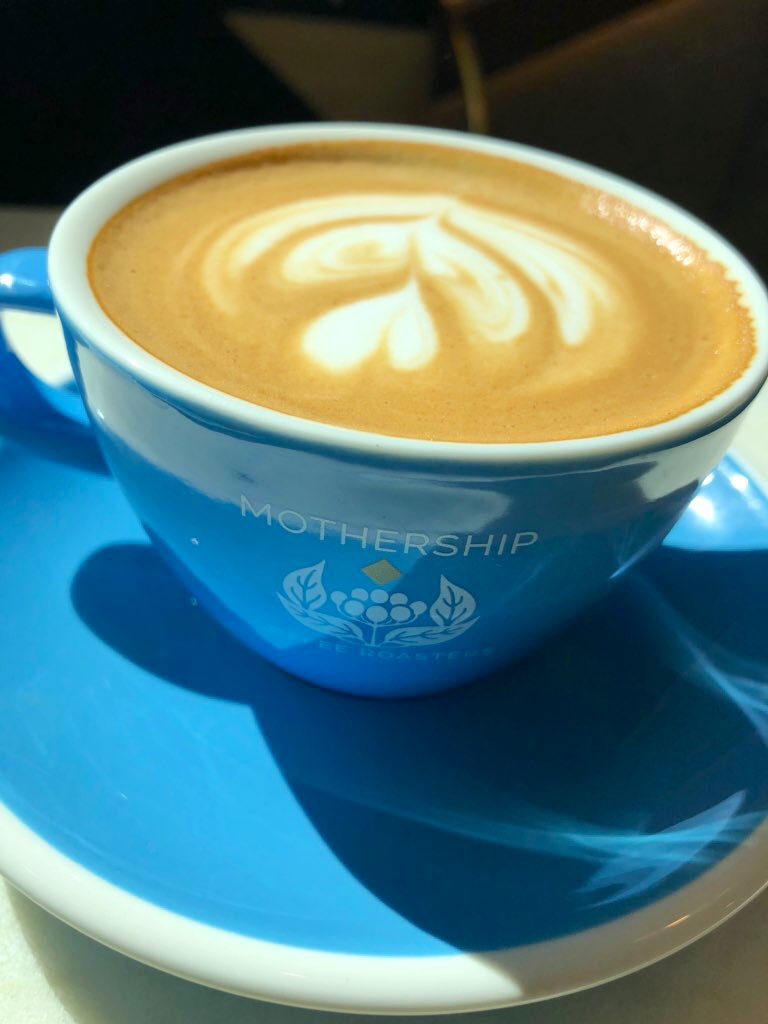 …. because we couldn't au lait for it any longer. Now we're as frappé as can be, and we're going to cup up, plunge in, and milk this trend for all its worth. We hope you do too.
THE END