Twenty years ago, back when dead tree journalism was still thriving, I attended a convocation of food writers in Napa Valley. For a few days, bigwigs from the New York Times, Saveur, and Bon Appetit rubbed shoulders with food writers from around the country. Among the cookbook scribes, Marcella Hazan was the biggest draw – commanding the main stage for her Italian cooking demonstration. Her husband Victor did the same as he lectured passionately and pedantically about the glories of Italian wine. After his talk (where he was introduced as America's preeminent authority on the subject), I asked him if there were any books or guides to help me gain a better understanding of Italian wine (or any understanding of it for that matter). His responded that he didn't think so. Apparently, to learn anything about Italian wine in America, in 1997, you had to know Victor Hazan.
My how things have changed. Thanks to the tireless promotion of  Piero Selvaggio, John Mariani, Joe Bastianich and others (and America's food revolution and the internet), learning about Italian wines is much easier than it used to be. But it's still a very dense and difficult subject, even for the most ardent oenophile. When you consider that Italy has twenty different wine growing regions, producing wines from hundreds of different grapes (over 350 authorized varieties at last count), the task is daunting indeed. (By way of comparison, France uses around 50 different grapes for its storied wines.)
As my Italian wine IQ grew (helped along by multiple visits there), one thing always puzzled me: For a country so rich in wine, no one ever talks about Roman wines.  While Roman food may be renowned, its wines are rarely mentioned in the same breath. Perhaps they have suffered from an excess of Est!! Est!! Est!! ("The dullest white wine with the strangest name in the world." – Jancis Robinson) and the oceans of cheap Frascati that fuel the trattorias of the Eternal City. Between a reputation for cheap, uninteresting wine, and America's taste for the killer "B's" — Barolo, Barbaresco, and Brunello di Montalcino — the flavorful and affordable wines being made south of Rome have had an uphill climb to gain the audience they deserve. But climb that hill you should, and climb it I did (to the town of Cori pictured above), to taste some well-crafted, intense and fruit-forward juice that may finally put Roman wines on the map.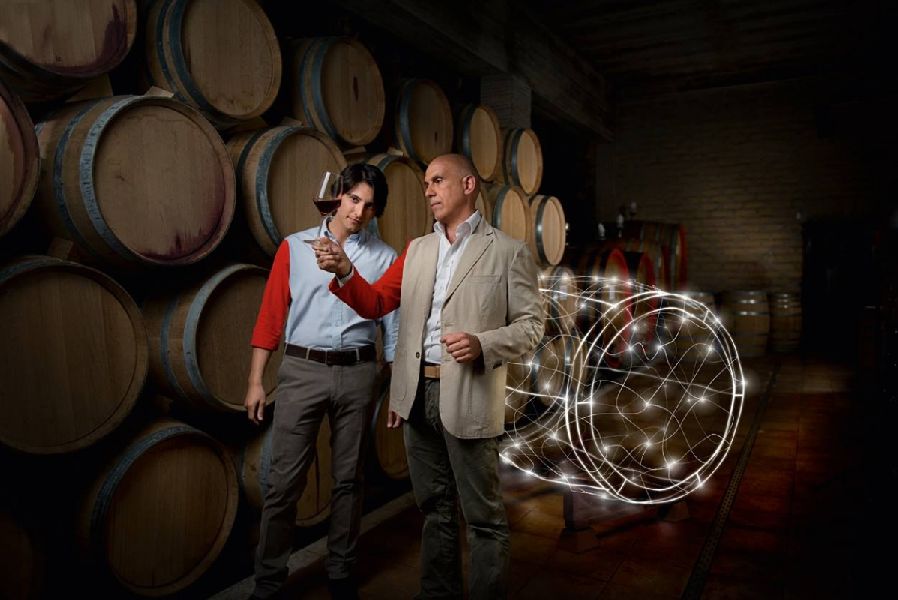 Marco Carpineti (seen above with son Paolo), comes from generations of winemakers, and since 1994 has been making his own wines organically, and bio-dynamically, using no herbicides, chemical fertilizers or synthetic products. His winery is set into a mountain cliff on the road to Cori, just south of Rome, which itself sits almost 4oo meters above sea level. His vineyards are located on the hills and fields below the mountain, and from these sites he crafts a number of bewitching wines, many of which are made with grapes you've never heard of.
Bellone (BAY-lon-AY) is one such grape. A native vine that hints at the herbaceousness of a good sauvignon blanc, with a nice, round mouthfeel and lemony finish that makes it perfect for seafood and oysters. If Carpineti and other Lazio producers have their way, it is a white wine that might challenge the ubiquitous (and often boring) pinot grigio for Italian white wine supremacy.
Whether it does that or not, it certainly makes a very firm and fresh sparkler — that Carpineti calls Kius — a bubbler that is every bit the equal of many a prosecco. A step up in depth takes you to their Kius Extra Brut — made exclusively with Nero Buono di Cori grapes — well-balanced with a hint of fragiolini (small strawberries) and brioche on the nose, and a long, medium dry finish.  It starts slightly sweet and floral on the tongue and ends dry, and practically begs to be drunk with a variety of summer foods and mild cheeses.
The Bellone grape makes another appearance in their Capolemone white — a wine that seeks to harness the soil and scents of this native grape. The light straw appearance is deceptive as the wine is uncommonly round and full in mouth. It finishes with hints of lemon, making it a perfect accompaniment to grilled fish or fresh oysters. Just as compelling was their Moro — a blend of white "Greco" grapes — that yield a softer, fruitier wine with hints of ripe fruit, perhaps due to 30% of the grapes being fermented in "refined oak barrels." Were I tplanning a meal around these two wines, I'd offer the Moro as an aperitif with the antipasti, and serve the Capolemone with some cioppino.
While the sparklers and white wines impressed us the most at Carpineti, their Tufaliccio red blend — of Montelpuciano and Cesanese grapes — won the award for the hardest to pronounce, easiest to drink wine of the day. This is a soft, mellow, easy to gulp red that would go beautifully with a variety of foods — sort of like a cru Beaujolais, only earthier and without the latter's high-toned fruit.
Paolo Carpineti couldn't have been a more gracious host, and to cap off our day of tasting, he drove us to the top of the town of Cori, where the Temple of Hercules stands — built 300 years before the founding of Rome.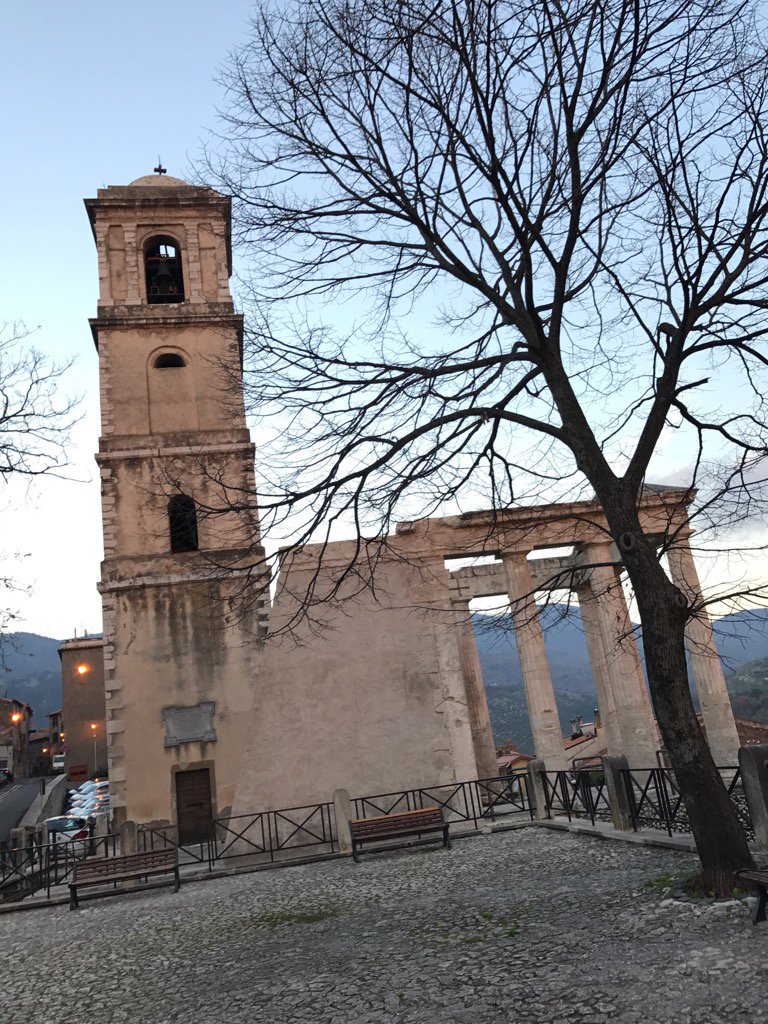 If you time your visit right, as Paolo did for us, you will wind your way to the top of this ancient town right at the end of the day, where one of the most fabulous sunsets in Italy awaits you.
Italian wines, by their nature, are not wines for dissection and introspection. They are as indispensable part to the enjoyment of an Italian meal, as any pasta or protein. Italians view wine as a food, and as something to be enjoyed with food. This was the lesson of Cincinnato, a cooperative wine maker a little down the hill from Carpineti.
Cincinnato is a winery, as well as an agriturismo, which means you can spend the night, sip, sup and stay to your hearts content (as long as you book one of their modern, comfortable rooms in advance). It is named after the famous Lucius Quinctius Cincinnatus, a 5th Century BC Roman politician who, rather than consolidating his power and lording it over the country, instead went back to his farm in the Cori countryside — as depicted by the logo:
The Bellone grapes for the above wine are cultivated in the lava hills around the Cori. Bellone has often been thought of as a "simple" or blending wine. It may not have the structure of more exalted grapes, but in Cincinnato's Castore bottling, there is nice acidity to go with its silvery color and tart, faintly lemon peel-like finish. In all, quite a mouthful for less than $15 retail.
From there, wine writer Charles Scicolone and I worked our way through the entire catalogue. (Wine tasting tip: If you're going to tour Italian wineries, always be sure to bring your very own Italian wine expert with you.) Both of us liked the Castore, but we were more enamored of the Pozzodorico Bellone, perhaps because it is fermented and aged in wood for six months, giving it more body and complexity and length than its stainless steel cousin.
We then sampled a fruit-forward blend of 50% Bellone, 30% Malvasia del Lazio, and 20% Greco — called Illirio Cori Bianco — and a Pantaleo, made with 100% Greco grapes. Giovanna Trisorio — our wine guide at the winery — described the Greco grape as an ancient, indigenous variety that produces a soft, yet full-bodied wine. I liked the Illirio's minerality, but found it lighter, tighter and tarter in the mouth than the much fuller Panteleo. That both wines pack so much lip smacking complexity in bottles costing around $10 is something to behold.
Of the reds we tasted, the Polluce (Poll-U-cha) was the clear cut winner.  Made with 100% Nero Buono grapes, this was a fresh, smooth, easy-to-drink red. It was dark purple in the glass and a touch smoky — more redolent of black fruit than red — and just the sort of vino rosso you'd want with some beef cheek ravioli.
"All of these wines need food," said Scicolone, and the winery obliged, filling us with a variety of local salumi, meats, cheeses and breads to accompany our serious sipping, all accompanied by their gorgeous, fresh, peppery olive oil.
Cincinnato represents over 130 families, farmers and grape grower in the Cori region. It has brought its wines into the 21st Century with a sleek and stylish label that announces some very approachable wines at incredibly soft prices. Most of its catalogue sells in America in the $10-$20 range, and for that price you're getting some serious wine making. The wines are named metaphorically (Castore and Polluce are characters in a famous Italian opera; Illirio means "hill"), but they make it easy for you by identifying the main grape variety right on the front of the label. These varieties deserve to be drunk more than they are on this side of the pond, and after a few sips of Bellone, you may never go back to pinot grigio again.
This is Part One of a two-part article.