ELV note: We usually don't publish press releases — usually finding them easier to mock than to take seriously — but in the case of (possibly) the greatest, and certainly the most influential chef of the 20th Century, we at ELV are as proud as a pintade to help distribute this one. Even though he may not be able to make the flight (Bocuse is now in his late 80s), this gathering of eagles to celebrate his life and impact on the world's culinary culture will, no doubt, be the highlight of this year's Vegas Uncork'd festivities.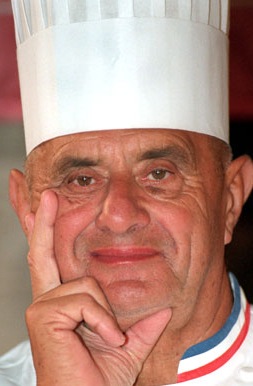 Who's Who of Award-Winning Chefs Pay Tribute to Global Culinary Icon, Chef Paul Bocuse, at Vegas Uncork'd by Bon Appétit
May 7 Extravaganza at MGM Grand will be THE Place for Food Lovers as Joël Robuchon, Alain Ducasse, Pierre Gagnaire, Hubert Keller, Guy Savoy, Julian Serrano and Many More Prepare Dinner of a Lifetime to Honor Definitive Name in French Gastronomy
LAS VEGAS (March 15, 2011) – Vegas Uncork'd by Bon Appétit today announced the addition of an extraordinary culinary experience, "Toques Off to Paul Bocuse," to its fifth annual weekend of events, May 5-8. On Saturday, May 7, an unprecedented lineup of the world's greatest chefs will gather at MGM Grand to pay tribute to the 20th century's most influential and revered culinary icon, Paul Bocuse. Creator of the Bocuse d'Or—the world's most prestigious international culinary competition held annually in Lyon, France—Chef Bocuse has influenced generations of chefs from around the world and multitudes of food lovers they serve.
L'invité d'honneur will be Jérôme Bocuse, son of Paul, a celebrated Master Chef in his own right and a board member of the prestigious Bocuse d'Or USA Foundation.  Among the names already confirmed for this unforgettable evening to celebrate this legendary career are Joël Robuchon, Alain Ducasse, Pierre Gagnaire, Hubert Keller, Guy Savoy and Julian Serrano with more to come. These illustrious chefs will pair off, each duo responsible for crafting and presenting one delectable dish in a multi-course dinner inspired by Chef Bocuse's revolutionary nouvelle cuisine methodology. Each chef preparing a course will offer guests an overview of the dish and, more specifically, how it was inspired by Chef Bocuse.
"Occupying the top position on a global roster of elite culinary icons, Paul Bocuse has impacted the contemporary culinary landscape more than any other chef in history," said Adam Rapoport, Bon Appétit's editor-in-chief. "The best chefs in the world credit him with their own passion for superior cuisine and enthusiastically stepped up to honor him during this year's Vegas Uncork'd by Bon Appétit."
In addition to the meticulously prepared and lavish dinner, the evening will begin with a reception where guests can mingle with these culinary stars, followed by a Champagne toast to Chef Paul Bocuse, and ending with a video retrospective of his life, legend and lasting influence, not only in the realm of French gastronomy, but also in the finest restaurants throughout the world.
Rob O'Keefe, executive director of Vegas Uncork'd, said, "Las Vegas is the epicenter for culinary star power and one-of-a-kind experiences. For that reason, it is only fitting that our destination serves as the place for this incredible collection of chefs coming together to honor this icon."
ABOUT VEGAS UNCORK'D BY BON APPÉTIT: Vegas Uncork'd by Bon Appétit is a unique, four-day culinary extravaganza featuring 25 intimate luncheons, dinners, tastings and other immersive and entertaining culinary experiences. Year after year, Vegas Uncork'd by Bon Appétit draws gourmands, luxury travelers and extraordinary chefs from around the globe to Las Vegas, all lured by the prospect of partaking in this epic foodie extravaganza. Its five partner resorts include Bellagio, Caesars Palace, MGM Grand, Mandalay Bay and Wynn | Encore; the event is made possible by its title sponsor, the Las Vegas Convention and Visitors Authority, major sponsors Travelocity, Infiniti and other national brands. Among the famous names joining        Bon Appétit magazine Editor-in-Chief Adam Rapoport at this year's events are chefs Paul Bartolotta, Tom Colicchio, Alain Ducasse, Hubert Keller, Michael Mina, Rick Moonen, Bradley Ogden, Francois Payard, Joël Robuchon, Guy Savoy, Julian Serrano, Alex Stratta and many more. To purchase tickets, visit www.VegasUncorked.com.