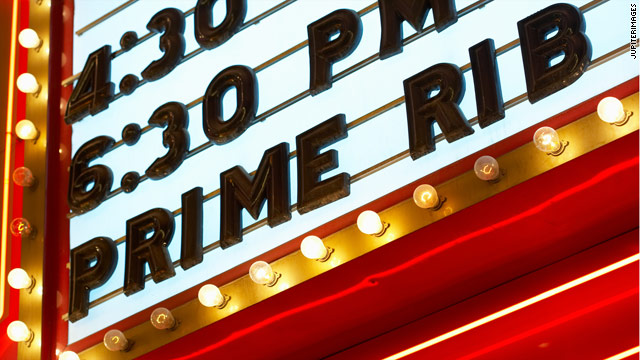 ELV note: The following article, written by Sarah LeTrent appeared on the CNN.com website today.
January 18th, 2011
05:30 PM ET
Las Vegas, long known as a city of excess, might be getting a little less flush.
According to a Zagat survey released earlier this month, even though Vegas is still the nation's most expensive dining city – the average bill is approximately $47.53 – Las Vegas diners are eating out less. The average number of meals eaten out dropped from 3.8 per week in 2005 to 3.3 in 2010.
Combine those figures with a few notable restaurant closings, and it makes you wonder – are the city's restaurateurs starting to hedge their bets?

The city has seen its fair share of shifting tables through the years, starting in 1992 when the desert city was predominantly ridden with 99-cent seafood buffets and medieval-themed restaurants. That year, Wolfgang Puck took a chance and opened Spago, a fine dining establishment, in the Forum Shops at Caesars Palace.
It hit the jackpot – sparking a haute dining revolution in Sin City.
"Then, in 1998, the Vegas hotelier Steven Wynn opened the $1.7 billion, 3,000-room Bellagio Hotel on the former site of the legendary Dunes Hotel and Golf Course, and everything changed," Jay Rayner, the Observer food critic wrote in his novel, The Man Who Ate Everything.
Since, the likes of superstar chefs like Mario Batali, Charlie Trotter, Emeril Lagasse and Thomas Keller have packed their knives and lined The Strip.
Rayner continued:
Suddenly people were no longer coming to town merely to throw their money away in casinos while surviving on desiccated shrimp or lumps of sweaty pork that had been festering under the heat lamps of the all-you-can-eat buffets for six hours. The tables they were coming to were covered not with green baize, but in heavyweight linen. Every hotel on The Strip had to have a superstar chef in residence or, better still, six of them, or twelve–and it wasn't just the big U.S. names. The French boys with the Michelin stars were starting to pay attention as well.
Frenchmen like "chef of the century" Joël Robuchon at the MGM in 2006; legendary French chef Pierre Gagnaire followed suit in 2009 in the Mandarin Oriental.
But over the course of 2010, something changed. Alex, the two Michelin-starred restaurant in the Wynn, most recently shut its doors on January 15. Hubert Keller closed Fleur de Lys to reopen as a small plate, more budget-friendly Fleur. The Daniel Boulud Brasserie closed in July to become the Lakeside Grill in November. And the newly opened, $3.9 billion Cosmopolitan resort opened with 14 restaurants – most of which headline with notable chefs like José Andrés and Scott Conant, and none of which are comparable to the high pricing of predecessors.
"The old three course dining meal (apps, mains, desserts) may be fading, but you can still run up quite a tab with a bevy of small bites – and the restaurants know how to get you to do it," said John Curtas, author of the popular blog and soon-to-be released book, Eating Las Vegas.
"The newly opened Cosmopolitan seems to getting the zeitgeist right – excellent food plus groovy vibe plus 'name' restaurants (Jaleo, Milos, STK, Comme Ça, Scarpetta) that represent quality, but also perceived value and uber-coolness."
"The restaurant scene in Las Vegas hasn't completely deviated from fine dining, though there has been renewed interest in more casual places," said Ken Langdon, co-founder of Langdon Flynn Communications, a public relations firm with many clients in the food and beverage realm.
"Five years ago the resorts battled for the huge French names like Robuchon and Savoy with $300-plus tasting menus and equally expensive wine lists. As expense accounts have been scaled back, the days of thousand dollar dinners have also been severely reduced. People still want amazing food but at much softer prices."
"It could very well be a blending together of the very fine cuisine and the casual setting. It's easier for the consumer," agreed Frank Pellegrino, Jr., co-owner of Rao's in Caesars Palace. "Hey, I want to go to Guy Savoy but I can get the same chef, similar cuisine at a price point that I'm much more comfortable at."
As for the $285 prix fixe menus of yore – "I don't think it'll ever lose its place," Pellegrino added.
"[The] Vegas dining scene isn't undergoing a sea change as much as it is growing up, with lots of confident/successful restaurants at all levels of pricing and decorum … in other words, just like a real city," concluded Curtas.
A city based on excess will always have just that. It may just take a little longer for the chips to stack up.