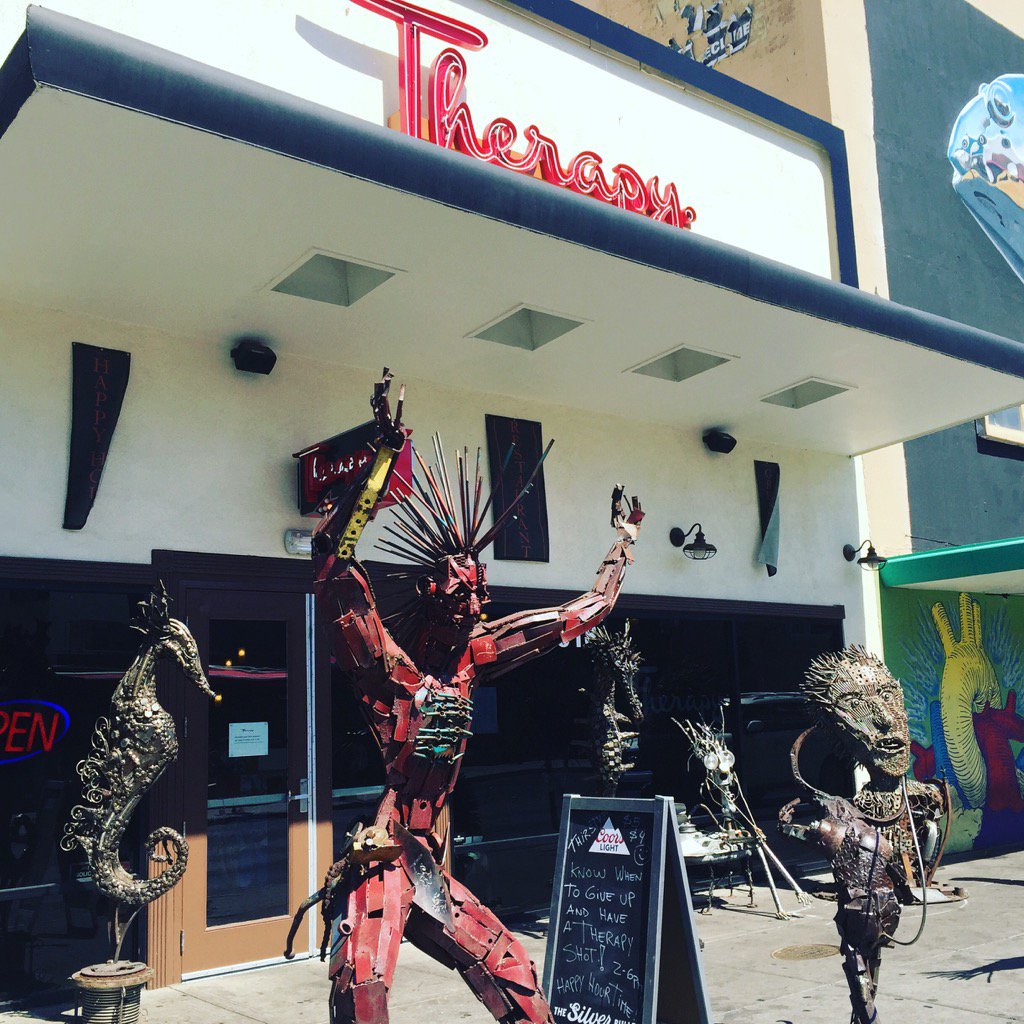 ELV note: We have temporarily suspended the highlighting of our favorite summer dishes (Summer Dish Review) for two reasons: 1) we are hard at work finishing the copy on the 2017 Edition of EATING LAS VEGAS – The 50 Essential Restaurants, and 2) several things have come across our desk in the last couple of days that are beyond the fu*king pale. The first one was posted yesterday about a bordello in Parhump (natch) that's decided to get into farming(?), and today we confront the last (and tackiest) nail in the coffin of East Fremont Street.
Eating Las Vegas has nothing against charity. Charity, at home and elsewhere, is a good thing. It allows the more fortunate to benefit the less so. At its purest, it is one of mankind's most endearing qualities.
Eating Las Vegas, however, has quite a lot against people who use their "charitable giving" as a way to sell you something.
It's been our experience (through decades of adult living) that the more someone trumpets their charitable giving, the tighter your hand should be on your wallet.
We've also learned that the louder someone is about their generosity, the more likely they are either a) filthy rich, or b) desperate. If patriotism truly be the last refuge of a scoundrel, then bragging about benevolence is the first subterfuge of any scallywag's p.r. pitch.
Exhibit One: The PGA Tour. If you've ever noticed, every single golf tournament (except the four majors) loves to trot out how much $$$ they give to charity. They don't do this because they love giving away money; they do this to keep their tax-exempt status (as a non-profit entity, yeah right) so they won't have to give even MORE of their money to the Federal Government (in the form of income taxes).
Exhibit Two: Sleazy politicians. Especially supposedly rich sleazy politicians. You know the type: the kind that are always telling you how much money they give to charity, when, actually they don't give any money at all.
Exhibit Three: Desperate restaurants (see above) run by clueless investors who think putting a bunch of tacky sculptures in front of their once-promising-now-insignificant business will somehow boost their numbers, while increasing sales for an artist ("sculpturist") no one cares about (see above, again) because. let's face it, he's not the first one who ever thought of making crap art out of scrap metal.
And of course, it's all being done for "charity."
Not any named charity, mind you, just for "a local children's charity" and "children in need."
How touching.
How poignant.
How benevolent of these unselfish, giving, kindhearted folks to be thinking of the children in these dire times.
How can we thank them for their munificence? How can we reward them for their beneficence?
Buy buying a bunch of tacky, Burning Man-derivative, alt-art shit metal, and then coming into Therapy for some drinks and dinner, of course!
What a grand idea!
And it's all for the kids, of course.
Doesn't that make you feel better about things?
We didn't think so.
The whole charade reeks of desperation, meretriciousness and mendacity.
Which makes it the perfect event to sound the death knell for East Fremont Street. A place I once had high hopes for, now headed headlong into the throws of irrelevance, as it casts its lot with bars, more bars and chain restaurants.
I also once had high hopes for Therapy, until it fired two good chefs within six months of its opening. Up until then, I had been beating the tom toms for the joint, hoping it would bring some laid-back cool to a street desperately in need of an adult place to hang out, rather than something that appealed to the dollar beer crowd.
At first it had great cocktails, groovy beers, and chef-driven food you could appreciate. That lasted about half a year — so management could garner some good reviews before it started cutting quality. Now it's strictly Sysco-truck specials and sadness….limply chugging along in the wake of the noble failure that was Radio City Pizza, that stupid, failed fondue joint (by celebrity chef Sam Marvin!), and The (now defunct) Beat.
Seems the buck-a-beer crowd was East Fremont's destiny all along. But to be fair to them, we're guessing these fine folks, preoccupied though they may be, are still too parsimonious and perceptive to fall for something as craven as this scam. Look at it this way: If the artist's work was any good, he wouldn't have to display it in front of a shitty restaurant, and if the restaurant was any good, it wouldn't have to use shitty art to get people in the door. Both of them are feeding off each other, and cannibalizing quality in the process.
As for East Fremont Street, if you're a local, the only places worth going to are Le Thai and The Smashed Pig — both of which hold on (and put out a good product) against all odds.
East Fremont has officially hit the skids; it just took this final, foolhardy stunt to drive the point home to us.
Put a fork in it; it's done.
<<<<<<<<<<<<<<<<<<<<<<<<<>>>>>>>>>>>>>>>>>>>>>>>
Here's the press release, letting you know right up front that the restaurant and the "artist" are doing it all for charity:
THERAPY PARTNERS WITH METAL SCULPTURIST
JOSEPH JILBERT TO BENEFIT CHARITY
 Tweet It: Join @Therapy_LV to celebrate the artwork of @JosephJilbert! #dtlv #vegas
 LAS VEGAS – There's a new eye-catching addition on the streets of the Fremont East Entertainment District. Therapy, located at 518 Fremont St., has partnered with Downtown Project and renowned sculpture artist Joseph Jilbert to display his inventive pieces beginning with a gallery event at 6 p.m. on Thursday, Sept 15.
All artwork is available for purchase with a portion of each sale benefitting a local children's charity.
Jilbert is known for creating his pieces strictly from discarded and recycled metal, turning trash into treasure since he was five years old. Creating whimsical sculptures of various sizes, ranging from a few inches tall to more than 45 feet in height, Jilbert has relocated some of the art to Downtown Las Vegas from his home state of Louisiana. Jilbert creates his sculptures using everything from scrap metal to old kitchen utensils, car parts to discarded machinery from major corporations.
Jilbert will introduce his artwork with an open gallery event hosted from 6 to 10 p.m. on Thursday evening at Therapy. The artist will discuss the background and process for creating each piece while answering any questions. Each sculpture is available for sale and 10 percent of each purchase will be donated to local children in need.
Therapy will continue to showcase Jilbert's artwork and will also be encouraging metal donations of any kind to the restaurant, so the artist can continue his work. Jilbert also takes commissioned pieces and loans his sculptures for various time periods.
ABOUT THERAPY
Therapy has become one of Downtown Las Vegas' top dining destinations at 518 E. Fremont St. Located in the vibrant Fremont East Entertainment District between 6th St. and Las Vegas Blvd., Therapy combines the best elements of downtown dining and drinking into one destination complete with an American gastro-style menu and full bar program with more than 40 craft beers. More information may be found at www.therapylv.com, calling 702-912-1622 or following on Facebook, Twitter and Instagram @Therapy_LV.
Sheesh.