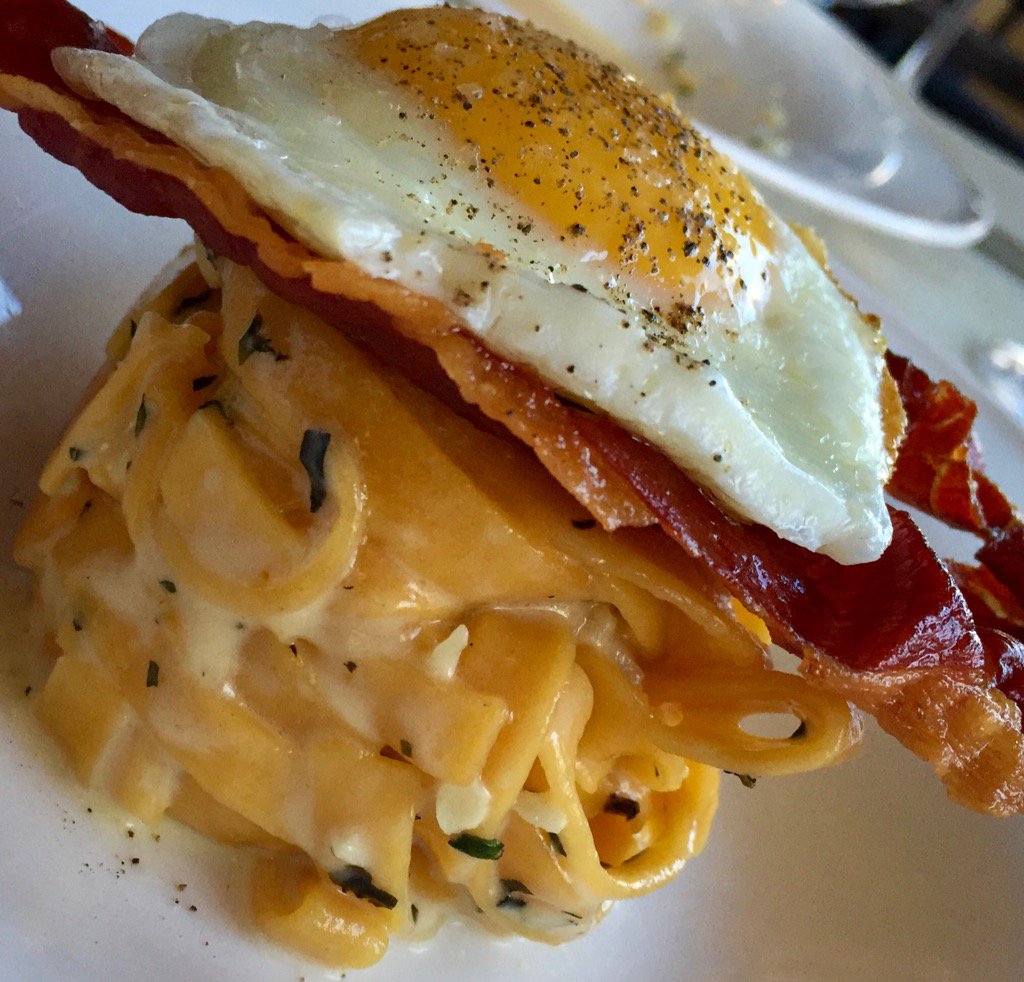 This isn't the first pasta to tangle itself up in a pretty pile.
Nor is putting a bacon crisp (or an  egg) on top of something the height of originality.
Lightly binding those noodles with cream and some sharp parm ain't nuthin' ingenious, either.
But put it all together in this beauteous bundle and you have a starch you can't resist.
Show stopping in appearance; fork-dropping in deliciousness.
And one of many dishes at La Cave this summer that had me re-thinking my opinion of the place.
Every small plate that came out of this tiny kitchen:
….seemed to be more finely tuned and carefully composed than we had seen or tasted before.
It was quite a meal made quite better by Mark Hefter's extensive (and well-priced, at least for the Wynncore) wine selections. (50+ wines by the glass is nothing to sneeze at, and, if you look for them, plenty of off-the-beaten-track options for well under a hundy.)
Thus has a place I wrote off a couple of years ago  seem to have re-booted itself in all the right food + wine ways.
L'chiam, La Cave!
LA CAVE FOOD & WINE HIDEAWAY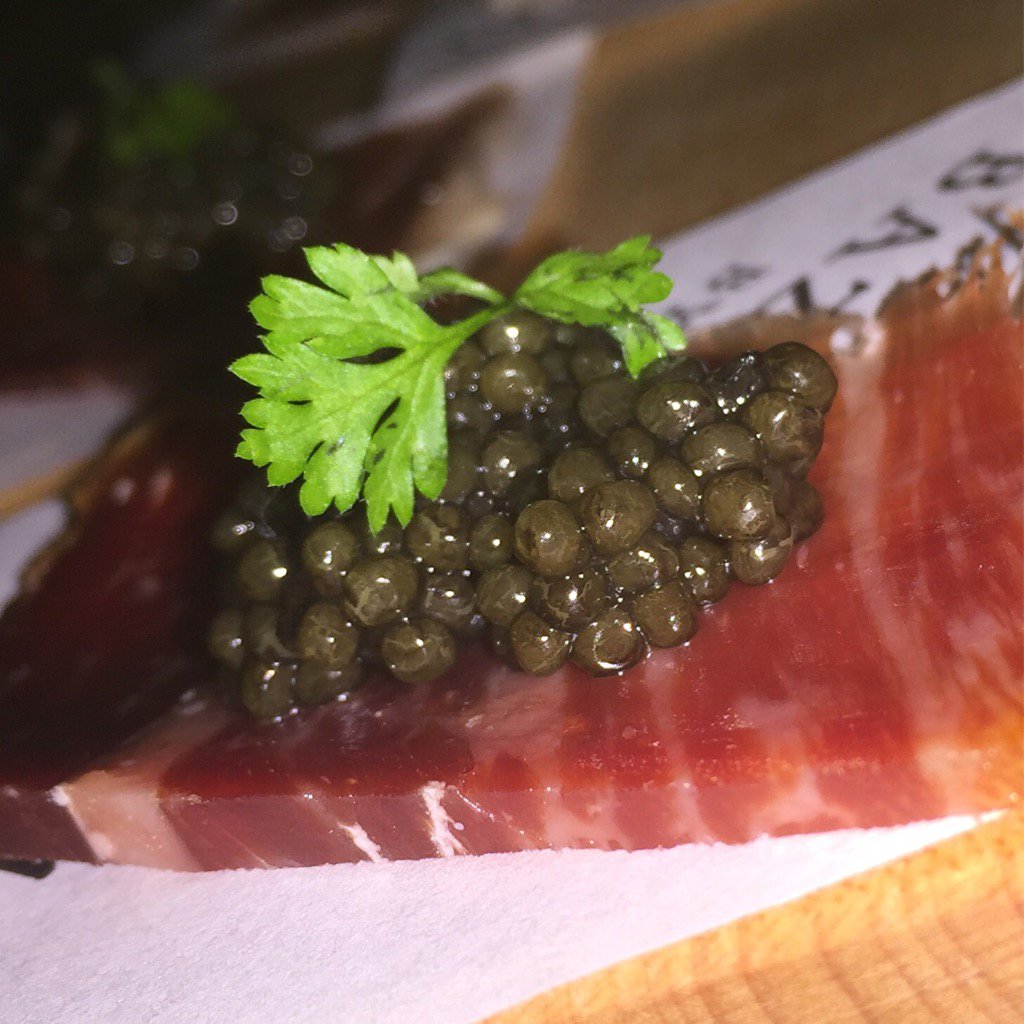 A Spaniard loves salt like a Swede loves surströmming.
It's in their blood. They are the masters of curing things, from hams to fish eggs.
Put the two together and you achieve heavenly levels of sustenance symbiosis.
Does it make the ham taste like fish, as my friend John Mariani says, or does the salty sourness of the ham provide a dense counterpoint to the bracing, tiny explosions of seafood salinity that the sturgeon eggs provide?
We think the latter. We also think that nothing goes better with a savory-saline manzanilla sherry than that little nibble shown above.
Unless its a spot of champagne, or a tickle-your-nose albariño. There's something about the nutty aromas of these fresh, citrus-toned whites from the Rias Baixas (pronounced "ree-ahs bai-chas") that marries perfectly with this ham and these eggs.
The ham, of course, was an Jamón ibérico de pata negra de bellota — the world's greatest ham from the world's most famous black-footed pig.
It is famous for a reason. Because nothing on earth competes with its density, richness and haunting, nut-like flavor.
That caviar was no slouch, either. It being the biggest, briniest, sweetest fish eggs we've eaten since Caspian Sea caviar was banned in 2005.
Was it the best mini-bite of food we had all summer? By a country mile.
Do the Spanish know their salt? You bet your lutefisk they do.
BAZAAR MEAT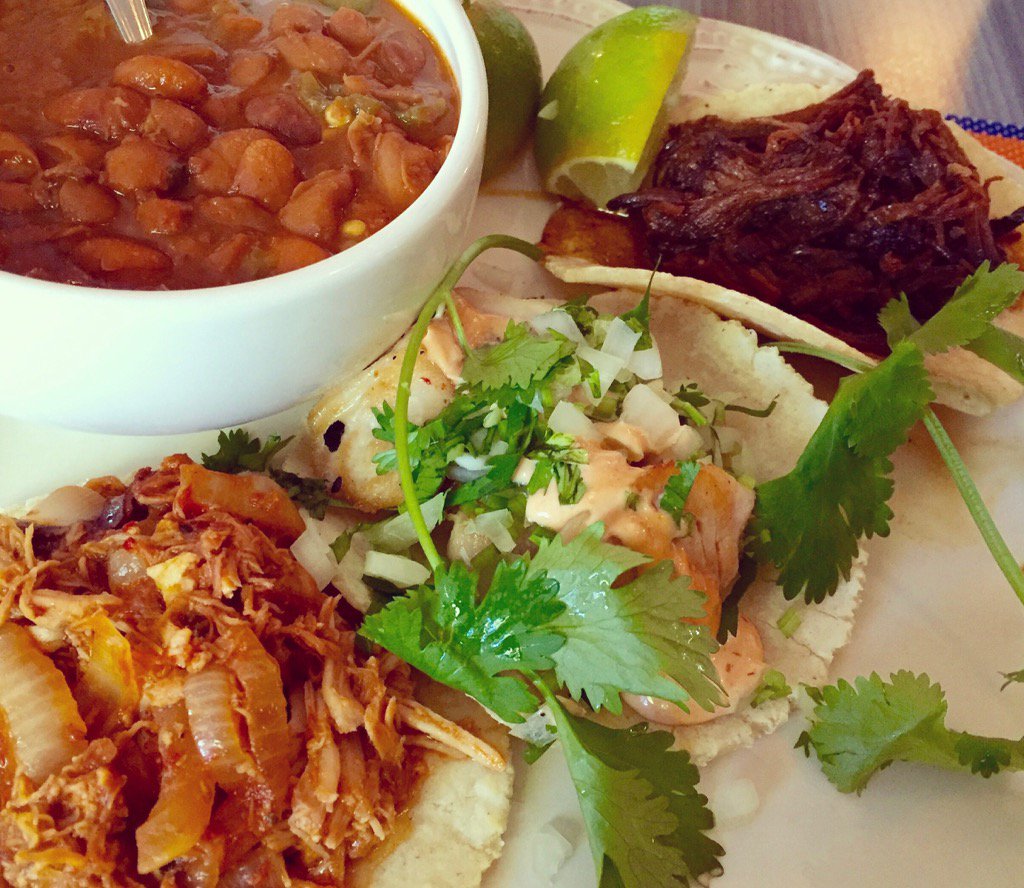 ELV note: Here is the actual, verbatim, word-by-word, multilingual conversation I had* with my friend Pedro** the other day:
Is there a better taco downtown than at El Sombrero, Pedro?
No señor, there is not.
Do these beans deserve to be in the Frijole Hall of Fame?
Si, señor, they do.
Can chicken tinga get any tangier? Chile arbol braised brisket any beefier? Achiote marinated pork any porkier?
No, no Señor Curtas, they do not.
Then why is there not a line out the door every day for this food?
Because people are EE-dee-ots, Señor John. They are muy stupido, muy tonto….and maybe because there has been major road construction going on right in front of the place for the past year.
That must be it, Pedro. But while we're at it, have you ever tasted beans so piquant, so rich with pork flavor and spiced so right? Beans that made you forget every nasty, negative thing you've ever said about beans in a Mexican restaurant? Beans that were so tasty that they created a gold standard about how all other Mexican beans are to be judged?
No, senor. Tienes mucha razon! Como siempre!***
EL SOMBRERO MEXICAN BISTRO

>>>>>>>>>>>>>>>><<<<<<<<<<<<<<<
*in my head
**imaginary
***You are the world's greatest food critic, sir! A titan of gastronomy! A god among mere mortals masticating their way through a mass of mediocrity! I bow to you; nay, I salute you!