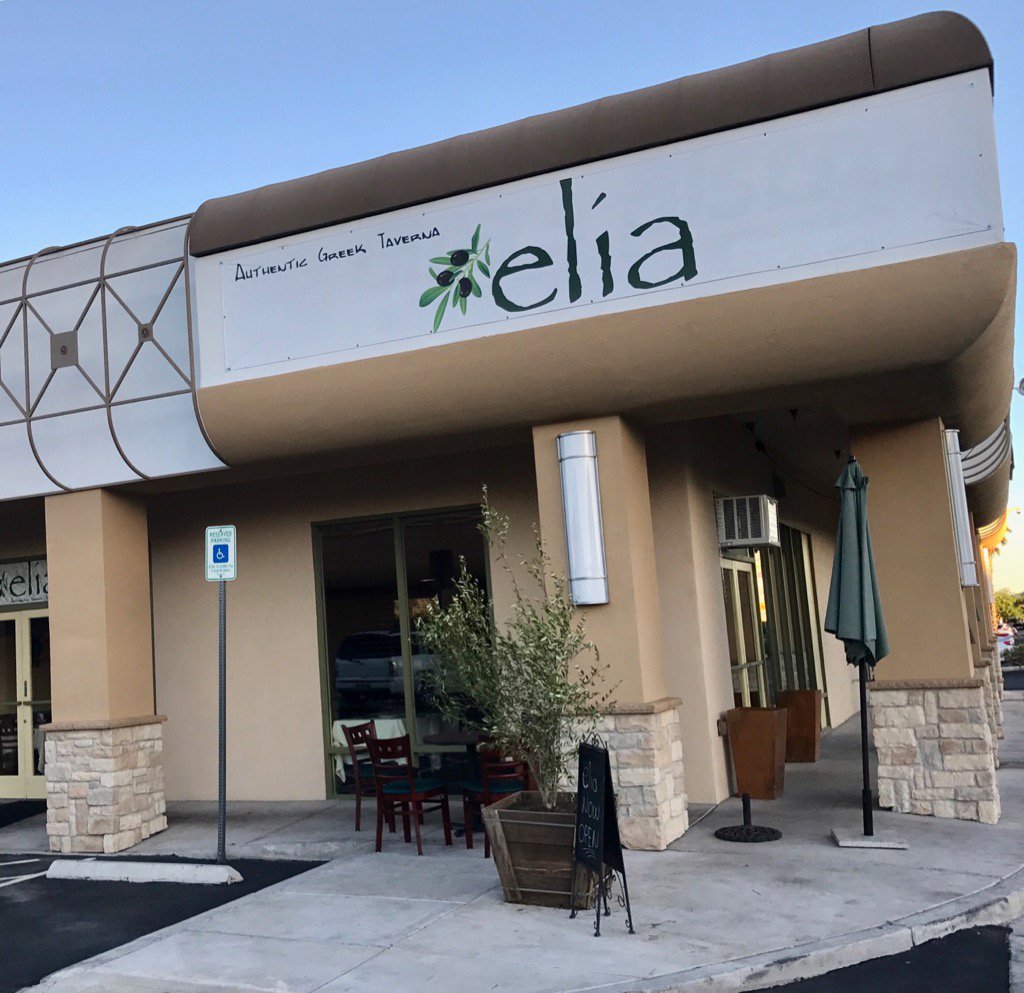 False advertising by restaurants is taken for granted. How many times do you just shrug when you see "homemade" on a menu, or "best ___ in town" on a sign? So inured are we to the hyperbole of food puffery that we barely blink when something tells us that some foodstuff is the greatest this, or the the most authentic that. Most of the time, most of us presume the exact opposite of what is being touted, and no one bats an eyelash.
When it comes to "real" Greek food, most Greek restaurants are co-conspirators against consumers and the land of their birth. Like the Chinese and Italians before them, these immigrants created facsimiles of recipes that dumbed-down the real thing, because, they thought (rightly at the time), Americans couldn't handle the truth. Unlike other ethnic restaurateurs though (who simply watered things down), Greeks decided to invite entire countries into their kitchens. Thus can you often find everything from mezze platters (Persia), to falafel (Syria), to hummus (Israel), to Caesar salads (America) to kebabs (Turkey) in your average Greek restaurant. Imagine French chefs cooking up a passel of pizza, bratwurst and bangers in a bistro and you'll get the idea. The bastardization of real Greek food started decades ago, and it shows no signs of abating, as most Greek food now gets compromised by a lava flow of babganoush and a enough shingles of pita bread(Lebanon) to tile a roof.
Amidst our Aegean sea of mediocrity there is an island of Hellenic serenity. With nary a cliche in sight, Elia Authentic Greek Taverna opened its doors a little over a month ago, and immediately started changing people's preconceptions about this cuisine. There are no Greek flags flying. No hideous Greek statuary adorns, nor is the color scheme another variation of bright blue and white. The walls are muted, the linens are thick, and the tablecloths are real cotton. Even the bouzouki music is tuned to a nice, conversational level. In short, this small, 30 seat space is unlike any American-Greek restaurant you have ever been to.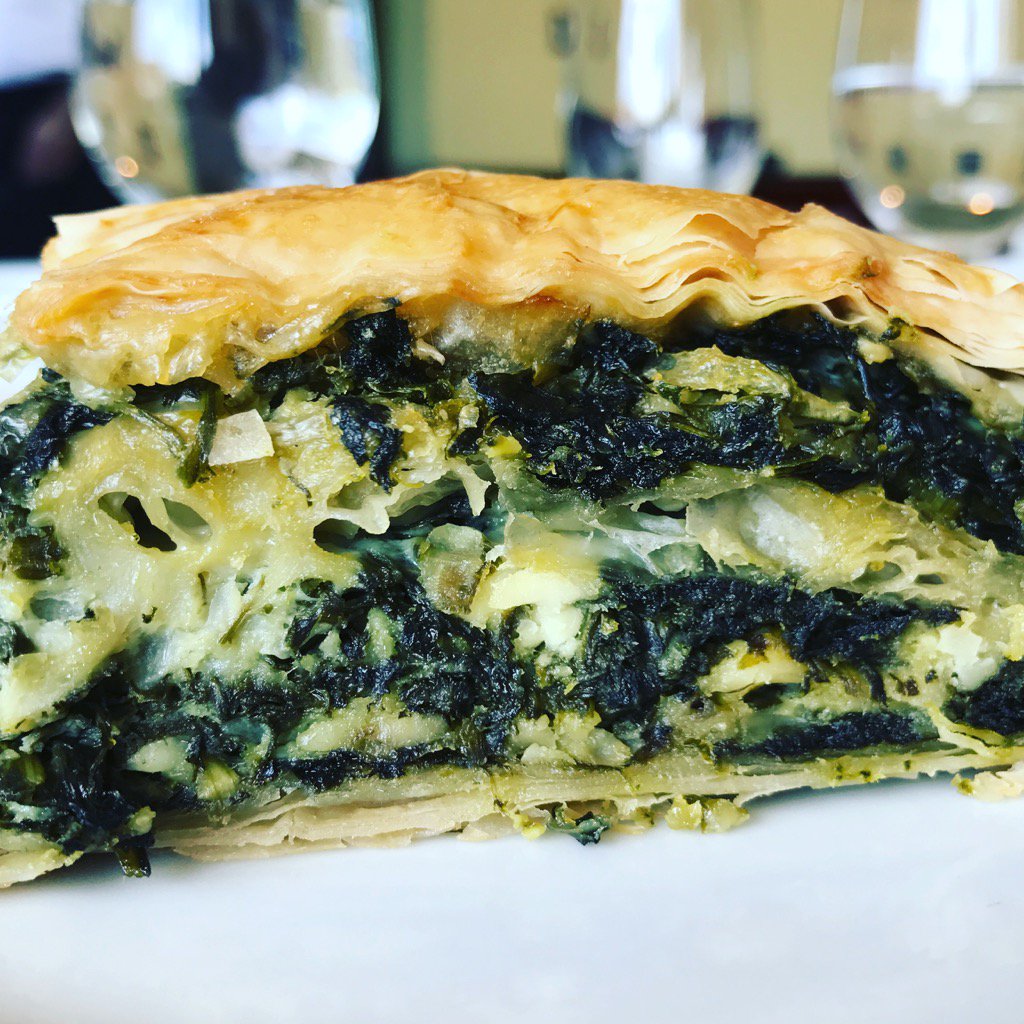 Small it may be, but mighty are the things coming out of this kitchen. Whole fish, supple, grilled octopus, spanakopita (pictured above), gorgeous, oregano-dusted lamb chops, oven-roasted lemon potatoes, superb tomato salad, gigante beans, and the big 4 of savory dips (tzatziki, tarama, tyrokafteri, and skordalia), all pay homage to the kind of food that Greeks take for granted — be it at home or in the neighborhood taverna. The all-Greek wine list is well priced, and the welcome makes you feel like you belong — because you do, and because real Greek food finally does in America .
The only untrue thing about Elia is that it's not located on a side street in Athens.
ELIA AUTHENTIC GREEK TAVERNA
4226 S. Durango Dr.
Las Vegas, NV 89147
702.284.5599
When Standard & Poor closed, my (already low) opinion of Green Valley plunged even further. For years I've called GV the land of $400,000 homes and $40,000 cars where no one wants to spend more than forty bucks on dinner. Just weeks before S&P shuttered, this little jewel box opened in a giant strip mall that houses at least two dozen other food options. Boteco is so small and so obscure — wedged between something called the "Beach Hut Deli" and a pet food store — that you can be parked right in front of it and miss it. But miss it you should not do, not if you want to taste Spanish-styled, chef-driven, Robuchon-inspired food the likes of which this backwater probably can't appreciate.
But appreciate it you should. Because if you're reading these words, you are obviously a person in search of good taste, and tastes don't get much better than what chef Rachel LaGloahec is putting on these plate. This is not complicated food, a la Sparrow + Wolf, nor is it the "too hip for the room" cooking that failed down the street. These are the musings of a confident young chef, who has obviously been well-trained, and who hits her marks with every beat.
Take her weekend brunch for instance. Everyone knows I hate brunch. And I hate it because most brunch menus are about as inspiring as a Mitch McConnell press conference. LaGloahec got me interested from the first bite of her house-vodka-cured salmon:
…and spices things up further with Tacos da Moda — scrambled eggs with strips of steak and Spanish chorizo, ready to be rolled into some house-made corn tortillas — as beautiful a breakfast concoction as one can construct. Don't miss the Dutch Baby-style pancakes, either —  served with a strawberry coulis and champagne zabaglione —  her trio of Botequito sliders dripping with melted onions and smoked Gouda on a brioche bun that's a wonder unto itself. If that's not enough to get you out of your brunch rut, the trio of prosecco "flights" — bellini, cassis, and limoncello — is a lip-smacking steal at $12.
At dinner, there are only twelve things on the menu, but those sliders, an avocado crunch salad and a Singapore Chilli Crab dip are a delight, and the kind of food that's unknown this far from the Strip.  There's even a poutine on the menu for the calorie-challenged, fabulous Spanish ham, good oysters, and escargot croquetas and braised beef with Piedmontese rice for ectomorphs in need of a good rib-sticking. This is a mix and match menu that's made for fun. Boteco means "meeting place" for friends and family, and if you and yours are looking for a place to congregate, you won't find any better in this neck of the culinary desert.
BOTECO
9500 S. Eastern Ave. #170
Las Vegas, NV 89123
702.790.2323
Summertime in Las Vegas is great for so many things: lounging by the pool, frying eggs on sidewalks, and watching local weathermen figure out different ways to say, "it's hotter than hell outside." But what summer is really good for in Vegas is seeing how badly people can dress – specifically how atrocious they look when they go out to eat. It's no surprise that our tourists rank as some of the most poorly attired in the world (a distant second to Orlando, Florida, but still right up there), but what consistently shocks me is how shameless they are about walking into refined, elegant restaurants wearing nothing more than cargo shorts and an air of cluelessness.
I'm not talking about strolling into the Bubba Gump Shrimp Company or a buffet. No one gives a hoot how sloppy you look in those food factories. No, what appalls me are the t-shirts at Le Cirque, and lululemon at Michael Mina. This may come as a surprise to some of you but 1) no grown man looks good in shorts (no matter how good looking they are – see picture above), and 2) tank tops were invented for volleyball tournaments. And if I want to look at some dude's mangled hairy, Hobbit hoof, displayed in open-toed shoes, I'll go to the beach.
Some call it "comfort" and "informality," I call it an excuse to look like hell and get away with it. Becoming a more casually dressed society has wreaked havoc on manners, good taste and regard for your fellow man. Not to get too philosophical about this, but it's a short plunge from how informal we've become to how rude and crude our politics have gotten.
As much as people want to make this debate a class struggle, or, even worse, an argument over individualism, it's really about respect, as in: respect for yourself, others around you, and the place you are dining. You are a guest in any restaurant you visit. It is neither your home nor your personal playground. As with any guest, you should consider your surroundings and think about something other than yourself. If you insist on eating out looking like an aging frat boy, there are Taco Bells and Denny's aplenty just for your ilk.
Rather than arguing about who should wear what, my 92-year-old mother has the best solution: create a slob slum in every nice restaurant. No one but the staff has to know it exists, but simply reserve and segregate a few of the worst tables for the worst dressed customers. That way they can enjoy their meal while not offending anyone, as they revel in their shamelessness, their selfishness and their ugliness. Problem. Solved.