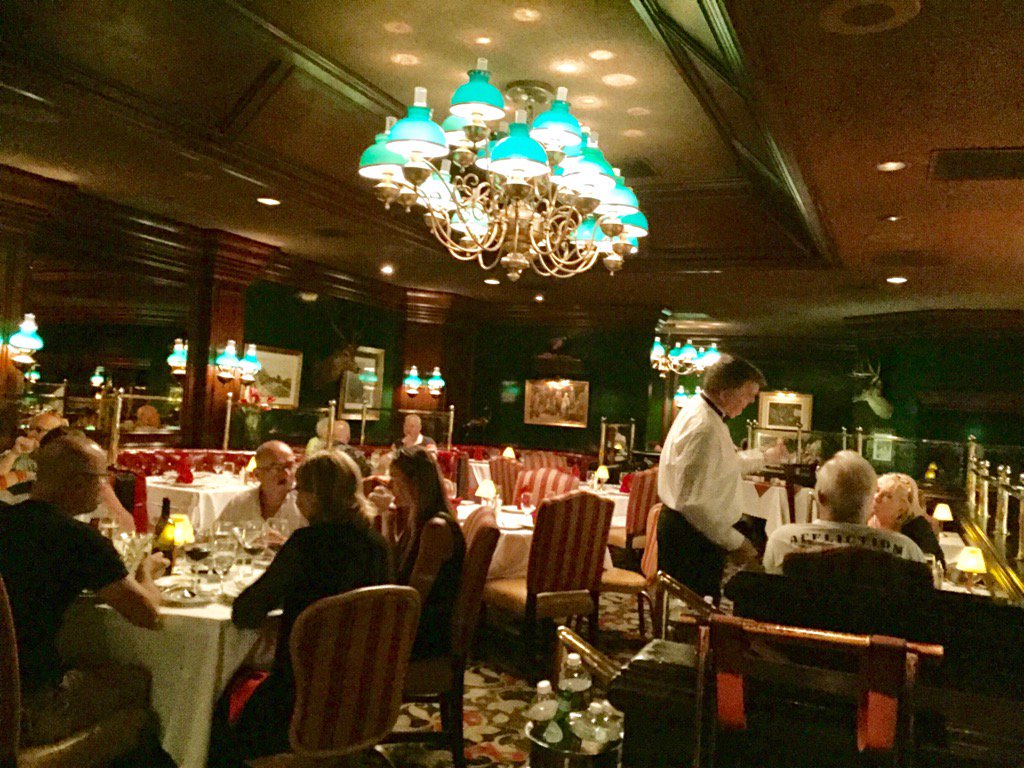 You've gotta hand it to THE Steakhouse at Circus Circus. It's been around since 1983 and it still looks and feels the same way it did when I first walked through its manly-musky-meaty facade thirty-three years ago.
Truth be told, I had been avoiding going there ever since I finished my roundup of vintage Vegas dining spots a month or so ago. So depressed was I from hauling my ass from one sad, tired, tourist trap of a meal after another (over the past year) that I couldn't handle another "Vintage Vegas" disappointment. And I sure as hell didn't want to write another word about another regretful experience, much less chew on shoe leather and tepid memories.
But memories are a powerful thing. And I remembered the sweet whiff of mesquite smoke that had perfumed my last (very good) steak here seven years ago. And the room — a thick, dark, paneled-and-padded homage to days of old — always held a lot of appeal. It had always been a time warp of sorts, but unlike the faded, shopworn tackiness of the Golden Steer, perhaps it hadn't gone to seed.
Service as I recalled, had always been top notch as well — with a crackerjack waitstaff that looked proud to be there, rather than just going through the motions.
With all these things in mind, I braved the environs of Circus Circus — overrun with families and reeking of bargain-basement desperation — and found the familiar sight of that heavy, wood-paneled entryway: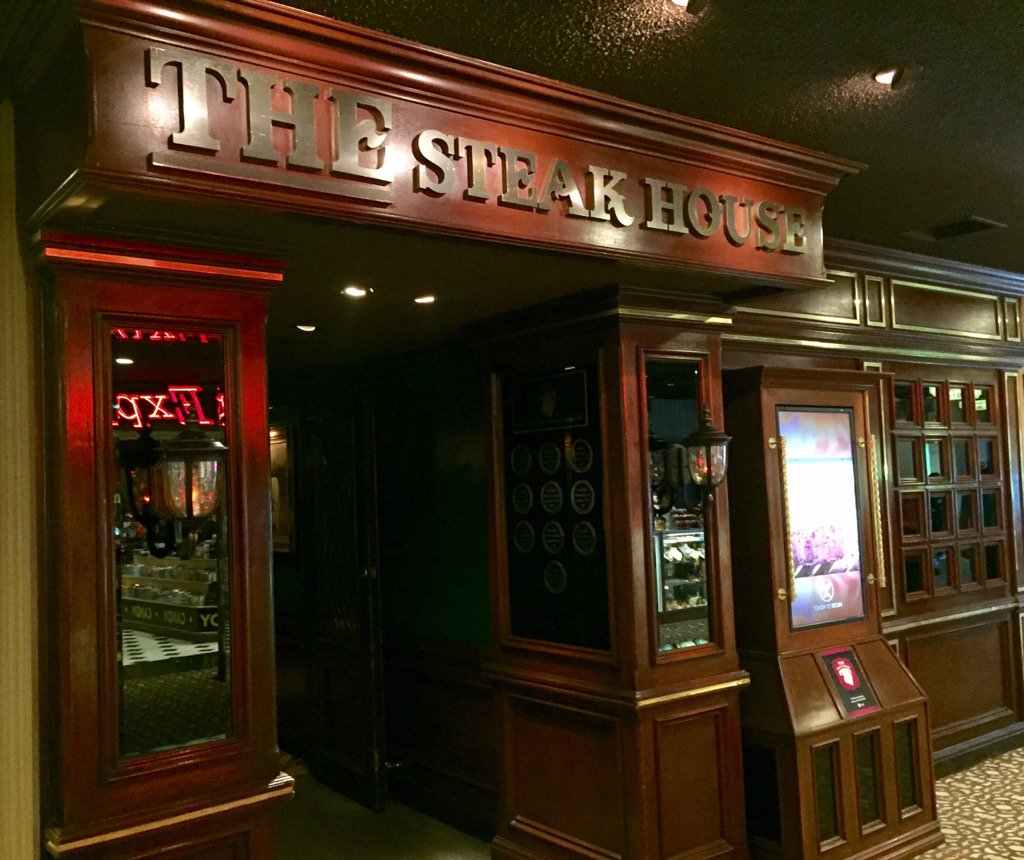 One of the joys of eating here is the incongruity of it all. Everywhere you look there are fanny-packers and families —  none of whom look like they can afford a Vegas vacation — and smack dab in the middle of it all is a plush steakhouse that would be right at home in mid-town Manhattan.
The prices are rather Manhattan-esque too, which only adds to your sense of victual vertigo. $61 is a lot for a porterhouse, getting right up there into Carnevino territory, but this one is properly aged, even if it was cut a bit thin and cooked a bit much:
 To be fair, it comes with a potato (how retro!), and some very good vegetables, or an extremely good black bean soup — that soup comes with a jigger of sherry, just as it should. But what really set off the meal for us was the pitch perfect wedge of lettuce with bacon and blue cheese: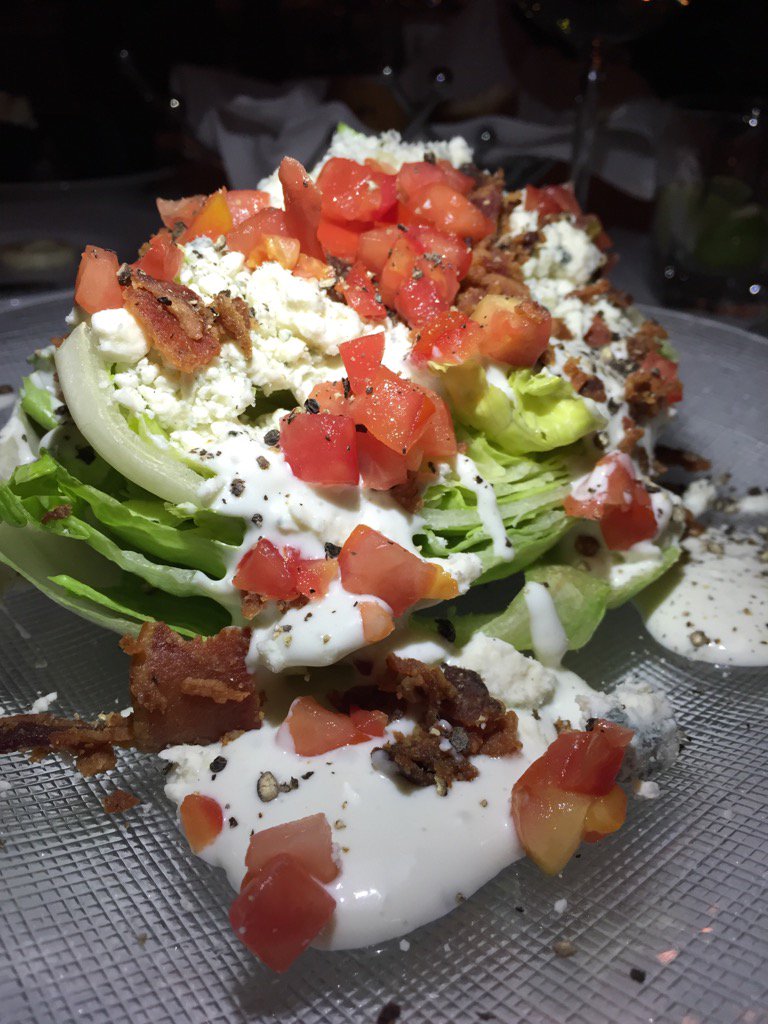 ….and the gorgeous pile of fresh spinach with just the right sort of hot and sour dressing: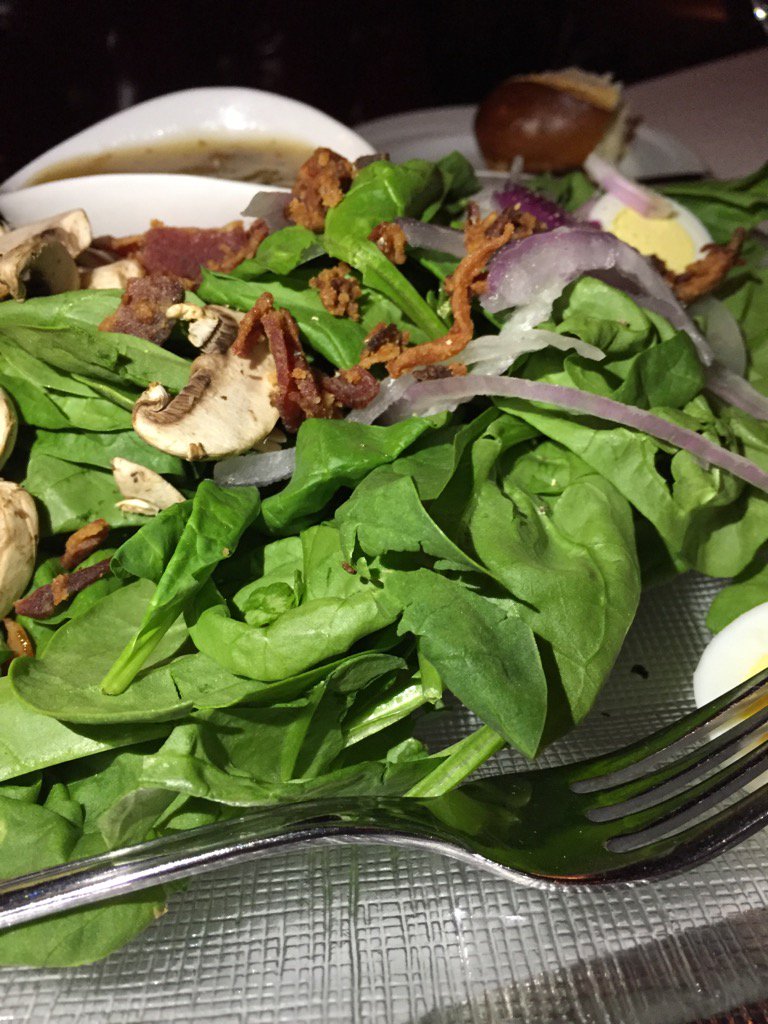 .
 We were also nuts about some big, beefy(?) shrimp that came with their own, warmed-over-a-candle garlic butter, and the a top-notch bread basket. The service is top shelf as well, full of old pros who know what they're doing and make everyone feel at home.
About the only things not to like about THE Steakhouse are the by-the-numbers desserts and a very limited wine list. It's far from the "best steakhouse in town" (that it advertises itself to be), but on the whole, it succeeds where too many old warhorses fail. And even after all these years, it still feels like a blast from the past in all the best ways. It is the steakhouse that the Golden Steer wishes it could be.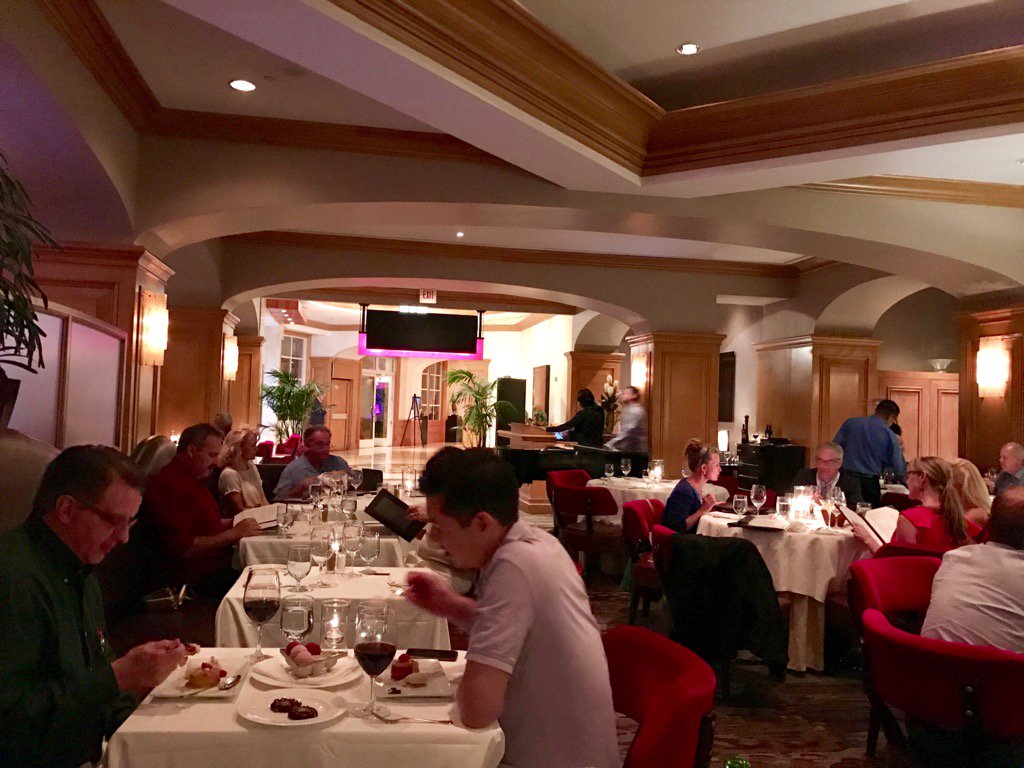 It was fun eating at THE Steakhouse, in part because no one recognized us.  We had avoided Charlie Palmer STEAK for years precisely because we always get recognized there and were tired of holding our tongue about how pedestrian it was.
If you recall, CP Steak was the steakhouse that Anthony Bourdain's (now soon-to-be-ex) wife called "the worst steak she had ever eaten" four years ago, sparking a tempest in a Twitter teapot between me and Mr. "Fuck Nuts." Good times.
Truth be told, we weren't surprised to discover, when the dust cleared, that Bourdain's terrible meal had occurred here. Of all the steakhouses in Vegas, it had been under-performing for a decade. Of all our celebrity chef steakhouses, it consistently ran dead last, and was not even in the same league as CUT, Carnevino, Prime et al.
What was holding it back? Tough to say. Complacency might have had something to do with it. As the main dinner restaurant at the tony Four Seasons Hotel, it could be assured of hitting its numbers, no matter how uninspiring the decor or boring the food. And, as a steakhouse in a steakhouse town, all it had to do is keep a bunch of big hitter California cabs on its list to keep the fat cat, middle American conventioneers swilling…and swearing it was the best damn steakhouse they'd ever been to.
Even at its worst, CP Steak would've still been the best damn steakhouse in dozens of American cities. But this is Las Vegas — home to the greatest beef emporiums in the country outside of the Big Apple — and the bar is set pretty friggin' high. So, how could the estimable Charlie Palmer — one of America's greatest chefs — get his meat market back in the ballgame? After sixteen years of running on cruise control?
Well, a facelift was a good place to start. (See picture above) Gone is the beige on beige interior. Chairs are brighter and the mood (and the lighting) is lighter. ELV ain't no arch-EE-teck, but he can tell when thangs have been spruced up to a fare thee well. And indeed they have, and indeed this place now looks like a top-notch beef emporium, not a forlorn hotel dining room.
Elevating Master Sommelier Steve Geddes as Director of Operations was a plus, as was giving Executive Chef Tom Griese license to upgrade the menu. Neither is brand new to the operation, but along with the remodel, they've brought some caché back to the wine and food. Everything seems snappier and happier about the joint, right down to the platings that no longer look like they got lost on their way to Morton's.
One dinner for two people is just scratching the surface, but this was the first time in years we found ourselves excited by the meal and stunned by the salad:
….and the pasta:
 ….and the steaks:
We opted for the dry-aged strip (with a little Kagoshima A-5 thrown in for good measure) and both cuts were the equal of anything in town. The basil ravioli with guanciale and chanterelles was no slouch either, and would've been right at home at B&B Ristorante. It, along with that superb spinach salad, had me and the Food Gal® fighting for the last bite.
But what really floated our boat (as it was clogging our arteries) was the duo of foie gras:
A dish that tasted as good as it looked and was au courant without being over-done. It reminded us of the food that made Charlie Palmer famous over 25 years ago: confident, precise and bold. French technique given American sass and style. "Very Charlie Palmer," I thought to myself when it arrived. Very Charlie Palmer indeed.
Welcome back, Charlie.
ELV's dinner for two (with one porterhouse and two glasses of wine) at Circus Circus came to $126 + a $30 tip. The meal at CP STEAK was comped and we left a $60 tip.)
THE STEAKHOUSE AT CIRCUS CIRCUS

In the Circus Circus Hotel and Casino
702.794.3767
http://www.circuscircus.com/dining/the_steakhouse.aspx
CHARLIE PALMER STEAK
In the Four Seasons Hotel
702.632.5000
http://www.charliepalmer.com/charlie-palmer-steak-las-vegas/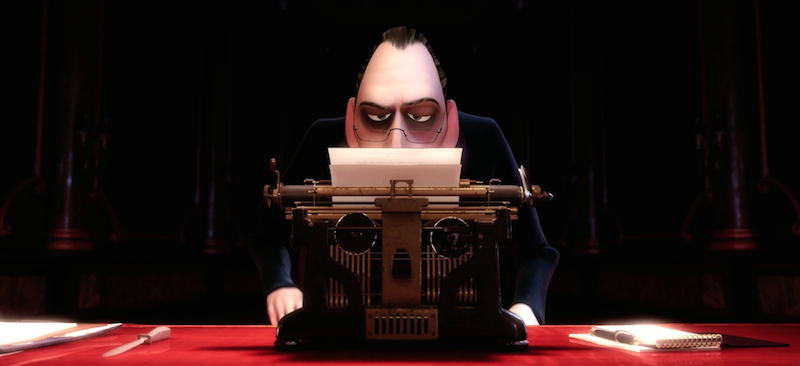 Everyone knows ELV loves restaurants. That's why he's been obsessing over them for 50 years and  writing about them for 22.
ELV — the man, the myth, the inveterate fresser —  first fell in love with restaurants when he was a mere tadpole of 6 — when his mum and dad would take the family every Sunday for breakfast at Ronnie's in Orlando, Florida.
We used to sit (all six of us) at a booth right inside and to the right of the front door. (People watching was my parent's favorite sport, and boy, did we ever get an eyeful every weekend.) I can still taste the fist-sized, house-made pumpernickel rolls — dark and sour, loaded with finely-chopped, melted onions, tri-folded into the dense, chewy dough. Dad used to buy them back the sackful to take home, and one of my first food epiphanies came from unfolding the roll and stuffing it with rare roast beef (that dad also brought home from their deli counter).
(I even remember going off into a little corner of our house, or sitting on our sofa alone while doing this, the better to enjoy the savory-sour marriage of soft bread and beef all by myself. To this day, when I'm really hungry and there's something really good to eat in the house, I enjoy sitting off in a corner by myself, enjoying it in the most primal and infantile sort of way.)
Nothing beats eating alone sometimes, just as nothing can compete with watching the human comedy pass by, over good food, good company and the ones you love.
(As usual, The List* contains all of those places at which we've dined over the past few months. All places are highly recommended, unless otherwise noted.)
THE LIST
Libertine Social
Bouchon
Zydeco Po-Boys
Ocha Thai
Bazaar Meats
Omelet House (Terrible with a capital "T".)
Yuzu Japanese Kitchen
Chengdu Taste
Hiroyoshi
Weera Thai
Andiron Steak & Sea
DJT (Some remarkably good food, in an old-fashioned, Miami Beach-like lobby, with some killer seasonal specials. Put aside politics and dig in. Just try to forget where the money is going.)
THE Steakhouse at Circus Circus
Charlie Palmer STEAK
Portofino
Carson Kitchen
Standard & Pour
Itsy Bitsy Ramen & Whiskey (Ramen that's gone from decent to terrible, with the worst whiskey list since Whiskey A-Go-Go .)
La Comida
Capriotti's
B&B Ristorante
Carnevino
Gelatology (Best. Gelato. In. Town. Period.)

Delmonico
Mon Ami Gabi
Du-par's (Get the pancakes. Or the patty melt. Or a slice of pie. Skip everything else.)
Raku
Bōcho
Spago
Art of Flavors
Rick's Rollin Smoke BBQ (I wouldn't eat here with Al Mancini's palate.)
The Smashed Pig
El Sombrero Mexican Bistro
Fiamma
La Cave
Allegro
Halal Guys (Inexplicably popular food at unbelievably low prices for undeniably dumb Yelpers. I guess that explains it. I wouldn't go back here if the food was free. Because that's what it tastes like. Cheap ass, free food.)
Due Forni
Chicago Joe's (No one gives a shit anymore and it shows.)
Harvest by Roy Ellamar
Estiatorio Milos
Hearthstone
Mr. Chow
Spartina (In L.A., I know, but worth a drive just for Stephen Kalt's fabulous pastas.)
Carbone
Bardot Brasserie
The Goodwich
Emeril's Fish House
Alizé
André's (Au revoir to a French classic.)
Goong Korean BBQ
Hobak Korean BBQ
Magal Korean BBQ (We ate multiple times at all three of our new, upscale'd Korean 'cue joints, and Magal gets our nod as the best of the bunch.)

Delices Gourmands French Bakery and Cafe
Yui Edomae Sushi
EATT Healthy Food (Eat. Here. Now. For the healthiest French food in town.)
Le Pho
Khoury's
L'Atelier de Joel Robuchon
Beer Park (For lover's of serious suds and serious bar food. Even Budweiser tastes better here. Go figure.)

PublicUs
Glutton
The Perch (Everything tastes like it came out of a freezer bag, because it probably did.)
Lotus of Siam
Sage
(That's 66 restaurants in 90 days if anyone's counting.)
<<<<<<<<<<<<<<<<<>>>>>>>>>>
Yep, ELV loves restaurants like vanilla loves fudge, like peanut butter loves jelly, like Donald Trump loves grabbing cats.
It started at a very young age and has continued right through into our sixth decade of life.
We love restaurants for their theater, for people, for the food, and for the civilization they represent. But mainly we love them because they remind us of that little boy, sitting in a big, semi-circular, low-backed booth on a late Sunday morning with his family, waiting for those pumpernickel rolls to show up, while his mom and dad made him the happiest kid on earth.
Dear ELV,
I am a smart person and by smart person I mean I'm a Yelper because I am full of opinions about things but I know what I like and I like to share them with people. Nonetheless because I am adamant generally about things I like and believe and do not care if these thoughts make sense to others but why I hold them is due to honesty that I love about telling people about things that everyone might like and respect.
So my question is this: Can food ever be art because I think definitely it is art?
Signed,
Dr. Science
p.s.  I have a doctorate in Science. Please do not forget this when you are talking to me.
ELV responds:
Dear Dr. Science,
The short answer is "no." Food is not art. Food is a craft. A craft built upon technical expertise, dedication, precision and repetition.
Craft is functional and disposable; art is original, emotional and thought provoking. Great art makes you think; great craftsmanship makes you want to use something. Nay, it demands you use it to give it value.
Art is transcendent. A work of art stands for something beyond itself. Anyone can paint a picture, but only Vermeer could paint a Vermeer. (Look him up, they probably didn't talk too much about Dutch masters in science class.)
To quote another: The only time craft has been elevated to art is when it has acquired additional value beyond its function or purpose. Charles and Ray Eames (you'll have to look them up too, no doubt) did not design their furniture to be art, but art it became.

(not art)
Food is food. It is a manufactured product, made on assembly lines, meant to be consumed. In that sense, and in the sense that it gives us life, it is the ultimate craft. No matter how pretty or ingenious the plate, it is always a creation (and craft) of the most temporal and visceral kind.
What you and other, semi-educated folks do is confuse artistry and artisan talent with something original and profound. The paintings of Arcimboldo:

(art)
…are art.
This:
…is not art:
There is nothing abstruse about whatever Ferran Adrià did. He simply deconstructed food and re-imagined it as something else — much like General Mills did when they invented the first fruit roll-up.  He just did it on a much smaller scale and much prettier plates.
Nothing chefs do qualifies as art. They will tell you this. Thomas Keller and Joël Robuchon have told me this. Everything they do is born of repetition and respect for time-honored techniques. They don't invent anything, anymore than Grant Achatz invented de-constructed dessert.
What you do, Dr. Science, is confuse beauty and cleverness with art. Just because something looks pretty doesn't make it art. True art — be it in music, literature or the visual arts — is greater than itself. Nothing you chew on is ever greater than itself.
End of lesson