2007-2017: IT WAS THE BEST OF TIMES, IT WAS THE WORST OF TIMES…
Ten years is a long time. In restaurant years it's practically a lifetime. Restaurants age in dog years, and those who make it to a decade are approaching retirement, especially in Las Vegas. With luck, they may continue to glide along deep into old age like those fortunate souls lucky enough to be alive and kicking into their nineties. More likely, the grim reaper will come for them soon enough.
2007 seems like an eternity ago to many of us. If you remember, it was the last "boom year" before the big bust of 2008. Ten years ago, social media wasn't a 'thing," Facebook and Twitter were just gaining traction with grown-ups, and Instagram was years away from becoming the app that launched a trillion food pics. In 2007, no restaurant had its own Facebook page, no one knew what Yelp was, and if you wanted to know what your meal might look like at a Strip hotel, you had to buy a guidebook, or find a review in a magazine or newspaper. If you were lucky, that review might include a single shot of the interior and perhaps a couple of photos of featured dishes.
In 2007 there were only a few people in America taking pictures of their food, and a lot of people watching us do it, (including my then 83-now-93 year-old mother) thought we were nuts.
A decade ago, two of the best restaurants in town were ALEX and Bartolotta Ristorante di Mare in the Wynn Hotel. Rosemary's was firmly ensconced as our most popular off-Strip eatery, and Bradley Ogden (the man and the restaurant) and Valentino were still basking in the glow of their James Beard awards from 2002 and 2004. Boulud Brasserie (also in the Wynn) was as fabulously French as you could get, Circo rang all of our Tuscan chimes at the Bellagio, and Hubert Keller was wowing us with his Alsatian-California cuisine at Fleur de Lys in the Mandalay Bay — at the time perhaps the prettiest dining room in town.
There was no downtown dining scene in 2007; there was barely a downtown drinking scene. No one knew what xiao long bao (Chinese soup dumplings) were, and high-toned Japanese cooking (like Raku, Yui, Kabuto, Yuzu Kaiseki among others) was unheard of. Food trucks were still called "roach coaches," and were looked upon with disdain by anyone with a taste bud in their head (or more than $5 in their wallet).  Everyone was living high off the hog ten years ago, employment was full, the restaurants were even fuller, and the whole world wanted a slice of the Vegas food and beverage pie.
(Michael and Wendy Jordan were the best chefs in the 'burbs, until the recession did them in)
REALITY BITES
Then, reality set in. Faster than you could say "credit default swaps" people stopped coming. Restaurants cut back hours, high rollers and conventioneers stopped blowing a house payment on dinner, and lay-offs were everywhere. Out-of-work chefs either left town or started food trucks; big hotels like Wynn started unloading high-priced talent; and by 2013 all of those restaurants mentioned above had closed their doors. For the next five years (2009-2013), it was the serious doldrums.
There were some stalwarts who stemmed the tide, to be sure. Even the Great Recession couldn't blunt the enthusiasm for CUT and Carnevino (both of which opened in 2008). and their success in the most dire of times proved the axiom that every restaurant in Las Vegas secretly wishes it was a steakhouse. The support of a big hotels helped the Aria (December, 2009) and The Cosmopolitan (December, 2010) lineups to remain afloat, but a mom-and-pop operation like Rosemary's (which saw its gross revenues cut in half from 2008-2011), was a dead man sinking from the moment Bear Stearns drowned itself in debt.
Through it all, some places prevailed. Marche Bacchus actually grew in popularity after 2007, thanks to new owners (Rhonda and Jeff Wyatt) and its lakeside venue providing a welcome respite from all the financial gloom and doom hanging over the suburbs. The aforementioned Raku opened in January 2008, and immediately tapped into the smaller-is-better zeitgeist of the times. In the process, it kick-started a Chinatown renaissance that has continued unabated for the past nine years.
(Chinatown Plaza opened in 1995)
The Chinatown as we know it has been around since 1995, but it wasn't until people started pinching their pennies that they discovered the glories of izakaya eating, ramen noodles, and obscure Asian soups. Even with the economic upturn of the past few years, this enthusiasm continues to grow — now expanding to upscale sushi (Yui Edomae Sushi, Kabuto, Hiroyoshi, Yuzu Kaiseki), as well as the glories of lamian (hand-pulled Chinese noodles at Shang Artisan Noodle), high-quality Korean bbq (8oz, Hobak, Magal, Goong), and even inventive Thai (Chada Thai) and Vietnamese (District One, Le Pho). Downtown's revival has proceeded in fits and starts, but there's no denying that Carson Kitchen and EAT (two early pioneers now celebrating their third and fifth birthdays, respectively) are here to stay.
Some suburbs, however, have remained problematical. In the past ten years, Henderson/Green Valley has turned its back on Bread & Butter, David Clawson, and Standard & Pour (three excellent, chef-driven restaurants) and a non-franchised meal in those parts is harder to find than a pork chop at VegeNation.
As a counterweight, look to the explosion of good food in the southwest. Rainbow south of the I-215 has become its own mini-Chinatown, Andre's and Elia Authentic Greek Taverna have both opened to great acclaim in the last year, and Other Mama, Japaneiro, Cafe Breizh, Delices Gourmands French Bakery and Cafe, Sparrow+Wolf, and Rosallie Le French Cafe,  continue to draw passionate foodies in search of the good stuff.
On the Strip, some venerable joints (Le Cirque, Twist, Picasso, Guy Savoy, L'Atelier de Joël Robuchon) just keep getting better, while newcomers like Libertine Social, re-boots like the new Blue Ribbon, and the extraordinary food at Bazaar Meat, give us hope for Vegas's dining out future. Thankfully, the small plates thing is subsiding, as are celebrity chefs. Caesar's Entertainment wants you to get excited about whatever licensing deal it has struck with Gordon Ramsay, Giada and Guy Fieri, but most serious foodies look at these craven exercises in marketing with a big yawn. Real food cooked by chefs who are in their restaurants is what creates a buzz these days — witness the success of Harvest by Roy Ellamar — not some branding deal that has all the authenticity of a gordita.
All of which raises the question: What keeps some places alive, through thick and thin, while other, equally worthy businesses fold their tents? Rosemary's went under, but Grape Street Cafe kept itself afloat (and is now thriving in a new location). Circo and Valentino bit the dust but Ferraro's and Carbone (a relative newcomer) are both flying high. Standard & Pour didn't make it a year in Green Valley; Carson Kitchen downtown (with a similar menu) is packed day and night. Glutton closes; EAT across the street thrives. What gives?
(Alex Stratta had the goods…and a great restaurant)
THE PRICE OF FAILURE
I have two theories on this, one food-related, one not. The less sexy one involves real estate, contracts, and accounting — three of the most boring subjects on earth. The Strip is a numbers game pure and simple. The big hotels are dominated by a need to maximize the profitability of every inch of their real estate. Wall Street demands it; investors demand it; and the food and beverage honchos think of little else. Restaurants to them aren't amenities like swimming pools, they're more like fancy, big-box retail stores — something to be looked at through the prism of a cold green eye-shade.
When the lease is up (a la Valentino, Bradley Ogden, Circo et al), the focus shifts from how nice a place is to which tenant can move the most numbers through the space with the highest cover average. Sappy, romantic notions of soft dappled lights in an architecturally-perfect, Adam Tihany-designed room where you fall in love over a subtle Tuscan fish stew and Mama Egi's ravioli with brown butter sauce means nothing to the bean counters. Exit the Maccionis, enter Lago: a restaurant with all the charm of a bus station. But it's a crowded bus station (slinging pizzas and pastas to the nightclub crowd) and that's all that matters. When the recession hit, that's really all that mattered. ALEX, Circo, Fleur de Lys, Valentino, and Bradley Ogden never had a chance.
THE FOOD ABIDES
Theory number two concerns food. Specifically what sells and what doesn't. Off the Strip, you need a hook — something to make people remember you. At Marche Bacchus it's the outdoor dining, the wine shop, and never-fail French bistro food. (That's three hooks. Four if you include the cheesiest, gooiest  onion soup in town.) Daniel Krohmer's Other Mama has been a hit since its doors opened a couple of years ago, in no small part due to his Strip-quality oysters, straight-from-the-Pacific seafood, and fusion concoctions (like French toast caviar) that get your attention.
Ferraro's has patriarch Gino at the door (and its 30-year-famous osso buco and a world-class wine list), and Raku became instantly known for its house-made tofu and tender, glazed yakitori skewers that taste like they came straight from a Shinjuku alleyway. Glutton's only hook was its terrible name and logo. One hundred feet away, one bite of EAT's yeasty pancakes (or dense corned beef hash), and it becomes everyone's favorite breakfast spot.
Even on the Strip, it seems more and more like it's the food that's getting the attention, not the absentee chefs. Many of the celebrities that made our food famous have seen their brands diminish over the past ten years, and the big splash these days are made by the over-the-top showiness of Mr. Chow's Peking Duck, and the table-side ministrations of Carbone.
Big and showy fits Las Vegas like a Wayne Newton leisure suit, but the places that last another decade are going to be all about what's on the plate, not whose name is on the marquee. That's the way it should be, and that's where we were headed ten years ago, before the recession derailed our restaurant renaissance. Now, the downsizing is over and it's time to get cooking.
FINAL THOUGHTS/EPILOGUE FOR A DECADE

(These guys were da bomb. Their replacement is a wet firecracker.)
3 favorites that bit the dust too early and why.
Circo (1998-2013) – The licensing/management deal with the Maccioni family expired after fifteen years, and with it went our only authentic Tuscan cuisine. I also think the family had had enough of Vegas. New York is their home and that's where they all want to be, and who can blame them?
Bartolotta Ristorante di Mare (2005-2013) – Paul Bartolotta's masterpiece was expensive to create and maintain, and fell victim to the Wynn going all-in on nightclubs and bottle service. The restaurant that took its place is but a pale imitation of what was once the best Italian seafood restaurant in America.
Bradley Ogden (2002-2012) – Caesars had a choice to make: continue with a sleek, stylish place with a world class chef and his ground-breaking American cuisine, or slap a TV star's name (Gordon Ramsay) on a sad, huge, downmarket facsimile of an English pub. Guess which concept won?
If you loved….
If you loved Circo, try Ferraro's Italian Restaurant and Wine Bar.
If you loved Rosemary's, try Marche Bacchus.
If you loved Bartolotta, try Estiatorio Milos.
If you loved Andre's (either downtown Las Vegas, or in the Monte Carlo) try Andre's Bistro & Bar or Sparrow + Wolf.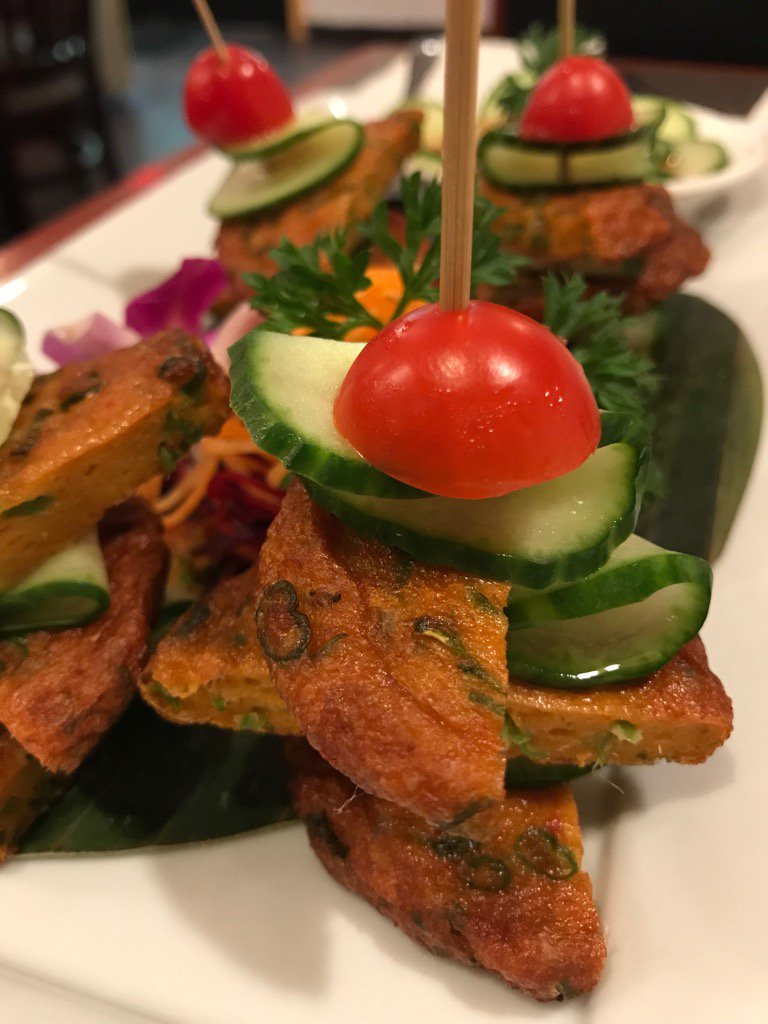 The hole in Lotus of Siam's roof (see previous post), left a substantial hole in our Thai food scene for tourists and locals alike. We have spent the week fielding inquiries about where to go in place of our most iconic Asian restaurant, so, as a public service, our staff thought a quick round-up of the best Thai places in town was called for for those needing their pad ped moo or ka nom jean nam ya pla fix.
None of these can compete with Lotus' national and international reputation. None have won a James Beard award or boast a world-class white wine list. But all of them deliver the goods — real Thai cooking without lines out the door at lunch or dinner, or a steady stream of cabs dropping off handfuls of tourists every five minutes during dinner hours. (Face it: there's no substitute for being lauded in the L.A. Times, New York Times, and various national food publications and TV shows. Because of this publicity (most of it pre-social media, btw), LOS has a world-wide reputation that no place in Vegas can rival.
A few caveats. Although there are Thai restaurants all over this valley, most of them serve the sort of gloppy-sweet, dumbed-down Thai food that appeals to American tastes. They are as far from the real deal as Bud Lite is from a Belgian ale. We've tried them all over the years  — Prommares, King of Siam, Kung Fu, Thai Spice, Archie's, Pin Kaow, just to name a few — and all are perfectly fine, in the same way a by-the-numbers Chinese restaurant satisfies the tastes of the sweet and sour pork crowd.
Those were the restaurants that sustained us through the first years of our Thai food cravings, but when Lotus opened nineteen years ago (more specifically, when the Chutima family took over LOS on Nov.1, 1999), we got our first taste of the strong, savory, funky-sour, salty-hot food of northern Thailand, and from that point on there was no looking back.
Even Lotus serves up gringo-friendly versions of certain Thai dishes, but it became popular by not bending its menu to the whims of its American customers, and staying true to authentic recipes. (Would that more restaurants would do so, instead of acting like scared rabbits whenever a customer complains about something.) These days, when we look for Thai food, we want strong, no-holds-barred street food, or the kind of country cooking (Isaan or northern Thai – they're not the same thing) that brooks no compromise with American tastes.
Be forewarned, however, that in most of the places we recommend, you may have to politely protest to the staff when they try to talk you out of some of their specialties. But be firm and they'll relent. Thai people are some of the friendliest on earth, and I've never had bad service in a Thai restaurant. If you don't like it, eat it anyway; you might learn something. There are some Laotian salads at Weera Thai that leave me cold (and pushing ingredients around on the plate), but they're a great window into a cuisine I barely know and am fascinated to discover. Plus, nothing is ever that expensive in these places (dishes in Thai restaurant rarely exceed $15-$20), so experimentation won't break the bank. More timid sorts (of palate or wallet) should stick with the drunken noodles at Arawan Thai Bistro.
OUR BEST THAI RESTAURANTS (AFTER LOTUS OF SIAM):
Ocha Thai – Family run since 1989. The food is still cooked by a couple of ladies who together don't weigh a hundred pounds. This is the perfect place to try traditional Thai dishes made in a less sweet, more authentic style.
Don't miss: Dadd deaw (pork jerky), todd munn (fish cakes), E-sarn sausages, kra pow (mint chili chicken), poh tak (spicy seafood soup), warm bamboo shoot salad (the very definition of "acquired taste'), pad ped moo pa (wild hog with hot sauce).

Chada Thai – "Elevated Thai food" hits the nail on the head, with a killer wine list to match. Both here and at Chada Street give you the best window (and taste) of dishes you will only find in Thailand.
Don't miss: oysters, kua kling (ground pork with house curry paste), pou nim pad prik thai (stir-fried soft-shell crab), sea bass tod krueng (glazed with chili paste), pla nua tod (crispy beef tossed with rice powder).
Chada Street – Like the name says, more casual than its older sibling down the street. Bring a crowd, point and pick and dive in. Just make sure you have lots of champagne, Riesling or beer on hand to wash it all down. As close to eating on a street in Phuket as you can get. 
Don't miss: Northern Thai sausage, red pork and pineapple curry, crab fat fried rice, grilled prawns.

Weera Thai – The second Thai restaurant in town to boldly proclaim its northern Thai/Issan roots. More than a few Laotian dishes on the huge menu as well, but we always find ourselves returning for the roast duck curry.

Don't miss: Roast duck curry, papaya salad Issan-style, tom zap (pork rib soup), spicy squid salad.
Chuchote Thai Bistro & Dessert – Our newest entrant in the "Thai One On" sweepstakes is only a few miles west of Lotus on west Sahara Avenue, and a block and a half west of Weera Thai on the same street. It's spanking new, clean and comfortable, and boasts all of the usual Thai dishes on the menu. But look a little farther down and you'll see what you came for: six southern Thai dishes that will light you up like no one's business. They'll tone things down for more timid palates, but this is the place to come to see how true Thais taste their incendiary food.

Don't miss: Seafood cakes (pictured at top of page), pork jerky, potato and chicken stuffed samosa, crunchy tofu, pad ped moo (stir-fried minced pork), khua king (spicy ground pork), kang sam salmon curry with Thai omelette, ka nom jean nam ya pla (house made curry with fish balls) – so hot it should come with a disclaimer and a release.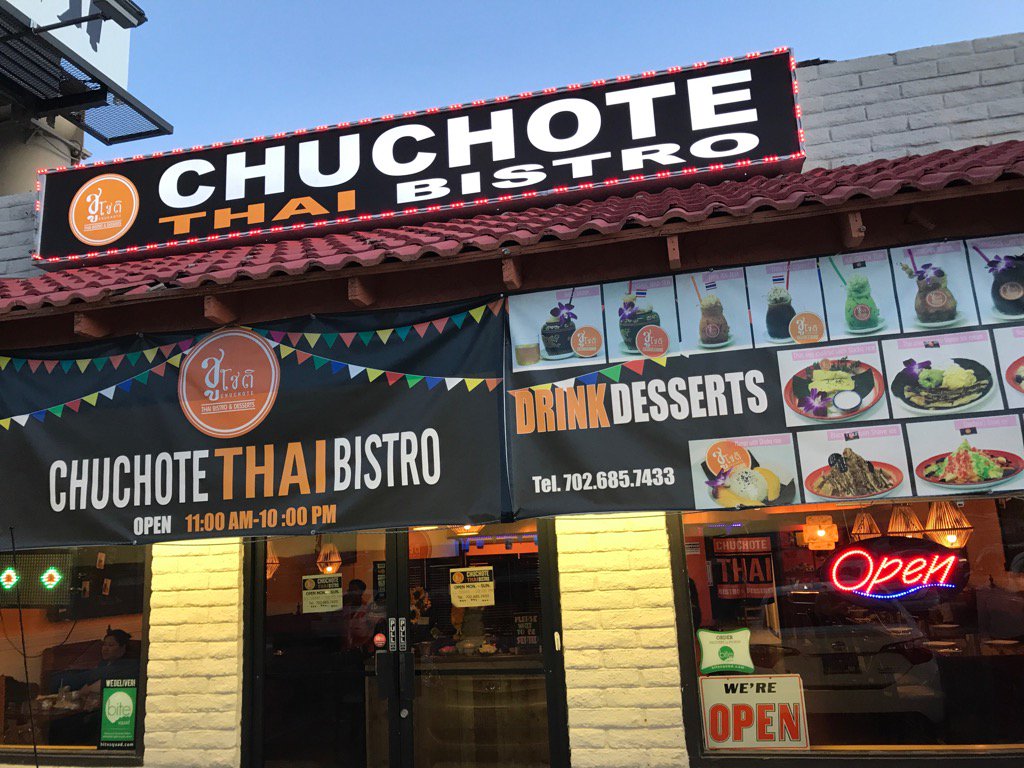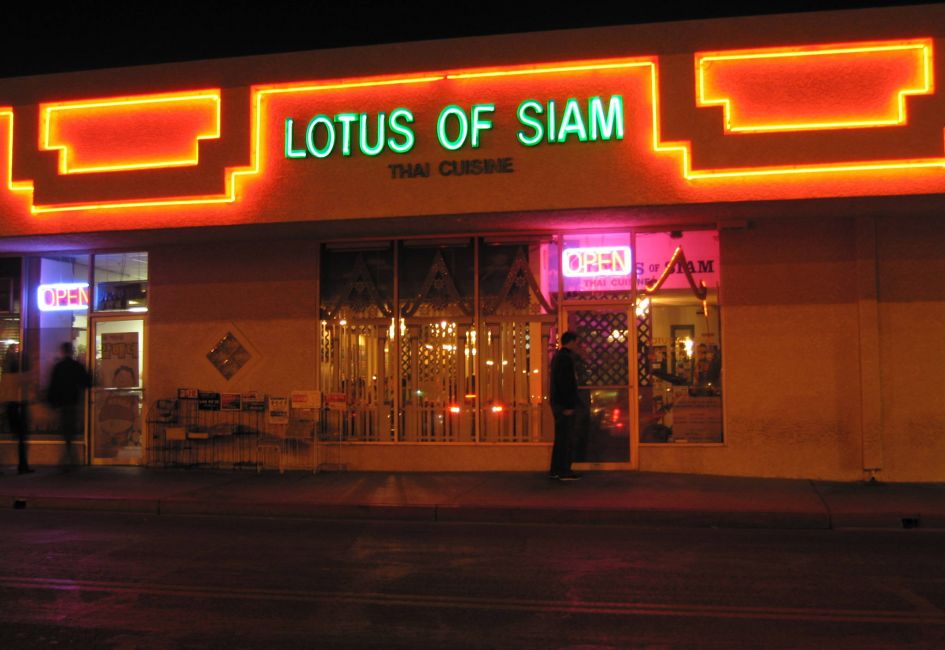 LOTUS OF SIAM TO REMAIN CLOSED FOR MONTHS
A botched roof repair job, a negligent landlord, and a fairly typical late summer rain provided the perfect storm for a major roof collapse at Lotus of Siam last Friday night. Because of it, Las Vegas's most venerable (and internationally famous) Thai restaurant will remain shuttered for a least the next three months.
When reached for comment, Penny Chutima, the general manager of Lotus, said that the landlord, Mark Kaufman, had begun repairs weeks before the fateful rainstorm, but that the roofing contractors were unlicensed, uncoordinated and unfit for the job. "They never coordinated with each other or the businesses in the (Commercial) Center about what they were doing," Chutima said. "They tore up entire sections of the roof, leaving bare wood and the structure exposed. When I asked about it (because rain was in the forecast), they only tarped my hood ventilation system. "
Chutima then posted on Facebook: "I was forced to go up onto the roof to try to sweep the water away to protect my customers, but it wasn't enough."
According to Chutima, she became concerned about the pending rainstorms last week, but got no response from Kaufman, right up until the time "I (had) a legit waterfall in my restaurant."
With severe damage to both the dining room and kitchen, the operation won't be back on line "…at least for a few months," says Chutima. Until then, she anticipates continuing issues with her landlord, but the business has taken steps to repair the roof and water damage itself, rather than continuing to fight with Kaufman about things that should've been repaired months ago.
Interestingly, Chutima's and Lotus's Facebook pages were filled with loyal customers and fans expressing sympathy, but also more than a few comments decrying the location of the restaurant as a "dump," and "borderline dangerous," with entreaties to the Chutima family to find a new location for their iconic restaurant.
The Chutima family (which won a James Beard award in 2011) expressed loyalty to both their employees and the neighborhood: "We've been here since November 1, 1999," said Chutima. "I support this neighborhood because there are many working families who want a job than can get…a house (and) most of them live on this side of town."
In the meantime, Chutima, her chef mother Saipin, and her wine-collecting dad Bill, are looking for a temporary location to continue serving what many believe is the best Thai food in America alongside one of the great wine lists of the world.