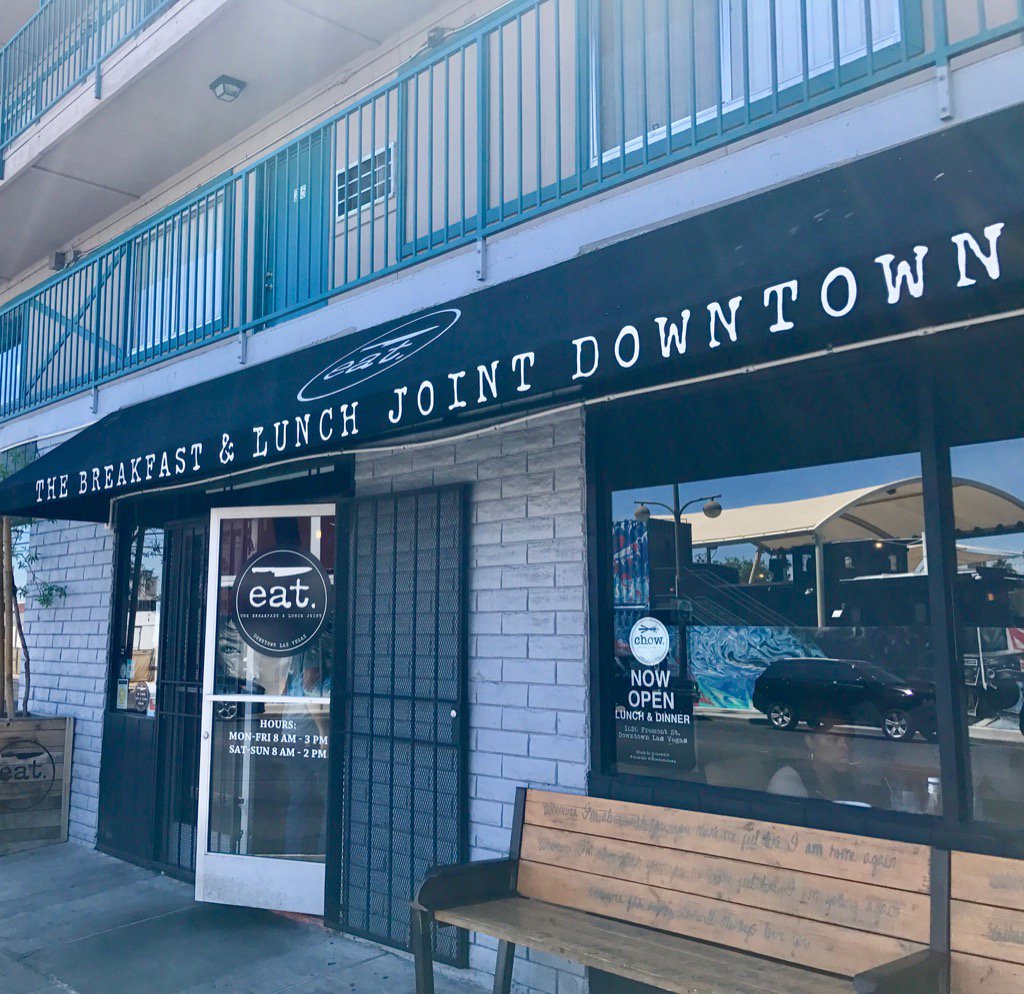 Is it the pancakes?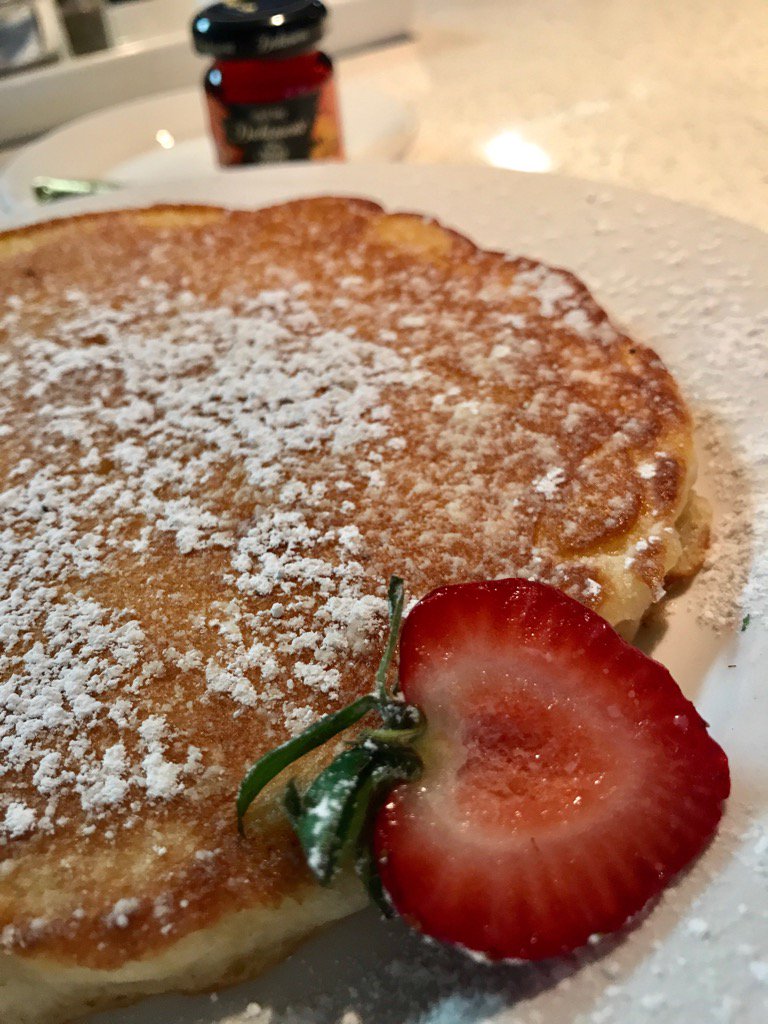 The hash?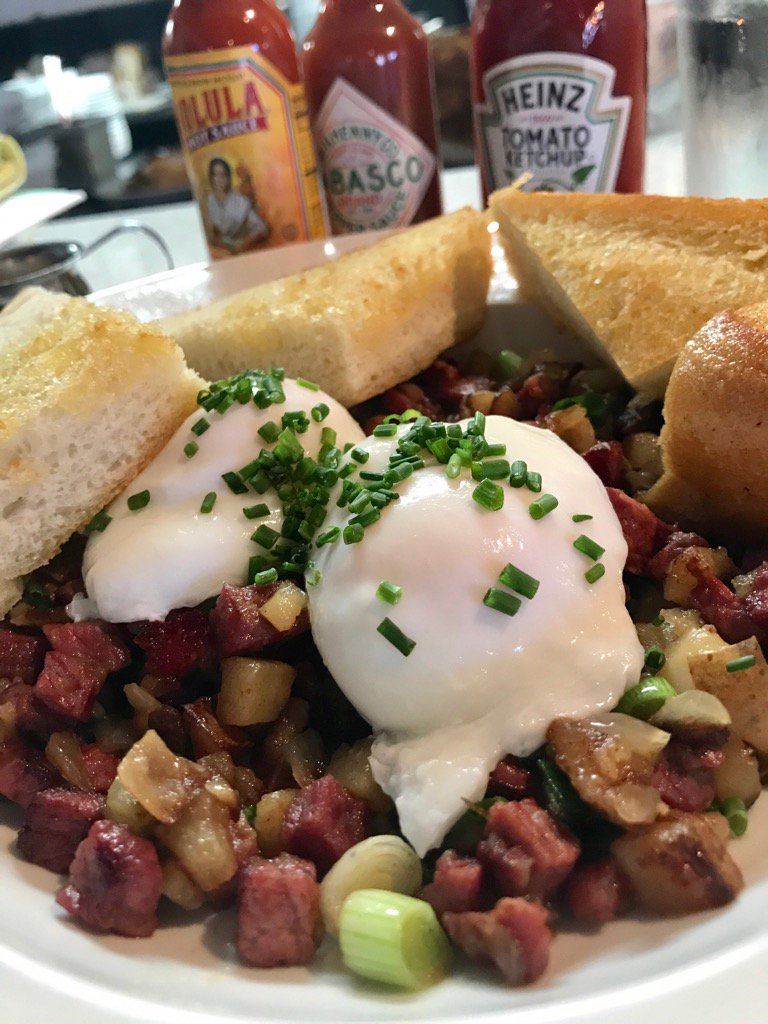 The hash before and after you break the perfectly poached yolk?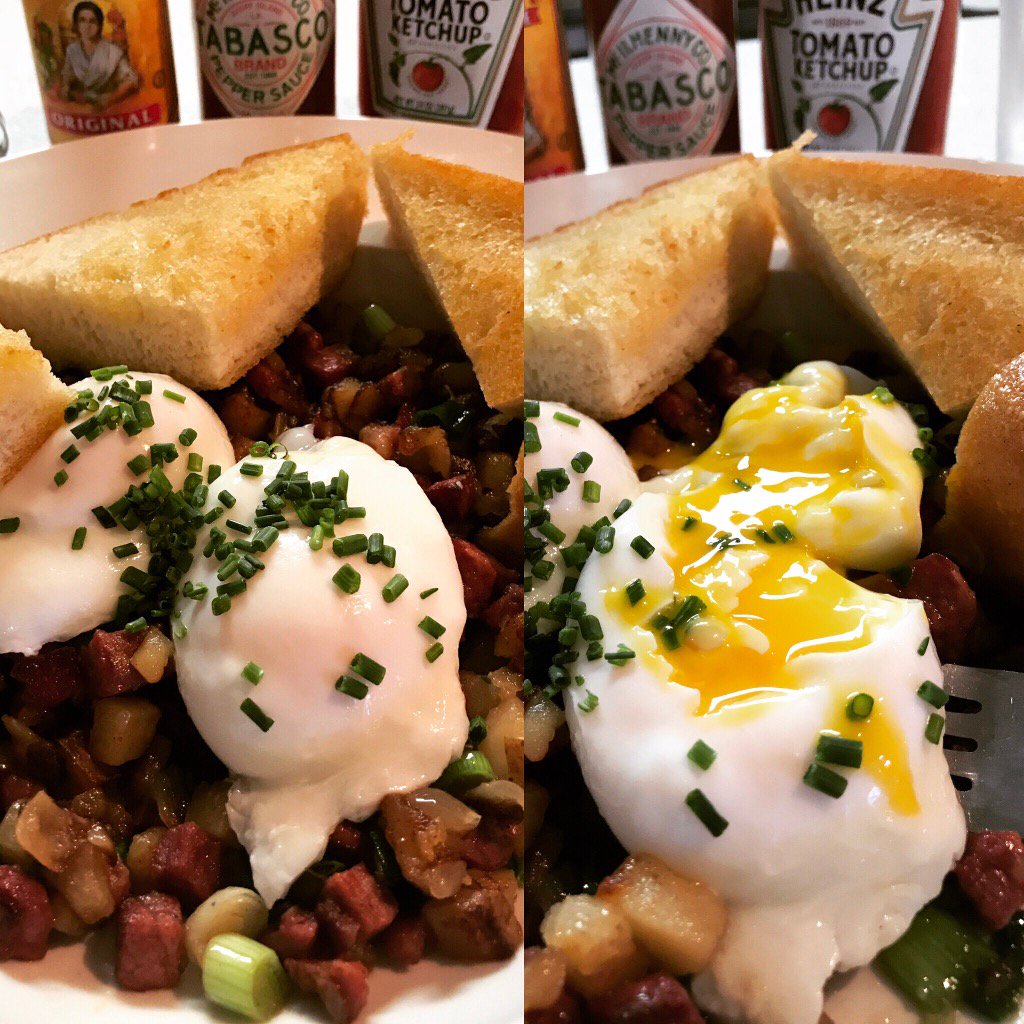 The Stumptown cold brew?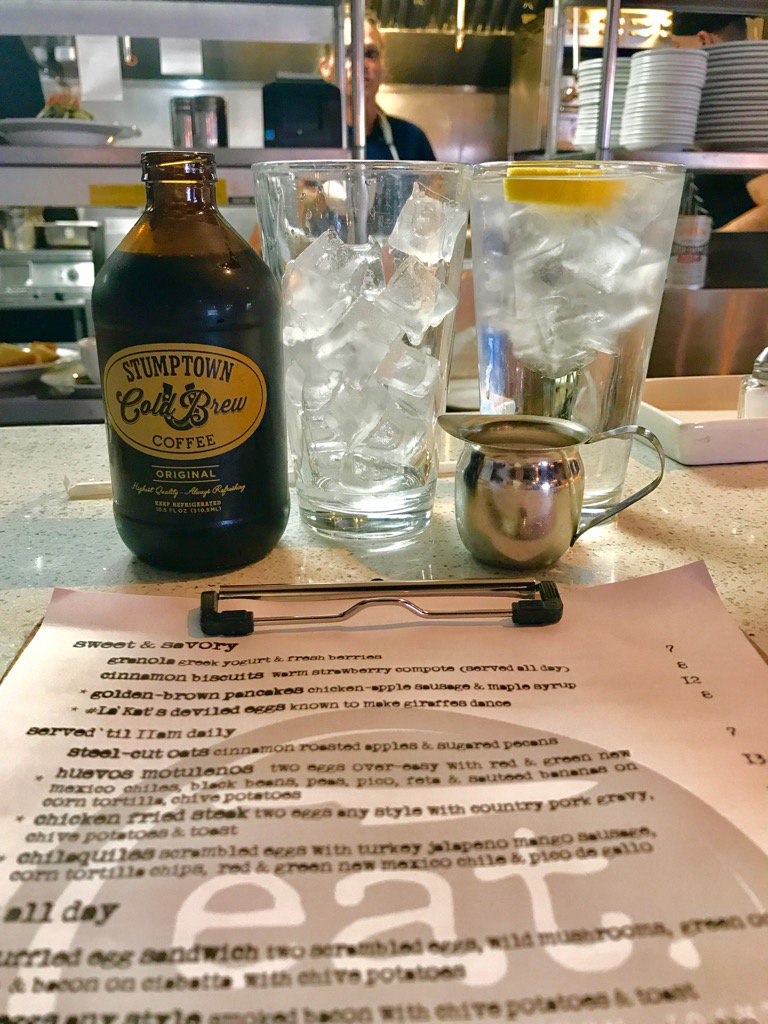 Or is it something else? Something else that makes us fall in love with the food at EAT. every time we eat here?
Well, it's all of those things and more.
It's the unexpected kick of a kick-ass posole: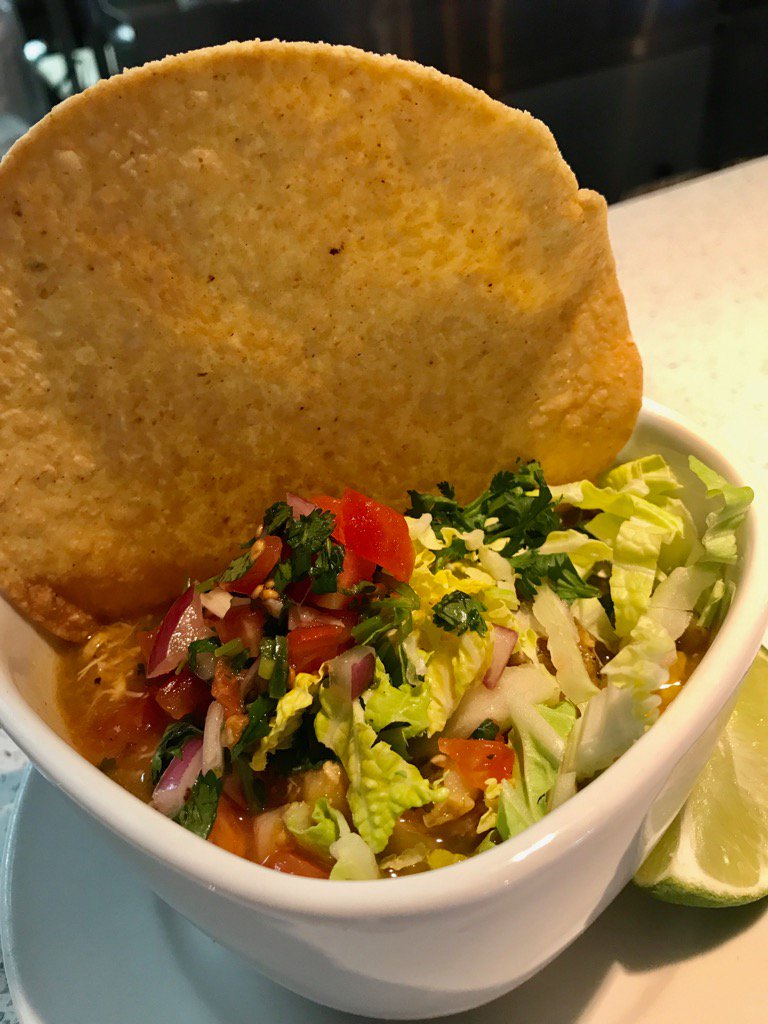 …and the freshness of the bread and the care of the cooks. It's the lickety-split service staff and the Black Bean Veggie Chili and the truffled egg sandwich and the Huevos Montulenos — the latter bathed in some incendiary chili sauces that will light you up.
They also do a very respectable chilaquiles, and probably the best eggs Benedict you'll find outside of a hotel.
Most of all, though, what we always fall for are the pancakes and the hash. Now that Glutton and Du-par's have closed, there's no where else to get good buttermilk flapjacks, and if you're a fan of big, chunky, salty corned beef (and let's face it who isn't?), you'll think you've died and gone to hash heaven.
There's been a lot of stuff written about all the failures of the Downtown Project (and believe me, there have been a LOT of failures), but one of the few smart things it did was to form a partnership with Natalie Young and let her concoct the tastiest breakfast-lunch nook in all of Vegas.
Downtown or otherwise.
P.S. For those of you too timid to brave the wilds of DTLV, a new location is set to open this summer at 1910 Village Center Circle, smack dab in the middle of the  Land of the White Range Rover, aka Summerlin.
EAT.
707 Carson Street
Las Vegas, NV 89101
702.534.1515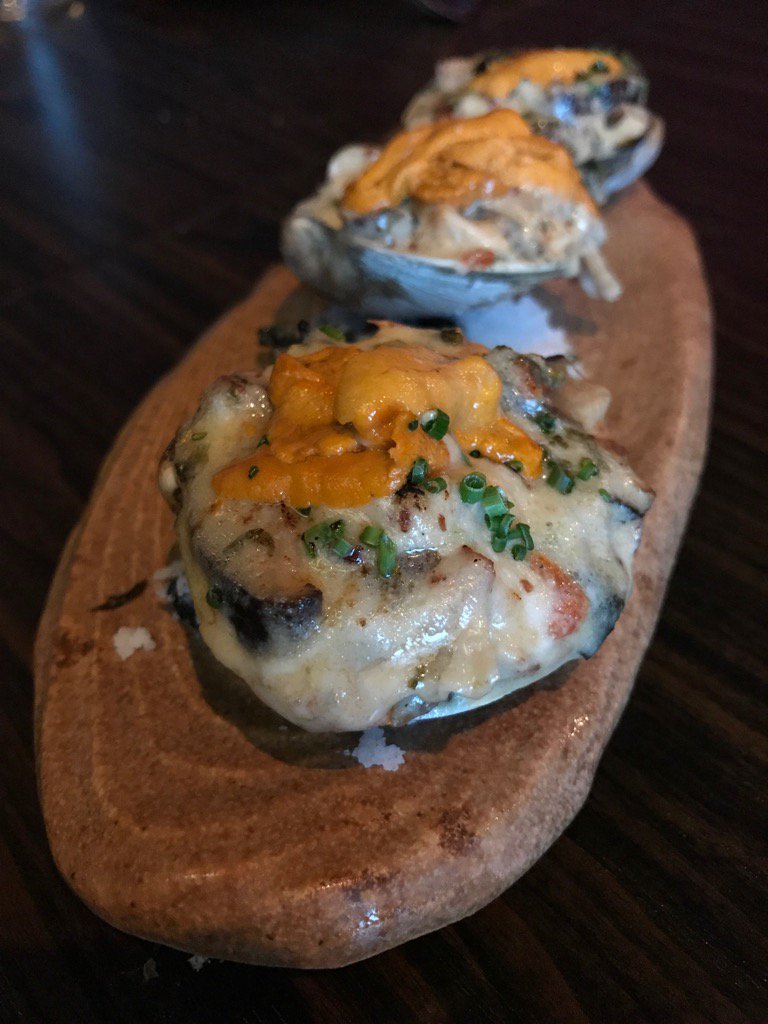 "It's very chef-y," said the Food Gal. "It feels like the chef is cooking to impress other cooks."  Indeed, how you feel about all these cheffy impressions will probably depend on how many cartwheels you like to see from a kitchen. Because there is no doubt that much of what you will eat here is tasty, but none of it is what I would call simple.
Before we explain the menu, a little background is in order. Sparrow + Wolf is the brainchild of veteran Strip chef Brian Howard – who was last seen doing David Myers' bidding at the now-shuttered Comme Ca. Tired of cooking for tourists, Howard has made the bold move of bringing his elevated world cuisine to the 'burbs – but not too deeply into the neighborhoods. Instead of trying to woo the fickle Summerlin or Green Valley crowds, he's opted to open on Spring Mountain Road – a mecca for foodies and tourists alike.
He's done it by hollowing out an old pho parlor, cutting it in half, bringing in a wood-burning oven, and creating an open, airy coziness in a space that used to look like a budget cafeteria. There's a long bench against one wall, and an 8 seat bar that looks into the kitchen. There's also complicated cocktails and a menu full of things to eat that you have never thought of.
For example, who would've thought that a tangy, white Alabama barbecue sauce would marry perfectly with a thick slab of halibut? It sounds odd, and isn't a whole lot to look at, but it's lip-smackingly good. Ditto the crab two ways: one topped with kimchee, the other a fried egg, or a shallow bowl of sliced duck, with bits of salted cucumbers and a tangle of sautéed mushroom in a sweet-sour plum-duck broth. It's a dish that sounds Asian, looks vaguely French, and tastes like the best of both worlds.
Howard's food likes to toggle around the globe – as when he stacks his lamb tartare, fresh oysters and charcuterie into bento boxes – and some of the combinations don't make much sense (Why are octopus tentacles on top of a really good dry-aged steak?), but once the food hits your palate, you know he's on to something. Some combinations need work – as when tough, bacon-wrapped cabbage distracts from beautiful sweetbreads – but the hits far outnumber the misses.
There are also a few items we're not sure about, such as the Chinatown Clams Casino at the top of the page (an umami bomb – clams, cream, bacon, uni – tasting like it was dropped from a David Chang menu), and the beef cheek/marrow dumplings are best consumed by a crowd around a roaring fire in the dead of winter, not in 105 degree Vegas heat. Ditto the udon Bolognese: a triple-rich homage to wafuu (Japanese/Italian) pasta that slayed us after two bites.
Rib-sticking or not, this is clearly an ambitious restaurant – more aspirational than anything since Other Mama opened. And Howard is banking on corralling the same clientele to his less seafood-centric version of a gastropub. The foodies will flock here for sure, and some tourists will traipse, but will Asians and others adapt to these intriguing alimentations? Only time will tell.
SPARROW + WOLF
4480 Spring Mountain Road
702-790-2147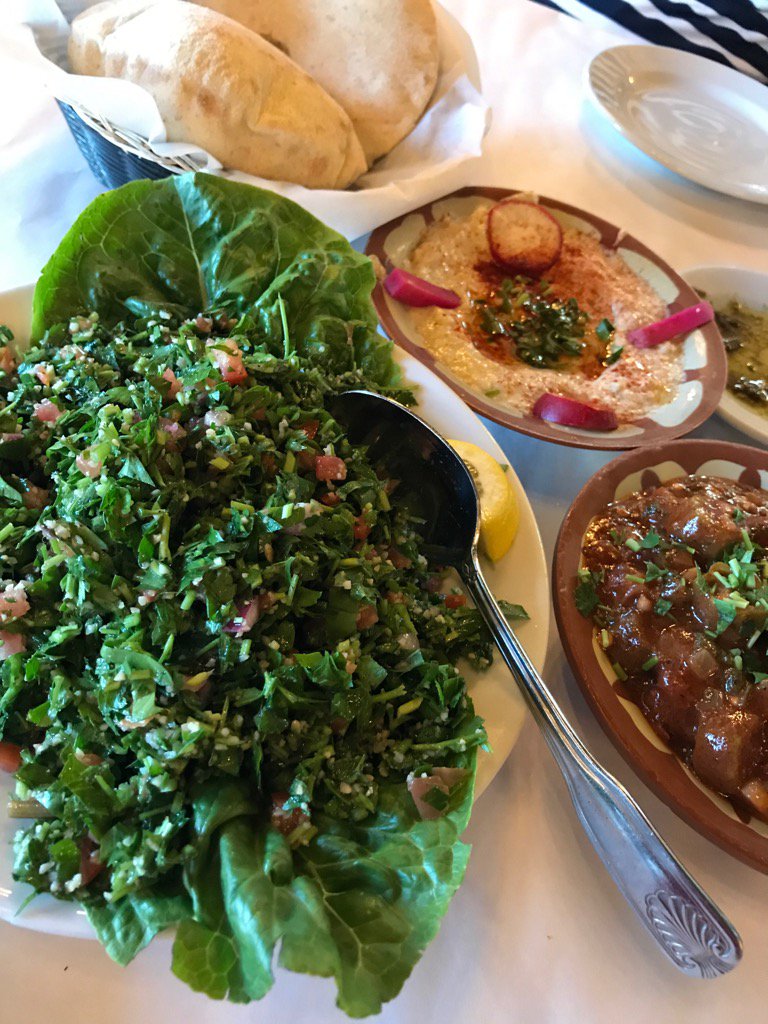 Am I the only person who thinks tabbouleh (the parsley, bulgar, tomato, mint, onion, lemon Mediterranean salad) has health giving properties?
Swear to god, every time I eat it, I feel like my blood is being cleansed.
It's no secret that the Mediterranean diet is good for you, but we're talking about 1:1 ratio here, as in: you feel better bite by bite.
I wish the same were true for consuming mass quantities of the pita bread at Khoury's Mediterranean Restaurant — because every time I'm in the joint, I feel like eating my weight in those warm, airy, wheat-scented puffs of glutenous goodness.
Everything else on the menu is fabulous too, including the sujuk (spicy) sausages, lahm bi ajeen (ground lamb sandwich), baba ghanoush (mashed eggplant dip), and bamieh (okra):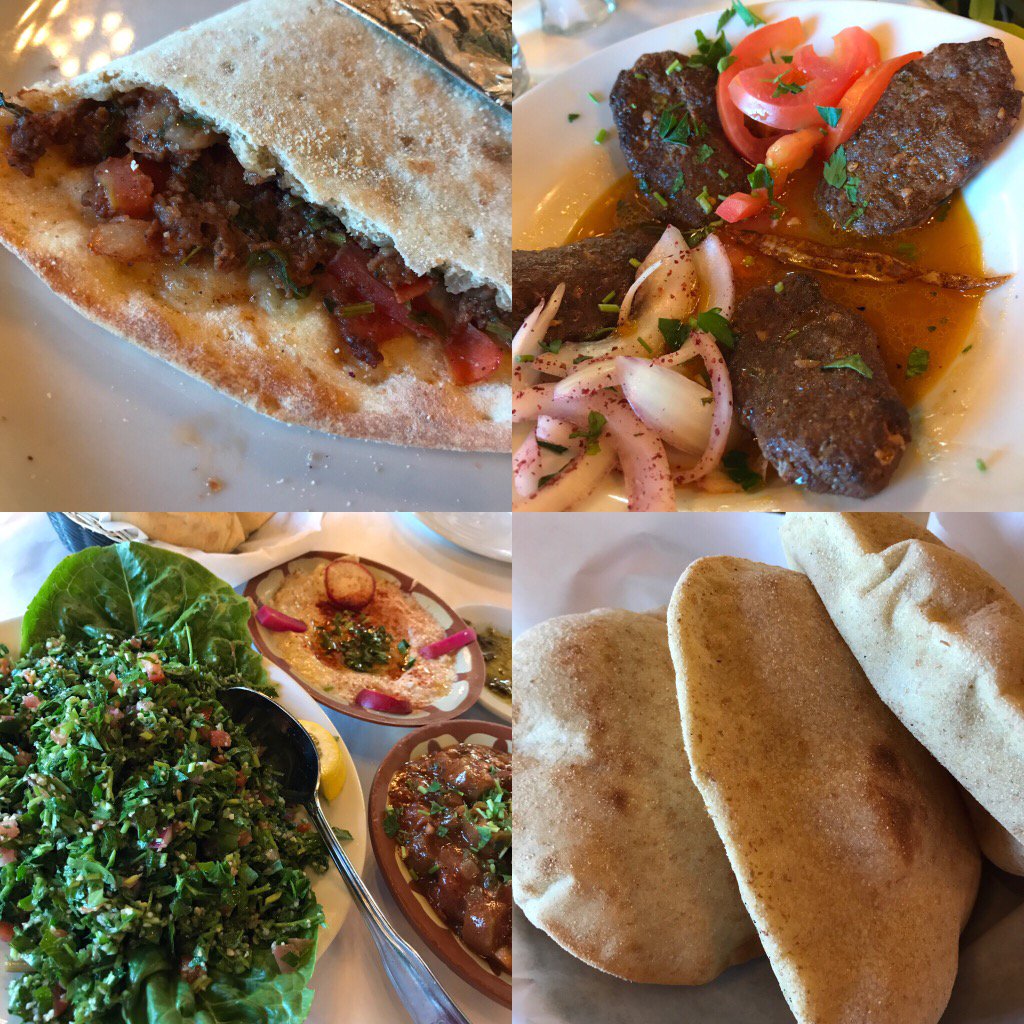 So good, in fact, that when I'm eating there, I'm tempted to forswear my Greek heritage altogether and declare myself a Lebanese citizen. Because as good as Greek food is, it ain't got nuthin' on this cuisine, or that bread, or the healthiest salad on earth.
KHOURY'S MEDITERRANEAN RESTAURANT
9340 West Sahara Ave. #106
Las Vegas, NV 89117
702.671.0005