(Because meatballs, at Standard & Pour)
As we're about to go full throttle through this holiday season, we at ELV thought you'd like to know where we've been eating, and where you should take those pesky relatives when they're looking for something to do. As usual, all places come highly recommended unless otherwise noted.
THE LIST
Gordon Ramsay Steak – Face it, the best cheeseburgers spring forth from superb steakhouses. This is one of the best in the business. The cheeseburger and the steakhouse: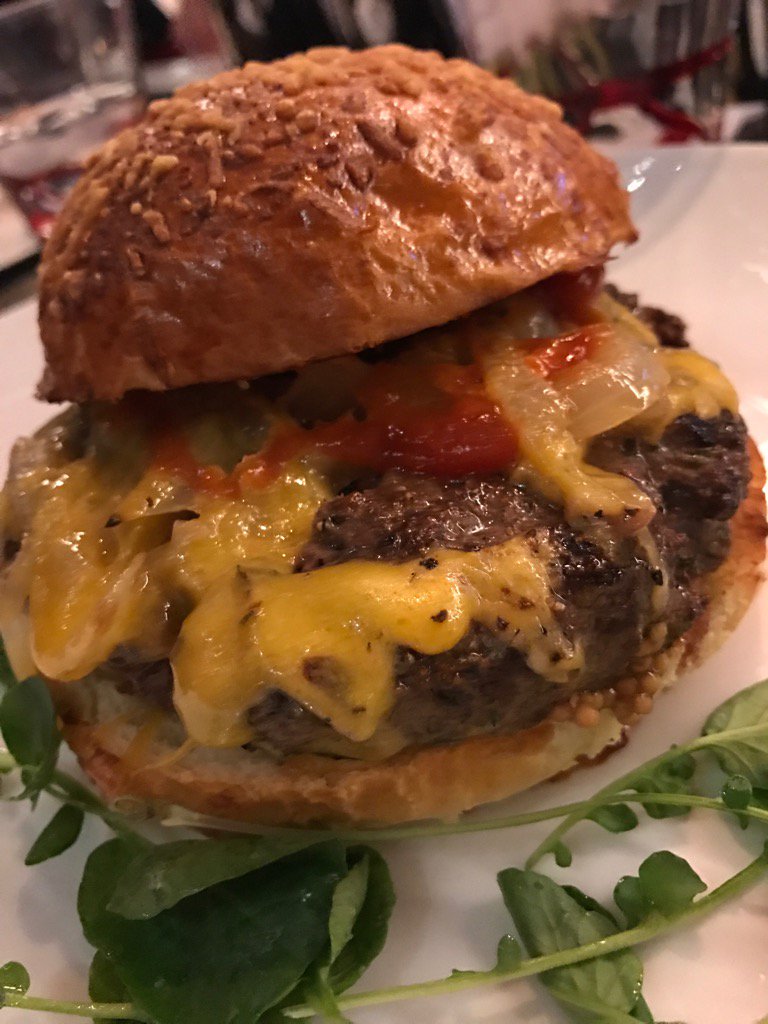 Twist by Pierre Gagnaire – Gagnaire's food never fails to astonish. Top toque Frédéric Don is doing his master proud. The only thing that ruined my meal here on Election Night was the results…of the election, not the meal. ;-)

CUT – Industry veteran Nicole Erle turns out the tastiest desserts of any steakhouse in town (which is really saying something).
OhLaLa French Bistro – Opened barely a month, not even the mighty ELV can get a table here — that's how good (and small) it is. Our steak tartare was a properly seasoned slab of Gay* Paree. In fact, it was a dead ringer (in taste and texture) for one we enjoyed at Le Train Bleu eight years ago (although a quarter the size) The fries are out of this world: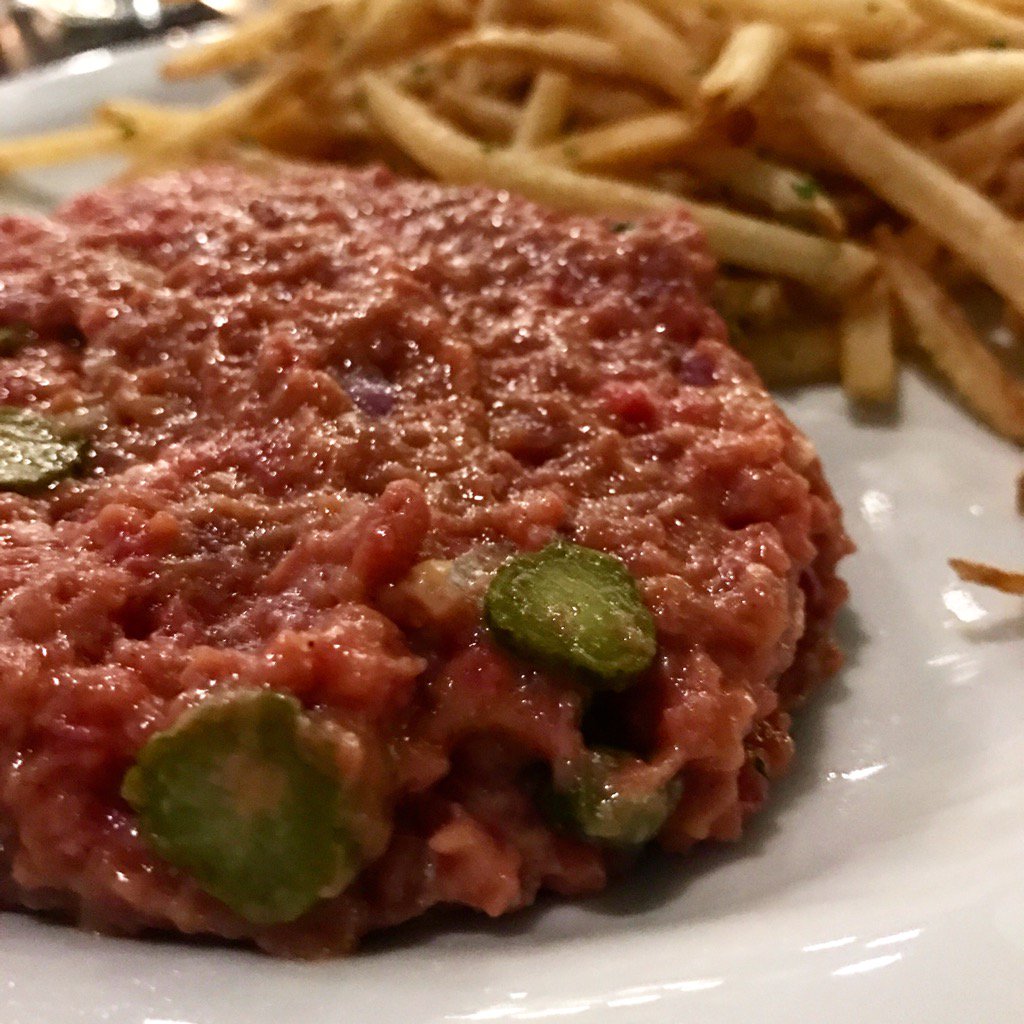 ….and we can't wait to try the rest of the menu.
Bardot Brasserie – Can a Vegas brunch be any better? No it can't:
Carson Kitchen – I wish the restaurant was bigger; I wish the menu was bigger. On the other hand, everything here is always perfect, so maybe I don't.
Marche Bacchus – Go for brunch; get the crab Benedict:
Yuzu Japanese Kitchen – Just go. Now. And try to remember that you're not in Tokyo:

Standard & Pour – I love this place almost as much as I hate Green Valley.

Strip Steak – I love the food here almost as much as I hate the decor.
B&B Ristorante – Expect a major renovation after the first of the year. The food needs none. Except that friggin' garbanzo bean amuse bouche. They've even toned the music down a skosh, so bravo all around to Brett Uniss and Nicole Brisson!

Raku –Izakayas don't get any better in America.

Eggslut – The best thing about this place is the name. Are the overloaded egg sandwiches good? Yes. Are they worth waiting in line for? No.
Ocha Thai – Family-run Thai since 1989. Recently facelifted. Go a couple of times and they'll treat you like one of the family:
Delices Gourmands French Bakery & Cafe – Best. Bread. Period. The pastries are no slouches, either.
Magal Korean BBQ – Love the food; hate the noise level. Koreans must enjoy screaming at each other over their haejangguk. Or something:

Cornish Pasty Co. – I don't get pasties. I don't get them and I don't like them. Too one-dimensional and doughy for me. That being said, if you like these cousins-of-a-pierogi-empanada, you'll be in hog heaven, and if you don't, there's lots of great beers on tap to console you.

Turmeric Flavors of India – I want this place to be a huge success. The food is updated, interesting Indian. Those two things might not be compatible: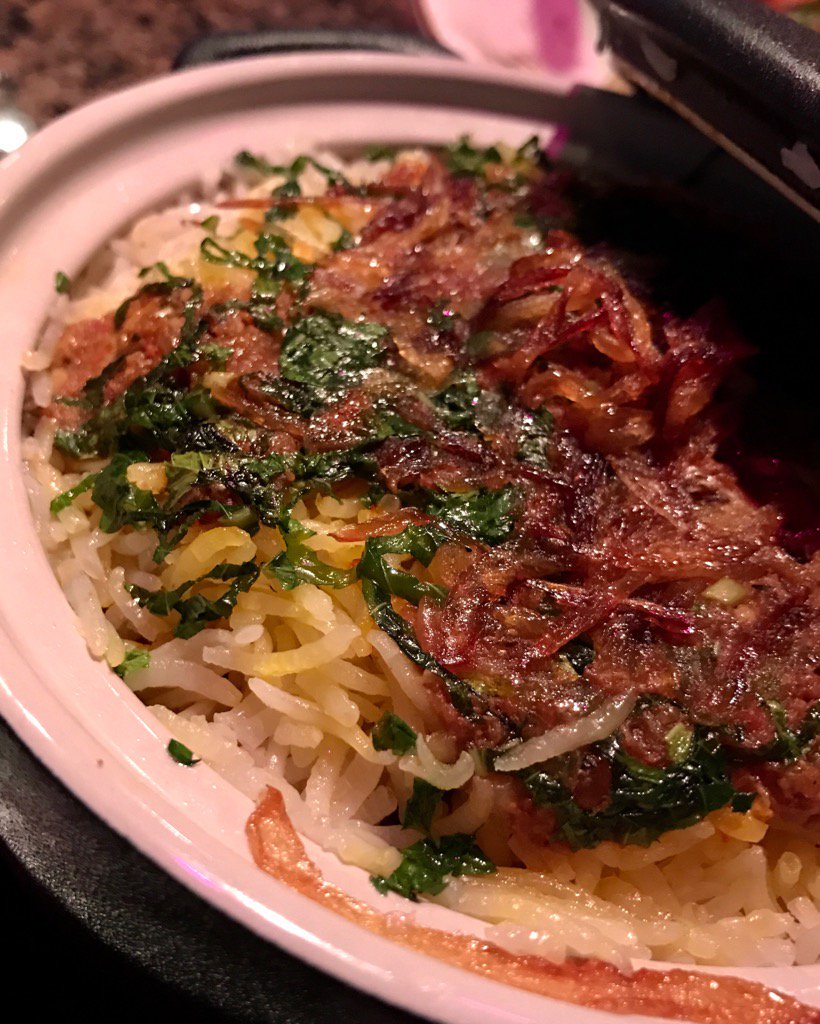 Izakaya Go – I've had my last bad meal here. The menu is too long, the food too uneven, and the fish too flabby.

Le Pho – If I ate every meal here, instead of indulging at most of the other delicious joints on this page, my cholesterol would be cut in half and the Food Gal® would quit nagging me.

PublicUs – New chef (Justin Bannon), new head barista (Marilou Galindo), same old toothsome bread, sandwiches, and concupiscent coffee.

Libertine Social – These "modern fried" eggs aren't fried at all, but they're fantastic, as is everything about this joint: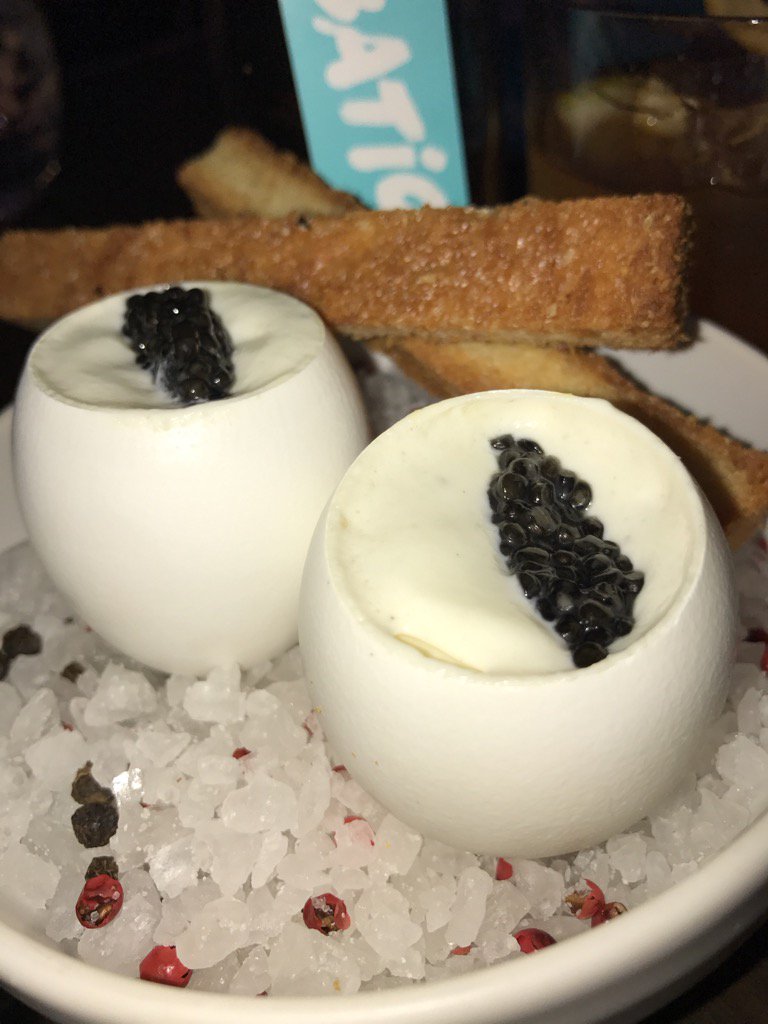 LS is a tough place to leave from sober (that's how good the cocktails are), and this double-double burger is a perfect way to help you avoid a hangover: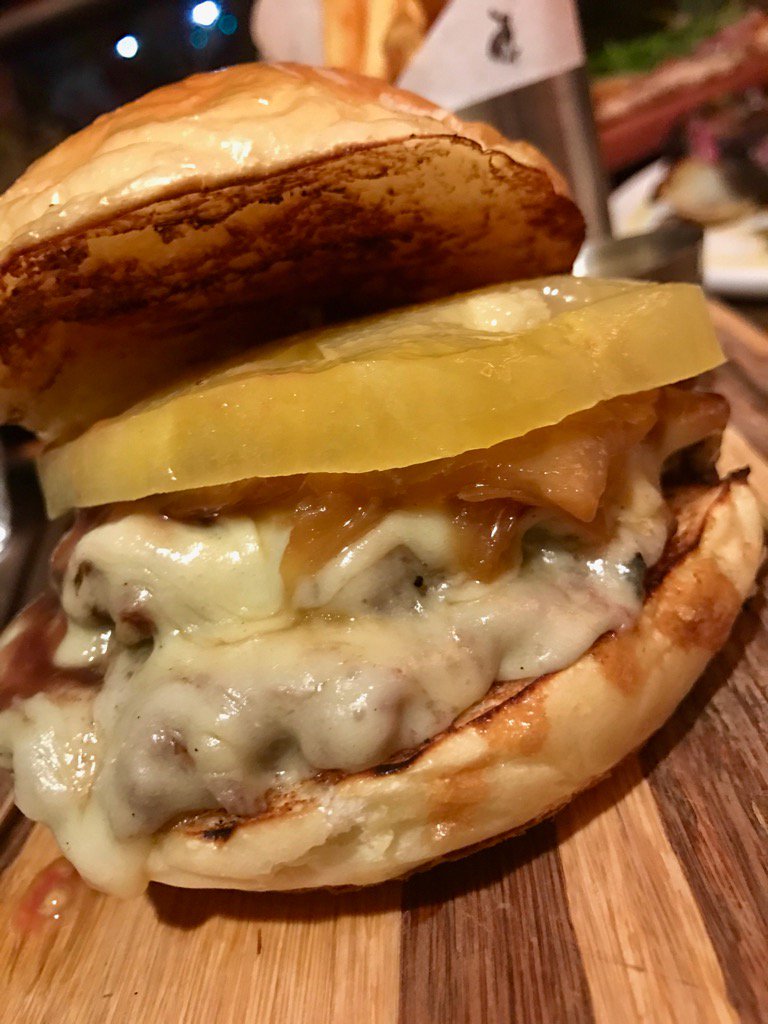 Evel Pie –
A slice of the Big Apple streets comes to downtown. I was prepared to hate this place, but one bite in took me straight back to deck oven heaven in lower Manhattan (New York,
not Kansas
):
EATT Healthy Food – Because everything tastes better under a pistachio dome: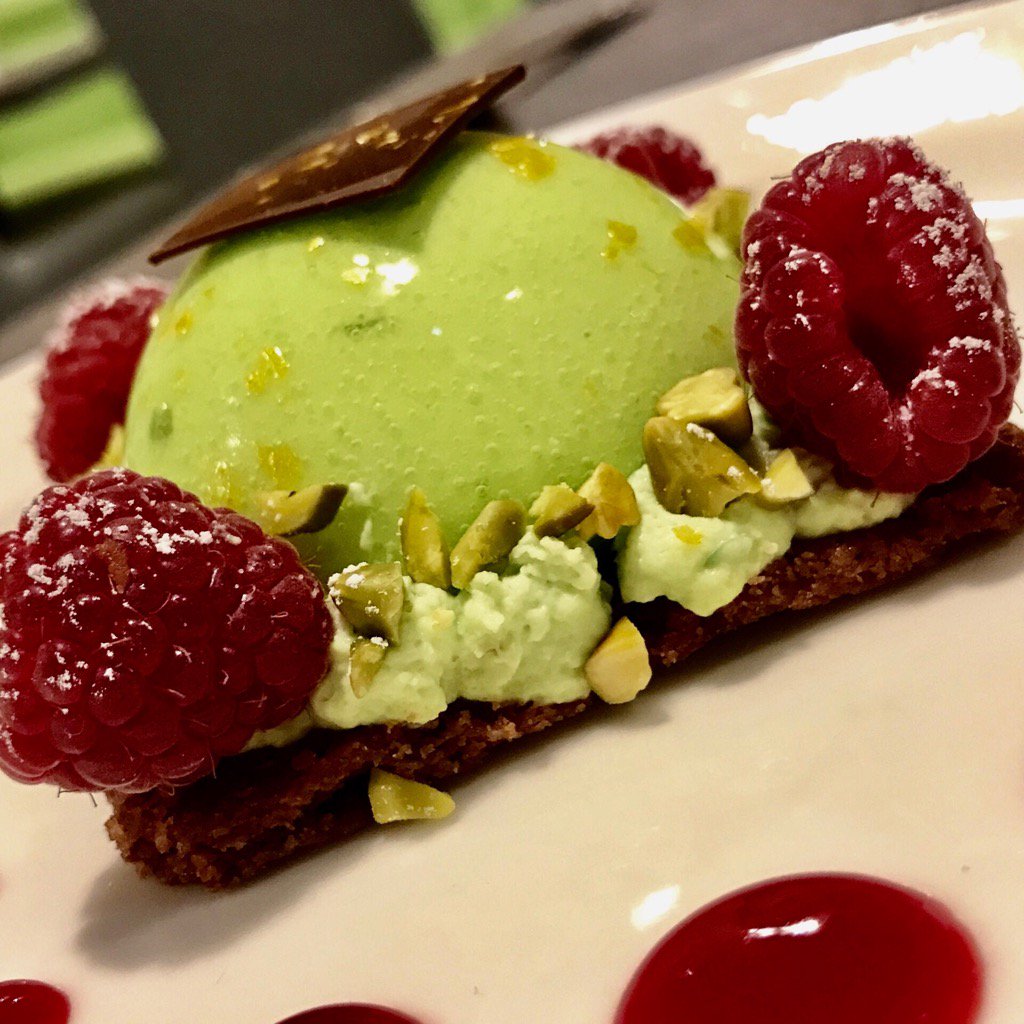 Don't you agree?
_____________________________________________________
*as in joyful, frolicsome, and full of whimsy.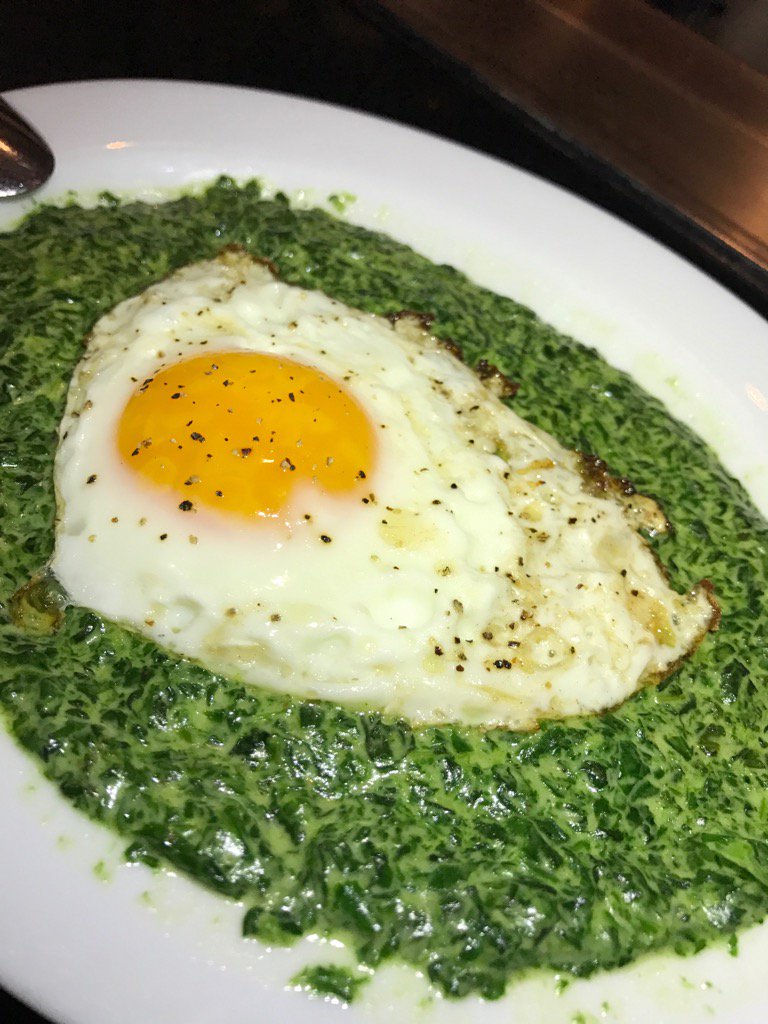 IBrakeForFilipinoFood writes:
Whassup with all the eggs on stuff? Is there any food that is not fried-egg appropriate?
The fried egg phenomenon seems have been born from an unholy alliance between three of the most dreaded forces in feeding people for money: the need to enrich a dish, the mandate to do it easily and cheaply, and the requirement that your culinary creation be cool at all costs. From our exhaustive research that has yet to be done, we at ELV have determined that the first egg on top of a non-egg-related food was first dreamed up by Spanish chef Esteban Ovum, who, after being expelled from El Bulli in 1999 (for refusing to try to recreate the Last Supper using only a pint of agar-agar, 12 grains of rice and an immersion circulator) , decided that instead of wasting his time trying to make things look like eggs that are not eggs, he would rather just slap a real egg on everything: fries, burgers, big-ass ravioli, you name it. He did this to worldwide acclaim, and before you could say "Nathan Myhrvold," every chef in the world was following suit. These days, every chef's motto is: When in doubt, put an egg on it. As for your second question, as of this writing we would have to say that the only food that is no longer egg-appropriate is the martini.
Lovespinktacos asks:
I live in Minnesota, where all the Mexican food tastes like it was made by a guy named Sven, because it is! Because of this, my standards are admittedly low, and I loves me some good fast food tacos when I can get them. I just heard a giant Taco Bell opened in Vegas. Is it worth a trip there when I come to Las Vegas next year? By the way, my wife's name is Gunnilda, no jokes please.
From your wife's name ending in a vowel, I can only assume that you come from southern Minnesota, meaning: you both may have a passing acquaintance with food that actually tastes good. Then again, surströmming. To your question, yes, there is a big shiny new Taco Bell Cantina on the Strip that serves booze, stays open 24 hours, and has "exclusive souvenirs" as well as…wait for it… bikinis! Because who isn't thinking "two piece, anal floss swimwear" when you're enjoying a tasty, 3,000 calorie volcano quesarito? Our staff is quite excited about these developments. Then again, other things our staff gets excited about are: the proliferation of ginormous drug stores up and down the Las Vegas Strip, gargling with razor blades, and dating bartenders named Blake.

NotSoTinyTim:
If you had to be marooned on a desert island, who would you rather be stuck with: Julia Child in her prime, Anthony Bourdain or Giada? My buddies and I say it's no contest. And by no contest we mean Giada's cans. Your thoughts?
Tough one. Bourdain is a lousy cook, and his constant yammering would drive you crazy, but he would come in handy fighting off natives (or at least boring them to death) while he pranced around pontificating like he was the first one ever to un-shell a coconut. Giada's sweet and sexy and all (especially with a team of makeup artists at her disposal), but that accent might start wearing thin after a day or two, and her size (and those breasticles) would definitely be a liability when it came to basic survival skills (hauling logs, hand-catching fish, shutting up Bourdain, etc). Plus, her cooking skills might be seriously limited without the benefit of Daddy's money, a weekly mani-pedi and the Po Valley at her disposal. After the initial thrill of some (no doubt forced) celebrity sex wore off, we would probably revert to one of those Lina Wertmuller movies  — her the spoiled rich girl, me in charge of whipping her into shape while demeaning her pampered upbringing (JEALOUS? YOU BET!) and trying to overlook how hairy she had become. No, it's really a no brainer because Julia (at any age between 40-70 would be a joy to be around. She'd have the size (6'2″) to out-manly me at any chore (TRUE!), and we could spend days, years even, perfecting our ballontine de volaille de farci au boursin et aux tomates séchées and sauce gribiche together. Pure bliss.
DefenstrationNation inquires:
How annoyed do you get that, despite publishing five books on the subject, writing this blog for eight years, and being extremely active on Facebook, Twitter and Instagram, friends and family still ask you where they should eat?
Let's put it this way: I'm a patient man. (I'm not, but for purposes of this topic I have been very.) For twenty-one years I have scoured all of Las Vegas and reported on where to get good things to eat. I've been on the radio; I've been on TV. I'm still on TV almost every Friday on KSNV Channel 3's Wake Up With the Wagners morning news show. If you don't catch me there you can follow me on social media, where I post something multiple times a day about where I've eaten and what I liked or didn't like about it. The easiest way to find my opinions is by coming to this site, going to the Google box on the bottom right side of the front page, type in a restaurant's name, and then read everything I've written about it over the past nine years. Earlier this year we published the fourth edition of EATING LAS VEGAS – The 50 Essential Restaurants. In less than a week the fifth, 2017 edition will be published by Huntington Press. The book  also contains a 100+ pages of carefully curated opinions about where and what to eat out in the 'burbs. It costs less than single cocktail does on the Strip. And is available on Amazon. In short, there is no shortage of information available (in a variety of formats) that will tell you what I think about a restaurant and why.
So, how annoyed am I when someone who knows me, and knows (or should know) I do all of these things, asks me, "What Italian places do you like?" or "Why do you like  this one and not that one?"
How annoyed do I get, you ask? About as annoyed as this song is annoying:
It takes a lot to impress me these days. And most of what is going on inside our big hotels isn't doing it. While individual stars stand out (Bazaar Meat at SLS, Carbone and Bardot Brasserie at Aria, Mr. Chow at Caesars), most hotels have settled down to tried and true lineups (e.g. Bellagio, Wynncore, Venetian/Palazzo), or given up entirely (the Mirage springs to mind).
But, as I've noted, Mandalay Bay is bucking this trend, upgrading some old warhorses (Charlie Palmer STEAK, Aureole, RM Seafood) and bringing something new to the table.
And the newest thing these days is Libertine Social — a place that somehow manages to capture the small plates/craft cocktail zeitgeist of the past half-decade without feeling soulless or derivative. It is a big casino concept  restaurant to be sure, but it's one that feels like a hangout — with personality to spare and intimacy beyond what you'd expect in a huge "concept" eatery.
The concept at hand was dreamed up by Shawn McClain (he of Sage and Chicago fame), and über-mixmeister Tony Abou-Ganim. McClain designed the food, TAG the booze, and between them they've hit a number of nails of the head.
Small plates being sooo 2010, this joint could've ended up featuring one cliché after the other, but here, McClain and Executive Chef Richard Camarota manage to make them sing…without lapsing into the same old same old, shared meal doldrums. There's plenty to pass around here, to be sure, but be assured, boredom is not on the menu.
Olives get wrapped in sausage:
….churros get a savory, parmesan spin, and gazpacho is served as strawberry shots with crab meat:
It's a typical, all-over-the-map, Millennial-friendly menu, but it never feels like it was borrowed from a Kerry Simon restaurant. Nor does it skimp on modernist complexity, such as in these "modern fried eggs" — an ovoid of eternally eggy pleasures, none of them fried, but all of them fascinating: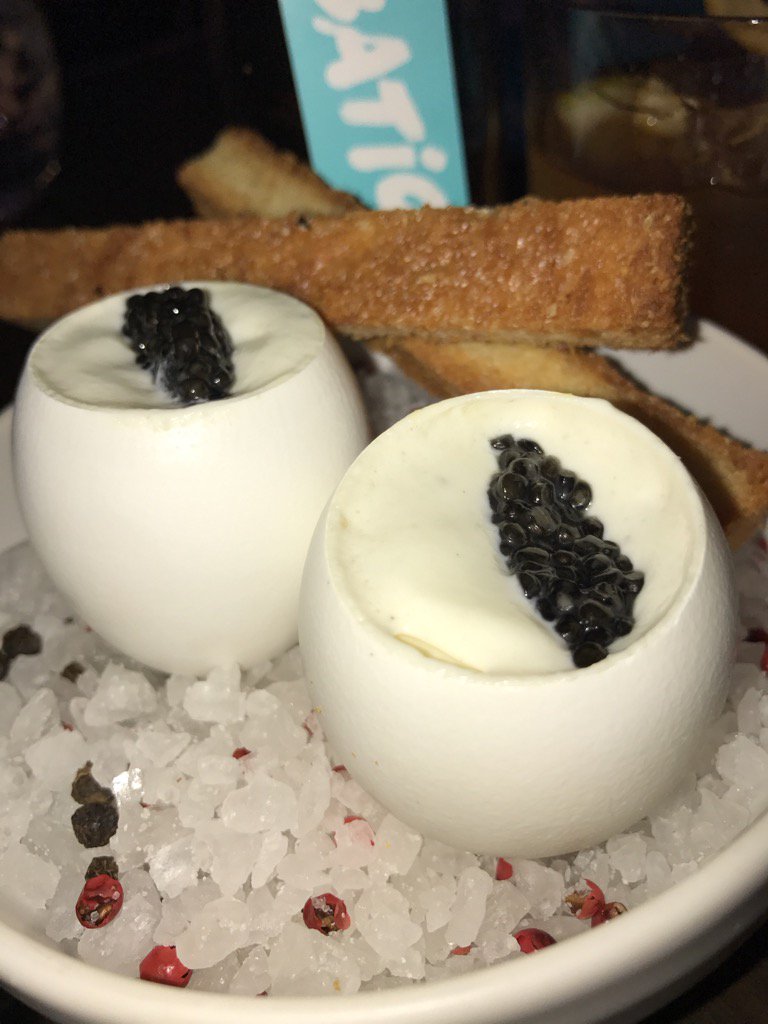 They might be my "Dish of the Year" if I ever got around to handing out any major awards for 2016 (which I probably won't), but either way, you won't find a more intriguing use of egg on egg on egg corn custard anywhere in America. Equally compelling are the flatbreads — one made with real guanciale and garlic oil, another displaying strips of real country ham set off by smoked blue cheese, pineapple and barbecue sauce. It may sound like an overwrought mess, but it all works:
That salty ham also helps whet the appetite for plenty of well-crafted cocktails (more on this in a minute).
Against all odds, I even found myself loving the sausage board (merguez, hot link and bratwurst) served with house-made hot pickles and a good, tangy sauerkraut, and the barbecued carrots — sitting atop a smooth kohlrabi puree. The double-cheeseburger is a dream (oozing with melted "Kraft-ed" cheese sauce, and the faked-named "American Kobe" flat-iron makes up for in beefy succulence what it lacks in honesty. (Memo to chefs, craven wholesalers and meretricious food execs: You're not fooling anyone with your "American Kobe" false advertising. On second thought, as with fake "truffle oil," maybe you are. Still, you should be ashamed of yourselves.)
Another thing the chefs should be ashamed of here in the agnolotti; it being as thick as the soles of my shoes and almost as tough. Face it: If you want pasta, go to an Italian restaurant.  If this agnolotti were the only yardstick, one would have to conclude that Shawn McClain (whose food, generally, j'adore) is to pasta what Mario Batali is to sushi.
All sins are atoned for, however, when the booze starts flowing. Abou-Ganim is one of maybe half a dozen Americans who can truly be called cocktail icons. Like his buddy Dale DeGroff, he was in on the ground floor of our mixology Renaissance, and putting him in charge of the bar(s) here was a wise move indeed.
Whether you want a lesson in properly mixed booze, or just to get sloshed, you will be in for a treat.
Drinks come in a dizzying array of variety and packaging. Old school (Hello Harvey Wallbanger!), flavored shots, barrel-aged, and even bottled. (Yes, they take their time to actually bottle TAG's creations like a Bardstown Sling (bourbon, crème de pêche, peach puree), Luce Del Sol (grapefruit vodka and aperol) and a few others.) There's fifteen well-chosen beers on tap (even a Trumer Pils from Austria*), and cocktails on draft as well. For our money, though, the things to get are the fizzes and the swizzlers. Like the name implies, the fizzes showcase four or five ingredients given just the right of spritz to make them slide down your gullet like a stripper on a pole.
Abou-Ganim loves giving some of them a slight bitter edge (he's a negroni fiend), but lovers of girlie drinks (of which yours truly is definitely a fan) will find plenty to love in the perfectly-balanced Bird of Paradise (gin, blackberry liqueur and lemon juice). The crowd pleasers are the Social Swizzlers — pitchers of easy to swill concotions mashed up at the table with a groovy wooden plunger (pictured above).
The wine list won't dazzle any snobs, but the bottles are interesting (Bonny Doon syrah, Raptor Ridge pinot gris), and priced to sell (most around $50), rather than to make you run for the K-Y jelly.
But like we always say: Never order wine in a cocktail bar, because when you're in one of the premier, large-scale mixology dominions in America, it would be a shame not to let Professor TAG further your libation education.
Yep, that's what we're always sayin'.
Of ELV's two meals here, one was comped and the other came to $142 for four with a $30 tip.
LIBERTINE SOCIAL
In the Mandalay Bay Hotel and Casino
3950 Las Vegas Blvd. South
Las Vegas, NV 89119
702.632.7800
https://www.mandalaybay.com/en/restaurants/libertine-social.html
* So sayeth the menu; one of our loyal readers says it's made in Berkeley.