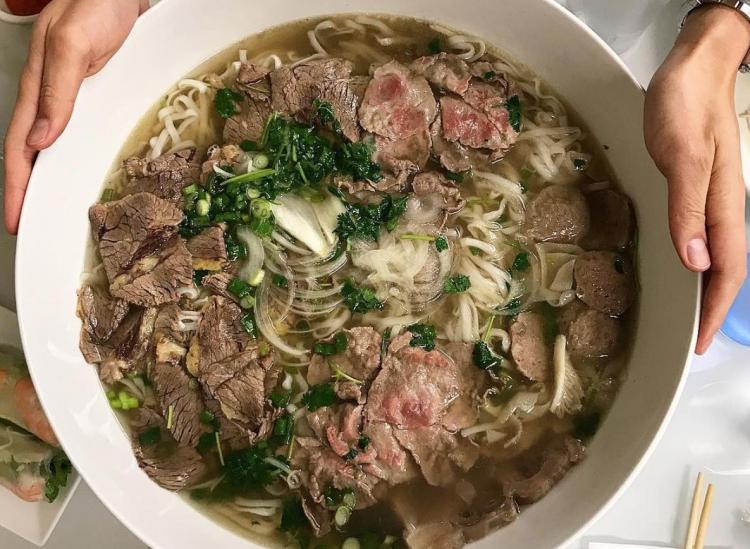 Here comes my annual "Piss the Asian Eater Crowd Off" post, so buckle up and hang on.
I don't like pho. I eat it once in a while, but I can't say it has ever impressed me.
I have eaten dozens of bowls of pho in my lifetime in dozens of Vietnamese restaurants, stretching from Garden Grove, California to New York City. If there's a scintilla of difference between this pho and that pho, I've yet to decipher it.
Aside from filling you up, there is precious little to recommend about pho.
Maybe I just don't get pho. And if by "don't get" you mean I can't get on board with a bland noodle soup, then guilty as charged.
Japanese soups are more substantial; Nipponese noodles are more interesting. Thai soups are spicier and more mysterious, and Korean soups are far more complex, so just what is it, pilgrim, that drives you to a bowl of pho?
I'll tell you what drives you there: price. Pho is cheap. So cheap they can serve it by the gallon. It's also filling. Two pounds of noodles for $6.95 will fill anyone up. Face it: any foodstuff that can be served in buckets ain't that special.
Pho, for the most part, is just boring. The broth is never anything to write home about, and the pounds of cheap, flavorless, flabby rice starch noodles (banh pho) they serve with it bring nothing to the party, either. The only thing that makes pho interesting is the forest of fresh herbs they bring to your table. In other words, you're served insipid broth and limp noodles and you're supposed to season it yourself! WHAT FUN!
Pho is the most grandma-friendly of all Asian dishes. It's what you serve to those who find kung pao chicken too exotic. It's entry-level Asian for wimps.
The only pho I've ever liked is at Le Pho — because the broth has guts. And his meat is better than the suspect cuts a lot of pho parlors sling at you. But the noodles, there and everywhere, are entirely forgettable.
And don't get me started on whatever it is they call this stuff (that always seems to find its way to my bowl of pho):
So can we nip this pho obsession shit in the bud right now?
I fear pho is about to cross the Ramen Line, and suddenly be the soup du jour among the Instagram crowd. But it doesn't deserve it.
It doesn't deserve it anymore than your mother's chicken noodle soup deserves it.
And spare me the whole "it's part of their cultural heritage" claim, as these ginormous bowls of blandness didn't become popular until around a hundred years ago. An argument can be made that pho is really French. Sacré blue!
Here's my suggestion for pho eating:
If you've got a head cold, eat pho.
If you're broke, eat pho.
If you enjoy eating soup by the gallon, eat pho.
If eating flavorless broth is part of your culture (Vietnamese, Jews, Mormons, Iowans) by all means eat a lot of pho.
If you have no teeth, eat pho. (without the eighteen cuts of beef)
For the rest of you, I suggest trying savory soups of substance: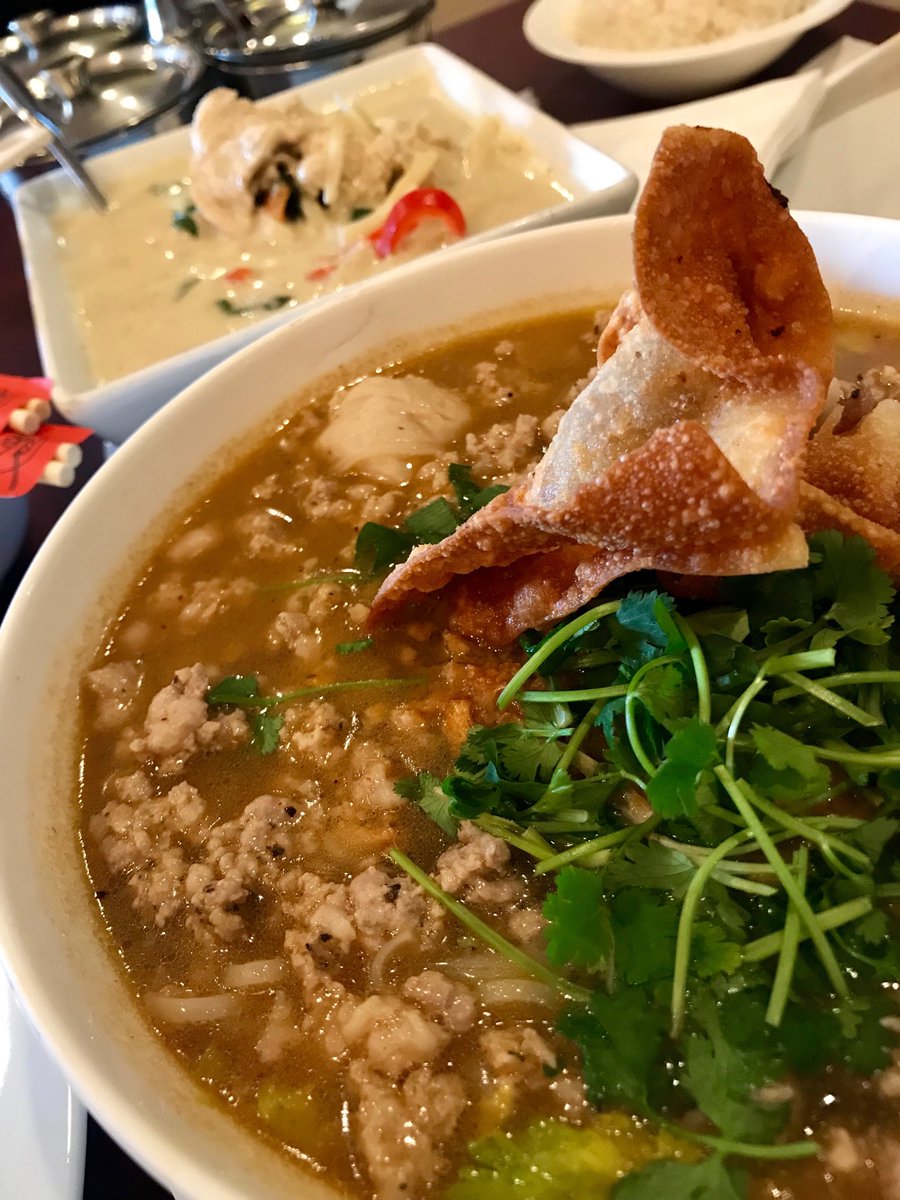 (Hot, sour, and spicy Tom Yum at Ocha Thai)
But if oddly firm, funnily flavored meatballs float your boat:
…knock yourself out.
As for me, I'll continue diving into the food of Vietnam (which I love, especially the broken rice dishes), and consign this so-so noodle soup to the oblivion to which it belongs.
To head off the haters, here's a partial list of Vietnamese food that I do like (and I like them a lot):
Goi cuon (fresh spring rolls)
Bun bo Hue (hearty/spicy beef soup with round noodles)
Banh cuon (steamed rolled rice cakes)
Buo luc lac (shaking beef)
Bun thit nuong (grilled marinated pork)
Com tam (broken rice)
Canh chua (hot and sour soup)
Goi xoai (shrimp salad)
…just to name a few.
Hope to see you at Le Pho, or District One sometime soon…just not behind a fatuous fount of f*cking pho.
Back in the 1980s, I had a client. She was a cocktail waitress on the Strip. As I recall, she was a pretty brunette in her early 30s, divorced, and with a small child. She was referred to me by another lawyer who didn't think she had much of a case.
When she came to my office she acted shy and quiet, barely speaking above a whisper. The whole time she sat across from me she acted like she was embarrassed about something.
At first I thought she was there with a workman's compensation case. I thought this because the first thing she did was roll up one of her sleeves to show me the bruises on her upper arm.
"It looked worse a few days ago," she told me. "It happened over a week ago."
"What happened?"
"My boss grabbed me and tried to have sex with me." She was quivering as she said this, eight days after the incident.
"Where did this happen?"
"In his office," she replied, "where he takes all the girls he wants to have sex with."
"Who's your boss?"
"He's the vice president of food and beverage."
"For the whole hotel?"
"Yes. I don't want to lose my job, but he shouldn't have done this."
"Did he do anything else to you other than grab you by the arm?"
"Yes…as I twisted away from his grip, he reached out with his other hand and grabbed my boob and ripped my dressed as I was pulling away from him."
"Where's the dress?"
"Right here."
With that, she reached into a large bag she had with her and produced a short, torn cocktail server dress with the upper quarter of it ripped open.
Then, with her next statement, we both got embarrassed.
"Do you want to see it," she murmured almost inaudibly.
I knew what she was talking about but had to ask. "See what?"
"My boob."
It was difficult for both of us, but she showed me the inside of her breast with three short scratches and a fading bruise. It looked like someone had tried to twist her her breast off.
"Did you tell anyone at the time this happened?"
"Yes, I told my shift supervisor."
"A man or a woman?"
"A woman."
"What did she say?"
"She told me to forget about it if I wanted to keep my job."
Long story short, she eventually quit, claiming sexual harassment. We sued on those grounds as well as assault and battery. The hotel fought tooth and nail, and the case eventually settled…for $15,000.
As I've said many a time over the years, if this case had happened two decades later, we could've added two zeros to the settlement. As it was, both the hotel and its attorneys continually scoffed at the claim. "All he did, at the very worst, was make a pass at her," was their contention. The ripped dress was a fake and the bruises on her arm could've come from anywhere. The fact that she immediately told her supervisor bothered them not at all. "So her boss got a little out of line. What's the big deal?"
To some youngsters, 1986 seems like the 1800s, but to those of us of a certain age, it wasn't that long ago. And America was hardly in the dark ages about sexual harassment in the Eighties — it had been a hot topic, both legally and socially, for at least twenty years.
But Vegas took no heed of that. Las Vegas, then and now, plays by its own rules. And those rules begin and end with the fact that whatever blue-collar, unskilled job you have, you should be damn grateful to have it. Better still, you, the employee should never forget that if you move back to Fresno or Little Rock, you'll be holding down the same job for about 60% less money.
The same holds true for our hotel executives. To a man (and woman) they know that no where else in America can they make the same, six-figure income, managing a bunch of maids, dealers and bookkeepers. And the big bosses — the guys with the high six-figure/seven-figure incomes — know that they know this, so all of them create a tight little bubble of economic security that no one wants to puncture.
Low level employees are expendable. Hot young masseuses, manicurists, waitresses are a dime a dozen. Use 'em up and spit 'em out. When one makes waves, circle the wagons and wait for it to pass. (And waiting for it to pass is what Steve Wynn is doing right now.)
And pass it does. I know one well-known executive (who has worked in at least half a dozen hotels in town), who was fired from two of his jobs because he couldn't keep his hands off the cocktail waitresses. Nevertheless, whenever a new hotel is in the works (as many were ten-fifteen years ago) this fellow's name kept popping up as a F&B executive. "Un-friggin-believable," I would always say to myself….but then I would look up and there he was, strutting around the new hotel like a little Caesar with his monogrammed shirts and fuck-you Italian shoes.
The culture that allows this to go on all over Vegas is endemic to Vegas. It is unique in that we're a town built upon the seven deadly sins. Our pleasure palaces depend upon all sorts of vices: sex, drugs, and rock & roll are what sells this town. Take away the drugs (I'm including booze when I say drugs), and the glitz and  the easy women and what do you have? Fremont Street in 1936: a dusty old western outpost with a dozen seedy gambling halls.
But dusty old gambling parlors do not support six-figure lifestyles and fuck-you Italian loafers. We need glitz and glamour and an endless supply of young. eager, compliant, blue collar employees to constantly polish and enhance our image. Managing so many uneducated folks ain't easy, and if a casino boss wants to partake of these vices and take a few liberties, who does it harm? (Or at least that's the thinking among the powers that be….even if they won't admit it.)
Look no further than John L. Smith's "Running Scared — The Life and Treacherous Times of Las Vegas Casino King Steve Wynn" — an exposé on the rise of Wynn that paints in horrifying detail his use of his executives to procure a ready supply of young women (mostly employees) for his sexual gratification. It was published in 1995, and the only eyebrows it raised were among the press. What horrified them was his ensuing libel lawsuit against Smith and the publisher — cases that were eventually tossed out of court. Wynn may have lost that battle, but he won the war. From that point forward, the sexual peccadilloes of Vegas big shots were off limits. And for twenty-plus years, the public didn't give a shit, either.
It's one thing when sex in the workplace is a fair fight (e.g. among the restaurant crowd with their after-hours partying and musical beds*), quite another when someone risks a valuable job in a big hotel by calling out a rich and powerful boss, especially one with his name on the building. Complicating things are the willing or semi-willing females (or males, I suppose) who go along with sexual overtures to get ahead. Or at least get along.
But my guess is that the ones who do mind outnumber the ones who don't by 10 to 1. Everyone in Las Vegas has a story, but precious few will ever spill the beans, because Mr. Gucci will always be making $400,000 a year, and, no matter how bruised your psyche or dented your flesh, fifteen grand only goes so far.
>>>>>>>>>>>><<<<<<<<<<<

*When the Mario Batali scandal hit, in early December, I made the observation on social media that people get into the restaurant business precisely because it's a hotbed of social/sexual activities. (As one manager once told me, "It's like a never-ending frat party you can continue well into your thirties.") The morality police jumped all over me, accusing me of "hating restaurant workers" and "condoning sexual harassment." The difference is, of course, that the groping and grabbing (and language and philandering) among  young people is an even economic match. What happens after-hours among restaurant staffs  is a far cry from Steve Wynn patrolling the halls of his hotel, looking for more notches on his belt.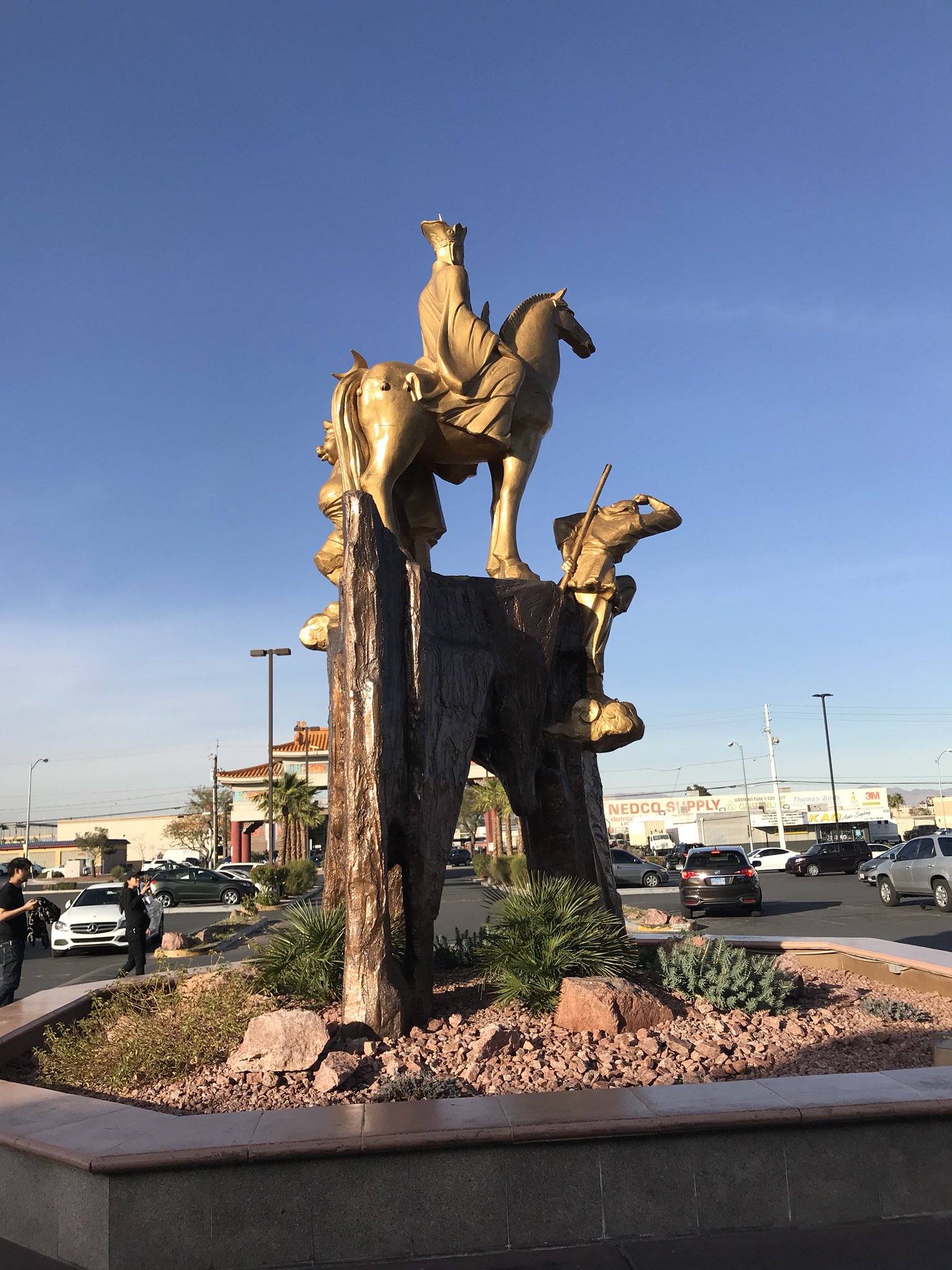 (ELV has been to Chinatown so much, they really should erect a statue in his honor)
ELV note: Rather than attempt a comprehensive look at Las Vegas restaurants (for that, you'll have to buy my  book) we at ELV thought it better to let you know where you're likely to find us dining in the coming months. As we said in our last post, we are done exploring every nook and cranny of the local food scene. We're not going to ignore the shiny and the new, but more likely you'll find us patronizing the well-worn and comfortable.  And nothing fits our comfort zone more these days than Chinatown.
The Food Gal® once asked me what I would miss most about Las Vegas were we to move to another town. The things I would miss most about Vegas, would be, in order:
The weather
My house
My swimming pool in summer
My barbecue/smoker
Chinatown
Having half a dozen great French restaurants within 15 minutes of my front door
Ditto: a dozen great steakhouses
Mexicans
Asians
Why the last two? Because they provide more flavor to our humble burg than all the gueros and gaijin combined.
Las Vegas's Mexicans restaurants don't compare with SoCal, Phoenix, Tucson and Albuquerque, but all it takes is a quick trip to any Mexicali eatery in Atlanta or St. Louis to see how good we've got it.
And when it comes to Asian food, there are very few cities in America that compare with the offerings up and down Spring Mountain Road.
As with Mexican food, I can hear the aficionados braying: "Nothing you have compares with the San Gabriel Valley, or Garden Grove, or Richmond (outside of Vancouver) Canada!"
True dat, but for a town our size, the quality and variety of our Thai, Chinese, Japanese, Vietnamese and Korean restaurants is pretty darn impressive, and beats anything Miami, Chicago, Minneapolis, Denver or Philadelphia can throw at you.
Best of all, our Chinatown (which really should be called Asiatown) is mostly compressed into one, three mile stretch of road. (As tasty as it is, traipsing all over Alhambra, San Gabriel and the Valley Boulevard Corridor can be a slog for all but the most intrepid gastronaut.)
Chinatown really rings our chimes, again and again. It's the one food address in town that we never tire of exploring. When Thai tedium ensues, there's always some copious Korean. Should we be sated by sushi, there's always some restorative ramen at hand. Upscale Vietnamese? Verily, it is so. Interesting izakaya? Indubitably.
Plus, all of this bounty seems to be increasing. As we type these words, a huge condominium complex is under construction near Valley View Boulevard, along with a giant new shopping mall (dubbed "Shanghai Plaza") a half mile up the street.
Something tells us the quantity and quality of Chinatown eats is about to grow exponentially. In the meantime, here's where we'll frequenting in the coming year:
CHINATOWN
(We have purposely included a few non-Chinatown addresses here, but lumped them in this section in the interest of pan-Pacific consistency.)
Noodles, Noodles, Noodles
("Screaming For Vengeance" at Ramen Sora)
No one does cheap eats better than Asians.  Ten years ago there was nary a noodle to be found in Chinatown that wasn't in a pot of Vietnamese pho. Now, nourishing noodle nibbling necessitates numerous navigations. Put another way, the number of choices is notable. And without a whole lot of negotiating, you can become a noodle-noshing nerd.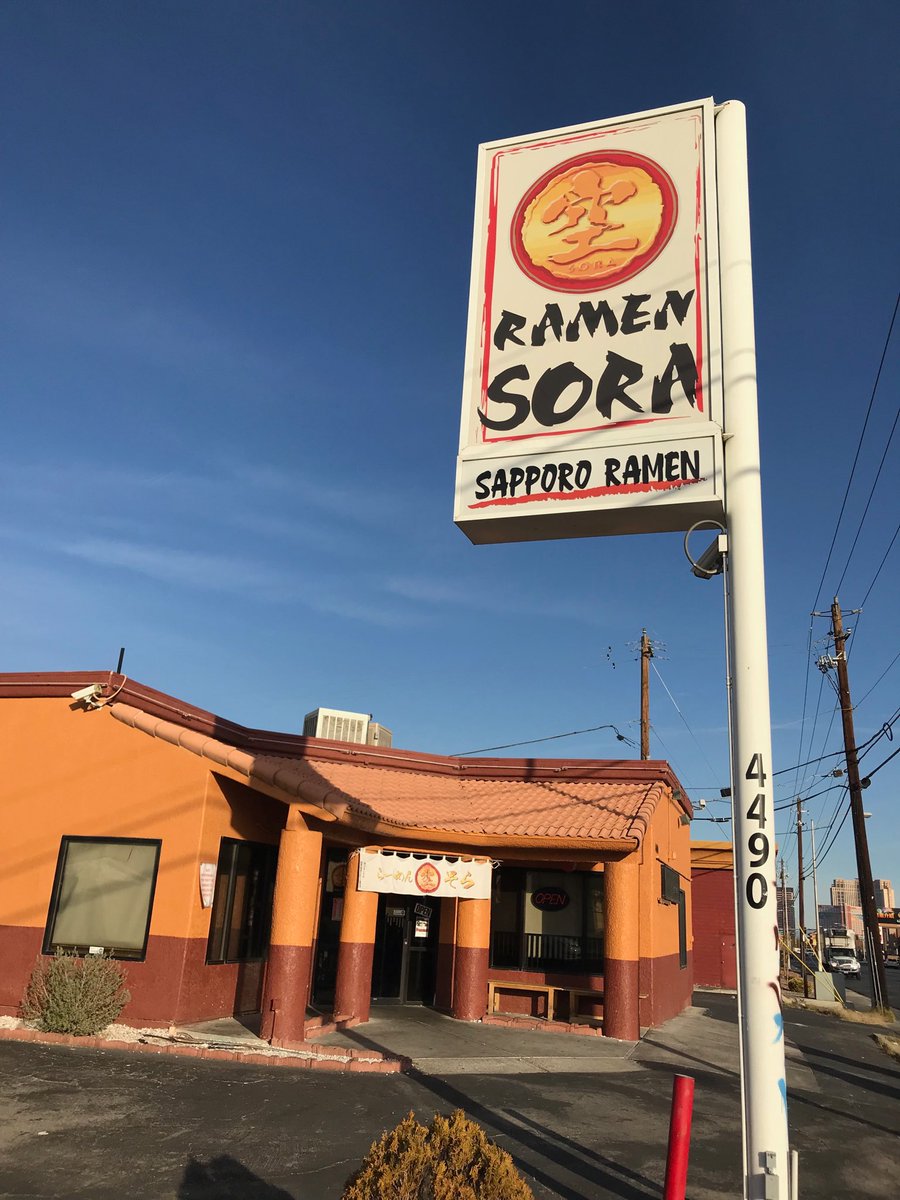 For ramen, we prefer an old reliable — Ramen Sora — along with an interesting upstart: Ramen Hashi, a mile or so up the road. Ramen Sora satisfies our cravings for miso-based noodles (often with everything but the kitchen sink thrown on top), while Ramen Hashi has blown us away recently with its lighter, shio (salt) and shoyu (soy) based chicken broths. We have nothing against Monta, and give it all the props in the world for pioneering our ramen revolution, but Hashi and Sora are just as good, and never quite as crowded.
For unctuous udon,  Marugame Monzo fills the bill with its thick, chewy strands of cotton-white udon (and killer karaage). And for the best of Szechuan, nothing beats Mian Taste (or Mian Sichuan Noodle, depending on how literal you want to be) and the fiery, lip numbing intensity of the Szechuan peppercorns that infuse each dish.
If it's all-around noodle-liciouness you seek,nothing beats the hand-pulled beauties at Shang Artisan Noodle….or its pocket beef pancake:
Sushi Fever
Life is too short to eat cheap fish. It sounds elitist (and it is!) but you should have to pay through the nose for your seafood. Nasty, shit-fed, farm raised fish doesn't do anyone any good, and ocean trawling for cheap tuna is destroying our eco-systems.
My solution: Ban cheap fish altogether and make people shell out a car payment for their sushi. It's going to come to this eventually, so we might as well start now.
If you want cheap protein, eat a chicken.
If you want wonderful seafood treated right, try this on for size: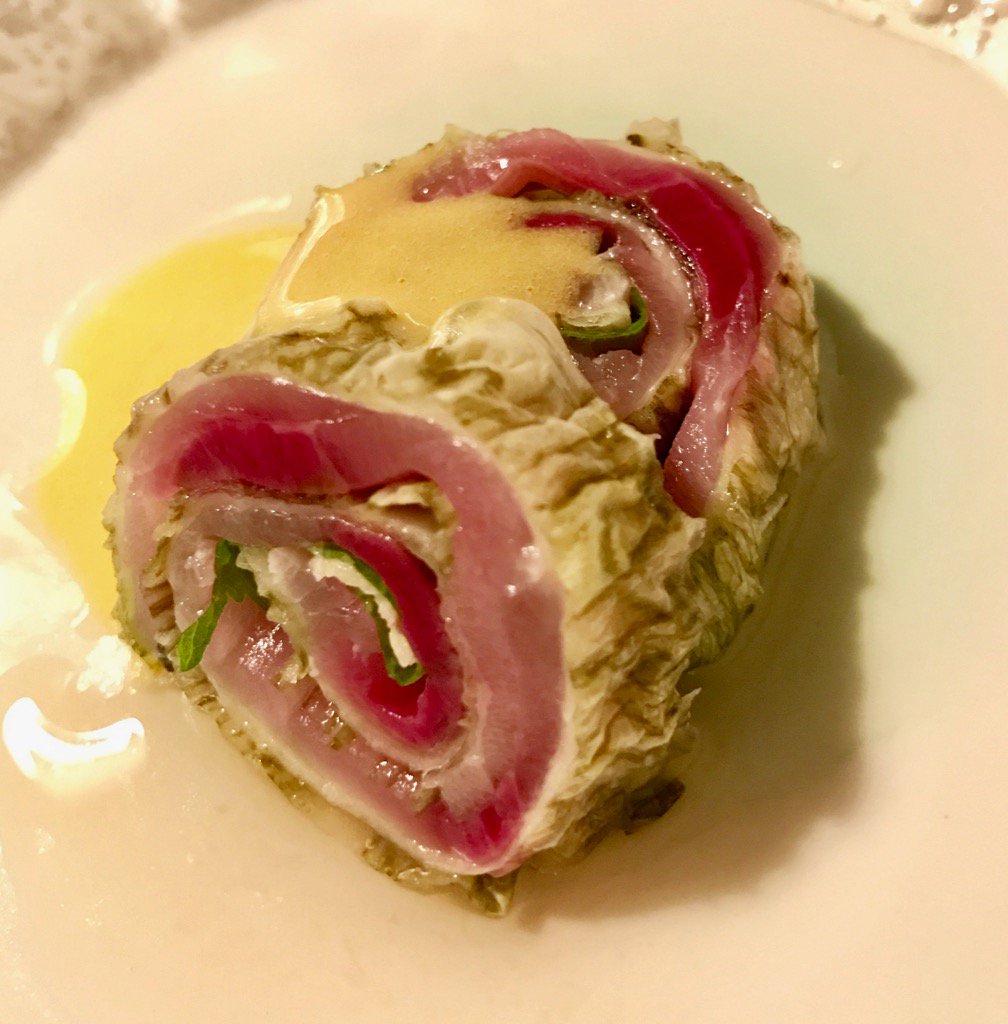 (Seared mackerel at Yuzu)
If you want the best sushi in town, go to Yui Edomae Sushi. Or Kabuto. If you want the best sushi in the suburbs go to Kaiseki Yuzu or Hiroyoshi. I don't eat sushi anywhere else in this town and neither should you.
Why do I have to keep telling you these things?
More Meals of the Rising Sun
The Japanese revolution began in January, 2008 with the opening of Raku. We hear an expansion is planned and we hope that means it will be easier to get into. (Don't bet on it; it's still one tough ticket.) Raku's excellence and popularity shows no signs of abating, as it has continues to elevate our dining scene, and set a standard for all of Spring Mountain Road to emulate.  In the ten years hence, it has begat such tasty options as Japanese Curry Zen and Raku Sweets. Curry Zen is a must for lovers of Japanese curry. Its spinach curry rice shows up at my house at least once a month (the Food Ga®  is a big fan of their takeout), and it might be the healthiest cheap eats in Vegas. Raku Sweets remains a marvel. We can never get in for dessert (always a wait) but weekend lunch is definitely on the horizon.
Very Vietnamese
Gawd I wish I could parse the fine differences between this pho parlor and that pho parlor. They all have the same menu and they're all alike to this haolie. All I know is this: When I get a hankerin' for pho or spring rolls downtown, I head straight to Le Pho. When I want more interesting, out-of-the-box Vietnamese, I head straight to District One. I really don't give a shit about any other Vietnamese restaurant in town, because I've been to 'em all, and they all taste the same.
Korean 'Cue Quest
Last year we did a Korean 'cue quest. This year we've decided to hang out at 8 Oz Korean Steakhouse.
When the mood for more homey Korean fare hits, you'll find us at Mother's Korean Grill or Kkulmat Korean Kitchen. 
We don't give a flying frijole that Kkulmat has only 2 TripAdvisor reviews. It's really really good, and the people are really really nice. At Mother's, they barely seem to tolerate round-eyes, but the banchan and dolsot bibimbap make up for the cursory service.
That is all.
Don't Leave Your Chinese To Chance
(Let Jimmy Li slip you the tongue at Niu-Gu)
Chinese restaurants still outnumber all others on Spring Mountain, and mediocre Chinese restaurants are more the rule than the exception.  The Chinatown Plaza pictured at the top of the page – the place that started our Asian  revolution in 1995 – is chock full of mediocrity, and every strip mall seems to have at least one forgettable boba tea or Taiwanese street food joint. But there is fascinating food to be found. You just have to be smart, read this blog, follow me on Instagram, and buy my book. (That's two shameless plugs in one post if you're counting.)
For dim sum, and many other classic Chinese favorites, head straight to Ping Pang Pong. For sophisticated Mandarin-worthy fare at a fraction of what you'll pay on the Strip, nobody beats what Jimmy Li cooks up every night at the unassuming Niu-Gu Noodle House. (P.s. the tea service is spectacular as well.)
Chengdu Taste is where we head when we've got a hankerin' for dan dan mian, green sauce chicken, or boiled fish in chili sauce. It is a restaurant that brooks no compromise and lays on the tongue-numbing heat the way they do in southwestern China. J & J Szechuan is older, less flashy, and not as of-the-moment as chef Tony Xu's Alhambra offshoot — but it's almost as good, even cheaper, and usually easier to get into.
Thai One On
(Our usual at Ocha Thai)
We group our Thai restaurants into 3 categories:
1) Rustic and authentic
2) Upscale and authentic
3) Everyone else
(Nam-Prik-Ong – red chili dip at Lotus of Siam)
When it comes to rustic and authentic, nothing beats what the adorable little ladies of Ocha Thai are turning out. A little more polished are the operations at Weera Thai (which features quite a few Laotian dishes) and the incendiary stylings of Chuchote Thai. If you want to know what it feels like to have a flame thrower stuck up your fundament, ask for anything "Bangkok hot" at any of them, and then hold on for dear life the next morning.
Thai comes in more sophisticated form (and with better wines) at Chada Street and Chada Thai as well as at that old reliable: Lotus of Siam. We've twice tried to get into Lotus at their new location on West Flamingo, and have been thwarted by long lines every time. At this rate, we may have to wait for their old location to reopen for our yearly fix of Koong Char Num Pla (raw shrimp) and Nam Kao Tod (crispy rice), or to get another chance to waltz around America's best German Riesling list.
Sweets Release
What do we always say: When you want a good dessert in an Asian restaurant, go to a French one.
That said, there's no denying the gorgeousness of Bank Atcharawan's milkshakes (above) at The Patio Desserts and Drinks, or his Thai toast:
….or just about any other thing he's serving to satiate your sweet (or tea) tooth.
Other than that, and the gorgeous creations of Mio-san at Raku Sweets:
…there's not a whole lot we can recommend from our Asian brethren in the dessert department.
Boba tea is a bad joke (it all comes from over-sugared mixes), Korean pastries are pale, spongy copies of French ones, and the wallpaper paste that the Japanese and Chinese make out of red beans might appeal to them, but we find its best usage is holding down roof tiles. And those slushies that some upscale Thai, Vietnamese and Chinese joints throw at you at the end of the meal are just odd, chunky imitations of something the Greeks perfected 2,500 years ago.
Face it: Asians don't get sugar. Not like the French do. Or the Italians. Or the Germans. They don't really have a sweet tooth. But we don't hold that against them. In fact, it's one of the many reasons we crawl up and down Spring Mountain Road every week — we always know that wherever we chow down on this most chow-downable of streets, we'll save ourselves a thousand calories by skipping dessert every time.
In Part 3 of Where I'll Dine in 2018 we will explore what's left of Strip dining that still gets us excited. In the meantime, we'll leave you with some thoughtful words from George Orwell about critical writing and the abandonment of standards. (He was writing about book critics, but the regression to the mean (and mediocrity) holds true for restaurants and restaurant writing as well.):
It is almost impossible to mention restaurants in bulk without grossly overpraising the great majority of them. Until one has some kind of professional relationship with restaurants, one does not discover how bad the majority of them are. In much more than nine cases out of ten the only objectively truthful criticism would be "This restaurant is worthless", while the truth about the reviewer's own reaction would probably be "This restaurant does not interest me in any way, and I would not write about it unless I were paid to." But the public will not pay to read that kind of thing. Why should they? They want some kind of guide to the restaurants they are asked to visit, and they want some kind of evaluation. But as soon as values are mentioned, standards collapse. – with apologies to George Orwell