(Tofu with tagliatelle?)
The problem is there aren't any rules anymore.
Not in politics, and not in restaurants.
Rules are what give us comfort. They provide context and boundaries to how we're supposed to act and how we're supposed to eat.
By nature, I'm not a rule follower. Laws are just suggestions, I'm fond of saying, but I don't really mean it, especially when social intercourse is involved, and especially when dining pleasure is at stake.
Civility, decorum, manners, tradition — they've all taken a beating over the last decade, a beating that shows no signs of abating.
In that same vein, upscale eating has become a no-holds-barred, free-for-all.
Fish sauce in meatloaf. Clam toast. Uni shooters. Baby back ribs mingle with roasted cauliflower — in a supposed Italian restaurant. (Boy, do American chefs LOVE roasted veggies.) Soffrito this and lamb burger that.
Mocha oatmeal stout mole with beef cheek, brown butter, and a masa dumpling?
Misho kosho polenta? With duck katsuboshi? Bloody Marys that take 20 minutes to make. ENOUGH ALREADY!
Stoner food. Comfort food. Everything has to be cravable. Nothing is tethered to anything but the chef's imagination — imaginations that are running wild from coast to coast because everyone is copying everyone else's Instagrammable dishes.
On and on it goes from Grant Achatz to chefs from Portland, Maine to Portland, Oregon.
I don't want to eat Iberian-inspired cuisine, I want to eat the real thing…or at least an American restaurant's close approximation of the real thing. Simply tossing some pata negra ham on something does as much for me as putting pesto on peanut butter.
"Their food aesthetic is hard to define."is what wins you national publicity these days, but who in the hell wants to eat something they don't understand?  Grownups want definition;  teenagers need it, and young adults are searching for it. The only people who don't want definition are children too stupid to know how essential structure is for things to make sense.
American restaurants, I'm here to tell you, and especially new American restaurants, have stopped making sense.
I get it: chefs are in the business of making food that people want to eat. If the crowd wants eclecticism, then pile French foie gras alongside Peruvian tiradito topped with a lamb necks and Millennials will beat a path to your door.
But there's a big problem with this kind of eating: it's exhausting.
Thematic restaurants are comforting. Whether it's a Umberto's Clam House, Joël Robuchon or In-N-Out Burger, you know what you're getting when you walk in. You know (or hope) you're going there to be fed something recognizable, and relax while you're eating it.
When you have to figure out what's good, something has been lost. When you have to constantly strain to parse what the chef is up to, then you've lost a big battle with my stomach before the war has barely begun.
I've been to Europe a lot in the past two years. Even as I type these words I am pining for the beef bourguignon in Beaune, or that pork shank in Munich. I find myself dreaming about Japanese fish restaurants and orgies of Roman pasta. What I don't dream about is some Japanese-Mexican chef trying to make "Iberian-inspired" cuisine with a Nipponese twist. The worst foreign restaurants I've ever eaten in were "eclectic" in their cooking. The worst American restaurants I've eaten in were jacks of all trades and masters of none. Just because we live in a melting pot doesn't mean our restaurant food has to reflect that.
There's nothing new in food, despite what some chefs will try to tell you. There's a reason you put ground up pork and not turkey meat in dumplings — because turkey meat brings nothing to the party. All those ingredients you see in Korean stews? Each one is there for a reason. Red wine with meat; white wine butter sauce with fish? The French figured this out a thousand years ago.
Why does no one put pasta in clam chowder? Because potatoes lend better starch and texture to the broth.
The other thing all the world's cuisines figured out is how to eat. And by "how to eat" I mean the progress of a meal.
Light to heavy, climbing the food chain, all of it makes sense in the context of every country's cuisine. Even the Ethiopians will tell you in what order to attack your injera. Simply throwing a bunch of small plates on the table confuses both the mind and the palate, to say nothing of lessening our sense of civility.
Thus have America chefs taken the whole cross-cultural thing too far.
Who wants to spend time deciphering whether to get the Bento box and Scotch egg or the fried calamari with some riff on ramen? Or how about salmon with forbidden rice and tomatillo sauce? In a Vietnamese-American restaurant?
The best restaurants in Las Vegas know what they are and what they're trying to emulate. Carnevino is an Italian steakhouse in the best sense of the word. Twist is French to its core, and Yui Edomae Sushi is a direct copycat of a hidden Ginza sushi joint. They are "foreign" restaurants (and they are essentially theme restaurants), but like all great orchestras they stick to the music and leave improvisation to the fools.
American restaurants have no idea what they are, and spend too much time concocting wild variations of dishes done better somewhere else by cooks who specialize in that kind of cooking. (I get it; chefs get bored. But thinking up oddball combinations to combat boredom is an insult to gastronomy.)
Here's where I give kudos to James Trees for knowing what he wants to be and what he's good at. Esther's Kitchen may not sound like a modern Italian restaurant but that's what it is.
James Trees knows the rules. He's not afraid to tweak things here and there, but he sticks to the catechism of Italian cooking pretty closely.
I wish his competition was so inclined.
There are many things to like about Carson Kitchen, 7th & Carson, The Black Sheep, Sparrow + Wolf, Boteco, and The Kitchen at Atomic, but thematic consistency isn't one of them.
To their core, they are new American restaurants that are all over the map with their (relatively short) menus. And to be blunt about it: this kind of cooking is rarely transporting. It may be picture-worthy and just fine for sitting in deafening rooms with screaming 35 year olds raving about how "amazing" everything is, but at the end of the day, it fills your belly but rarely your soul.
No matter how talented a hotshot young chef is, they're never going to make a mole as well as a Mexican mamacita who's been doing it all her life. Ditto raw fish. There's a lot more to it than just putting some raw slices on a plate and throwing some lime dressing on top. Deep frying is an art, too, as is roasting. But restaurants that are trying to all of these things will excel at none of them.
Fusion food has had an interesting ride over the forty years I've been paying attention to restaurants. What started in the early 1980s with Wolfgang Puck's Cal-Ital-French menus took a sharp turn east when Jean-Georges Vongerichten took New York by storm a few years later with his Thai-inflecked French. By the 1990s, Nobu Matsuhisha and Roy Yamaguchi had everyone talking about pan-Pacific flavors. But by the early 2000s, every food writer in America was over all of it. "Fusion-confusion" was how we mocked it back then.
Then, instead of going away, it took over. The recession had something to do with it. Fancy dining was dead (at least we thought so at the time), and restaurateurs, searching for an audience, had to find something casual and hip and, god help us, picture-worthy, to drive business in the door.
Enter restaurants with more moving parts than a Game of Thrones episode. All of it helped along by the molecular craze — which may have jumped the shark a decade ago, but which gave casual eateries license to try all kinds of wacky combinations.
The foam-thing may have died, but the "anything goes"legacy remains. And what we're left with is wood-fired grills throwing Bento boxes at us…and udon carbonara.
I'm not necessarily against combining the world's flavors into interesting combinations, but I am against it when it makes no sense….and when that's all you've got. What I'm looking for is focus — on the menu and in the recipes — focus that seems to be lacking when all of these cultural lines get blurred.
Which leads me to ask: Do they teach this kind of cooking in culinary schools these days? I think not. I think it's all a direct result of social media creating a "can you top this?" attitude among young chefs. Which deceives them into thinking they're doing something fresh, when in reality, they're all posing for the same selfies.
The mission statement of any chef in any restaurant is to satisfy his or her customers. And when all you're doing is trying to dazzle someone, you don't allow them to get comfortable enough to be satisfied.
Creativity is a great. The world can't run without it. But creativity is a slippery slope when it comes to food — a slope that too many chefs are sliding down these days.
I think we're slowly evolving past the small plates thing, and the something-for-everyone-thing, and the let's-throw-Asian-accents-on-everything-thing.
This is a good thing, I think. Or maybe I'm just hoping.
It's time to get back to basics — food that makes people feel good, not impress them for all of the wrong reasons.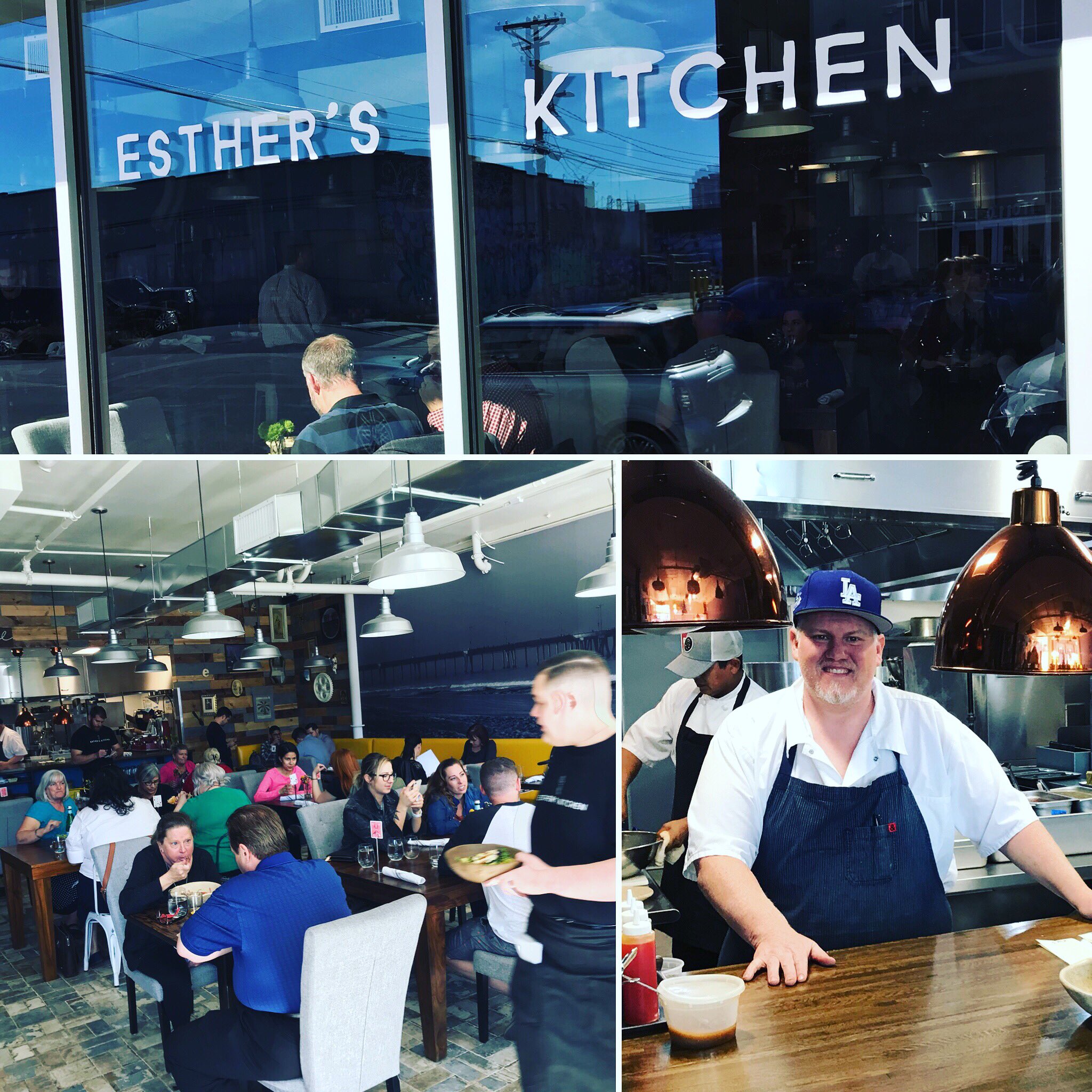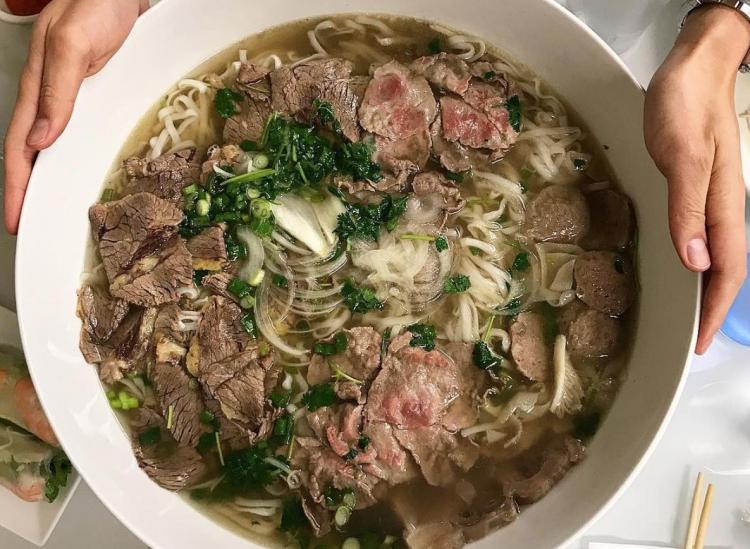 Here comes my annual "Piss the Asian Eater Crowd Off" post, so buckle up and hang on.
I don't like pho. I eat it once in a while, but I can't say it has ever impressed me.
I have eaten dozens of bowls of pho in my lifetime in dozens of Vietnamese restaurants, stretching from Garden Grove, California to New York City. If there's a scintilla of difference between this pho and that pho, I've yet to decipher it.
Aside from filling you up, there is precious little to recommend about pho.
Maybe I just don't get pho. And if by "don't get" you mean I can't get on board with a bland noodle soup, then guilty as charged.
Japanese soups are more substantial; Nipponese noodles are more interesting. Thai soups are spicier and more mysterious, and Korean soups are far more complex, so just what is it, pilgrim, that drives you to a bowl of pho?
I'll tell you what drives you there: price. Pho is cheap. So cheap they can serve it by the gallon. It's also filling. Two pounds of noodles for $6.95 will fill anyone up. Face it: any foodstuff that can be served in buckets ain't that special.
Pho, for the most part, is just boring. The broth is never anything to write home about, and the pounds of cheap, flavorless, flabby rice starch noodles (banh pho) they serve with it bring nothing to the party, either. The only thing that makes pho interesting is the forest of fresh herbs they bring to your table. In other words, you're served insipid broth and limp noodles and you're supposed to season it yourself! WHAT FUN!
Pho is the most grandma-friendly of all Asian dishes. It's what you serve to those who find kung pao chicken too exotic. It's entry-level Asian for wimps.
The only pho I've ever liked is at Le Pho — because the broth has guts. And his meat is better than the suspect cuts a lot of pho parlors sling at you. But the noodles, there and everywhere, are entirely forgettable.
And don't get me started on whatever it is they call this stuff (that always seems to find its way to my bowl of pho):
So can we nip this pho obsession shit in the bud right now?
I fear pho is about to cross the Ramen Line, and suddenly be the soup du jour among the Instagram crowd. But it doesn't deserve it.
It doesn't deserve it anymore than your mother's chicken noodle soup deserves it.
And spare me the whole "it's part of their cultural heritage" claim, as these ginormous bowls of blandness didn't become popular until around a hundred years ago. An argument can be made that pho is really French. Sacré blue!
Here's my suggestion for pho eating:
If you've got a head cold, eat pho.
If you're broke, eat pho.
If you enjoy eating soup by the gallon, eat pho.
If eating flavorless broth is part of your culture (Vietnamese, Jews, Mormons, Iowans) by all means eat a lot of pho.
If you have no teeth, eat pho. (without the eighteen cuts of beef)
For the rest of you, I suggest trying savory soups of substance: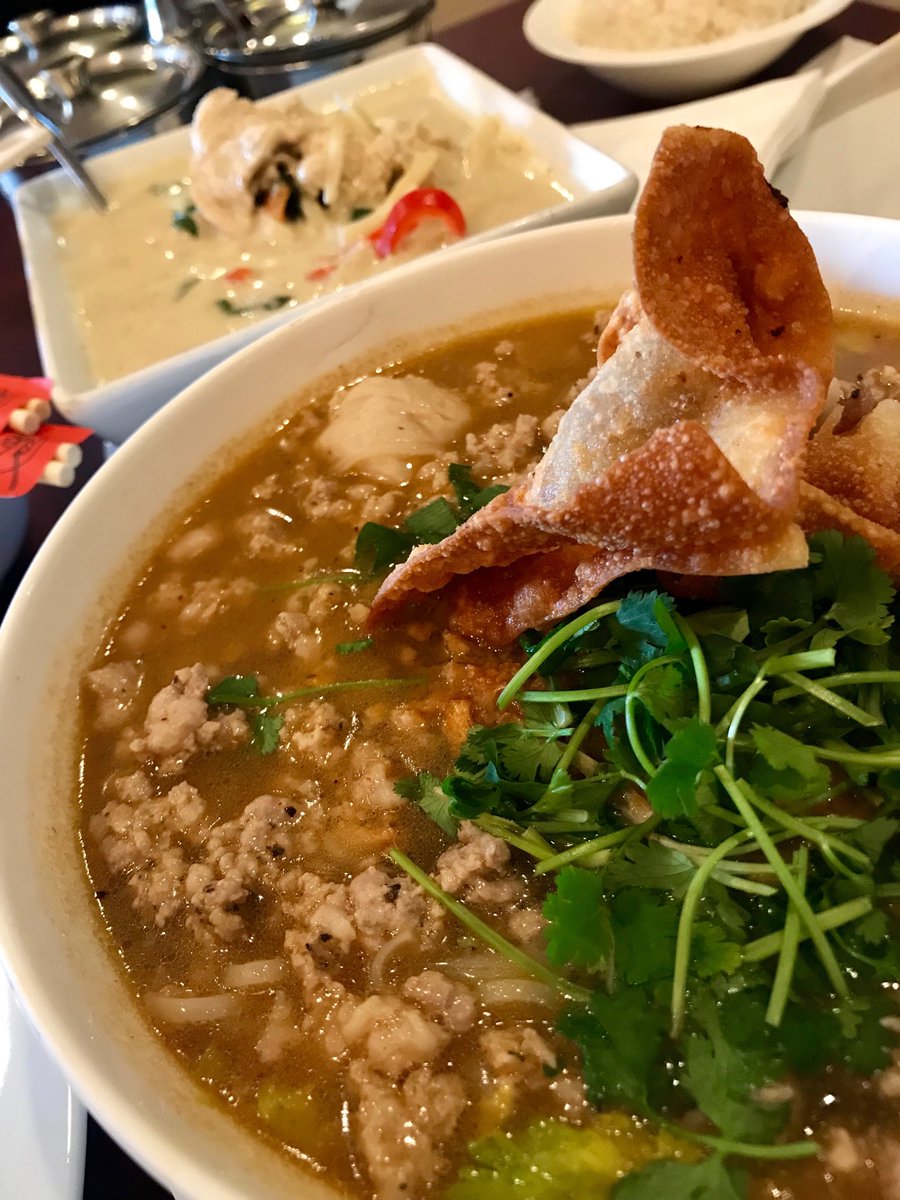 (Hot, sour, and spicy Tom Yum at Ocha Thai)
But if oddly firm, funnily flavored meatballs float your boat:
…knock yourself out.
As for me, I'll continue diving into the food of Vietnam (which I love, especially the broken rice dishes), and consign this so-so noodle soup to the oblivion to which it belongs.
To head off the haters, here's a partial list of Vietnamese food that I do like (and I like them a lot):
Goi cuon (fresh spring rolls)
Bun bo Hue (hearty/spicy beef soup with round noodles)
Banh cuon (steamed rolled rice cakes)
Buo luc lac (shaking beef)
Bun thit nuong (grilled marinated pork)
Com tam (broken rice)
Canh chua (hot and sour soup)
Goi xoai (shrimp salad)
…just to name a few.
Hope to see you at Le Pho, or District One sometime soon…just not behind a fatuous fount of f*cking pho.
Back in the 1980s, I had a client. She was a cocktail waitress on the Strip. As I recall, she was a pretty brunette in her early 30s, divorced, and with a small child. She was referred to me by another lawyer who didn't think she had much of a case.
When she came to my office she acted shy and quiet, barely speaking above a whisper. The whole time she sat across from me she acted like she was embarrassed about something.
At first I thought she was there with a workman's compensation case. I thought this because the first thing she did was roll up one of her sleeves to show me the bruises on her upper arm.
"It looked worse a few days ago," she told me. "It happened over a week ago."
"What happened?"
"My boss grabbed me and tried to have sex with me." She was quivering as she said this, eight days after the incident.
"Where did this happen?"
"In his office," she replied, "where he takes all the girls he wants to have sex with."
"Who's your boss?"
"He's the vice president of food and beverage."
"For the whole hotel?"
"Yes. I don't want to lose my job, but he shouldn't have done this."
"Did he do anything else to you other than grab you by the arm?"
"Yes…as I twisted away from his grip, he reached out with his other hand and grabbed my boob and ripped my dressed as I was pulling away from him."
"Where's the dress?"
"Right here."
With that, she reached into a large bag she had with her and produced a short, torn cocktail server dress with the upper quarter of it ripped open.
Then, with her next statement, we both got embarrassed.
"Do you want to see it," she murmured almost inaudibly.
I knew what she was talking about but had to ask. "See what?"
"My boob."
It was difficult for both of us, but she showed me the inside of her breast with three short scratches and a fading bruise. It looked like someone had tried to twist her her breast off.
"Did you tell anyone at the time this happened?"
"Yes, I told my shift supervisor."
"A man or a woman?"
"A woman."
"What did she say?"
"She told me to forget about it if I wanted to keep my job."
Long story short, she eventually quit, claiming sexual harassment. We sued on those grounds as well as assault and battery. The hotel fought tooth and nail, and the case eventually settled…for $15,000.
As I've said many a time over the years, if this case had happened two decades later, we could've added two zeros to the settlement. As it was, both the hotel and its attorneys continually scoffed at the claim. "All he did, at the very worst, was make a pass at her," was their contention. The ripped dress was a fake and the bruises on her arm could've come from anywhere. The fact that she immediately told her supervisor bothered them not at all. "So her boss got a little out of line. What's the big deal?"
To some youngsters, 1986 seems like the 1800s, but to those of us of a certain age, it wasn't that long ago. And America was hardly in the dark ages about sexual harassment in the Eighties — it had been a hot topic, both legally and socially, for at least twenty years.
But Vegas took no heed of that. Las Vegas, then and now, plays by its own rules. And those rules begin and end with the fact that whatever blue-collar, unskilled job you have, you should be damn grateful to have it. Better still, you, the employee should never forget that if you move back to Fresno or Little Rock, you'll be holding down the same job for about 60% less money.
The same holds true for our hotel executives. To a man (and woman) they know that no where else in America can they make the same, six-figure income, managing a bunch of maids, dealers and bookkeepers. And the big bosses — the guys with the high six-figure/seven-figure incomes — know that they know this, so all of them create a tight little bubble of economic security that no one wants to puncture.
Low level employees are expendable. Hot young masseuses, manicurists, waitresses are a dime a dozen. Use 'em up and spit 'em out. When one makes waves, circle the wagons and wait for it to pass. (And waiting for it to pass is what Steve Wynn is doing right now.)
And pass it does. I know one well-known executive (who has worked in at least half a dozen hotels in town), who was fired from two of his jobs because he couldn't keep his hands off the cocktail waitresses. Nevertheless, whenever a new hotel is in the works (as many were ten-fifteen years ago) this fellow's name kept popping up as a F&B executive. "Un-friggin-believable," I would always say to myself….but then I would look up and there he was, strutting around the new hotel like a little Caesar with his monogrammed shirts and fuck-you Italian shoes.
The culture that allows this to go on all over Vegas is endemic to Vegas. It is unique in that we're a town built upon the seven deadly sins. Our pleasure palaces depend upon all sorts of vices: sex, drugs, and rock & roll are what sells this town. Take away the drugs (I'm including booze when I say drugs), and the glitz and  the easy women and what do you have? Fremont Street in 1936: a dusty old western outpost with a dozen seedy gambling halls.
But dusty old gambling parlors do not support six-figure lifestyles and fuck-you Italian loafers. We need glitz and glamour and an endless supply of young. eager, compliant, blue collar employees to constantly polish and enhance our image. Managing so many uneducated folks ain't easy, and if a casino boss wants to partake of these vices and take a few liberties, who does it harm? (Or at least that's the thinking among the powers that be….even if they won't admit it.)
Look no further than John L. Smith's "Running Scared — The Life and Treacherous Times of Las Vegas Casino King Steve Wynn" — an exposé on the rise of Wynn that paints in horrifying detail his use of his executives to procure a ready supply of young women (mostly employees) for his sexual gratification. It was published in 1995, and the only eyebrows it raised were among the press. What horrified them was his ensuing libel lawsuit against Smith and the publisher — cases that were eventually tossed out of court. Wynn may have lost that battle, but he won the war. From that point forward, the sexual peccadilloes of Vegas big shots were off limits. And for twenty-plus years, the public didn't give a shit, either.
It's one thing when sex in the workplace is a fair fight (e.g. among the restaurant crowd with their after-hours partying and musical beds*), quite another when someone risks a valuable job in a big hotel by calling out a rich and powerful boss, especially one with his name on the building. Complicating things are the willing or semi-willing females (or males, I suppose) who go along with sexual overtures to get ahead. Or at least get along.
But my guess is that the ones who do mind outnumber the ones who don't by 10 to 1. Everyone in Las Vegas has a story, but precious few will ever spill the beans, because Mr. Gucci will always be making $400,000 a year, and, no matter how bruised your psyche or dented your flesh, fifteen grand only goes so far.
>>>>>>>>>>>><<<<<<<<<<<

*When the Mario Batali scandal hit, in early December, I made the observation on social media that people get into the restaurant business precisely because it's a hotbed of social/sexual activities. (As one manager once told me, "It's like a never-ending frat party you can continue well into your thirties.") The morality police jumped all over me, accusing me of "hating restaurant workers" and "condoning sexual harassment." The difference is, of course, that the groping and grabbing (and language and philandering) among  young people is an even economic match. What happens after-hours among restaurant staffs  is a far cry from Steve Wynn patrolling the halls of his hotel, looking for more notches on his belt.