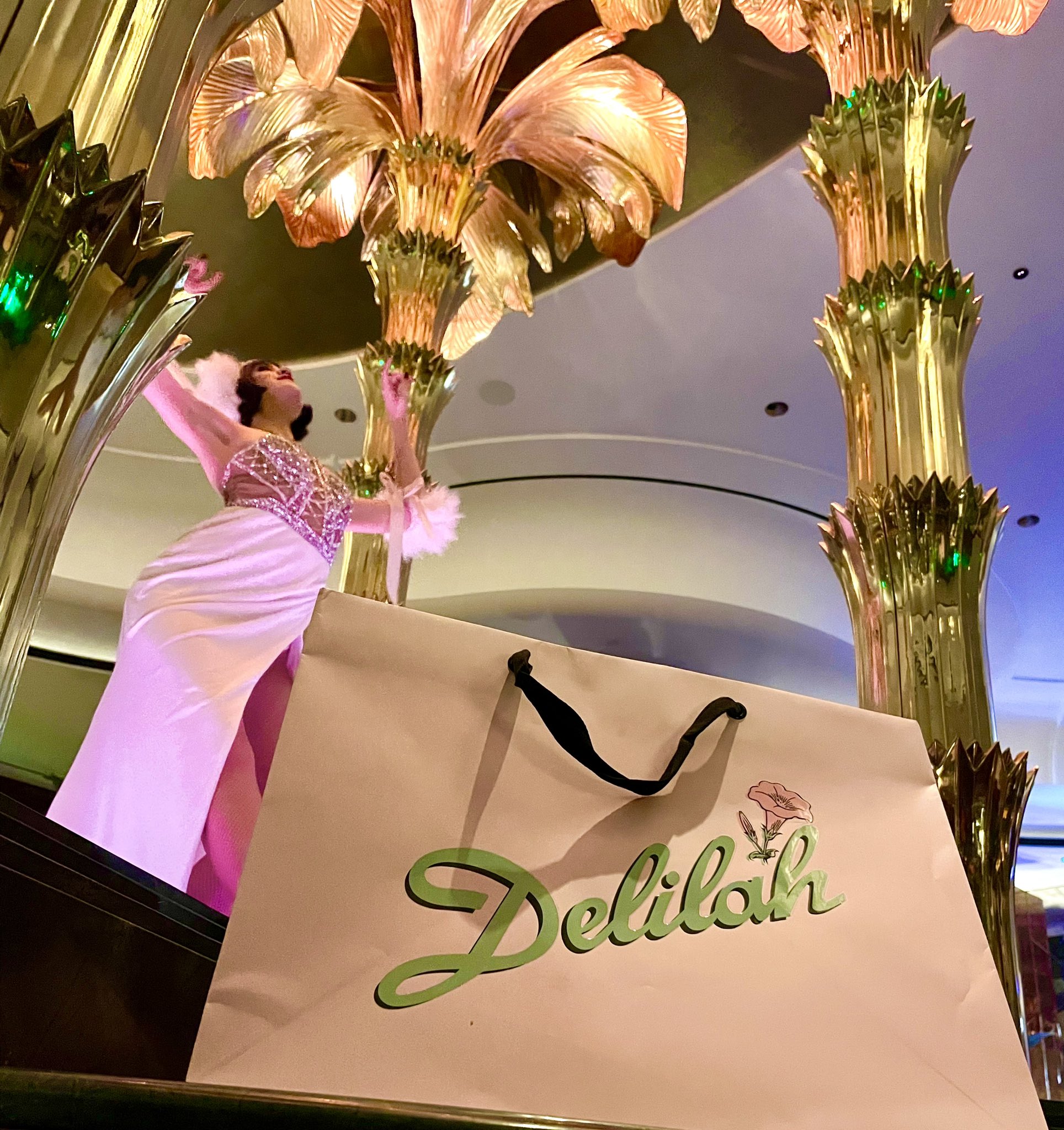 Ed. note: Alan Richman — the man who has won more James Beard journalism awards than anyone — once gave me a sage piece of advice: "When you have a bad experience, just report the facts." So here they are….with commentary, of course:
Delilah. is, right now, the toughest meal ticket in town. It is located in the Wynn, in bi-level space which once housed the very formal ALEX — a restaurant which met its ignominious end when the Wynn decided to go all-in on bottle service-to-douchebag nightclubs. The year was 2010. The space has been vacant for more than a decade, but last summer this restaurant-cum-supper club opened to great acclaim. And by "great acclaim" we mean a lot of pay-to-play social media mavens raved about it for about two weeks. Now, the hubbub has died down and we decided to see for ourselves. A friend booked a table and lassoed me in for a recent meal. I tried to warn them but they wouldn't listen.
You will first confront a pre-hostess stand that is outside the actual hostess stand .This pre-hostess stand is flanked with velvet ropes. The comely lass at this threshold signifies classiness (you can tell by her gown), exclusivity (you can tell by those ropes), and attitude. The latter comes in the form of an admonition that, "you will only have your table for two hours."
Nothing puts us in a better mood for an expensive meal than being told how long we will have to eat.
Entering the inner sanctum, you arrive on the other side of double-doors to find a bar teaming with L.A. bros sporting the type of high-maintenance facial manicures you usually see on a mannequin. With them are young ladies whooping it up while they congratulate themselves for being there. All of them are dressed way better than you are used to seeing in Vegas restaurants, which means the dudes are wearing shirts with collars and their dates are in whatever some Kardashian told them to wear. (If smugness were a scent, the joint would reek of it.)
Along with the time-limit, you are also told (at the second hot hostess stand): "No pictures are allowed in the bar or dining room." This admonition will be repeated to you once you hit your table. Of course we ignored it.
Your table is presumably a good one, and by "good one" we mean it is in the main dining room, in-between another lively bar, and a stage where a brassy gal is over-singing one song after another. (More on this later.)
Your table is a touch high (and the too-cushy, over-stuffed seats too low), so you feel like a little kid sitting with grown-ups. You look around and see people sitting at normal heights and normal looking tables and what look like regular chairs, but all you can do is look at them and sigh.
This is because Delilah is so full, every night, you pretty much have to sit where they tell you. It is also because any attempt to move might result in them giving you a Hobson's Choice of sitting closer to all that over-singing, or out in Siberia (the rooms flanking the main one) where the people watching would be nil. (People watching being, you will soon discover, the only thing done easily here.)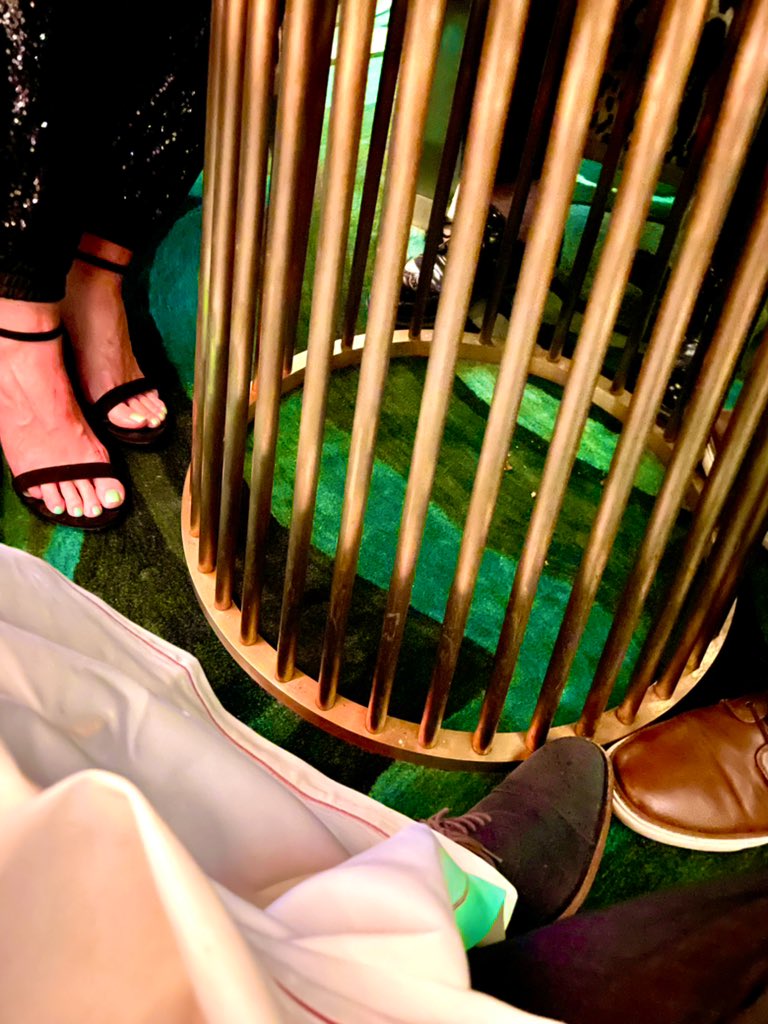 (Foot fetish fodder provided by Deanna T.)
More on the table: It was a round and supported by a base of circular bars (above) which gave zero room for you to either cross your legs, or ankles or get comfortable. The only possible way to sit was to stretch your thighs around both sides of the column while you play footsies with your table-mates and your derriere continually sinks and slides into the flabby cushions which forces you backwards away from the table until you are roughly in the same position as woman in childbirth. Which is fine unless you're trying to enjoy a $28 crab cake.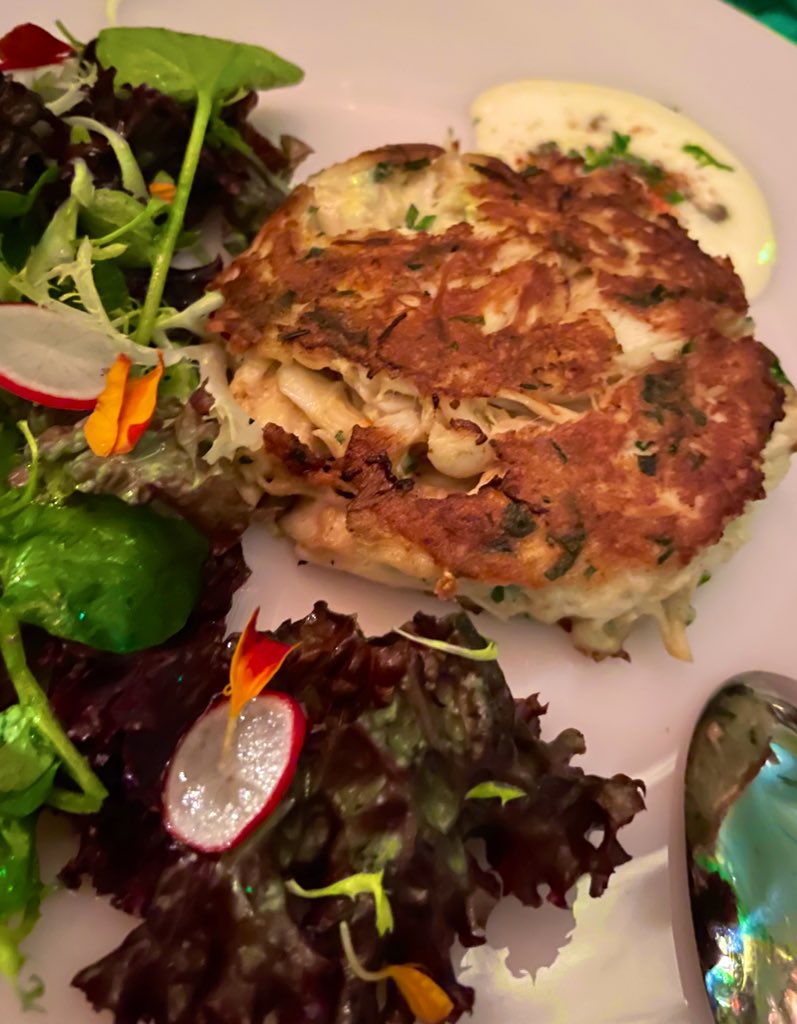 (Crabby, best eaten sitting up)
The wine list is presented and it is a good one. By Vegas standards you might even call it reasonable. Service is impressive and fast (they are also under a time limit and act like it, but good cheer prevails). You even forgive them bringing a red burgundy when you ordered a white one, having figured out they are more attuned to the Cali cab and cocktails crowd.
You'll need a few big gulps of grape before you tackle the menu, as it is everything the wine list is not: by-the-numbers (steaks, salmon, chicken, etc.), risk-free and priced to deter the unwashed. Your eyebrows will be raised at the tariffs, but not so much you'll want to head for the exits.
We're talking $200 beef Wellington (for a 12 oz. filet); $72 for (supposedly Dover sole) "fish and chips":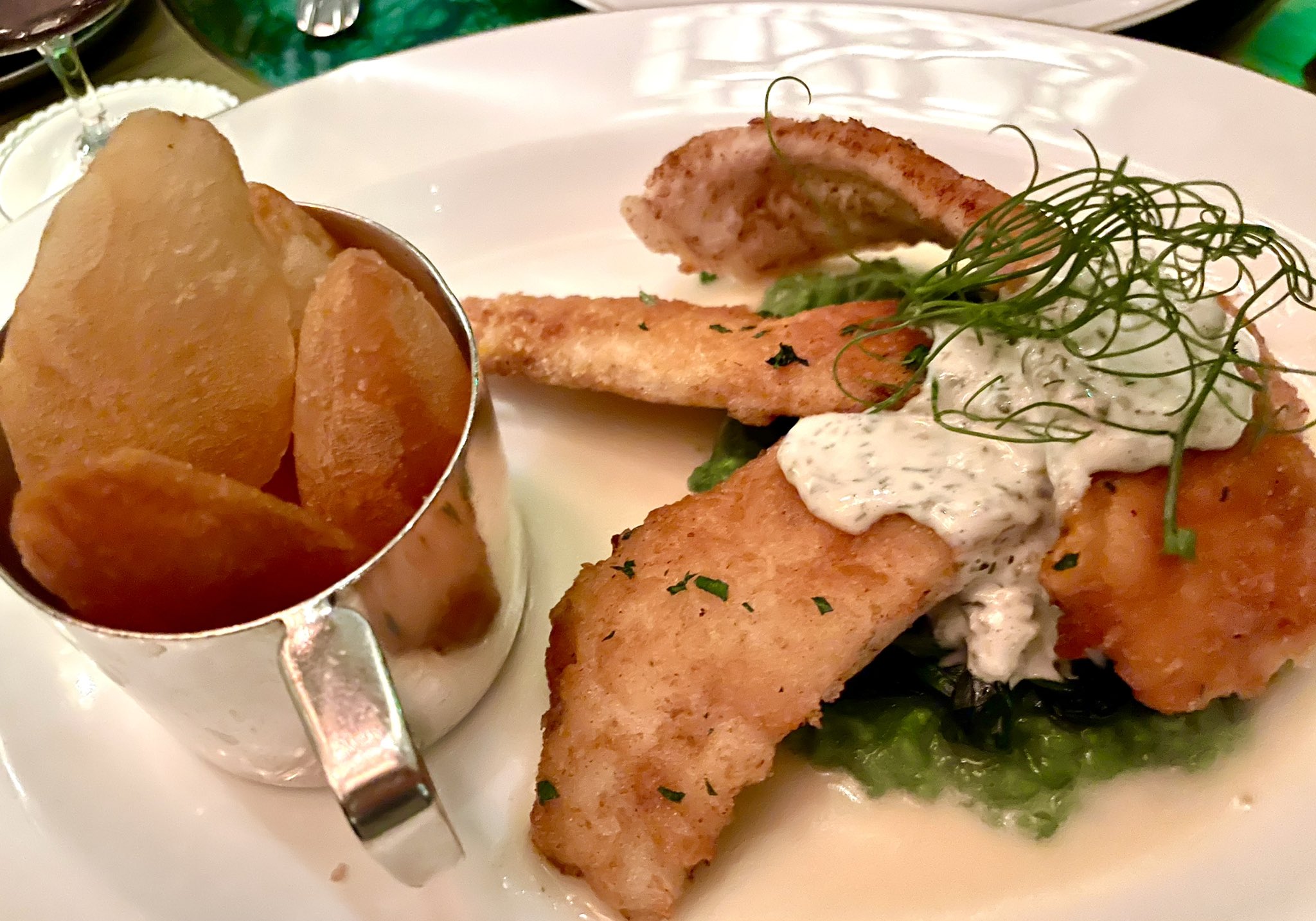 (72 bucks of sole and pommes soufflé)
…$25 for chicken fingers, and three, garlicky shrimp "de Jonghe" of no real consequence for twenty-seven bucks.
A roast chicken ("TV Dinner") runs $42, while short ribs and a few scallops, ("surf and turf") will set you back a cool $59.  — all of it calculated not to challenge or offend, and no doubt concocted by people thinking: "How can we overcharge for comfort food and make it seem ritzy in an ironic sort of way?" Smart.
The gooey butter cake ($16) was good, but not as good as the one at Mastro's. There, I said it.
The chef behind the menu is the über-talented Josh Smith — a chef's chef and former top toque at Bardot Brasserie.
But where BB was resolutely French, and thus aimed at a crowd who went there for his textbook-perfect renditions of classics, tweaked to keep the picky epicures happy (hello, escargot!), here the food is beside the point and it shows. Don't get me wrong: pounding out 60 Wellingtons a night while satisfying 300 covers is a Herculean task, but methinks Smith was hired more for his brawn than his impeccable technique.
And then there is the music. You can't avoid it. The whole "supper club" vibe depends on someone belting out songs for 30 minutes every hour. (We ain't talking headliners here, folks. "Strictly a lounge act," is how my dear old dad would've put them down.)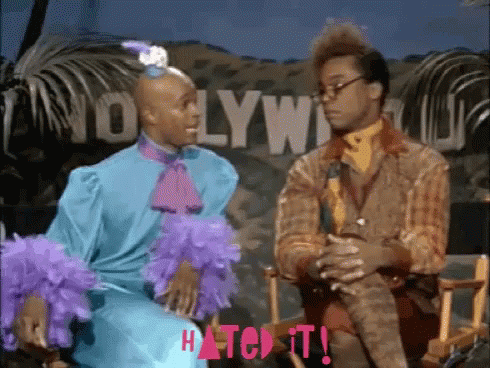 The music is supposed to be jazz, presumably because jazz is more sophisticated, sexy and supper club-ish, but all I heard were slowed-down covers of Prince, Springsteen and other pop/rock stars. So easy-to-ignore were the tired tunes that by the end of our allotted time, I half expected our chanteuse to belt out "The Wreck of the Edmund Fitzgerald" as an encore. Jazzy indeed.
Amidst the cacophony, three exceedingly thin, tall, bored young women slink around doing some kind of interpretive slow-mo exercises to the music in long, sparkly dresses (see top of page).
Delilah demands you be into these things, even if you aren't, and expects you to wowed by the food, even though you can barely hear yourself eat. Things get more civilized once the singing stops, but gird your loins, it won't last, all of it ensuring idle chit chat will not be an issue intruding on your two hour countdown.
To be fair, Delilah is just not my thing. I have several foodie friends who are nuts about the place. They love the vibe, the music and the fact it signifies an elevation in our dining scene — a culture which has been racing to the cargo shorts bottom since 2010. Good on them, but once was enough for this curmudgeon.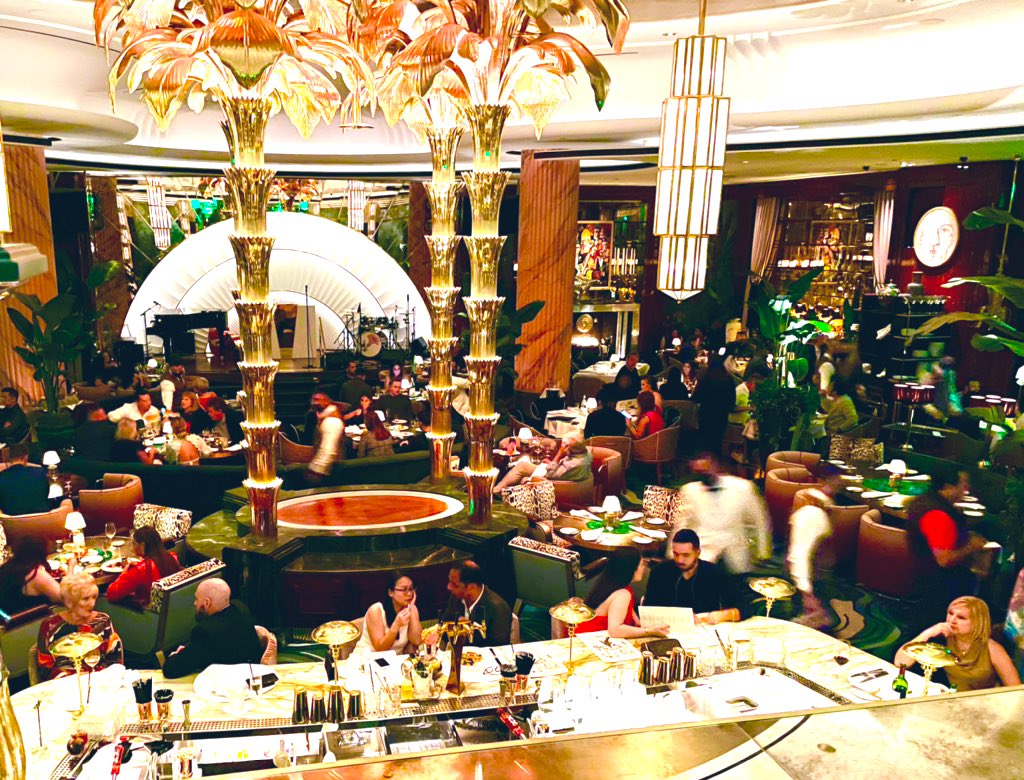 (Design by Carnival Cruises)
Now we have three supper clubs all vying for this upscale crowd —  Mayfair ("so much more than dinner") and Delilah each aim for a throwback, elegant feel (with eye-popping design setting the mood, see above), while Superfrico ("an Italian American Psychedelic restaurant") appears to be targeting people who enjoy having dinner inside of a Cirque du Soleil fever dream. Classy.
If these three are a success (and early returns suggest they will be), expect a lot of copycats to follow suit as Vegas struggles mightily to capture Gen-X and Millennial dollars from people more accustomed to not speaking with each other than us aging Boomers.
In the meantime, remember the old axiom: music in restaurants ruins both the music and the food. I can't speak to the former, but Delilah gets it at least half right.
Take us home, Tom…