Everyone these days is talking about downtown's chef-driven cuisine at Esther's Kitchen, Flock & Fowl, The Kitchen at Atomic, Jammyland, 7th & Carson, eat. and Carson Kitchen.
Heck, they're even talking about the resurgence of Pop Up Pizza in the Plaza….which does some superb deck oven work that rivals Good Pie for downtown pizza hegemony.
But there's two under-the radar joints that don't get a lot of buzz, but are not to be missed. (We call them "hidden" in the headline, but they're really hiding in plain sight, right on Las Vegas Boulevard.)
We're talking Puerto Rican food, folks. And fish tacos. Two versions of Latino-inspired cuisine that provide a whole lot of satisfaction for relatively little bucks.
Now, I know and you know that you probably don't know shit about Puerto Rican food. But I am not here to mock your ignorance. Rather, I am here to dispel it. And the way to do that is to mofongo and maduro your way to a tostones good time. (In case you haven't guessed, there's nothing subtle about this food, but it's damn tasty — if a bit starchy — and a blend of Caribbean cuisines with all sorts of edibles from Spain to Africa.)
The only drawback to your discovery is you'll have to get your education while either eating in your car, or standing up, or sitting on one of four stools on the right side of the building. But those inconveniences are a small price to pay for a Cuban sandwich that beats any Cubano in town:
….or the aforementioned boffo shrimp mofongo:
Orrrrr these sweetly fried maduros:
"Holy Clemente, Batman!"
I said to myself after a few bites. "This place is cooking with real care in their (teeny tiny, food truck-ish) kitchen."
(Yes, I say those sorts of things to myself whenever I'm pleasantly surprised by an unfamiliar morsel in an unknown place.)
You'll notice those shrimp are sizeable and de-veined, and the plantains were fried to a fare-thee-well.
….was packed with flavor and obviously turned out by someone with real pride in this cuisine.
The Food Gal® and I ordered way too much, (and spent around $50) but everything from the sandwich to the coconut flan was a treat — so good it's even worth standing up to eat.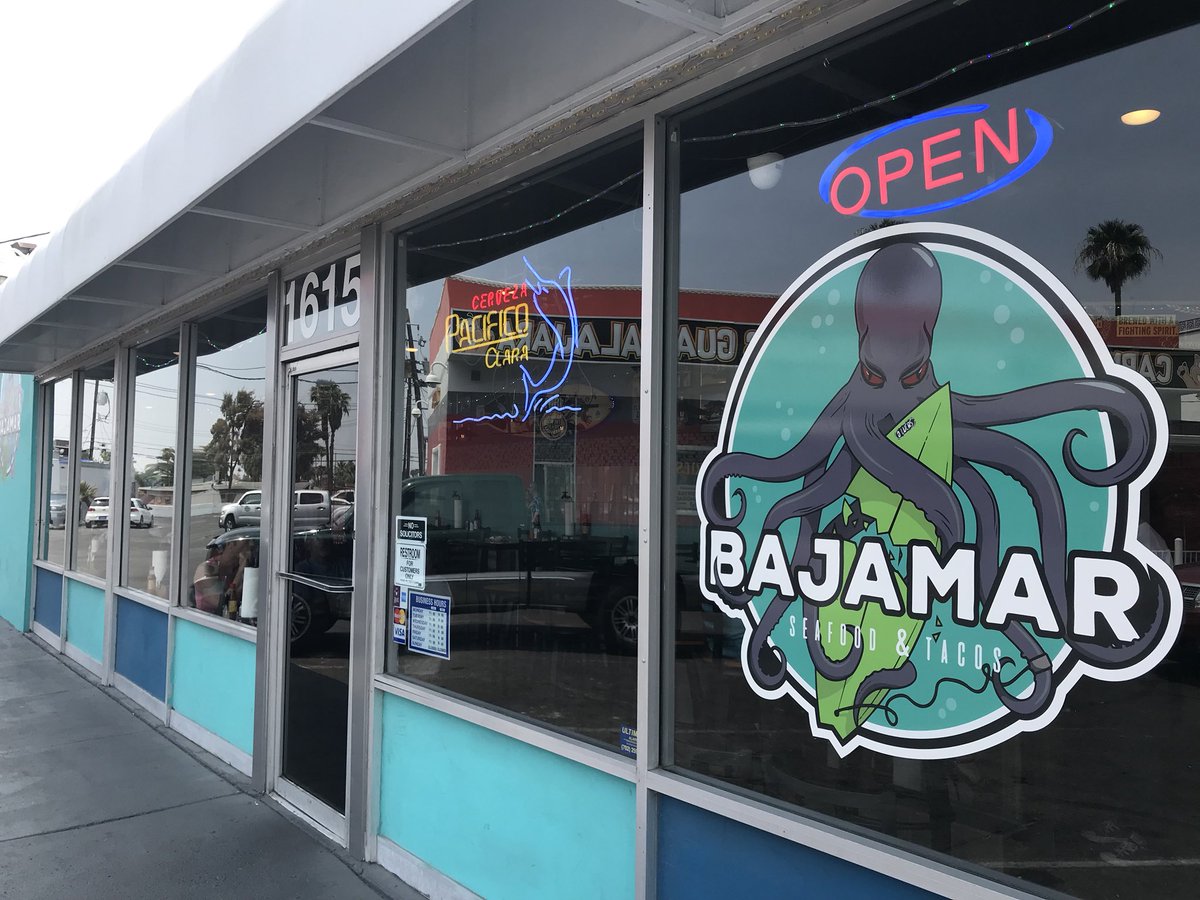 Literally right across the street from Puerto Rico Express is Bajamar Seafood & Tacos — another place so surprisingly good you're going to kick yourself for not coming here sooner.
(This is where I confess that I drove past both of these places for the better part of a year before trying them — so convinced was I that neither would be worth my time or calories. How wrong I was.)
Having been burned by flaccid fish tacos for like….forever….I approached Bajamar feebly. It occupies a space previously occupied by one failed food operator after another, sits within the shadow of the shuttered Olympic Garden, and shares a parking lot with some forgettable slinger of Mexican mediocrity. In other words, you couldn't have a less auspicious location for the real deal in fish tacos.
But the real deal they are, from the grilled simplicity of marlin tacos (with Monterey Jack cheese and salsa fresca) to this "Lucas" laden with grilled shrimp, peppers, and chipotle cream: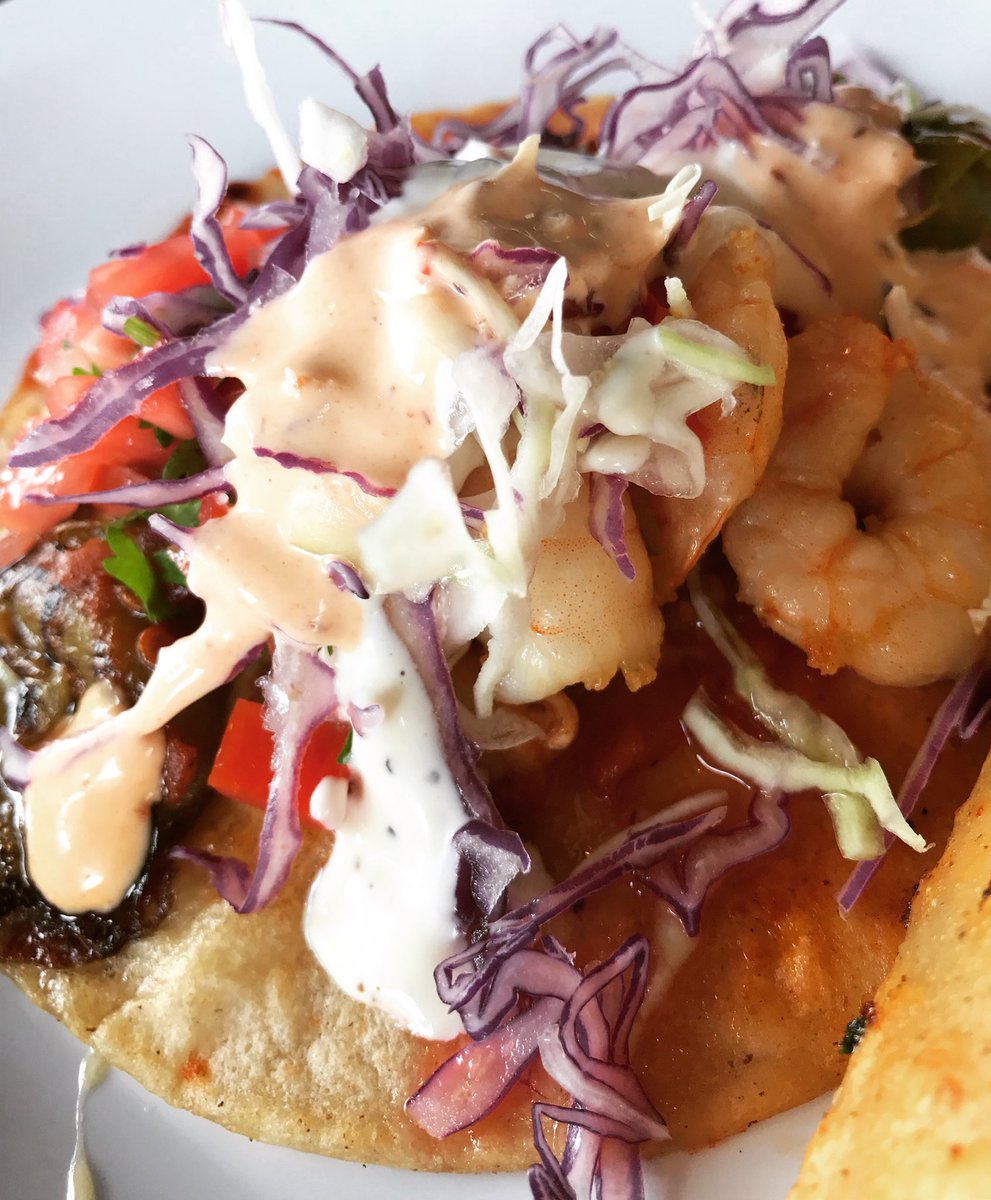 ….to the deep-fried classic: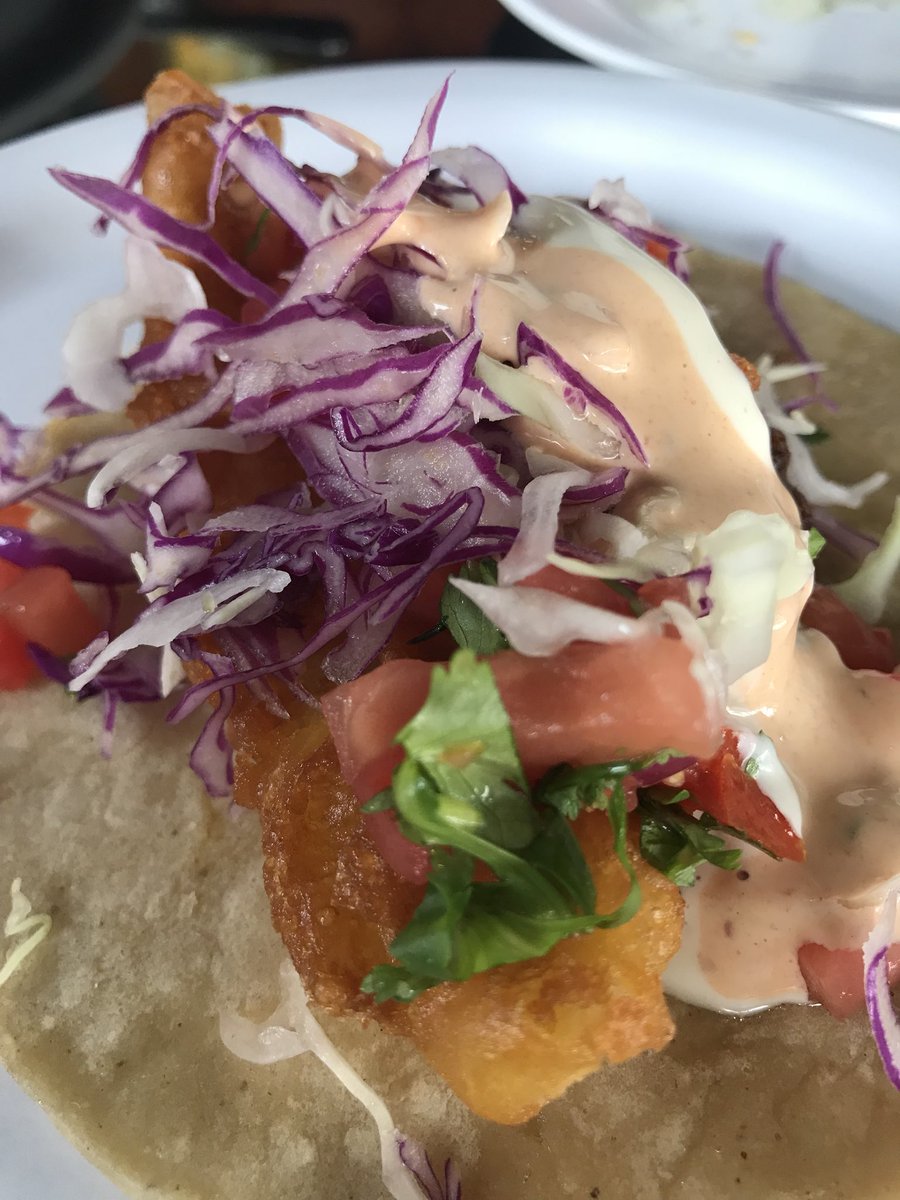 ….these tacos announce themselves as the actual Ensenada enchilada — the best fish tacos Las Vegas has ever seen.
As good as they are, our favorite thing on the menu is the incendiary
aguachile verde
: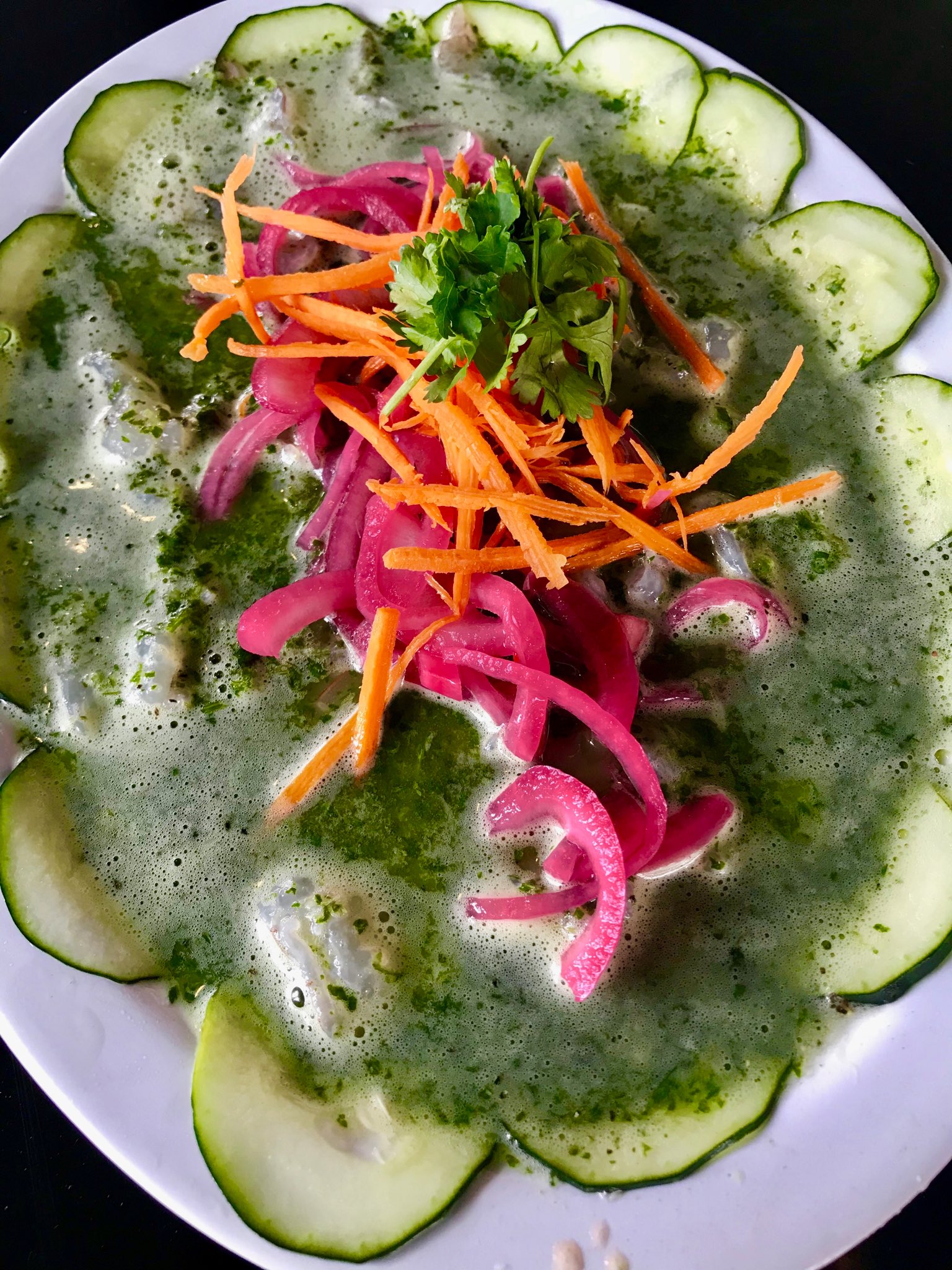 ….that will light you up and turn you on like no ceviche, ever.
We even like the little, house-made cheesecake they do for dessert here, and people tell us the battered and deep-fried fish and octopus chunks (pulpo on the menu) are not to be missed, either.
Downtown dining has gone decidedly upscale in the past three years, but amidst all the porchetta and pasta, and the inundation of craft cocktails and bohemian beers,  it's nice to know that some solid lower-end, food-centric joints have opened to satiate cravings at all price points.
Which is just what a legitimate urban food culture needs.
Arriba! Arriba! Indeed.
PUERTO RICO EXPRESS
1516 Las Vegas Blvd. South
Las Vegas, NV 89104
702.471.1000
BAJAMAR SEAFOOD & TACOS
1615 Las Vegas Blvd. South
Las Vegas, NV 89104
702.4331.4266