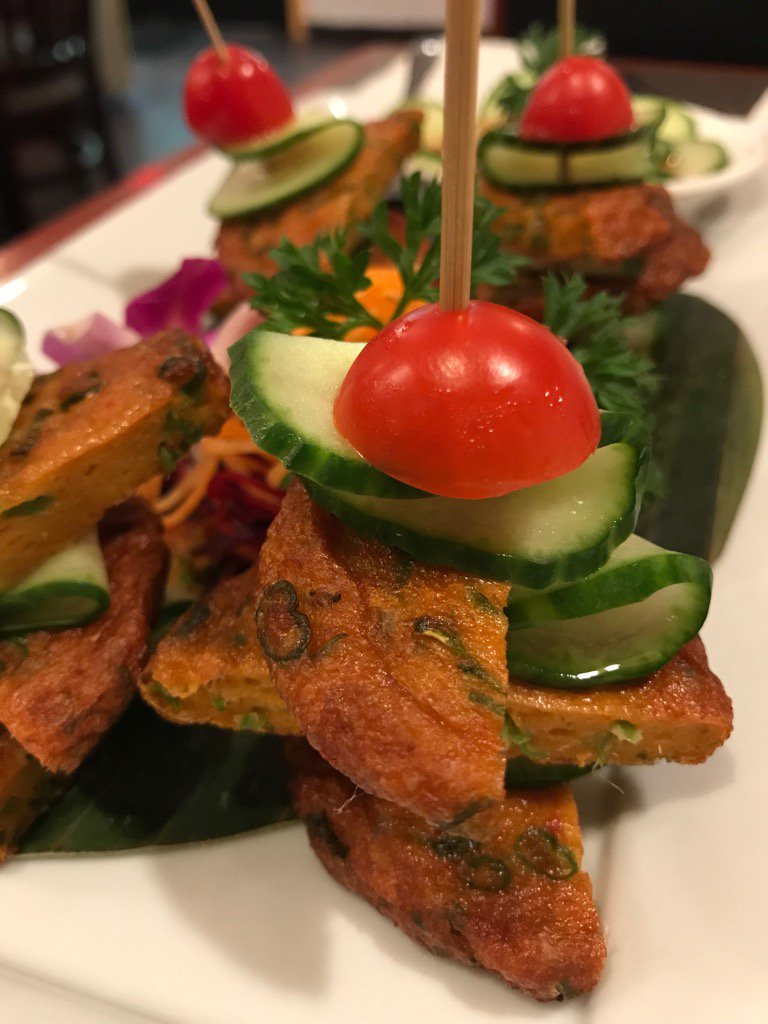 The hole in Lotus of Siam's roof (see previous post), left a substantial hole in our Thai food scene for tourists and locals alike. We have spent the week fielding inquiries about where to go in place of our most iconic Asian restaurant, so, as a public service, our staff thought a quick round-up of the best Thai places in town was called for for those needing their pad ped moo or ka nom jean nam ya pla fix.
None of these can compete with Lotus' national and international reputation. None have won a James Beard award or boast a world-class white wine list. But all of them deliver the goods — real Thai cooking without lines out the door at lunch or dinner, or a steady stream of cabs dropping off handfuls of tourists every five minutes during dinner hours. (Face it: there's no substitute for being lauded in the L.A. Times, New York Times, and various national food publications and TV shows. Because of this publicity (most of it pre-social media, btw), LOS has a world-wide reputation that no place in Vegas can rival.
A few caveats. Although there are Thai restaurants all over this valley, most of them serve the sort of gloppy-sweet, dumbed-down Thai food that appeals to American tastes. They are as far from the real deal as Bud Lite is from a Belgian ale. We've tried them all over the years  — Prommares, King of Siam, Kung Fu, Thai Spice, Archie's, Pin Kaow, just to name a few — and all are perfectly fine, in the same way a by-the-numbers Chinese restaurant satisfies the tastes of the sweet and sour pork crowd.
Those were the restaurants that sustained us through the first years of our Thai food cravings, but when Lotus opened nineteen years ago (more specifically, when the Chutima family took over LOS on Nov.1, 1999), we got our first taste of the strong, savory, funky-sour, salty-hot food of northern Thailand, and from that point on there was no looking back.
Even Lotus serves up gringo-friendly versions of certain Thai dishes, but it became popular by not bending its menu to the whims of its American customers, and staying true to authentic recipes. (Would that more restaurants would do so, instead of acting like scared rabbits whenever a customer complains about something.) These days, when we look for Thai food, we want strong, no-holds-barred street food, or the kind of country cooking (Isaan or northern Thai – they're not the same thing) that brooks no compromise with American tastes.
Be forewarned, however, that in most of the places we recommend, you may have to politely protest to the staff when they try to talk you out of some of their specialties. But be firm and they'll relent. Thai people are some of the friendliest on earth, and I've never had bad service in a Thai restaurant. If you don't like it, eat it anyway; you might learn something. There are some Laotian salads at Weera Thai that leave me cold (and pushing ingredients around on the plate), but they're a great window into a cuisine I barely know and am fascinated to discover. Plus, nothing is ever that expensive in these places (dishes in Thai restaurant rarely exceed $15-$20), so experimentation won't break the bank. More timid sorts (of palate or wallet) should stick with the drunken noodles at Arawan Thai Bistro.
OUR BEST THAI RESTAURANTS (AFTER LOTUS OF SIAM):
Ocha Thai – Family run since 1989. The food is still cooked by a couple of ladies who together don't weigh a hundred pounds. This is the perfect place to try traditional Thai dishes made in a less sweet, more authentic style.
Don't miss: Dadd deaw (pork jerky), todd munn (fish cakes), E-sarn sausages, kra pow (mint chili chicken), poh tak (spicy seafood soup), warm bamboo shoot salad (the very definition of "acquired taste'), pad ped moo pa (wild hog with hot sauce).

Chada Thai – "Elevated Thai food" hits the nail on the head, with a killer wine list to match. Both here and at Chada Street give you the best window (and taste) of dishes you will only find in Thailand.
Don't miss: oysters, kua kling (ground pork with house curry paste), pou nim pad prik thai (stir-fried soft-shell crab), sea bass tod krueng (glazed with chili paste), pla nua tod (crispy beef tossed with rice powder).
Chada Street – Like the name says, more casual than its older sibling down the street. Bring a crowd, point and pick and dive in. Just make sure you have lots of champagne, Riesling or beer on hand to wash it all down. As close to eating on a street in Phuket as you can get. 
Don't miss: Northern Thai sausage, red pork and pineapple curry, crab fat fried rice, grilled prawns.

Weera Thai – The second Thai restaurant in town to boldly proclaim its northern Thai/Issan roots. More than a few Laotian dishes on the huge menu as well, but we always find ourselves returning for the roast duck curry.

Don't miss: Roast duck curry, papaya salad Issan-style, tom zap (pork rib soup), spicy squid salad.
Chuchote Thai Bistro & Dessert – Our newest entrant in the "Thai One On" sweepstakes is only a few miles west of Lotus on west Sahara Avenue, and a block and a half west of Weera Thai on the same street. It's spanking new, clean and comfortable, and boasts all of the usual Thai dishes on the menu. But look a little farther down and you'll see what you came for: six southern Thai dishes that will light you up like no one's business. They'll tone things down for more timid palates, but this is the place to come to see how true Thais taste their incendiary food.

Don't miss: Seafood cakes (pictured at top of page), pork jerky, potato and chicken stuffed samosa, crunchy tofu, pad ped moo (stir-fried minced pork), khua king (spicy ground pork), kang sam salmon curry with Thai omelette, ka nom jean nam ya pla (house made curry with fish balls) – so hot it should come with a disclaimer and a release.