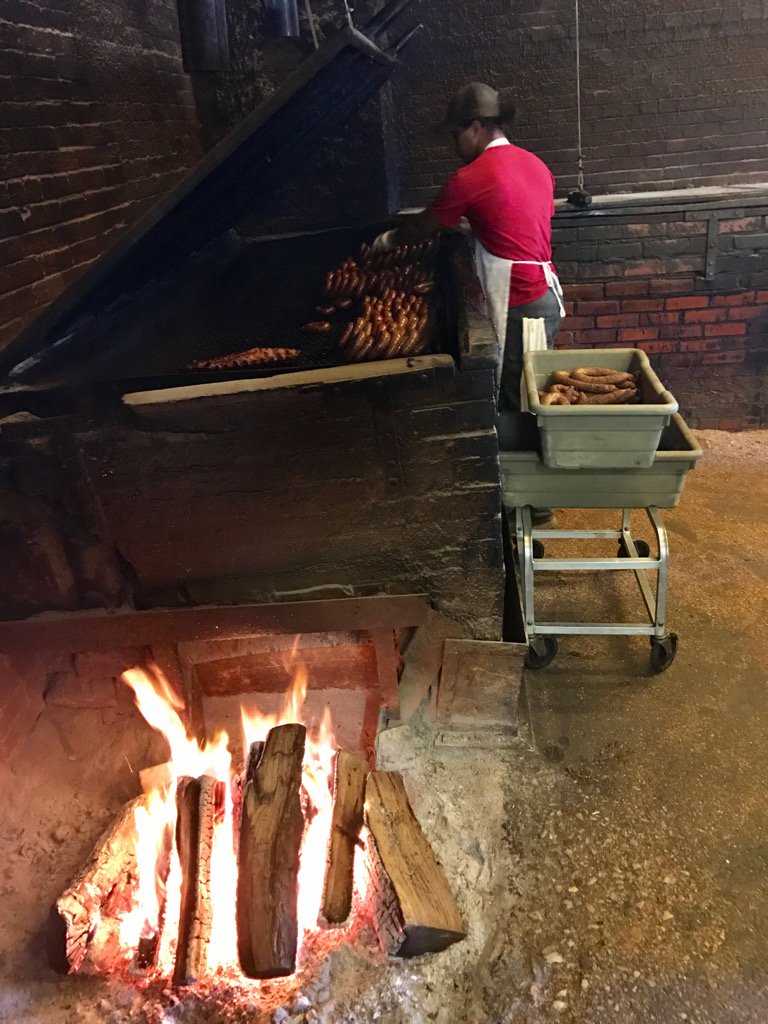 (The pit at Smitty's)
To master anything, you start with the fundamentals. Texas barbecue is no different. Anyone who thinks that they can grab a brisket sandwich at Pecan Lodge in Dallas or Franklin's in Austin and know what all the shoutin's about has charcoal for brains.
The fundamentals of Texas 'cue start with kickin' it old school. And it doesn't  get anymore old school than in the tiny farming town of Lockhart, the Official Capital of Texas Barbecue, where German butcher shops started making and smoking sausage to preserve it over 150 years ago.
Lockhart is an easy, 30 minute drive from the Austin airport. There's not much to see en route — the landscape is fertile but depressingly flat — and about the only thing to get excited about is the big barn-looking Kreuz Market that looms on your right as you enter the town. The other thing to get excited about are its two competitors — Black's and Smitty's Market — each located at opposite ends of the quaint town square.
(Caldwell County 'cue HQ)
The proximity of these three icons of smoked meat to each other — you can walk between Smitty's and Black's, and Kreuz is a two minute drive from either of them — makes for quite the 'cue consumption conundrum: Where do we start? How much do we eat? What if we love one so much we don't want to leave?
The answers of course are: It doesn't matter, one order of anything will serve two (and go easy on the sides), and force yourself to move on (you won't regret it). It will take a Herculean effort, but put your knife down (no forks at Smitty's and Kreuz, more on this later), no matter how much you'd like to slather your face with all this deliciousness.
You order by the pound, and we found that a few slices of brisket, a couple of pork spareribs, and a single link of sausage were enough to get a taste of each pitmaster's artistry.
Of course, all of this careful planning went out the window as soon as we saw the sign that said "Giant Beef Ribs" at Black's.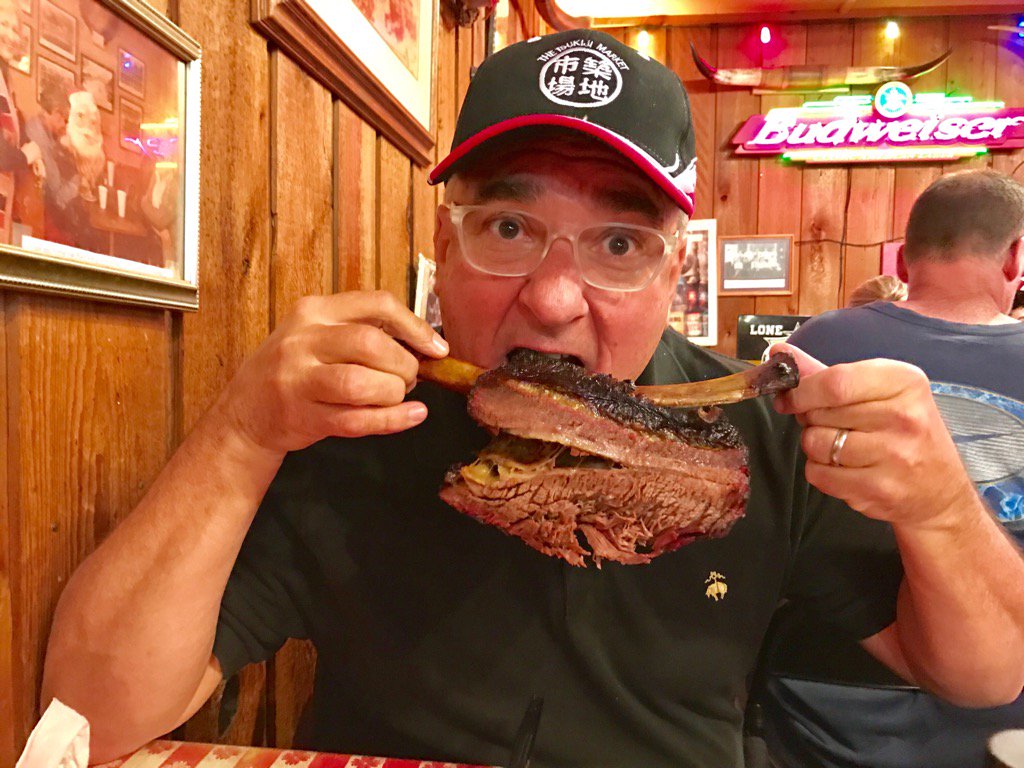 "Giant," as you can see, being an understatement. These were huge. 24 ounces of spoon-tender, juicy, smokey beef with a bark so sweet, black and peppery it could be sold as meat candy.
One was more than enough for two. Hell, one of these puppies could feed a family of four. It was the single biggest piece of food I have ever seen on a plate in front of me, and one of the singularly most delicious pieces of meat that has ever defeated me.
The beauty and the wonder of a something this dense being cooked this long and remaining this moist and baby-food soft is a mystery only the Black family has solved. Indeed, we didn't see "giant beef rib" on any other menu of the other six places we visited on our 'cue quest.
(Please sir, may I have some more?)
 For the record, the sausage was stellar as well, and it wasn't until we  got to Snow's the next day that we ate a brisket as gorgeous as the one at Black's.  We were also nuts about the mac-n-cheese and that ginormous dill pickle….although in the interest of maintaining our full hunger capacity we left most of them barely touched on the plate.
About the only thing at Black's we found lacking was the sauce — it being slightly thin, standard issue stuff — but the meat was so amazing we quickly forgot about it.
Black's is more conventional than its two neighbors in downtown Lockhart. Ordering of sides is done on a cafeteria line that leads you to the meat ordering station where you choose how much, per pound or slice, you want of the meat. Instead of the butcher paper that most joints use, here you get the real plastic plates and utensils. It may not be as authentically "old school" in appearance as Smitty's, but its brisket beats theirs by a country mile.
Speaking of bona fides, it's those antiquated, authentic details that separate Texas barbecue from many other pretenders. All of your meat is sliced to order, and to a place, every person taking your order lets you be as particular as you want, whether you want fatty brisket or lean (or a combo), or a thin slice of this or two thick helpings of that. Nothing looks or tastes like it's been sitting around in a steamer tray for hours (because it hasn't), and the intensity of the meat, the bark and the seasonings is front and center with every bite. Bites that are worth traveling across the country for, by the way.
Something else worth traveling to see are the pits themselves. The one's at Black's are tucked in the back but at Smitty's (pictured above), and Kreuz, they are front and center in the room where you do your ordering. So front and center, in fact, that your clothes will smell like smoke for hours afterwards.
Calling Smitty's old school is like calling that rib a little beefy. It's housed in a structure built in 1924, untouched by modernity and covered in a layer of fatty soot and meat smoke that's been a century in the making.
You walk down an long hallway lined with benches where the trenchermen of years past would sit eating their lunches of smoked meat, taken right from the butcher shop on paper, and sliced and stabbed with knives hanging on chains from these walls:
These days, things are slightly more modern (there's a dining room to chow down in that's straight from the 1940's, replete with wobbly benches and a soda fountain), but you still go into the smoke room to order and see your meat sliced.
(Yes, they burn the wood right on the floor. You gotta problem with that?)
Smitty's is a trip, literally a trip back in time. Unfortunately, its brisket didn't hold a candle to Black's — it being on the dry side and without the seasoning or smoke of its rival. What saved Smitty's for us was the vibe, and the kick ass sausages — loaded with black pepper and steaming with fat and snap — they were a beef/pork blend of uncommon toothsomeness, and, my favorite "hot guts" of the trip.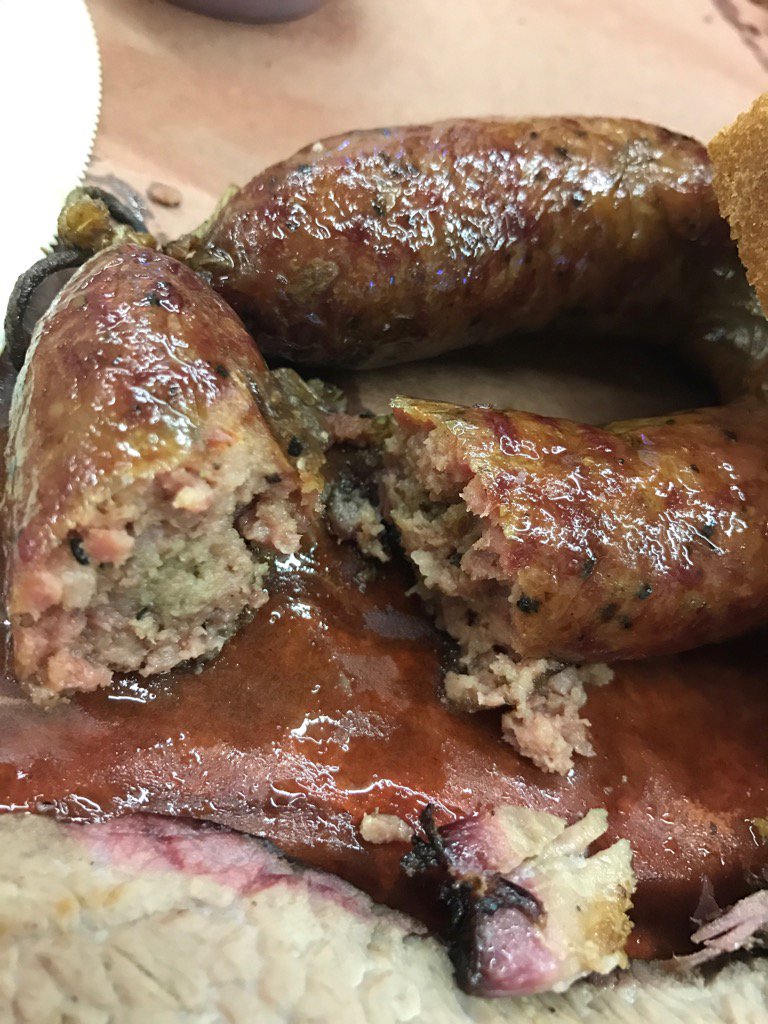 (The apotheosis of beef meats pork at Smitty's)
 And then there was
Kreuz Market
. It's as big as a barn (actually several barns), and seats hundreds in its several dining rooms. You do the same order-in-the-smoke-room thing here, but then you repair to one of its feed halls to eat. What shows up on the plate would, no doubt, be the best damn barbecue in 46 States in the Union. In fact, if we had tried it first we might've thought more highly of it. Unfortunately, the competition pretty stiff (another understatement) in these here parts, and its stringing, tepid brisket didn't meet the challenge. And no matter what the owners say, it could've used some sauce. (Kreuz is famous for stubbornly maintaining, since 1900, that its brisket is so good it needs no sauce. It needs a sauce.)
On the plus side, the smoked prime rib (the pinkish meat below) was ethereally good (attaining an almost cured-ham-like texture while maintaining its beefy integrity), and the sausages were the stuff smoked sausage dreams are made of.
(Look Ma, no forks!)
Kreuz  (pronounced 'Krites") may have become too big for its Texas britches. It's been world famous for over half a century, and does a bang up mail-order business. From the size of everything, you can tell it's a very big operation that moves mountains of meat. But as the godfather of Texas barbecue, we expected the brisket to knock us out of the saddle, and it didn't.
At least we had The National Beer of Texas on hand to help us wash away our disappointment:
"This is not beer," we remarked to The Official Number Two Son of ELV after a sip of this lightly carbonated, water-based beverage, "it is the idea of beer."
"You're right, Dad," he countered, "but it goes perfectly with this food."
And so it did, and so it does. As we were about to find out the next morning, when we traveled to the Texas hinterlands in search of the best barbecue breakfast on earth.
(This is the second part of a three part article on ELV's recent trip to Texas.)