The two sides of the American tipping coin have made a deal with the Devil that operates to the detriment of the American restaurant customer. – ELV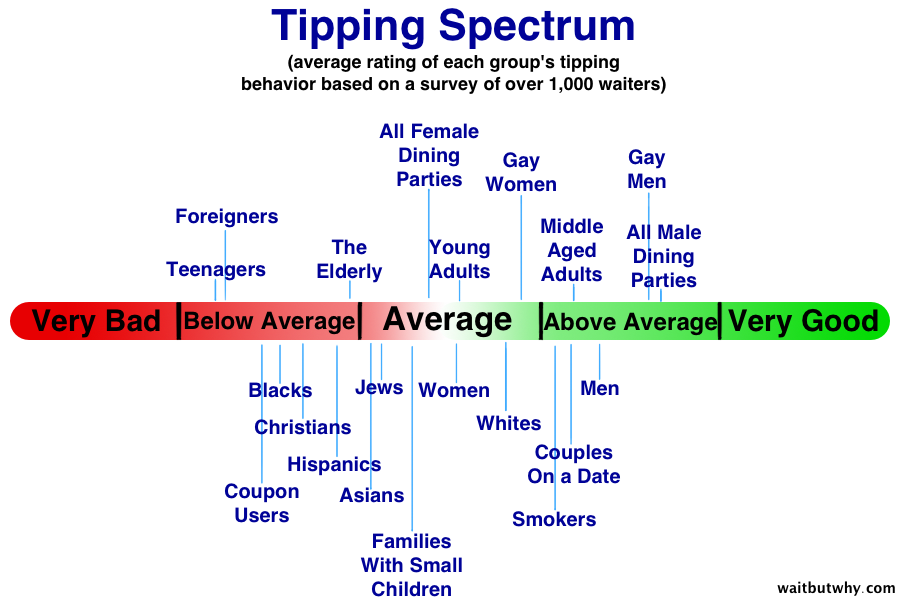 Dear ELV (aka Dad),
This came up last night and might make for a good "letter of the week". We figured we weren't the only ones to have this conundrum.
We ate at a really nice restaurant last night, one we had been to twice before (used to be the best in the area until downtown upped their game). Since it was for our 10th anniversary, we also splurged on a bottle of wine ($150 Chateauneuf du Pape). This might be a normal bottle for most people, but this was definitely a outlier for us.
Bill came: $210 of food, $150 wine plus tax.
Several online forums and columns discussed many different options and the consensus was clear: there is no consensus. Some places also mentioned tipping the sommelier, which never occurred to us.
Tipping options broken down:
20% of everything: $72 tip
15% of everything: $54 tip
20% food, 10% wine: $57
20% of just food: $42
We ended up leaving a $60 tip.
Advice appreciated!
Love,
>>>>>>>>>>>>>>>>>>>>>><<<<<<<<<<<<<<<<<
ELV responds:
To begin with, WHAT THE HELL ARE YOU DOING SPENDING $370 AT DINNER?
Is that what I pay you for???? To go around like some profligate son flaunting your social status and mindlessly filling your piehole with overpriced food and elitist, unpronounceable beverages made by smelly foreigners in some faraway land???
"Really nice restaurant"? What's wrong with a good old American restaurant with real American food? Made by American corporations right here in America? Not good enough for you?
And what did my grandchildren have to eat — the usual gruel? — whilst you and missus were spending their inheritance on your fancy schmancy poulet a la this and carpaccio de Trevisio that?
Obviously, we're paying you too much, and we'll address that issue later.
To answer your question: Tipping is, ipso facto, STUPID. The rest of the word LAUGHS at Americans for continuing this dumb-ass policy that exists only because a) restaurant owners don't want to pay their employees a living wage, and, b) waitrons love the immediate gratification and tax-dodging opportunities the system provides them.
These two sides of the American tipping coin have made a deal with the Devil that operates to the detriment of the American restaurant customer.
That being said, until common sense prevails (or a consumer revolt happens), we are stuck with this petty, dishonest, uncomfortable, nonsensical system that bestows an expected gratuity on a person (or doesn't) depending on the whims of individuals , not according to any hard and fast rules…or any sort of actual contract.
(It amuses ELV that the service industry has not-so-subtly convinced the dining-out public that 18-20% is now the "standard" tipping amount, when, for most of the 20th Century, 10-15% was the norm.)
All that being said, we can proudly proclaim that the apple hasn't fallen far from the tree, and something in the $60-$70 range is exactly what we would have left — although at a high-falutin' joint like the one you describe, eighty bucks wouldn't have been out of the question either.
As for tipping the sommelier separately: that custom, along with splitting the tip among the captains and the waiters, has gone the way of the tasseled menu. And since most restaurants in America the Beautiful (and the beautifully stupid), now pool their tips, handing a double sawbuck to the somm doesn't have the same "merci beaucoup" effect it might have had 20 years ago. That being said, it's still a nice gesture and we suggest doing it on occasion, especially if you intend on returning and want to be remembered by the staff.
Now, GO FEED MY GRANDCHILDREN….and we'll discuss your salary and bonus when you deign to leave the snobbish confines of your elitist, parvenu, east coast existence, and venture to the wild west so we can visit with them at the ELV homestead.
Dad