I've got basically two "bucket lists" I've been trying to check off: bang off the Top Ten on the ELV list (I'll need to find a Three Stooges-esqe way of eating at Guy Savoy and the Robuchon Duo, dropping that much $dosh$ is not in the equation), and the lofty, near Sisyphean task of trying every steakhouse in town, truly a Guinness Book/Ripley's Believe It or Not worthy feat .
Imagine my luck, then, when I can do two at the same time!  CUT gets the #1 spot in the paperback guide that John, Max, and Al put together, partly because the top ten are in alphabetic order.  Or rather, entirely because of that…  I've only been to three of The Ten (and Marche was more of a brunch), but I can see the crowning jewel of Puck's Vegas menagerie busting the top five.  And of course, how necessary is a steakhouse in a list of Vegas restaurants?
Imagine my luck again! It was Carnevale!  Not specifically relevant, but I just really like clowns, so there were a bunch of these harlequins milling around outside, completely silent and miming.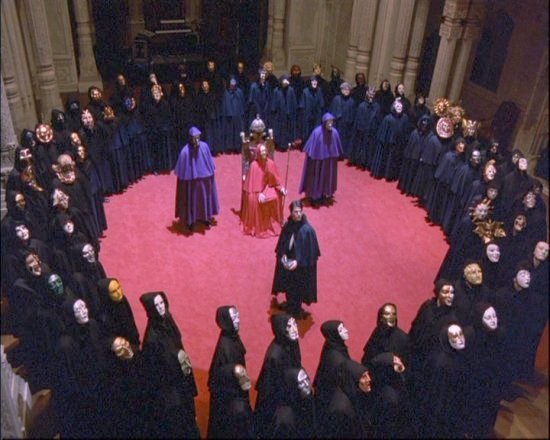 As much as I would have liked to continue that surreal air of whatever sick stuff those wacky Rothschilds get up to, the inside of CUT actually played down that feel of exclusivity and pomp.
I know I'm a sucker for that kind of stuff, I mean I'd be thrilled drinking Napoleon's wine out of Charlemagne's skull in a Merovingian castle, but I can appreciate it as a power move to forego that.  Comfortable, modern, not TOO loud, and I could see how people would dig some old Stones hit as they dig on their rib eye.  I suppose that's the one real thing I felt was off kilter though, the music.  It does fit their Beverly Hills location as "the" spot for wheeling and dealing and all that degeneracy media stuff.
Now, does a casual atmosphere denote casual staff?  Absolutely not.  Butt-kissery may be out of style, but it will never be dead, and we can thank our lucky stars for that.  The service was so thorough, the staff practically feeds you.
And the food?  How's the food, you ask?  REALLY FRIGGIN GOOD.  Dig on this one: a wagyu short rib, slow cooked for eight whole hours, with garam masala and curried corn.  I know we don't really have any good Indian restaurants, but this would be one of the best Indian dishes in New Delhi.  It didn't punch your palate out with tons of cumin or coriander, it just had a very well balanced spice blend, creamy in the corn and rich in the masala, that coasted on the tender beef effortlessly.
I feel like these non-steak items in a steakhouse are the truest test of quality, or overall quality.  A good cut of meat, an adept enough set of line cooks, a scientist or artist doing the aging, and even your mandatory Slots-O-Fun tier steakhouse can get within striking distance of the big-name guys to the un- or semi-initiated.
But how they fill in the gaps, that is something only a truly dedicated and present chef can give you.
Sometimes you can barely see their creativity and drive just trying to eek their way onto the menu wherever they can (I think the Circus Circus Steakhouse is the prime example of this), by way of a creative side or house cheese board.  A place like CUT knows to give full berth to a chef like Matt Hurley, whose workday (I've heard) starts with 10am receiving and ends with 1am labeling and pre-prep.  The time he has left is surely spent dreaming, likely dreaming up some amazing dishes to accompany world-class steaks.
Consider the Bone Marrow flan, pictured above.  It's a dish that has had a couple imitators, but has firmly been cemented in the image of CUT.  While I would have liked to see mine a little… larger than the width of a Magic Marker, it was a fine little bite for two, paired mainly with a mushroom marmalade to add the perfect earthy balance.  This is one of those influential dishes that make you feel terribly late to a party, and everyone else is already riding this wave.  Same way I felt when I watched Evil Dead for the first time.
I'll post a few pics of other starters/sides below, but I'll leave you with a word on their steaks, and steak in general.  Now gather that I'm not a steak expert quite yet, and I can only really go on the few things I've gathered on my own with flavor.  Seared vs. Grilled, grass-fed vs. corn-fed, Angus vs. Wagyu vs. Wangus (or Angyu, if you have no soul), ages, rubs, marbling, etc., etc.  I can appreciate these things, but the minutiae should be left to hobbyists and experts.  What I can tell you is that CUT can take you on a magical journey of beef, riding a blimp made of flavor.
Your Pal,
-Mitchell Wilburn
CUT in the Venetian
3325 S Las Vegas Blvd
Las Vegas, NV 89109

(702) 607-6300